This week: Jake LaTurner defeats incumbent Rep. Steve Watkins, Marshall wins Kansas Senate nomination over Kobach, Hamilton, and Collins launches TV ad against Loeffler in Georgia.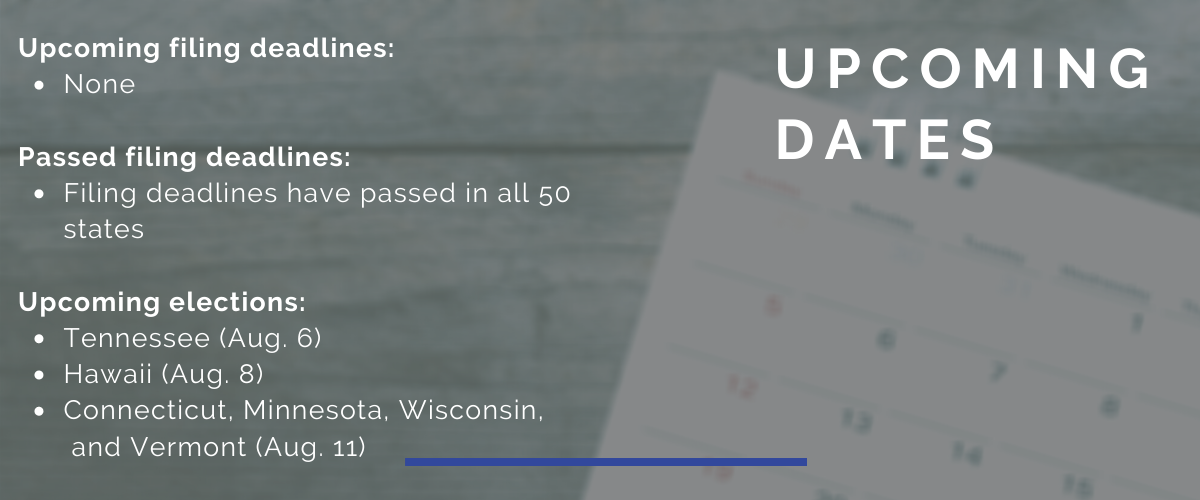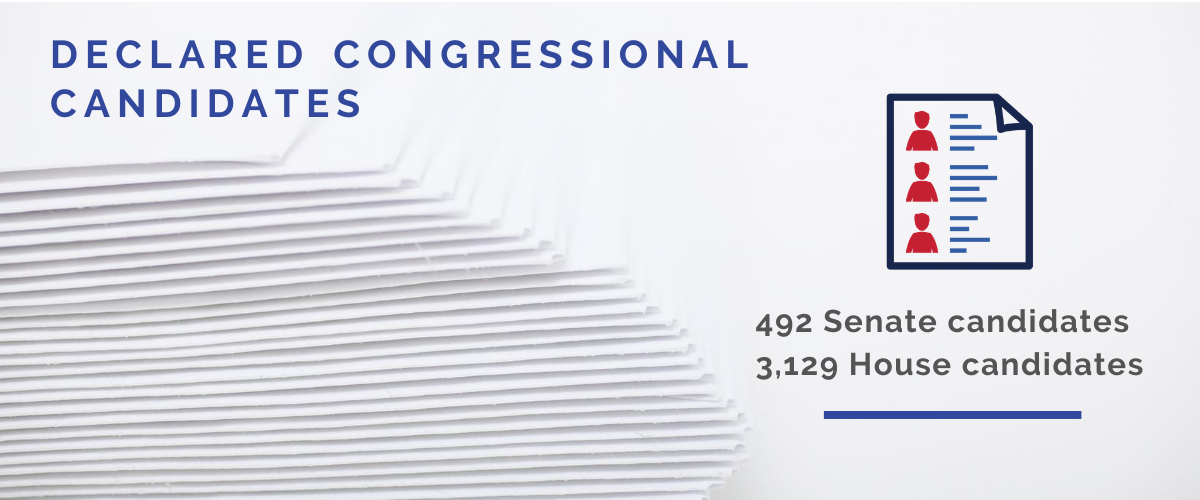 Election results
Here are some key primary results from Aug. 4.
United States Senate, Kansas

: Roger Marshall defeated Kris Kobach, Bob Hamilton, and eight others. Marshall received 40% of the vote followed by Kobach and Hamilton with 26% and 19%, respectively. No other candidate received over 10% of the vote. Incumbent Pat Roberts (R), who was first elected in 1996, is not seeking re-election. The last time Kansas had an open Senate seat was in 2010.

Kansas' 1st Congressional District

: Tracey Mann won. He received 54% of the vote to Bill Clifford's 33%. Incumbent Rep. Roger Marshall (R) is running for U.S. Senate, leaving this safe Republican seat open. 

Kansas' 2nd Congressional District

: Jake LaTurner won with 49% of the vote to incumbent Steve Watkins' 34% and Dennis Taylor's 17%. Watkins and William Lacy Clay (D-Mo.) were the sixth and seventh incumbent representatives defeated in a primary in 2020. Watkins was first elected in 2018, defeating Paul Davis (D) by less than 1 percentage point. 

On July 14, Watkins was charged with voter fraud, having used the address of a UPS store on his voter registration form. Watkins said he mistakenly used his mailing address instead of his residential address and that the charges were politically motivated. 
On the news
Where do Republican and conservative pundits and commentators disagree? Each week, we bring you excerpts that highlight differing views.
On voting by mail
"We have also seen that voting by mail can slow the counting of votes. Particularly in close races, this sometimes makes it impossible to declare a result on election night. Occasionally, as some primary races have shown us this year, it can take days or even weeks. But the fact that results take longer does not mean those results are tainted. The work of counting mail-in votes, and especially of verifying signatures and resolving disputes, can take time, but this is precisely the work of assuring that results are legitimate and reliable.

"It's essential that public officials help the American public understand this in advance of the fall election, to help voters see that the fact that results may not be available within hours doesn't mean the results aren't reliable."
Yuval Levin, National Review, July 30, 2020
"Americans should insist on their right to vote in-person in their polling places in November, where they can be sure their ballots are safely received and counted.

"No one disputes that those most at risk from the coronavirus pandemic may want to vote by absentee ballot. But as the New York Times correctly said back in 2012, 'votes cast by mail are less likely to be counted, more likely to be compromised and more likely to be contested than those cast in a voting booth.'

"That assessment is just as true today as it was eight years ago. Voters should not be forced to deal with the problems that massive voting by mail would create."
Hans von Spakovsky, Fox News, July 30, 2020
U.S. Congress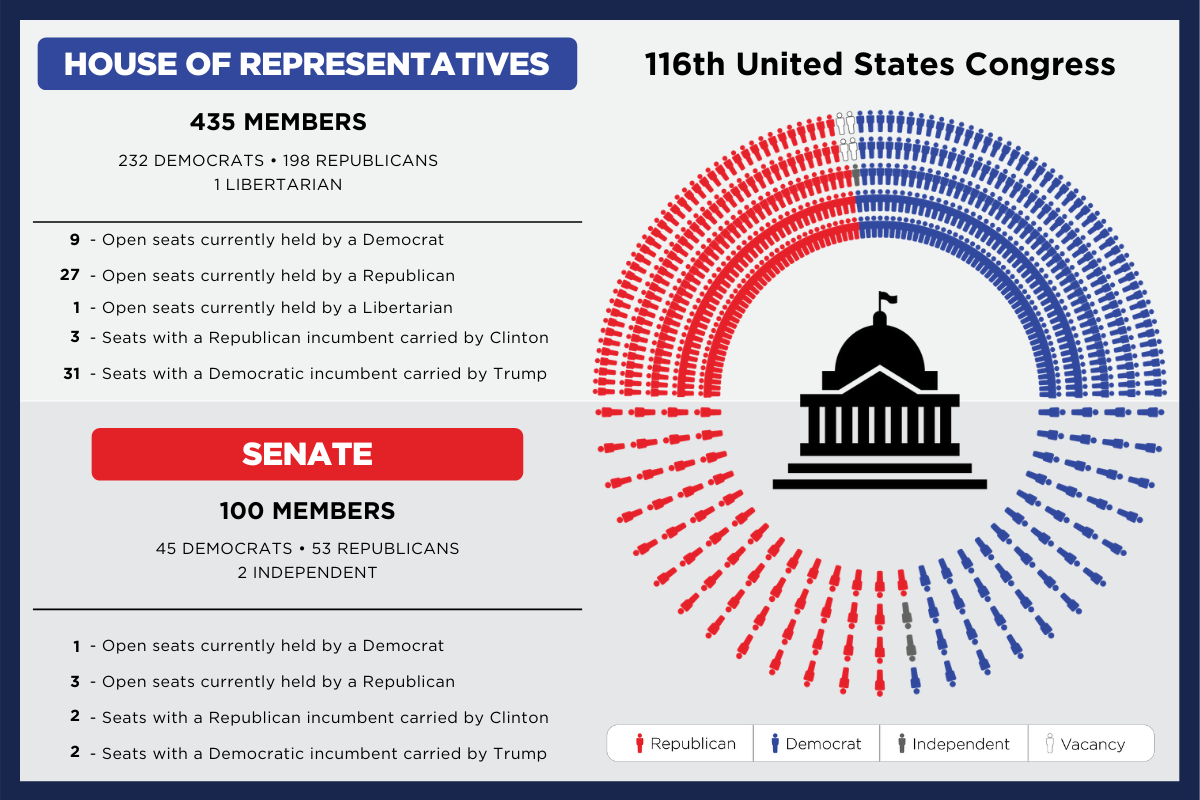 Collins' first TV ad criticizes Loeffler on stock sales, wealth
Doug Collins' first TV ad criticizes incumbent Sen. Kelly Loeffler (R) over stock sales amid the COVID-19 pandemic. The ad says Loeffler is using her family fortune to attack Collins and "high-priced lawyers to help her get away with" her stock transactions.
In March, media outlets began reporting that Loeffler and her husband, Jeff Sprecher, sold $3 million in stocks at the beginning of the year following a briefing for senators on COVID-19 that Loeffler attended. Financial disclosures released in April showed more than $18 million in stock sales on Loeffler's behalf from mid-February to mid-March. Loeffler denied wrongdoing, saying in March, "There is a range of different decisions made every day with regard to my savings and 401(k) portfolios that I am not involved in." 
Loeffler launched a $4 million ad campaign in May defending herself against criticisms around the stock sales. The ads say the allegations of wrongdoing are lies. The ads also highlight $1 million Loeffler donated to a hospital and the use of her personal plane to bring home four Georgians stranded on a cruise ship.
Loeffler and Collins are among 21 candidates running in the all-party special election on Nov. 3—six Republicans, eight Democrats, five independents, a Green Party candidate, and a Libertarian. If no candidate receives more than 50% of the vote, a runoff will be held Jan. 5, 2021. Gov. Brian Kemp (R) appointed Loeffler to the Senate seat after Johnny Isakson (R) resigned in December. 
Six primary candidates have filled out Ballotpedia's Candidate Connection survey, designed to elicit insightful and thoughtful responses from candidates on what they care about, what they stand for, and what they hope to achieve. Click on candidates' names below to read their responses.
If you'd like to learn more about the survey, or if you are a candidate who would like to submit a survey, click here.
Club for Growth spends $2.4 million supporting Donalds, opposing Askar in FL-19
Club for Growth Action has spent $1.4 million supporting Byron Donalds and $937,000 opposing Casey Askar in Florida's 19th Congressional District Republican primary. 
The group has released ads calling Donalds a true conservative who has fought for lower taxes and stands with police. The group's ads say Askar donated to Mitt Romney's presidential campaign and not Donald Trump's.
Donalds has served in the Florida House of Representatives since 2016. Askar is a franchisee for Dunkin' Donuts, Church's Chicken, and other businesses. They are among nine candidates running in the primary. Incumbent Francis Rooney (R) is retiring, leaving this safe Republican district open.
Most other satellite spending in the race has surrounded Dane Eagle, who has served in the state House since 2012. Conservative Outsider PAC spent $251,000 opposing him, and Concerned Conservatives Inc. spent $167,000 supporting him.
Six primary candidates submitted responses to Ballotpedia's Candidate Connection survey. To read their responses, click on candidates' names below. 
The primary is Aug. 18.
State executives
Riggleman considers independent gubernatorial run in 2021 after Republican primary defeat
Rep. Denver Riggleman (R-Va.) said he is considering running for governor of Virginia in 2021 as an independent candidate. Riggleman lost his re-election bid for Virginia's 5th Congressional District in June. Bob Good (R), a former member of the Campbell County Board of Supervisors, defeated him at the Republican Party's district convention by a margin of 16 points.
"The Virginia Republican Party is so broken. Maybe it is time for a third-party run," Riggleman said in an interview. He added that he would decide by September or October.
Former Virginia State House Speaker Kirk Cox (R) also announced this week that he was looking at joining the race. Cox would join state Sen. Amanda Chase (R), who has already declared her candidacy. 
Virginia is the only state to prevent governors from serving consecutive terms, meaning the office is open in every election year. The gubernatorial election will take place on Nov. 2, 2021. 
Virginia is currently a Democratic trifecta, where a Democrat is governor and Democrats hold majorities in both chambers of the General Assembly. Except for the 2013 election, every Virginia gubernatorial race since 1973 has been won by the party that lost the previous year's presidential election.
Legislatures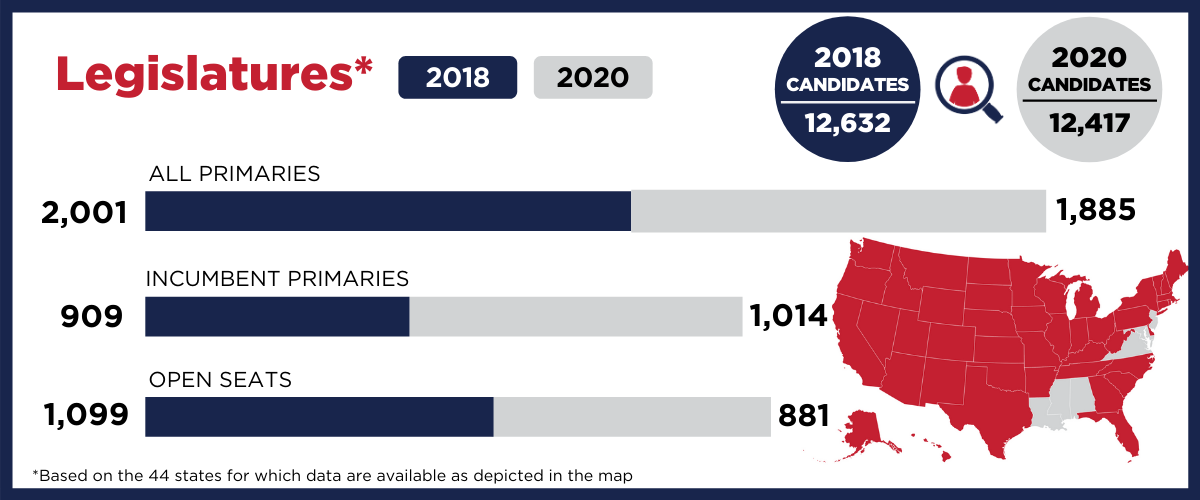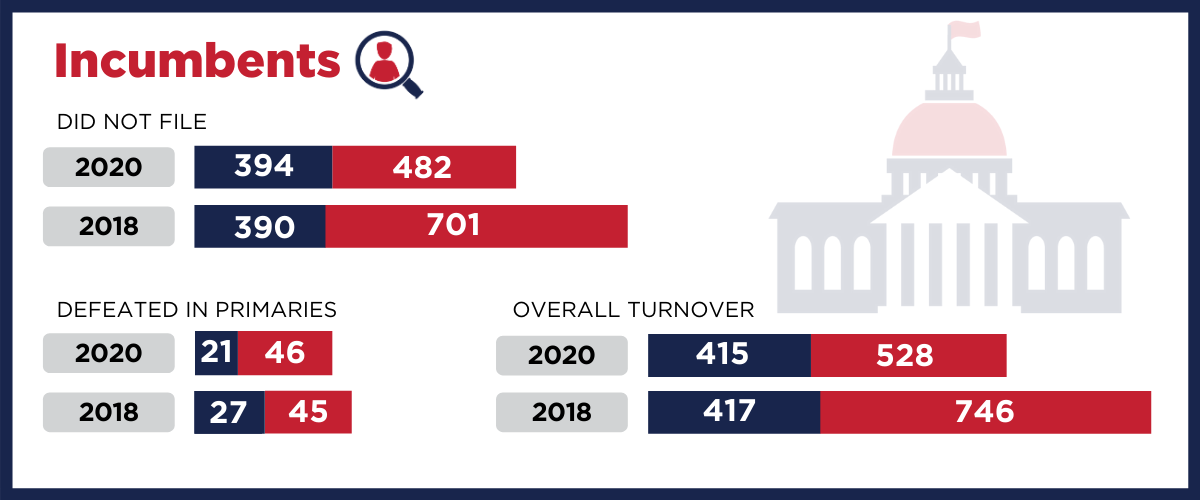 *The number of incumbents who did seek re-election is provided for the 41 states whose 2020 filing deadlines have already passed. The number of incumbents defeated in primaries is provided for the 24 states that have already held state legislative primaries in 2020.
Alaska AFL-CIO, former challenger encourage voters to support Sen. Cathy Giessel (R) in Senate District N primary
On Aug. 2, Must Read Alaska's Suzanne Downing reported that the Alaska AFL-CIO, headed by Vince Beltrami (I), has been conducting door knocking and literature drops encouraging voters to request a Republican ballot and support Senate President Cathy Giessel (R) in the Senate District N primary.
Beltrami challenged Giessel in the district's 2016 general election. Giessel received 52% of the vote to Beltrami's 48%. This year, Giessel faces a primary challenge from Roger Holland (R), a state Department of Transportation employee and Coast Guard reservist.
The contest between Giessel and Holland has centered on Alaska's Permanent Fund dividends (PDF), a yearly dividend paid out to Alaska residents. In December 2019, Gov. Mike Dunleavy's (R) budget proposed setting the dividend at nearly $3,000 per person. Dunleavy would have used state savings to supplement the payment.
Giessel opposed the plan, saying, "Should we institute an income tax, even a statewide sales tax, for the sole purpose of paying a very large dividend?" She recommended the state modernize its formulas used to calculate the PFD rather than using savings. The 2020 PFD ultimately paid out at $992 per recipient.
On his campaign website, Holland wrote, "Now is not the time to take PFD funds from Alaskans to allow continued irresponsible spending by state government." He said, "proposed changes should be studied by the experts and put before the people for a vote."
The AFL-CIO is also distributing materials encouraging voters to support Rep. Chuck Kopp (R-24) in his House District 24 primary against challenger Tom McKay, which we covered on July 29.
Candidates participate in forum for open Wyoming Senate District 18 seat
On July 23, the Park County Republican Women hosted a candidate forum for the upcoming Aug. 18 primary in Wyoming's Senate District 18. Four candidates—Stefanie Bell, Tim French, Richard Jones, and state Rep. David Northrup—are running. Incumbent Sen. Henry Coe (R-08) is not seeking re-election, leaving the seat open for the first time since he took office in 1989.
Each of the four candidates has held or currently holds a public office. Bell is a member of the Park County School District Board of Trustees, a position she has held for 20 years. French served as a Park County Commissioner from 2000 to 2018. Jones served on the Planning and Zoning Boards for the City of Cody and Park County. Northrup has represented House District 50 since 2013.
The forum's first question asked candidates whether they supported increases in a state income tax, corporate income tax, or sales tax. Currently, Wyoming does not have a personal income or corporate income tax. 
Bell and Jones said they generally oppose tax increases and instead suggested the state take a closer look at spending and efficiencies. Bell said the budget should be simplified so more citizens can weigh in each year. Jones went into greater detail in his Candidate Connection survey, saying, "New taxes and fees may be needed but should have the approval of the voters not just imposed by legislation."
French said he opposed raising any taxes, citing the economic conditions associated with the coronavirus pandemic. "What are you gonna tell those people," French said, "'I want you to cut this out of your life,' 'I need you to cut this'? They're already struggling, what are they supposed to cut?"
Northrup also mentioned the economy. He said financial reserves could be used to balance the budget over the upcoming two years, but the state needed to have a longer-term strategy. "If we blow all of our … savings right off the bat trying to figure out how to get through this, then what?" Northrup said one option to explore would be an optional penny sales tax with a sunset provision.
Power players
"The NRRT focuses on the unique legal and data demands of redistricting and coordinates a nationwide redistricting strategy with the Republican Party's national and state committees and conservative organizations around the country." – National Republican Redistricting Trust website
Launched in 2017 in response to the National Democratic Redistricting Committee, the National Republican Redistricting Trust (NRTT) says it aims to position Republicans favorably for redistricting through litigation and data analysis. Adam Kincaid acts as executive director, and in 2019 former Wisconsin Gov. Scott Walker was brought on as financial director.
The NRRT has previously said that it planned to raise $35 million by 2020. In May 2020, the organization filed paperwork to establish the National Republican Redistricting PAC. Kincaid told The Hill that this "would give his group access to small-dollar donors who are increasingly crucial to political success."