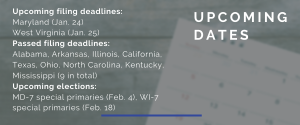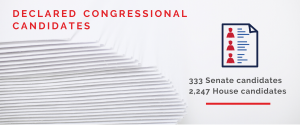 On the news
Democratic: Where do Democratic and progressive pundits and commentators disagree? Each week, we bring you excerpts that highlight differing views.
"Above all, progressives want to beat Trump. The Democratic front-runners have all pledged to support the eventual nominee no matter who it is. And this week, the leaders of six national progressive organizations sent out a 'unity statement' to this effect: 'While we firmly believe that either Warren or Sanders should lead our nation in 2021, we will, in the end, go all-out to defeat Trump no matter who the Democratic nominee is.'
Still, progressives can't shake the feeling that they've seen this movie before. Like Biden, Clinton was once widely considered to be the safest bet to beat Trump. She wasn't as radical as Sanders, the thinking went, so she could better appeal to voters straddling the political middle. She was a known quantity, a bridge builder, a shoo-in. But then millions of American voters who once voted for Obama didn't vote for her. To some lefties, a Biden nomination feels like déjà vu."
Elaine Godfrey, The Atlantic, Jan 18. 2020
"For all the hand-wringing among Democrats about which nominee would be most able to unify the party heading into November, Biden is also uniquely positioned to win over Sanders, Warren and Buttigieg supporters. When Sanders supporters are asked about their second choice in the primary, unsurprisingly Warren picks up 32 percent, but Biden follows closely at 28 percent. Similarly, Warren backers support Sanders as a second choice by 33 percent, but Biden is also strong at 24 percent — with Buttigieg trailing with 12 percent. Biden also leads among current Buttigieg and Bloomberg supporters by wide margins when asked about a second option.
Pundits and casual political observers are currently promoting the idea that Democratic primary voters are split ideologically into warring camps, but the 'second choice' figures paint a different picture of an electorate ready to unify behind Biden as the nominee."
Kevin Walling, The Hill, Jan. 12, 2020
U.S. Congress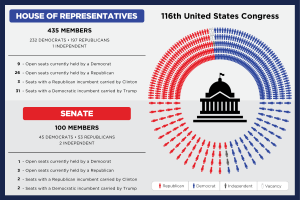 VoteVets Action Fund spending $3.3 million in Senate primary in N.C.
VoteVets Action Fund is spending $3.3 million on ads supporting Cal Cunningham in the Senate race in North Carolina through January. 
An early biographical spot from VoteVets highlighted Cunningham's experience in the Army and the state Senate, referring to him as a progressive. 
Cunningham released his first TV ad as well, discussing his military service and saying he'd work to expand Medicaid in North Carolina.
Cunningham was elected to the state Senate in 2000 and served one term. An Associated Press article said Cunningham was considered a conservative Democrat at the time of his tenure. 
Cunningham is one of five primary candidates, including state Sen. Erica Smith, vying for the nomination to run against Sen. Thom Tillis (R) in November. The primary is March 3. 
On Oct. 31, the Democratic Senatorial Campaign Committee (DSCC) endorsed Cunningham in the primary. Smith responded, "Ultimately, the voters of North Carolina will decide who their next United States Senator will be — NOT a handful of DC politicians making back room deals in windowless basements."
Smith was first elected to the state Senate in 2014. Her endorsers in the 2020 Senate race include Flip the Senate, a group that says it supports progressive policies, and Build the Wave, a group using texting campaigns to boost Democratic turnout.
A Public Policy Polling poll conducted Jan. 10-12 found "Undecided" leading with 60 percent. Cunningham received 22 percent support to Smith's 12 percent. Tom Jensen of Public Policy Polling told Ballotpedia the poll's margin of error was +/-4.3. A Fox News poll conducted Nov. 10-13 found 18 percent support for Smith to 13 percent for Cunningham, and 49 percent of respondents answered, "Don't know." The margin of error was +/- 3.5.
Three outlets rate the general election Toss-up or Leans Republican.
DSCC endorses Mackler in Senate primary in TN
The DSCC endorsed attorney James Mackler in the Democratic primary for Senate in Tennessee. 
The race is open as incumbent Lamar Alexander (R) is not seeking re-election. Five Democrats and 12 Republicans are currently running in the primary elections. 
Mackler has also been endorsed by Phil Bredesen, the former governor of Tennessee and Democratic candidate for Senate in 2018. Bredesen lost that election to Marsha Blackburn (R).
Melanie Tomlyn of Indivisible of Nashville and Middle Tennessee said of the DSCC's endorsement that "this Senate race is about the Tennessee grassroots and will not be dictated by outside national organizations putting their fingers on the scale." 
Indivisible's website says its mission is "to cultivate a grassroots movement of literally thousands of local Indivisible groups to elect progressive leaders, realize bold progressive policies, rebuild our democracy, and defeat the Trump agenda."
The primaries are Aug. 6, and the filing deadline is April 2. Three ratings outlets call this a safe Republican seat.
Judi Reiss withdraws from PA-01 primary
Bucks County Prothonotary Judi Reiss withdrew from Pennsylvania's 1st Congressional District primary Monday, citing a desire to give full attention to her elected and family roles. 
That leaves three candidates in the Democratic primary: Ivyland Borough Councilmember Christina Finello, technology consultant Skylar Hurwitz, and Pennsbury School Boardmember Debbie Wachspress. The filing deadline for the April 28 primary is Feb. 18.
The 1st District, currently represented by Brian Fitzpatrick (R), is on the Democratic Congressional Campaign Committee's target lists. It is one of three congressional districts in the country that Hillary Clinton (D) won in 2016 and that is represented by a Republican. 
Pennsylvania's district lines were redrawn ahead of the 2018 elections. Clinton carried what is now the 1st District by 2 percentage points. Fitzpatrick won in 2018 by 3 percentage points. 
Roll Call described Democrats' challenges in the district as follows:

"Fundraising will be critical for any Democrat running in the expensive Philadelphia media market and taking on Fitzpatrick, who had nearly $1.1 million on hand as of Sept. 30. Democrats will also have to chip away at Fitzpatrick's moderate brand. A former FBI agent, he often touts his role in the bipartisan Problem Solvers Caucus. According to CQ Vote Studies, Fitzpatrick has supported Trump's priorities 64 percent of the the [sic] time, the lowest score for a Republican (the average Republican has backed Trump's priorities 94 percent of the time)."
Bucks County Courier Times reported that the county Democratic Party will hold an endorsement meeting the first week of February.
Liss-Riordan drops out, Kennedy gets endorsements in Senate primary in MA
Last week, we dug into the Democratic primary for Senate in Massachusetts. Here's a brief followup:
Attorney Shannon Liss-Riordan

dropped out

, leaving the primary between incumbent Sen. Ed Markey and Rep. Joe Kennedy—at least for now. The filing deadline for the Sept. 1 primary is June 2.

Several House Democrats

endorsed

Kennedy, including Congressional Progressive Caucus Chair Mark Pocan and Rep. John Lewis.
State executives

Sen. Jon Tester endorses Montana Lt. Gov. Mike Cooney for governor
Montana Lt. Gov. Mike Cooney received the endorsement of Sen. Jon Tester (D) Friday in his bid to succeed term-limited Gov. Steve Bullock. Aside from Bullock, who endorsed Cooney in October, and Cooney himself, Tester is the only Democrat to hold a statewide elected office in Montana.
You may recall from last week's edition that gubernatorial candidates filed campaign finance reports Jan. 6. The reports showed consultant Whitney Williams, who is running with the endorsement of EMILY's List, leading in fourth-quarter fundraising with $439,000 to Cooney's $200,000 and state House Minority Leader Casey Schreiner's $15,000.
A fourth candidate, former state Rep. Reilly Neill, announced Monday that she was suspending her campaign. Candidates have until March 9 to file for Montana's gubernatorial election. The June 2 primary is open to all voters. No Republican candidate has been elected governor in Montana since Judy Martz (R) in 2000.
Sabato's Crystal Ball shifts Vermont gubernatorial election towards Democrats
Last week, we looked at Vermont Lt. Gov. David Zuckerman's decision to run for governor, setting up a primary contest with former state Secretary of Education Rebecca Holcombe. Since then, Sabato's Crystal Ball changed their projection for the general election from Likely Republican to Leans Republican. They cited Zuckerman's history of running in statewide elections as a factor in their decision, saying that he was well-poised to attract voters turning out for the presidential election.
Legislatures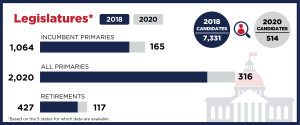 Personal PAC announces endorsements for two challengers in IL House
Personal PAC, a group dedicated to "making sure that Illinois always remains a state where abortion is safe, legal, and accessible to every woman," announced endorsements across the state. They are endorsing challengers to two sitting state representatives: Yehiel Kalish (District 13) and Thaddeus Jones (District 26). As we reported last week, Kalish faces a primary challenge over his stance on an abortion law.
Primaries for all seats in the Illinois State Legislature will take place on March 17. Across the House, 15 Democratic incumbents face at least one primary challenger. In 2018, eight Democratic incumbents faced primary challengers.
Pennsylvania Rep. receives challenger from the left
Attorney Emily Kinkead (D) announced she would challenge state Rep. Adam Ravenstahl (D-20) in a Democratic primary the Pittsburgh Tribune-Review characterized as part of "a wave of progressive Democrats who in recent years have challenged establishment incumbents in Allegheny County's Democratic Party."
Kinkead said that she thought voters in the district were looking for a change, adding that she thinks that District 20 is more progressive than people think. Ravenstahl said he expected a challenge. "That kind of comes with the territory," he said.
According to the Tribune-Review, Kinkead is following Reps. Summer Lee (D-34) and Sara Innamorato (D-21), who each defeated long-serving Alleghany County incumbents in 2018. Democratic primaries in Pennsylvania will take place on April 28.
Nevada Senate caucus makes endorsement in open primary
The Nevada State Senate Democratic Caucus endorsed Roberta Lange, former chair of the Nevada Democratic Party, for a seat held by term-limited Sen. David Parks (D-7). Assemblywoman Ellen Spiegel (D-20) and Assemblyman Richard Carillo (D-18) have both said they plan to run but have not filed for the race. The Nevada Independent called the endorsement "a significant advantage" in the Democratic primary.
Parks has represented District 7 since it was created as a result of redistricting in 2010. He won re-election against a Libertarian candidate 70-30 in 2016 and defeated a Republican challenger 64-35 in 2012. The filing deadline for this election is March 13.
Shevrin Jones receives another endorsement in FL Senate bid
Last week, state Rep. Shevrin Jones received the endorsement of retiring state Sen. Oscar Braynon (D-35) in a five-way primary. This week, he picked up an endorsement from U.S. Rep. Debbie Wasserman Schultz (D). A primary for this race will take place on August 18, and the filing deadline is June 12.
Power players
A weekly feature on influencers shaping the direction of the party.
"[The DCCC is] the only political committee in the country whose principal mission is to support Democratic House candidates every step of the way to fortify and expand our new Democratic Majority." – DCCC website
The Democratic Congressional Campaign Committee (DCCC) is an official subsidiary of the national Democratic Party. As a national political committee, the group makes political contributions to support the election of Democratic candidates to the U.S. House.
In January 2019, the DCCC released an initial list of 33 Republican-held or open seats it would target in 2020. Twelve districts have been added since, six in August 2019 and six in January 2020. For a list of those districts, as well as margins of victory for each district in the 2018, 2016, and 2014 elections, click here.
DCCC programs include the Frontline Program, a partnership between the DCCC and members of Congress designed to protect vulnerable Democratic incumbents, and the Red to Blue program, which provides funding and guidance to candidates seeking election in districts represented by Republicans. 
As of December 2019, the DCCC had around $48 million in cash on hand, compared to the National Republican Congressional Committee's $29 million.