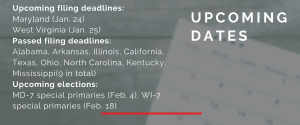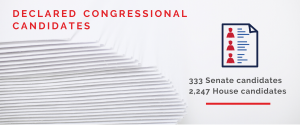 On the news
Republican: Where do Republican and conservative pundits and commentators disagree? Each week, we bring you excerpts that highlight differing views.
"Pro-Trump Republican senators contend their home-state constituents oppose impeachment — not just loyal Republicans, but CNN-watching independents as well. They describe constituents back home who see impeachment as a waste of time and a distraction from working on real issues."

Jim Geraghty, National Review, Jan. 20, 2020
"You want the American people to see a fair and thoughtful process. This is a big-enough issue that people will pay attention in a way they don't on other issues."

Michael Steel, quoted in Morning Consult, Jan. 16, 2020
U.S. Congress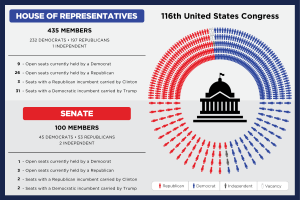 Cheney not running for Senate, Friess a question mark in WY
Rep. Liz Cheney will not run for the open U.S. Senate seat in Wyoming. In a statement Jan. 16, she said the House is where she can have the greatest effect:
"Our nation is facing grave security challenges overseas and the House Democrats are working to weaken our president and embolden our enemies. Socialists in congress and among the presidential candidates are threatening our liberty and freedom.
I believe I can have the biggest impact for the people of Wyoming by remaining in leadership in the House of Representatives and working [to] take our Republican majority back."
Cheney represents Wyoming's At-Large Congressional District and is chair of the House Republican Conference, making her the third-ranking House Republican. She's the daughter of former Vice President Dick Cheney. 
The current four-candidate Republican primary field for this safe GOP seat includes former Rep. Cynthia Lummis. According to The Hill's Juliegrace Brufke, "Lummis is a favorite amongst the conservative faction of the party." 
Foster Friess, a businessman and the second-place finisher in 2018's Republican gubernatorial primary, announced Jan. 17 he would begin a listening tour in consideration of a Senate bid. The Casper Star Tribune's Nick Reynolds wrote that "Friess maintains a strong conservative coalition across the state as well as a sizable ability to self-fund a campaign."
The filing deadline is May 29. The primary is Aug. 18. Incumbent Sen. Mike Enzi (R) is not seeking re-election. 
Olson endorses Bush to succeed him in TX-22
Retiring Rep. Pete Olson endorsed Pierce Bush in the 15-candidate Republican primary for Texas' 22nd Congressional District. The primary is March 3.
Olson said that if "Texas 22 goes blue, America goes blue," and that "one person came across as the person who can win this district in November. That man is Pierce Bush."
Olson won the district by 5 percentage points in 2018. The Democratic primary features 5 candidates, including Sri Preston Kulkarni, who ran against Olson in 2018.
Bush was CEO of Big Brothers Big Sisters Lone Star. He's the grandson of George H.W. Bush and nephew of George W. Bush.
Andrew Schneider of Houston Public Media said, "The heart of the district is Fort Bend County, accounting for 70 percent of the vote. And for the last two election cycles, Fort Bend County has been trending Democratic."
According to Houston Public Media, immigration, flood infrastructure, and transportation are major topics of discussion among Republican candidates.
Texas' 22nd is one of 36 open House seats and one of 26 currently held by a Republican (another open seat is vacant and was last held by a Republican). Six representatives out of Texas' 23-member Republican House delegation have announced they will not in 2020.
Republican Main St Partnership PAC backs challenger in IA-04
The Republican Main Street Partnership PAC endorsed state Sen. Randy Feenstra in the Republican primary for Iowa's 4th Congressional District. The current six-candidate field includes incumbent Steve King.
King has been in the House since 2003 and faced his closest election in 2018, when he won by 3 percentage points. 
The PAC's website states that the "governing Republicans of Main Street have worked together to revive Congress as an effective institution after years of deadlock and extremism." It is targeting suburban districts in 2020. Democrats picked up several suburban seats in 2018.
King was removed from committee assignments in January 2019 after The New York Times published an interview in which King mentioned white nationalism and supremacy and Western civilization. King has said his comments were taken out of context.
The primary is June 2, and the filing deadline is March 13.
CA Congressional delegation backs Obernolte for CA-08 
State Assemblyman Jay Obernolte announced endorsements from the six members of California's Republican House delegation, including House Minority Leader Kevin McCarthy and 8th District incumbent Paul Cook. 
Cook's retirement leaves the 8th District seat open in 2020.
The March 3 top-two primary has drawn 10 candidates. Among the five Republicans is Tim Donnelly, who ran against Cook in 2018 and received 40 percent of the vote. Donnelly beat Democrat Marge Doyle for the second-place spot in that year's top-two primary by 1 percentage point.
State executives

Utah Rep. Rob Bishop signs on as Thomas Wright's running mate
Last week, we covered U.S. Rep. Rob Bishop's decision to endorse former state GOP Chairman Thomas Wright for governor of Utah rather than seek the office himself. On Friday, Wright announced that Bishop would be his running mate. Wright is the first of seven Republicans in the race to select a running mate.
Bishop was elected to the U.S. House in 2002 and earlier served 16 years in the state House, including two as speaker. Local media sources had identified him as a potential gubernatorial candidate after he announced that he wouldn't seek re-election to the House this year.
Utah abolished the office of secretary of state in 1976 and delegated many of its responsibilities to the lieutenant governor. The office is responsible for overseeing notaries public, authenticating legal documents, overseeing registered lobbyists, and certifying municipal annexations. Utah is also one of two states (the other is Alaska) where the lieutenant governor serves as chief elections officer.
Incumbent Gary Herbert (R) is not running for re-election. The June 30 primary is open to registered Republicans and unaffiliated voters. Utah Republicans have won every gubernatorial election since 1984, marking the longest GOP gubernatorial winning streak in the country. 
Montana State Sen. Al Olszewski picks running mate
Montana state Sen. Al Olszewski announced Friday that freshman state Sen. Kenneth Bogner (R) would be his gubernatorial running mate. Olszewski is the first candidate from either party to name a running mate. Candidates for governor of Montana are required to name a running mate as part of the filing process. State Attorney General Tim Fox, U.S. Rep. Greg Gianforte, and any other candidates joining the race have until March 9 to file.
Bogner was first elected to represent his eastern Montana state Senate district in 2018. 
You may recall from last week's edition that Fox, Gianforte, and Olszewski are scheduled to appear in a debate in Billings on Thursday. It will be the first debate between all three candidates.
The June 2 primary is open to all voters. No Republican candidate has been elected governor in Montana since Judy Martz (R) in 2000.
Legislatures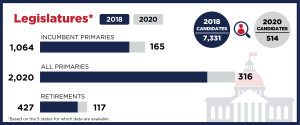 OC GOP rescinds Diep endorsement
The Orange County Republican Party rescinded its endorsement of Assemblyman Tyler Diep (R-72). Chairman Fred Whitaker said, "This is a sad day when an incumbent Republican member of the legislature loses the local party endorsement, but the party felt there had to be accountability for voting patterns."
Former Assemblyman Matthew Harper, who called for the vote, criticized Diep for being the only Republican to vote in favor of Assembly Bill 5, a bill addressing independent contractors. Harper said Diep was too supportive of public sector unions.
Diep blamed the decision on a small number of political insiders overriding the desires of his full constituency. "While it is disappointing that a few political insiders of the local party drove this, I am confident that voters will know I'm the best candidate to fight for them in Sacramento," he said.
Former state Sen. Janet Nguyen (R) is the other Republican running in the top-two primary. Commenting on Nguyen's campaign in December 2019, KCRW said, "Orange County used to be the bedrock of the Republican party in Southern California. But the party is facing an existential crisis."
Early campaign finance reports show TX GOP civil war may be on hold
The first 2020 campaign finance reports in Texas were released last week. According to The Dallas Morning News, the numbers show that a fight between factions within the state Republican Party could be cooling off. In 2018, factional conflict between moderate Republicans aligned with Speaker Joe Straus and conservative Republicans aligned with the Texas Freedom Caucus played out in 46 Republican primaries across both legislative chambers.
"[Empower Texans and Texas Right to Life], which have funded primary challengers to Republican incumbents in the past, mostly stayed out of most elections this reporting period," wrote James Barragán and Ariana Giorgi. Mark Jones, a political scientist at Rice University, agreed. "This cycle is different in that the Republican civil war has essentially gone away. We're not seeing any of that," he said.
In 2020, Republicans are defending a 19-12 majority in the state Senate and an 82-64 majority with three vacancies in the state House.
One race where the conflict may not have subsided: the race for state GOP chair. Former Florida Congressman Allen West is challenging sitting chair James Dickey. West raised $490,000 (including $250,000 from donor Richard Uihlein) over the past six months, while Dickey raised $18,000.
ND Rep. moves districts and announces he will challenge incumbents
North Dakota Rep. Jim Grueneich (R-12) announced that he and his wife Naomi were moving from their home in District 12 to District 28 to allow Naomi to pursue a career opportunity. Grueneich said he would run in District 28, where incumbents Jeffery Magrum (R) and Michael Don Brandenburg (R) have already announced re-election bids. 
Each North Dakota House district elects two representatives who serve four-year terms. Grueneich and Magrum were each first elected to the House in 2016, while Brandenburg served in the House from 1997 to 2002 before winning election to the chamber again in 2004. Forty-seven of the chamber's 94 seats are up for election this year. Republicans hold a 79-15 majority.
Power players
A weekly feature on influencers shaping the direction of the party.
"The National Republican Congressional Committee, the only national GOP organization dedicated to defending the House, effectively coordinates and defends conservative House candidates across America." – NRCC website
The National Republican Congressional Committee (NRCC) is a national 527 group and subsidiary of the Republican Party that aims to build and maintain a Republican majority in the U.S. House of Representatives through contributions to Republican candidates and political organizations. 
In February 2019, the NRCC announced 55 Democratic-held districts that it would target in 2020. For a list of those districts, as well as margins of victory for each district in the 2018, 2016, and 2014 elections, click here.
NRCC programs include the Patriot Program, which provides funding and support to incumbent members of the U.S. House running for re-election in battleground districts, and Young Guns, which recruits and supports challengers running for U.S. House seats in battleground districts.
As of December 2019, the NRCC had around $29 million in cash on hand, compared to the Democratic Congressional Campaign Committee's $48 million.