This week: We preview the MD-07 special primary on Feb. 4, Texas AFL-CIO backs Cisneros in TX-28, and several House progressives say they will pay DCCC dues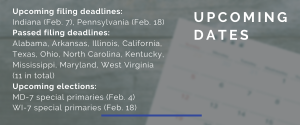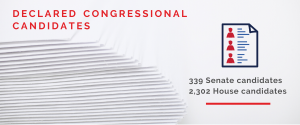 On the news
Where do Democratic and progressive pundits and commentators disagree? Each week, we bring you excerpts that highlight differing views.
"In the months leading up to the 2018 midterm elections, the Democratic Party was the subject of bitter and widespread criticism from its left wing. The party's strategy was to flip the House by recruiting moderate candidates who would avoid controversial left-wing positions and instead focus attention on Trump's agenda, especially his effort to eliminate Obamacare. The left predicted the strategy would fail — only an inspiring progressive agenda could mobilize enough voters to win back the House. … 
As we now know, it was a good strategy to win the House. Democrats flipped 40 seats. …
Whatever evidence might have supported a Sanders-esque populist strategy for Democrats after the 2016 election, it has since collapsed."
Jonathan Chait, Intelligencer, Jan. 28, 2020
"When moderate Democrats assure us that they would win back more white swing voters than progressive Democrats would, I am haunted by the thought that the evidence is hardly so reassuring. I see moderate candidates struggling with younger voters, who are more likely to favor progressive policies, and are more likely than older voters to stay home or vote third party if they don't like the Democrat. … 
The low-hanging fruit [voters who voted for Obama in 2012 and did not vote in 2016] is disproportionately composed of young voters, and especially young black voters. Democratic primary voters should value candidates' performance with these other swing voters as much as they value their performance with white swing voters."
Ibram X. Kendi, The Atlantic, Jan. 28, 2020
U.S. Congress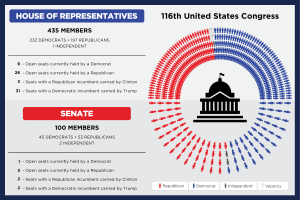 MD-07 special primary election Feb. 4
Voters in Maryland's 7th Congressional District will pick party nominees in special primary elections Feb. 4.The winners will face off in a special general election scheduled for April 28.
The 7th was formerly represented by Elijah Cummings, who died in 2019. The winner of the special general election will fill the remainder of Cumming's current term.
The Democratic special primary features 24 candidates. Eight are running in the Republican primary.
Democrats have held the 7th District since 1953 when Maryland gained an additional district following the 1950 census. The 2017 Cook Partisan Voter Index for this district was D+26, meaning that in the previous two presidential elections, this district's results were 26 percentage points more Democratic than the national average. This made Maryland's 7th District the 41st-most Democratic nationally.
In addition to the special election, Maryland is holding a regularly scheduled primary on April 28, 2020. Regular primary winners will advance to the Nov. 3, 2020, general election to compete for a full term in the 117th Congress.
Cook
changes CA-25 race rating to Likely Democratic
The Cook Political Report changed its race rating for California's 25th District special election from Lean Democratic to Likely Democratic, saying that Democratic candidate "Christy Smith has emerged as a heavy favorite" and that the district has trended Democratic in recent years.
California's 25th District will have both a special election primary and a regularly scheduled primary on March 3. The state holds top-two primaries. In the special primary, a candidate can win outright by getting more than 50% of the vote. Otherwise, a special general election for the top two candidates will be held on May 12. 
In the regular primary, the top two candidates will advance to the November general election (nobody can win outright).
According to Cook, "Of the dozen candidates running in each election, there are only three with a serious shot at advancing to either a May 12 special runoff or November: Smith (who flipped a GOP-held Assembly seat in 2018) and two Republicans, former Rep. Steve Knight (whom [Katie] Hill defeated by nine points in 2018) and Navy veteran Mike Garcia."
The California Democratic Party endorsed Smith. Monday, the Democratic Congressional Campaign Committee named her to its Red to Blue program, which "arms top-tier candidates with organizational and fundraising support," according to the group's website. 
The Los Angeles GOP backed Garcia, and House Minority Leader Kevin McCarthy endorsed Knight.
Cook said Republicans held a 4 percentage point registration advantage in 2012 when the district supported Mitt Romney for president, and that Democrats now have a 6 percentage point registration advantage. Hillary Clinton won the District in 2016.
Smith released her first TV ad last week in which she said she would "work with both parties to make healthcare affordable, protect people with pre-existing conditions, and lower drug costs." The position is distinct from that of another prominent Democrat in the race, Young Turks founder Cenk Uygur, who backs Medicare or All.
Former Rep. Katie Hill resigned in November 2019 following her acknowledgment of having had a relationship with a campaign staffer. Knight represented the district from 2015 to 2019.
Texas AFL-CIO backs Cisneros in TX-28, no endorsement in Senate primary
The Texas AFL-CIO Committee on Political Education endorsed Jessica Cisneros in her challenge to Texas' 28th District Rep. Henry Cuellar. The primary is March 3. 
Cisneros' other endorsers include Justice Democrats, MoveOn Political Action, NARAL Pro-Choice America, and Rep. Alexandria Ocasio-Cortez. 
House Speaker Nancy Pelosi and Democratic Congressional Campaign Committee Chair Cheri Bustos endorsed Cuellar. The group American Workers for Progress recently released an ad saying Cuellar has worked to protect healthcare and lower drug prices. The group says it "works to ensure that leaders at every level are focused on reducing barriers to job growth and addressing economic challenges to guarantee a better future for all Americans.​"
Cuellar said the 28th District is made up of "more moderate, conservative Democrats." He voted in favor of a bill banning most abortions after 20 weeks in 2017 and has received an A rating from the National Rifle Association. Cuellar was first elected in 2005. 
Cisneros said her campaign is "the only one in this race with an ear to the ground in Texas' 28th Congressional District. … We know we are the people's campaign."
The Texas AFL-CIO did not endorse in the U.S. Senate race as no candidate received 2/3rds of the vote at the AFL-CIO meeting. The Democratic primary features 12 candidates. The Democratic Senatorial Campaign Committee endorsed MJ Hegar in the race.
Several House progressives say they will pay DCCC dues
Progressive Congressional Caucus Co-Chairs Pramila Jayapal and Mark Pocan, along with several other progressive representatives, said they would pay member dues to the Democratic Congressional Campaign Committee after a meeting with DCCC Chair Cheri Bustos.
Rep. Alexandria Ocasio-Cortez has said she will not pay dues for the 2019-2020 election cycle as she opposes a DCCC policy, made official in 2019, that it will not give business to any consultant who works for a primary challenger to an incumbent Democrat. As we wrote in the first issue of Heart of the Primaries, Ocasio-Cortez started a PAC to support Democratic primary candidates, including challengers.
Pocan said Ocasio-Cortez "has a very unique ability to raise lots of money on the outside that no one else does and she can use that to also be helpful. … For most of us, it's the collective efforts that happen through the DCCC that help make sure that we're in the majority."
Jayapal and Rep. Ro Khanna said they disagree with the DCCC policy but will pay dues to help support maintaining a Democratic House.
According to Politico, "Withholding dues is not an uncommon practice. Dozens of House Democrats have shirked the duty this year for an array of reasons, such as fundraising prowess, dynamics in their district and members' own relationships with DCCC."
According to a DCCC document obtained by The Intercept, DCCC dues range from $150,000 to $1 million during the 2020 election cycle depending on the member's seniority.
State executives

Molly Gray launches bid for lieutenant governor of Vermont
Vermont assistant attorney general Molly Gray announced Monday that she would seek the Democratic nomination for lieutenant governor. Kelly joins four other Democrats, including 2018 gubernatorial primary candidate Brenda Siegel, state Senate Majority Leader Tim Ashe, and state Sen. Debbie Ingram. Incumbent David Zuckerman is running for governor, leaving the office open.
Vermont is one of eight states to allow fusion voting, where a candidate may be affiliated with multiple political parties on the ballot. In recent years, some Vermont Democrats have cross-filed with the Vermont Progressive Party, a political party founded in 2000. Incumbent David Zuckerman is a member of the VPP who cross-filed as a Democrat. Of the four Democrats currently in the running for lieutenant governor, only Ashe has cross-filed with the VPP in previous elections.
Vermont's lieutenant governor is elected separately from the governor and is tasked with presiding over the state Senate, casting tie-breaking votes in the Senate, and serving as acting governor while the governor is out of state. In the 2018 election, Zuckerman won re-election over challengers Donald Turner Jr. (R) and Murray Ngoima (Liberty Union) by a margin of 18.4 percentage points.
The candidate filing deadline is May 28. The August 11 primary is open to all registered voters.
Seventeen Democrats file for West Virginia executive offices
Seventeen Democrats filed for the state's six executive offices, setting up contested primaries for all but two.
Seven candidates filed for governor. West Virginia Democrats have won the last six gubernatorial elections, tying their all-time record for most consecutive wins in the state. However, Gov. Jim Justice switched to the Republican Party in August 2017, meaning that Democrats will need to defeat an incumbent governor to continue their streak. A December poll found three of the declared candidates—activist Stephen Smith, state Sen. Ron Stollings, and Kanawha County Commissioner Ben Salango—were leading the field and were about even with one another.
Contested primaries are also in store for the other top executive offices. Attorney Sam Petsonk and state Del. Isaac Sponaugle will seek the Democratic nomination to challenge Attorney General Patrick Morrisey (R), while Brent Pauley and former Secretary of State Natalie Tennant are in the running for secretary of state. The only other contested primary is for commissioner of agriculture, where four Democrats are seeking the nomination.
Incumbent state Treasurer John Perdue (D) is running unopposed, while Mary Claytor is the only Democrat to have filed for state auditor.
The May 12 primaries will be open only to registered Democrats and unaffiliated voters.
Legislatures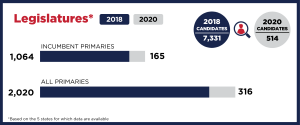 DSA-backed candidates in NY announce criminal justice platform
A group of five candidates for the New York Senate and Assembly backed by the Democratic Socialists of America released a criminal justice platform. The package of legislation calls for decriminalizing the adult sex trade, eliminating cash bail, create safe injection sites, and a number of other changes. The five candidates are all from Brooklyn and Queens: Jabari Brisport (SD-25), Marcela Mitaynes (AD-51), Boris Santos (AD-54), Phara Souffrant Forrest (AD-57), and Zohran Mamdani (AD-36).
Democratic strategist Evan Stavisky said that the platform was more about presenting united ideas as a party than it was individual results in the primary races. "[W]hile it is not yet clear how much support each bill has in each of these districts, presenting a common platform enables them to advance their agenda regardless of the outcome of any individual primary," he told the Queens Daily Eagle.
The Daily Eagle noted both challengers and incumbents agree on several of the bills, but decriminalizing the adult sex trade was a particular point of contention. In the last month, state bail and discovery changes have divided more moderate and liberal Democrats in the state capitol.
WI Sen. announces retirement, setting up competitive primary
Wisconsin Sen. Mark Miller (D) announced that he would not seek re-election in Wisconsin's 16th Senate District. Following the announcement, state Rep. Melissa Sargent said she would seek the nomination, while state Rep. Jimmy Anderson, Madison Ald. Samba Baldeh and Kelda Roys also expressed their interest in running. Miller was first elected in 2004 and served as leader of the Democratic caucus on several occasions.
District 16 covers portions of southeast Madison. Miller never faced a challenger in any of his re-election campaigns in 2008, 2012, or 2016. Republicans currently hold a 19-14 majority in the Senate, and 16 of the 33 seats are up for election this fall.
Power players
"Rebuilding the Democratic Party starts at the local level. The DLCC recruits, trains, and supports local Democrats running for state legislative office. We give our candidates resources, field support, and the data they need to run smart, winning campaigns." – DLCC website
The Democratic Legislative Campaign Committee (DLCC) is a 527 political organization whose aim is to oversee state-based political campaigns for Democratic candidates. The organization runs grassroots campaigns and provides campaign assistance to candidates with the goal of gaining a Democratic majority in state congresses. 
In December 2019, The Washington Post reported the DLCC planned to spend $50 million in 2020, ahead of redistricting. The group said it would target the state House in Iowa, Texas, and Michigan; Minnesota's Senate; and both chambers in Arizona, North Carolina, and Pennsylvania.  
In January 2020, Politico reported that the DLCC had "quadrupled its staff, partnered with a slew of other large Democratic groups … and planned to target as many as 14 states." In addition to the chambers listed above, Politico reported that Florida, Georgia, Kansas, Montana, West Virginia, and Wisconsin were potential targets for later in the year. 
According to OpenSecrets.org, the group raised around $33 million in 2018.