This week: Two Van Drew challengers withdraw in NJ-02, six candidates now running in open GA-14 primary, and Club for Growth PAC endorses challenger in TX-12.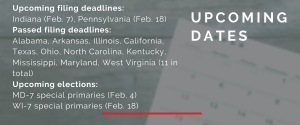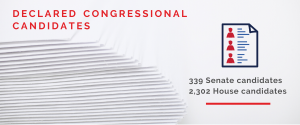 On the news
Where do Republican and conservative pundits and commentators disagree? Each week, we bring you excerpts that highlight differing views.
"As for the 'vulnerable' Republicans, they need to buck up. The only way they have a chance to win is by firmly supporting the President. … 
If they try to take the 'reasonable' route by crossing the aisle to vote with Democrats, they can forget about winning in November. Their efforts to curry favor with the media will backfire on them. Rather than bring moderate Democrats (if there is still such a thing other than 2016 Trump voters) over to them, they will alienate their base. That base will be furious and without their avid support, there will be far fewer door knockers and phone bank volunteers."
Mike Ford, RedState, Jan. 27, 2020
"There's a good chance [Susan Collins] will join the Democrats during the vote. Already, she's expressed her willingness to work with the other side of the aisle to reach a compromise that will suit both parties. And unlike the other centrist Republicans who have said they'd like to hear from Bolton, Collins has the most to lose. She's up for reelection in Maine this year, and her Democratic challenger has raised a significant amount of money and has tapped noteworthy endorsements. …
If she does break with her party on the trial rules vote, it's unlikely the GOP will hold it against her. The Republican Party has much more of a vested interest in maintaining Collins's Senate seat (a seat the Democrats need if they're going to flip the Senate in 2020) than they do in preventing Bolton from testifying."
Kaylee McGhee, Washington Examiner, Jan. 21, 2020
U.S. Congress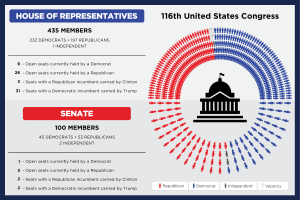 Two Van Drew challengers withdraw in NJ-02
Defense contractor Brian Fitzherbert and businessman David Richter withdrew from New Jersey's 2nd District Republican primary, leaving two candidates in the race: Rep. Jeff Van Drew and Bob Patterson, a former Acting Associate Commission of the Social Security Administration.
Van Drew switched his affiliation from Democratic to Republican on December 19, 2019, after he voted against impeaching President Donald Trump in December. Trump endorsed him. As we wrote in the first issue of Heart of the Primaries, local Republican Party leaders endorsed Van Drew in the following weeks, including some who had previously endorsed Richter.
Richter is now running in New Jersey's 3rd District Republican primary. He said of his switch, "When I decided to run for Congress, it was to flip a congressional seat. That's already happened. I'm endorsing Jeff Van Drew."
Van Drew had been a member of the New Jersey Senate before winning the 2nd District in 2018.
New Jersey's candidate filing deadline is March 30. The primary is June 2.
Open GA-14 primary candidate field grows to 6 
Six Republicans are currently seeking the GOP nomination in George's 14th Congressional District. The incumbent, Rep. Tom Graves, announced in December he would not seek re-election. 
The latest entrant is state Rep. Kevin Cooke. In addition to representing District 18 in the state House, Cooke is the associate athletic director at Shorter University. In his campaign announcement, Cooke said:
"The question is who do you trust to stand up to big government Republicans behind closed doors in Washington. … Choosing a candidate based on rhetoric is dangerous and conservatives fall for it every cycle. This is a Republican primary in Georgia. We will all say we want to stop socialism, support our President, protect life, defend the Second Amendment and build the wall. Talk is cheap." 
Ben Bullock recently announced his switch from Georgia's 7th District race to the 14th District primary, saying, "For over 200 years, my family has lived, served in both the military and elected office, farmed, and operated small businesses in the 14th congressional district." Bullock founded a real estate investment firm and served in the Air Force.
Businesswoman Marjorie Greene was the first candidate in the primary, announcing her switch from the 6th District race to the 14th following Graves' retirement announcement. Neurosurgeon John Cowan, former assistant district attorney and Air Force veteran Clayton Fuller, and Kyle Perkins are also running.
The filing deadline is March 6. The primary is May 19. If no candidate receives more than 50% of the primary vote, a runoff will be held July 21. 
Georgia's 14th District is one of 36 open House seats this year, and Graves is one of 26 Republicans retiring from the House.
The 2017 Cook Partisan Voter Index, which compares districts' presidential election results to national averages, found this district to be the 10th-most Republican district in the country. 
Club for Growth PAC endorses challenger in TX-12
Club for Growth PAC endorsed former Colleyville City Councilmember Chris Putnam in his primary bid against incumbent Kay Granger in Texas' 12th Congressional District. It's the first time the group has endorsed a challenger to a Republican House incumbent since 2016.
Granger first took office in 1997. Trump endorsed her re-election bid in December. 
Putnam joined the race in September, saying, "Just like President Trump, we need an outsider to bring proven business experience to drain the Washington swamp." 
Club for Growth describes itself as the "leading free-enterprise advocacy group in the nation." The group's president, David McIntosh, said Granger "has recklessly voted for out-of-control deficit spending, backroom bloated budget deals, and debt limit increases." 
Granger campaign representative Keats Norfleet said, "Kay is proud to be endorsed by President Trump and she's proud of her record of delivering conservative results for her district. … It's ironic that [the Club for Growth] would choose to support a candidate that voted to raise property taxes and grow the budget while serving on his local city council."
Protect Freedom PAC is also involved in the race. The group spent $547,000 on a TV ad released last week criticizing Granger on abortion. The group says it was "founded for the purpose of supporting pro-freedom and liberty-minded candidates."
The primary is March 3.
State executives

Montana gubernatorial candidates meet for first debate
The three candidates seeking the Republican nomination for governor of Montana appeared on the debate stage together for the first time Thursday. State Attorney General Tim Fox and state Sen. Al Olszewski participated in a debate last November which Rep. Greg Gianforte did not attend. All three stated their support for cutting taxes, lowering spending, and supporting the growth of Montana's energy sector.
Fox said that because he was born in Montana and had served as state attorney general, he was the candidate most familiar with the issues Montanans face and would perform best in the general election. Fox said that he outperformed Gianforte in the 2016 election when he ran for attorney general and Gianforte challenged incumbent Gov. Steve Bullock (D).
Gianforte said that he had the business experience necessary to develop Montana's economy. He highlighted his experience in founding and managing a software company that had 1,100 employees when Oracle purchased it in 2011. Gianforte also said that he had a close working relationship with President Trump and would follow the president's lead in cutting state taxes and regulations.
Olszewski said that he had the right mix of experience as a state legislator and the operator of his medical practice. He said that gave him a better sense than the other candidates of what needed to be done in Montana and how to do it. Olszewski said crime was a major policy priority and that he would put up billboards on the state line offering rewards for information on drug dealers and human traffickers. 
The candidate filing deadline is March 9. The June 2 primary will be open to all registered voters. No Republican has won election as governor of Montana since Judy Martz (R) in 2000.
Poll shows 48 percent undecided in Utah GOP gubernatorial primary
A Suffolk University/Salt Lake Tribune poll of likely primary voters shows 48 percent are still undecided in the race for the GOP gubernatorial nomination.
Among those who did voice a preference, former Jon Huntsman (R) has 26 percent, followed by Lt. Gov. Spencer Cox at 18 percent, and former House Speaker Greg Hughes at 7 percent.
Jeff Burningham, Aimee Winder-Newton, and Thomas Wright each received 1% support. The poll did not measure support for Jason Christensen. The poll's margin of error is plus or minus 6.3 percentage points.
A Y2 Analytics poll of registered Republican voters conducted in December for UtahPolicy.com showed Cox leading Huntsman 41 to 29 percent. Rep. Rob Bishop, who was seen as a potential candidate at the time but since joined Thomas Wright's campaign as his running mate, had 9% support. That poll, which had a margin of error plus or minus 4.6, did not allow respondents to say that they were undecided.
The candidate filing deadline is March 19. The June 30 primary will be open to registered Republicans only.
Indiana Department of Revenue Commissioner's resignation to run for attorney general takes effect this week
Indiana Department of Revenue Commissioner Adam Krupp (R) resigned effective Friday to challenge state Attorney General Curtis Hill (R). Krupp joins attorney John Westercamp (R), who launched his campaign in June.
Hill is currently undergoing a review before the Indiana Supreme Court's Disciplinary Commission following allegations of misconduct. In July 2018, four women who worked in the state legislature, including a member of the state House, accused Hill of inappropriately touching them at an event that March. Hill has denied the allegations.
Gov. Eric Holcomb (R), who had called for Hill's resignation after the allegations were made public, has so far declined to endorse in the race. In Indiana, state executive candidates other than gubernatorial and lieutenant gubernatorial nominees are nominated at party conventions rather than being selected in primaries. The Republican nominating convention will take place on June 19-20.
Legislatures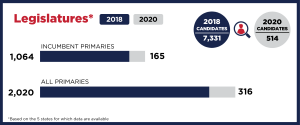 Alaska Senate President draws primary challenger as conflict within caucus grows
Roger Holland filed a letter of intent to run against Alaska Sen. Catherine Giessel (R). Holland is a political newcomer and works for the Alaska Department of Transportation. 
In a campaign announcement on Facebook, Holland cited Giessel's cooperation with House Speaker Bryce Edgmon (I) as a reason for the primary challenge. Edgmon changed his party affiliation from Democratic to undeclared in February 2019, before he was elected speaker of the chamber where Republicans held a numerical majority.
Last week, Anchorage Daily News reported that several Republican members of the Senate had been stripped of their committee assignments over their position on the state's Permanent Fund Dividend (PFD). The committee changes were approved 13-7, with all seven votes coming from Republicans who voted against the PFD changes in 2019. Republicans hold a 13-7 numerical majority in the chamber.
Giessel last faced a primary challenger in 2012, when she defeated Joe Arness 68-32 percent. She represents District N, which covers portions of South Anchorage. She was first elected to the Senate in 2010. In the last three election cycles, Giessel won each general election by at least five percentage points.
Term-limited senator joins SD House primary field
State Sen. Jeff Monroe (R-24), who is term-limited and unable to run again for the seat, filed paperwork to run for one of the two state House seats representing the same district. Both of the current House incumbents are also term-limited and not running for re-election. Monroe is the fourth Republican candidate to file for the two seats.
The other candidates are Mike Wiesgram, a businessman from Pierre, Bob Lowery, a former Assistant Executive Director for the SD High School Activities Association, and Will Mortenson, who worked in former Gov. Dennis Daugaard's (R) administration.
Republicans are expected to win both House seats in November. In 2018, both Republican candidates won with 35 and 37 percent of the vote, compared to the Democratic candidates' 18 and 11 percent of the vote. In 2016, 2014, and 2012, both Republican candidates were unopposed in each general election.
U.S. Senate candidate drops out of race to run for KS Senate
Bryan Pruitt (R) announced he was dropping out of the Republican primary for Kansas' U.S. Senate seat and running for District 22 in the Kansas state Senate instead. The other declared Republican candidate in the race is Craig Bowser. The district is currently represented by Tom Hawk (D), who was elected in 2012.
Pruitt said he wants to focus his efforts on improving Kansas. "As I met with voters, I realized I could accomplish more in Kansas than I ever could trying to fix Washington D.C. at this time . . . I see an opportunity to flip [the seat] from Democrat back to Republican. Taking back [District] 22 will solidify Republican control of the Kansas State Senate and allow me to do the important work of implementing conservative change for all Kansans," Pruitt said.
District 22 changed party control from Republican to Democratic control in 2012. In that race, Bob Reader (R) defeated incumbent Roger Reitz in the Republican primary before losing to Hawk 51-49 in the general election. District 22 covers portions of Manhattan.
Power players
"The Republican Legislative Campaign Committee (RLCC) is the only national organization dedicated exclusively to electing more Republicans to state legislatures. The RLCC's primary mission is gaining and growing Republican control of more state legislative chambers by targeting national resources to support winnable local races." – RLCC website 
The Republican Legislative Campaign Committee (RLCC) is a state-oriented national Republican organization that seeks to elect Republicans to state legislatures. Founded in 2003, the RLCC is an affiliate of the Republican State Leadership Committee (RSLC). The RLCC provides financial training and strategic assistance to Republican candidates and also operates campaign training schools in some states.