This week: Warnock enters special Senate election in GA, Bernie Sanders, steelworkers' union issue competing endorsements for governor of New Hampshire, and NY Assemblyman loses endorsement of local party to challenger.
Click here to follow developments on the Republican side. Have a tip or see something we missed? Email us at cory@ballotpedia.org. And please share this newsletter with your colleagues!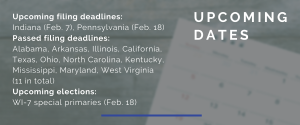 On the news
Where do Democratic and progressive pundits and commentators disagree? Each week, we bring you excerpts that highlight differing views.
"The one good thing that can come from the disaster of Monday's botched Iowa vote count is it may convince the national Democratic Party to end the caucuses once and for all.

The case for the Iowa caucuses is now weaker than it's ever been — and it's never been strong. Iowa is an unrepresentative state, and its caucuses impose an unconscionable burden on voters who wish to participate. Votes are counted in an absurd way, and the result can diverge significantly from the actual will of the people. …

It should go without saying that there is a better way to hold an election — the method used by the overwhelming majority of states. The state can simply pick a day to hold a primary, give voters a full day to cast ballots, and even allow voters who can't make it on election day to vote early or absentee.

And in this system, every voter's ballot will count exactly the same amount."
Ian Millhiser, Vox, Feb. 4, 2020
"[Iowa]'s done. So now everyone is asking, What do we replace it with? 

Keep in mind that the Democratic Party can't just make up its own primary calendar, independent of state desires and whatever it is the Republicans want to do. I mean, it could, but it would have to run the operation all by itself. It's possible via vote by mail, but still, it likely won't happen. So, say, if national Democrats decided that having Illinois go first made the most sense (it's the most demographically representative state in the nation), it wouldn't matter, because the state doesn't want to go first. The end. So much of this isn't about what will happen, but about frameworks for alternatives, which would then have to be hashed out through difficult negotiations with state parties, the Republican Party, state legislatures, and governors. Maybe that's why Iowa and New Hampshire have been able to keep their duopoly for so long?"
Markos Moulitsas, Daily Kos, Feb. 4, 2020
U.S. Congress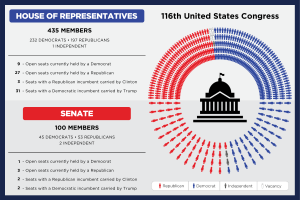 Warnock enters special Senate election in GA
Raphael Warnock entered the all-party Nov. 3 special election for Senate in Georgia. Politico's James Arkin called Warnock the most prominent Democrat in the race. Currently, the race includes four Democrats, four Republicans, and one independent.
The Democratic Senatorial Campaign Committee and 2018 Democratic gubernatorial candidate Stacey Abrams endorsed Warnock. 
Warnock is a pastor at Atlanta's Ebenezer Baptist Church and was chairman of the New Georgia Project, a voter registration group Abrams founded.
Warnock's Jan. 30 announcement came one day after U.S. Rep. Doug Collins (R) entered the race. Incumbent Sen. Kelly Loeffler (R) is also running. Gov. Brian Kemp (R) appointed her to fill the seat following Johnny Isakson's resignation in December. Several media outlets reported that President Donald Trump wanted Kemp to appoint Collins to the Senate seat.
After the Warnock and Collins announcements, The Cook Political Report changed its special election rating from Likely Republican to Lean Republican:
All these dynamics — long and protracted attacks between Collins and Loeffler and the entrance of Warnock — make it clear that this race is moving up the list of GOP headaches and Democratic opportunities, giving them yet another seat in their path to a majority. With its rapidly changing demographics, Georgia is a state that will be contested at the presidential level, and also sees Republican Sen. David Perdue running for re-election. But this is the more competitive race of the two.
If no candidate receives a majority of the vote, a runoff between the top two will be Jan. 5, 2021.
While the all-party special general election is not a primary, the race will be the first contest for the Senate seat in Georgia, and it is unlike most other Nov. 3 general elections in that it may not be the last. 
Polls show many voters still undecided in Texas Senate race
Two polls conducted in January show voters are still making up their minds about who to support among the 12 candidates seeking the Democratic Senate nomination in Texas.
The Dallas Morning News and the University of Texas-Tyler conducted a poll Jan. 21-30 in which 56% of respondents said they weren't sure who they'd support. M.J. Hegar polled at 8%. Royce West had 6% support and Annie Garcia had 5%. Four candidates polled at 4%, and five polled at 2% or below.
The poll had a sample of 487 Democratic primary voters and had a margin of error of +/- 4.4 percentage points.
The Texas Lyceum conducted a poll between Jan.10-19 that showed 19% of respondents didn't know who they'd like to see as the Democratic nominee, and 17% responded "none of the above." The poll showed Hegar with 11% support, West at 8%, Cristina Tzintzún Ramirez with 7%, and Amanda Edwards at 6%. Four candidates polled at 5%. The remaining four candidates were at 4% or less.
The Texas Lyceum conducted their poll among 401 potential Democratic primary voters, with a margin of error of +/-4.9 percentage points. The group describes itself as a "nonprofit, nonpartisan, statewide leadership organization focused on identifying the state's next generation of leaders and providing a forum for civil discourse on the important policy discussions facing our state."
Sen. John Cornyn (R), who is seeking a fourth term, first won election in 2002 and won in 2014 by 27 percentage points. In the 2018 election between Sen. Ted Cruz (R) and Beto O'Rourke (D), Cruz won by 2.6 percentage points.  
Open top-two primary for CA-50 down to one Democratic candidate
Marisa Calderon suspended her campaign for California's 50th District House seat Jan. 31, citing a need to support ill family members. That leaves Ammar Campa-Najjar as the lone Democrat in the March 3 top-two primary.
Rep. Duncan Hunter resigned from Congress after pleading guilty to a count of conspiracy to misuse campaign funds. The seat will remain vacant until the 2020 winner takes office in January 2021. Campa-Najjar lost to Hunter by 3.4 percentage points in 2018.  
The two candidates with the most votes on March 3, regardless of party, will advance to the Nov. 3 general election.
Four Republicans, three independents, and one member of the Peace and Freedom Party of California are also running. Republican candidates include former 49th Congressional District Rep. Darrell Issa, state Sen. Brian Jones, and former San Diego City Councilmember Carl DeMaio. 
California first used its top-two congressional primary system in 2012. In each 50th District election since, a Democrat and Republican have advanced from the top-two primary, and Hunter won each general election. Of previous 50th District top-two primaries, 2018 had the largest candidate field of seven, including three Republicans, three Democrats, and one independent. 
Three ratings outlets rate the general election Safe/Solid Republican.
State executives

Shavar Jeffries mulls primary challenge to New Jersey Gov. Phil Murphy in 2021
Fewer state executive races take place in presidential election years than in midterm years. This year, there are 159 state executive offices on the ballot nationwide, compared to 303 offices up in 2018. Just 37 of those seats are top four offices (governor, lieutenant governor, attorney general, and secretary of state); down from 123 in 2018. In this year's run of Heart of Primaries, our coverage of state executive races will include stories on emerging state executive candidate fields in the 2021 and 2022 elections as well as the most recent news from 2020.
This week, we turn to New Jersey, where first-term Gov. Phil Murphy (D) is up for re-election in 2021. Although Murphy has not yet formally declared he will seek a second term, a potential primary challenge is already shaping up from former assistant New Jersey Attorney General Shavar Jeffries (D), according to the New Jersey Globe.
Jeffries served as assistant attorney general under Anne Milgram (D) between 2008 and 2010. Following Chris Christie's (R) election as governor and Milgram's departure as attorney general, Jeffries taught at Seton Hall Law School. In 2014, Jeffries ran in the nonpartisan election for mayor of Newark, losing to then-City Councilor Ras Baraka by a margin of 8.4 percentage points.
Jeffries may face an uphill battle against Murphy —  a New Jersey Globe analysis found that while six of the past 10 New Jersey governors faced primary challengers, just one of those challengers was successful.
Montana House Minority Leader Casey Schreiner ends gubernatorial campaign
State House Minority Leader Casey Schreiner (D) ended his campaign for governor of Montana Monday. Schreiner's withdrawal leaves Lt. Gov. Mike Cooney (D) and consultant Whitney Williams (D) as the only declared Democrats. Incumbent Steve Bullock (D) is term-limited.
Schreiner was first elected to his Great Falls-area seat in 2012. Term limits prevent him from seeking re-election to the House this year. He is the second candidate to withdraw from the race this year.  Former state Rep. Reilly Neill (D) suspended her campaign Jan. 12. 
The June 2 primary is open to all voters. No Republican candidate has been elected governor in Montana since Judy Martz (R) in 2000.
Bernie Sanders, steelworkers' union issue competing endorsements in New Hampshire governors race
Presidential candidate Bernie Sanders (I-Vt.) endorsed New Hampshire Executive Councilor Andru Volinsky (D) for governor Thursday. The same day, the United Steelworkers of America Local 12012 endorsed Volinsky's opponent, state Senate Majority Leader Dan Feltes (D).
Volinsky was first elected to the five-member Executive Council in 2016 and was re-elected in 2018. Among his other endorsers are former Rep. Carol Shea-Porter (D) and state Sen. Jeanne Dietsch (D). Feltes has served in the state senate since 2014. Eight of his fellow 13 state senate Democrats endorsed him.
Feltes and Volinsky are the only candidates to file for the race so far. The filing deadline is June 12. The Sept. 8 primary is open only to registered Democrats, although unaffiliated voters may join the Democratic Party on the day of the primary and vote the same day. Incumbent Gov. Chris Sununu (R) is running for a third, two-year term.
Legislatures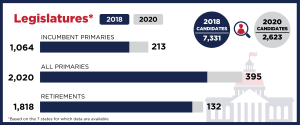 Niles Township Democrats denounce IL House candidate
As we previously reported in Heart of the Primaries, Illinois Rep. Yehiel Kalish (D) has drawn a primary challenge over his refusal to vote on abortion-related legislation in the most recent legislative session. This week, a local Democratic group in the 16th District spoke out against one of the challengers. The Niles Township Democrats claimed Kevin Olickal promised not to run without their endorsement, but chose to run anyway. They say this hurts their chances of defeating Kalish in the primary. The group has endorsed Denyse Wang Stoneback in the primary.
Politico called the race "Kalish's to lose," noting his status as incumbent but also his fundraising figures, totaling $442,000. Stoneback has raised $68,000 to this point, while Olickal has raised $105,000. The primary is March 3, and the winner will be unopposed in the general election.
NY Assemblyman loses local party endorsement to challenger
At a February 1 meeting of the Monroe County Democratic Committee, the group voted to endorse Alex Yudelson over Assemblyman Harry Bronson in the District 138 Democratic primary. Party leaders voted in favor of Yudelson after initial voting by party members across the district resulted in neither candidate receiving a majority of the vote. Bronson said that he disagreed with the calculations from the first round of voting and that the party leaders manipulated the system. Yudelson said he was honored to win the endorsement.
According to the Rochester Democrat and Chronicle, Bronson is unpopular with local party leaders for his refusal to support Mayor Lovely Warren's suggestion that the state temporarily take over the Rochester school board. According to the paper, Warren is the de facto leader of the local party. Yudelson is Warren's chief of staff, and made remarks at the committee meeting criticizing Bronson's stance on the takeover.
MN Senate Democrats elect new leader
On Saturday, Minnesota Senate Democrats elected Susan Kent to replace Thomas Bakk as Senate Minority Leader. The vote tally was not made public, and neither Kent nor Bakk issued public statements after the nearly six-hour closed-door meeting. Bakk had led the Senate Democratic Caucus since 2011. The move came two weeks before the start of the 2020 legislative session.
The Star Tribune said that the move was the result of friction between senators who represent urban and suburban districts and Bakk on issues such as mining and guns. It also reported that members of the party were concerned the move could shift more voters in rural districts away from the Democratic Party to the Republican Party.
Power players
"We promote fair elections in Georgia and around the country, encourage voter participation in elections, and educate voters about elections and their voting rights. Fair Fight brings awareness to the public on election reform, advocates for election reform at all levels, and engages in targeted voter registration and other voter outreach programs and communications." – Fair Fight website
Fair Fight was founded in 2018 by Stacey Abrams, a former Georgia state representative and the 2018 Georgia Democratic gubernatorial nominee. According to the organization's website, its areas of focus include voter registration, ballot access, and ballot counting. Fair Fight is also suing the Georgia Secretary of State and Board of Elections over what it says are "Georgia's unconstitutional elections policies and procedures." 
According to a Jan. 30 interview with Abrams, the organization is currently focused on "making sure that counties and precincts have adequate resources for the March 24 presidential primary" and "holding the Secretary of State accountable for providing proper resources and training to local elections officials so every eligible Georgian can participate without hardship."
Other recent Fair Fight activity includes an ad titled "Voter Purge," released at the end of January, which urges Georgia voters to check their voter registration status online.