This week: Doug Collins enters special Senate election in GA, Feenstra leads IA-04 GOP field in fundraising, and retiring TX Speaker donates to seven incumbents
Click here to follow developments on the Democratic side. Have a tip or see something we missed? Email us at cory@ballotpedia.org. And please share this newsletter with your colleagues!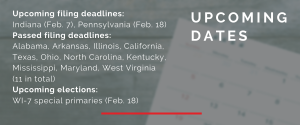 On the news
Where do Republican and conservative pundits and commentators disagree? Each week, we bring you excerpts that highlight differing views.
"Trump is not making the effort [to visit Iowa] because he is afraid of his two hapless Republican challengers, former Rep. Joe Walsh and former Massachusetts Gov. Bill Weld. …

Still, Trump has something to prove. Given his success in the 2016 GOP race, it is easy to forget that he started out by losing the Iowa caucuses to Ted Cruz. So he wants to make up for that. But more importantly, he wants to cement Iowans' support for his reelection. Plus, he wants to take advantage of the increased intensity of support among Republicans who believe Trump has been treated unfairly by Democrats in Washington."
Byron York, Washington Examiner, Feb. 3, 2020
"[Trump] easily carried [Iowa] during the last general election. His hold on the Senate majority, though marginal, likely faces little to no danger here. He will easily wipe away a small band of little-known candidates mounting primary challenges against the longest of odds to deny him the GOP nomination.

So why was the president of the United States in Des Moines on a Thursday night when he still stands trial for impeachment in Washington? Because Donald Trump had a simple message for the Democrats lining up for a chance to take him on in November: As far as he's concerned, Iowa belongs to him.
Philip Wegmann, RealClear Politics, Jan. 31, 2020
U.S. Congress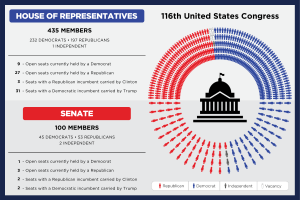 Doug Collins enters special Senate election in GA
U.S. Rep. Doug Collins announced Jan. 29 he is running in the special election for U.S. Senate in Georgia. He joins three other Republicans—including incumbent Sen. Kelly Loeffler—four Democrats, and one independent currently running in the Nov. 3 all-party general election. 
Sen. Johnny Isakson resigned Dec. 31 for health reasons.
If no candidate receives a majority of the vote, a runoff between the top two will be Jan. 5, 2021.
Several media outlets reported that President Donald Trump wanted Georgia Gov. Brian Kemp (R) to appoint Collins to the Senate seat. Kemp chose Loeffler, a financial executive and co-owner of Atlanta's WNBA team, to fill the vacancy created when Isakson retired.
Greg Bluestein at the Atlanta Journal-Constitution wrote that Kemp's choice was part of a strategy to recapture Georgia suburbs following his 1.4-percentage-point victory over Stacey Abrams (D) in 2018. Kemp avoided a runoff in that election with 50.2% of the vote. Bluestein wrote:
Abrams came within a whisker of forcing a runoff against Kemp by blazing a blue streak across north Atlanta suburbs where Republicans once dominated. …

With Loeffler, who would be the second female U.S. senator in Georgia history, he's trying to expand the Georgia GOP's appeal to those moderate and independent voters who have fled the Republican fold.
National Republican Senatorial Committee executive director Kevin McLaughlin said of Collins' entrance to the race, "All he has done is put two Senate seats, multiple House seats and Georgia's 16 electoral votes in play." 
Collins tweeted, "Republican voters in Georgia should choose their candidate — not one politician or a Super PAC in Washington. The time for that contest is now so we can unite well before November. Fighting ourselves and the left at the same time is a bad strategy."
Club for Growth announced plans to spend $3 million on ads opposing Collins. Collins released a digital ad referring to the group as a "Never Trump, anti-agriculture group" and to a farm bill that he supported and the organization opposed.
After Collins and Democrat Raphael Warnock announced their candidacies last week, The Cook Political Report changed its special election rating from Likely Republican to Lean Republican:
All these dynamics — long and protracted attacks between Collins and Loeffler and the entrance of Warnock — make it clear that this race is moving up the list of GOP headaches and Democratic opportunities, giving them yet another seat in their path to a majority. With its rapidly changing demographics, Georgia is a state that will be contested at the presidential level, and also sees Republican Sen. David Perdue running for re-election. But this is the more competitive race of the two.
While the all-party special general election is not a primary, the race will be the first contest for the Senate seat in Georgia, and it is unlike most other Nov. 3 general elections in that it may not be the last. 
Satellite groups spending on Byrne in Senate primary in AL
Two groups are running ads supporting and opposing U.S. Rep. Bradley Byrne in the Senate primary in Alabama, marking an uptick in satellite spending in the race. 
Fighting for Alabama, Inc. spent $351,000 through Jan. 31 on a TV ad calling Byrne "one of President Trump's strongest defenders." 
Club for Growth spent $274,000 last week re-airing an ad that first ran in November opposing Byrne. The ad says, "Byrne voted three times to fund a government giveaway program that hands out billions of dollars to help big companies make more profits overseas." 
Byrne's campaign representatives have called the Club for Growth a pro-China group that opposed Trump's presidency and agenda.
Byrne is one of six candidates in the March 3 primary. There will be a March 31 primary runoff if no candidate receives a majority of the primary vote. 
Other candidates include Jeff Sessions, who held the seat for 20 years before the president appointed him U.S. attorney general; former football coach Tommy Tuberville; and 2017 special Senate election candidate Roy Moore, who lost to Doug Jones (D) by 1.7 percentage points.
In two internal polls from the Sessions campaign, Sessions led with 43% and 44%—below the threshold needed to avoid a runoff— and Byrne and Tuberville were in competition for second place.
In addition to satellite spending for and against Byrne, the Senate Conservatives Fund has spent $219,000 since May 2019 on digital ads, direct mail, and more supporting state Rep. Arnold Mooney in the race.
Jones is the first Democrat to win a Senate seat in Alabama since 1992. The Republican primary winner will face him in November.
Feenstra leads IA-04 GOP field in fundraising
In Iowa's 4th Congressional District GOP primary, year-end campaign finance reports show state Sen. Randy Feenstra starting 2020 with $489,000 in cash on hand compared to $32,000 for incumbent Rep. Steve King.
Feenstra raised $721,000 throughout 2019 to King's $263,000.
As we reported in our January 22 issue of Heart of the Primaries, King has been in the House since 2003. His closest re-election contest came in 2018 when he defeated J.D. Scholten 50%-47%. 
Bret Richards raised $256,000, the third-most of the Republican field, and had $100,000 on hand. Currently, one candidate is running in the Democratic primary—J.D. Scholten, King's 2018 opponent. Scholten raised $734,000 and had $540,000 on hand.
The primary is June 2, and the filing deadline is March 13. There are currently six candidates in the Republican primary.
Congressional Leadership Fund releases pro-Granger ads in TX-12
Last week, we looked at the Club for Growth PAC's endorsement of Chris Putnam's primary challenge to U.S. Rep. Kay Granger in Texas' 12th District. Since then, the Congressional Leadership Fund released pro-Granger TV and radio ads highlighting Trump's endorsement of her. The group said it spent $300,000 on the TV ad.
State executives

New Jersey gubernatorial primary begins to take shape as Ciattarelli launches campaign
Fewer state executive races take place in presidential election years than in midterm years. This year, there are 159 state executive offices on the ballot nationwide, compared to 303 offices up in 2018. Just 37 of those seats are top four offices (governor, lieutenant governor, attorney general, and secretary of state); down from 123 in 2018. In this year's run of Heart of Primaries, our coverage of state executive races will include stories on emerging state executive candidate fields in the 2021 and 2022 elections as well as the most recent news from 2020.
This week, we turn to New Jersey, where Republicans are gearing up to try and retake the governor's mansion in the 2021 elections. Incumbent Phil Murphy (D) was elected to succeed term-limited Gov. Chris Christie (R) in 2017 and is expected to seek re-election next year, although he has yet to formally declare. The Republican candidate field has begun to take shape this year, with former Assemblyman Jack Ciattarelli launching his campaign Jan. 21.
Ciattarelli, who served seven years in the state Assembly, was one of five Republicans who ran for the GOP nomination in 2017. Although then-Lt. Gov. Kim Guadagno defeated him in the primary, Ciattarelli won seven of New Jersey's 21 counties and was the only candidate other than Guadagno to receive more than 10% support statewide. Ciattarelli's early endorsers for his 2021 run include Somerset County GOP Chairman Al Gaburo and state Sen. Kip Bateman.
Other potential candidates include state GOP Chairman Doug Steinhardt, state Assembly minority leader Jon Bramnick, and 2017 candidate Joseph "Rudy" Rullo. Another potential candidate, Assemblywoman Holly Schepisi (R) confirmed to Insider NJ on Jan. 31 that she would not run in 2021.
Montana Attorney General Tim Fox picks gubernatorial running mate
Montana Attorney General Tim Fox (R) announced Wednesday that former state Rep. Jon Knokey (R) would serve as his gubernatorial running mate. Candidates for governor of Montana are required to name a running mate at the time they file for election.
Knokey was elected to his Bozeman-area state House seat in 2016, defeating incumbent Christopher Pope (D) by a margin of 0.9 percentage points. Knokey suspended his bid for re-election in August 2018, saying that he had recently accepted a job offer that would leave him without time to serve as a legislator.
Fox's selection of Knokey leaves Rep. Greg Gianforte as the final Republican candidate who has not yet selected a running mate. State Sen. Al Olszewski is running alongside fellow state Sen. Kenneth Bogner. On the Democratic side, neither Lt. Gov. Mike Cooney nor consultant Whitney Williams has selected a running mate.
The June 2 primary is open to all voters. No Republican candidate has been elected governor in Montana since Judy Martz (R) in 2000.
Follow-up: Second Utah poll finds Huntsman and Cox leading, large segment of undecided voters
Last week, we reported on a Suffolk University/Salt Lake Tribune poll of primary voters in Utah's gubernatorial race. That poll found former Gov. Jon Huntsman (R) apparently leading Lt. Gov. Spencer Cox (R) 26-18 with 48% of voters undecided. 
A Deseret News/Hinckley Institute poll released Thursday paints a similar picture, with Huntsman apparently leading Cox 33-25 and 25% of voters undecided. None of the other candidates received more than 5% support. The Deseret News poll also surveyed voters who said that they were not Republicans but planned to join the party ahead of the gubernatorial primary. When those voters are included, Huntsman's apparent lead grows to 35-25, while the share of undecided voters is reduced to 23%.
Six of the seven Republican candidates took part in the first debate of the primary Friday at the Salt Lake Palace Convention Center, discussing education and economic development. The candidate filing deadline is March 19. The June 30 primary will be open to registered Republicans only.
Legislatures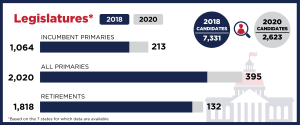 Ohio GOP meeting to reconsider endorsement of candidate
On Thursday, the Ohio Republican Party will meet to reconsider its endorsement of Joe Dills in the three-way Republican primary in House District 65. In January, the party endorsed Dills against the recommendation of the House Republican Caucus, which asked it to endorse Jean Schmidt instead. Schmidt is a political ally of House Speaker Larry Householder.
Dills, Schmidt, and Dillon Blevins are running in the March 17 primary. The winner will face Alan Darnowsky (D) in the general election. The retiring incumbent, John Becker (R), received at least 66 percent of the vote in each of the last four elections. District 66 is located east of Cincinnati. Republicans hold a 61-38 majority in the House.
Retiring TX Speaker donates to seven incumbents
Texas House Speaker Dennis Bonnen (R) made donations to the campaigns of seven incumbents facing primary challengers this year. He donated $15,000 each to Dan Flynn, Chris Paddie, Geanie Morrison, Jared Patterson, Briscoe Cain, Dennis Paul, and Phil Stephenson. A spokesperson for Bonnen said the donations were given in exchange for help with passing Bonnen's legislative priorities in last year's session.
Bonnen announced his retirement in October 2019 after a recording was released of Bonnen telling a group he would give them media credentials in exchange for working to defeat 10 Republican incumbents in the 2020 elections. Bonnen was first elected to the House in 1996 and was elected Speaker in Jan. 2019.
Republican member of AK House coalition retires
Last week, Alaska Rep. Tammie Wilson (R) retired, creating an open race in the 3rd District. Wilson was one of eight Republicans who created a coalition majority with 15 Democrats and two independents in Feb. 2019. This meant that although Republicans had a numerical majority in the House, a Democrat was selected as Speaker. Wilson said she was leaving the legislature in order to take a job with the Alaska Office of Children's Services.
The filing deadline in Alaska is June 1 and there are so far no declared candidates in the race. All 40 House districts are up for election in November. Republicans hold a 22-15 numerical House majority, along with one vacancy and two unaffiliated members.
Power players
"The Club for Growth is a national network of over 250,000 pro-growth, limited government Americans who share in the belief that prosperity and opportunity come from economic freedom." – Club for Growth website
The Club for Growth is a 501(c)(4) nonprofit organization based in Washington, D.C. The organization has two political arms, the Club for Growth PAC and Club for Growth Action, a super PAC.
According to the Club for Growth website, the organization focuses on the following issues: budget and spending, education, entitlements, free trade, regulation, taxes, term limits, and tort reform. 
The Club for Growth PAC "endorses and raises money for candidates who stay true to the fundamental principles of limited government and economic freedom," according to its website. The PAC focuses on U.S. House and Senate races. To view a list of 2020 candidate endorsements, click here.
The super PAC Club for Growth Action can raise and spend unlimited amounts of money. The group cannot contribute directly to a politician or political party, but it can spend independently to campaign for or against political figures. According to the group's website, it "[runs] independent hard-hitting TV, radio, Internet, and direct mail campaigns in critical Senate and House races across the country."