This week: U.S. Chamber of Commerce backs Cuellar in TX-28, Chicago mayor endorses Newman in IL-03, and Working Families Party releases endorsements in NY legislative races.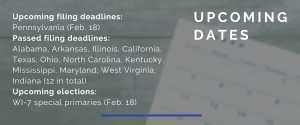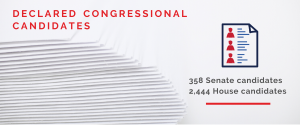 On the news
Where do Democratic and progressive pundits and commentators disagree? Each week, we bring you excerpts that highlight differing views.
"Even as the Iowa Democratic Party was trying to sort out the chaos in its reporting system, a party official announced that turnout was 'on pace' with what they had seen in 2016.

In other words, it was mediocre. About 170,000 people participated in the 2016 Iowa Democratic caucuses, far short of the unprecedented 240,000 voters who turned out in 2008 and launched Barack Obama on his way to the White House. What was so exciting a dozen years ago was not only how many Iowans showed up, but who they were: young people, first-time caucus-goers, an ethnically diverse mix of voters in an overwhelmingly white state.

Until recent days, there had been plenty of buzz among Democrats that this year would set a new record. There was even some loose talk that turnout could reach 300,000, which would be incontrovertible evidence of the passion that their party is feeling about the prospect of defeating President Trump in November. …

So-so turnout blows a hole in the rationale of Sen. Bernie Sanders (I-Vt.), in particular. His electability argument is that he can inspire the passion it takes to bring out young people and disaffected Americans who normally don't vote."
Karen Tumulty, The Washington Post, Feb. 4, 2020
"[S]ome Democrats who spoke with local voters didn't think [low voter turnout in Iowa] was necessarily a bad sign for one somewhat odd reason: Democrats, by and large, were happy with their choices and didn't feel the need to pick.

Megan Suhr, the former chair of the Marion County Democrats, wasn't surprised when her caucus site saw lower turnout than 2016. She expected the result.

She knocked doors before the caucuses and said she mostly encountered people who said they would vote for whoever the nominee is in November.

'There were a lot of different reasons and explanations,' Suhr said. 'There were also a lot of people who said they'd been watching all the hearings and they were watching the trial, and to them, whoever the caucus-goers decided, whoever came out of the primaries, was who they were going to support in the fall.'"
Nikoel Hytrek, Iowa Starting Line, Feb. 7, 2020
U.S. Congress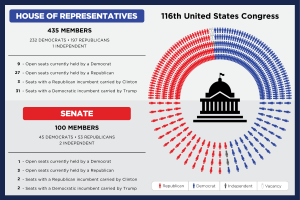 U.S. Chamber of Commerce backs Cuellar in TX-28
The U.S. Chamber of Commerce spent $200,000 on a Spanish-language ad supporting Rep. Henry Cuellar in Texas' 28th Congressional District primary. The ad says Cuellar helped pass the United States-Mexico-Canada trade agreement and protected the auto industry from tariffs.
The Texas Tribune's Patrick Svitek wrote: "It is a somewhat unusual move by the powerful Republican-leaning business group, which has previously supported centrist Democrats but has not spent seriously on behalf of one since 2014."
Cuellar, in office since 2005, is running against immigration lawyer Jessica Cisneros in the March 3 primary. Cisneros' platform includes Medicare for All, a Green New Deal, and a $15-per-hour minimum wage. Cuellar has said the district is more moderate. He says he opposes a Green New Deal and supports expanding health care access and protecting local jobs, among other priorities.
Other satellite spending in the race includes $1.2 million on ads supporting Cisneros and opposing Cuellar from Texas Forward—a PAC affiliated with EMILY's List—and American Workers for Progress' $700,000 on pro-Cuellar ads.
PAC backs Smith's Senate bid in NC, Smith disavows PAC
Faith and Power PAC has spent $2.4 million supporting state Sen. Erica Smith in the Democratic primary for Senate in North Carolina. It's the first noteworthy satellite spending for Smith in the race. Smith distanced herself from the group.
After the group released a T.V. ad and reported $1.6 million in initial expenditures last week, media outlets wrote that the group had Republican ties. CNN reported, "The media buyer, Neylan and Partners, has worked on behalf of Republican campaigns before, including a super PAC supporting Carly Fiorina's 2016 presidential campaign as well as Americans for Tax Reform."
The group's ad says Smith is "the only proven progressive" and that she supports Medicare for All and a Green New Deal.
Smith's campaign said in a statement, "The Erica for U.S. campaign disavows and disassociates ourselves from the interference of Republicans in the Democratic Senate Primary. … This entity is not authorized to represent our views and positions."
Candidate Cal Cunningham said, "Washington Republicans know Senator Tillis is weak, and apparently they don't like his chances against me in November. Now they're resorting to shady tactics to meddle in our election — and it's disrespectful to North Carolina voters."
VoteVets Action Fund has spent almost $6 million on ads supporting Cunningham. Cunningham has also released his own ads. 
Cunningham's ads focus on his support for expanding Medicaid, lowering drug costs, and strengthening the Affordable Care Act. Smith's campaign website says she supports a Green New Deal, the "expansion of affordable healthcare for all," drug price controls, and Medicaid expansion.
Cunningham ended 2019 having raised $3.3 million and with $1.7 million on hand. Smith raised $213,000 and had $95,000 on hand.
Smith and Cunningham are among the five primary candidates running for the Democratic nomination to run against Sen. Thom Tillis (R) in November. The primary is March 3. Three ratings outlets view the race as a Toss-up or Lean Republican.
Chicago mayor endorses Newman in IL-03
Chicago Mayor Lori Lightfoot endorsed Marie Newman in her rematch against incumbent Rep. Dan Lipinski. Chicago makes up about one-third of Illinois' 3rd Congressional District.
Lightfoot said Saturday that Newman would stand in solidarity with immigrants and refugees. She said Lipinski "voted against Obamacare, mocks efforts to combat climate change, and is actually still opposed to marriage equality."
As we reported in our first issue of Heart of the Primaries, Lipinski announced in January that 27 mayors and village presidents had endorsed his re-election bid. Three days before Lipinski's announcement, Lightfoot tweeted, "I support a big tent but there's no room under the flaps for anyone who is actively seeking to deny women control over our bodies. Time to leave @danlipinski."
Newman lost to Lipinksi 51% to 49% in the 2018 Democratic primary. 
WI-07 special primary election Feb. 18
Lawrence Dale and Tricia Zunker are running in the Democratic primary election for Wisconsin's 7th Congressional District on Feb. 18. The district's special general election is May 12. The special election was called to fill the vacancy left when Sean Duffy (R) resigned in Sept. 2019. Duffy cited the impending birth of his child as his reason for resigning. He was first elected in 2010 and won re-election in 2018, defeating Margaret Engebretson (D) 60% to 39%.
Dale, an insurance salesperson, previously ran as a Green Party candidate for Wisconsin's 7th Congressional District in 2014 and as a Democratic candidate for District 34 of the Wisconsin state Assembly in 2016. His priorities include transitioning the area's timber pulp industry to hemp pulp, growing the local farming industry, and passing Medicare for All. 
Zunker, a member of the Wausau School Board and an associate justice of the Ho-Chunk Nation Supreme Court, said she would be an advocate for local farmers and work to improve public education. Zunker said she favors "Medicare for All for those who want it." Zunker received endorsements from the Democratic Party of Wisconsin and the 7th Congressional District Democratic Party.
State executives

Josh Owens drops out of Indiana gubernatorial primary, leaving Woody Myers uncontested for the nomination
Josh Owens (D) suspended his campaign for Indiana's Democratic gubernatorial nomination Wednesday, leaving Woody Myers (D) as the only Democrat in the race ahead of the Feb. 7 filing deadline.
Owens, the chief executive officer of tech firm SupplyKick, offered Myers his endorsement and said the desire for a strong Democratic ticket in the general motivated his decision.
Indiana Democrats have not had a contested gubernatorial primary since 2008. That year, former Rep. Jill Long Thompson (D) defeated businessman Jim Schellinger (D) by 50.6% to 49.4%. Incumbent Mitch Daniels (R) defeated Thompson 58% to 40% in the general election.
Myers will face the winner of the Republican primary, contested between incumbent Eric Holcomb (R) and challenger Brian Roth (R), in the November general election. No Democratic candidate has won election as governor of Indiana since Frank O'Bannon (D) in 2000.
Pennsylvania Democrats nominate attorney general and treasurer candidates, auditor nomination to be contested in primary
The Democratic Party of Pennsylvania held its annual winter meeting Feb. 1 in Harrisburg, where the party endorsed Attorney General Josh Shapiro (D) and Treasurer Joe Torsella (D) but did not settle on a nomination for state auditor ahead of the contested primary.
Incumbent auditor Eugene DePasquale (D) is running for the U.S. House rather than seeking re-election, leaving the office open. Six Democrats, including former Philadelphia Deputy Mayor Nina Ahmad (D), state Rep. Scott Conklin (D), and Pittsburgh City Controller Michael Lamb (D), have so far declared they will run in the April 28 primary. 
The candidate filing deadline is Feb. 18. The last Republican to serve as state auditor was Barbara Hafer (R), who left office in 1997.
North Carolina lieutenant gubernatorial candidates meet for forum
All six Democrats running for the party's nomination for lieutenant governor of North Carolina met for a candidate forum in Kannapolis Sunday, where they discussed their plans for the office.
North Carolina is one of 17 states where the lieutenant governor is elected separately from the governor. Incumbent Dan Forest (R) is running for governor this year, leaving the office open. The lieutenant governor of North Carolina presides over the state senate and casts tie-breaking votes in addition to serving as acting governor while the governor is out of state. The governor may choose to delegate additional powers to the lieutenant governor.
The March 3 primary is open only to registered Democrats and unaffiliated voters. Should no candidate win a majority of the vote, the top two finishers will advance to a runoff. No Democrat has won election as lieutenant governor of North Carolina since Walter Dalton (D) in 2008.
Legislatures
Working Families Party releases endorsements in NY legislative races
The Working Families Party (WFP) endorsed 21 incumbent lawmakers representing portions of New York City. In a statement, State Director Sochie Nnaemeka praised each endorsed lawmaker as a "progressive champion" and said that each played a part in the party's most successful legislative session in decades.
One of the group's nine endorsements in the Assembly brings it into direct conflict with the Democratic Socialists of America (DSA). In District 57, the WFP endorsed Walter Mosley (D), who faces a primary challenge from the DSA-backed Phara Souffrant Forrest. The DSA has endorsed five legislative candidates this cycle, and the WFP did not endorse a candidate in any of the other four races with a DSA candidate.
Chicago mayor endorses pair of legislative candidates
Chicago Mayor Lori Lightfoot (D) also endorsed Reps. Eva Dina Delgado (D-3) and Jonathan Pizer (D-12) in their re-election campaigns. Politico noted the endorsements came at a time the mayor is trying to convince lawmakers to amend a casino bill to the city's benefit. Delgado faces two opponents in her Democratic primary, while Pizer faces five opponents. Neither district has a Republican candidate.
Both Delgado and Pizer were appointed in the last three months. Delgado was appointed in November 2019 to replace Luis Arroyo, who was charged with bribery as part of a corruption probe. Pizer was appointed on Feb. 10 to replace Sara Feigenholtz (D), who was appointed to the Illinois State Senate. 
Delgado faces a challenge outside of her primary as well. Minority Leader Jim Durkin (R) and Rep. Anne Stava-Murray (D) filed a qualifications challenge against Delgado. They alleged that the process to appoint Delgado was flawed, pointing specifically to the counting of Arroyo's proxy votes in the selection process. House rules dictate that a special committee must review the appointment.
Fundraising reports show distinct differences in Philly Senate race
In Pennsylvania state Senate District 1, which covers portions of Philadelphia, Sen. Larry Farnese (D) faces challenger Nikil Saval in the April 28 Democratic primary. Recent fundraising reports analyzed by the Philadelphia Public Record show distinct differences between the two. Farnese received $5,625 from individuals giving up to $250, while Saval received $27,948. Saval received $0 from PACs, while Farnese received $196,900. Farnese ended the January 31, 2020, report with a $296,000 cash balance to Saval's $104,000.
The Philadelphia Inquirer called the primary "the latest battle between old and new Philadelphia politics," describing Farnese as representative of the area's older machine politics and Saval as a self-described democratic socialist. The primary challenge is Farnese's first since winning the seat in 2008.
Saval cofounded the group Reclaim Philadelphia in May 2016 with former staff and volunteers from the Bernie Sanders presidential campaign. The group has been behind several other successful campaigns in the city in recent years, including District Attorney Larry Krasner's 2017 campaign and 2018 primary victories for Elizabeth Fiedler and Joe Hohenstein.
Farnese initially won the seat with the backing of 30-year incumbent Vince Fumo. Fumo told the Inquirer that he specifically drew the district to split it between two ideological camps of liberal and conservative Democrats. That balance has eroded in recent years, with more progressive Democrats gaining control of several other wards in the district.
Power players
"Formed by Members of the New Democrat Coalition, the NewDem Action Fund helps re-elect House NewDems and elect new, like-minded leaders who can help develop a positive policy agenda and message. In 2018, NewDems delivered the Democratic Majority in the House by flipping 31 of 40 net seats blue and contributing about $18 million to electing House Democrats." – NewDem Action Fund website
The NewDem Action Fund, which is affiliated with the New Democrat Coalition, says it "helps elect and re-elect forward-thinking leaders who will help ensure everyone in America has the opportunity to earn a good life." 
The group has endorsed nine Frontier candidates for 2020, in addition to their 31 Vanguard members. 
The NewDem Action Fund website highlights innovation, growth, solutions, and the middle class as areas of focus and says its members have "built a reputation as effective leaders on the critical issues of technology policy, economic growth, security and personal responsibility."
The New Democrat Coalition was founded in 1997. According to its website, "The New Democrat Coalition is made up of 103 forward-thinking Democrats who are committed to pro-economic growth, pro-innovation, and fiscally responsible policies."