This week: Susan B. Anthony List endorses Loeffler after opposing her, Empower Texans donors make donations in three-way HD92 primary, and Jon Huntsman picks gubernatorial running mate.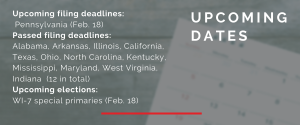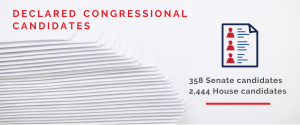 On the news
Where do Republican and conservative pundits and commentators disagree? Each week, we bring you excerpts that highlight differing views.
"The only reasonable step at this point is to strip Romney of his committee assignments and expel him from the Senate Republican caucus. While there is truth to Romney's claim that he votes for the bulk of the administration's policy proposals, if he is truly as principled as he claims to be, he will continue to do so as an independent senator.

In his speech Wednesday, Romney declared that the impeachment verdict 'will in fact be appealed to a higher court: the judgment of the American people.'

He is correct. The American people should have a vote on both the Trump presidency and on a previously Trump-endorsed senator who went on to betray the will of his constituents. With the backing of national party leadership, the Utah state legislature should immediately pass H.B. 217 in order to allow for the recall of Sen. Romney. This would force him to stand for reelection this year, sharing a ballot with the Democratic presidential nominee he has already done so much to assist."
Mark Ivanyo, Washington Examiner, Feb. 8, 2020
"If you honestly would prefer your children grow up to be more like Donald Trump than Mitt Romney, I don't know that there's anything left to talk about. Watch his actual speech on the floor. I have no problem with people who disagree with his reasoning. But to come away thinking he's anything other than a man molded by charactering-building [sic] institutions (his family, his church, the Senate itself) who is trying to do right by them strikes me as a kind of Trump-personality-cult derangement. … 

The hysterics insisting that Romney must be kicked out of the GOP—an effort Mitch McConnell sees for the idiocy it is—are in effect arguing that you can vote for all of Trump's judges and the vast bulk of his legislative initiatives and it counts for nothing if you don't accept full baptism into his cult of personality. 

I've been saying for 20 years that the cult of unity is a poison and that the hero in the American political tradition is not the mob, but the man who stands up to it. This week there was one hero and it wasn't Donald Trump."
Jonah Goldberg, The Dispatch, Feb. 7, 2020
U.S. Congress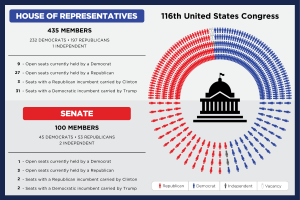 WI-07 special primary election Feb. 18
Jason Church and Tom Tiffany are running in the Republican primary election for Wisconsin's 7th Congressional District on Feb. 18. The district's special general election is May 12. 
Church and Tiffany agree on most policy positions but have highlighted their different backgrounds. Church describes himself as an outsider and a "combat veteran looking to continue my service on behalf of the people of Wisconsin's 7th district." Tiffany, a state senator, describes himself as a proven conservative who would "provide the leadership to get things done."
With Honor Fund and Americans 4 Security PAC have spent on advertising supporting Church. Club for Growth Action, Americans for Prosperity Action, House Freedom Action, and the U.S. Chamber of Commerce have spent in support of Tiffany. 
The special election was called to fill the vacancy left by Sean Duffy's (R) Sept. 2019 resignation. Duffy cited the impending birth of his child as his reason for resigning. He was first elected in 2010 and won re-election in 2018, defeating Margaret Engebretson (D) 60% to 39%.
Incumbent, party chairs back Garbarino in NY-02
State Assemblyman Andrew Garbarino picked up endorsements from retiring Rep. Peter King (R) and chairs of the state, Nassau County, and Suffolk County Republican parties in the Republican primary for New York's 2nd Congressional District. 
Garbarino is one of six candidates running in the June 23 primary. The filing deadline is April 2.
The field currently includes Islip Councilwoman Trish Bergin Weichbrodt, Suffolk County Director of Health Education Nancy Hemendinger, real estate developer Robert Kudler, Suffolk County Board of Elections member Nick LaLota, and state Assemblyman Michael LiPetri. Garbarino has been in the state Assembly since 2013.  
The general election is rated Lean Republican. Barack Obama won the presidential election in the district in 2008 and 2012, and Donald Trump won it in 2016. King, first elected in 1992, won re-election in 2018 with 53% of the vote. 
New York's 2nd is one of 36 House districts with an open seat in the 2020 elections due to congressional retirements. Twenty-seven Republican representatives and nine Democrats are not seeking re-election.
Susan B. Anthony List endorses Loeffler after opposing her 
Susan B. Anthony List endorsed Kelly Loeffler in Georgia's special Senate election after opposing her appointment to the seat last fall.
Sen. Johnny Isakson (R) resigned Dec. 31 for health reasons. Gov. Brian Kemp (R) appointed Loeffler, a financial executive and co-owner of Atlanta's WNBA team, to fill the vacancy. She took office Jan. 6.
Monday, SBA List Candidate Fund said in its endorsement, "During her first week in office, she co-sponsored three major pro-life bills that would stop late-term abortions, protect babies who survive abortions, and end the funneling of taxpayer dollars to the abortion industry."
In November, Susan B. Anthony List President Marjorie Dannenfelser called a hospital whose board Loeffler sat on a "training ground for abortionists" and said her connection to the hospital should "disqualify her from representing the state in the U.S. Senate."
Susan B. Anthony List says its "mission is to end abortion by electing national leaders and advocating for laws that save lives, with a special calling to promote pro-life women leaders." 
Four Republicans, five Democrats, and one independent are currently running in the Nov. 3 all-party general election. If no candidate receives a majority of the vote, a runoff between the top two will be Jan. 5, 2021.
As we reported earlier, U.S. Rep. Doug Collins—President Donald Trump's preferred pick for the Senate appointment—entered the special election Jan. 29.
State executives

Jon Huntsman picks gubernatorial running mate
Utah gubernatorial candidate Jon Huntsman, Jr. (R) announced Friday he had selected Provo Mayor Michelle Kaufusi (R) as his running mate. Huntsman is the second Utah gubernatorial candidate to select a running mate — Thomas Wright (R) formed a ticket with Rep. Rob Bishop (R) last month. Five other Republican candidates have yet to pick a running mate.
Kaufusi was elected mayor of Provo in 2017, becoming the first woman to hold the job. She earlier served six years on the Provo School Board. 
Lt. Gov. Spencer Cox (R) became the first of the seven Republican candidates to formally turn in his nominating signatures Monday. Candidates seeking the Republican nomination for governor of Utah may qualify for the primary ballot by either submitting petitions or winning the party's nomination at the annual convention. 
Candidates may choose to focus on one track or pursue both. Every candidate other than Jason Christensen and Greg Hughes is seeking to qualify via petition. If Cox files the required 28,000 valid signatures, he will appear on the June 30 primary ballot regardless of his performance at the nominating convention.
The candidate filing deadline is March 19. The June 30 primary will be open to registered Republicans only.
Dan Forest the fundraising leader in North Carolina GOP gubernatorial race
Dan Forest (R) leads Holly Grange (R) in fundraising with less than one month remaining before North Carolina's gubernatorial primary, according to reports filed Jan. 31. Forest, the incumbent lieutenant governor, and Grange, a state representative, are the two candidates seeking the Republican nomination.
The reports cover all fundraising and spending between July 1 and Dec. 31, 2019. During that time, Forest raised $1.4 million to Grange's $100,000. Since the beginning of the election cycle in Jan. 2017, Forest has raised $4.1 million, and Grange has raised $160,000.
The March 3 primary is open to registered Republicans and unaffiliated voters only. The last Republican to win election as governor of North Carolina was Pat McCrory (R) in 2012.
Legislatures
Abortion amendment vote sets off intraparty fight in Kansas
Last week, Kansas House Republicans fell four votes short of the threshold needed to send an abortion-related constitutional amendment to the August ballot. All House Democrats and four Republicans—Don Hineman, Jan Kessinger, Bill Pannbacker, and Tom Phillips—opposed the amendment. The four Republicans each expressed concerns about placing the issue on the August primary ballot instead of the November general election ballot when turnout would be higher. As soon as the amendment failed, Senate President Susan Wagle pulled several bills related to Medicaid expansion from consideration in the Senate and said none would be considered until the amendment passed the House.
In recent Kansas history, division within the Republican Party has led to primary battles between conservative and moderate factions of the party. In 2016, 14 conservative incumbents lost primary elections to opponents running against the tax cuts signed by then-Gov. Sam Brownback (R). The 2018 primary season saw a continuation of that fight, with 23 of the 31 contested primaries featuring at least one tax cut supporter and opponent.
Of the four Republicans that voted against the amendment in the House, only two (Hineman and Kessinger) have filed to run for re-election so far, and neither has a primary challenger. The filing deadline for those races is June 1.
Empower Texans donors make donations in three-way HD92 primary
Tim Dunn and Farris Wilks, the main supporters of the group Empower Texans, each donated $75,000 to the campaign of Jeff Cason, who faces Taylor Gillig and Jim Griffin in the three-way Republican primary for the District 92 seat held by Jonathan Stickland (R). Stickland announced in June 2019 that he would not seek re-election and endorsed Cason.
Empower Texans was the group that published the recording leading to the retirement of Texas Speaker Dennis Bonnen. Bonnen was recorded offering the group House media credentials in exchange for working to defeat 11 Republican members of the House. Bonnen initially denied that the meeting with Empower Texans occurred, before later apologizing to the Republican caucus in a letter and announcing his retirement.
Three tapped to fill Alaska House vacancy
As we reported last week in Heart of the Primaries, Alaska Rep. Tammie Wilson's (R) retirement created an opportunity for the chamber's Republican minority to pick up a seat. Wilson was one of eight Republicans who created a coalition majority with 15 Democrats and two independents in Feb. 2019. This meant that although Republicans had a numerical majority in the House, a Democrat was selected as Speaker.
The Alaska Republican Party submitted three names to Gov. Mike Dunleavy (R) to consider for the open District 3 seat. 
Michael Prax is a former member of the Fairbanks borough assembly and has worked on several campaigns, including Dunleavy's, in the past.

Thomas Studler is the chief of staff for District 6 Rep. Dave Talerico. 

Frederick Villa retired last year from his position as Associate Vice President of Workforce Programs for the University of Alaska System.
Dunleavy said he would meet with all three nominees to discuss their policy positions before making an appointment. In a statement, Dunleavy said he wants to discuss "creating a sustainable and affordable state budget, making Alaska safer, and developing Alaska's vast reserves of natural resources." Dunleavy has until Feb. 23 to make an appointment.
Power players
"Empower Texans is a non-profit service organization. Through multiple media formats, we educate and inspire Texans to exercise effective citizenship. Using research, reporting, and advocacy, we empower taxpayers to advocate for good governance and hold their elected officials accountable." – Empower Texans website
Founded in 2006, Empower Texans is a nonprofit organization that describes its work as "[e]nsuring the Lone Star State shines brightly with empowered citizen-leaders holding elected officials accountable." The group is affiliated with the Empower Texans PAC, which says it "exists to support conservative, reform-minded candidates for the Texas House and Senate." 
Empower Texans' projects include Texans for Fiscal Responsibility, Texans for Courageous Courts, and the publication Texas Scorecard. To view 2020 primary endorsements made by Texans for Fiscal Responsibility and Texans for Courageous Courts, click here. 
Empower Texans also produces a Fiscal Responsibility Index, which scores state legislators on what it calls their performance on "size and role of government issues."