This week: Working Families Party breaks with Engel, endorses Bowman in NY-16; LIBRE Initiative backs Cuellar, groups spend for Cisneros in TX-28; and former IDC member gets primary challenger.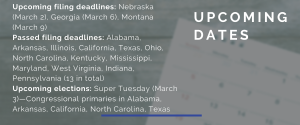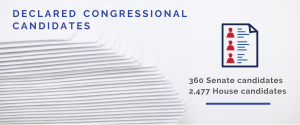 On the news
Where do Democratic and progressive pundits and commentators disagree? Each week, we bring you excerpts that highlight differing views.
"Abortion rights are in theory one of the party's basic principles, a standard it will not compromise. Except that it does, with disastrous results. Consider Dan Lipinski and Henry Cuellar, two conservative Democrats who oppose abortion: The party didn't just welcome them into the fold, the Democratic Congressional Campaign Committee is defending them against challenges from pro-choice women to their left. Abortion matters, until suddenly it doesn't. Women have a sacrosanct right to the control of their own bodies, until a conservative Democrat faces a primary challenge."
Sarah Jones, Intelligencer, Feb. 8, 2020
"Until recently, I spent much of my time working hard to elect Democrats to public office — but the early presidential campaigning pushed me away from the party, as well prompting my resignation from the board of Democrats for Life, where I had served since 2014.

For someone who is progressive on most issues, this decision doesn't come easy. … 

But the party gave me no choice. Yes, ours was a small group, but as many as a third of Democrats identify as pro-life. Even when party leadership finally met with us, they didn't take us seriously.

When we showed them that pro-life Democrats would beat Republicans in certain districts, it didn't matter. …

Anything even hinting that abortion is less than good now violates party orthodoxy."
Charles Camosy, New York Post, Feb. 6, 2020
U.S. Congress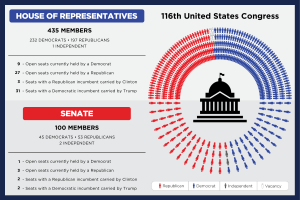 McGrath airs first TV ad since November, picks up DSCC endorsement in KY
Amy McGrath released her first TV ad since November in the Democratic primary for Senate in Kentucky. She says: 
"We need a senator who fights for things like affordable healthcare, college, and technical school, not tax cuts for wealthy donors. That doesn't mean free college or Medicare for All. I'm against that. Instead, we can improve the Affordable Care Act with no one getting kicked off their health plan. And I believe in national service as a way to pay for college."
Also last week, the Democratic Senatorial Campaign Committee (DSCC) endorsed McGrath.
Candidate and state Rep. Charles Booker said the DSCC is wrong in thinking that "running to the soft center" is the way to beat incumbent Mitch McConnell (R). Booker supports Medicare for All and a Green New Deal. Ten candidates are running in the May 19 primary.
McConnell was first elected in 1984 and has served as Senate majority leader since 2015. He faces seven challengers in the Republican primary. 
Three ratings outlets call the general election either Likely or Solid Republican.
Working Families Party breaks with Engel, endorses Bowman in NY-16
The Working Families Party endorsed middle school principal Jamaal Bowman's primary challenge to Rep. Eliot Engel in New York's 16th Congressional District. The party supported Engel in past elections.
New York Working Families Party State Director Sochie Nnaemeka praised Bowman's work with children and said, "New Yorkers need elected leaders who aren't afraid to take on big money and who will fight for strong public schools, Medicare for All and a transformational criminal justice system."
Engel was first elected to the House in 1988. He chairs the Foreign Affairs Committee and in 2018 was a founding member of the Congressional Medicare for All Caucus.
Bowman is running to Engel's left, criticizing his votes for the Iraq War and the 1994 crime bill and saying he has taken money from corporate PACs. Bowman's campaign website reads, "It's time for a Democrat who will fight for schools and education, not bombs and incarceration." 
Engel's campaign said he has a progressive record and that special interests are "trying to divide the Democratic Party and distract us from the real mission, ousting Trump, flipping the U.S. Senate and holding the House." His campaign website emphasizes his efforts to curb President Donald Trump's war powers.
Bowman was also endorsed by New York City Public Advocate Jumaane Williams, who said, "Unlike too many Democrats in Congress, Jamaal won't just say he supports the right solutions – he'll be a leader in fighting to get them passed." 
Six candidates are currently running in the June 23 primary. The filing deadline is April 2. 
LIBRE Initiative backs Cuellar, groups spend for Cisneros in TX-28
LIBRE Initiative Action endorsed Rep. Henry Cuellar in Texas' 28th Congressional District race. According to The Texas Tribune, it's the first time the group has endorsed a Democrat in a federal race.
A memo from LIBRE's senior advisor Daniel Garza read, "On issues ranging from immigration to trade to jobs and the economy, our congressman has been a consensus builder. He has sought out and found allies on both sides of the aisle to push real solutions to real problems." 
LIBRE's website says it "advances the principles and values of economic freedom to empower the U.S. Hispanic community." 
The Tribune wrote, "The LIBRE Initiative is one of several groups that engages in politics within the network built by conservative megadonors Charles and David Koch." 
Cuellar, in office since 2005, faces a primary challenge from Jessica Cisneros on March 3. 
Cisneros is an immigration attorney. She says her progressive platform is more in touch with the district. She says Cuellar has voted with the president 70% of the time and highlights Cuellar's A rating from the National Rifle Association.  
Cuellar says the district is more moderate and has criticized Cisneros' positions on abortion and energy policy, along with saying she moved to the area six months ago.
The Working Families Party, the Communication Workers of America, the Service Employees International Union, and the Texas Organizing Project announced Monday they'd team up to spend at least $350,000 supporting Cisneros ahead of the election.
As we reported last week, the U.S. Chamber of Commerce spent $200,000 on an ad supporting Cuellar, marking its highest spending for a Democrat since 2014.
State executives

Williamson ends campaign for Oregon Secretary of State
Former Oregon House Majority Leader Jennifer Williamson dropped out of the race for secretary of state Feb. 10.
Williamson resigned her House seat late last year in order to focus on her secretary of state campaign. 
In her announcement, Williamson said that she was withdrawing due to a soon-to-be-published story about her campaign finance practices. Local media sources reported that the story in question is a Willamette Week investigation into her campaign's spending. The story did not accuse Williamson of breaking campaign finance laws.
Williamson's withdrawal leaves three Democrats still in the running: Mark Hass, Jamie McLeod-Skinner, and Cameron Smith.
Unlike in most states, Oregon's secretary of state is first in line to the governorship. There is no lieutenant governor of Oregon. Four governors, including incumbent Kate Brown (D), were originally secretaries of state who succeeded to the office after a governor left office early.
The current secretary of state is Republican Bev Clarno, meaning that if Brown were to leave office, Republicans would gain Oregon's governorship and break the state's Democratic trifecta. Clarno, who was appointed to the office following the death of Dennis Richardson (R) in February 2019, will not seek a full term in 2020. 
The May 19 primary is open to registered Democrats only. Additional candidates have until March 10 to file.
Williams, Cooney meet for first debate
The Democratic candidates for governor of Montana met for their first debate Feb. 12 in Billings. Mike Cooney and Whitney Williams discussed healthcare, education, and the economy.
Cooney, the current lieutenant governor, and Williams, a consultant, are the only candidates currently in the running for the Democratic nomination. As of the end of 2019, Cooney had raised $450,000 and Williams had raised $440,000. Cooney's endorsers include incumbent Gov. Steve Bullock (D), who is term-limited, and Sen. Jon Tester (D). Williams' include EMILY's List and Missoula Mayor John Engen.
The filing deadline for the Democratic primary is March 9. The June 2 primary is open to all registered voters. The winner will face the Republican nominee in the November general election. No Republican candidate has won election as governor of Montana since Judy Martz (R) in 2000.
Legislatures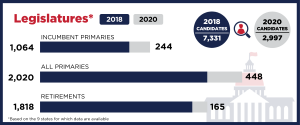 Pritzker endorses challenger in IL House race
Illinois Gov. J.B. Pritzker (D) endorsed Margaret Croke in the Democratic primary for Illinois House District 12. This puts him at odds with Chicago Mayor Lori Lightfoot, who last week endorsed Rep. Jonathan Pizer in the same race. Pizer was appointed on Feb. 9, 2020, to replace former Rep. Sara Feigenholtz (D).
Kimberly Walz announced her withdrawal from the race following the endorsements. In a statement, Walz said, "This race is unfortunately no longer about issues or experiences. It's about powerful allies and their money. It's not a reality that I'm happy about. However, it's a reality."
The primary is March 3. Pizer, Croke, James Garfield, Marty Malone, and Ryan Podges are competing for the nomination. No Republican candidate filed to run, so the winner of the primary election will be unopposed in the November general election.
Libre Initiative also endorses in Texas Senate primary
LIBRE Initiative Action (the same group that endorsed Cuellar in TX-28) and an affiliated group, Americans for Prosperity Action, also endorsed Texas Sen. Eddie Lucio (D-27) in his primary campaign against Ruben Cortez Jr. and Sara Stapleton-Barrera. The Dallas Morning News said that Lucio is often the chamber's lone Democrat to vote with Republicans on social issues.
Several progressive groups responded to the endorsement. Progress Texas, Planned Parenthood, and the Texas Freedom Network each issued calls for district residents to vote against Lucio in the March 3 primary election. Lucio faced one primary challenger last cycle and won that race 84% to 16%.
Former IDC member gets primary challenger
Brandon Stradford (D) announced he would challenge New York Sen. Diane Savino (D-23) in the Democratic primary on June 23. Stradford told the New York Post he would make Savino's membership in the Independent Democratic Conference (IDC) a key issue in the campaign. The IDC was a group of eight Democrats that caucused with Republicans to give them a majority in the New York State Senate. The IDC dissolved in 2018 and Savino rejoined the Democratic caucus.
Savino faced a primary in 2018 over her membership in the IDC. In that race, she received 67.5% of the vote, defeating Jasmine Robinson (20.4%) and Stradford (12.0%). Stradford said he feels he has a better chance of defeating Savino in a one-on-one primary.
Power players
"We're building an army of young people to make climate change an urgent priority across America, end the corrupting influence of fossil fuel executives on our politics, and elect leaders who stand up for the health and wellbeing of all people." – Sunrise Movement website
Founded in 2017, Sunrise Movement is a D.C.-based nonprofit organization that describes itself as "a movement to stop climate change and create millions of good jobs in the process." 
The group promotes the Green New Deal and has scorecard evaluating 2020 Democratic presidential candidates on the following categories related to the Green New Deal: "How they talk about it," "How much they talk about it," "Plan to win," and "Green New Deal vision." 
Sunrise Movement has endorsed Bernie Sanders for president. 
HuffPost reported on Feb. 13 that the group was transitioning its focus from the presidential election to on three March 3 Texas primaries, supporting Heidi Sloan (TX-25), Jessica Cisneros (TX-28), and Mike Siegel (TX-10).  
To view a full list of the group's endorsements, click here.
We are highlighting the cross-partisan With Honor Fund in the Republican version of today's newsletter. Click here to read and here to subscribe.