This week: Trump endorses House challengers, DeMaio, Issa ramp up criticisms ahead of CA-50 primary, and MN state senator in swing district announces retirement.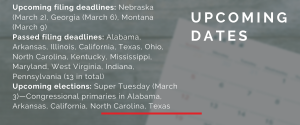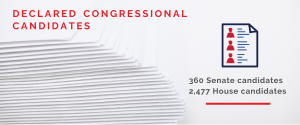 On the news
Where do Republican and conservative pundits and commentators disagree? Each week, we bring you excerpts that highlight differing views.
"One of the most common misconceptions I hear about Donald Trump is that he is not a fiscal conservative. …

And yet, every year, when the president has presented his budget proposals to Congress, they have contained more spending cuts than any president in history. They sought to achieve balance within 10-15 years. They outline streamlining reforms to bloated and dysfunctional programs. …

It's an election year now, and Democrats would love nothing more than to trigger another government shutdown in the cynical confidence the media will blame the president. And Washington Republicans love trying to buy goodwill from voters with money borrowed from our grandkids. So this year's spending totals may end up no better than the last three years.

But it's not Donald Trump's fault. And when – not if – he wins re-election in the fall, the second Trump Administration will be ready to fight, and win, on this issue too."
Jim DeMint, Daily Caller, Feb. 18, 2020
"Deficits have ballooned under President Trump. The popular narrative has been that the culprit is 2017's Tax Cuts and Jobs Act. Alas, facts are stubborn things, and the available data so far shows that current deficits are primarily being driven by spending. There is room for reasonable debate over the long-term impact of non-offset tax cuts, but what is inescapably clear is that the other side of the federal ledger – spending – has increased dramatically under Trump's watch. …

Under this budget, spending will increase to more than $4.8 trillion in 2021, though as Cato's Chris Edwards points out, the true number is closer to $5.4 trillion when accounting for hidden fees and other budgetary gimmicks. …

Meanwhile, President Trump campaigned on and continues to support not touching entitlements, the single largest driver of deficits and debt. As [the Committee for a Responsible Federal Budget] also highlights, the Administration has proposed reforms that would reduce Medicare costs by hundreds of billions of dollars, as it has in past budgets. But color me a pessimist for thinking that the most likely outcome is for those responsible elements never to materialize and all the existing spending (and a whole lot of new spending) to continue on autopilot."
Jonathan Bydlak, Daily Caller, Feb. 18, 2020
U.S. Congress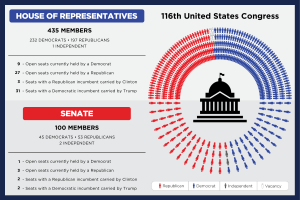 Trump endorses 7 House challengers
President Donald Trump tweeted endorsements for seven House challengers Feb. 12. The endorsements are for battleground races with Democratic incumbents and open seats with retiring Republican incumbents. Four of the endorsed candidates are running in March 3 primaries (three in Texas and one in California). 
The following table shows each endorsed candidate's race, including the district's incumbent, whether the seat is open, race ratings from three outlets, and noteworthy district election history.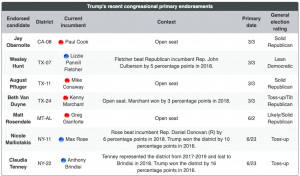 For more of the president's 2020 endorsements, as well as endorsements from previous election cycles, click here.

DeMaio, Issa ramp up criticisms ahead of CA-50 primary
Former Rep. Darrell Issa and former San Diego City Councilmember Carl DeMaio are criticizing one another over their immigration stances and Trump-supporting credentials ahead of California's 50th District top-two primary. 
On Friday, DeMaio released an ad comparing Issa to Mitt Romney, the only Republican senator who voted to convict the president on the abuse of power article of impeachment. The ad's narrator said Issa was "the only Republican to support the witch hunt against Trump" and that Issa supports amnesty for people in the country illegally. 
An Issa campaign ad released Feb. 12 says DeMaio supports amnesty, open borders, and sanctuary cities. A Feb. 13 ad said DeMaio "opposes Trump's pro-life agenda."  
Daily Kos wrote, "DeMaio and Issa each raised more money during the final three months of 2019 than any non-incumbent Republican candidate in any of the nation's other House races."
Nine candidates are running in the March 3 primary: four Republicans, one Democrat, three independents, and one member of the Peace and Freedom Party of California. The top two vote-getters will advance to the Nov. 3 general election.
California first used its top-two congressional primary system in 2012. In each 50th District election since then, a Democrat and Republican have advanced to the general election. Duncan Hunter (R), who resigned in January after pleading guilty to a count of conspiracy to misuse campaign funds, won each of those general elections.
State executives

Missouri Gov. Mike Parson preparing for a possible primary challenge from ex-Gov. Eric Greitens
Missouri Gov. Mike Parson's campaign is preparing for the possibility of former Gov. Eric Greitens seeking a return to office. Greitens was elected governor in 2016 and resigned in June 2018.
In an interview Friday, Greitens said the truth surrounding the allegations against him was beginning to come to light. He declined to say whether he would run again in 2020. In an interview with the Kansas City Star, an unnamed Parson advisor said of Greitens, "Will he run? I doubt it…Are we going to be haunted by his ghost until he declares or filing for the primary closes? Absolutely."
Greitens resigned amid allegations of sexual misconduct and misuse of campaign information. A Missouri Ethics Commission investigation concluded Thursday that Greitens' campaign had violated state campaign finance law but did not find that Greitens himself had committed any wrongdoing. 
The pro-Parson PAC Uniting Missouri launched a $1 million statewide ad campaign Feb. 11 describing him as "a former sheriff, a conservative tough-on-crime governor." Last month, the PAC released a poll it had sponsored which included a question asking voters who they would support in a hypothetical Parson-Greitens matchup.
Candidates for governor of Missouri have until March 31 to file. Parson's only currently declared Republican challenger is state Rep. Jim Neely (R). The Aug. 4 primary is open to all registered voters.
Tim Eyman to run for governor of Washington as a Republican
Washington gubernatorial candidate Tim Eyman announced Feb. 12 that he would run for governor as a Republican. Eyman entered the race in November as an independent.
Although this is Eyman's first run for elected office, he has previously been active in state politics as a ballot measure sponsor. Since 1998, 17 Eyman-sponsored measures have made the state ballot. Voters have approved 11 of them.
Under Washington's top-two primary system, all candidates for governor will appear on the Aug. 4 primary ballot. The top two finishers, regardless of partisan affiliation, will advance to the general election. Each of the three gubernatorial elections Washington has held since switching to top-two primaries resulted in a Democrat and a Republican advancing.
Thirteen candidates are currently running for governor, including incumbent Jay Inslee (D), two other Democrats, seven Republicans, and three third party or independent candidates. The filing deadline is May 15.
Legislatures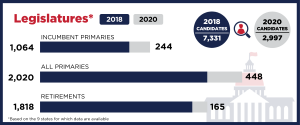 MN senator in swing district announces retirement
Minnesota Sen. Paul Anderson (R) announced he would not seek re-election in 2020. Anderson represents District 44, which Hillary Clinton (D) carried with 60 percent of the vote in 2016. Anderson said he was retiring to focus on his personal and professional goals. 
Anderson's district is one of two in the state represented by Republicans but won by Clinton in 2016. There are six districts in which the opposite is true—Trump won a district currently represented by a Democrat. According to the StarTribune, Democrats flipped a state House seat that overlaps with District 44 in 2018.
All 67 Senate seats are up for election in 2020. Republicans currently have a 35-32 majority. Minnesota has a divided government, with Democrats controlling the state House and the governorship. The candidate filing period runs through June 2.
Three challengers file in Alaska over dividend fund issue
In Alaska, three Republicans filed challenges to incumbent legislators over the state's Permanent Fund Dividend (PFD). As we reported earlier, the PFD issue has divided Alaska Republicans and led to the removal of three senators from committee assignments. 
The PFD is a payment to all residents of Alaska who lived there for the last full calendar year, and Gov. Mike Dunleavy's (R) proposal to pay a larger divided has divided Republicans. Dunleavy has called for a payment of a full PFD according to a 1982 law and cutting spending elsewhere to balance the state's budget, while lawmakers have proposed lowering the PFD instead.
Jesse Sumner filed to run against Rep. David Eastman in District 10. Sumner supports paying the full dividend and placing a constitutional cap on spending. John Cox filed to run against Sen. Gary Stevens in District P, and Michael Sheldon filed to run against Sen. Bert Stedman in District R. Both challengers say they support a full PFD payment.
Republicans currently hold a 13-7 majority in the Senate. While Republicans have a 22-15 numerical majority in the House, a coalition government of Democrats and Republicans control the chamber. The governor of Alaska is a Republican, so the state has divided government.
TX gov announces tour to campaign for incumbents
Texas Gov. Greg Abbott (R) announced a pre-primary tour of the state to campaign on behalf of 10 incumbents with primary challengers and candidates for open seats or in Democratic districts. 
Abbott will campaign for Reps. Geanie Morrison (District 30), J.D. Sheffield (District 59), Jared Patterson (District 106), and Briscoe Cain (District 128), each of whom faces at least one primary challenger on March 3.
Ballotpedia has rated 10 of the 27 GOP primaries for Texas state house as battleground primaries. This is the second primary cycle to take place following the retirement of the House Speaker. Dennis Bonnen (R) announced his retirement in October 2019.
Special update: North Dakota presidential nominating process
We are passionate about politics. We're dedicated to making it easier for you to understand the political process. 
The mechanics at the heart of the primary and caucus system can be particularly complex. We work to simplify the complexity—without compromising accuracy. Sometimes, we get it wrong. We sincerely regret those errors. But we also strive to correct them as soon as possible, giving you the right information in a timely manner.
In previous reporting on the North Dakota GOP's presidential nominating process on Ballotpedia, we missed some key developments that distinguish the 2016 and 2020 cycles. Here's what we've learned…
In 2016 (and in previous presidential election cycles), the North Dakota GOP did not hold primaries or caucuses. Instead, the party conducted a straw poll in the spring. At its state-level convention, the party then selected delegates to the national nominating convention. The results of the straw poll were non-binding, meaning the delegates to the national nominating convention were not required to vote in accordance with the poll's results. This made the state convention the deciding event in the state party's presidential nominating process.
This year, North Dakota's Republican Party will conduct caucuses as part of its presidential nominating process. These caucuses are scheduled for March 10. 
Rule No. 21 of the State Endorsing Convention Rules states that delegates will be allocated proportionally to any candidate receiving at least 20 percent of votes cast in the caucuses. If a candidate receives at least 60 percent of votes cast, that candidate will be awarded all of the state's delegates. According to The Bismarck Tribune, President Donald Trump will be the only candidate on the caucus ballot in North Dakota. 
Individual delegates will be elected at the state party convention, scheduled for March 27 through March 28. Delegate election, and all other party business, will take place on March 28. Twenty-six of the state's total 29 delegates will be elected by secret ballot (the remaining three delegates are the party chairman, the national committeeman, and the national committeewoman). 
We are working to learn more about the terms of caucus participation, the location of caucus sites, and the form of voting. We will update this article with additional information as it becomes available.  
For more on the North Dakota GOP's presidential nominating process, click here. 
Power players
"With Honor Action is a cross-partisan movement dedicated to promoting and advancing principled veteran leadership in elected public service. … As a part of our overall effort to highlight the importance of veterans and veteran issues, we support principled military veterans in Congress and help amplify their cross-partisan agenda that finds solutions for the American people. We also work with veteran candidates on the nuts and bolts of running for Congress, helping them organize their own campaigns and build a winning strategy." – With Honor Action website
Founded in 2017, With Honor Action is a D.C.-based 501(c)(4) organization associated with the With Honor PAC and the With Honor Fund super PAC. The group's mission is to "promote and advance principled, veteran leadership in public service through education/advocacy programs, grants, and charitable contributions." The With Honor Action website describes the group's work as follows: 
Support organizations that promote cross-partisanship

Support organizations that help veterans

Enact substantial cross-partisan policies

Work with veteran candidates



So far, the group's largest donation has come from Jeff Bezos, who gave $10 million to the With Honor Fund in 2018. In the 2018 cycle, the group spent around $4 million supporting Democratic candidates and around $5 million supporting Republican candidates.