This week: GOP Senate super PAC funded ads for Democratic candidate in NC, Tzintzún Ramirez picks up endorsements in Senate race in TX, and the battleground primaries to watch on March 3.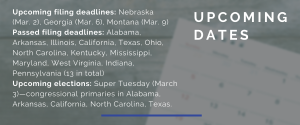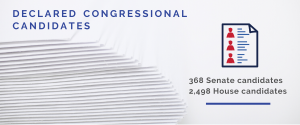 On the news
Where do Democratic and progressive pundits and commentators disagree? Each week, we bring you excerpts that highlight differing views.
"[The TX-28 Democratic] primary showdown proves that conservative forces are more than willing and more than able to fight for power under the auspices of the Democratic ticket. In TX-28, they've dug in their heels in a simple primary that is not likely to meaningfully alter the composition of the Democrats' House majority.

Still, the question remains why Nancy Pelosi and the DCCC would continue to support a Koch-backed candidate who has been openly antagonistic towards the Democratic agenda, regularly opposing even signature legislation from the House Dems … 

That Democratic party leadership is so eager to prop up a candidate who has thwarted their own legislative ambitions paints a troubling portrait of the party's priorities under Pelosi's leadership. At times, she has seemed less interested in expanding the Democrats House majority than ensuring that anti-progressive forces are safely entrenched in the chamber. Especially as the progressive agenda polls very favorably amongst the Democratic base, and Bernie Sanders surges into the lead for the presidential nomination, that sets the stage for a further confrontation about where the party is headed, and what a winning ticket, up and down the ballot, will look like come November."
Alexander Sammon, The American Prospect, Feb. 19, 2020
"The vote March 3 is the first significant challenge to a House incumbent in the 2020 cycle and highlights the broader challenges the Democratic Party is facing, as progressive groups have sought to evict lawmakers deemed too out of step with the Democratic base. The race in some ways mirrors the split in the presidential primary, with some candidates demanding aggressive liberal policies and others taking a centrist approach. … 

The push by liberal groups to oust some incumbent Democrats has grown since House Democrats took the majority in 2018. Last year, Rep. Cheri Bustos, chairman of the Democratic Congressional Campaign Committee, canceled a planned fundraiser with fellow Illinois Rep. Dan Lipinski, an antiabortion incumbent, after criticism from her colleagues and activists.

Still, the number of competitive Democratic primaries is far from what some moderate House Democrats feared after 2018, and there hasn't been a tea party-like wave. Leaders argue the party won the House majority in part by appealing to more conservative voters in areas President Trump won in 2016."
Natalie Andrews, The Wall Street Journal, Feb. 24, 2020
U.S. Congress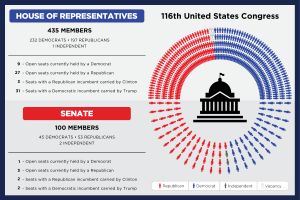 Five states will hold statewide primaries on March 3, 2020 (15 jurisdictions will hold presidential nominating events). Here's a list of the Democratic Congressional battleground primaries to watch.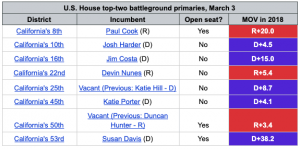 GOP Senate super PAC funded ads for Democratic candidate in NC
We recently reported that Faith and Power PAC had spent $2.4 million on ads and activities supporting Erica Smith as "the only proven progressive" in the Senate race in North Carolina, and that media outlets alleged the group had Republican ties. The PAC's pro-Smith spending has reached $2.9 million, and the source of the funds was disclosed as the Senate Leadership Fund (SLF).
SLF, a super PAC, was founded to support a Republican majority in the Senate. The group's president, Steven Law, said they were trying to drive up spending in the Democratic primary more than trying to influence the outcome. Law also said Democrats had a history of involvement in Republican primaries. In a statement Feb. 21, the day after Faith and Power PAC disclosed its funding source to the Federal Election Commission, Law said the following:
"We stole a page out of Chuck Schumer's playbook, and it's been more successful than we could have imagined. Democrats are burning cash in a $13 million rescue mission for Cal Cunningham, who has proven to be a lackluster candidate with less money in the bank today than the beginning of the year. If you add in the fact that Cunningham felt pressured to say he would support Bernie Sanders, I'd call this an unqualified success. We got a lot more for our money than when Democrats spent millions in Thom Tillis' primary six years ago."
In a Feb. 21 Facebook post, Smith wrote, "We have the support of the people, and I am here to serve the people not the SuperPACs – CorporatePACs who meddle, interfere and attempt to influence elections with special interest $$$s."
The same day, Democratic candidate Cal Cunningham wrote in a Facebook post, "Mitch McConnell meddled in our election to try to mislead voters, and it's clear why—he knows Thom Tillis has failed NC and he's terrified to face me. I've got a message for McConnell and his allies—your scheme won't work and I'll see you in November."
There are five candidates running in the March 3 primary. The Democratic Senatorial Campaign Committee endorsed Cunningham, who has led in polls and fundraising. VoteVets has spent more than $7 million and the group Carolina Blue has spent more than $3 million backing Cunningham. 
A candidate needs more than 30% of the vote to win the primary outright. Otherwise, a runoff for the top two will be held May 12 if the second-place finisher requests one.
Three race raters call the general election a Toss-up or Lean Republican.
Tzintzún Ramirez picks up endorsements in Senate race in TX
Cristina Tzintzún Ramirez picked up endorsements from Reps. Joaquín Castro and Alexandria Ocasio-Cortez in the 12-candidate Democratic primary field for Senate in Texas. Tzintzún Ramirez headed the Workers Defense Project and founded an advocacy group aimed at young Latinos.
Last week, the group Lone Star Forward spent $58,000 on a TV ad supporting Ramirez. The ad says she would be the state's first Latina senator and that she would fight for healthcare for all, universal childcare, jobs with living wages, and more.
The Democratic Senatorial Campaign Committee endorsed MJ Hegar in the race. Hegar ran against John Carter (R) in Texas' 31st District in 2018, losing 48% to 51%. 
The Houston Chronicle endorsed Royce West, a state senator, in the race last week.
If none of the 12 candidates receives 50% or more of the vote, the top two finishers will advance to a May 26 runoff. 
Incumbent John Cornyn (R) was first elected in 2002. Democrats last won a statewide election in Texas in 1994. In the 2018 U.S. Senate election in Texas, incumbent Ted Cruz (R) defeated then-Rep. Beto O'Rourke (D) 51% to 48%.
Pelosi campaigns for Cuellar, Ocasio-Cortez's PAC backs Cisneros in TX-28 
House Speaker Nancy Pelosi was in Laredo Saturday for a series of events, including a stop at Rep. Henry Cuellar's campaign headquarters. 
Pelosi said, "We want this to be not only a victory, but a resounding victory for Henry Cuellar. … Every step you take, every door you knock, every call you make, will make that resounding victory possible — and it includes getting out a big Democratic vote prepared to vote again in the general election so that we turn Texas blue."
At an annual event in town, Pelosi further praised Cuellar for his contributions to the U.S.-Mexico-Canada trade agreement.
Last year, Pelosi said, "I'm very, very proud of Henry's work in the Congress and I'm proud to support him — even if I didn't have a policy of endorsing incumbents."
Cuellar, in office since 2005, faces a progressive primary challenge from Jessica Cisneros on March 3. Cuellar says the district is more moderate and has criticized Cisneros' positions on abortion and energy policy.
Cisneros is an immigration attorney. She says her progressive platform is more in touch with the district. She says Cuellar has voted with President Donald Trump 70% of the time and highlights Cuellar's A rating from the National Rifle Association.
This past week, Courage to Change PAC—founded by Rep. Alexandria Ocasio-Cortez (D)—endorsed Cisneros. Her other endorsers include Justice Democrats and Sens. Bernie Sanders (I) and Elizabeth Warren (D).  
As we reported earlier, Cuellar has endorsements from groups that don't typically back Democrats, including the U.S. Chamber of Commerce and LIBRE Initiative Action.
Wachspress withdraws from PA-01 primary
Pennsylvania's 1st District Democratic primary is down to two candidates after Pennsbury School Board member Debbie Wachspress ended her campaign last week. The announcement followed a lawsuit alleging Wachspress used offensive language during a school board executive session. Wachspress said, "It is clear to me that these lies and distortions will be too big a distraction to overcome."
Christina Finello and Skylar Hurwitz remain in the primary. Wachspress endorsed Finello. The Bucks County and Montgomery County Democratic committees endorsed Finello—all of Bucks and part of Montgomery counties are in the 1st District.
Wachspress had raised the most money among Democratic candidates. She reported $452,000 in receipts at the end of 2019, including a $50,000 loan. Finello had raised $81,000. 
Incumbent Brian Fitzpatrick (R) reported raising $1.9 million through the end of 2019. That included $532,000 from individual contributions and the rest from political committees and transfers from other candidates' committees.  
Pennsylvania's 1st is one of three congressional districts in the country that both Hillary Clinton won in the 2016 presidential election and a Republican won in the 2018 congressional election. 
Patch writer Doug Gross wrote, "Fitzpatrick's seat is one that has been closely eyed by Democrats in recent election cycles. Bucks County has seen a rising tide of success for Democratic candidates, who took control of the county Board of Commissioners in last year's election as well as winning in races for several county row offices and for control in multiple municipalities."
State executives

Ben Salango receives labor endorsements
Kanawha County commissioner and West Virginia gubernatorial candidate Ben Salango (D) has won endorsements from two in-state labor unions.
The Parkersburg-Marietta Building Trades endorsed Salango Feb. 17, while the International Union of Painters & Allied Trades District Council 53 issued its endorsement Feb. 25. Other unions endorsing Salango include the West Virginia and Appalachian Laborers' District Council and Teamsters Local 175.
Salango faces four opponents, including activist Stephen Smith and state Sen. Ron Stollings, in the May 12 primary. 
Smith says his campaign is part of a broader political movement called West Virginia Can't Wait and says he is running to change the tone of West Virginia's politics. 
Stollings, who has represented a portion of southwestern West Virginia in the state Senate since 2006, has focused his campaign on education, health care, and jobs.
The winner will face the Republican nominee in the November general election. Democrats have won each of the past six West Virginia gubernatorial elections. Incumbent Jim Justice was elected as a Democrat before joining the Republican Party in 2017.
Leader of state House progressives endorses Dan Feltes for governor of New Hampshire
State Rep. Kristina Schultz (D), the leader of the New Hampshire House Progressive Caucus, endorsed state Senate Majority Leader Dan Feltes (D) for governor Thursday. 
Schultz said her endorsement was personal and was not an endorsement from the Progressive Caucus, which currently has 72 members. Feltes' other legislative endorsements include nine of his 13 Democratic colleagues in the state Senate and around 80 of the 232 Democratic members of the state House.
The only other declared candidate in the Democratic primary is Executive Councillor Andru Volinsky (D). Volinsky's endorsers include Sen. Bernie Sanders (I-Vt.) and former Rep. Carol Shea-Porter (D-N.H.).
The filing deadline is June 12. The Sept. 8 Democratic primary is open to registered Democrats and unaffiliated voters. Incumbent Chris Sununu (R) is running for re-election.
Update: Montana Democrats hold second gubernatorial debate
Last week, we reported that Montana gubernatorial candidates Mike Cooney (D) and Whitney Williams (D) had participated in their first debate. The two met for a second debate in Bozeman on Feb. 21. The candidate filing deadline is March 9. The June 2 primary will be open to all registered voters.
Legislatures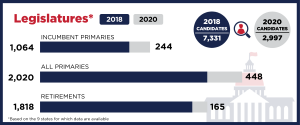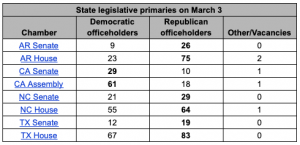 Local party endorsement draws criticism in PA House race
The Allegheny County Democratic Party endorsed Heather Kass in the Democratic primary for Pennsylvania House District 36. The endorsement drew criticism from a local labor union and local state Sen. Lindsey Williams (D) because of comments Kass had made on social media. Kass has publicly expressed her opposition to the Affordable Care Act and criticized individuals who receive welfare.
Kass later said she regretted the social media posts and said that if elected, she would support the Democratic Party. There are five total candidates running in the April 28 primary. The Democratic nominee will face A.J. Doyle (R) in the Nov. 3 general election. District 36 contains portions of Pittsburgh.
Working Families Party backs progressive challenger in NY House primary
The Working Families Party endorsed Samuel Fein in his primary challenge of Assemblyman John McDonald (D-108). It's the party's first endorsement of a challenger to an Assembly Democrat this election cycle. This is McDonald's first contested primary since his election in 2012, when he beat a WFP-endorsed candidate in the Democratic primary.
The WFP said it endorsed Fein because of McDonald's criticism of tenant reform legislation and his stance on a $15 minimum wage in upstate New York. Fein is running to McDonald's left, citing higher taxes on billionaires and racial and economic inequality as his key campaign issues.
The filing deadline for the race is April 2 and the primary will take place on June 23. The Democratic nominee will run in the Nov. 3 general election. District 108 contains portions of Albany.
Candidates for CT Senate hold fundraisers
Two candidates seeking progressive votes in the Democratic primary for Connecticut's 17th Senate District each held fundraisers this weekend. Justin Farmer and Jorge Cabrera are each running for the Democratic nomination to take on incumbent George Logan (R) in the general election. Logan defeated Cabrera in the 2018 election 50.1% to 49.9%.
According to the New Haven Independent, the two candidates are gaining support among different groups. Farmer's fundraiser consisted of younger voters focused on environmental issues, public transportation, and tax equity. Cabrera's supporters include local Democratic assembly members and his campaign has focused on labor issues, municipal aid, and a progressive tax.
Power players
"The Supreme Court's 2010 decision in Citizens United v. F.E.C. completely changed the landscape of American elections. … It's time to fight back. Established March 1, 2015, End Citizens United is a Political Action Committee funded by grassroots donors. We are dedicated to countering the disastrous effects of Citizens United and reforming our campaign finance system."
End Citizens United is a political action committee that aims to overturn the U.S. Supreme Court decision in Citizens United v. Federal Election Commission. The decision held that corporate funding of independent political broadcasts in candidate elections cannot be limited because doing so would violate the First Amendment. 
End Citizens United's mission statement is to "end Big Money in politics and fix our rigged political system by electing campaign finance reform champions, passing state ballot measures, and elevating this issue in the national conversation. We will work in partnership with these champions to overturn Citizens United and end the unlimited and undisclosed money in politics." 
The PAC was founded in 2015 by three former Democratic Congressional Campaign Committee fundraising strategists and has supported and made contributions to Democratic candidates.
Click here to view a list of candidates endorsed by End Citizens United. 
On Feb. 20, 2020, End Citizens United announced a partnership with Off the Sidelines, a PAC founded by Sen. Kirsten Gillibrand (D-N.Y.). The goals of the partnership according to the announcement are to "advocate for campaign finance reforms aimed at curbing the influence of money in politics and to raise money for and advise female candidates who align themselves with the groups on those issues."