This week: Senate candidates in Alabama release opposition ads, Democratic groups spend against Garcia, Knight in CA-25, and the battleground primaries to watch on March 3.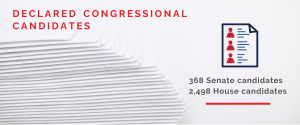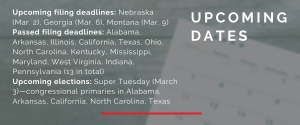 On the news
Where do Republican and conservative pundits and commentators disagree? Each week, we bring you excerpts that highlight differing views.
"The fearmongering over Russian election 'interference' might be the most destructive moral panic in American political life since the Red Scare. Then again, to be fair, those who prosecuted the post-war hunt for Communists had the decency to uncover a handful of infiltrators. We've yet to meet a single American who's been brainwashed or had their vote snatched away by an SVR Twitterbot. Probably because no such person exists. …

There are few people who detest the candidacy and philosophy of Sanders more than I, yet I'm positive that the KGB can't give him the Democratic Party nomination any more than they can install Donald Trump in the White House. Only voters can.

It's likely that Russia, as it did in 2016, will engage in amateurish efforts to foment divisions among some American — as if we needed any help. If they actually "hack" an election — a word incessantly, and erroneously, used by journalists at the height of the Russia scare in 2017 — we'll know."
David Harsanyi, National Review, Feb. 24, 2020
"Russian efforts to influence American social media didn't stop in November 2016. In the words of former special counsel Robert Mueller, Russia is attempting to influence the 2020 elections 'as we sit here.' … 

Russian efforts to manipulate American social media have grown more sophisticated since the summer of 2016, when they were often easy to spot. … It's much harder now. The Russian social media manipulation machine has been refining its techniques and building up a social media presence in preparation for 2020. Perhaps worse, the Russians' success — and the lack of consequences — has encouraged others to try their hand at this sort of asymmetric warfare. Iran, North Korea and even China could decide to field their own troll armies in 2020.

If you think it was bad in 2016, it's going to be much worse this year. The goal of these trolls isn't just to manipulate our elections, it's to fundamentally damage our democracy and undermine our trust in American institutions."
Chris Truax, USA Today, Feb. 20, 2020
U.S. Congress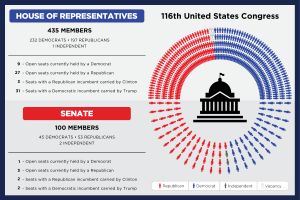 Five states will hold statewide primaries on March 3, 2020 (15 jurisdictions will hold presidential nominating events). Here's a list of the Republican Congressional battleground primaries to watch.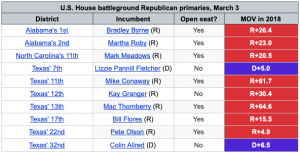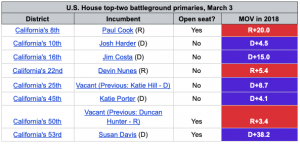 Senate candidates in Alabama release opposition ads
The three Senate primary candidates topping polls in Alabama are using the closing days of the primary to run ads criticizing each other for past comments about or conflicts with President Donald Trump.
Bradley Byrne and Tommy Tuberville criticized Jeff Sessions for recusing himself from the investigation into Russian interference with the 2016 presidential election during his time as attorney general. Sessions has defended his recusal and emphasized that he was the first senator to endorse Trump's 2016 presidential bid.
Sessions and Tuberville criticized Byrne for saying Trump was not fit to be president in 2016 following the release of the Access Hollywood recording. Byrne has said the comment was a mistake and that he has a 97% pro-Trump voting record in the House.
Byrne's and Sessions' ads said Tuberville supported amnesty for people in the country illegally. Sessions' ads also featured audio of Tuberville criticizing Trump on veterans' health care. Tuberville has said he does not support amnesty and that Trump has not been able to do everything he'd like due to resistance from others.
Most ads released earlier in the primary focused on candidates' conservative credentials, experience, and criticisms of Democrats. 
Two independent polls from early February showed Sessions and Tuberville about tied for the lead and Byrne in third. Both Sessions and Tuberville received around 30% support. To win the March 3 primary outright, a candidate needs a majority of the vote. If no one wins a majority, the top two finishers will meet in a runoff on March 31.
Trump won Alabama in the 2016 presidential race, defeating Hillary Clinton 62% to 34%.
The Republican primary winner will face incumbent Doug Jones (D) in November. Jones won the 2017 special election, defeating Roy Moore 50% to 48%. The 2020 primary features seven candidates, including Moore.
TX-11 candidates criticize With Honor Fund support of Pfluger
Six Republican candidates for Texas' 11th Congressional District held a press conference in response to With Honor Fund's endorsement of and satellite spending for August Pfluger. Overall, eight candidates signed a pledge stating:
"We pledge not to knowingly take money nor receive support from individuals or groups that do not hold to the conservative, Constitutional and Judeo-Christian values of our District – specifically groups supported by radical liberal activists such as Jeff Bezos, Michael Bloomberg or George Soros."
Candidates Gene Barber, Brandon Batch, Jamie Berryhill, J. D. Faircloth, Casey Gray, Ned Luscombe, Robert Tucker, and Wesley Virdell signed the pledge.
With Honor describes itself as "a cross-partisan movement dedicated to promoting and advancing principled veteran leadership in elected public service." The group spent $214,000 on an ad campaign supporting Pfluger. The ad discusses Pfluger's Air Force experience and calls him "an outsider like President Trump, not a politician."
Trump endorsed Pfluger Feb. 12. Virdell questioned the endorsement: "There's questions about 'is he actually the one who's actually sending tweets out?'"
Pfluger said following the press conference:
"I think we can all agree that nobody cares more about draining the swamp and defeating democrats than President Trump, which is why I'm honored to have his complete and total endorsement. To suggest that Donald Trump is either too weak or too stupid to make his own endorsements is insulting and offensive. The fact is, I'm proud of the conservative, and completely positive, grassroots campaign we've run focused on the issues that the voters of this district care about."
If no candidate receives a majority of the vote in the March 3 primary election, a runoff between the top two vote-getters will be held May 26. The seat is open — incumbent Mike Conaway (R) is retiring.
Democratic groups spend against Garcia, Knight in CA-25
The Democratic Congressional Campaign Committee (DCCC) and House Majority PAC released ads opposing Mike Garcia (R) and Steve Knight (R), respectively, in California's 25th Congressional District top-two primary.
The DCCC ad said Garcia supported a middle class tax increase and accused his business of not paying taxes. The House Majority PAC ad called Knight a Trump Republican. Politico reported that the DCCC spent $318,000 and House Majority PAC, $293,000 on their buys.
The DCCC also placed a coordinated ad buy with Democratic candidate Christy Smith.
The district will have both a special election primary and a regularly scheduled primary on March 3. In the special primary, a candidate can win outright by getting more than 50% of the vote. Otherwise, a special general election for the top two candidates will be held on May 12. 
Eleven candidates—including Garcia, Knight, and Smith—are running in both elections, with additional candidates running in one or the other race. 
Former Rep. Katie Hill resigned in November 2019 following her acknowledgment of having had a relationship with a campaign staffer. Knight represented the district from 2015 to 2019. Hill beat Knight in 2018 54% to 46%.
Since the state began using top-two congressional primaries in 2012, a Republican and a Democrat advanced to the general election in three out of four cycles. In 2014, two Republicans advanced.
State executives

Jan Garbett announces run for governor of Utah, Aimee Winder Newton halts signature collection efforts
Businesswoman Jan Garbett kicked off her campaign for governor of Utah Thursday, becoming the eighth Republican to join the race. 
Garbett, whose husband Bryson served two terms as a Republican member of the state House in the 1980s, has run for political office twice before. She challenged Rep. Chris Stewart (R) in the 2018 election as a member of the United Utah Party but dropped out before November. In 2016, Democratic gubernatorial candidate Vaughn Cook selected Garbett as his running mate. Their ticket was defeated at the state Democratic convention. 
Garbett said she had planned to run for Congress again this year but switched to the gubernatorial election after hearing all six candidates participating in the Jan. 31 debate say that they supported President Trump.
Salt Lake County Councilwoman Aimee Winder Newton announced Wednesday that her campaign was suspending its effort to collect signatures to petition onto the primary ballot. Candidates for governor of Utah may qualify for the primary ballot in one of two ways. Up to two candidates can receive a place on the ballot by winning support from delegates at the state party convention, while any number of candidates can qualify by submitting 28,000 signatures from registered voters. Winder Newton joins Jason Christensen and Gregory Hughes, who are also seeking the nomination via the convention alone.
So far two candidates—Spencer Cox and Thomas Wright—have submitted nominating petitions. Each submitted over 30,000 signatures. As of noon Mountain Time on Feb. 25, 21,675 of Cox's signatures had been verified—77% of the qualifying requirement. None of Wright's signatures had yet been verified.
The candidate filing deadline is March 19. The June 30 primary will be open to registered Republicans only. The winner of the primary is likely to also win the general election—no Democrat has won election as governor of Utah since 1980. Incumbent Gary Herbert (R) is not seeking re-election.
Montana Secretary of State candidates meet for forum
The four candidates seeking the Republican nomination for Montana secretary of state met for a candidate forum in Kalispell Thursday. All four said that they were best-suited to keep the office in Republican hands in November. Each stated their support for ending the state's same-day voter registration program and for cutting the size of the secretary's staff.
Montana Supreme Court Clerk Bowen Greenfield (R) said he was the only candidate who has won a statewide election and that it was critical that Democrats not win the secretary of state's office. 
Deputy Secretary of State Christi Jacobsen (R) said incumbent Corey Stapleton (R), who is running for U.S. House, has endorsed her and that she had the most experience in the secretary's office. 
State Rep. Forrest Mandeville (R) said he had experience defeating election laws supported by Democrats, including automatic and online voter registration, as chairman of the State Administration Committee. 
State Senate President Scott Sales (R) said that he had the most private sector experience of any candidate and was the only person in Montana history to serve as both speaker of the state House and as state Senate president.
Montana's secretary of state is the chief elections officer and has a variety of other duties including maintaining and updating the state's regulatory codes, registering businesses and trademarks, licensing notaries public, and maintaining official government records.
The candidate filing deadline is March 9. The June 2 primary will be open to all registered voters. Since 1980, most Montana secretary of state elections have been won by the same party that won that year's presidential election. The only exception was in 1988, when Mike Cooney (D) was elected Secretary of State and George H.W. Bush (R) was elected president.
Legislatures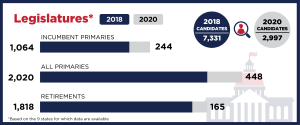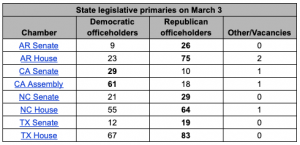 Lyft targets Diep over AB5 vote
Ridesharing company Lyft is using direct mail to target California Assemblyman Tyler Diep (District 72) for his support of Assembly Bill 5. Diep was the sole Republican to vote in favor of the bill. AB5 requires gig economy companies (such as Lyft) to hire employees rather than use independent contractors. 
Lyft has spent $250,000 so far this cycle opposing Diep's re-election. As reported previously in Heart of the Primaries, the Orange County Republican Party withdrew its endorsement of Diep in January. Diep faces former state Sen. Janet Nguyen (R), Bijan Mohseni (D), and Diedre Nguyen (D) in the March 3 top-two primary. The top two vote-getters will run in the Nov. 3 general election.
Open MI House primary becomes competitive
Yvonne Black filed to run for District 47 in the Michigan House of Representatives, making the Republican primary for the open seat competitive. Livingstone County Commissioner Bob Bezotte, who announced he would run in early 2019, is the other candidate in the primary. Rep. Henry Vaupel (R) is ineligible to run because of term limits. He has represented the district since 2015.
The filing deadline for the race is April 21, and the primary will take place Aug. 4. District 47 is located in central Michigan and includes the city of Howell and portions of Livingstone County.
SD Senate primary becomes competitive
Evangelical Lutheran Church in America Bishop David Zellmer filed to run in the South Dakota Senate District 14 primary. State Rep. Larry Zikmund (R) has also filed to run for the seat. The current incumbent, Sen. Deb Soholt (R), is ineligible to run because of term limits.
The filing deadline for the race is March 31, and the primary will take place on June 2. District 14 includes portions of Sioux Falls.
Update: Mike Prax appointed to AK House District 3
The Alaska House Republican Caucus confirmed Mike Prax (R) to the seat left vacant when former Rep. Tammie Wilson (R) resigned in January to take a job with the Office of Children's Services in the Alaska Department of Health and Social Services. Wilson was one of eight Republicans who caucused with Democrats to create a coalition majority in the House. Republicans hold a 23-15 numerical majority in the chamber, with two independents also holding seats.
Power players
"The House Freedom Caucus gives a voice to countless Americans who feel that Washington does not represent them. We support open, accountable and limited government, the Constitution and the rule of law, and policies that promote the liberty, safety and prosperity of all Americans." – Official Facebook page of the House Freedom Caucus 
The House Freedom Caucus is a congressional caucus in the U.S. House of Representatives.  Nine Republican representatives established the caucus in 2015. Rep. Jim Jordan (R-Ohio) was its first chair. An October 2015 study by the Pew Research Center found that the majority of caucus members were generally considered to be more conservative than most Republicans.
Rep. Andy Biggs (R-Ariz.) was elected chairman of the House Freedom Caucus in September 2019. The House Freedom Caucus does not disclose its membership list. As of June 2019, the caucus was estimated to have 31 members.
The House Freedom Fund, a PAC associated with the Caucus, endorses candidates which it says are "dedicated to open, accountable, and limited government – candidates who will fight to defend the Constitution and advance policies that promote liberty, safety, and prosperity for all Americans." According to Jordan, the fund "helps grassroots candidates get the financial support they need to compete with establishment candidates." To view a list of candidates endorsed by the House Freedom Fund, click here.