This week: Runoff set in TX-Sen. race, more Super Tuesday results, and polls show close race between Kennedy and Markey in MA-Sen.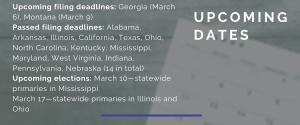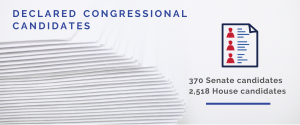 Election results
Here are some key primary results from Super Tuesday.
U.S. Senate, North Carolina: Cal Cunningham won with 57.0% of the vote. Erica Smith received 34.8% of the vote. None of the three other candidates received more than 4%. The Democratic Senatorial Campaign Committee endorsed Cunningham, a member of the Army Reserves and a former state senator. He focused on expanding Medicaid, lowering prescription drug costs, and eliminating corruption in Washington. Smith has been a state senator since 2015. Her platform included healthcare for all and a Green New Deal.
U.S. Senate, Texas: With 95% of precincts reporting, Mary Jennings Hegar was in first place with 23.2%. Because no candidate received 50% or more of the vote, a runoff will take place between the top two finishers. It is not clear who the other runoff participant will be. Four other candidates received 10% or more of the vote: Cristina Tzintzún Ramirez (13.8%), Royce West (13.3%), Annie Garcia (10.3%), and Amanda Edwards (10.0%). 
The winner of the runoff will face incumbent John Cornyn (R), who advanced from the Republican primary with 76.3% of the vote. Cornyn was last elected in 2014, defeating David Alameel (D) 61.6% to 34.4%.
California's 16th Congressional District: As of 6:30 a.m. Pacific Time on March 4, this race was too close to call. Kevin Cookingham (R) led with 38.5% of the vote, followed by incumbent Jim Costa (D) with 37.5%. The only other candidate with more than 10% of the vote was Esmeralda Soria (D) with 18.4%. Costa's endorsers included Sens. Dianne Feinstein (D) and Kamala Harris (D), Gov. Gavin Newsom (D), and Rep. Adam Schiff (D). Soria had been endorsed by civil rights activist Dolores Huerta, the California Labor Federation, and SEIU California.
California's 22nd Congressional District: As of 6:30 a.m. Pacific Time on March 4, this race was too close to call. Incumbent Devin Nunes (R) led with 59.4% of the vote, followed by Democrats Phil Arballo (23.5%) and Bobby Bliatout (11.5%). The California Labor Federation and Reps. Tony Cárdenas (D), Salud Carbajal (D), and Linda Sánchez (D) endorsed Arballo, along with the district's 2018 Democratic nominee, Andrew Janz. The California Democratic Party, SEIU California, former Rep. Mike Honda (D.), and state Sen. Melissa Hurtado (D) endorsed Bliatout.
California's 25th Congressional District: Two elections were held for California's 25th Congressional District: a special election to fill the vacancy left by Katie Hill (D) and a regular election for a full, two-year term starting Jan. 3, 2021. As of 6:00 a.m. Pacific Time on March 4, both races were too close to call. Christy Smith (D) led the special election field with 34.4% of the vote, followed by Mike Garcia (R) with 28.3% and Steve Knight (R) with 18.9%. In the regular election, Smith led with 30.3%, followed by Garcia's 26.8% and Knight's 20.1%.
Smith's endorsers included Sens. Dianne Feinstein (D) and Kamala Harris (D), U.S. House Speaker Nancy Pelosi (D), and the California Democratic Party. The Los Angeles Republican Party and the Ventura County Republican Party endorsed Garcia. U.S. House Minority Leader Kevin McCarthy endorsed Knight.
California's 53rd Congressional District: As of 6:00 a.m. Pacific Time on March 4, this race was too close to call. Sara Jacobs (D) led with 29.6%, followed by Georgette Gomez (D) with 18.6% and Chris Stoddard (R) with 14.0%. No other candidate received more than 10% of the vote. If Jacobs and Gomez advance, it would be the first time two candidates from the same party will have advanced from the general election in this district since California adopted top-two primaries in 2012.
Six members of the U.S. House, including Rep. Katie Porter, endorsed Jacobs. Bernie Sanders, 12 members of the U.S. House, and the Democratic Party of California endorsed Gomez. 
Texas' 10th Congressional District: Mike Siegel and Pritesh Gandhi were the top two finishers and will advance to a runoff on May 26. Siegel had 44.0% of the vote to Gandhi's 33.1% with 97% of precincts reporting. A third candidate, Shannon Hutcheson, received 22.9% of the vote.
One of the main issues in the race was healthcare. Gandhi said he would support "Medicare for all that want it," while Siegel said he supported a single-payer, universal healthcare option. The winner of the runoff will face incumbent Michael McCaul (R), who defeated Siegel 51.1% to 46.8% in 2018.
Texas' 21st Congressional District: Wendy Davis won the Democratic nomination with 86.2% of the vote to Jennie Lou Leeder's 13.8%. Davis will face incumbent Chip Roy (R) in the general election. Davis is a former member of the Texas state Senate and was the Democratic nominee for governor in 2014, losing the general election to Greg Abbott (R). Leeder, the chairwoman of the Llano County Democratic Party, was the Democratic nominee for Texas' 11th Congressional District in 2018, losing to incumbent Mike Conaway (R).
Texas' 22nd Congressional District: Sri Preston Kulkarni advanced to the general election from a four-candidate field. With 96% of precincts reporting, Kulkarni led with 53.2% of the vote, followed by Reed's 24.6% and Moore's 14.5%. Incumbent Pete Olson (R) is not running for re-election, and the Democratic Congressional Campaign Committee named the district to its list of 2020 targets.
Texas' 24th Congressional District: Kim Olson and Candace Valenzuela were the top two finishers and will advance to a May 26 runoff. Olson received 42.8% of the vote to Valenzuela's 29.8% and Jan McDowell's 10.0%.  The winner will face Beth Van Duyne (R), who won the Republican primary outright with 64.3% of the vote. Retiring Rep. Kenny Marchant (R) won re-election in 2018 50.6% to 47.5%.
Texas' 28th Congressional District: Rep. Henry Cuellar defeated Jessica Cisneros 51.8% to 48.2%. Cisneros was endorsed by Justice Democrats and Rep. Alexandria Ocasio-Cortez (D-N.Y.), while Cuellar was endorsed by U.S. Reps. Nancy Pelosi (D-Calif.) and Cheri Bustos (D-Ill.). Cuellar will face Sandra Whitten (R) and Bekah Congdon (L) in the general election. Cuellar won re-election in 2018 84.4% to 15.6%.
North Carolina lieutenant governor: With all precincts reporting, Yvonne Lewis Holley received 26.6% of the vote and Terry Van Duyn had 20.4%. Van Duyn said she would decide on March 4 whether to request a runoff, which occurs if no candidate tops 30%. Term-limited incumbent Lt. Gov. Dan Forest (R) is running for governor, leaving the office open. North Carolina is one of 17 states where the lieutenant governor is elected independently of the governor. It is one of three states where the governor and the lieutenant governor do not share the same party affiliation, along with Louisiana and Vermont. 
Texas House of Representatives: Three incumbents had primary challenges in our 10 battleground races. There were 19 contested primaries featuring an incumbent. Rep. Harold Dutton (District 142) won his primary outright, receiving 50.0% of the vote while Jerry Davis received 25.0%, Natasha Ruiz 16.3%, and Richard Bonton 8.7%. Both incumbents elected in January 2020 special elections, Lorraine Birabil (District 100) and Anna Eastman (District 148), each advanced to May 26 runoff elections. Candidates won five of the other seven primaries outright, with Districts 26 and 138 resulting in runoff elections.
North Carolina House of Representatives: In the Democratic primary for District 43, Kimberly Hardy defeated five-term incumbent Elmer Floyd 54.1% to 45.9%. Floyd was the only one of 11 Democratic incumbents with a challenger to lose a primary.
Travis County, Texas District Attorney: Incumbent Margaret Moore (D) and challenger José Garza (D) were the top two finishers and advanced to a May 26 runoff. Garza received 44.3% of the vote to Moore's 41.1%. Garza, who had rooted his challenge to Moore in his criticism of her office's handling of sexual assault cases, said he was running to fix a broken criminal justice system. Presidential candidates Bernie Sanders (I) and Elizabeth Warren (D) endorsed him, drawing national attention to the race. Moore, who was first elected in 2016, said she was running to continue on the progress made during her first term. Her endorsers included the Austin American-Statesman, Rep. Lloyd Doggett (D) and Austin Mayor Stephen Adler.
On the news
Where do Democratic and progressive pundits and commentators disagree? Each week, we bring you excerpts that highlight differing views.
"The time it took to coalesce around Biden can hardly be comforting for the establishment. …

[T]here's Biden's weakness as a campaigner, which managed to escape discussion as a result of a crowded field with plenty of other sources of horse-race drama. David Axelrod, Obama's former strategist, has noted that Biden seems to be 'Mr. Magooing' his way through the primary, and that the campaign has put him in a 'candidate protection program' to avoid negative press. He has failed to stand out in any of the debates, and done little to quell worries that his vigor is rapidly fading. Just this Sunday, he forgot the name of the interviewer to whom he was speaking.

These weaknesses are a big part of why the party only came around to Biden at the very last minute. Donors, officials, and media surrogates were all reluctant to commit themselves to a candidate whose campaign seemed one gaffe away from collapse — but Sanders's victories have forced their hand.

Biden's campaign, despite his impressive victory in South Carolina, has not fundamentally changed. The party's consolidation around Biden surely makes Sanders's task more difficult. But it would be a mistake to think it means that he's finished. Now that the establishment is unified, the fight has finally begun."
Paul Heideman, Jacobin, March 3, 2020
"Biden's biggest coup of the night may have been co-opting Sanders's core argument in the race for the Democratic nomination: that he can attract new voters, grow the electorate and build a multiracial coalition that can defeat President Donald Trump. Across the U.S. on Tuesday, Biden performed well in swing district suburban communities, like in Northern Virginia and Minnesota's Twin Cities area, which helped Democrats capture the House in 2018. He also did well with white working-class voters in the South and college-educated white voters in the North. But if Biden ends up winning the nomination, it'll be largely thanks to Black voters, who helped resuscitate his struggling campaign.

Increased voter participation also boosted Biden's case on Tuesday. As in South Carolina, Virginia experienced a large increase in voter turnout. Nearly twice as many Virginians came out to the polls this year compared to the 2016 Democratic primary. Biden pointed to his double-digit victory there as evidence that he ― and not his rivals ― was growing the electorate. …

But the race only gets harder for Sanders from here. Coming primaries include Michigan, where he is expected to do well, but also states like Mississippi, Missouri, Georgia, and Florida, where he struggled in 2016 and is currently trailing in the polls."

Igor Bobic, HuffPost, March 4, 2020
U.S. Congress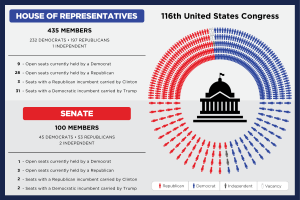 Polls show tight primary between Markey, Kennedy for MA Senate
Three recent polls show a tight race in the Senate Democratic primary in Massachusetts, where incumbent Ed Markey faces Rep. Joe Kennedy III. 
A Suffolk University/

Boston Globe

poll

showed

Kennedy slightly leading with 42% to Markey's 36%

, with 21% undecided. The poll was conducted Feb. 26-29 and had a margin of error of +/- 4.4 percentage points.

A University of Massachusetts Amherst/WCVB

poll

, conducted Feb. 18-24, showed

Markey with 39% and Kennedy with 36%

, while 21% were undecided. The margin of error was +/-5.9 percentage points.   
A University of Massachusetts Lowell

poll

showed

Kennedy with 35%, Markey with 34%

, and "Undecided" with 23%. That poll was conducted Feb. 12-19 with a margin of error of +/- 6.1 percentage points.
Markey has been in the Senate since 2013 and served in the U.S. House from 1976 to 2013. Kennedy has represented Massachusetts' 4th Congressional District since 2013. 
Joey Garrison of USA Today wrote that the race "will test allegiances among Democratic ranks in Massachusetts and in Washington," referring to Markey's endorsements from Sen. Elizabeth Warren, Rep. Alexandria Ocasio-Cortez (whose Green New Deal Markey backed), and the Democratic Senatorial Campaign Committee. Kennedy's endorsers include Congressional Progressive Caucus Co-Chair Mike Pocan and Rep. John Lewis.
The primary is Sept. 1.
Working Families Party backs Harper, End Citizens United backs Beatty in OH-03
The Working Families Party endorsed Morgan Harper's primary challenge to incumbent Joyce Beatty in Ohio's 3rd Congressional District Feb. 24. On Feb. 21, End Citizens United backed Beatty. 
End Citizens United President Tiffany Muller said, "The outsized influence of big money in politics is drowning out the voices of everyday Ohioans, but Rep. Beatty works day in, day out to change that." Beatty has represented Ohio's 3rd since 2013.
Working Families Party National Strategy Director Nelini Stamp said of Harper, "She's representing the next generation of people that are the wave of leadership that brought you the Squad, the next generation of youth leaders that are being unapologetic about the issues."
Beatty says her record includes securing federal funds for the district for such things as Columbus' Near East Side revitalization project and addressing Columbus' infant mortality rate. She says she supports expanding on the Affordable Care Act.
Harper's platform includes Medicare for All, a Green New Deal, and a universal income. She has said she will not accept corporate PAC money or money from employees of payday lenders or gun manufacturers.
Harper has criticized Beatty for receiving donations from financial institutions, while Beatty has said she is tough on those institutions in her role as House Financial Services Committee member.
The primary is March 17.
State executives

Mike Cooney, Whitney Williams select running mates
Both Democratic candidates for governor of Montana announced their running mates last week. Lt. Gov. Mike Cooney will be running alongside state Rep. Casey Schreiner, while consultant Whitney Williams will be running alongside National Barley Growers Association President Buzz Mattelin.
Schreiner was first elected to the state House in 2012 and currently serves as minority leader. He had been a candidate for governor but suspended his run in February, citing troubles fundraising. Mattelin, who has owned and operated a farm since 1976, was named president of the National Barley Growers Association last year after serving two years as vice president.
Additional candidates have until March 9 to file. The June 2 primary is open to all registered voters. Incumbent Steve Bullock (D) is term-limited, leaving the office open. The last Republican to win a gubernatorial election in Montana was Judy Martz in 2000.
Shemia Fagan to run for Oregon Secretary of State
Oregon state Sen. Shemia Fagan (D) announced Thursday she would join the race for secretary of state, becoming the fourth Democrat running for the office. Fagan's initial endorsers include former Gov. Barbara Roberts (D) and the American Federation of State, County, and Municipal Employees.
The other Democrats in the running are Mark Hass, Jamie McLeod-Skinner, and Cameron Smith.
Unlike in most states, Oregon's secretary of state is first in line to the governorship. There is no lieutenant governor of Oregon. Four governors, including incumbent Kate Brown (D), were originally secretaries of state who succeeded to the office after a governor left office early.
The current secretary of state is Republican Bev Clarno, meaning that if Brown were to leave office, Republicans would gain Oregon's governorship and break the state's Democratic trifecta. Clarno, who was appointed to the office following the death of Dennis Richardson (R) in February 2019, will not seek a full term in 2020. 
The May 19 primary is open to registered Democrats only. Additional candidates have until March 10 to file.
Zuckerman, Holcombe discuss senatorial appointment in the event of a Sanders presidency
Vermont's Democratic gubernatorial candidates discussed how they would handle appointing a successor to Sen. Bernie Sanders (I) if he is elected president.
Under Vermont law, a vacancy in the U.S. Senate must be filled via a special election within six months, although the governor may appoint an interim senator to serve until the election results are certified. The governor of Vermont is sworn in before the president of the United States. This means if Sanders wins the presidency, the winner of the 2020 gubernatorial election would be responsible for appointing an interim senator rather than current Gov. Phil Scott (R). The winner of this year's gubernatorial election would be responsible for filling a Sanders vacancy.
Lt. Gov. David Zuckerman (Vermont Progressive/D) said that he would lean towards appointing someone who intended to run to complete the term in the special election and that he would only consider a candidate who would commit to caucusing with Senate Democrats, as Sanders does. When asked whether he would prefer to nominate a woman, Zuckerman said, "All else being equal, I would tilt towards a woman over a man — but issues come first."
Former state Secretary of Education Rebecca Holcombe (D) said she would only consider a Democrat for the position. She said that while she did not have a preference as to whether the interim senator would also run in the special election, she would prefer to nominate a woman: "I think right now, given where we are in the Senate, I think it's particularly important to make sure we have women's voices at the table."
The only other senator still running for president this year is Elizabeth Warren (D-Mass.)—Sens. Michael Bennet (D-Colo.), Cory Booker (D-N.J.), Kirsten Gillibrand (D-N.Y.), Kamala Harris (D-Calif.), and Amy Klobuchar (D-Minn.) have each suspended their campaigns. Massachusetts Gov. Charlie Baker (R) is not up for re-election in 2020. This means that in the event Warren is elected president, Baker would appoint an interim senator. Under Massachusetts law, a special election to fill a senatorial vacancy must take place within 160 days of the vacancy occurring.
Legislatures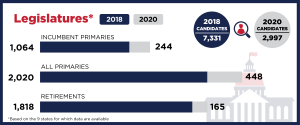 IL gov, Chicago mayor spend for opposing candidates in IL House race
In Illinois House District 12, both Gov. J.B. Pritzker (D) and Mayor Lori Lightfoot have given money to opposing candidates in the Democratic primary. 
Pritzker's committee gave $58,000 to the campaign of Margaret Croke, while he and his wife M.K. have each also individually donated $5,800. Lightfoot donated $2,500 to the campaign of Rep. Yoni Pizer (D). Both donations came after the pair offered endorsements of each candidate last week.
Pizer has also attracted support from other area politicians, including state Sen. Sara Feigenholtz ($25,000), who previously held Pizer's seat, Alderman Tom Tunney ($24,250), and U.S. Rep. Mike Quigley ($25,000).
Pizer was nominated to the district on Feb. 10, 2020. The district covers portions of the Lakeview and Uptown neighborhoods in Chicago's North Side. The winner of the March 17 primary will be unopposed in the general election.
OR Senate Majority Leader gets primary challenger
Ben Bowman, a member of the Tigard-Tualatin School Board, filed to run against Senate Majority Leader Ginny Burdick (D-18) in the Democratic primary on May 19. Burdick, first elected in 1996, is running for a seventh term. She has served as majority leader since 2015. Bowman, age 27, is the youngest member on the school board and has received endorsements from the Oregon School Employees Association and several local mayors.
Bowman said his campaign would focus on climate change, addiction and mental health, affordable housing, health care costs, and income inequality. Burdick did not comment on Bowman's announcement.
Power players
"Since 1991, Victory Fund has helped elect thousands of LGBTQ people to positions at all levels of government. These LGBTQ voices have made significant contributions to advancing equality for LGBTQ Americans – from passing non-discrimination laws to defeating amendments to ban marriage equality." – LGBTQ Victory Fund website
The LGBTQ Victory Fund (formerly named the Gay & Lesbian Victory Fund) is a political action committee dedicated to electing LGBTQ leaders to public office. The group's website describes its mission as follows: "LGBTQ Victory Fund works to change the face and voice of America's politics and achieve equality for LGBTQ Americans by increasing the number of openly LGBTQ officials at all levels of government."
The LGBTQ Victory Fund endorses candidates, who must meet the following qualifications to be considered: 
be openly gay, lesbian, bisexual or transgender;
demonstrate community support and a realistic plan to win;
demonstrate support of federal, state or local efforts to advance LGBTQ civil rights via the legislative or regulatory process*; and
demonstrate support of federal, state or local efforts to safeguard privacy and reproductive freedom.*
*Note: Judicial endorsements are not required to meet these criteria.
As of Feb. 26, the organization had endorsed 168 candidates. To view a list of endorsed candidates, click here.