This week: Tuberville and Sessions advance to AL-Sen. runoff, more top Super Tuesday results, and the NRSC runs ads against Collins in GA.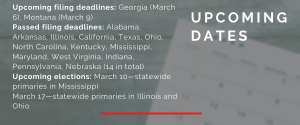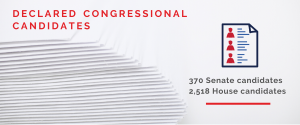 Election results
Here are some key primary results from Super Tuesday.
U.S. Senate, Alabama: Tommy Tuberville and Jeff Sessions advanced to a March 31 primary runoff. With 91% of precincts reporting, Tuberville received 33.4% of the vote to Sessions' 31.6%. Bradley Byrne received 25.2%. A candidate needed more than 50% of the vote to win the primary outright.
Sessions held the seat for 20 years before President Donald Trump appointed him U.S. attorney general in 2017. Tuberville, a former college football coach, has called himself the outsider in the race who can stand with Trump.
Alabama's 1st Congressional District: Bill Hightower and Jerry Carl advanced to a March 31 runoff. Hightower received 37.8% of the vote and Carl received 37.3%. A candidate needed more than 50% of the vote to win the primary outright. Incumbent Bradley Byrne (R) ran for U.S. Senate and did not seek re-election.
Hightower was a state senator for Alabama's 35th district from 2013 to 2018. Carl said he had experience running small businesses and that he was a problem solver.
Alabama's 2nd Congressional District: Jeff Coleman advanced to a March 31 runoff with 38.3% of the vote, but the race for second place is too close to call. With 99% of precincts reporting, Barry Moore has 20.6% of the vote and Jessica Taylor has 19.8%. The U.S. Chamber of Commerce and FarmPAC—the Alabama Farmers Federation's PAC—endorsed Coleman. The Conservative Christians of Alabama endorsed Moore, while Taylor's endorsers included former Gov. Mike Huckabee (R) and Susan B. Anthony List. Incumbent Martha Roby (R) is retiring.
California's 10th Congressional District: As of 6:15 a.m. Pacific Time on March 4, the race remained too close to call. Incumbent Josh Harder (D) led with 39.8% of the vote. Two Republicans followed: Ted Howze with 37.5% and Bob Elliott with 14.2%. U.S. House Minority Leader Kevin McCarthy (R), Former U.S. Rep. Jeff Denham (R), and 2018 California Republican gubernatorial nominee John Cox endorsed Howze. Combat Veterans for Congress and SEALPAC endorsed Elliott.
California's 25th Congressional District: Two elections were held for California's 25th Congressional District: a special election to fill the vacancy left by Katie Hill (D) and a regular election for a full, two-year term starting Jan. 3, 2021. As of 6:00 a.m. Pacific Time on March 4, both races were too close to call. Christy Smith (D) led the special election field with 34.4% of the vote, followed by Mike Garcia (R) with 28.3% and Steve Knight (R) with 18.9%. In the regular election, Smith led with 30.3%, followed by Garcia's 26.8% and Knight's 20.1%. 
California's 45th Congressional District: As of 6:30 a.m. Pacific Time on March 4, the race remained too close to call. Greg Raths led the Republicans in the field with 18.9% of the vote, followed by Don Sedgwick's 13.9% and Peggy Huang's 11.3%. Incumbent Rep. Katie Porter (D) led with 48.1% of the vote. 
California's 50th Congressional District: As of 6:05 a.m. Pacific Time on March 4, this race was too close to call. Democrat Ammar Campa-Najjar led with 34.4% of the vote. Among Republicans, Darrell Issa was on top with 24.9%, followed by Carl DeMaio with 21.0%. Issa represented the 49th Congressional District between 2001 and 2019.
North Carolina's 11th Congressional District: Lynda Bennett and Madison Cawthorn advanced to a May 12 runoff. Bennett received 22.7% of the vote to Cawthorn's 20.4%. Jim Davis received 19.3%. A candidate needed more than 30% of the vote to win the primary outright. Retiring incumbent Rep. Mark Meadows (R) endorsed Bennet, a real estate broker who has served as vice-chair of the Haywood County Republican Party. Cawthorn owns a real estate investment company and is a motivational speaker.
Texas' 7th Congressional District: Wesley Hunt defeated five other candidates with 61% percent of the vote and 99% of precincts reporting. Cindy Siegel was in second with 27.1%. Hunt will face Rep. Lizzie Pannill Fletcher (D) in the general election. Fletcher was first elected in 2018, defeating John Culberson 52.5% to 47.5%. Republicans had held the seat since 1967 before that.
Texas' 11th Congressional District: August Pfluger defeated nine other candidates. Pfluger led with 52.1% of the vote with 99% of precincts reporting, followed by Brandon Batch with 15.1%. Trump endorsed Pfluger. Incumbent Rep. Mike Conaway (R), who won re-election in 2018 80.1% to 18.4%, is retiring. 
Texas' 12th Congressional District: Rep. Kay Granger defeated Chris Putnam. WIth 96% of precincts reporting, Granger led with 58.2% of the vote to Putnam's 41.8%. Granger emphasized Trump's endorsement of her campaign, while Putnam called Granger a career politician, and said Granger was not supportive of the president. In the 2018 general election, Granger defeated Vanessa Adia (D) 64% to 34%.
Texas' 13th Congressional District: Josh Winegarner and Ronny Jackson advanced to a May 26 primary runoff from a field of 15 candidates. Winegarner led with 38.9% of the vote, followed by Jackson with 19.8% and Chris Ekstrom with 15.3%. Trump and former Texas Gov. Rick Perry (R) endorsed Jackson, a former White House physician and Trump nominee to serve as secretary of veterans affairs. Incumbent Mac Thornberry and Rep. Mike Conaway (R) endorsed Winegarner.
Texas' 17th Congressional District: Pete Sessions and, it appears, Renee Swann advanced to a May 26 runoff. As of writing, all precincts had reported but major outlets had not called the second runoff spot. Retiring Rep. Bill Flores (R) endorsed Swann. The winner of the runoff will face the Democratic nominee (also going to a runoff) and Ted Brown (L) in the general election. Flores (R) won re-election 56.8% to 41.3% in 2018.
Texas' 22nd Congressional District: Troy Nehls (R) and Kathaleen Wall (R) advanced from the 15-candidate primary to a May 26 runoff. With 99% of precincts reporting. Nehls led with 40.6% of the vote, followed by Wall with 19.5%, Pierce Bush with 15.5%, and Greg Hill with 14.1%. Retiring Rep. Pete Olson (R) endorsed Bush. The winner of the runoff will face Sri Preston Kulkarni (D) and Joseph LeBlanc (L) in the general election. Olson won re-election in 2018 51.4% to 46.5%.
Texas' 32nd Congressional District: Genevieve Collins won the primary outright with 52.6% of the vote. Floyd McLendon Jr. received 34.2%. Collins, an executive at an education technology firm, focused her campaign on business and education. McLendon, a former U.S. Navy SEAL, emphasized border security and immigration. The winner will face incumbent Collin Allred (D), who was unopposed in the Democratic primary. Allred defeated Pete Sessions (R) 52.3% to 45.8% in 2018.
North Carolina lieutenant governor: Mark Robinson won with 32.6% of the vote, avoiding the primary runoff that would have occurred if no candidate topped 30%. Andy Wells finished in second place with 14.6%. Term-limited incumbent Lt. Gov. Dan Forest (R) is running for governor. North Carolina is one of 17 states where the lieutenant governor is elected independently of the governor. It is one of three states where the governor and the lieutenant governor do not share the same party affiliation.
Texas House of Representatives: None of the 11 incumbents facing a primary challenger were defeated. In our 10 battleground races, 8 incumbents faced primary challenges. All but one (Dan Flynn in District 2) advanced to the general election. Flynn (44.5%) will face Bryan Slaton (35.2%) in a May 26 runoff election. In the open race for District 60, Jon Francis (45.9%) and Glenn Rogers (43.8%) advanced to the runoff. Jeff Cason (54.1%) won the District 92 open race outright over Jim Griffin (36.6%) and Taylor Gillig (9.3%).
On the news
Where do Republican and conservative pundits and commentators disagree? Each week, we bring you excerpts that highlight differing views.
"On Election Day, President Trump will face either one of two Democratic challengers, Bernie Sanders or Joe Biden. Conservatives ought to pray it's the latter, and if they planning on voting in the Democratic primary, it had better be for Biden.

The moral case for backing Biden is obvious enough. We live in a two-party republic, and at the absolute lowest of estimates, the Democratic nominee will attract at least 60 million votes and set the party agenda for at least the rest of the year if not longer. Every conservative ought to understand how socially corrosive it would be for an entire political party to coalesce around socialism, even if that candidate lost in the end.

Biden is bumbling and his competence is crumbling with age, but at least he is fundamentally a capitalist, a liberal, and a man who respects faith. At his absolute most effective — and that's assuming Republicans lose the Senate and fail to reclaim the House — his presidency would look like that of Barack Obama's but with a botched public option. We would survive."
Tiana Lowe, Washington Examiner, March 3, 2020
"What's the best way to ease tensions in a divided republic? Address them squarely in a national election.

Donald Trump, longtime businessman, versus Bernie Sanders, lifelong socialist, would give us that once-in-a-lifetime political contest. Both are larger-than-life personalities whose virtues and drawbacks are well known. The other Democrats running for president may differ from Mr. Sanders only marginally on many issues, but he alone genuinely personifies leftist orthodoxy. That's why he's still standing while so many of his competitors have fallen. …

So let's have a six-month-long, impassioned debate over the future of our country. At the end of it all, our differences may remain, but they'll be tempered by the will of the people.

The candidate at the top of the ticket can determine down-ballot races too. If Mr. Trump fires up GOP voters and independents, it could mean more Republican governors, representatives, senators and state legislators. If Mr. Sanders is right and his bold agenda inspires voters out of their apathy, down-ballot Democrats could benefit from his new majority. Let's find out."
John Carlson, WSJ Opinion, March 3, 2020
U.S. Congress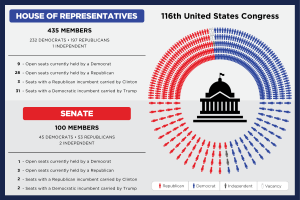 Colyer endorses Marshall in Kansas Senate race
Former Kansas Gov. Jeff Colyer endorsed Roger Marshall in the Republican primary for Senate in Kansas. The seat is open as Sen. Pat Roberts (R) is not seeking re-election.
Marshall has represented Kansas' 1st District in the U.S. House since 2017. 
Colyer was lieutenant governor under Gov. Sam Brownback (R). Colyer served as governor for one year after President Donald Trump appointed Brownback ambassador-at-large for international religious freedom.  
The current seven-candidate Senate primary field includes Kris Kobach, who defeated Colyer in the 2018 Republican gubernatorial primary 40.6% to 40.5%. 
The filing deadline is June 1. The primary is Aug. 4.
NRSC and other groups release opposition ads against Senate candidate Collins in GA
The National Republican Senatorial Committee (NRSC), Club for Growth, and One Nation have released opposition ads against Rep. Doug Collins in the special Senate election in Georgia. 
The NRSC ad calls Collins a convenient conservative, questioning his support of the president and featuring clips of him saying he's friends with Democrats Stacey Abrams and Rep. Hakeem Jeffries.
The Club for Growth ad said Collins supported a hospital bed tax and raising the state sales tax. It asks viewers to tell Collins to vote against the Medicare for All Act in the House.
One Nation said Collins proposed legislation allowing early release for some sex traffickers, and the ad asks viewers to tell Collins to oppose the Second Look Act.
As we reported earlier, NRSC executive director Kevin McLaughlin criticized Collins' entrance to the race, saying he was putting the Senate seat and other races in play. 
The NRSC is backing incumbent Sen. Kelly Loeffler. Gov. Brian Kemp appointed Loeffler to the seat after Sen. Johnny Isakson resigned in December. Several media outlets reported that the president wanted Kemp to appoint Collins.
Four Republicans, five Democrats, and one independent are currently running in the Nov. 3 all-party general election. If no candidate receives a majority of the vote, a runoff between the top two will be Jan. 5, 2021.
Abraham not seeking re-election, LA-05 open
Rep. Ralph Abraham (R-La.) announced Feb. 26 he won't seek re-election. There are now 37 open House districts up for election this year, 28 of which are currently in GOP hands. Abraham said he committed to serving no more than three terms.
Abraham was first elected in 2014. He ran for governor last year and did not advance from the all-party primary.
Three ratings outlets rate the general election Safe or Solid Republican. Currently, two Democrats and one Republican have filed for the Nov. 3 all-party primary. If no candidate receives a majority of the vote, the top two, regardless of party, will advance to a Dec. 5 general election. The filing deadline is July 17.
State executives

Greg Gianforte selects running mate
Rep. Greg Gianforte (R-Mont.) announced his selection of attorney and adjunct law professor Kristen Juras (R) as his gubernatorial running mate Sunday.
A native of Conrad, Montana, Juras practiced law for 18 years and taught at the University of Montana school of law for another 13 years. In 2016, she ran unsuccessfully for a seat on the state Supreme Court.
Gianforte's two declared Republican rivals have each selected their running mates. State Sen. Al Olszewski is running alongside state Sen. Kenneth Bogner, while state Attorney General Tim Fox is running alongside former state Rep. Jon Knokey.
Additional candidates have until March 9 to file. The June 2 primary is open to all registered voters. Incumbent Steve Bullock (D) is term-limited, leaving the office open. The last Republican to win a gubernatorial election in Montana was Judy Martz in 2000.
Uniting Missouri ad supports Gov. Mike Parson
Uniting Missouri PAC, a political group supporting Gov. Mike Parson, is running an additional $750,000 of TV and radio ads in support of Parson's campaign. This buy is separate from a $1 million buy it launched Feb. 11.
The recent run of ads follows speculation that former Gov. Eric Greitens (R) may be considering a gubernatorial bid. Greitens resigned in June 2018 amid allegations of sexual misconduct and misuse of campaign information. 
The Missouri Ethics Commission released a report last month which concluded Greitens' campaign had violated state campaign finance law. There was no evidence that Greitens himself had committed any wrongdoing. Following the release of the report, Greitens made a series of media appearances and declined to rule out a run for the governorship.
Parson's declared rivals for the Republican nomination are state Rep. Jim Neely and businessman Raleigh Ritter, although other candidates have until March 31 to file. The August 4 primary is open to all registered voters.
Legislatures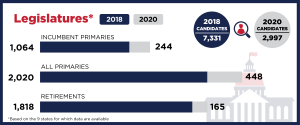 AK Rep. draws challenge after caucusing with Democrats
David Nelson filed to run against Rep. Gabrielle LeDoux in the House District 15 primary. LeDoux was one of several Republicans who formed a coalition with House Democrats following the 2016 elections. The Republicans in LeDoux's district passed a resolution withdrawing their support at an annual meeting and forwarded the resolution to the state party for consideration. The primary is scheduled for August 18.
LeDoux also faced a primary challenger on similar grounds in 2018. She defeated Aaron Weaver 57-43 before defeating Lynn Franks (D) in the general election 42-34. In the 2018 general election, 24 percent of the vote went to write-in candidates.
FL House candidate gets on ballot after petition drive
Okaloosa Republican Party Chairman Jeff Hinkle became the fourth candidate on the Florida House District 4 ballot after he collected enough petition signatures to qualify. Also running in the Republican primary are Jonathan Tallman, Patt Maney, and Sandra Atkinson. Rep. Mel Ponder (R) announced in September 2019 that he was retiring to seek a local office. The primary election is scheduled for August 18.
So far in 2020, no Democratic candidate has filed to run. Since 2012, a Democratic candidate has only run in one of four elections in the district. In 2018, Ponder defeated Rebecca Koelzer (D) 72-28. District 4 is located in the panhandle and includes Destin, Fort Walton Beach, and Eglin Air Force Base.
Power players
"The American Action Network is a 501(c)(4) 'action tank' that will create, encourage and promote center-right policies based on the principles of freedom, limited government, American exceptionalism, and strong national security.  The American Action Network's primary goal is to put our center-right ideas into action by engaging the hearts and minds of the American people and spurring them into active participation in our democracy." – American Action Network website
The American Action Network (AAN) is a 501(c)(4) nonprofit organization that describes itself as an "action tank to renew America's promise; an aggregator of center-right policies, thoughts and activism; a forum where our center-right ideas will become relevant for every American." The organization is affiliated with the American Action Forum, a 501(c)(3) organization, and the Congressional Leadership Fund super PAC. The AAN is chaired by former Senator Norm Coleman (R-Minn.). 
The AAN website lists the following areas of focus: tax reform, the opioid epidemic, healthcare, defense, and energy. The group's recent political activity includes ads targeting members of Congress that voted for impeachment and ads supporting H.R.19, a bill on prescription drugs.