This week: Trump endorses Tuberville in Senate primary runoff in Alabama, Redistricting becomes issue in LA-05 race, and ballot set for Georgia's special Senate election
On the news
Where do Republican and conservative pundits and commentators disagree? Each week, we bring you excerpts that highlight differing views.
"There is still a chance that state and local efforts to contain the virus can succeed, and there are still ways in which the White House could exert strong leadership to help that happen. But right now we are headed for a scenario of rising death rates and overwhelmed hospitals, shuttered schools and empty stadiums and cancellations everywhere.

Combine this scenario's inevitable economic consequences with the optics of the president's blundering and solipsistic response, and the coronavirus seems very likely to doom Trump's re-election effort, no matter where he casts the blame.

And how ironic that would be. In 2016 we elected a China hawk who promised a 'complete shutdown' in response to foreign threats, a germaphobic critic of globalization who promised to privilege the national interest above all.

Now he is in danger of losing his presidency because when the great test came, in the form of a virus carried by global trade routes from Communist China, he didn't take the danger seriously enough."
Ross Douthat, The New York Times, March 7, 2020
"Trump's opponents have taken to the media to predict that he will no doubt mishandle America's coronavirus response and are predicting this will become the scandal that leads to his defeat in the November election. …

But Trump's opponents – including their left-wing media allies – don't realize that the president was made for this crisis. There is nothing he loves more, or is as good at, as taking personal charge of a crisis and bulldozing his way through the bureaucracy to a solution. …

Unlike most professional politicians, Trump isn't afraid of crises. I honestly think he relishes them. There is nothing he likes more than personally taking charge of a seemingly insurmountable challenge, especially when others are wringing their hands.

Plus, who better to deal with a pandemic than someone who believes in border security, doesn't mind ruffling the feathers of political correctness and is a germophobe? …

Americans don't cower in a crisis, but they do want a leader to get them through it. Rather than being Trump's 'Katrina hour' the coronavirus crisis could prove to be his finest hour."
K.T. McFarland, Fox News, March 8, 2020
U.S. Congress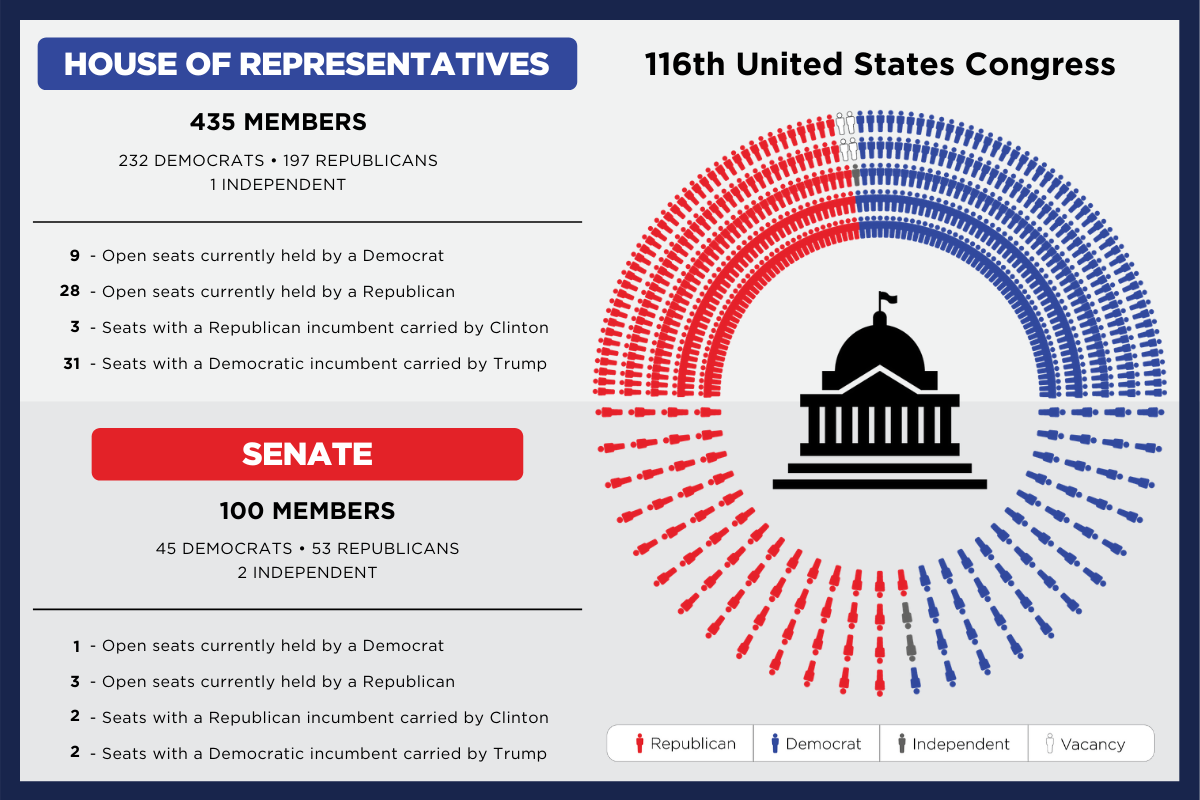 Ballot set for Georgia's special Senate election
Twenty-one candidates qualified for Georgia's Nov. 3 special Senate election. The race includes eight Democrats, six Republicans, five independents, one Green Party candidate, and one Libertarian. The qualifying deadline was Friday. 
Candidates of all affiliations will compete in the election. If no candidate receives a majority of the vote, a runoff between the top two will be Jan. 5, 2021.
A recent University of Georgia poll found Republicans Doug Collins and Kelly Loeffler, the appointed incumbent, tied within the margin of error at 21% and 19%, respectively. Matt Lieberman (D) was third with 11% and Raphael Warnock (D), who the Democratic Senatorial Campaign Committee endorsed, had 6%. Thirty-one percent said they were undecided.
The poll was conducted Feb. 24-March 2—ahead of the qualifying deadline—and included eight candidates: three Republicans, four Democrats, and one independent.  
Gov. Brian Kemp appointed Loeffler to the seat after Sen. Johnny Isakson resigned in December. 
Trump endorses Tuberville in Senate primary runoff in Alabama
On Tuesday, President Donald Trump endorsed Tommy Tuberville in the Republican primary runoff for Senate in Alabama. Trump tweeted the following:
"Tommy Tuberville (@TTuberville) is running for the U.S. Senate from the Great State of Alabama. Tommy was a terrific head football coach at Auburn University. He is a REAL LEADER who will never let MAGA/KAG, or our Country, down! Tommy will protect your Second Amendment (which is under siege), is strong on Crime and the Border, and truly LOVES our Military and our Vets. He will be a great Senator for the people of Alabama. Coach Tommy Tuberville, a winner, has my Complete and Total Endorsement. I love Alabama!"
Sessions responded to Trump's endorsement with the following:
"Of course, President Trump can endorse anyone he chooses for the U.S. Senate election in Alabama. But the Constitution expressly empowers the people of Alabama, and only them, to select their Senator. I intend to take my case directly to the people of Alabama. Even before he declared for the presidency, I fought for the principles that Donald Trump so effectively advocated in the campaign and has advanced as President. I believed in those principles then, I have always fought for them, and I will continue to do so."
Sessions held the Senate seat for 20 years before the president appointed him U.S. attorney general in 2017. Sessions resigned in 2018 at Trump's request. 
Tuberville received 33.4% of the vote to Sessions' 31.6% in the March 3 primary. 
Sessions and Tuberville have both campaigned on their allegiance to the president and their criticisms of one another. Sessions says Tuberville is a Floridian and supports immigration amnesty. Sessions campaign ads feature audio of Tuberville saying he was mad at the president on the issue of veterans' health care. 
Tuberville has criticized Sessions for recusing himself from the investigation into Russian interference with the 2016 presidential election. His campaign ads have featured Trump saying he regretted appointing Sessions as attorney general. 
Two polls following the primary showed Tuberville leading Sessions—one by 7 percentage points and the other by 12. In the latter poll, 34% said they would definitely vote for Tuberville and 24% said they'd definitely vote for Sessions. An additional 18% said they'd probably vote for Tuberville, and 16% would probably vote for Sessions.
The primary runoff is March 31.
Redistricting becomes issue in LA-05 race
A priority among several current and potential Republican candidates in Louisiana's open 5th Congressional District race is preserving the district's existence following the 2020 census. The state legislature will draw new congressional district maps, which will go into effect in the 2022 election cycle.
Retiring Rep. Ralph Abraham's former chief of staff Luke Letlow joined the race to replace Abraham on Monday. Abraham endorsed Letlow. Letlow joined Ouachita Parish Police Juror Randall Scott Robinson and state Rep. Lance Harris in the race, along with two Democrats. Former state Sen. Mike Walsworth (R) is also considering a bid. 
Greg Hilburn of the Monroe News-Star wrote, "Northern Louisiana currently has two districts — the 5th District represented by Abraham with the population and voting power in northeastern Louisiana and the 4th District represented by Republican Congressman Mike Johnson of Benton with Shreveport-Bossier as the hub. During a period in the 1990s northern Louisiana was represented by one district with Shreveport-Bossier as the hub."
Letlow said a single northern district would harm the agricultural community. 
Harris said, "I certainly think there will be some changes in the lines of every district, but I hope we're able to keep a semblance of the district."Robinson said, "We don't need to be in a district with Shreveport. … Our commonalities and priorities are different, and if it happened Shreveport would clearly have an edge because of its population."
Walsworth stated, "I think it's by far the most important issue facing the next person who will represent the 5th District."
Candidates of all affiliations will run in a Nov. 3 election. If no candidate receives more than 50% of the vote, another election for the top two will be held Dec. 5. Ratings outlets view the race as Safe or Solid Republican.
State executives

Thomas Wright becomes first Utah Republican to qualify for gubernatorial primary
Former state GOP Chairman Thomas Wright qualified for Utah's gubernatorial primary ballot Thursday, becoming the first of the eight Republicans running to do so. 
Candidates running for governor of Utah have two paths to the June 30 primary ballot. Up to two candidates may qualify for the primary by receiving support from delegates at the state party convention on April 25, while any number of candidates may qualify by submitting petitions containing the verified signatures of 28,000 voters. Only signatures from registered Republicans who have not signed another candidate's nominating petitions are counted. 
Every Republican candidate other than Jason Christensen, Aimee Winder Newton, and Greg Hughes is seeking to qualify via signatures, although a candidate who is collecting signatures can still win a place on the ballot at the convention. The only candidate to have submitted signatures other than Wright is Lt. Gov. Spencer Cox. As of 2:30 p.m. Mountain Time on March 10, 26,120 of Cox's signatures had been verified, leaving him 1,880 short of the required amount.
A Scott Rasmussen poll conducted Feb. 24-March 1 on behalf of Deseret News and the Hinckley Institute found Jon Huntsman, Jr. had 32% support to Spencer Cox's 20%, while 30% were undecided. Hughes and Jeff Burningham each had 7%. No other candidate had more than 10% support. In a Scott Rasmussen poll conducted in January, Huntsman had 35% to Cox's 25% with 25% undecided.
The candidate filing deadline is March 19. The June 30 primary will be open to registered Republicans only. The winner of the primary is likely to also win the general election—no Democrat has won election as governor of Utah since 1980. Incumbent Gary Herbert (R) is not seeking re-election.
Candidates for North Dakota Schools Superintendent seek party support
Incumbent North Dakota Superintendent of Public Instruction Kirsten Baesler and challengers Charles Tuttle and Brandt Dick will each have a chance to make their pitch for the state Republican Party's letter of support. 
Baesler, who was first elected in 2012, was arrested for drunken driving Feb. 26. Tuttle, who launched his campaign earlier that month, said he intended to focus on education policy rather than criticism of Baesler, while Dick said Baesler's arrest was not a factor in his decision to run.
Although the office of state superintendent is officially nonpartisan in North Dakota, candidates may seek a letter of support from any of the state's political parties. Baesler won the GOP letter of support ahead of her successful 2012 and 2016 campaigns. The three were the only candidates to file the required signatures with the state party ahead of a Sunday deadline and will each be allotted speaking time at the state party convention during the final weekend of March. No candidates have filed to seek a letter of support from the state Democratic Party affiliate.
A process change currently under deliberation could mean that the party's letter of support is published later this year than in previous elections. The 57-member State Committee is scheduled to vote March 19 on a motion that would delay the publication of the party's letter of support until after the primary in June. 
The candidate filing deadline is April 6. The June 9 primary will be open to all registered voters, with the top two finishers advancing to the general election on November 3.
Legislatures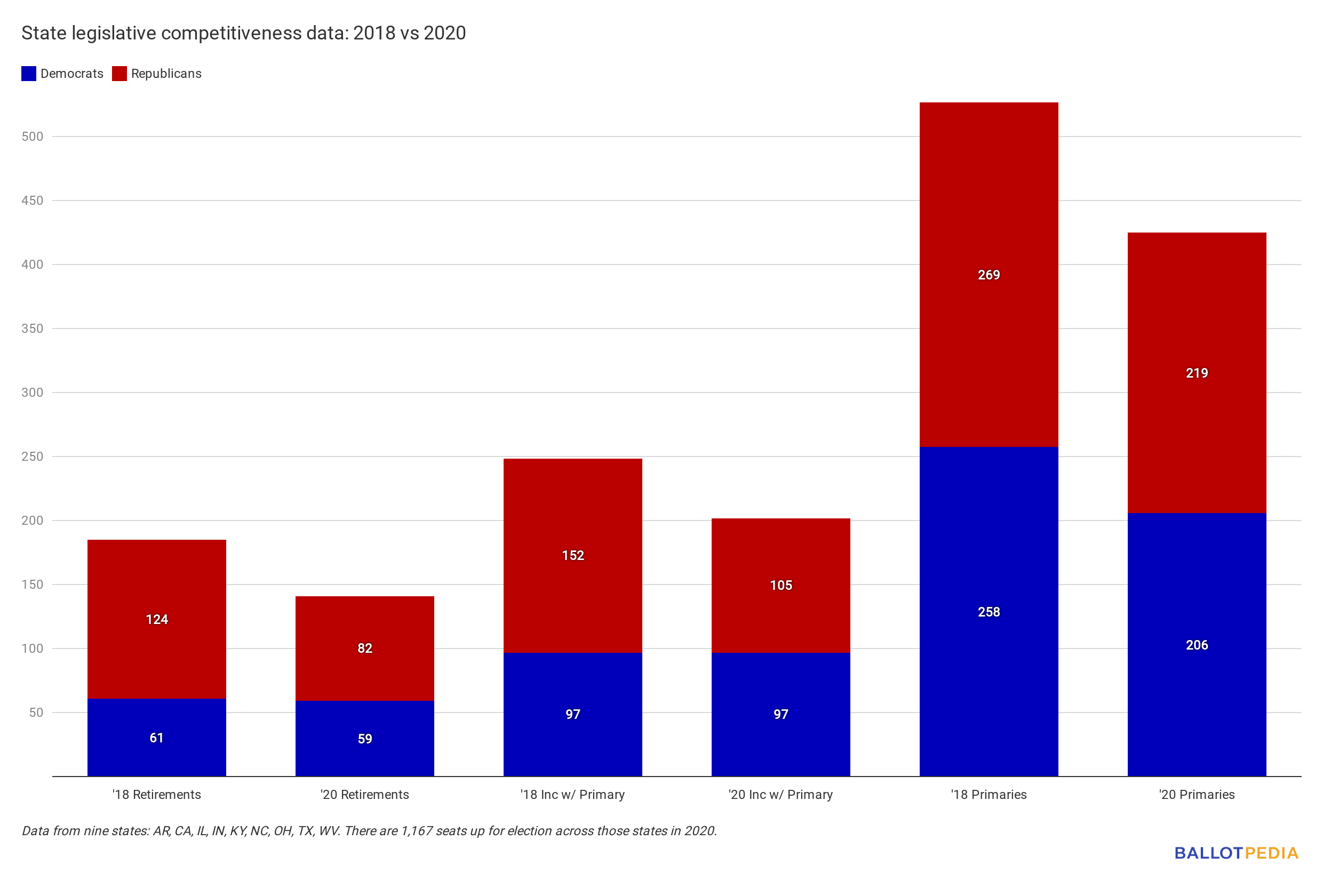 Ohio House candidates allege speaker is behind negative attack ads
Four candidates for Ohio House of Representatives held a press conference to call for an end to negative campaign ads against them and alleged that Speaker Larry Householder (R) was responsible. Householder had not yet responded.
Joe Dills (District 65), Adam Bird (District 66), Nick Owens (District 66), and Thad Claggett (District 71) accused Householder of coordinating with the group behind the negative ads, the Growth and Opportunity PAC.
According to the FCC, Growth and Opportunity PAC has spent $265,000 on broadcast ads in the Cincinnati television and radio markets in support of Householder's preferred candidates in Districts 65 and 66. 
Cleveland.com reported the PAC and the House Republican Campaign Committee (HRCC) have also spent $265,000 in the Columbus market in ads opposing Claggett.
Growth and Opportunity is registered as a federal Super PAC, meaning it cannot raise or spend money in coordination with any candidate or candidate committee. A representative for the HRCC denied allegations of coordination with any satellite groups.
Former U.S. Rep. seeking Georgia State Senate seat
Former U.S. Rep. Max Burns (R-12) qualified to run for the District 23 seat in the Georgia State Senate. 
Incumbent Sen. Jesse Stone (R) is not seeking re-election. He was first elected to represent the 23rd District in 2010. Trey Allen (R) is also seeking the Republican nomination.
Burns served in Congress from 2003 to 2005. He won election in 2002 55-45, then lost his re-election campaign in 2004 52-48. He ran again in 2006 but lost by less than 900 votes.
District 23 covers 11 counties along the central Georgia-South Carolina border. Stone last faced a Democratic challenger in 2014, when he won by a 61-39 margin. Republicans hold a 35-21 majority in the chamber.
Hagenow retirement announcement sets up contest between college students for seat
Iowa Rep. Chris Hagenow (R-19), first elected in 2008, announced that he would not seek re-election in 2020. Carter Nordman (R), a senior at Northern Iowa University, announced his intention to run for the seat. Already in the race was Nick Miller (D), a student at Drake University. Hagenow won re-election 56-41 in 2018.
Power players
"[The Susan B. Anthony] List is a nationwide network of more than 700,000 Americans. We combine politics with policy, investing heavily in voter education to ensure that pro-life Americans know where their lawmakers stand on protecting the unborn, and in issue advocacy, advancing pro-life laws through direct lobbying and grassroots campaigns." – Susan B. Anthony List website 
The Susan B. Anthony List is a political organization that opposes abortion. The organization says its mission is "to end abortion by electing national leaders and advocating for laws that save lives, with a special calling to promote pro-life women leaders." The Susan B. Anthony List is affiliated with the Life Issues Institute, the National Pro-Life Women's Caucus, the Charlotte Lozier Institute, the Women Speak Out PAC, the Susan B. Anthony List Candidate Fund, and the Susan B. Anthony List Action PAC.  
The organization says it "fights for the election of women and men who will fight for life. We fight for laws that safeguard the innocent, and we develop research to demonstrate the good that flows from society from their protection." To view a list of candidates endorsed by the organization, click here.
The Susan B. Anthony List also publishes a "National Pro-Life Scorecard," which grades members of Congress on votes and other activities, such as bill sponsorship, related to abortion.