This week: Ohio, Kentucky, and Maryland postpone primaries, NRA, Club for Growth split endorsements in Senate runoff in Alabama, and former Rep. Brat endorses Freitas in VA-07 convention contest.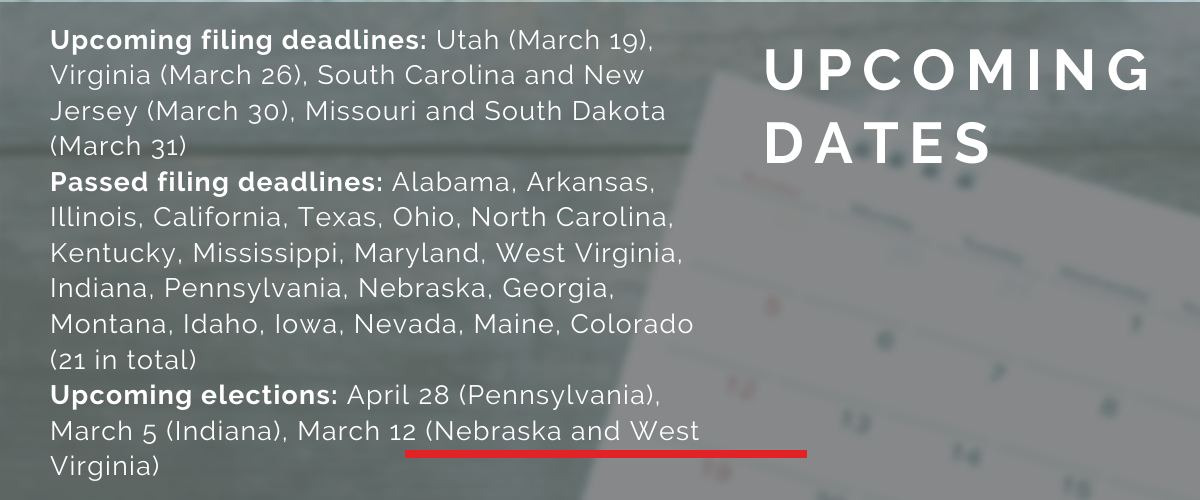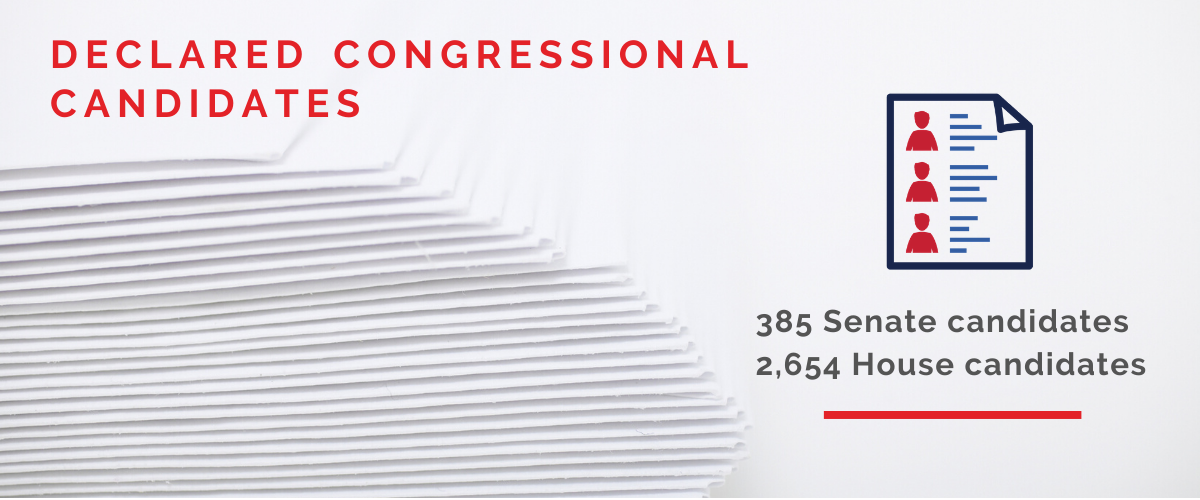 Election updates
Ohio among three states to postpone primaries—decision made less than 24 hours before polls open 
Ohio Gov. Mike DeWine (R) announced Monday night that polls would be closed on Tuesday by the order of the state health director. Secretary of State Frank LaRose (R) postponed in-person voting to June 2.
Ohio was scheduled to hold primaries for president, the state's 16 U.S. House seats, both chambers of the state legislature, the Ohio Supreme Court, and local elections Tuesday. 
DeWine said:
During this time when we face an unprecedented public health crisis, to conduct an election tomorrow would force poll workers and voters to place themselves at an unacceptable health risk of contracting coronavirus.
Later Monday, Kentucky Secretary of State Michael Adams (R) announced that he and Gov. Andy Beshear (D) had agreed to postpone the state's primary from May 19 to June 23. 
On Tuesday, Gov. Larry Hogan (R) postponed Maryland's primary from April 28 to June 2. The special election for Elijah Cummings' U.S. House seat will still take place April 28 but will be conducted via mail-in ballot only.
For an account of events related to the postponements, and for details on changes to the election calendar in other states, click here.
Election results
Here are some key primary results from March 17.
Illinois' 6th Congressional District: Jeanne Ives defeated Gordon "Jay" Kinzler in the Republican primary for Illinois' 6th Congressional District. With 99% of precincts reporting, Ives had received 70.8% of the vote to Kinzler's 29.2%. 
Both candidates highlighted their military backgrounds and opposition to socialism. Ives graduated from West Point and came from a military family. She said, "Our family has served. So I'll tell you what, we are all in to defeat any socialism that comes to sneak in the back door of this country." Kinzler joined the U.S. Army Reserves and became a corporal. He said he entered the race out of a concern "that many in congress are promoting a socialist agenda that is taking our nation down a dangerous path."
Incumbent Sean Casten (D) was unopposed in the March 17 Democratic primary. In the district's 2018 general election, Casten won 54-47. Major race rating outlets vary in their assessments of the 2020 general election, with ratings ranging from Lean Democratic to Solid Democratic. 
Illinois' 14th Congressional District: Jim Oberweis won the Republican primary for Illinois' 14th Congressional District, defeating six other candidates. Oberweis received 25.6% of the vote, followed by Sue Rezin with 22.8%, Catalina Lauf with 20.1%, Ted Gradel with 13.3%, and James Marter with 11.0%. Jerry Evans and Anthony Catella also ran in the primary. 
Gradel, Oberweis, and Rezin led in fundraising and media activity, with the latter two candidates also receiving the majority of endorsements. Three groups—Illinois Conservatives PAC; Our Future, Our Fight PAC; and the New Prosperity Foundation—spent a combined $1.14 million opposing candidates in the race. Of that total, around $1.08 million was spent against Oberweis, roughly 94% of all oppositional satellite spending. 
Illinois' 15th Congressional District: Mary Miller won the Republican primary for Illinois' 15th Congressional District. Four candidates ran. With 95% of precincts reporting, Miller had 57%, followed by Darren Duncan with 22%.
Incumbent John Shimkus (R) announced he would not seek re-election, leaving the district open.
Both Miller and Duncan highlighted their support for President Donald Trump's agenda. Rep. Jim Jordan (R-Ohio), Rep. Mark Meadows (R-N.C.), and the House Freedom Fund endorsed Miller. The House Freedom Fund and its affiliated super PAC, House Freedom Action, spent $489,000 to support Miller. In response to the satellite spending, Duncan said, "Mary Miller has sold out central and southern Illinois for hundreds of thousands of dollars from D.C. special interests." U.S. Reps. Mike Conaway (R-Texas) and Rick Crawford (R-Ark.) endorsed Duncan.
On the news
Where do Republican and conservative pundits and commentators disagree? Each week, we bring you excerpts that highlight differing views.
"As a particularly outspoken opponent of universal basic income, I would emphasize: 

Direct cash payments are the correct policy in this crisis and have nothing to do with UBI, whose entire premise (and greatest flaw) is that you know in advance you will receive it in perpetuity.

In the past I've made this point from the other direction, noting that short-term UBI pilots are bad tests of the UBI concept, precisely because they are random and short-term. Similarly, a crisis response does not share UBI's characteristics or drawbacks."
Oren Cass, Twitter, March 17, 2020 
"[Sen. Mitt Romney] wants the government to give every citizen a one-time cash payment of $1,000. This is intended to boost consumer spending and provide economic stability for those hardest hit by the virus's ample negative economic impacts, as well as help avoid the general slowdown it has caused from spiraling into an all-out recession.

But this is, frankly, a foolish idea. Welfare for the rich and other workers who remain relatively unaffected won't help us avoid a recession. …

If we do decide that civil society and charity are unable to step up and fill in this void, a narrowly tailored government response specifically helping only those most harmed by the coronavirus is what's needed."
Brad Polumbo, Washington Examiner, March 17, 2020
U.S. Congress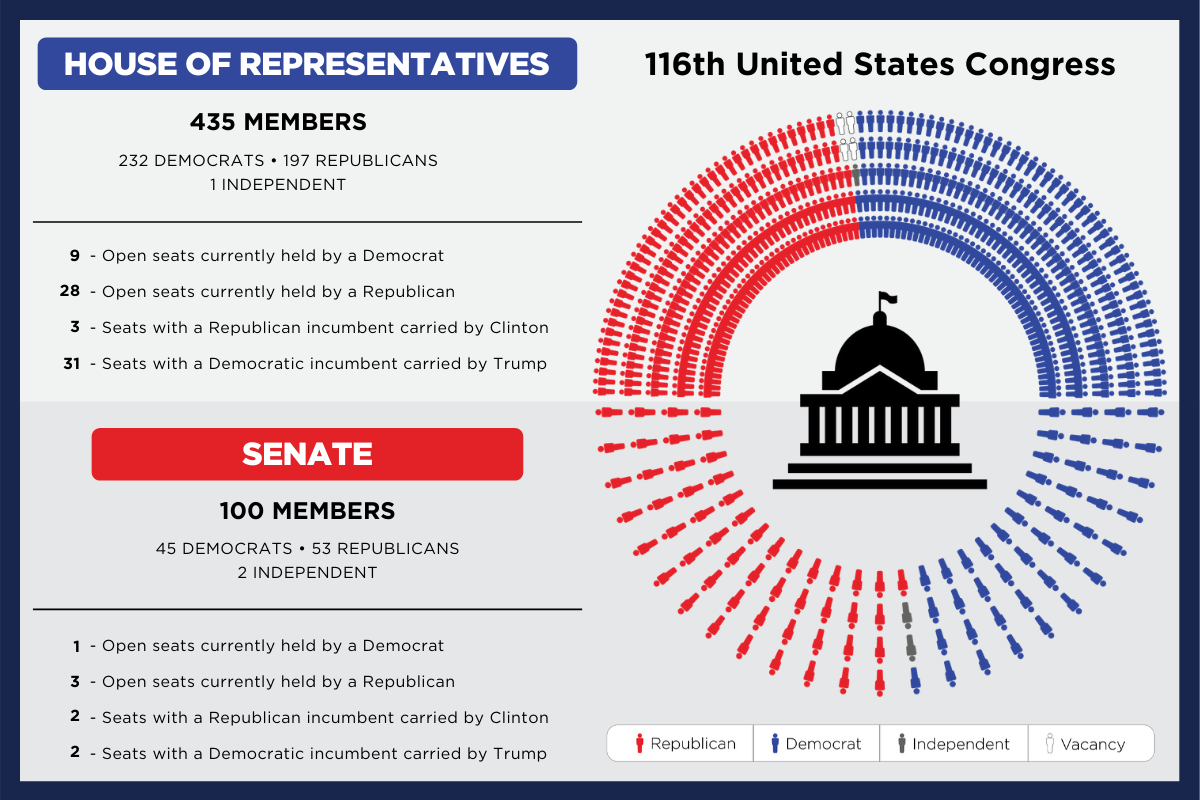 Former Rep. Brat endorses Freitas in VA-07 convention contest
Former Rep. David Brat (VA-07) endorsed state Del. Nick Freitas in the district's Republican convention contest. The convention nominee will face incumbent Rep. Abigail Spanberger (D) in November.
Brat was first elected to represent Virginia's 7th in 2014, the year he defeated then-House Majority Leader Eric Cantor in the Republican primary. Spanberger defeated Brat in the 2018 election 50% to 48%.
Before Spanberger took office, a Republican had represented the 7th District since 1971. 
Brat said, "To beat Abigail Spanberger, we need a candidate that is a proven conservative leader, can articulate the conservative message, and has what it takes to overcome the millions of dollars that will pour into our district from billionaires like Michael Bloomberg as they try to save the congressional seat that they bought in 2018."
Republicans in the 7th District will hold a nominating convention to select their nominee. The date is currently set as April 25. Delegates elected to the convention will choose the party's general election nominee. Republican voters may run to be elected as convention delegates.
Nine candidates are currently running for the convention nomination. Freitas, a member of the state House of Delegates since 2016, is also backed by the Club for Growth PAC. Former Trump administration Deputy Assistant Secretary of Defense Andrew Knaggs, House of Delegates Member John McGuire, and nonprofit founder Tina Ramirez are among the candidates.


NRA, Club for Growth split endorsements in Senate runoff in Alabama
The National Rifle Association (NRA) Political Victory Fund endorsed Jeff Sessions in the Senate primary runoff in Alabama. The Club for Growth PAC endorsed Tommy Tuberville. 
NRA representative Lars Dalseide said Sessions "has long been a stalwart defender of Second Amendment freedoms for law-abiding Alabamians."
Club for Growth PAC President David McIntosh said Tuberville "is a principled, free market conservative who has the support of President Trump and has put together a great campaign to defeat Doug Jones."
As we reported earlier, the president endorsed Tuberville March 10. 
Sessions held the Senate seat for 20 years before the president appointed him U.S. attorney general in 2017. Sessions resigned in 2018 at Trump's request. Tuberville is a former college football coach.
Tuberville received 33.4% of the vote to Sessions' 31.6% in the March 3 primary. A candidate needed 50% to win the primary outright.
The runoff is currently scheduled for March 31. Secretary of State John Merrill has asked state attorney general Steve Marshall (R) for an opinion on whether the primary date can be postponed amid concerns around the coronavirus.
State executives

Former Montana Secretary of State Brad Johnson files to run for his old office
Former Montana Secretary of State Brad Johnson filed to run for his old office one day before the March 9 filing deadline, bringing the number of Republican candidates to six. 
Johnson was elected as secretary of state in 2004 and unsuccessfully sought re-election in 2008 and 2012. He was elected to the state's utilities regulation board in 2014 and has served as its chairman since 2015.
Other Republicans in the running include state Supreme Court Clerk Bowen Greenwood, former state Senate President Scott Sales, Deputy Secretary of State Christi Jacobsen, state Rep. Forrest Mandeville, and Kurt Johnson.
The June 2 Republican primary is open to all registered voters. The winner will face state Sen. Bryce Bennett (D), the only Democrat to file for the office. Incumbent Corey Stapleton (R) is running for U.S. House rather than seeking re-election.
Longtime Republican lawmaker to face former Democratic gubernatorial candidate in Oregon Secretary of State primary
The Republican primary for Oregon Secretary of State will pit a 15-year veteran of the state legislature against a former Democratic candidate for governor. State Sen. Kim Thatcher (R) and attorney Dave Stauffer (R) were the only two candidates who filed ahead of the March 10 deadline.
Thatcher was first elected to the state Senate in 2014 after serving ten years in the state House. She has served as vice chairwoman of the Senate Judiciary Committee since the 2017 legislative session.
Stauffer is an attorney and environmental engineer who has run for governor twice in recent years. In the 2016 special election, Stauffer challenged incumbent Kate Brown for the Democratic nomination, receiving 2.8% of the vote. Stauffer ran as a Republican in the 2018 primary, where he received 0.7% of the vote.
Unlike in most states, Oregon's secretary of state is first in line to the governorship. There is no lieutenant governor of Oregon. Four governors, including incumbent Kate Brown (D), were originally secretaries of state who succeeded to the office after a governor left office early.
The current secretary of state is Republican Bev Clarno, meaning that if Brown were to leave office, Republicans would gain Oregon's governorship and break the state's Democratic trifecta. Clarno, who was appointed to the office following the death of Dennis Richardson (R) in February 2019, will not seek a full term in 2020. 
The May 19 primary is open to registered Republicans only.
Legislatures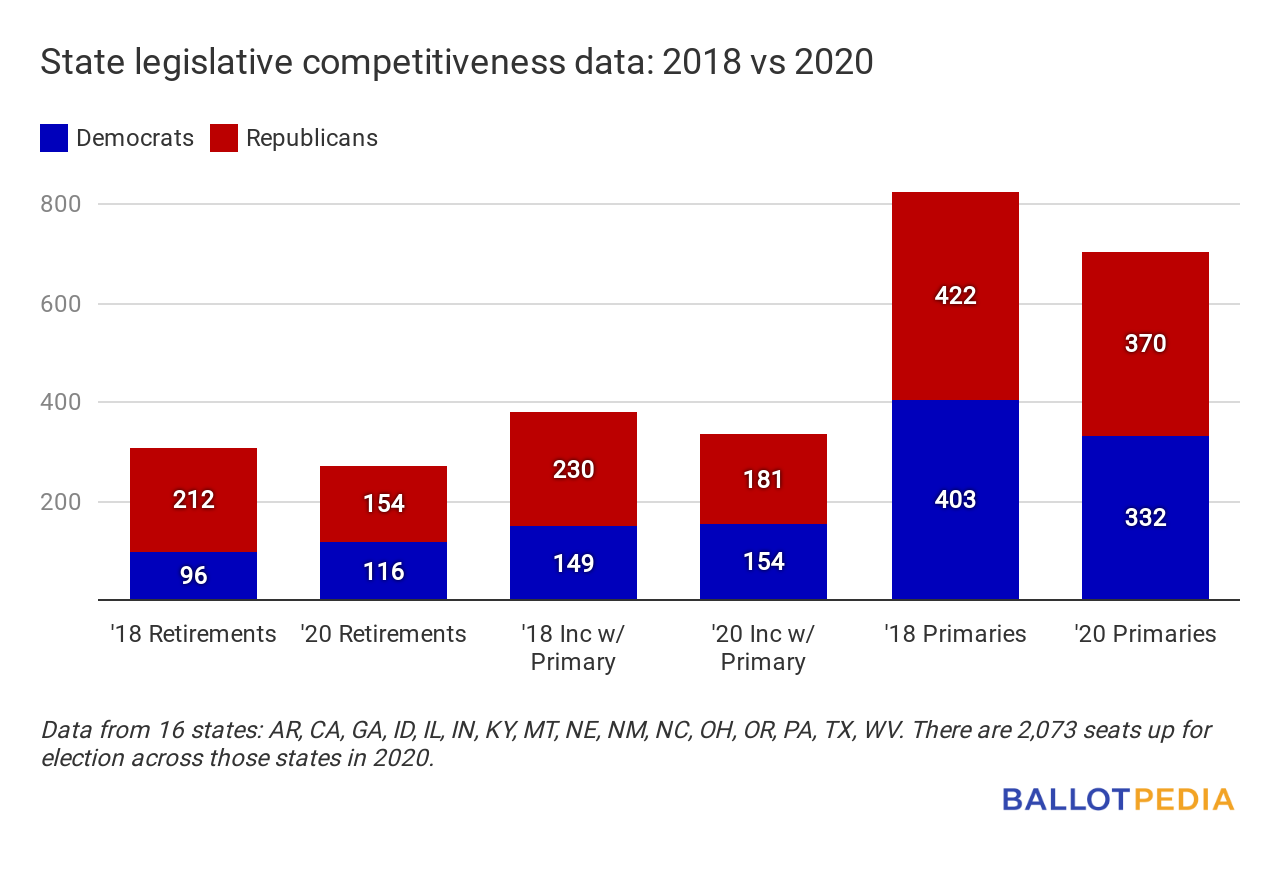 Four candidates vying for the Republican nomination in Portland-area house district
Following last week's filing deadline, four candidates, including one former state representative, are on the ballot seeking the Republican nomination in Oregon's 26th House District. The Portland-area district's current representative is Rep. Courtney Neron (D) who narrowly defeated incumbent Richard Vial (R) 51-47 in 2018.
The candidates are Derrick Kitts, Dan Laschober, Larry McDonald, and Peggy Stevens. Laschober previously ran in the Republican primary against then-incumbent Vial in 2018. He lost 70-30. Kitts is a former Oregon state legislator. He represented Oregon's 30th House District for two terms from 2002-2006 before leaving office to challenge U.S. Representative David Wu (D) of Oregon's 1st Congressional District in 2006. Kitts lost 63-34.
Alaska representative charged with 2018 voter misconduct following loss of local party support
Last Friday, Alaska state prosecutors charged state Rep. Gabrielle LeDoux (R-15) with voter misconduct and unlawful interference with voting over actions that took place during the previous Republican primaries in House District 15.
LeDoux was one of three Republicans who formed a majority coalition with 17 Democrats and two independents following the 2016 elections (where Republicans won 21 of 40 seats). In 2018, LeDoux faced a primary challenge from Aaron Weaver. She won the primary by a margin of 117 votes. 
Last February, before the charges, the District 15 Republican Convention formally withdrew support from LeDoux. Since then, David Nelson (R) has filed to run. District 15's Republican chairwoman, Madeleine Gaiser, said: "We…plan to throw our full support behind him and his campaign."
Following the filing deadline, Huseman retirement sets up three-way primary for Iowa House seat
Earlier this year, Iowa Rep. Dan Huseman (R-03) announced he would not seek re-election in 2020 for his northwestern Iowa seat. First elected in 1994, Huseman is the longest serving Republican member of the Iowa House of Representatives. 
Following the passage of the final filing deadline for state legislative candidates last Friday, three Republicans are running in the June 2 primary: Cherokee County supervisor Dennis Bush, former Alta-Aurelia superintendent Lynn Evans, and Mark McHugh.
Since no Democratic candidates filed before the deadline, the winner of the Republican primary will likely be the district's next representative.
Power players
"The National Rifle Association is America's longest-standing civil rights organization. Together with our more than five million members, we're proud defenders of history's patriots and diligent protectors of the Second Amendment." – National Rifle Association website
Founded in 1871, the National Rifle Association (NRA) is a 501(c)(4) nonprofit organization that says of itself, "While widely recognized today as a major political force and as America's foremost defender of Second Amendment rights, the NRA has, since its inception, been the premier firearms education organization in the world."
The lobbying arm of the NRA is called the Institute for Legislative Action (NRA-ILA). The NRA-ILA was founded in 1975 and says it is "responsible for preserving the right of all law-abiding individuals in the legislative, political, and legal arenas, to purchase, possess and use firearms for legitimate purposes as guaranteed by the Second Amendment to the U.S. Constitution."
The NRA's political action committee, the NRA Political Victory Fund (NRA-PVF), grades and endorses political candidates. The group's endorsement policy says, "NRA has a pro-gun incumbent-friendly policy that dictates our support for pro-gun incumbents seeking reelection. It is important that we stand with our friends who stand with us in Congress or the state legislature through their actions." To search candidates endorsed by the NRA-PVF, click here.