This week: End Citizens United endorses Ossoff, Warnock for Senate seats in GA, Brady PAC endorses Hegar in Senate runoff in TX, and the election dates changed in response to the coronavirus.
Election date changes
The coronavirus pandemic has prompted several states and localities to change election dates and administrative procedures. Here are the changes affecting party primaries right now:
Alabama: Primary runoff postponed to July 14

Alaska: In-person voting in Democratic presidential preference primary canceled; vote-by-mail deadline extended to April 10

Connecticut: Presidential preference primary postponed to June 2

Delaware: Presidential preference primary postponed to June 2

Georgia: Presidential preference primary postponed to May 19

Indiana: Primary postponed to June 2

Kentucky: Primary postponed to June 23

Louisiana: Presidential preference primary postponed to June 20

Maryland: Primary postponed to June 2

Mississippi: Republican primary runoff election for the state's 2nd Congressional District postponed to June 23

North Carolina: Republican primary runoff for North Carolina's 11th Congressional District postponed to June 23

Ohio: In-person primary voting postponed to June 2

Puerto Rico: Democratic presidential preference primary postponed to April 26

Rhode Island: Presidential preference primary postponed to June 2

Texas: Primary runoff elections postponed to July 14
On the news
Where do Democratic and progressive pundits and commentators disagree? Each week, we bring you excerpts that highlight differing views.
"If Sanders drops out, as mainstream media and centrist liberals are urging him to do, Biden and the establishment won't budge an inch, and a generation of socialists and progressives is demoralized. If Sanders stays in, his campaign is severely limited without the ability to hold big rallies or canvasses because of the pandemic, in addition to the many other enormous hurdles he faces.

There is another option, though: stay in the race, but make a wholesale transition from campaigning for the nomination to campaigning for Bernie's coronavirus policy — not just redirecting some donations to charity or sending text messages to encourage social distancing, but transforming the entire organizational apparatus of the Bernie campaign into a virus-fighting machine.

… Bernie should use the considerable leverage he has right now to outflank the suddenly invisible Joe Biden to advocate for a more aggressive approach."
Benjamin Y. Fong, Jacobin, March 24, 2020
"Could Biden become a different president than we imagined? He well might, if he can rise to the occasion.

When I say 'different,' I'm referring to one of the main reasons I was skeptical about Biden's candidacy: his lack of policy ambition. … 

But if he takes office in the midst of a crisis, the calculations could change. There's a good chance that the stimulus measures we take now will be insufficient — so he'll be under pressure to pass new stimulus, which could well include some version of the Green New Deal. This public health crisis will almost certainly have been a disaster for our health-care system, which will give passing health-care reform new urgency. …

And though we all hope the public health crisis and the economic crisis are over as quickly as possible, if there's a silver lining here, it may be that they'll make Biden, should he win, a better and bigger president than he otherwise would have been. Let's hope so."

Paul Waldman, The Washington Post, March 19, 2020
U.S. Congress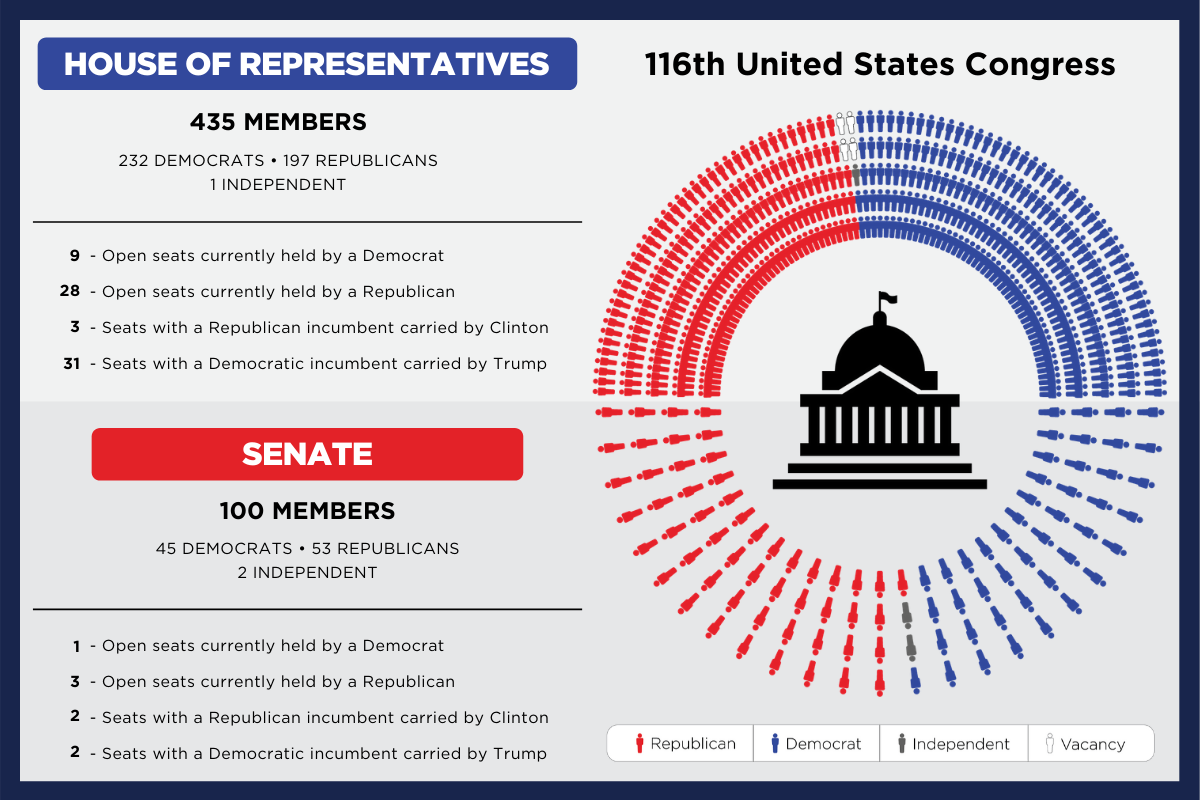 End Citizens United endorses Ossoff, Warnock for Senate seats in GA
End Citizens United endorsed Jon Ossoff in Georgia's May 19 regular Senate Democratic primary and Raphael Warnock in the Nov. 3 all-party special election.
Ossoff faced Karen Handel (R) in the 2017 special election for Georgia's 6th Congressional District—the most expensive House race in history. Handel defeated Ossoff 51.8-48.2%.
Seven candidates are running in the May 19 Democratic primary, including business executive Sarah Riggs Amico and former Columbus Mayor Teresa Tomlinson. The winner will face incumbent David Perdue (R). Three forecasters rate the general election Likely or Lean Republican.
End Citizens United's endorsement of Warnock followed those from other national groups including, as we reported earlier, the Democratic Senatorial Campaign Committee. He is a pastor and was chairman of the New Georgia Project, a voter registration group 2018 Democratic gubernatorial candidate Stacey Abrams, who has also endorsed him, founded.
Twenty-one candidates are running in the all-party special election—six Republicans, eight Democrats, five independents, a Green Party candidate, and a Libertarian. 
Former Sen. Johnny Isakson resigned in December. Gov. Brian Kemp (R) appointed Kelly Loeffler (R) to the seat. She is running in the special election. 
Three forecasters rate the election either Lean or Likely Republican.
Two candidates remain in NY-24 Democratic primary
Roger Misso dropped out of the Democratic primary for New York's 24th Congressional District, leaving a contest between Dana Balter and Francis Conole. 
The 24th includes parts of Cayuga, Onondaga, Oswego, and Wayne counties. The Finger Lakes Times reported, "Wayne is not endorsing in the primary, while Onondaga and Cayuga have endorsed Conole. Balter won the endorsement of Oswego County Democrats."
Balter challenged 24th District incumbent John Katko (R) in 2018, losing 47.4% to 52.6%. Conole is a military veteran who worked as a senior intelligence officer for the Department of Defense.
Katko is unopposed in the 2020 Republican primary. The 24th is one of three House districts that elected a Republican representative in 2018 after favoring Hillary Clinton (D) in the 2016 presidential election.
Brady PAC endorses Hegar in Senate runoff in Texas
Brady PAC endorsed M.J. Hegar over Royce West in the Democratic senatorial primary runoff election in Texas. 
The group's executive director, Brian Lemek, said, "As a mother, veteran, gun violence survivor and gun owner, MJ understands this epidemic of gun violence and the reasonable solutions to fix it. Royce West, however, has voted multiple times to expand the places people can carry guns, including school grounds, and we think that is unacceptable."
West, a state senator, co-authored a 2019 bill that would have removed a provision prohibiting school marshals who engage in regular, direct contact with students from carrying concealed guns.
West said, "Local school boards have a right to decide what measures they need to take in order to make sure that students and persons within that school are safe, and this is just another tool they can utilize to do that." Regarding the Brady PAC's endorsement of Hegar, West said, "I have supported the Brady group 95% of the time on measures they have proposed over the years."
Since the March 3 primary, three primary candidates endorsed West in the runoff: Cristina Tzintzún Ramirez, Michael Cooper, and Chris Bell. The runoff, originally scheduled for May 26, was moved to July 14 due to the coronavirus pandemic.
The runoff winner will face incumbent John Cornyn (R) in the November general election.
State executives

Washington Lt. Gov. Habib to retire, leaving the office open
Lt. Gov. Cyrus Habib (D-Wash.) announced Thursday he would retire from politics and join the Jesuit Order rather than seek re-election this year, setting up an open top-two primary for the office.
Washington is one of only two states, alongside California, using a top-two primary system for state executive offices. Under a top-two primary, all candidates for office appear on the same primary ballot and the top two finishers—regardless of their partisan affiliation—advance to the general election.
Washington's lieutenant governor is elected separately from the governor. The lieutenant governor presides over the state Senate, casting tie-breaking votes, and serves as acting governor while the governor is out of state. 
Candidates have until May 15 to file for the Aug. 4 primary. The top two finishers will advance to the Nov. 3 general election. No Republican has served as lieutenant governor of Washington since Joel Pritchard left office in 1997.
Cooney reports narrow fundraising lead in Montana gubernatorial election
According to financial disclosure reports filed Friday, Lt. Gov. Mike Cooney has raised more money in the gubernatorial primary so far this year than consultant Whitney Williams.
Between Jan. 1 and March 15, Cooney raised $245,000 while Williams raised $230,000. Cooney reported $265,000 cash on hand as of March 15 to Williams' $230,000.
Cooney and Williams are the only two Democrats running in the June 2 primary, which is open to all registered voters.
Legislatures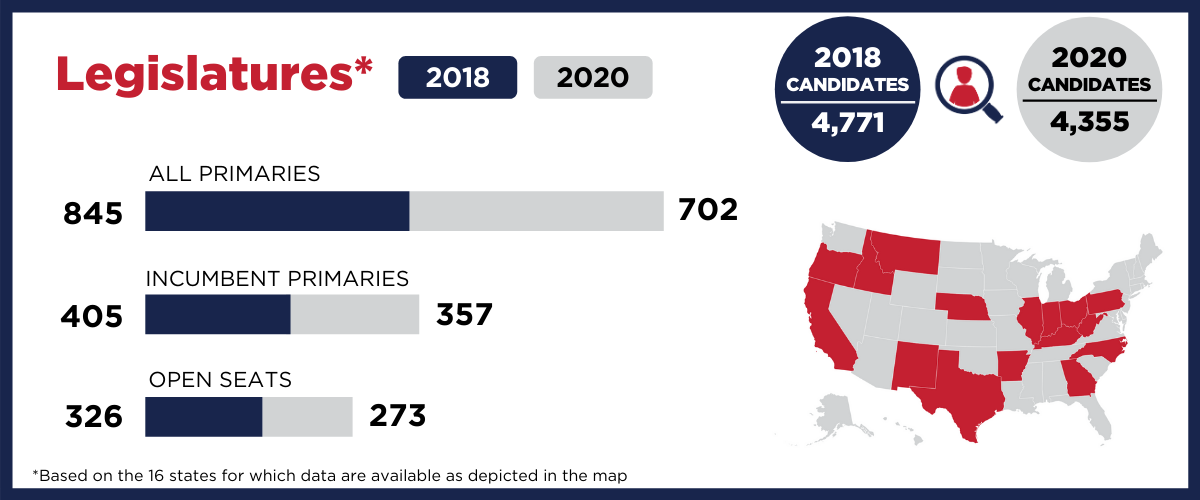 A look at competitiveness in state legislative elections so far
Ballotpedia has been compiling information about competitiveness in state legislative elections for this year and comparing it to our 2018 data. 
When a state legislative filing deadline passes, we compile information about open seats, incumbents in primaries, total primaries, and total candidates. We then compare that data to figures for the same states as of the 2018 filing deadline. The 16 states highlighted in the graphic above show where we've been able to run this comparison so far.
In the states we've reviewed, competitiveness has fallen this year compared to the same point in 2018. This year, there are 273 open seats, versus 326 in 2018. The number of incumbents challenged in primaries is also down from 405 in 2018 to 357 in 2020. The number of primaries in general is also down from 845 to 702. All of these declines correspond with the overall drop in candidates seeking office. There are 416 fewer candidates running in state legislative races in 2020 compared to 2018.
Here are some specific highlights:
Ohio had the largest drop in the number of open seats. There were 42 open seats in 2018, and 22 this year. 

North Carolina, Oregon, and West Virginia had the largest increase in open seats. Each has eight more open seats this year than in 2018.

Both Texas and Oregon have 18 fewer incumbents facing primary challenges in 2020 than in 2018. In 2018, Montana had ten incumbents facing primary challenges versus 25 in 2020, the largest increase.

Illinois has the largest decrease in total primaries from 61 in 2018 to 37 in 2020. Montana again has the largest increase in total primaries from 38 in 2018 to 55 in 2020.

Only two states

—Oregon (23) and Georgia (32)—have more candidates running this year than in 2018. Ohio has 86 fewer candidates running in state legislative races this year than in 2018.
Rep. Yoni Pizer concedes to Margaret Croke in Illinois House primary
Illinois Rep. Yoni Pizer (D-12) conceded to challenger Margaret Croke last Wednesday. With all precincts reporting, Croke won 46.4 percent of the vote to Pizer's 41.0 percent with three other primary challengers receiving the remainder of the vote.
The outcome of this election marked the end of a proxy endorsement battle between Chicago Mayor Lori Lightfoot (D), and Illinois Gov. J.B. Pritzker (D). In January 2020, Lightfoot endorsed Pizer, a month before party leaders appointed him to serve out the remainder of Rep. Sara Feigenholtz's (D) term. Following Pizer's appointment, Pritzker endorsed Croke, who had worked on his 2018 gubernatorial campaign.
Democrats currently hold a 74-44 supermajority in the Illinois House of Representatives. Since there were no other candidates filed to run in the general election, Croke will likely be the next representative for District 12, holding the seat for Democrats.
Former Republican candidate Kevin Stocker challenges Bill Conrad in Democratic primary for open New York State Assembly seat
Last Friday, Kevin Stocker filed to run in the Democratic primary for New York's 140th Assembly District. Robin Schimminger (D) has represented the Buffalo-area district since its creation in 1976. In 2019, Schimminger announced he would not seek re-election.
Stocker's announcement sets up a June 23 primary against Bill Conrad, a Tonawanda town councilman who has already been endorsed by the Niagara County Democratic Party.
Stocker most recently ran as a Republican for New York's 60th Senate District in 2016 but lost in the primary. In 2014, Stocker was the Republican nominee in the 60th District, but lost in the general election 31.5% to 29.8%.
Power players
"The Working Families Party is a progressive grassroots political party building a multiracial movement of working people to transform America." – Working Families Party website
The Working Families Party is a political party founded in 1998 by a group of labor unions, community organizations, and other public interest groups. The New York Times has described the party as "an influential, labor-backed organization that has helped push Democrats to the left."
As of September 2019, it was a ballot-qualified party in Connecticut, New York, Oregon, and South Carolina. According to the party's website, it has branches in Colorado, Connecticut, Louisiana, Maryland, Nevada, New Jersey, New Mexico, New York, Ohio, Oregon, Pennsylvania, Rhode Island, West Virginia, Wisconsin, and Washington.
The party says its endorsement "is like a progressive seal of approval: it means these candidates can be counted on to fight for us on the issues that matter most, from fair funding of public schools and living wage jobs to ending mass incarceration and getting big money out of politics." To view a list of endorsed candidates, click here.