This week: Club for Growth active in AL-01, AL-02 runoffs, Loeffler responds to insider trading allegations, and the election dates changed in response to the coronavirus.
Election date changes
The coronavirus pandemic has prompted several states and localities to change election dates and administrative procedures. Here are the changes affecting party primaries right now:
Alabama: Primary runoff postponed to July 14

Alaska: In-person voting in Democratic presidential preference primary canceled; vote-by-mail deadline extended to April 10

Connecticut: Presidential preference primary postponed to June 2

Delaware: Presidential preference primary postponed to June 2

Georgia: Presidential preference primary postponed to May 19

Indiana: Primary postponed to June 2

Kentucky: Primary postponed to June 23

Louisiana: Presidential preference primary postponed to June 20

Maryland: Primary postponed to June 2

Mississippi: Republican primary runoff election for the state's 2nd Congressional District postponed to June 23

North Carolina: Republican primary runoff for North Carolina's 11th Congressional District postponed to June 23

Ohio: In-person primary voting postponed to June 2

Puerto Rico: Democratic presidential preference primary postponed to April 26

Rhode Island: Presidential preference primary postponed to June 2

Texas: Primary runoff elections postponed to July 14
On the news
Where do Republican and conservative pundits and commentators disagree? Each week, we bring you excerpts that highlight differing views.
"Contrary to the partisan hand-wringing over Trump's obvious restlessness with the national shutdown, Trump's developing back-to-work plan ought to instill confidence in the public. Trump has only doubled down on his demand that Congress authorize immediate cash relief to consumers, so it's not as though his willingness to strategize about what comes next signals defeat. If anything, it's practically necessary, positioning us to be far more prepared for the secondary stage of the coronavirus than we were for the initial outbreak, and it's politically expedient, a warning sign to Democrats holding the crisis relief bill as a partisan hostage. …

… Trump's reported plan understands a necessary reality: We need those who cannot earn income from home back at work.

It won't just be the elderly and immunocompromised stuck at home. Likely every worker who can work remotely, largely white-collar workers and middle- and upper-income earners, will be required to continue to do so. But then masks could be allocated to those who must work on-site, like those in the manufacturing or beauty industries. And those workers happen to be disproportionately lower-income. It's not the stock market that will most benefit, but rather those workers who need economic relief the most."
Tiana Lowe, Washington Examiner, March 24, 2020
"There are certain strategies that we could eventually employ to return to some semblance of normal life while limiting the spread of the virus. One would be to have everybody wear masks whenever they go out. Another would be to follow the South Korean model of widespread testing coupled with isolating cases and tracking down their close contacts.

But the United States is not in a position to do either at the moment. …

Trump is right in the sense that we cannot sustain the current state of affairs and just sit around for the next few years waiting for a vaccine. But it would be an egregious error for him to change federal guidance and lean on state and local governments to prematurely open things up at a time when the virus is spreading rapidly and is nowhere near its peak.

So what he should do, instead of saying that he's going to open things up, is say that his administration will be moving on a parallel track to put the system in place so that we can return to some semblance of life as soon as possible, and in a responsible well-thought-out way."
Philip Klein, Washington Examiner, March 24, 2020
U.S. Congress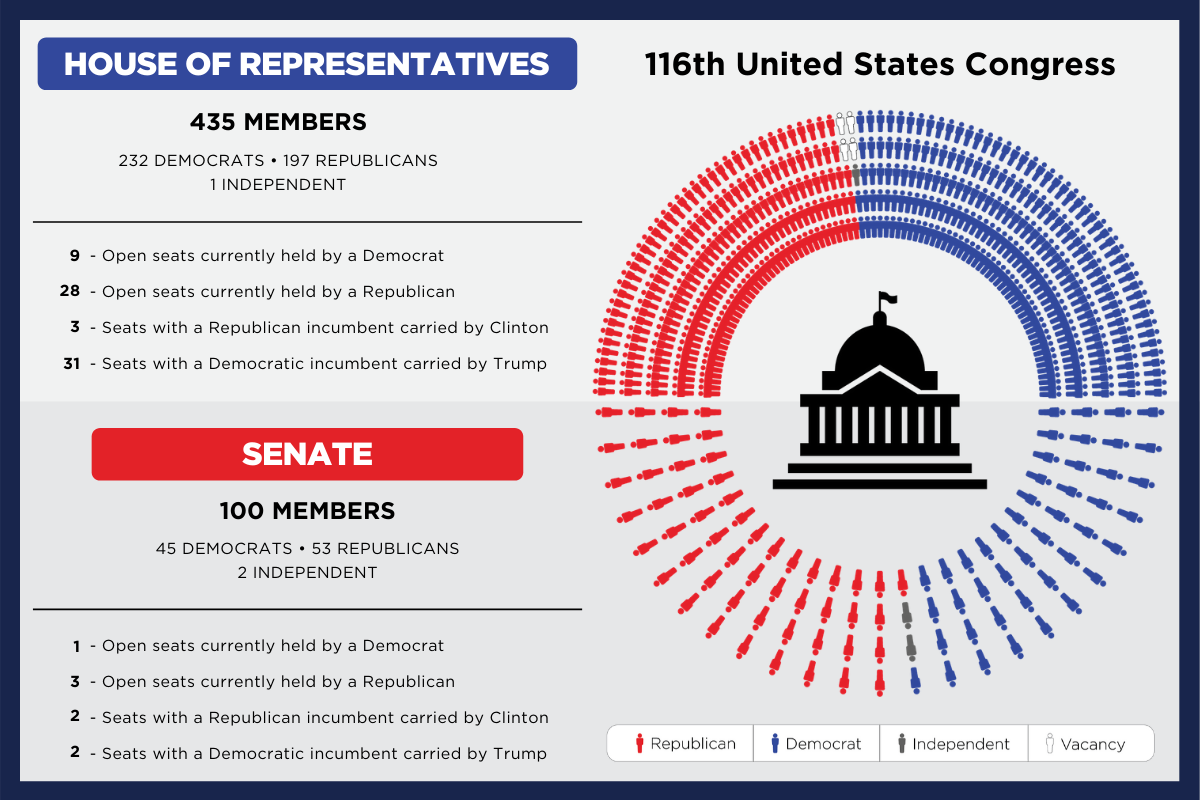 Club for Growth active in AL-01, AL-02 runoffs
Club for Growth has ramped up activity in Alabama's congressional runoffs,
The Club for Growth is getting more active in Alabama's congressional runoffs, increasing its spending in the 1st District race and making an endorsement in the 2nd District contest.
Club for Growth Action, the group's super PAC, spent $720,000 following the March 3 primary on ads and other activities opposing Jerry Carl. The group spent just under $150,000 supporting Bill Hightower ahead of the primary. 
Carl received 38.7% of the vote to Hightower's 37.5% on March 3. The seat is open as incumbent Bradley Byrne (R) ran for the GOP Senate nomination.
In the 2nd District, Club for Growth PAC along with the House Freedom Fund endorsed Barry Moore in the runoff last week. Yellow Hammer News reported that the groups didn't indicate how much they would spend on the race.
Jeff Coleman, the other 2nd District runoff candidate, had raised close to $2 million and spent $1.5 million as of Feb. 11. Moore reported raising almost $300,000 and spending around $250,000 as of March 11.
Moore, a former state legislator, has referred to himself as "the working man's candidate" and to the runoff as "David and Goliath." Coleman describes himself as a job creator and outsider. He is chairman of Coleman Worldwide Moving. Business groups including the U.S. Chamber of Commerce and the Business Council of Alabama endorsed Coleman ahead of the primary.
Alabama's 2nd is open as incumbent Martha Roby (R) isn't seeking re-election. Coleman received 38.1% of the vote to Moore's 20.4% in the March 3 primary, which included seven candidates.
Alabama's runoffs were originally scheduled for March 31 but were moved to July 14 because of the coronavirus pandemic. 
Loeffler responds to insider trading allegations
Rep. Doug Collins (R-Ga.) joined outside ethics groups in accusing Sen. Kelly Loeffler (R-Ga.) of insider trading.
According to the Atlanta Journal-Constitution, "financial disclosures show that either she or her spouse sold up to $3.1 million in stocks. They made just two purchase, [sic] both in companies whose software technology is now in demand as Americans are forced to work from home to stem the rise of the coronavirus." The newspaper reported that the purchase took place after Loeffler attended a January briefing on the virus.
Loeffler has denied allegations of insider trading, saying, "There is a range of different decisions made every day with regard to my savings and 401(k) portfolios that I am not involved in."
Collins said, "People are losing their jobs, their businesses, their retirements, and even their lives and Kelly Loeffler is profiting off their pain? … I'm sickened just thinking about it."
Loeffler and Collins are among 21 candidates running in the all-party special election on Nov. 3—six Republicans, eight Democrats, five independents, a Green Party candidate, and a Libertarian. Former Sen. Johnny Isakson resigned in December. Gov. Brian Kemp (R) appointed Loeffler to fill the seat.
Trent Christensen files for UT-04 primary shortly before deadline
Trent Christensen filed for Utah's 4th Congressional District Republican primary shortly before the March 19 deadline, joining six others in the race. Incumbent Ben McAdams (D), who is seeking re-election, defeated incumbent Mia Love (R) 50.1% to 49.9% in 2018.
Christensen was regional finance director of Mitt Romney's 2012 presidential campaign. He has until April 20 to submit 7,000 signatures on a nominating petition to qualify for the ballot.
Also running are former Utah Republican Party communications director Kathleen Anderson, former state Rep. Kim Coleman, and former NFL player Burgess Owens. Not on the list of candidates is Love, who said last year she was considering a bid to regain the seat.
The primary is June 30.
State executives

Utah's filing deadline passed Thursday, leaving eight candidates seeking the GOP gubernatorial nomination—the most since 2004.Three Utah gubernatorial candidates name running mates
Three candidates announced their running mates. Lt. Gov. Spencer Cox will run alongside state Sen. Deidre Henderson, while businesswoman Jan Garbett selected former public health official Dr. Joe Jarvis and Salt Lake County Councilwoman Aimee Winder-Newton picked state Auditor John Dougall.
Two other candidates had already named their running mates. Former Gov. Jon Huntsman, Jr. is running alongside Provo Mayor Michelle Kaufusi, while former state party chairman Thomas Wright is running alongside Rep. Rob Bishop. Former state House Speaker Greg Hughes, businessman Jeff Burningham, and entrepreneur Jason Christensen have not yet announced running mates.
According to The Salt Lake Tribune, the state's response to the coronavirus pandemic has made getting on the ballot much more challenging.
Up to two candidates for governor may qualify for the primary ballot by winning the support of state delegates at the convention. Any number may qualify by submitting petitions containing valid signatures from 28,000 registered voters. Candidates may choose to pursue one track or attempt to qualify via both at the same time. 
Owing to public health concerns, the state party convention was moved to an entirely online format, meaning candidates will no longer be able to interact with delegates in person. Meanwhile, Huntsman and Garbett, who are both seeking to qualify via petitions, have requested the state allow candidates to collect signatures electronically.
The June 30 primary will be open to registered Republicans only. The winner of the primary is likely to also win the general election—no Democrat has won election as governor of Utah since 1980. Incumbent Gary Herbert (R) is not seeking re-election.
Greg Gianforte leads Montana gubernatorial candidates in fundraising
According to financial disclosure reports filed Friday, Rep. Greg Gianforte has raised more money in the gubernatorial primary so far this year than state Attorney General Tim Fox or state Sen. Al Olszewski.
Between Jan. 1 and March 15, Gianforte raised $890,000 to Fox's $110,000 and Olszewski's $42,000. Gianforte's figures include a $500,000 loan he issued his campaign. Olszewski loaned his campaign $17,000.
To date, Gianforte has raised $2.3 million to Fox's $680,000 and Olszewski's $270,000.
The June 2 primary is open to all voters. No Republican candidate has been elected governor in Montana since Judy Martz (R) in 2000.
Knudsen receives legislative endorsements in Montana Attorney General election, while Bennion reports fundraising lead
Two members of the Montana state legislature endorsed House Speaker Austin Knudsen for attorney general. State Sen. Gordon Vance, a former state house majority leader who currently serves as chairman of the Highways and Transportation Committee, announced his support for Knudsen Saturday. Current state House Majority Leader Brad Tschida followed on Monday.
Campaign finance reports filed Friday show Deputy State Attorney General Jon Bennion with a slight fundraising lead over Knudsen. Between January 1 and March 15, Bennion raised $29,000 to Knudsen's $28,000. As of March 15, Bennion had $160,000 cash on hand to Knudsen's $110,000. 
Bennion and Knudsen are the only two Republicans running in the June 2 primary, which is open to all registered voters.
Legislatures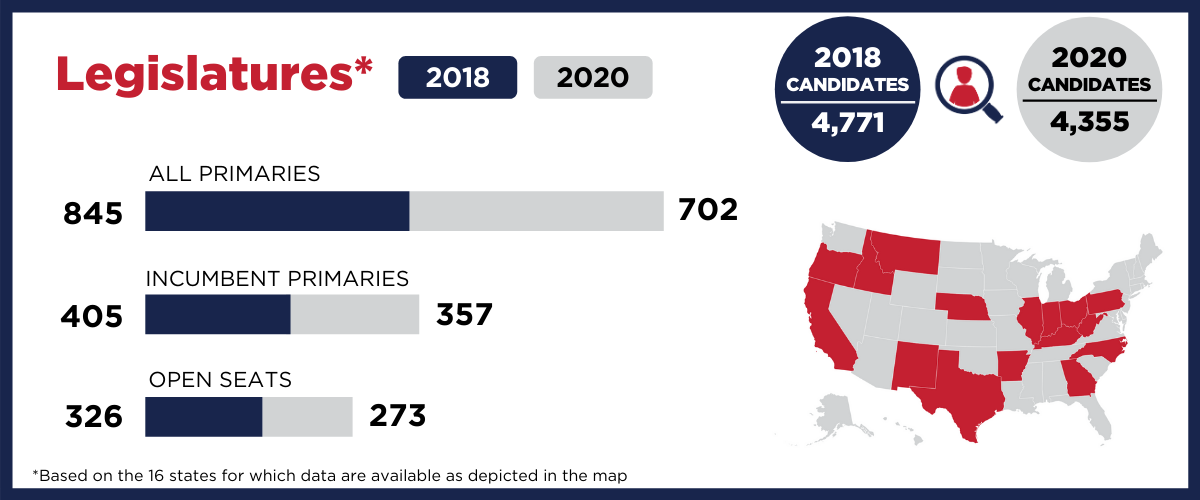 A look at competitiveness in state legislative elections so far
Ballotpedia has been compiling information about competitiveness in state legislative elections for this year and comparing it to our 2018 data. 
When a state legislative filing deadline passes, we compile information about open seats, incumbents in primaries, total primaries, and total candidates. We then compare that data to figures for the same states as of the 2018 filing deadline. The 16 states highlighted in the graphic above show where we've been able to run this comparison so far.
In the states we've reviewed, competitiveness has fallen this year compared to the same point in 2018. This year, there are 273 open seats, versus 326 in 2018. The number of incumbents challenged in primaries is also down from 405 in 2018 to 357 in 2020. The number of primaries in general is also down from 845 to 702. All of these declines correspond with the overall drop in candidates seeking office. There are 416 fewer candidates running in state legislative races in 2020 compared to 2018.
Here are some specific highlights:
Ohio had the largest drop in the number of open seats. There were 42 open seats in 2018, and 22 this year. 

North Carolina, Oregon, and West Virginia had the largest increase in open seats. Each has eight more open seats this year than in 2018.

Both Texas and Oregon have 18 fewer incumbents facing primary challenges in 2020 than in 2018. In 2018, Montana had ten incumbents facing primary challenges versus 25 in 2020, the largest increase.

Illinois has the largest decrease in total primaries from 61 in 2018 to 37 in 2020. Montana again has the largest increase in total primaries from 38 in 2018 to 55 in 2020.

Only two states

—Oregon (23) and Georgia (32)—have more candidates running this year than in 2018. Ohio has 86 fewer candidates running in state legislative races this year than in 2018.
Term-limited representative challenges incumbent South Dakota state senator
State Rep. Nancy Rasmussen (R-17), who is term-limited and unable to run again for another term in the house, filed to run for the district's single state senate seat, setting up a primary with incumbent Sen. Art Rusch (R-17). 
Rasmussen was first elected to one of the district's two House seats in 2012 and won re-election three times, serving the maximum of eight years in one chamber. Rusch, at the time of his first election in 2014, was the first Republican elected to the state senate from District 17 since 1982. He has won re-election twice since then. This will be the first time he has faced a primary challenge.
The filing deadline for state legislative candidates in South Dakota is March 31. No Democratic candidates have filed to run for the District 17 senate seat thus far.
Power players
"The Republican Main Street Partnership is a coalition of nearly 80 members of Congress who represent the governing wing of the Republican Party. Our members are the Republicans who win in swing districts — that's why we're the party's majority-makers." – Republican Main Street Partnership website 
Founded in 1997, the Republican Main Street Partnership (RMSP) is a 501(c)(4) nonprofit organization that says its members "share a commitment to conservative, pragmatic government that works to better American communities across the country" and are "solution-oriented legislators dedicated to defending Main Street Americans and advancing common-sense policies that can command bipartisan support." To view a list of the organization's current members, click here.
The RMSP is affiliated with the Republican Main Street Partnership PAC, which says it "exists to support governing Republicans who face the most challenging races," and the Defending Main Street Super PAC, which describes itself as "the most effective independent expenditure organization supporting the governing wing of the Republican Party."
The RMSP PAC endorses candidates which it says believe in "limited government, thoughtful, pragmatic governing and a strong economy." To view a list of endorsed candidates, click here.