This week: Tlaib, Jones rematch in MI-13, LaJeunesse withdraws from Senate primary in ME and endorses Gideon, and we profile Planned Parenthood Action Fund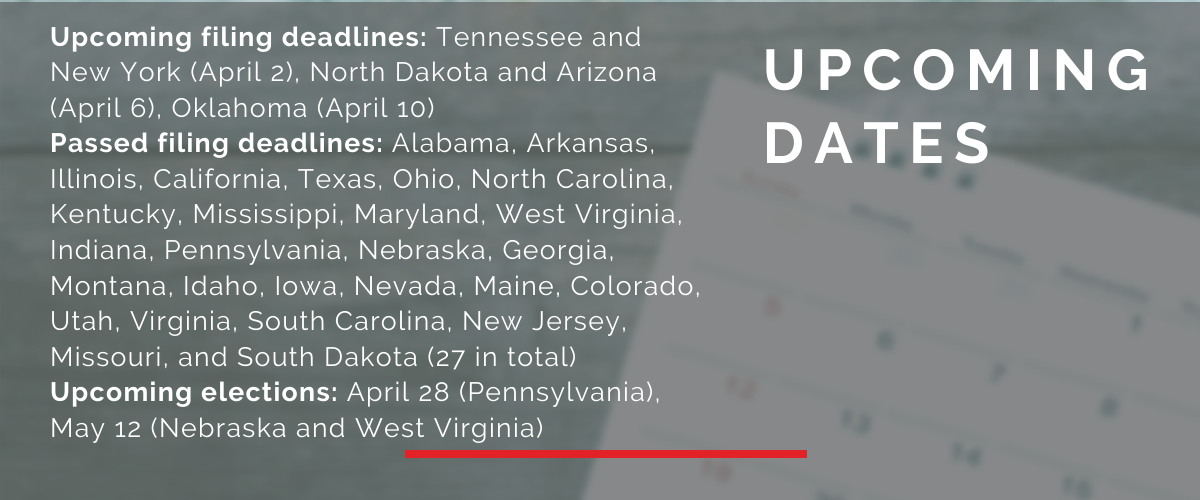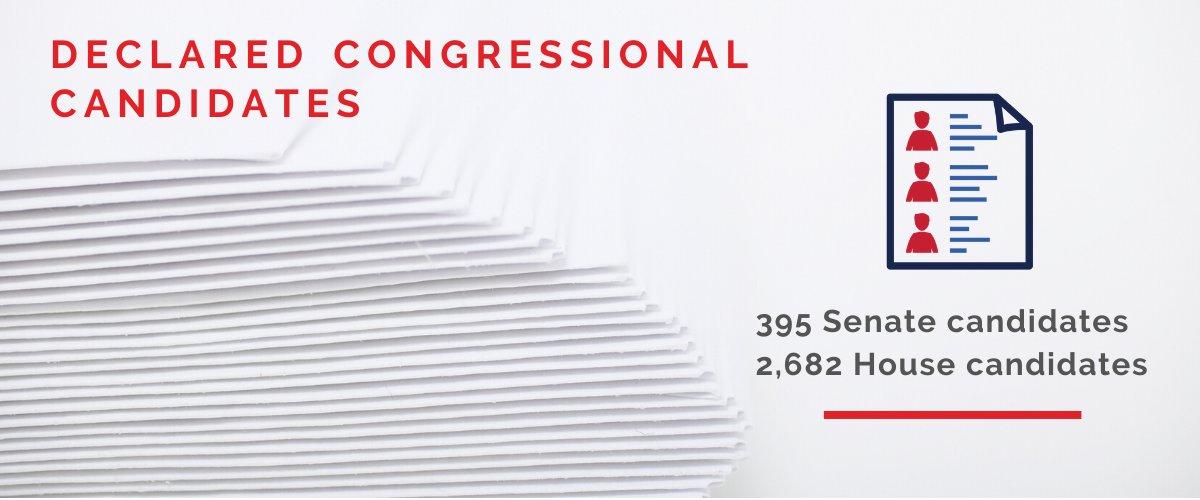 On the news
Where do Democratic and progressive pundits and commentators disagree? Each week, we bring you excerpts that highlight differing views.
"Though Biden has all but officially reached the position of the presumptive Democratic Party nominee, he continues to face overlying challenges that will make his path to the White House increasingly difficult. The first issue here is the impact of the pandemic on his strategy. For a politician whose greatest strength is his ability to connect with voters, which is traditionally done by traveling all around the country, speaking to voters at rallies, and of course shaking hands, Biden has been struggling to keep his campaign afloat during such untraditional and unprecedented times. …

While Biden holds a critical statistical advantage over Trump at this point, leading Trump by 9 points in the most recent Fox News poll with 49 percent of the vote, compared to 40 percent for Trump, the job approval ratings of the president both generally and regarding his handling of the coronavirus crisis have actually been rising.


The other problem is Sanders. Now that he plans to stay in the race, and both campaigns have effectively stalled because of the coronavirus, the momentum for Biden has come to a near halt. In a campaign that already lacked enthusiasm and the ability to draw in younger voters, Biden now faces the difficult task of seeking to do so from the confines of his house through pixelated online messages. This is hardly a way to win over more progressive voters, especially with Sanders still in the race."
Douglas Schoen, The Hill, March 29, 2020
"It's been a momentous few weeks, but one thing has not changed: Biden is still overwhelmingly likely to become the Democratic Party's nominee for president, and he's still better positioned than any other candidate to defeat President Trump in November. …

[Biden's] perceived vulnerabilities are leading Sanders to stay in the race through this extended lull in the voting, ready to pounce as soon as Biden implodes, and also encouraging fantasies of some mysterious alternative mainstream candidate magically swooping in to take Biden's place. …

It may well be true that Biden himself inspires only mild levels of enthusiasm among voters when pollsters ask them about it in the abstract. But in reality, when faced with a choice between Biden and Sanders, voters have showed up in states across the country to express their support for the former vice president. That's a very good sign that they will do the same when his opponent is the far more widely loathed Republican in the White House."
Damon Linker, The Week, March 30, 2020
U.S. Congress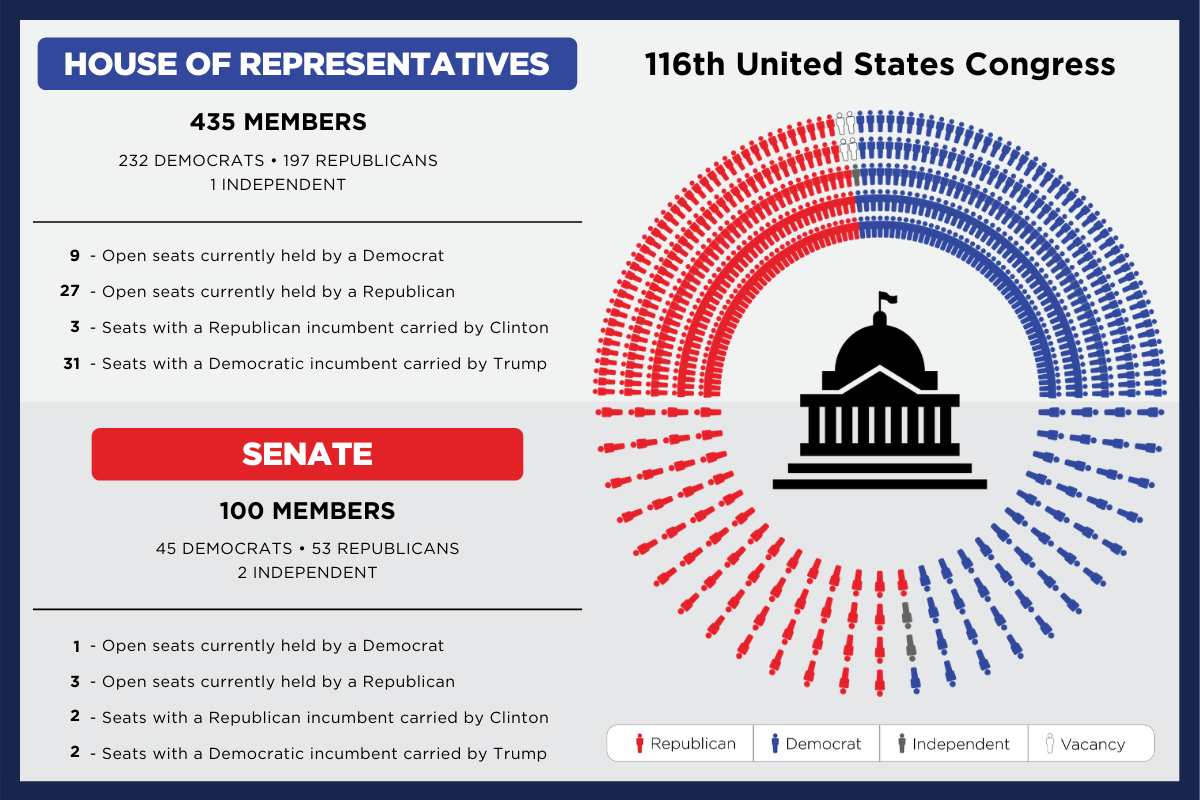 LaJeunesse withdraws from Senate primary in ME, endorses Gideon
Ross LaJeunesse withdrew from the Democratic primary for Senate in Maine and endorsed the state's House speaker, Sara Gideon. In a Medium post, he said the following:

"I cannot ask my supporters to continue working hard, to continue making financial contributions, to continue volunteering, to continue advocating for my campaign when the country is focused on an unprecedented health and economic crisis, and when the type of campaign I planned, meeting voters where they live and work and speaking person to person, is impossible."
LaJeunesse, whom the LGBTQ Victory Fund endorsed, ran on a 10-point tech policy agenda and criticized Gideon by saying she received special interest money.
Gideon had raised $7.8 million by the end of 2019. LaJeunesse was second in fundraising with $600,000. The Democratic Senatorial Campaign Committee, EMILY's List, and NARAL Pro-Choice America endorsed Gideon early in her bid. 
Bre Kidman and Betsy Sweet are also running in the June 9 primary.
Majority Forward, a not-for-profit affiliated with the Senate Majority PAC, recently announced a six-figure ad campaign praising Gideon's work on a coronavirus relief bill in the state legislature. The PAC also spent six figures on an ad campaign in November criticizing incumbent Sen. Susan Collins' (R) votes related to Medicare and saying she hadn't held a town hall in 20 years.
Three election forecasters rate the general election Toss-up, Tilt Republican, or Lean Republican. 
Tlaib, Jones rematch in MI-13
Detroit City Council President Brenda Jones entered Michigan's 13th Congressional District Democratic primary, setting up a rematch against Rep. Rashida Tlaib. 
In August 2018, Tlaib defeated Jones in the regular primary election 31.2% to 30.2%, while Jones defeated Tlaib in a special primary the same day 37.7% to 35.9%. Jones completed the term to which John Conyers Jr. had been elected in 2016 until Tlaib took the seat in January 2019.
The Detroit Metro Times wrote,
"In the last election, Jones had the backing of Detroit Mayor Mike Duggan's formidable political machine.

But since Tlaib was elected, she has become a household name nationwide — thanks, in part, to her promise to 'impeach the mother******' on her first day in office — and raised $1.6 million this cycle, bringing her campaign chest total to $2.8 million."
The primary is Aug. 4, and April 21 is the filing deadline.  
Sunrise Movement endorses Bowman in NY-16, Morse in MA-01
Sunrise Movement endorsed two challengers to longtime House incumbents last week: Jamaal Bowman in New York's 16th District and Alex Morse in Massachusetts' 1st District. The incumbents in both districts—Eliot Engel in New York and Richard Neal in Massachusetts—were first elected in 1988.
Sunrise Movement is a nonprofit organization that describes itself as "a movement to stop climate change and create millions of good jobs in the process." 
In New York's 16th, six candidates are running, including Bowman and Engel. Engel chairs the House Foreign Affairs Committee. Bowman is a middle school principal. He is running to Engel's left and received the Working Families Party endorsement. The Working Families Party endorsed Engel in previous elections. The primary is June 23. 
Rep. Neal chairs the House Ways and Means Committee. Morse was elected mayor of Holyoke, Massachusetts at age 22 and is running to Neal's left. Neal and Morse are currently the only candidates running in the Sept. 1 primary.
Find our previous story on New York's 16th District primary and our "Power Players" feature on the Sunrise Movement here.
State executives

Salango, Smith, Stollings participate in first debate
Three of the leading Democratic candidates for governor of West Virginia participated in the campaign's first debate on March 24. Ben Salango, Stephen Smith, and Ron Stollings each discussed their platforms while criticizing incumbent Jim Justice's (R) response to the coronavirus pandemic.
Salango, a Kanawha County commissioner, said he would prioritize workforce training and small business. Salango added that because different parts of the state face different challenges, he would be more inclined to support region-specific policies rather than trying the same programs throughout. Salango said he supported shifting the ideological balance of the state Democratic Party to expand its base.
Smith said West Virginia is wealthier now than at any point in its history but that large out-of-state businesses held too much of that wealth. Smith said he supports legalizing marijuana and ensuring that every resident has access to broadband. He said he was the only candidate to have published a plan to eliminate corporate tax breaks.
Stollings said his economic plan put small businesses and entrepreneurs first while encouraging growth in the state's technology sector. He proposed opening an executive office focused on issuing grants and seeking partnerships to boost the post-coronavirus recovery. Stollings said his experience in the state Senate and relationships with key legislators in both parties made him the candidate best-positioned to implement his agenda.
The May 12 primary will be open to registered Democrats and unaffiliated voters only. No Republican has won election as governor of West Virginia since Cecil Underwood in 1996. In the 2016 presidential election, Donald Trump defeated Hillary Clinton 69% to 27%. Justice was elected as a Democrat in 2016 before joining the Republican Party during his first term.
Former Kansas City Councilwoman Alissia Canady to run for lieutenant governor of Missouri
Former Kansas City Councilwoman Alissia Canady is laying the groundwork to run for lieutenant governor of Missouri, according to The Kansas City Star.
Canady was first elected to the city council in 2015 and served a single term. Rather than running for re-election in 2019, she ran for the city's open mayoral office. Canady did not advance to the general election but was the third-place finisher in the nonpartisan primary with 13.6% of the vote.
So far, the only other Democrat in the running is venue owner Gregory Upchurch. Upchurch ran for a Republican-held state house seat in 2018, losing the Democratic primary 65% to 22%. The filing deadline was March 31.
Missouri is one of 17 states where the lieutenant governor is elected separately from the governor. Missouri's lieutenant governor presides over the state senate and casts tie-breaking votes. Additional powers may be delegated by the governor. The last Democrat to serve as lieutenant governor of Missouri was Joe Maxwell in 2005.
2021 race preview: Jennifer McClellan weighs run for governor of Virginia
In this year's run of Heart of the Primaries, our coverage of state executive races will include stories on emerging state executive candidate fields in the 2021 and 2022 elections as well as the most recent news from this year's races.
Virginia voters will choose a new governor in 2021 to replace term-limited Ralph Northam (D).
Among the possible contenders for the race is state Sen. Jennifer McClellan (D-Va.), who has been a state legislator since 2005.
Richmond Times-Dispatch's Mel Leonor wrote,
"Before Donald Trump was elected president in 2016, McClellan was among Democrats mentioned as a potential replacement for U.S. Sen. Tim Kaine, a close mentor, if he was elected vice president as Hillary Clinton's running mate."
Other potential gubernatorial candidates include Lt. Gov. Justin Fairfax (D), former Gov. Terry McAuliffe, state Del. Jennifer Carroll Foy, and state Attorney General Mark Herring.
Legislatures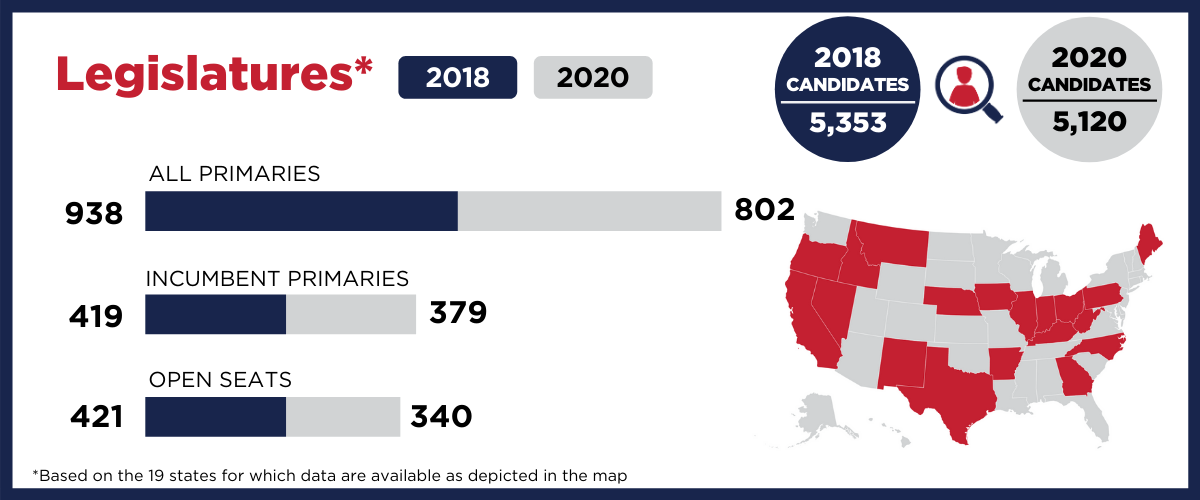 Six-term former South Dakota representative files to challenge incumbent in primary bid for his old seat
Former State Rep. Dean Schrempp (D) submitted petitions to run for South Dakota's House District 28A last week, setting up a primary with incumbent Rep. Oren Lesmeister (D-28A), who filed his petitions earlier this year.
Schrempp served two separate two-year terms representing District 28A in the 1990s: 1992-1994 and 1996-1998. He later represented the district from 2008-2016, serving four consecutive two-year terms. Schrempp could not run for re-election in 2016 due to term limits. 
Lesmeister was first elected to represent District 28A in 2016 after running for Schrempp's open seat and was re-elected in 2018. He ran unopposed in both races.
Unlike most districts in the state House of Representatives, District 28A elects only one representative. The filing deadline to appear on the primary ballot was March 31. At the time of publication, no Republican candidate had filed to run for the seat, meaning the winner of the primary will likely be the district's next representative.
Former congressional candidate files to run for Kansas state senate seat
Tobias Schlingensiepen (D) announced on Wednesday he will run for District 18 of the Kansas State Senate. The incumbent, Sen. Vic Miller (D-18), has not yet announced if he will seek re-election. In May 2019, Miller was arrested and charged with driving under the influence in a case that is currently pending.
In 2012, Schlingensiepen challenged incumbent U.S. Rep. Lynn Jenkins (R) in a race for Kansas' 2nd Congressional District. Jenkins defeated Tobias 57-39%.
Miller was appointed to District 18 in 2019 to replace outgoing Sen. Laura Kelly (D), who was elected governor in 2018. 
No Republican candidates have filed to run in District 18. The filing deadline to appear on the August 4 primary ballot is June 1.
Longest-serving state legislator in U.S. history to retire
Wisconsin State Sen. Fred Risser (D-26) announced Thursday he will not run for re-election in November. Risser was first elected to the Wisconsin state Assembly in 1956. He has represented District 26 in the state Senate since 1962. With 64 years as a state legislator, Risser is the longest-serving legislator in United States history. He is also the only remaining World War II veteran serving in a state legislature. He will be 94 at the time of his retirement.
Power players
"Planned Parenthood was founded over 100 years ago on the revolutionary idea that women have the right to access the information and care they need to live strong, healthy lives. Today, the Planned Parenthood Action Fund (PPAF) fights to protect that right — often in the face of extreme politicians trying to take it away." – Planned Parenthood Action Fund website
Founded in 1989, Planned Parenthood Action Fund is a 501(c)(4) nonprofit organization that says it "works to advance access to sexual health care and defend reproductive rights." The organization is affiliated with the 501(c)(3) nonprofit organization Planned Parenthood Federation of America and the super PAC Planned Parenthood Votes.
The Planned Parenthood Action Fund website lists policy goals in the following areas: "Abortion Access," "Birth Control," "Health Care Equity," "Attacks on Planned Parenthood," "Judicial Nominees," "Sex Education," "Sexual Assault," "State Attacks," and "Voting Rights."
Politico reported on March 26 that Planned Parenthood Action Fund recently endorsed the following candidates: Al Gross (AK-Sen), M.J. Hegar (TX-Sen), Phil Arballo (CA-22), Pritesh Gandhi (TX-10), and Hillary Scholten (MI-03). For a full list of over 200 federal candidates endorsed by Planned Parenthood Action Fund, click here.