This week: Nearly half of Jon Huntsman's petitions rejected, Massie's coronavirus bill procedural move becomes focus in primary, and we profile Senate Conservatives Fund.
Click here to follow developments on the Democratic side. Have a tip or see something we missed? Email us at geoff@ballotpedia.org. And please share this newsletter with your colleagues!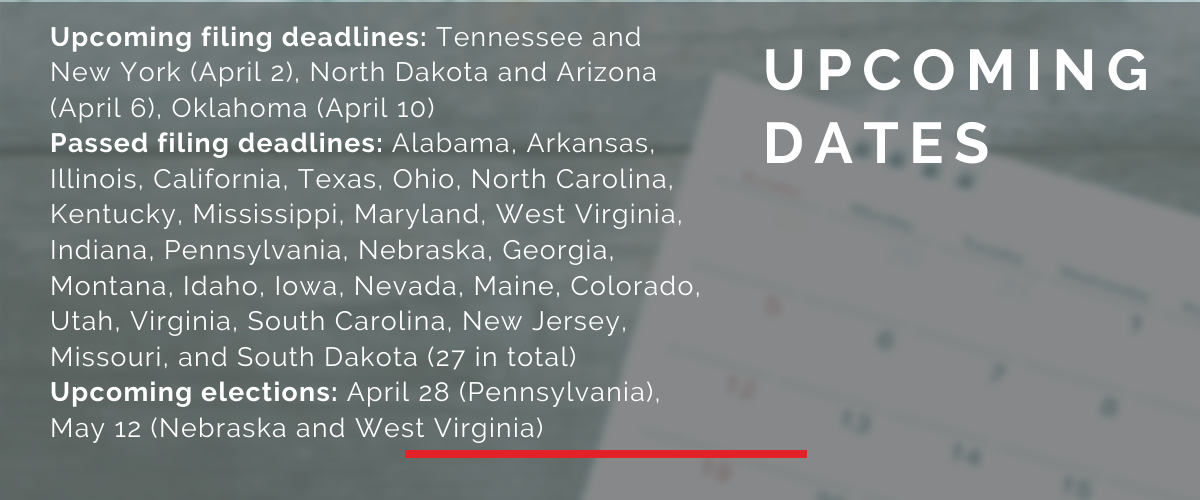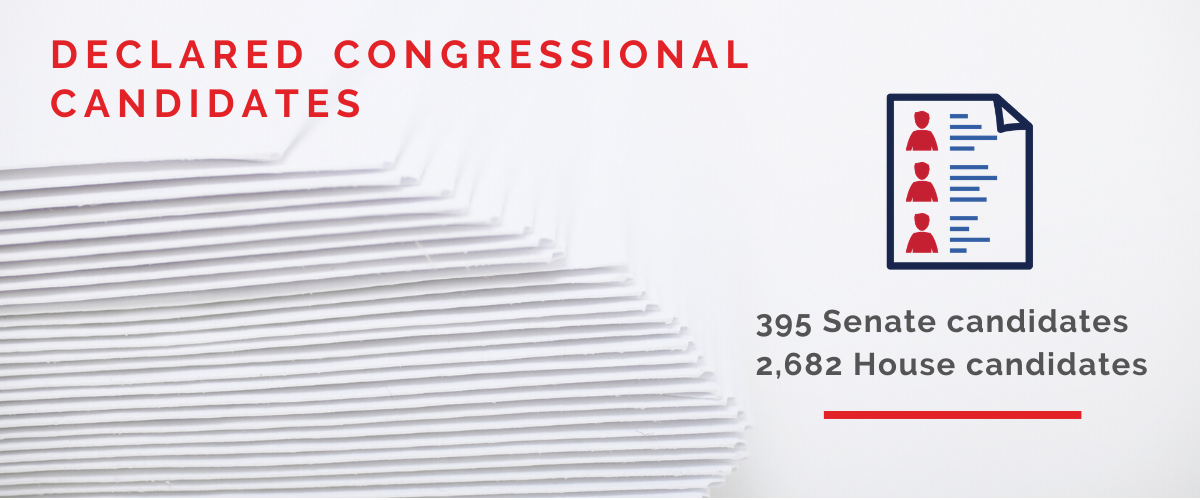 On the news
Where do Republican and conservative pundits and commentators disagree? Each week, we bring you excerpts that highlight differing views.
"In the middle of the 20th century, conservatism went from being dismissed as a set of 'irritable mental gestures' to having several competing ideological frameworks—some more 'libertarian,' some more religious. These all found common cause in the fight against Soviet communism—but it is now clear, in retrospect, that in the absence of such a defined enemy (radical Islam served the role briefly), conservatism is falling apart. Not only is it losing whatever unity it had. It is losing its own sense of self-definition and instead is degrading back to the level of irritable mental gestures.

Nothing exposes this like the right's response to the coronavirus. Conservatives have been almost comically prone to grasping at quack pseudo-science and wild speculation on social media, anything that will help them cast doubt on the real and evident epidemiology of a disease. Why? Simply to poke a finger in the eye of the mainstream media, the experts, the 'Deep State,' the 'elites.' All that is left of conservatism is 'own the libs': If their partisan enemies are for it, the conservatives are against it, and there is no other, deeper reality to consider."
Robert Tracinski, The Bulwark, March 30, 2020
"Both the crude and sophisticated efforts [to psychologize the partisan divide] tended to agree, though, that the supposed conservative mind is more attuned to external threat and internal contamination, more inclined to support authority and hierarchy, and fear subversion and dissent. And so the political responses to the pandemic have put these psychological theories to a very interesting test. …

So one might say that the pandemic illustrates the power of partisan mood affiliation over any kind of deeper ideological mind-set. Or relatedly, it illustrates the ways in which under the right circumstances, people can easily swing between different moral intuitions. …

But the right's varying responses to the pandemic also illustrate two further points. The first point is that what we call 'American conservatism' is probably more ideologically and psychologically heterogeneous than the conservative mind-set that social scientists aspire to measure and pin down."
Ross Douthat, The New York Times, March 31, 2020
U.S. Congress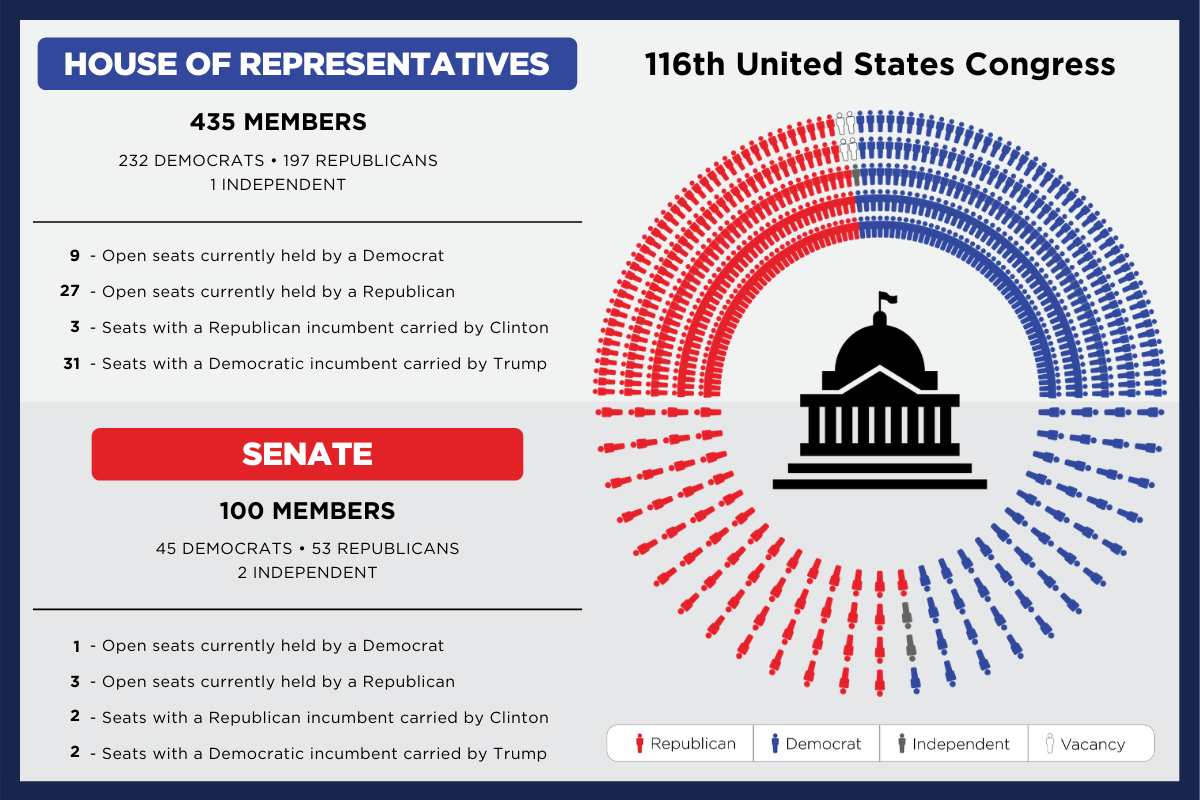 Massie's coronavirus bill procedural move becomes focus in primary
Rep. Thomas Massie of Kentucky's 4th Congressional District last week requested a roll call vote on the $2.2 trillion coronavirus stimulus package, which was ultimately passed by voice vote. News of Massie's plan, which would have required a majority of House members to be present to vote on the bill, led several House members to travel to D.C. amid the coronavirus outbreak.
Massie said that "if we're going to pass the biggest spending bill in the history of mankind … people should go on record for this." He also said, "If this is truly a national emergency, and you're being paid $174,000 a year to work, and you haven't been to work in, you know, 10 days, I think you can go to work for this."
Todd McMurtry, who is challenging Massie in the June 23 primary, tweeted, "People's livelihoods are at stake while he's playing political games. His top priority is to make himself the purest Libertarian politician in the House while failing to deliver results for Kentuckians."
President Donald Trump tweeted Massie should be thrown out of the Republican Party, saying, "Looks like a third rate Grandstander named @RepThomasMassie, a Congressman from, unfortunately, a truly GREAT State, Kentucky, wants to vote against the new Save Our Workers Bill in Congress. He just wants the publicity. He can't stop it, only delay, which is both dangerous & costly."
Massie said he hoped to patch things up with Trump. 
Massie was first elected to the House in 2012. McMurtry is an attorney. He recently represented a Covington Catholic High School student who settled a defamation lawsuit with CNN regarding its coverage of a confrontation between the student and an activist.
VA-05, VA-07 Republican conventions up in the air
Republicans in Virginia's 5th and 7th Congressional Districts are scheduled to select their party's nominees for the general elections at conventions, as opposed to primaries, on April 25. Amid the coronavirus outbreak and prohibitions on large gatherings, Republican leaders are considering contingency plans.
Fifth District incumbent Rep. Denver Riggleman told Roll Call that prohibitions on gatherings could limit the convention vote to members of the 5th District Republican Committee. Roll Call's Stephanie Akin wrote the following: 
"That could shrink the number of eligible voters from about 3,000 registered delegates to less than 40 committee members, a potential political death sentence for Riggleman, who was censured by one county committee — the district includes all or part of 21 counties and two cities — last summer after he officiated a gay wedding. The larger district committee debated censuring him at the time as well. And the National Journal reported last month that at least four district committee members had donated to Good's campaign." 
Riggleman was first elected in 2018, defeating Leslie Cockburn (D) 53% to 47%. His 2020 challenger, Bob Good, said that "Republican voters within the 5th District want to choose a bright-red conservative over a purple, progressive Republican."
In the 7th District, nine candidates are running for a chance to face freshman Rep. Abigail Spanberger (D) in November. Before Spanberger took office in 2019, a Republican had represented the 7th District since 1971. Spanberger defeated Dave Brat in 2018. Brat defeated then-House Majority Leader Eric Cantor in the district's 2014 Republican primary.
Brat endorsed Nick Freitas, a member of the state House of Delegates, for the 7th District Republican nomination. Freitas also has support from the Club for Growth PAC.  Former Trump administration Deputy Assistant Secretary of Defense Andrew Knaggs, House of Delegates Member John McGuire, and nonprofit founder Tina Ramirez are among the nine candidates.
NY-27 special election, regular primary to be held same day
New York's 27th District special election was originally scheduled for April 28, but Gov. Andrew Cuomo changed the date of the state's special elections and presidential primaries to June 23 because of the coronavirus outbreak. 
Republican state Sen. Chris Jacobs is running in the special election and is one of four regular primary election candidates. Eight county Republican Party chairs selected Jacobs as the party's special election nominee. Trump endorsed Jacobs in the special election.
The Buffalo News' Mary B. Pasciak wrote that, because the elections will be held on the same day, there is no chance Jacobs could enter the regular primary election as an incumbent.
The state Conservative Party and several county Conservative parties endorsed Beth Parlato in the regular primary election. Regarding the date change, Parlato said, "The people of NY-27 will be able to choose who they want to represent them. I have always felt confident going into the primary. (Jacobs') voting record is too liberal for the voters in NY-27."
Primary candidate Stefan Mychajliw Jr. said, "My opponent was banking on running as an incumbent. Now that potential strength has evaporated." 
The special election will fill the vacancy left when Chris Collins (R) resigned Oct. 1, the same day he pleaded guilty to conspiracy and making false statements.
State executives

Nearly half of Jon Huntsman's petitions rejected
Utah's elections agency announced Thursday it had rejected nearly 20,000 signatures submitted by Jon Huntsman's gubernatorial campaign. Huntsman must submit an additional 11,500 valid signatures before April 10 in order to earn a guaranteed spot on the primary ballot.
More than half of the 36,112 signatures the Huntsman campaign submitted—19,653—were rejected. According to UtahPolicy.com, Huntsman's rejection rate is nearly twice that of the two campaigns that have submitted signatures so far. More than half of the rejected signatures were found to be from individuals who were not registered Republicans.
Candidates running for governor of Utah may qualify for the ballot by either submitting signatures from 28,000 registered party members or by winning a spot on the primary ballot at their party's nominating convention. No more than two candidates can win a spot on the ballot at the convention.
Incumbent Gary Herbert (R), who is not seeking re-election, signed an executive order allowing campaigns to collect signatures online. Herbert said the measures were implemented to aid in social distancing. Huntsman and Jan Garbett are the only primary candidates yet to submit their signatures. Spencer Cox and Thomas Wright have already qualified for the ballot via signature. The other four candidates are focusing entirely on the nominating convention.
A Dan Jones & Associates poll of likely primary voters conducted on behalf of the Salt Lake Chamber of Commerce found Huntsman leading Cox 34% to 23%. No other candidate received more than 10% of the vote. The poll had a margin of error of 3.5%.
The June 30 primary will be open to registered Republicans only. The winner of the primary is likely to also win the general election—no Democrat has won election as governor of Utah since 1980.
Jim Justice, Woody Thrasher launch ad buys
West Virginia gubernatorial candidate Woody Thrasher launched his tenth ad of the campaign season on March 26. The spot, titled "Leadership", called for policy changes in response to the coronavirus pandemic. Thrasher outlined his support for expanding unemployment benefits, providing loans to small businesses, and allowing deferment of mortgage payments.
Incumbent Jim Justice launched his first television ad on March 18. It contains footage of Justice on stage with President Trump at a rally and says Justice has helped grow West Virginia's economy while opposing regulations on firearms, supporting restrictions on abortion, and appointing conservative justices to the state supreme court.
The May 12 primary will be open to registered Republicans and unaffiliated voters only. No Republican has won election as governor of West Virginia since Cecil Underwood in 1996. In the 2016 presidential election, Donald Trump defeated Hillary Clinton 69% to 27%. Justice was elected as a Democrat in 2016 before joining the Republican Party on August 3, 2017.
Legislatures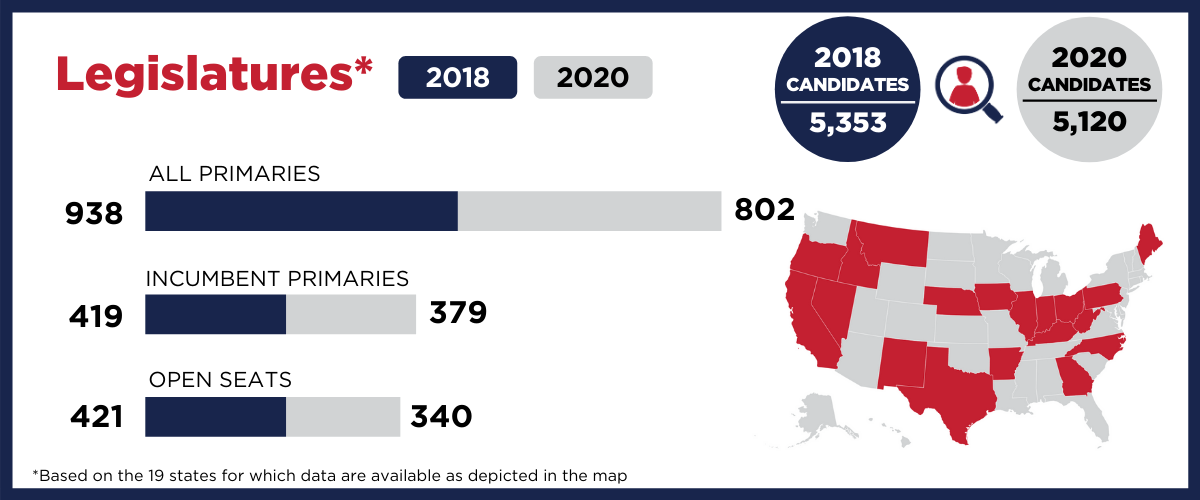 New York Senate Minority Leader will not seek re-election
State Sen. John Flanagan (R-02), once the state's top Republican elected official, announced he would not seek re-election this November. Flanagan was elected to the state Assembly in 1986 and moved to the Senate in 2002. He became the highest-ranking Republican in New York in 2015 when he was elected Senate Majority Leader. After Democrats took control of the senate in 2018, he became Senate Minority Leader.
The Suffolk County GOP had already endorsed Flanagan for re-election. On March 30, the county party announced it had selected Mario Mattera, a member of the Suffolk County Water Authority Board, to replace Flanagan on the ballot. Democrat Mike Siderakis has also announced his intention to run.
Republicans currently hold 22 of the 63 seats in the New York state Senate. Flanagan is the eighth Republican senator not to seek re-election. The filing deadline for party-affiliated state legislative candidates in New York is April 2.
Term-limited South Dakota House Majority Leader faces first primary in bid for state Senate seat
State Rep. Lee Qualm (R-21) will run in a contested primary for the first time since winning election in 2012 as he attempts to switch chambers by running for state Senate.
Qualm is unable to run for another term in the House due to term limits. First-term state Sen. Rocky Blare (R-21) filed to run for one of the district's two House seats. In February, Qualm filed to run for the Senate seat held by Blare, setting up the possibility of Qualm and Blare switching seats.
Later in March, Erin Tobin, a healthcare provider from Winner, also filed petitions to run for the state Senate seat. As a result, Qualm will face a contested primary for the first time since being elected to the state House in 2012. Qualm became Majority Leader in 2017.
Two candidates intend to run in primary after incumbent Tennessee representative announces his retirement
State Rep. Martin Daniel (R-18) announced he will not seek re-election this year. Following his March 24 announcement, two candidates—James Corcoran and Eddie Mannis—indicated their intentions to run for the Republican nomination.
Corcoran previously challenged Rep. Daniel in District 18's 2016 Republican primary, placing third with 25% of the vote. Mannis ran for mayor of Knoxville in 2019 but lost to Indya Kincannon. Democrat Virginia Couch also intends to run for the seat. 
Daniel was first elected to represent District 18 in 2014 after defeating incumbent Rep. Steve Hall (R-18) in the Republican primary. The deadline to submit petitions to appear on the primary ballot is April 2.
Power players
"SCF seeks to bring bold conservative leadership to Washington by supporting candidates who have the courage to fight for limited government, a strong national defense, and traditional family values." – Senate Conservatives Fund website 
Founded in 2008 by former U.S. Sen. Jim DeMint (R-S.C.), the Senate Conservatives Fund (SCF) is a political action committee that says it "helps candidates by bundling contributions for them from thousands of freedom-loving Americans across the country, and by running hard-hitting radio and television ads to promote their conservative campaigns."
The SCF website lists policy goals in the following areas: "Stop Spending," "Healthcare Freedom," "Enforce Immigration," "Term Limits," "Ban Bailouts," "End Earmarks," "Protect Life," and "2nd Amendment."
SCF has endorsed seven Republican candidates in 2020 congressional races. Senate endorsements include incumbent Steve Daines (Mont.), challengers John James (Mich.) and Don Bolduc (N.H.), and Cynthia Lummis (Wyo.), who is running for an open seat.  
The group says it supports "a select group of House candidates each cycle to bolster our farm team for future Senate races and to help take back the House." In 2020 races, SCF endorsed incumbent Reps. Chip Roy (Texas) and Scott Perry (Pa.), and Lynda Bennett, who is running for the open seat previously held by Mark Meadows in North Carolina's 11th Congressional District.