This week: Romanoff secures spot on ballot against Hickenlooper in CO Senate primary, Tiffany Caban endorses challenger against five-term incumbent in N.Y.'s Assembly District 36 primary, and which Democratic candidates have raised the most money?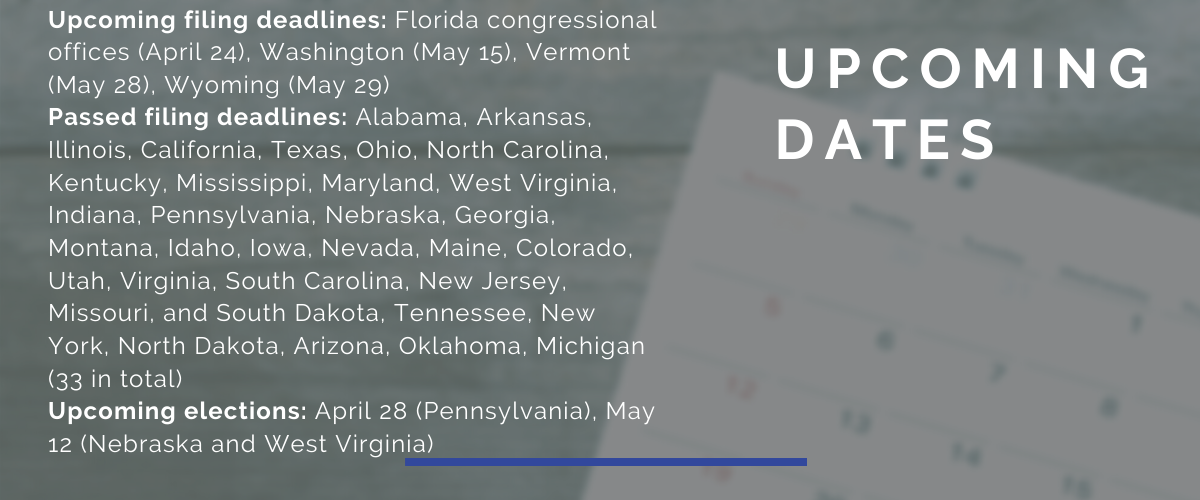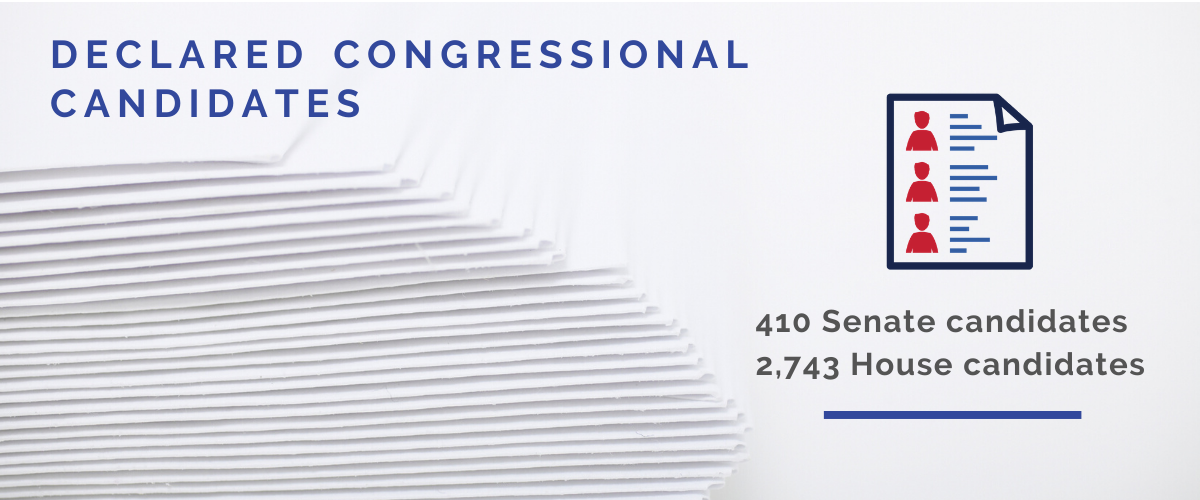 On the news
Where do Democratic and progressive pundits and commentators disagree? Each week, we bring you excerpts that highlight differing views.
"You know, the problem with nonstop gloom and doom is it gives Trump the chance to play the optimist, and optimists tend to win American elections. … So, look, if this insanity happens again, news sources have to rein it in. … [A]t some point, the daily drumbeat of depression and terror veers into panic porn. Enough with the 'life will never be the same' headlines. … 

Giving the proper perspective isn't a cover-up of the truth. It is the truth. … We need the news to calm down and treat us like adults. … Trump calls you fake news. Don't make him be right.'"
Bill Maher, HBO, April 18, 2020
"The protesters taking to the streets against social distancing are a small minority of Americans — and their attitudes represent a fraction of public opinion.In fact, America has done something remarkable in this moment: It has united.

Last week, 81 percent of Americans told pollsters for a Politico/Morning Consult poll that the country 'should continue to social distance for as long as is needed to curb the spread of coronavirus, even if it means continued damage to the economy.' …

Large majorities of Democrats and independents are more concerned about the virus than the economy, as are about half of Republicans."
Laura McGann, Vox, April 20, 2020
U.S. Congress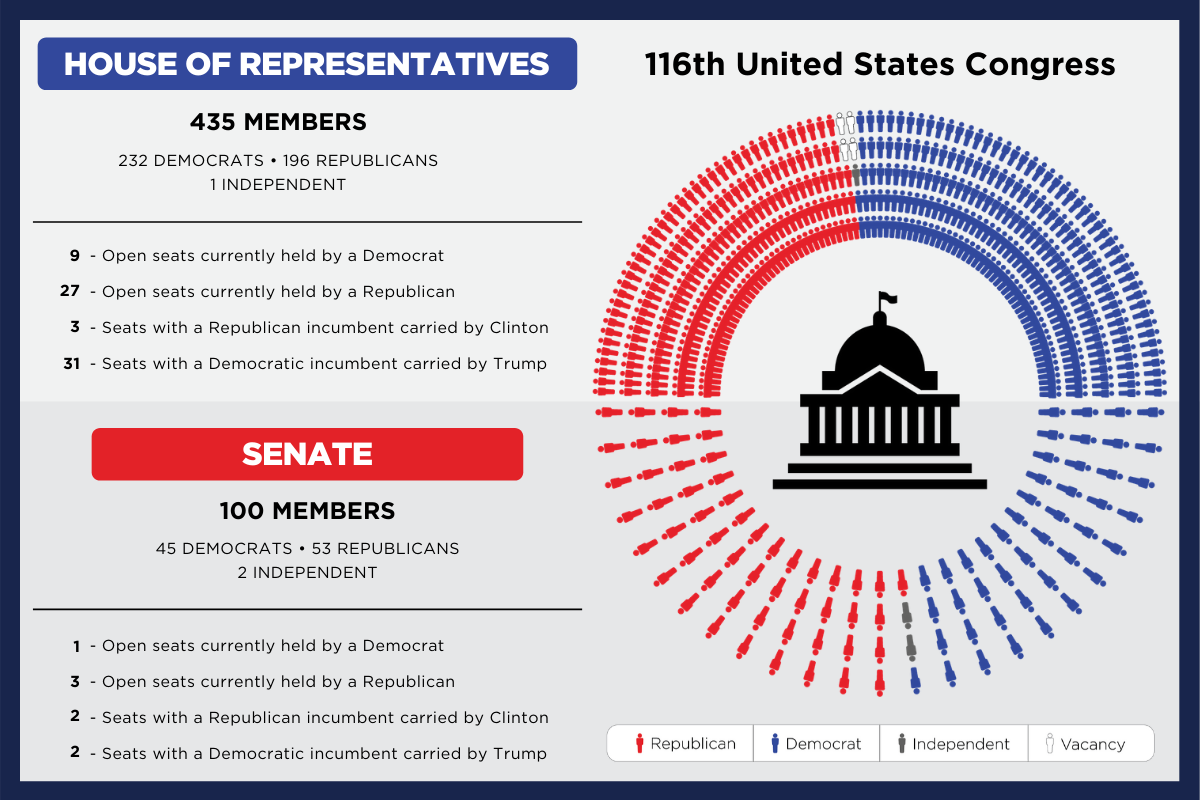 Which Democratic candidates have raised the most money?
The latest quarterly campaign finance reports were due April 15. The tables below show the top five Democratic primary Senate and House fundraisers through March 31. They also show the second-highest fundraiser's amount in each race listed. The tables only include contested primaries that have not yet taken place. Candidates who are no longer running are not included.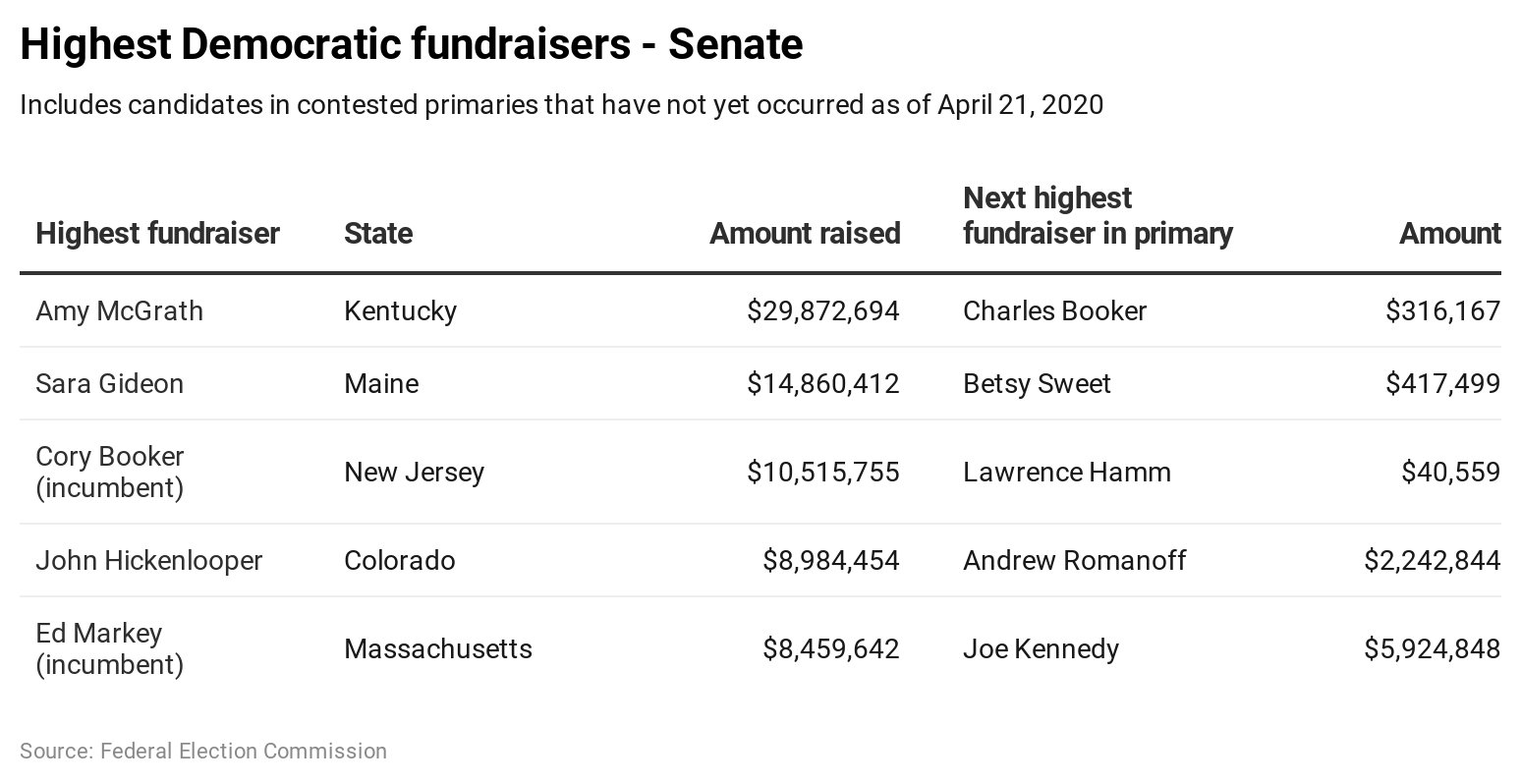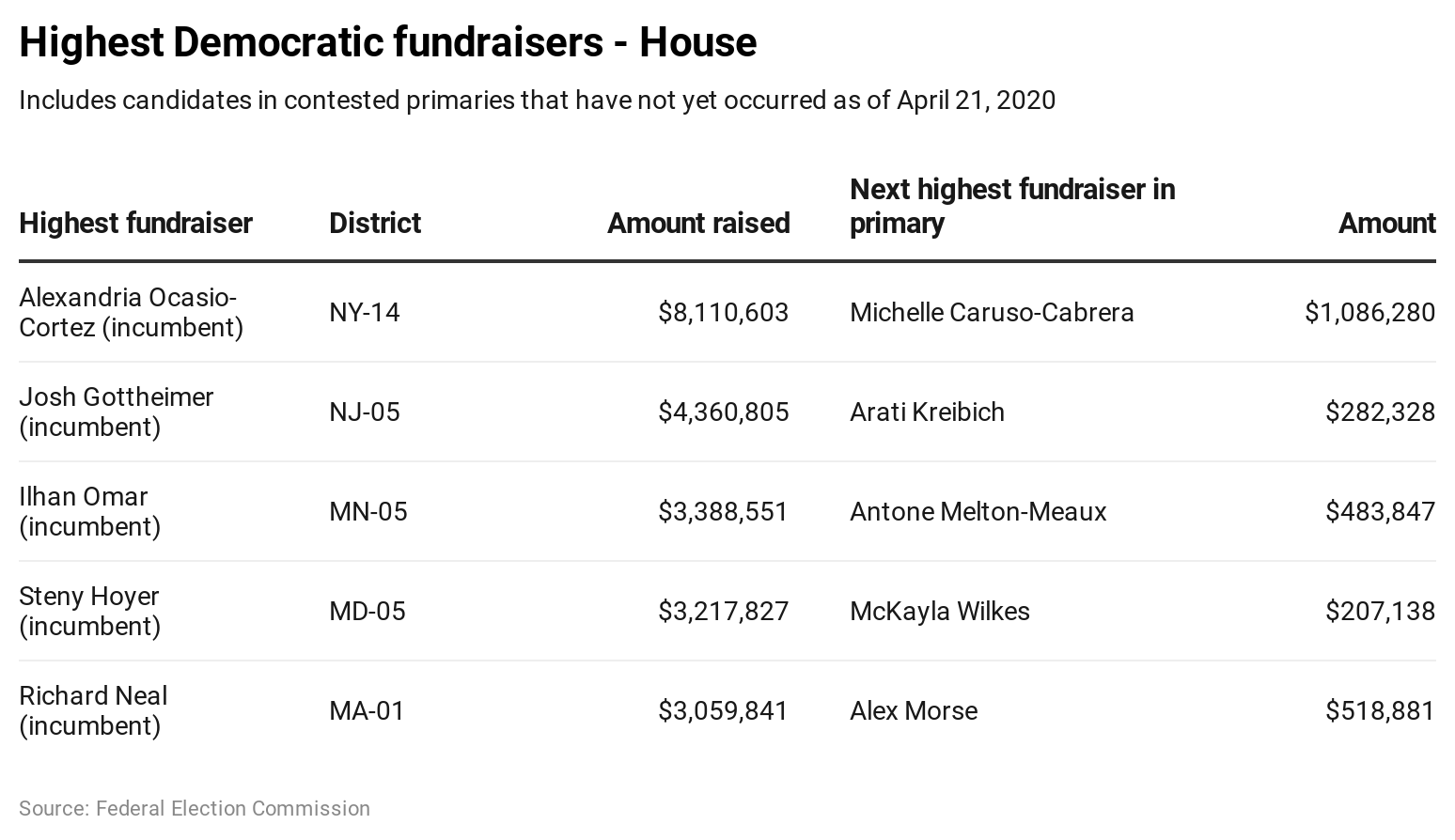 Romanoff secures spot on ballot against Hickenlooper in CO Senate primary
Former state House Speaker Andrew Romanoff won 86% support at the state Democratic Party assembly Saturday, securing his spot on the primary ballot against former governor and former presidential candidate John Hickenlooper.
Hickenlooper qualified in February by collecting signatures.
The Denver Post's Justin Wingerter wrote, "It's likely then that Romanoff, the favorite of progressive Democrats, will face off head-to-head June 30 against Hickenlooper, the favorite of establishment, moderate Democrats."  
Two other candidates who competed at the assembly did not meet the 30% threshold to qualify for the ballot. According to Wingerter, three candidates who did not meet the signature threshold are considering legal action, arguing social distancing measures related to the coronavirus pandemic interfered with signature collection.
The Democratic Senatorial Campaign Committee endorsed Hickenlooper shortly after he announced his Senate bid in August 2019. Other national groups, including Giffords PAC and NARAL, endorsed Hickenlooper. Romanoff's list of endorsers includes several current and former state and local elected officials.
Romanoff said the assembly vote meant "that despite all the wishes of the party bosses and party brokers in Washington, the people (of Colorado) have a different idea." He also said of incumbent Sen. Cory Gardner (R) and Hickenlooper, "Voters don't want to replace one fossil fuel funded, insurance industry parroting candidate for another."
Hickenlooper's campaign said, "This health crisis has been hard on everyone and has made clear how broken Washington is. … It's time to elect a senator to represent Colorado who will expand health care, tackle climate change, and stand up for Colorado workers and small businesses."
We recently reported on Colorado's March 7 Democratic caucus preference poll, where Romanoff won 55% support to Hickenlooper's 30%. Candidates needed at least 15% support in that poll to move on to county and state assemblies. Hickenlooper opted for the signature route of ballot access. Hickenlooper could have also taken both routes, in which case he would have needed at least 10% support at the state assembly in addition to signatures to qualify.  
Gardner is one of two Republican senators up for re-election in a state Hillary Clinton (D) won in 2016. He faces one primary opponent. Three election forecasters rate the general election Toss-up, Tilt Democratic, or Lean Democratic. 
Greenfield gets support from Senate Majority PAC, AFL-CIO in Senate primary in Iowa
The Senate Majority PAC, a Democratic super PAC, released an ad supporting Theresa Greenfield, saying she would take on special interests, lower prescription drug prices, protect coverage for pre-existing conditions, and protect Social Security.
The Iowa Federation of Labor AFL-CIO endorsed Greenfield Monday. The Lee-Gazette Des Moines Bureau wrote, "The union typically supports Democratic candidates for federal office, but does not typically endorse candidates during a contested primary."
Greenfield, formerly president of a real estate company, is one of five candidates running in the June 2 primary. 
The primary winner will face incumbent Sen. Joni Ernst in November. Three election forecasters rate the general election Lean Republican. 
Massachusetts cuts signature requirements for congressional candidates
We recently reported that Senate candidates in Massachusetts needed to collect 10,000 signatures to get on the ballot. In a ruling issued Friday, the Massachusetts Supreme Judicial Court cut the requirement in half to 5,000. House candidates now need to collect 1,000 signatures instead of 2,000. The deadline is May 5. As of April 7, incumbent Sen. Ed Markey's (D) campaign said he had 7,000 signatures. Challenger Joe Kennedy said he had 15,000.
State executives

Utah Democrats to vote on gubernatorial candidates Saturday
The Utah Democratic Party will hold a virtual convention Saturday to select its gubernatorial nominee. Six candidates will appear on the ranked-choice convention ballot. A candidate can win the nomination outright by winning 60% of the vote. Otherwise, the top two finishers will advance to a June 30 primary.
Should a primary be held, it will be open to registered Democrats and unaffiliated voters only. No Democrat has won election as governor of Utah since 1980.
Montana AG candidate Raph Graybill wins endorsement from former Gov. Schweitzer
Former Montana Gov. Brian Schweitzer endorsed Raph Graybill for state attorney general Thursday. Schweitzer, who was governor from 2005 to 2013, said Graybill had the right mix of legal and leadership experience.
Graybill is legal counsel to Gov. Steve Bullock (D), who has also endorsed him. He and state Rep. Kimberly Dudik are the only two Democrats in the running. 
At a March candidate forum, Graybill emphasized his legal work on behalf of the administration to challenge federal policy under President Trump. Dudik said she had a record in the state legislature of working alongside Republicans.
The June 2 primary is open to all registered voters. Incumbent Tim Fox (R) is running for governor, leaving the seat open.
Legislatures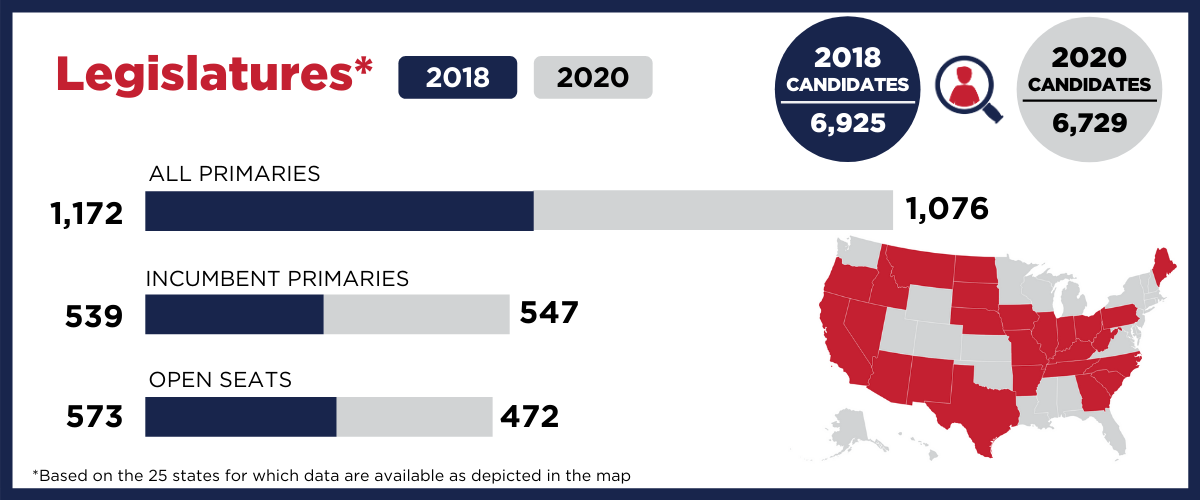 Tiffany Caban endorses challenger against five-term incumbent in N.Y.'s Assembly District 36 primary
Tiffany Caban (D), who lost a primary race for Queens County District Attorney in 2019 by 60 votes, has endorsed a challenger to incumbent Asm. Aravella Simotas (D).
Caban's pick is Zohran Mamdani (D), a housing counselor with the organization Chhaya, where he works on foreclosure prevention. In addition to his endorsement from Caban, Mamdani has also been endorsed by the Queens branch of the Democratic Socialists of America. 
Simotas was an attorney at Bickel & Brewer until 2015. This will be her first contested primary and second contested election since first winning the district in 2010. She faced a general election challenge in 2012 from Julia Haich (R), whom she defeated 84-16%. She ran unopposed in the primary and general elections in 2014, 2016, and 2018.
In addition to her endorsement of Mamdani, Caban endorsed four state legislative incumbents in New York City districts: Sens. Julia Salazar (SD-18) and Jessica Ramos (SD-13) and Asms. Yuh-Line Niou (AD-65) and Ron Kim (AD-40).
Heinrich endorses two challengers to incumbents in New Mexico state Senate primaries
U.S. Senator Martin Heinrich (D-N.M.) endorsed Siah Correa Hemphill and Pamela Cordova in two contested primaries against incumbent Democratic state Sens. Gabriel Ramos (D-28) and Clemente Sanchez (D-30).
Correa Hemphill is running against Sen. Ramos in District 28. Ramos is running for a full term. Gov. Michelle Lujan Grisham (D) appointed Ramos to fill the remainder of Sen. Howie Morales' (D) term. Morales became lieutenant governor in 2019. Ramos is a former county commissioner and runs a Farmers Insurance agency. Correa Hemphill has worked as a teacher, school psychologist, and director of special education.
Cordova is running against Sen. Sanchez in District 30. This will be Sanchez's first primary since 2012 when he defeated incumbent Sen. David Ulibarri (D) in the Democratic primary and Vickie Perea (R) in the general election, 53-47%. He ran unopposed in 2016. Sanchez was the director of the Small Business Development Center at New Mexico State University. Cordova is a retired teacher and manager of the Los Padillas Community Center.
In both districts, the winner of the June 2 primary will likely face a contested general election. The only Republican candidate in the District 28 race is James Williams (R). In District 30, Joshua Sanchez (R) is the only Republican filed to run. Democrats currently hold a 26-16 majority in the New Mexico state Senate.
Electrical workers' union issues endorsement in seven-way primary for open upstate New York seat
The International Brotherhood of Electrical Workers (I.B.E.W.) Local 241 endorsed Ithaca city alderman, Seph Murtagh (D), in a crowded seven-way primary for Assembly District 125. District 125 is currently represented by Barbara Lifton (D), who announced she would not seek re-election earlier this year. 
In addition to Murtagh, three other town and county officials are seeking the Democratic nomination: Cortland County legislator Beau Harbin, Tompkins County legislator Anna Kelles, and Dryden Town Supervisor Jason Leifer. Jordan Lesser, Lifton's legislative counsel, is also seeking the nomination as are community members Sujata Gibson and Lisa Hoeschele.
Lifton was first elected in 2002 and won re-election eight times. Her most recent contested election was in 2016 when she defeated Herbert Masser, Jr. (R) 70-30%.
Power players
"As a nonprofit, we're driven by the belief that our democracy works better when more people participate in civic life and when our campaigns and nonprofits are powered by the people they serve. That's why we've built a powerful online fundraising platform for Democratic candidates up and down the ballot, progressive organizations, and nonprofits. Our tools make it possible for anyone to build a grassroots campaign or movement and give donors an easy and secure way to support their favorite candidates and causes." – ActBlue website
Founded in 2004, ActBlue is an online platform that raises funds for Democratic and progressive candidates, campaigns, and organizations. ActBlue says, "[W]e build and power the premier online fundraising platform for Democratic campaigns, progressive organizations, and nonprofits working to create a better future." 
ActBlue is a political action committee, but contributions distributed through the platform are individual donations, not PAC donations. 
Politico reported on April 20 that ActBlue broke its fundraising record in the first quarter of 2020, receiving $533 million from over 4.3 million donors. According to the organization's website, ActBlue has raised over $4.8 billion since 2004.