This week: VA-07 GOP Convention deadline extended, Utah County GOP chooses newcomer over seven-term incumbent, and which Republican candidates have raised the most money?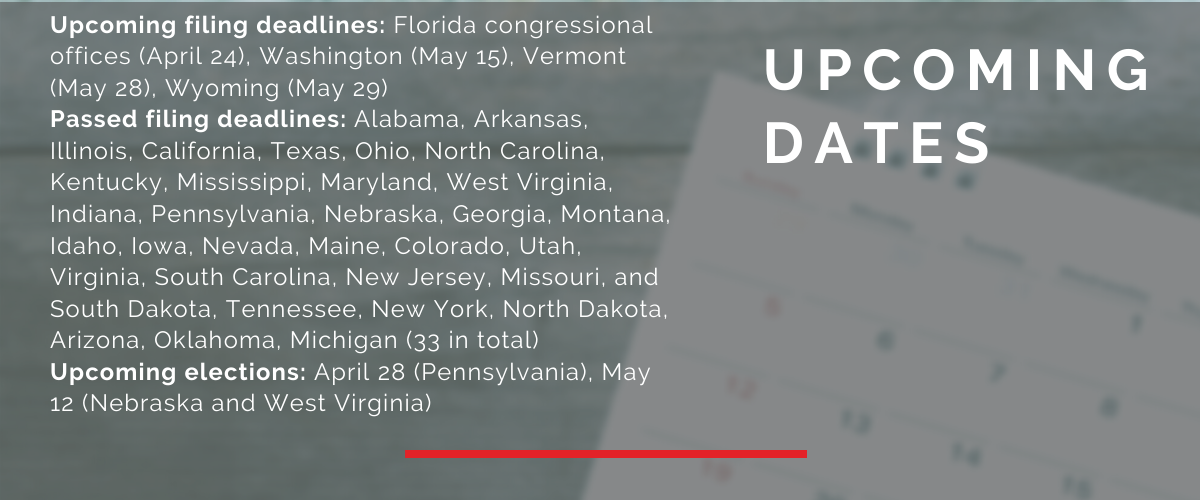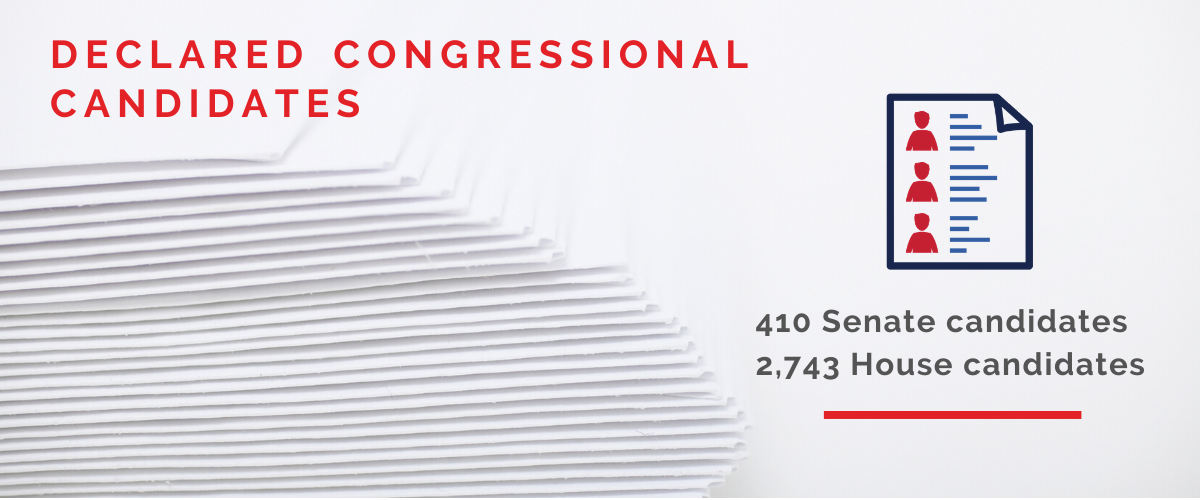 On the news
Where do Republican and conservative pundits and commentators disagree? Each week, we bring you excerpts that highlight differing views.
"The pandemic which is now ravaging the world – killing an estimated 170,000 people and causing trillions of dollars of economic damage – originated in China and was hidden by the Chinese Communist dictatorship. The dictatorship lied to the world and got its puppet head of the World Health Organization to also lie to the world. …

The United States should pass a law making the Chinese government and its controlling power, the Chinese Communist Party, open to individual or class action lawsuits on behalf of the families who have lost loved ones to the pandemic. The Lockerbie lawsuit and the 9/11 lawsuit legislation are solid models for this action.

After the 1988 bombing of Pan Am Flight 103 over Lockerbie, Scotland, the families of the 270 people who were killed were awarded a total of $2.7 billion in damages. Applied to COVID-19, the numbers would be staggering. There are already lawsuits being filed in several states and this would simply waive the sovereign immunity defense."
Newt Gingrich, Fox News, April 21, 2020
"Some terrible ideas never go away, especially ideas that help politicians to disguise weakness as strength. One such scheme in the Beltway bag of tricks is the proposal to 'punish' a hostile foreign power by allowing it to be sued in court.

Senators Marsha Blackburn (R., Tenn.) and Martha McSally (R., Ariz.) are the latest to try this tactic, proposing a bill that would allow Americans harmed by the coronavirus — or their estates if they have died from it — to sue China for damages. To pave the way, Senators Blackburn and McSally would strip of sovereign immunity any foreign state (i.e., China) that even accidentally discharges a biological agent upon the world.

Sounds ferocious, right? Except no American victim would actually get compensation, because Beijing would, of course, ignore the lawsuits . . . except to exploit them as a (further) excuse not to cooperate with American and foreign investigations; as a further basis not to honor its treaty obligations; as a reason to step up its aggression in the Far East; and as a rationale for retaliating by encouraging other countries to strip sovereign immunity from the United States, so that our nation and officials may be sued and indicted for harms real and imagined abroad."
Andrew McCarthy, National Review, April 21, 2020
U.S. Congress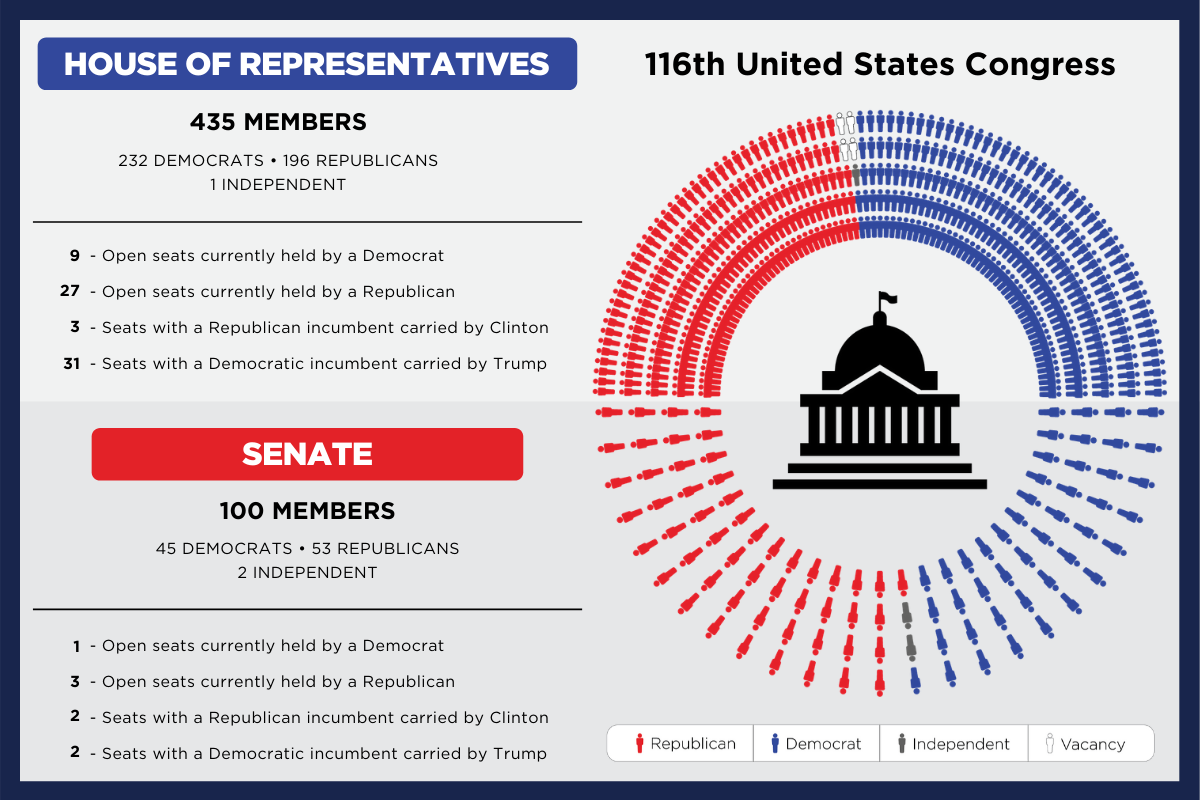 Which Republican candidates have raised the most money?
The latest quarterly campaign finance reports were due April 15. The tables below show the top five Republican primary Senate and House fundraisers through March 31. They also show the second-highest fundraiser's amount in each race listed. The tables only include contested primaries that have not yet taken place. Candidates who are no longer running are not included.
Republican Rep. Steve Scalise of Louisiana's 1st Congressional District reported raising $19,456,079. The filing deadline for Louisiana's Nov. 3 primary election is July 17. We don't know yet whether this will be a contested primary, so Scalise is not included in the table below.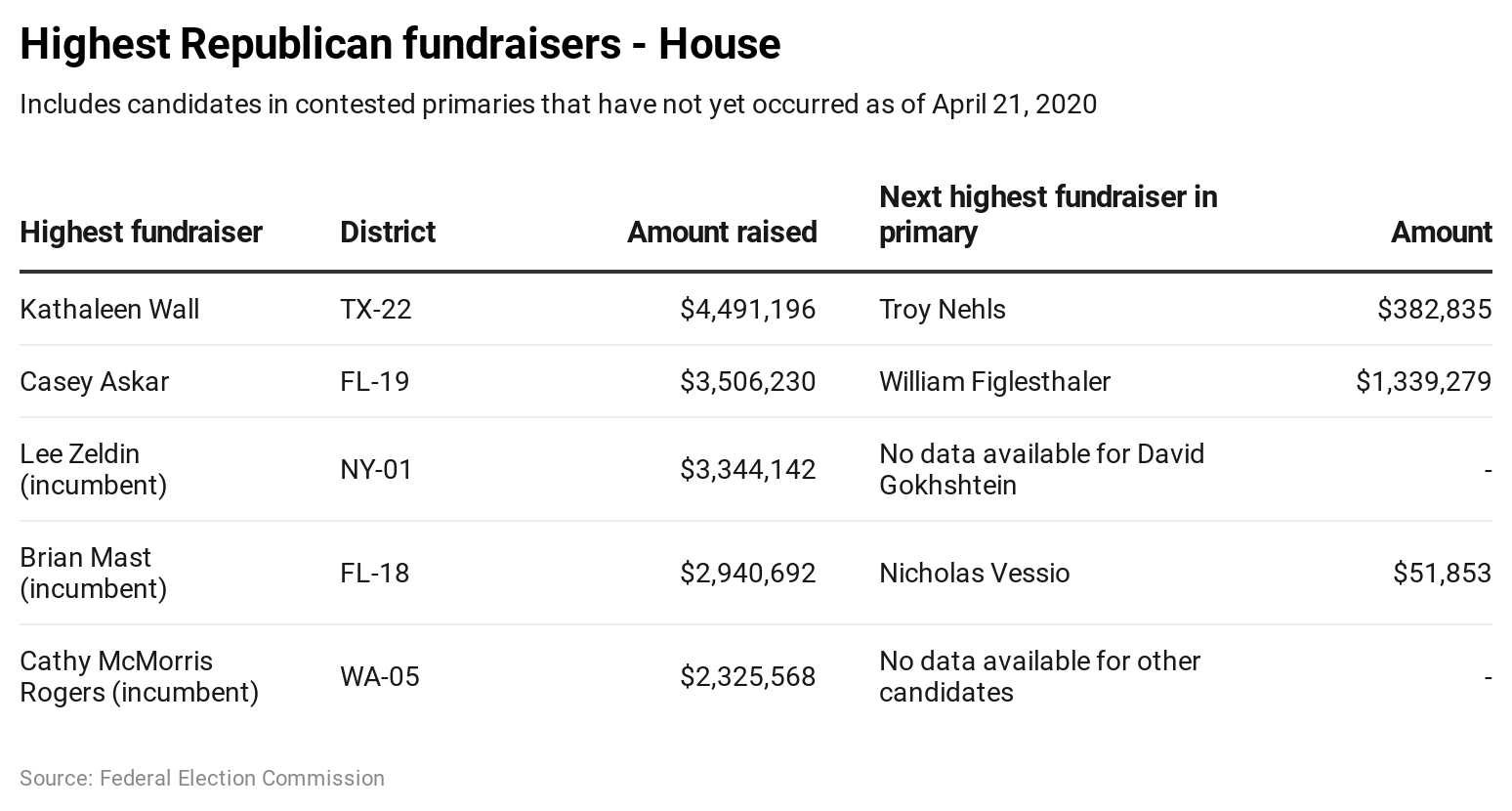 Reps. Cheney and Turner want PAC donations to McMurtry returned in KY-04 primary
The leadership PACs for Reps. Liz Cheney (R-Wyo.) and Mike Turner (R-Ohio) are asking for their donations to Kentucky's 4th Congressional District challenger Todd McMurtry to be returned after reports that McMurtry posted racist items on social media. McMurtry is challenging incumbent Rep. Thomas Massie (R). 
The PACs' request for returned donations came after Massie retweeted a McMurtry tweet from October 2019. McMurtry's tweet said, "I am in Austin this weekend.  Glad to be in this group.  #redneck #racist #f***wit Just had the best BBQ of my life." 
Massie wrote, "@RepLizCheney is the @HouseGOP Chair, guides House GOP messaging, runs all House GOP meetings, and is actively working to elect this guy. Is this her vision for the GOP Conference?"
Cheney tweeted, "We as Republicans must not condone racism in any form. …  After reviewing the tweets, I asked that the contribution be returned." Turner retweeted that, adding, "ditto."
We recently reported Massie requested a majority be present for the House vote on the $2.2 trillion coronavirus relief package in March, which led several House members to travel to D.C. amid the coronavirus pandemic. The procedural move has become an issue in the June 23 primary. 
Defending Main Street PAC spends $100k in IA-04
The Defending Main Street Super PAC is spending $100,000 on mail, phone calls, and online activity in Iowa's 4th Congressional District, where incumbent Steve King faces a primary challenge from Randy Feenstra. 
The super PAC is affiliated with the Republican Main Street Partnership, whose PAC endorsed Feenstra in January. Click here for more of our coverage of this endorsement.
VA-07 GOP Convention deadline extended
Virginia's 7th Congressional District Republican Committee asked a state court to issue a temporary injunction against the state's June 9 deadline for selecting a nominee, which a judge granted last week. The injunction extended the deadline to July 28.
We recently reported that Republican conventions to choose the party's nominees in Virginia's 5th and 7th Districts were up in the air because of the coronavirus pandemic. Both districts' Republican committees decided to delay their conventions, originally scheduled for April 25, to an undetermined date.
Marshall releases ad featuring Trump in KS Senate primary
Last week, we reported that Kris Kobach released his first TV ad in the Senate primary in Kansas. Roger Marshall is out with his first TV ad, highlighting his background as an obstetrician/gynecologist, saying "with coronavirus putting lives and livelihoods at risk, Kansas could use a pro-life doctor in the Senate." The ad features footage of President Donald Trump (R) praising Marshall.
State executives

Utah Republicans to select gubernatorial primary candidates in virtual convention
Utah Republicans' gubernatorial primary ballot will be set at this Saturday's nominating convention, which will be entirely online for the first time in state history due to the coronavirus pandemic. 
Gubernatorial candidates can qualify for the primary ballot by either turning in signatures from 28,000 registered state party members or winning a spot on the ballot at the convention. Three candidates have already qualified via signature: former state party Chairman Thomas Wright, Lt. Gov. Spencer Cox, and former Gov. Jon Huntsman, who submitted his final qualifying signatures just ahead of the April 13 deadline.
Party delegates will select their preferred gubernatorial candidates using an instant-runoff vote. If one candidate receives 60% of the vote, that candidate gets a spot on the ballot. If no candidate receives 60% of the vote, the top two finishers receive a spot on the ballot. 
Although Cox, Huntsman, and Wright have already qualified via signature, all three candidates are contesting the convention and could end up taking one or both of the spots on the ballot. Also contesting the convention are businessman Jeff Burningham, entrepreneur Jason Christensen, Salt Lake County Councilwoman Aimee Winder Newton, and former state House Speaker Greg Hughes.
An eighth candidate, Jan Garbett, filed a lawsuit in U.S. district court alleging the state's signature-gathering requirements were an undue burden on her campaign due to coronavirus-related restrictions on public activity. The lawsuit called either for Garbett to be placed directly on the primary ballot or for the primary to be delayed so that the signature gathering period could be extended. Garbett opted to not contest the convention and instead seek placement on the ballot via signatures alone.
The June 30 primary is open only to registered Republicans. The winner of the primary is likely to win the general election; no Democrat has won election as governor of Utah since 1980.
Utah Attorney General candidates swap allegations of misconduct ahead of convention
Among the down-ballot offices for which Utah Republicans will be nominating primary candidates this weekend is state attorney general. Incumbent Sean Reyes faces his predecessor John Swallow and Utah County Attorney David Leavitt.
Swallow and Leavitt both accuse Reyes of corruption, citing donations he received from Washakie Renewable Resources. After five of the group's principals were arrested on charges of fraud in 2016, the Reyes campaign announced it would place nearly $51,000 the group had donated to the campaign in escrow, pending a resolution in the case. In 2019, the campaign said it would not refund the contributions since the money had already been spent.
Meanwhile, Leavitt and Reyes both say Swallow's first term as attorney general is disqualifying. Swallow was elected attorney general in 2012 and resigned the following year amid allegations he had been involved in corruption and destruction of evidence while serving as deputy attorney general under his predecessor, who was also accused of wrongdoing. Swallow was acquitted in 2017 and won reimbursement for his legal expenses from the state in 2019.
A Y2 Analytics poll of 625 likely primary voters conducted on behalf of Utah Policy.com and KUTV 2News found Reyes leading with 54% support to Leavitt's 31% and Swallow's 15%. The poll had a margin of error of plus or minus 3.9 percentage points.
None of the three candidates sought to qualify for the ballot via signatures, meaning that a candidate can win the GOP nomination outright by winning 60% of the vote at the convention. If no candidate meets that threshold, the top two finishers will advance to a June 30 primary.
Legislatures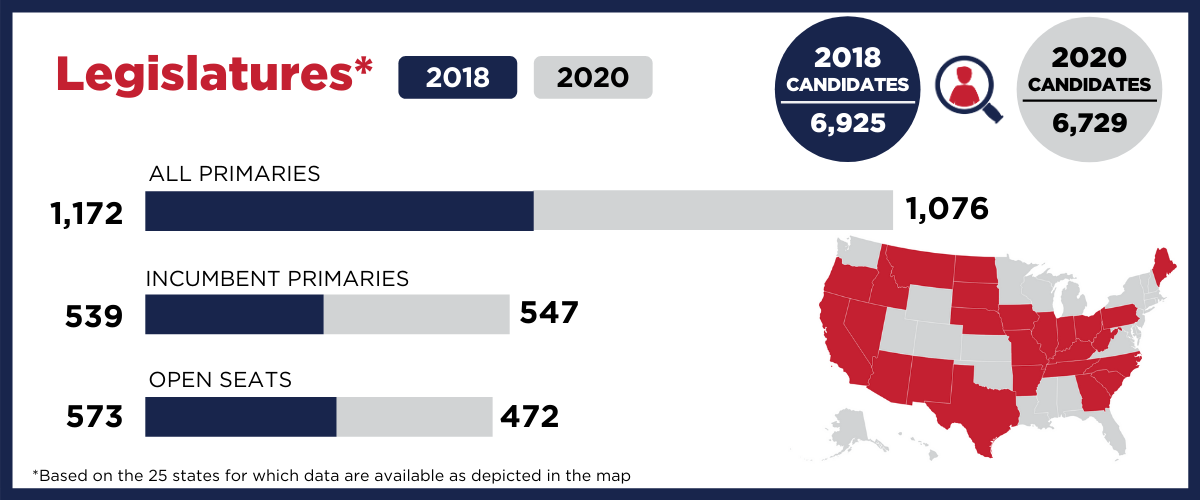 Incumbent remains in four-way ND House primary after losing party support earlier this year
Rep. Jeff Delzer (R-08) will face three challengers in North Dakota's most crowded state legislative primary this year as he seeks re-election in House District 8. 
Delzer, in office for 28 years and chair of the House Appropriations Committee, lost his district party's support at the March 10 GOP convention.
Delzer finished fourth in the convention vote with 66 votes. Dave Nehring and David Andahl received 91 and 84 votes, respectively, winning the district party's support. Bob Wheeler received 70 votes. 
According to the Bismarck Tribune, "Nehring made it clear he and Andahl are not challenging Delzer specifically, but 'we're challenging the status quo.'" Delzer said he had some ideas as to why he lost the endorsement, but would not share them.
A messaging poll asking questions about Delzer ran in the district ahead of the March 10 convention, though the source of the poll has not been identified. According to Fargo-Moorhead's Inforum, some of the questions included, "Did you know Delzer increased his salary" and "Did you know Delzer refuses to listen and follow the recommendations of the Governor," among others. The expense (and the source) will likely appear in pre-primary campaign finance reports to be filed between May 1 and May 8.
House districts in North Dakota are represented by two people. This means that in the primary election, voters will select two of the four candidates to move on to the general election. The deadline to file to run in a party primary in North Dakota was April 6.
Utah County GOP chooses newcomer over seven-term incumbent
Incumbent Rep. Brad Daw (R-60) will not appear on the primary ballot after failing to receive the Utah County GOP nomination for House District 60. According to the virtual convention results released on April 18, challenger Nelson Abbott (R) received 71% of the delegate votes, earning him the Republican nomination without a contested primary.
Daw was first elected to District 60 in 2004 and won re-election three times. He lost to Dana Layton (R) in the Republican primary in 2012. He defeated Layton in 2014 and won re-election twice for a total of 14 years in office. In order to appear on a primary ballot in Utah, a candidate must first be nominated either by the convention process or the petition process. Daw did not gather petitions.
Abbott is an attorney and has worked as an adjunct professor of business law at Brigham Young University. He has volunteered as a state and county delegate in the Utah Republican Party. Abbott will likely face two third-party candidates in the general election, Christine Heath (United Utah) and Tommy Williams (Independent American). 
Colorado state Senate primary challenger wins majority of delegate votes over incumbent
A majority of delegates at the Senate District 8 virtual assembly on April 11 threw their support behind challenger Debra Irvine (R) in her bid against incumbent Sen. Bob Rankin (R). Of the 139 delegates, Irvine won 55% to Rankin's 45%. Both candidates will advance to the June 30 Republican primary. 
Rankin applied for and was appointed to the District 8 Senate seat in 2019 after former Sen. Randy Baumgardner (R) resigned amid sexual harassment claims. At the time of his appointment, Rankin was in his third term representing House District 57. 
Irvine also applied for the District 8 Senate seat following Baumgardner's resignation. She did not make it to the final round of voting. Irvine announced her intention to run for the seat on December 11, 2018, prior to Rankin's appointment.
In Colorado, the placement of a candidate's name on the primary ballot is determined by delegate support. Since Irvine won a larger percentage of delegates, her name will appear above Rankin's on the June 23 primary ballot. 
Power players
"Through broad-based grassroots outreach, Americans for Prosperity (AFP) is driving long-term solutions to the country's biggest problems. AFP activists engage friends and neighbors on key issues and encourage them to take an active role in building a culture of mutual benefit, where people succeed by helping one another. We recruit and unite concerned citizens in 35 states to advance policies that will help people improve their lives." – Americans for Prosperity website
Founded in 2004, Americans For Prosperity (AFP) is a 501(c)(4) political advocacy group that says it "exists to recruit, educate & mobilize citizens in support of the policies & goals of a free society at the local, state & federal level." 
On April 20, AFP announced a new healthcare campaign called "Health Care Reimagined" in response to the coronavirus pandemic. A press release stated, "The group is targeting reforms to help those impacted by COVID-19 and ensure the country is better prepared for a future outbreak. The multi-million dollar campaign includes advertising, digital outreach, lobbying, and grassroots engagement from AFP's 2.2 million activists." 
AFP is affiliated with the super PAC Americans for Prosperity Action.