This week: Major education groups split NJ-02 endorsements, Ossoff and Tomlinson release first TV ads in Georgia Senate primary, and Colorado Senate ballot access battles continue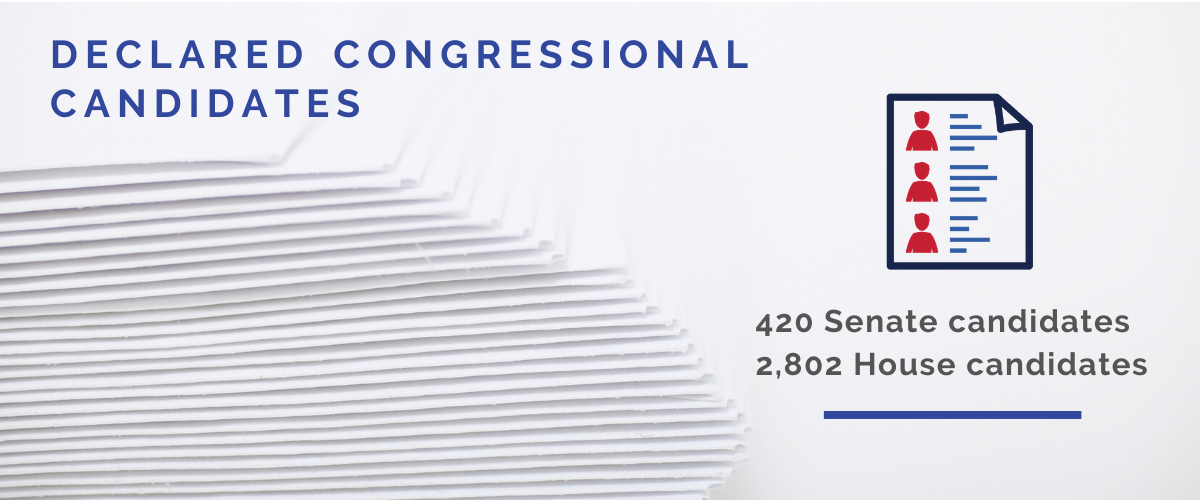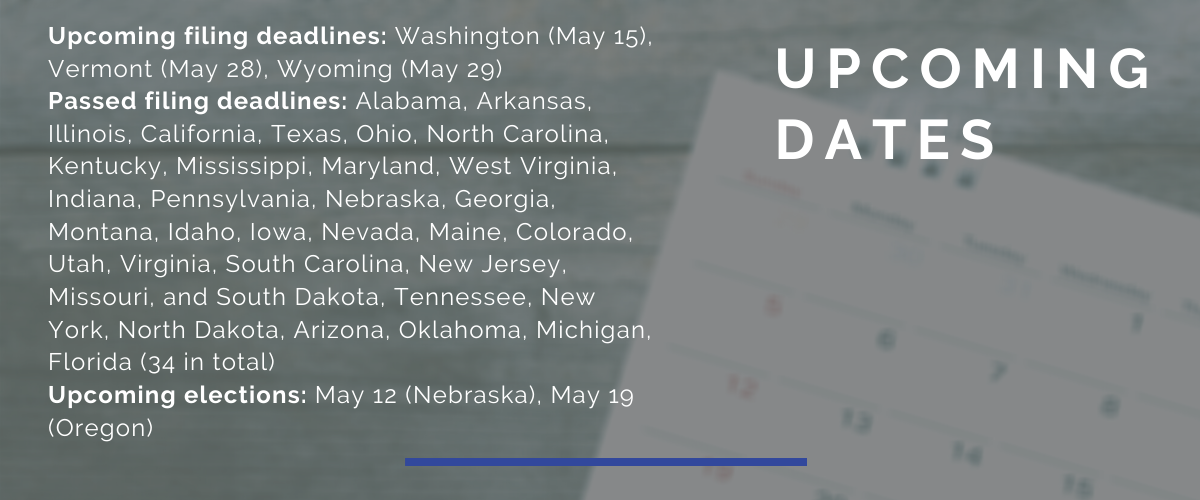 On the news
Where do Democratic and progressive pundits and commentators disagree? Each week, we bring you excerpts that highlight differing views.
"Believing women, that oft-rehearsed exhortation, must mean taking action if it's to mean anything. A thorough and fully transparent investigation is critical, but nothing produced by any inquiry will entirely settle the question. It is still possible — if not likely — that all of this will simply fade away, and that Mr. Biden will continue his campaign without ever submitting to a full accounting, precisely the sort of thing #MeToo was meant to prevent.

But it is also possible that this won't just go away, and that it will demoralize voters and place Mr. Biden at a disadvantage against Mr. Trump in the general election, despite the fact that Mr. Trump has a damning list of accusers alleging sexual offenses. For a candidate mainly favored for his presumed electability and the perception of empathy and decency, that's a serious liability. To preserve the strides made on behalf of victims of sexual assault in the era of #MeToo, and to maximize their chances in November, Democrats need to begin formulating an alternative strategy for 2020 — one that does not include Mr. Biden."
Elizabeth Bruenig, The New York Times, May 3, 2020
"Here's the devilish thing about this Schrödinger's cat scenario. In the version of reality in which Biden did assault Reade, we can at least debate the justice of throwing him off the ticket. In the version of reality in which he didn't assault her, it would be a serious miscarriage of justice.

…

In other words, the progressives who want to force Biden off the ticket have given almost no thought to what would happen next, and what few ideas they have floated are in contradiction with each other. The replacement should either be a former candidate, or somebody who didn't run, and they should either be picked by the remaining voters or by the party. Oh, and remember, there's also an ongoing pandemic, which means there can't be more campaigning and might not be an in-person convention. Good luck!

Had Reade told her story several months earlier, Democratic voters might have chosen a different nominee. In the meantime, the only mechanism to pick the nominee that is either practical or legitimate is the process we had: the actual votes of Democrats, who very clearly and deliberately decided to nominate Joe Biden."
Jonathan Chait, New York Magazine, May 5, 2020
U.S. Congress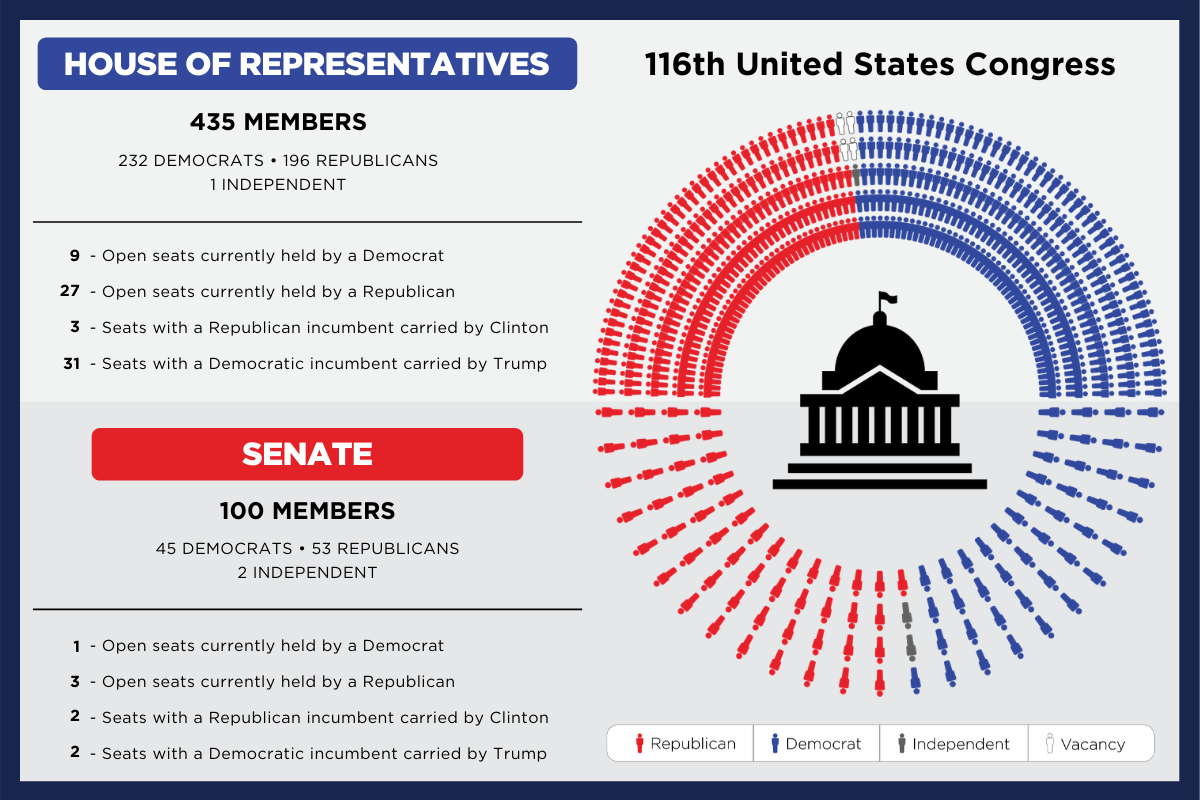 Ossoff, Tomlinson release first TV ads in Georgia Senate primary
Jon Ossoff and Teresa Tomlinson have released the first TV ads in the Senate Democratic primary in Georgia, both focusing on the COVID-19 pandemic.
Ossoff's ad features his wife, who is a doctor. He says, "It's never been clearer we need to stand up to the health insurance companies that have bought off Congress. … I'm not taking their money, and I won't stop fighting until everyone has great healthcare." 
Tomlinson criticizes Gov. Brian Kemp's (R) reopening plan and calls Sen. David Perdue (R) "an invisible senator" in her ad. She highlights her experience as the public safety director and mayor of Columbus.
Ossoff ran in the 2017 special election for Georgia's 6th Congressional District—the most expensive House race in history, where candidates and satellite groups spent more than $50 million. Ossoff was also an investigative journalist. 
Tomlinson was mayor of Columbus from 2011 to 2019.
Also in the seven-candidate field is Sarah Riggs Amico, the 2018 Democratic nominee for lieutenant governor and former executive chairwoman of a trucking company.
Each candidate has highlighted their performance in previous elections as evidence they can win in November. 
On policy, each candidate supports expanding Medicare and background checks on gun purchases. Each opposes open borders and abolishing private health insurance. Each also said they would not accept money from corporate political action committees.
The primary is June 9. 
Major education groups split NJ-02 endorsements
The New Jersey Education Association (NJEA) PAC endorsed Amy Kennedy in New Jersey's 2nd Congressional District primary last week. The American Federation of Teachers New Jersey (AFTNJ) endorsed Brigid Callahan Harrison in January. 
Kennedy was a public school teacher and member of NJEA. 
NJEA President Marie Blistan said, "I know that Amy will keep the promises made to educators and make sure that at the end of their careers, New Jersey's public school employees can count on retirement benefits we earn during a long career of service."
Harrison is a political science and law professor at Montclair State University and a member of the AFTNJ, a teachers union.
AFTNJ President Donna M. Chiera said, "Brigid stands where our members stand on key issues such as lifting the terrible burden of student loan debt, fighting for affordable health care, and investing in our schools and our infrastructure."
As we reported earlier, six county Democratic parties endorsed Harrison, and one (Atlantic County, the largest county in the district) endorsed Kennedy.
The Democratic primary became an open race in December when incumbent Rep. Jeff Van Drew changed his affiliation from Democratic to Republican. He has one challenger in the Republican primary.
The primaries are July 7.
Colorado Senate ballot access battles continue
Four Colorado Senate candidates have filed lawsuits to get on the Democratic primary ballot, arguing either the state of emergency or changes to party rules amid the COVID-19 pandemic prevented them from qualifying. Two cases have been decided, and two are outstanding.
Diana Bray, Lorena Garcia, and Michelle Ferrigno Warren tried to qualify for the ballot via signature-gathering. They needed to submit 10,500 valid signatures——1,500 signatures from each of the state's seven congressional districts—to qualify for the ballot.  
As we reported last week, district judge Christopher Baumann ordered Warren to be placed on the ballot, saying her 5,383 valid signatures were sufficient. The Secretary of State's office appealed, and the Colorado Supreme Court ruled Monday to remove Warren from the ballot. The court said only the state legislature could change the election code.
April 28, Baumann ruled that Bray could not appear on the ballot, saying the 2,724 valid signatures she submitted were insufficient. 
Baumann ruled April 30 to place Garcia on the ballot. Garcia submitted 9,428 valid signatures. Tuesday, the Colorado Supreme Court ruled she shouldn't be placed on the ballot. Garcia plans to appeal in federal court.
Erik Underwood tried to qualify for the ballot through the party's state assembly, held virtually on April 18. Underwood received 1% of the vote. A candidate needed at least 30% to make the primary ballot. On April 28, Underwood filed a lawsuit arguing he was denied a fair election, citing alleged irregularities and emergency rules adopted by the party.
The primary is June 30. John Hickenlooper qualified for the ballot in February via signature collection, and Andrew Romanoff qualified by receiving 86% of the party's state assembly vote.
Incumbent Cory Gardner (R) faces one primary challenger. Gardner is one of two Republican senators running for re-election in a state Hillary Clinton (D) won in the 2016 presidential election.
State executives

Vermont AFL-CIO endorses Zuckerman in Democratic gubernatorial primary
The Vermont branch of the AFL-CIO endorsed Lt. Gov. David Zuckerman for the Democratic nomination for governor Friday. Zuckerman, a member of the state's Progressive Party, is among three Democrats in the running.
Among Zuckerman's other supporters are former state Democratic chairwoman Cindy Metcalf and 350.org founder Bill McKibben. Former Vermont Secretary of Education Rebecca Holcombe's endorsers include former state party chairwoman Dottie Deans and former Gov. Madeleine Kunin. Attorney Pat Winburn has not received any noteworthy endorsements.
The filing deadline is May 28. The Aug.11 primary is open to all registered voters. Incumbent Phil Scott (R), who was first elected in 2016, has not yet announced whether he will seek a third term.
Mark Hass receives newspaper endorsements in Oregon Secretary of State primary
Oregon's largest newspaper endorsed state Sen. Mark Hass in the Democratic primary for secretary of state Sunday. The Oregonian's endorsement followed that of Willamette Week, which endorsed Hass April 29. Hass faces his state Senate colleague Shemia Fagan and 2018 congressional candidate Jamie McLeod-Skinner in the Democratic primary. 
Fagan's endorsers include former Gov. Barbara Roberts, the state branch of the AFL-CIO, and Planned Parenthood PAC of Oregon. Among McLeod-Skinner's endorsers are former Secretary of State Jeanne Atkins, the LGBTQ Victory Fund, and Our Revolution Portland.
The May 19 primary is open to registered Democrats only. Like all Oregon elections, it will be conducted entirely via mail-in ballot. Democrats last won an Oregon secretary of state election in 2012.
Follow-up: Montana Democrats meet for two more virtual events
Last week, we reported that Montana's two Democratic candidates for governor had met for a virtual debate. Lt. Gov. Mike Cooney and consultant Whitney Williams met for two more virtual events this week — a candidate forum on Thursday and a debate on Saturday.
Legislatures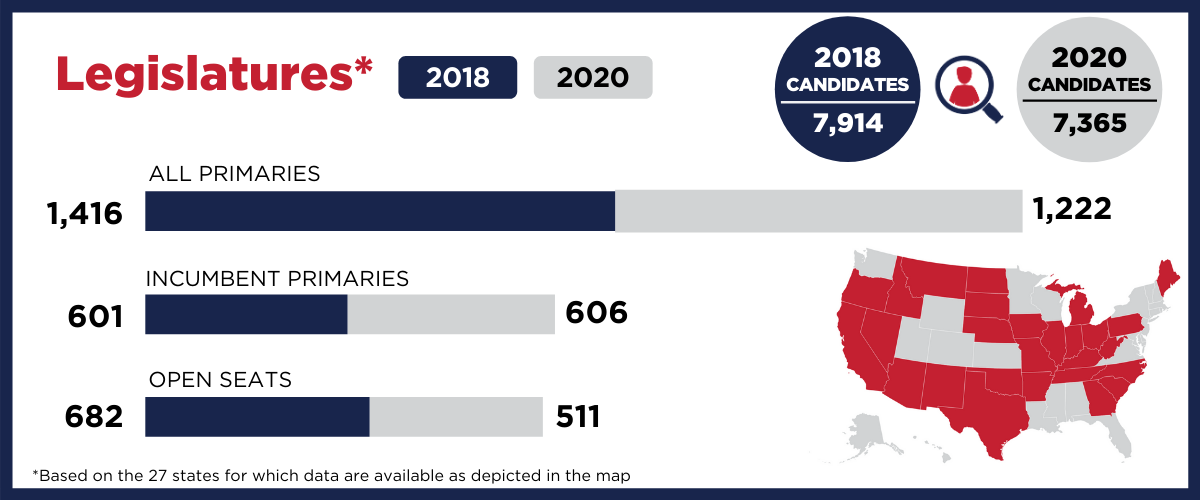 Big Brother
contestant kicks off campaign against incumbent Tennessee state representative
Reality T.V. contestant Ovi Kabir (D) kicked off his campaign against incumbent State Rep. Rick Staples (D) for House District 15 on May 4. A Democrat has represented the Knoxville-area 15th District since 1986.
Kabir was student body president at the University of Tennessee's flagship campus in Knoxville from 2018 to 2019. After graduating, Kabir was selected to appear on the 21st season of the CBS reality series, Big Brother where he placed 15th. Kabir said, "I'm running to talk about big ideas—from expanding Medicaid to raising the minimum wage to how we can fight homelessness as a city."
Staples was first elected to represent District 15 in 2016 after he replaced State Rep. Joe Armstrong (D) on the general election ballot following Armstrong's conviction for filing a false tax return. Staples defeated independent candidate Pete Drew, 65-35%, and ran unopposed in 2018. Staples says he is "A champion of ordinary people," and that "he is working hard to represent his district and give them the best they deserve." This is his first contested primary.
Two other candidates—former Knox County Commissioner Sam McKenzie and Matthew Park, a business and technology consultant—are running in the primary for the reliably Democratic seat. The winner will likely face Troy Jones (I), the only other candidate filed to run, in the general election. 
Democrats tout experience in race for Connecticut State Senate seat
Two Democrats—former East Haven Mayor April Capone and the district party's 2018 nominee, Aili McKeen—kicked off their campaigns for Connecticut's state Senate District 34 on April 29 and May 5, respectively. The current incumbent, Senate Minority Leader Len Fasano (R), is not seeking re-election.
Capone and McKeen are campaigning on their political and volunteer accomplishments.
Capone was elected mayor of East Haven in 2007 and served until 2011, when she was defeated by former Mayor Joe Maturo, Jr (R). She later worked for Gov. Dannel Malloy (D) in the Office of Policy & Management. Capone said, "we need experienced leaders," adding, "I have the experience. I've not only served the municipal levels. I was part of state service." 
McKeen is a personal property specialist. She also volunteers on Wallingford's Inland Wetland & Watercourses Commission and with the Girl Scouts of Connecticut. McKeen was the Democratic nominee for District 34 in 2018. She defeated Josh Balter (D) in the primary, 71-29%, and lost to Sen. Fasano in the general election, 58.5-41.5%. McKeen said, "I'm not a career politician … Yes, April has a resume full of positions. But I've been an advocate for as long as she's been a politician." 
The winner will likely face business owner and North Haven Zoning Board of Appeals member Paul Cicarella, Jr. (R) in the general election. Cicarella is the only Republican who has announced. The filing deadline is June 9.
N.Y. state Planned Parenthood affiliate endorses incumbent Assemblyman over local Planned Parenthood board member
The statewide Planned Parenthood Empire State Votes PAC endorsed New York Assemblyman Steve Otis (D) in his bid for re-election to District 91. Otis received the endorsement over the only other candidate in the primary, Meg Cameron (D), who has served as an executive board member with the local Planned Parenthood Hudson Peconic affiliate since 2010.
This is Otis' first contested primary and second contested election since first winning the district in 2012. He faced a general election challenge that year from William Villanova (R), whom he defeated 63-37% after running unopposed in the primary. He ran unopposed in the primary and general elections in 2014, 2016, and 2018. Otis received the statewide Planned Parenthood endorsement in 2018, as well. 
Cameron chairs the Rye City Democratic Committee and has received endorsements from Rye's mayor, Josh Cohn (D), and two Rye City Councilmembers—Ben Stacks (D) and Julie Souza (D). Cameron managed the "Moving Rye Forward" campaign in 2017 that worked to elect all three to office.
District 91 is located in Westchester County and includes the cities of Rye, Mamaroneck, and Rochelle. Since no Republicans filed to run, the winner of the June 23 Democratic primary will likely win the general election in November.
Power players
"314 Action was founded by members of the STEM community, grassroots supporters and political activists who believe in science.  We are committed to electing more STEM candidates to office, advocating for evidence-based policy solutions to issues like climate change, and fighting the Trump administration's attacks on science." – 314 Action website 
Founded in 2016, 314 Action is an organization that aims to elect STEM (Science, Technology, Engineering, and Math) professionals to office. The group, which is named after the mathematical ratio Pi, says it is "the largest and only resource specifically created for scientists and STEM professionals seeking assistance running for office." 
In addition to electing leaders from STEM backgrounds, 314 Action's goals include "[strengthening] communication among the STEM community, the public and our elected officials", "[making] science more accessible to the public," "[educating, advocating for, and defending] the integrity of science and its use," "[providing] a voice for the STEM community on social issues," "[promoting] the responsible use of data driven fact based approaches in public policy," and "[increasing] public engagement with the STEM Community through media."
To view candidates endorsed by the 314 Action Fund, click here.