Heart of the Primaries
This week: Progressive groups split endorsements in Kentucky Senate primary, Kennedy launches $1.2 million ad campaign in Massachusetts, and Hillary Clinton endorses in Montana gubernatorial election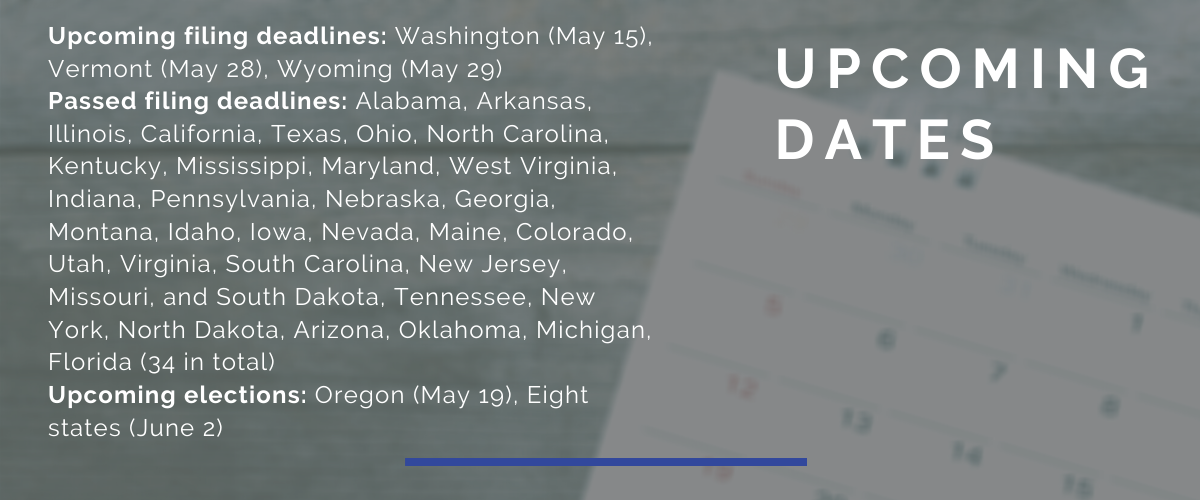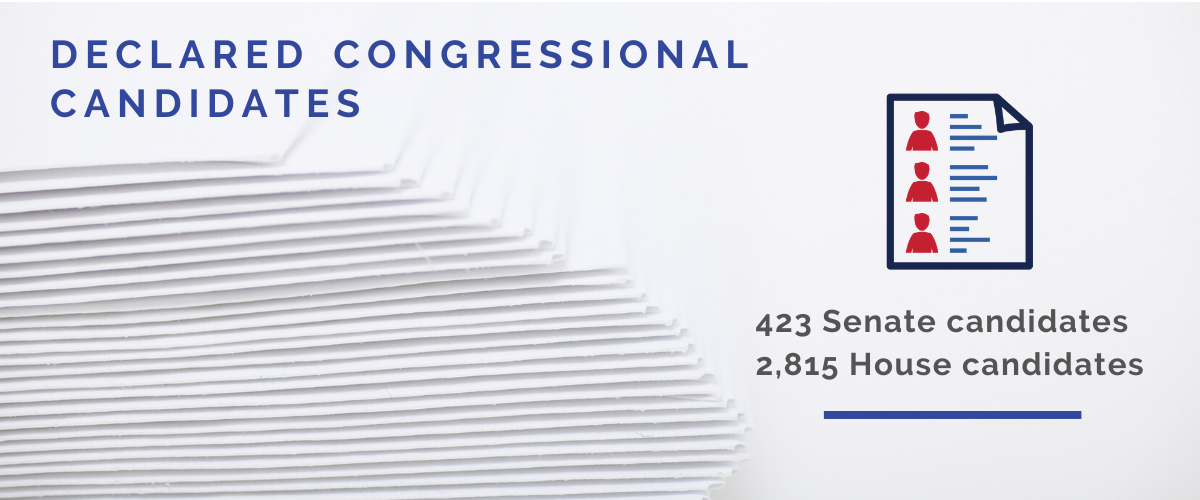 On the news
Where do Democratic and progressive pundits and commentators disagree? Each week, we bring you excerpts that highlight differing views.
"Biden leads a largely unified party whose members widely consider his opponent a borderline sociopath who threatens democracy — not to mention prosperity, decency and human life. Under the circumstances, any sensible vice presidential pick will do. But Trump will be waging a culture war that, by November, will be but a few steps shy of civil war. Harris will have cultural resonance in the parts of America — immigrant, brown, black, female — that will be under sharpest attack. She can make manifest what's at stake in this election, especially to those underwhelmed by the prospect of another old white guy in the Oval Office.

Harris's face is the future of the Democratic Party, and of the nation, just as Biden is the face of receding power. She complements and strengthens him. She can be Biden's Biden."
Francis Wilkinson, Bloomberg Opinion, May 10, 2020
"Does it really matter who Joe Biden picks as his running mate? Maybe not, but with Trump in the White House, it might. It doesn't require massive new votes in California (Democrats got 61.7 percent last time) or New York (Democrats got 59 percent) or Massachusetts (60 percent).

It requires someone who attracts Trump-fatigued Republicans in a few states: Pennsylvania, Michigan and Wisconsin, for example.

Amy Klobuchar fits in those states. She is strongly liberal (a fact too often ignored in a slogan-driven atmosphere), but moderate in presentation and explanation.

If she were to become president, the country would cheer a woman of commitment, competence, and decency."
Norman Sherman, The Hill, May 10, 2020
U.S. Congress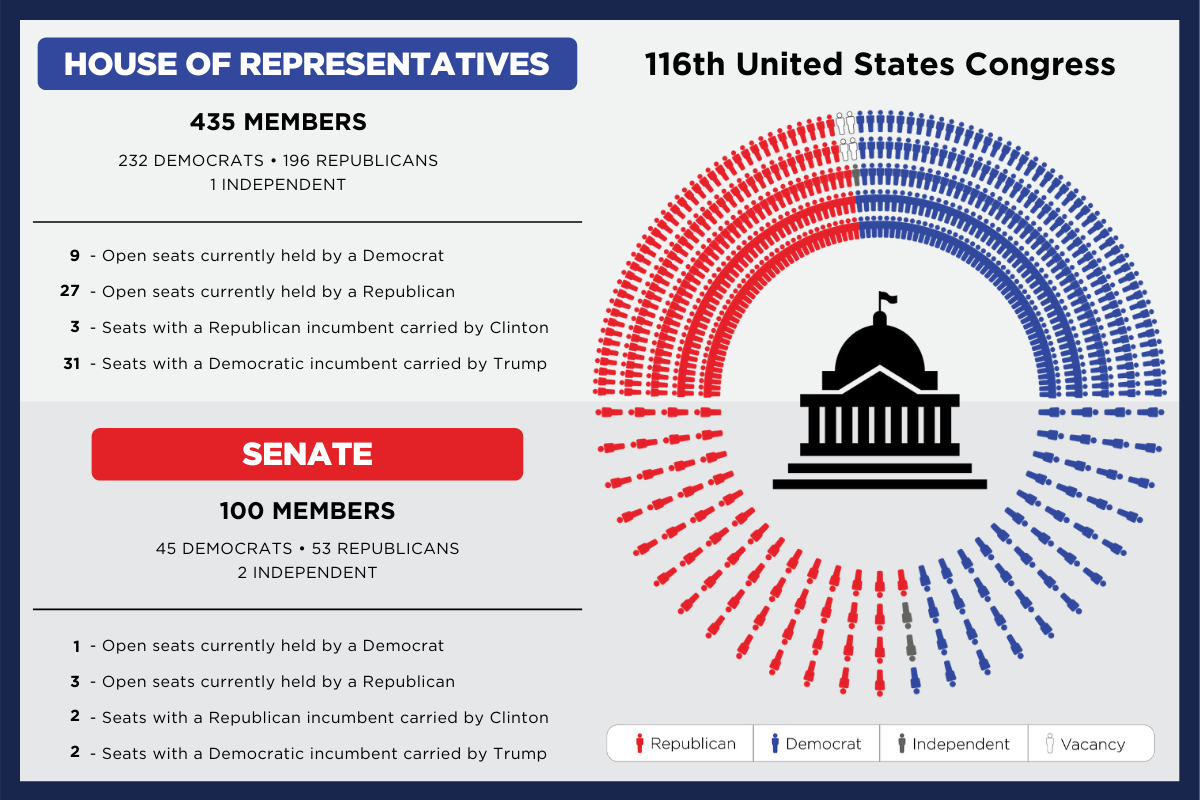 Progressive groups split endorsements in Senate primary in KY
Four local chapters of Indivisible endorsed Mike Broihier in the Democratic primary for Senate in Kentucky. 
Indivisible's website says it is "a grassroots movement of thousands of local Indivisible groups with a mission to elect progressive leaders, rebuild our democracy, and defeat the Trump agenda."
Ryland Barton of radio network WFPL wrote, "The endorsement indicates a split among progressives looking for an alternative to [Amy] McGrath. [State Rep. Charles] Booker was endorsed by Kentuckians For The Commonwealth, another statewide progressive political group, in early March." 
Booker's endorsers also include the Sunrise Movement and Demand Universal Healthcare. Former 2020 Democratic presidential candidate Marianne Williamson endorsed Broihier.
Amy McGrath, who says she is a progressive on some issues and conservative on others, is running with support from the Democratic Senatorial Campaign Committee and VoteVets, among others. She had raised $30 million as of March 31. Booker had the second-highest fundraising total in the primary at $316,000.
The primary is June 23. Ten candidates are running. The winner will face Senate Majority Leader Mitch McConnell. He was first elected to the Senate in 1984. 
Salon interviewed Booker, Broihier, and McGrath in April. Each said why they think they're the candidate to defeat McConnell. 
Booker:

"I am the only person running that has actually won an election in Kentucky and worked across Kentucky building coalitions, the same type that we have to build now to actually not only beat Mitch McConnell but really transform our future.

"Louisville's still one of the most segregated cities in the country, and so having to deal with structural racism in a very personal level. [In] my family, my grandad fought for desegregation. I've had family members lynched, enslaved in Kentucky. And having worked all across the commonwealth in rural communities and Appalachia alike, it's really given me the ability to speak across seeming divides and build coalitions of folks regardless of party."
Broihier:

"

Over the last couple years it became more and more evident to me that Trump is just the symptom and McConnell is the problem. People like him are the problem.

I looked at my resume and said, you know, as a Kentucky farmer, as someone who has taught at UC Berkeley and taught substitute teaching at the local public schools, and as a retired combat veteran, no one has ever run against Mitch McConnell like me before. We've been running Republican-lite against McConnell for 35 years and gotten creamed every time."

McGrath:

"We need a new generation of leaders who can put their country over their political party to do what's right for Kentucky and are not bought off by special interests. I spent my entire adult life serving my country while Mitch McConnell has spent 35 years creating the Washington Swamp.

I will give everyday Kentuckians a voice in Washington — not just special interests or the wealthiest 1%. I'm the only candidate who has built a team to take him on toe to toe.

"
Kennedy launches $1.2 million ad campaign in Senate primary in MA
Joseph Kennedy III spent $1.2 million on the first major ad buy of the Sept. 1 Democratic primary for Senate in Massachusetts. 
Kennedy's ad focuses on the COVID-19 pandemic. Kennedy says, "It will take shared sacrifice and progressive willpower to fix the damage done by President Trump, but together we will recover." He said he would lead the fight for guaranteed healthcare for all in the Senate. 
Kennedy, who has served in the U.S. House since 2013, faces incumbent Sen. Ed Markey. Markey was first elected to the Senate in 2013. Before that, he served in the U.S. House from 1976 to 2013.
The Boston Globe asked Markey's campaign if it planned to air TV ads soon. Markey's campaign manager John Walsh said:
"Senator Markey has always found that the best advertising is doing your job well and right now the voters are responding. From recurring cash payments to providing relief to families and small businesses impacted by the coronavirus pandemic, finding a cure for Alzheimer's by 2025, and protecting our environment, Senator Markey's legislative work is delivering real tangible results."
Markey has released digital videos in recent weeks addressing Kennedy's criticism that Markey has not been present in Massachusetts or effective at addressing the pandemic. One ad says Kennedy is "playing politics with the coronavirus" and features headlines about Markey's actions related to COVID-19 in the Senate. Another ad features a former local school committeeman from Markey's Malden neighborhood saying Markey is in touch with local issues. 
Meanwhile, 10 candidates are running in the 4th Congressional District Democratic primary for a chance to replace Kennedy. Former state Comptroller Tom Shack recently dropped out of that race and endorsed Dave Cavell, a speechwriter for former President Barack Obama (D).
Congressional Hispanic Caucus PAC spends for Reardon in IN-01
The Congressional Hispanic Caucus' BOLD PAC has spent $170,000 on mailers and other activities supporting Mara Candelaria Reardon in Indiana's 1st Congressional District primary. Reardon is a state representative. She was first elected in 2016. 
This is an open seat in a safe Democratic district. Incumbent Rep. Peter Visclosky, first elected in 1984, is retiring. Fifteen candidates are running in the June 2 primary. According to Daily Kos, there is no clear frontrunner. 
Six candidates reported campaign finance information to the Federal Election Commission for the first quarter of the year. Hammond Mayor Thomas McDermott led in fundraising with $441,000. Attorney Sabrina Haake followed with $270,000. Reardon had raised $214,000.
State executives

Hillary Clinton endorses Montana gubernatorial candidate Whitney Williams
2016 presidential nominee Hillary Clinton (D) endorsed Whitney Williams for the Democratic nomination for governor of Montana May 5. Clinton's endorsement came as Williams and her opponent Mike Cooney hit the airwaves to make their final arguments before voters ahead of the June 2 primary.
Cooney, the state's current lieutenant governor, launched his first television ad May 5. The ad says Cooney is an experienced and trustworthy leader who assisted incumbent Steve Bullock in his push to expand Medicaid last year. Williams' first ad, which she launched April 24, said she was the only gubernatorial candidate with experience in disaster recovery.
Among Williams' other endorsers are former Gov. Brian Schweitzer (D), EMILY's List, and the state branch of the National Organization for Women. Cooney's endorsers include Sen. Jon Tester (D), Gov. Steve Bullock (D), and the state branch of the AFL-CIO.
The June 2 primary is open to all registered voters. 
Democrats' Indiana gubernatorial nominee selects running mate
Woody Myers, the Democratic nominee for governor of Indiana, announced Friday he had selected former state Rep. Linda Lawson (D) as his running mate.
Lawson, who was first elected in 1998, served in the state House before announcing her retirement in 2018. Lawson was elected minority leader in 2012, becoming the first woman in Indiana history to serve as a legislative leader.
Myers said he picked Lawson because they both had a record of working across partisan lines. Lawson said she brought experience in employment issues to the ticket, saying that she served several terms on the state legislature's employment committee. 
Party leaders will need to ratify Lawson's place on the ticket at their virtual convention on June 13 before she formally becomes Myers' running mate.
The last Democrat to win election as governor of Indiana was Frank O'Bannon in 2000.
Legislatures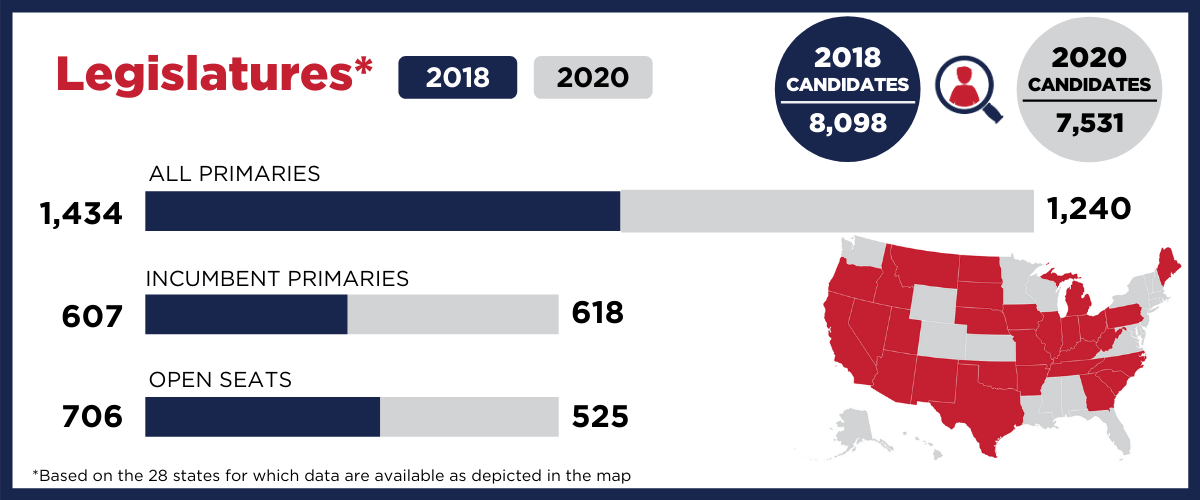 Incumbent Minnesota state Senator will file for primary after losing party nomination to challenger
State Sen. Erik Simonson (D-07) announced on May 10 that he would proceed to a contested primary against Jen McEwen (D). According to results released on May 9, McEwen won the Democratic-Farmer-Labor Party's endorsement in the virtual convention for the Duluth-area District 7 over Simonson, receiving 70 percent of the delegate vote to Simonson's 29 percent. 
The convention was held virtually with participants allowed to vote online or by mail. According to party officials, nearly 400 individuals participated, which was described as "a significant increase over in-person conventions." 
Simonson criticized the convention format, saying, "Party endorsing conventions have become less and less effective over the past few years." He said, "in the midst of a global pandemic, the process was even less inclusive than usual."
McEwen said, "The processes put in place here actually allowed more people to participate" and "showed that democracy is not only possible during this pandemic, but we can find ways to make sure even more people are at the table." 
Simonson said he "worked hard to build relationships across the aisle," and that his "moderate and inclusive approach to legislating will resonate with Duluth voters." According to the Duluth News Tribune, McEwen "has run on a progressive platform, touting health care, clean energy and housing priorities." 
Simonson was first elected in 2016 after defeating Donna Bergstrom (R) 66-34%. He previously represented District 7B in the state House from 2013-2017. The window to file for a legislative primary extends from May 19 to June 2. The primary will be held on Aug. 11 with the winner likely facing Bergstrom, the 2020 Republican nominee, in the general election.
Orangetown Democratic Committee endorses local village trustee in four-way primary for N.Y. Senate District 38
On May 8, the Orangetown Democratic Committee announced its endorsement of Elijah Reichlin-Melnick in the four-way primary to replace outgoing Sen. David Carlucci (D) in Senate District 38. Reichlin-Melnick will face Justin Sweet, Eudson Francois, and Vladimir Leon in the June 23 primary.
Senate District 38 encompasses most of Rockland County and part of Westchester County. It contains the towns of Orangetown, Clarkstown, Ramapo, and parts of Ossining, each of which consists of several smaller villages. Three of the four Democratic candidates in the primary currently serve as a local elected official in the District.
Reichlin-Melnick has been a member of the Nyack Village Board of Trustees since 2017. He is also legislative director for state Sen. James Skoufis (D) of nearby Senate District 39. Nyack is located in Orangetown.
Sweet is the Clarkstown Town Clerk. He was elected to the position in 2010 after Carlucci, the previous town clerk, chose to run for state Senate. In addition to seeking the Democratic nomination, Sweet received the endorsement from the Working Families Party.
Francois is a member of the Spring Valley Board of Trustees, which is located primarily in Ramapo. He also serves as a Teacher Policy Board Member in the East Ramapo Central School District and is a member of the Spring Valley NAACP.
Leon owns a bakery in Ramapo. He ran for Rockland County Executive in 2013 and 2017 and is on the Board of Directors at the Monsey Medical Center. 
William Weber and Matthew Weinberg are seeking the Republican nomination. District 38 has been represented by a Democrat since Carlucci was first elected in 2010.
Power players
"We are organizing a political revolution to challenge the power of the plutocrats and prioritize the needs of people and our planet. With your support, we are building a national grassroots movement of local groups powerful enough to win progressive issue fights, elect progressive champions, transform the Democratic Party, and get big money out of politics." – Our Revolution website 
Founded in 2016, Our Revolution is a 501(c)(4) nonprofit organization created by former Democratic presidential candidate and U.S. Sen. Bernie Sanders (I-Vt.) to advocate for progressive policies and support progressive candidates. Sanders said in 2016, "If we are successful, what it will mean is that the progressive message and the issues that I campaigned on will be increasingly spread throughout this country. … The goal here is to do what I think the Democratic establishment has not been very effective in doing. And that is at the grass-roots level, encourage people to get involved, give them the tools they need to win, help them financially." 
According to Our Revolution's website, some of the policies it supports are Medicare for All, the Green New Deal, a $15 federal minimum wage, and canceling student debt. 
To view a list of candidates Our Revolution has endorsed in 2020, click here.