Heart of the Primaries 2020, Republicans-Issue 18
This week: Karen Handel endorses in Georgia Senate special election, Claire Chase calls on Yvette Herrell to drop out, and Indiana AG Curtis Hill's law license is suspended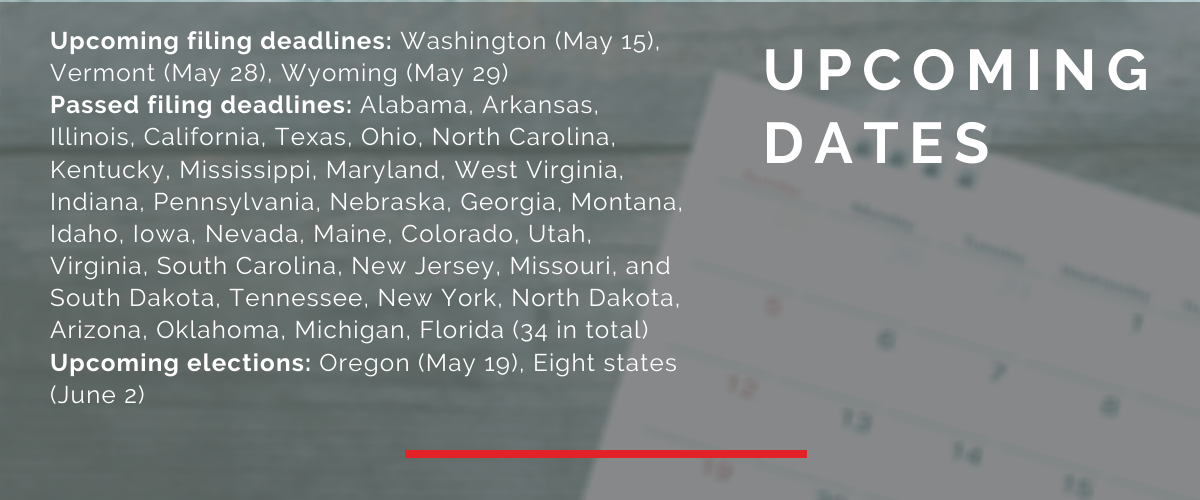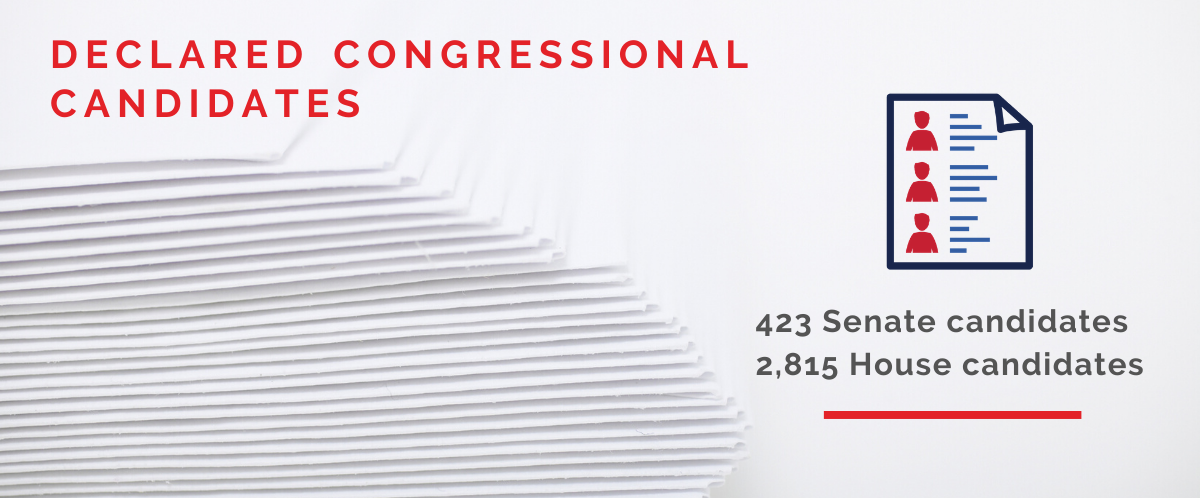 On the news
Where do Republican and conservative pundits and commentators disagree? Each week, we bring you excerpts that highlight differing views.
"It's now clear the Obama-Comey FBI and Justice Department never had anything more substantial than the laughable fiction of the Steele dossier to justify the 'counterintelligence' investigation of the Trump campaign. Yet incessant leaks from that supposedly confidential probe wound up consuming the Trump administration's first months in office — followed by the Bob Mueller-led special counsel investigation that proved nearly the 'total witch hunt' that President Trump dubbed it. 

Information released as the Justice Department dropped its charges against Gen. Mike Flynn shows that President Barack Obama, in his final days in office, played a key role in fanning the flames of phony scandal. …

Indeed, the Obama administration went on a full-scale leak offensive — handing the Washington Post, New York Times and others a nonstop torrent of 'anonymous' allegations of Trumpite ties to Moscow. It suggested that the investigations were finding a ton of treasonous dirt on Team Trump — when in fact the investigators had come up dry. …

Say this about Obama: He knows how to play dirty."
Post Editorial Board, New York Post, May 11, 2020
"Trump's allies in the conservative media and the Justice Department are taking #Obamagate very seriously. This conspiracy theory is informing our foreign policy, millions in tax dollars are being spent in an effort that is going 'full throttle' to prove that it is correct, and countless Americans are being fed a faux history involving a crime that supposedly 'makes Watergate look small time.' … 

While the mainstream press moves on to other matters or simply mocks the absurdity of the president's huffing and puffing about #Obamagate, the right-wing media plunge their audiences deeper into it. Some Republican officials who ought to know better are playing along with the scam, while others cower in fear of a microphone because they have convinced themselves that the president spouting insane conspiracy theories about how his wires were tapped by Obama is less important than their vote on the farm bill.

The result is that President Trump gets to live in an alternate reality of his own choosing. One that allows him to level unfounded allegations against his foes without even attempting to interact with anything approaching a fact or a piece of evidence, while never facing any consequences. It's his longstanding, postmodern m.o.—in business, in his personal life, and in politics: Create a preferred universe of convenient facts, then insist they are true, no matter what."
Tim Miller, The Bulwark, May 12, 2020
U.S. Congress
Handel endorses Collins in special Senate election in GA 
Former U.S. Rep. Karen Handel endorsed U.S. Rep. Doug Collins in the special Senate election in Georgia. Handel said:
"He stood with me when others would not in my own fight against Planned Parenthood, and I worked side-by-side with Doug to pass important pro-life legislation. Most importantly, I trust Doug — to stand up for life, to stand with our president and to stand for our Georgia values." 
Handel represented Georgia's 6th Congressional District until she lost to Lucy McBath (D) in 2018. She's running against McBath again this year.
Collins also received endorsements from U.S Rep. Drew Ferguson, the first member of Georgia's Republican congressional delegation to endorse in the race, and from Public Service Commissioner Bubba McDonald (R), the first statewide elected official to endorse him. 
Gov. Brian Kemp (R) appointed Kelly Loeffler to the Senate seat after Johnny Isakson (R) resigned in December. Several media outlets reported that President Donald Trump wanted Kemp to appoint Collins. 
As we reported earlier, National Republican Senatorial Committee (NRSC) executive director Kevin McLaughlin criticized Collins' entrance into the special election, saying he was putting the Senate seat and other races in play. 
Loeffler's endorsers include the NRSC, former United Nations Ambassador Nikki Haley, and Senate Majority Leader Mitch McConnell.
Loeffler and Collins are among 21 candidates running in the all-party special election on Nov. 3—six Republicans, eight Democrats, five independents, a Green Party candidate, and a Libertarian. If no candidate receives more than 50% of the vote, a runoff will be held Jan. 5, 2021.
Defending Main Street PAC spends $100,000 to help Gibbs in NJ-03
Defending Main Street super PAC spent $25,000 on mailings supporting former Burlington County Freeholder Director Kate Gibbs and $75,000 opposing businessman David Richter in New Jersey's 3rd Congressional District primary. 
The super PAC is affiliated with the Republican Main Street Partnership. The Partnership's website says its members "are solution-oriented legislators dedicated to defending Main Street Americans and advancing common-sense policies that can command bipartisan support."
Gibbs emphasizes her experience as a freeholder and as deputy director of the Engineers Labor-Employer Cooperative Local 825. Gibbs says she "cut taxes, improved school security, made life easier for working moms, and guaranteed equal pay for equal work" as freeholder. Gibbs says she works to "create jobs, build our infrastructure, and grow our economy" with the Local 825.
Richter was CEO of a construction management firm. Richter says he "knows how to create jobs and knows the challenges faced by entrepreneurs and small business owners who are trying to grow their companies."
Richter was originally running in the primary for New Jersey's 2nd Congressional District. After incumbent Rep. Jeff Van Drew changed his affiliation from Democratic to Republican, Richter joined the 3rd District race.
New Jersey's 3rd includes portions of Burlington and Ocean counties. The Burlington County GOP endorsed Gibbs, and the Ocean County GOP endorsed Richter.
The primary is July 7. The winner will face Andy Kim (D), who defeated incumbent Tom MacArthur (R) 50% to 48.7% in 2018.
Chase calls on Herrell to drop out of NM-02 primary
Claire Chase called on Yvette Herrell to drop out of New Mexico's 2nd Congressional District primary after one of Chase's supporters told the Associated Press that Herrell told him Chase had an extramarital affair while her first husband was in Afghanistan.
Jared Richardson, a supporter of Chase's, said Herrell called him last month and made the accusation. Herrell said she called Richardson for another reason.
Chase said, "Yvette's candidacy is no longer viable and she should drop out of this race for the good of the Republican Party."
Herrell said, "I have never attempted to use personal rumors about Claire in this race, and will never do so. … I will take any legal steps necessary to protect myself against libel."
As we reported earlier, the candidates have criticized one another's past comments about President Donald Trump.
The June 2 primary winner will face incumbent Xochitl Torres Small (D), who defeated Herrell 50.9-49.1% in 2018.
State executives

Indiana Supreme Court issues 30-day suspension of Attorney General Curtis Hill's law license
The Indiana Supreme Court suspended Attorney General Curtis Hill's (R) license to practice law Monday following an investigation into claims of sexual misconduct. Hill was accused of inappropriately touching four women, including a member of the state Legislature, at a gathering in March 2018. His suspension will be effective for 30 days beginning May 18.
The court's ruling followed a nearly two-year disciplinary process which started after the four women accused Hill of misconduct in July 2018. Hill denied the allegations and requested an independent investigation. After a three-month investigation, special prosecutor Daniel Siegler announced in October 2018 he would not file charges against Hill.
The Indiana Supreme Court Disciplinary Commission began a separate investigation in 2019. The commission filed a motion for a suspension of Hill's law license last December. The hearing officer, former Indiana Supreme Court Justice Myra Selby, found that Hill's behavior had constituted battery and professional misconduct. Selby recommended Hill's law license be suspended for at least 60 days.
In a statement, Hill said he would accept the court's decision and named Chief Deputy Attorney General Aaron Negangard as his acting replacement.
Hill's suspension ends June 17, three days before the state GOP will meet to decide on a nominee for attorney general. Decatur County Prosecutor Nate Harter and attorney John Westercamp are also seeking the GOP nod. Former U.S. Rep. Todd Rokita (R) said Tuesday he was considering joining the race as well. Rokita represented the 4th Congressional District between 2011 and 2019.
In a statement Monday, state GOP Chairman Kyle Hupfer said he opposed renominating Hill. Gov. Eric Holcomb (R) released a separate statement saying he stood by his July 2018 call for Hill to step down.
Utah gubernatorial candidates meet for candidate forum
The four Republicans seeking the GOP nomination for Utah's open gubernatorial office met Thursday for their first candidate forum since the convention. Spencer Cox, Greg Hughes, Jon Huntsman, and Thomas Wright discussed the state's path to recovery from the coronavirus pandemic.
Cox defended incumbent Gary Herbert's (R) response to the virus, saying the idea that officials needed to choose between public health and the economy was a false notion. Cox said Utah's approach to the virus left it well-positioned to reopen before other states.
Hughes said the state's approach had been heavy-handed and imposed too many restrictions on public gatherings, local officials, and religious leaders. Hughes said the quickest way to recover from the pandemic would be to lift restrictions he described as infringing on constitutional liberties.
Huntsman said Utah's response to coronavirus had been strong overall, but more work was needed to provide aid from Utah's rainy day fund to small businesses. He said the state should consider the pandemic an opportunity to attract businesses from China.
Wright referred to his personal experience as a business owner, saying he had the best understanding of the challenges businesses are facing out of any of the candidates. He also called for the state to repeal its tax on food.
The June 30 primary is open to registered Republicans only.
Legislatures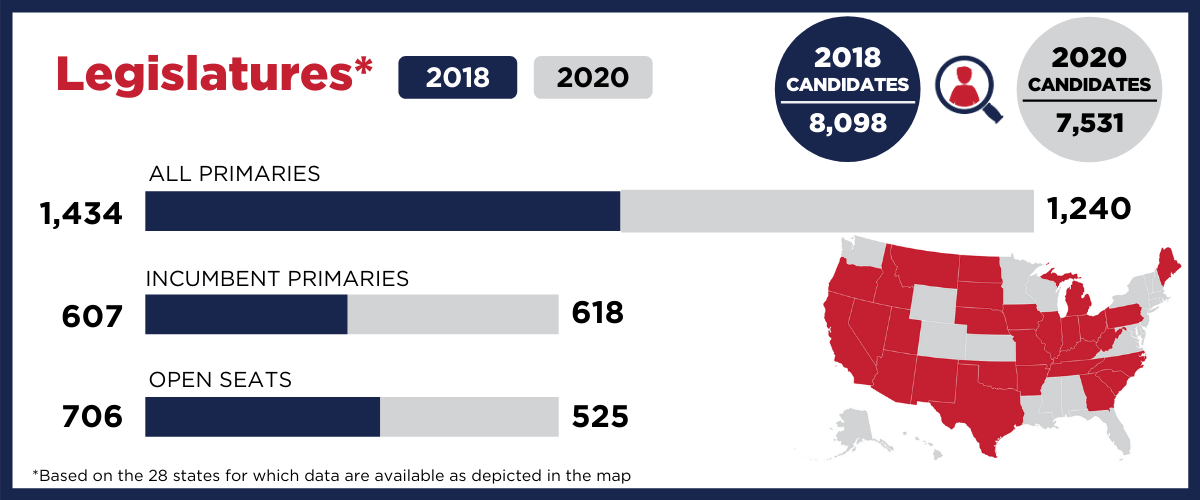 Ballance faces Manzella in Montana state Senate primary
State Rep. David Bedey (R-86) endorsed Nancy Ballance (R) in her primary against Theresa Manzella (R) for the open Senate District 44 seat in Montana on May 9. Ballance and Manzella were both state representatives during the most recent 2019 legislative session representing House Districts 87 and 85, respectively. The primary reflects a larger divide within Montana's state legislative Republican caucus between two loosely defined groups: the Solutions Caucus and the .38 Special.
The Ravali Republic described Ballance and Bedey as members of the Solutions Caucus, an unofficial group of 20 Republican House lawmakers who "chose to work across party lines to pass legislation including Medicaid expansion and an $80 million bonding bill" in 2019.
At the end of the 2019 session, Manzella posted a photo of Republican legislators, calling the group the .38 Special. According to Manzella, the number 38 referenced "The 38 [House Republicans] who consistently voted to uphold the Constitutions, adhere to Republican principles and limit government." 
When she announced her intention to run in May 2019, Ballance, who was term-limited in the House, said, "I have a proven track record of listening to voters and of being able to work with other legislators to create real solutions for Montanans." Ballance said, "I believe the people of Senate District 44 want actual accomplishments and results, not rhetoric and sound bites."
Manzella, citing Ballance's presence in the primary, announced her candidacy for District 44 later that year saying, "I believe it's my civic duty to give the good citizens of the district a choice," adding that she had "faith that our citizens prefer the traditional, conservative definition of Republican over the trending 'progressive' version threatening our party."
Montana is one of 14 states with divided government. Republicans hold majorities in the House (57-42) and Senate (30-20) while Democrats control the governorship. The number of votes needed to override a gubernatorial veto in the House and Senate is 67 and 34, respectively.
N.D. Governor supporting candidates challenging incumbent House Appropriations chairman
In April, we reported on the Republican primary in North Dakota's House District 8. 26-year incumbent Rep. Jeff Delzer (R) chose to remain in a four-way primary after failing to receive his district party's support at the March 10 GOP convention. The district instead endorsed newcomers Dave Nehring (R) and David Andahl (R).
A flier was recently mailed to voters in support of Delzer's primary opponents that, according to the Grand Forks Herald, included the disclaimer "paid for by the Dakota Leadership PAC." According to a statement filed with the North Dakota Secretary of State last week, Governor Doug Burgum (R) donated $195,000 to Dakota Leadership PAC on May 7. The Herald reported that the District 8 primary was "the only legislative race the PAC is involved with so far."
As the chairman of the House Appropriations Committee, Delzer has influence over the state's budget process. Ahead of the 2019 session, Delzer and Burgum clashed after Delzer announced that the legislature would not consider executive budget bills and instead base the budget on its own projections. Columnist Mike Jacobs described the difference between Delzer and Burgum as follows: "Burgum believes in budgeting from plenty—that is to say, let's fund what we can as opposed to Delzer's let's-guard-the-checkbook approach."
Delzer will face Andahl and Nehring, both endorsed by the District 8 GOP, as well as Bob Wheeler (R) in the June 9 primary. The top-two vote-getters will advance to the general election against likely Democratic nominees Linda Babb and Kathrin Volochenko.
Idaho Statesman
endorses challenger to incumbent Rep. Nichols in Republican primary
The Idaho Statesman editorial board endorsed Kirk Adams (R) in the House District 11B Republican primary on Monday. District 11B is currently represented by Rep. Tammy Nichols (R) who is also seeking re-election. 
The editorial board wrote, "We're endorsing Adams over the incumbent … who, as Adams rightly described her, is more of a political activist than a legislator." The endorsement mentioned Gov. Brad Little's (R) stay-at-home order amid the coronavirus pandemic. Adams supports the order. Nichols recently spoke at the Disobey Idaho rally held to protest the order.
Nichols said, "If the liberal media and my opponent want to label me as an 'activist' because they believe that the work I do in helping people, limiting government, upholding the constitution, and working to get Idahoans back to work is a bad thing…then so be it!" 
Nichols was first elected to the open seat in 2018 after defeating Brian Ertz (D) 77.6-22.4%. She faced Adams and three others in the Republican primary, receiving 38.9 percent of the vote. Adams finished fourth with 15.3 percent. The winner of the June 2 primary will likely face Edward Savala (D). Savala is the only Democrat filed to run for the seat.
Power players
"Citizens United produces some of the most hard-hitting and influential television commercials, web advertisements, and documentaries available. These products delve deeply into the issues that matter most to the future of our country, striking a chord with people that helps awaken them to the importance of a limited government, individual responsibility, free market economy, and traditional American values." – Citizens United website 
Founded in 1988, Citizens United is a 501(c)(4) nonprofit organization known for its numerous documentary films and its involvement in the landmark campaign finance case Citizens United v. Federal Election Commission. The organization says it is "dedicated to restoring our government to citizens' control" and that it "seeks to reassert the traditional American values of limited government, freedom of enterprise, strong families, and national sovereignty and security."
Citizens United is affiliated with the 501(c)(3) Citizens United Foundation, which says it is "dedicated to informing the American people about public policy issues which relate to traditional American values," the Presidential Coalition, which says it exists to "educate the American public on the value of having principled conservative Republican leadership at all levels of government and to support the conservative 'farm team,'" and the Citizens United Political Victory Fund, a political action committee.
To view candidates endorsed by the Citizens United Political Victory Fund, click here.