This week: Two more Senate primary runoff endorsements in Texas, Alexandria Ocasio-Cortez endorses Nabilah Islam in GA-07, and Vermont gubernatorial candidates meet for first debate.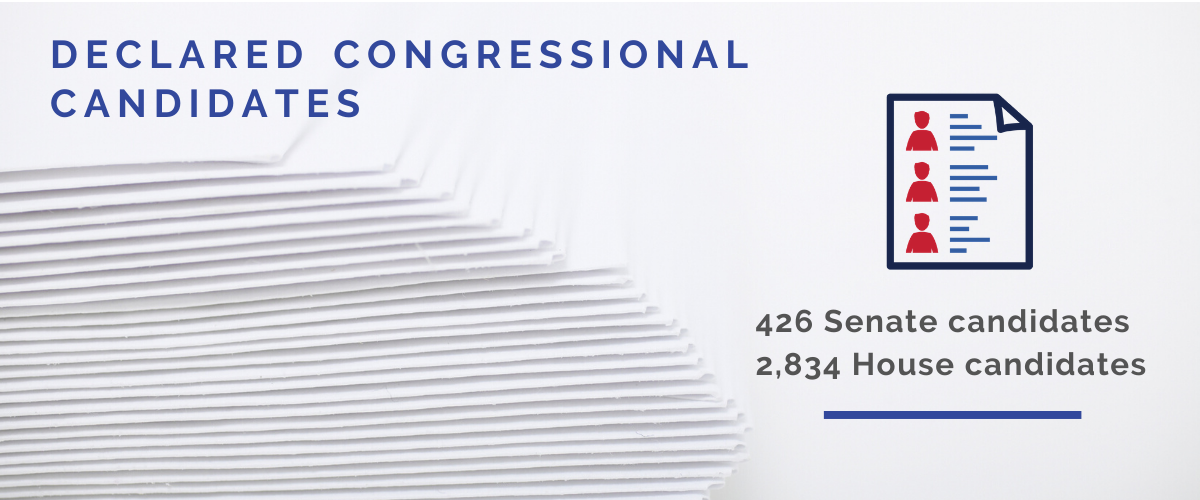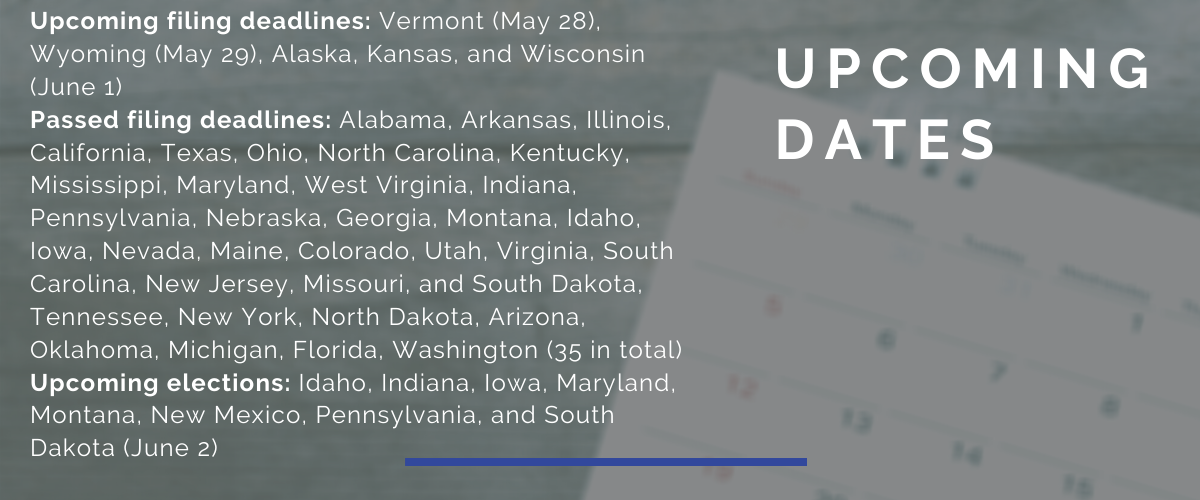 On the news
Where do Democratic and progressive pundits and commentators disagree? Each week, we bring you excerpts that highlight differing views.
On Biden's appeal to progressives
"The overwhelming note I hear from establishment Democrats is 'Ha-ha, you lost' and 'You're going to cost us the election.' I've never seen so many people planning their own funeral. I know that's the record of wishy-washy establishment candidates: They almost always lose to Republicans. But this time maybe you can do something about that. You've got six months. Give it a shot. … 

What do we want? If you asked, you might have found out, for example, that Justice Democrats has one litmus test. It isn't Medicare for All or the Green New Deal—it's rejecting money from corporate PACs. Why? Because the central issue in U.S. politics is corruption. …

If Mr. Biden says passing the Clean Elections Act is his top legislative priority and he'll have failed as president if he doesn't get it done, then I'll believe him. Loose talk about how he'd like to pass it, one day, won't do.

The question is whether Mr. Biden will commit to that. If not, it proves the establishment is corrupt and hopeless. Then good luck getting progressives excited enough to vote for him."
Cenk Uygur, The Wall Street Journal, May 17, 2020 
"Joe Biden ran as the most centrist candidate in the Democratic primary. Ultimately, despite the egghead objections of out-of-touch left-liberal bloggers, this strategy worked, and he recovered from a strong early push by Bernie Sanders to (presumptively) win the nomination. … 

Joe Biden has been part of the Democratic establishment even longer than Hillary Clinton has been, his record is more conservative than hers was, and he was even more emphatic than she was during their respective primaries about limiting public spending and uniting rather than dividing; while other candidates tried to slip a little Bernie-ism into their platforms here and there, Biden was firm that he would not do any of that angry anti-billionaire stuff. So what's the deal? Since when do you win the more leftward party's primary and then move to the left? … 

Having solidified his hold over his party, he is offering something to the younger and more economically insecure voters who were skeptical of him during the primary under the cover of associating himself, during a historic crisis, with the president who won WWII and pulled the country out of the Great Depression. It's a win-win, except for the superrich, but they'll get plenty of chances to talk Biden out of all this communist stuff if he actually gets elected. This is still America, after all."
Ben Mathis-Lilley, Slate, May 15, 2020
U.S. Congress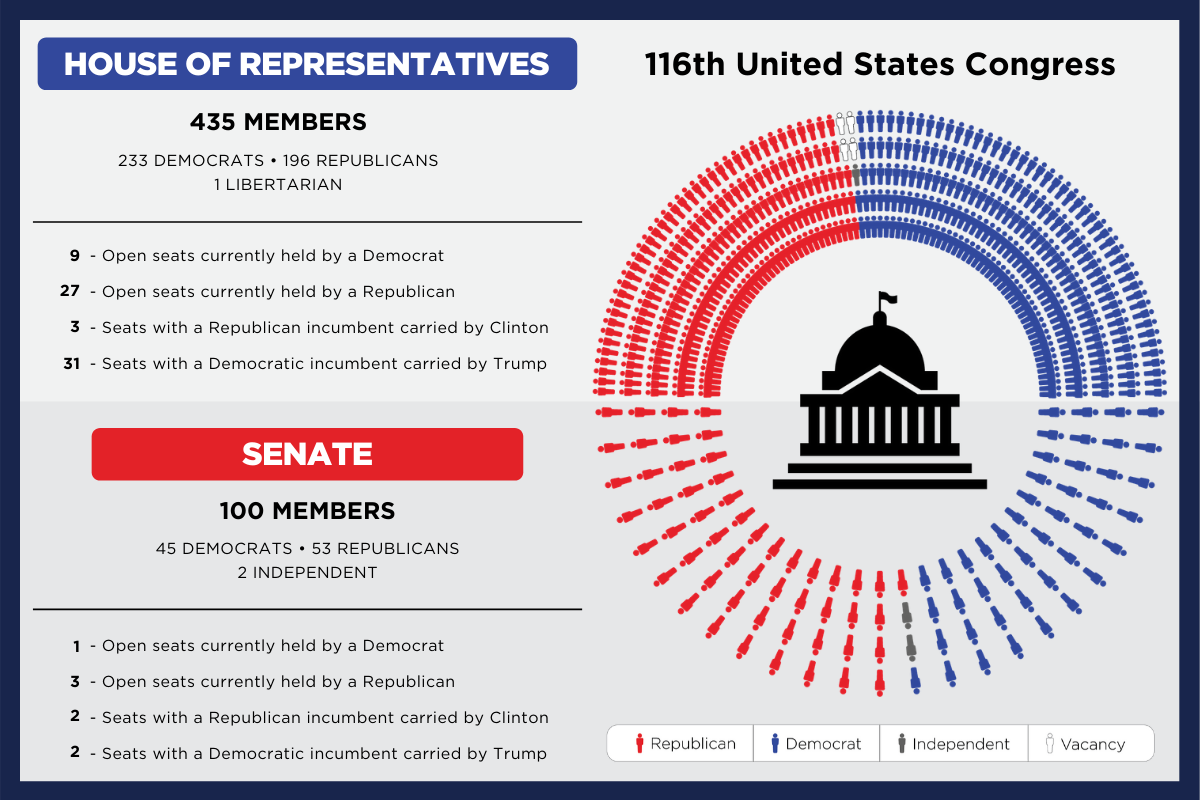 Two more Senate primary runoff endorsements in Texas
U.S. Rep. Veronica Escobar (D-Texas) endorsed M.J. Hegar, and primary candidate Amanda Edwards endorsed Royce West in Texas' U.S. Senate primary runoff, adding to a long list.
The Texas Tribune's Patrick Svitek wrote the endorsements, "have helped fortify each campaign's central pitch in the runoff, with Hegar's backers touting her as Democrats' best shot against Republican U.S. Sen. John Cornyn and West's allies promoting his deep experience in the Texas Senate and Democratic Party."
Hegar, a former U.S. Army search and rescue and medevac pilot, ran for U.S. House in 2018, losing to incumbent John Carter (R) 51% to 48%. Since the March 3 Senate primary, Hegar has picked up endorsements from Brady PAC and Stonewall Democrats of Dallas. The latter group endorsed Amanda Edwards in the primary. Ahead of the primary, the Democratic Senatorial Campaign Committee and End Citizens United endorsed Hegar.
West, a state Senator since 1992, had endorsements from several state legislators heading into the March 3 primary.  Five former primary candidates, including Edwards, have endorsed him since, along with the Texas American Federation of Teachers and the University Democrats. The University Democrats had endorsed Cristina Tzintzún Ramirez in the primary.
The runoff is July 14.
Alexandria Ocasio-Cortez endorses Nabilah Islam in GA-07
Rep. Alexandria Ocasio-Cortez (D-N.Y.) endorsed Nabilah Islam in the June 9 Democratic primary for Georgia's 7th Congressional District. 
Ocasio-Cortez said Islam's "working-class background provides her with unique insight into what Americans go through on a regular basis." U.S. Reps. Ro Khanna (D-Calif.) and Ilhan Omar (D-Minn.), as well as Occupy Democrats have also endorsed Islam. 
Islam worked as the deputy southern states finance director for Hillary for America and as finance director for the Florida Democratic Party. She supports Medicare for All and a $15-an-hour minimum wage. 
Islam is one of six candidates in the primary, which includes the 2018 Democratic nominee Carolyn Bourdeaux, state Sen. Zahra Karinshak, and state Rep. Brenda Lopez Romero.
Bourdeaux, Karinshak, and Lopez Romero each support a public option as opposed to Medicare for All.
U.S. Reps. John Lewis (D-Ga.) and Hank Johnson (D-Ga.), as well as former U.S. Ambassador Andrew Young endorsed Bourdeaux. 
VoteVets.org, the Second Service Coalition, and former Gov. Roy Barnes (D) endorsed Karinshak. 
Several of state representatives, including House Minority Leader Robert Trammell (D) and House Democratic Chair James Beverly (D), have endorsed Lopez Romero.
Bourdeaux, a public policy professor, lost by 433 votes to incumbent Rep. Rob Woodall (R) in 2018. Woodall, first elected in 2010, is not seeking re-election. 
BOLD PAC & Women Vote! spend in support of Fernandez in NM-03
The Congressional Hispanic Caucus BOLD PAC spent $425,000 on an ad supporting Teresa Leger Fernandez in New Mexico's 3rd Congressional District. Women Vote! spent $131,000 on mailers supporting Fernandez.
BOLD PAC's ad emphasizes that Fernandez grew up in the state and says that, as a breast cancer survivor, Fernandez would work to protect health insurance coverage for people with pre-existing conditions.
Fernandez is an attorney for Native American tribes and their business entities. Her other endorsers include the Working Families Party, Alexandria Ocasio-Cortez's Courage to Change PAC, and EMILY's List. 
Seven candidates are running in the June 2 primary. The safe Democratic district's seat is open as incumbent Rep. Ben Ray Luján (D)  is running for U.S. Senate.
Former CIA officer Valerie Plame led the primary in fundraising with $1.7 million raised through March 31. Fernandez had raised $1.1 million.
State executives

Vermont gubernatorial candidates meet for first debate
The three Democrats in the running for governor of Vermont met for their first debate on May 11. The candidates were scheduled to discuss healthcare, economic development, and who would be best suited to challenge incumbent Phil Scott (R). However, much of the back-and-forth between former state Secretary of Education Rebecca Holcombe and Lt. Gov. David Zuckerman centered on vaccination.
In her opening statement, Holcombe said Zuckerman had disputed the science behind vaccination in the past and that his views would be a liability in the general election. She referred to a 2015 debate on the state Senate floor in which Zuckerman said the science behind vaccinations remained untested and he opposed eliminating religious and philosophical vaccine exemptions.
Zuckerman said Holcombe had misrepresented his position and while he opposed eliminating vaccine exemptions, he voted in favor of the final version of the bill, which included a vaccination requirement. Zuckerman said that an eventual coronavirus vaccine should be provided to all who request it free of charge.
The third candidate, attorney Patrick Winburn, said he supported vaccines but was not involved in the back-and-forth between Holcombe and Zuckerman.
Steve Hobbs withdraws from Washington lieutenant gubernatorial election
State Sen. Steve Hobbs (D) dropped out of Washington's lieutenant gubernatorial race Monday. Hobbs, an active-duty lieutenant colonel in the Washington National Guard, said an extension of his deployment because of the coronavirus prompted his decision.
Hobbs had been one of three Democrats, alongside state Sen. Marko Liias and U.S. Rep. Denny Heck, identified by local media sources as a frontrunner. 
With Hobbs out, the candidate list for August's top-two primary has shrunk to 11, including four Democrats, five Republicans, and two Libertarians. In a top-two primary, every candidate for a particular office appears on the same primary ballot and the top two finishers advance to the general election. This means it is possible for two candidates of the same party to advance, as in Washington's 2016 election for treasurer. 
Incumbent Cyrus Habib, who was first elected in 2016, is joining the Jesuit Order rather than seeking re-election. Democrats have won every Washington lieutenant gubernatorial race since 1996.
Legislatures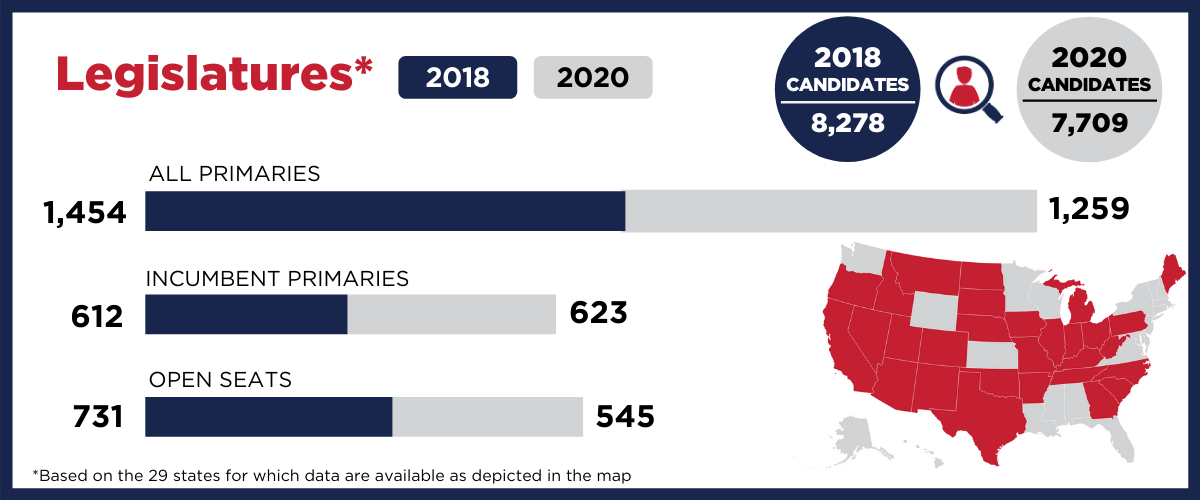 N.M. governor endorses challenger to state Senator she appointed
On May 13, Governor Michelle Lujan Grisham (D) endorsed Siah Correa Hemphill in the Senate District 28 primary against incumbent state Sen. Gabriel Ramos (D). Lujan Grisham appointed Ramos to fill a vacancy in District 28 in 2019. Later that year, Ramos voted against an abortion bill Lujan Grisham supported. 
House Bill 51 would have repealed a 1969 law prohibiting abortions except for cases where the mother's life is in danger. Following Roe v. Wade, that law became unenforceable. Proponents of HB 51, Lujan Grisham included, sought to repeal the law after President Donald Trump (R) appointed Neil Gorsuch and Brett Kavanaugh to the U.S. Supreme Court. HB 51 failed in the Senate 24-18 with Ramos and seven other Democrats joining 16 Republicans to defeat the bill.
Ramos cited his Catholic faith as a reason why he voted against the bill. He said, "I stand unified against legislation that weakens the defense of life and threatens the dignity of the human being." 
Regarding her stance on the 1969 law, Correa Hemphill said, "I support the decriminalization of abortion in New Mexico," adding, "We need to focus on ensuring women have access to reproductive healthcare and family planning."
In addition to Lujan Grisham, Correa Hemphill has received endorsements from U.S. Sen. Martin Heinrich (D-N.M.), Emily's List, and Planned Parenthood Votes. Ramos has been endorsed by 41 town and county elected officials and the local branches of the National Education Association and United Steelworkers.
Early voting in New Mexico began on May 16 with the primary set for June 2. The winner of the primary will likely face James Williams (R). Williams is the only Republican filed to run for the seat.
Retirees' association and unions endorse competing candidates in Mass.'s 16th Suffolk District House primary
Over the past week, a statewide retirees' association and two local unions endorsed competing candidates in the 16th Suffolk District's Sept. 1 Democratic primary. Jessica Giannino and Joe Gravellese are seeking the Democratic nomination for the seat currently held by retiring Rep. RoseLee Vincent (D).
The Massachusetts Retirees Association endorsed Giannino on May 15. Giannino is an at-large city councilor in Revere. She was first elected in 2012 and served as city council president in 2016 and 2018.
On May 18, the local branches of the Tunnel Workers and Bricklayers & Allied Craftsmen union endorsed Gravellese. Gravellese worked for state Rep. Lori Ehrlich (D-8th Essex) and Revere Mayor Brian Arrigo. The International Union of Operating Engineers Local 4 previously endorsed Gravellese.
There are no other candidates filed in the race, meaning it is likely the winner of the Democratic primary will be the 16th District's next representative.
Kentucky Chamber of Commerce endorses in three-way House District 45 primary
On May 18, the Kentucky Chamber of Commerce endorsed Shirley Mitchell (D) in the three-way Democratic primary for House District 45. Mitchell, a customer experience manager, is running against Corey Nichols (D), a criminal defense attorney, and Sean "Mike" Pickard (D), a 2nd-grade teacher. 
District 45's incumbent, Rep. Stan Lee (R), is retiring after serving ten terms. In the 2018 election, Lee defeated the Democratic candidate, Josh Hicks, 51-49%.
The winner of the June 23 primary will face Killian Timoney (R), a Fayette County Public Schools employee, in the general election. Timoney announced his candidacy before Lee's retirement announcement. He is running unopposed in the Republican primary.
In total, the Kentucky Chamber of Commerce endorsed candidates in 14 contested state legislative primaries. The District 45 primary is the only Democratic primary in which the group issued an endorsement. The Kentucky Chamber PAC does not endorse candidates in uncontested primaries and announced that it would make general election endorsements closer to November.
Power players
"Latino Victory engages Latino voters and donors—in addition to developing Latino leaders—in order to elevate and advance values that are important to our communities. By closing the civic and leadership gap, we can help change the face of this country's politics and position our nation for positive long-term policy change." – Latino Victory website
Latino Victory describes itself as "a progressive organization working to grow Latino political power by increasing Latino representation at every level of government and building a base of Latino donors to support this critical work." The group was founded in 2014 and comprises three organizations: the Latino Victory Fund PAC, the Latino Victory Project, and the Latino Victory Foundation.  
According to the Latino Victory website, the group raised $4.2 million in the 2018 election cycle, with approximately half of its total funding contributed by Latino donors. 
To view a list of candidates endorsed by the organization, click here.