This week: Sanders, Ocasio-Cortez endorse Bowman while Pelosi endorses Engel in NY-16, Hickenlooper and Romanoff release first TV ads in the Colorado Senate primary, and Indiana Attorney General candidates make final arguments ahead of convention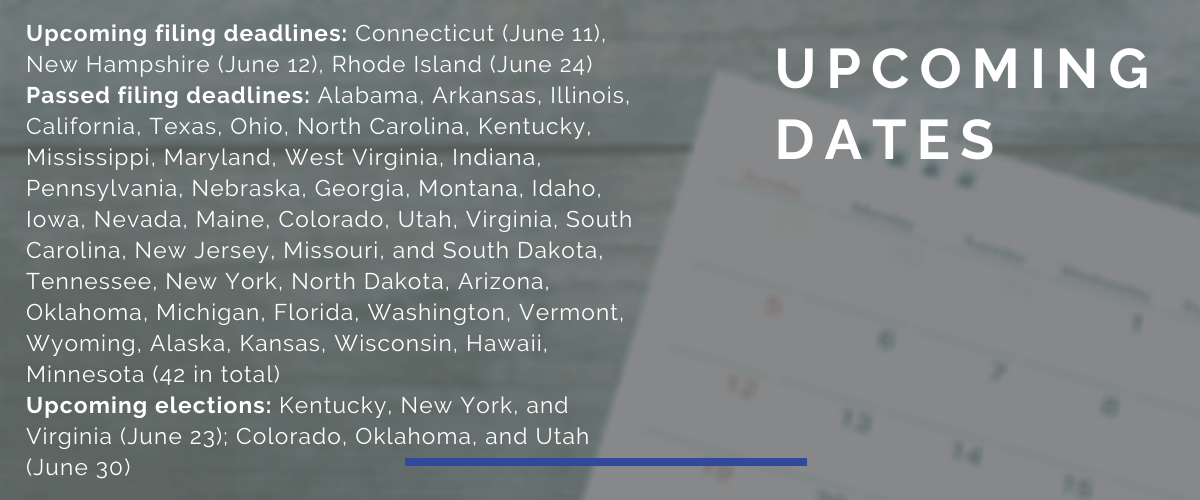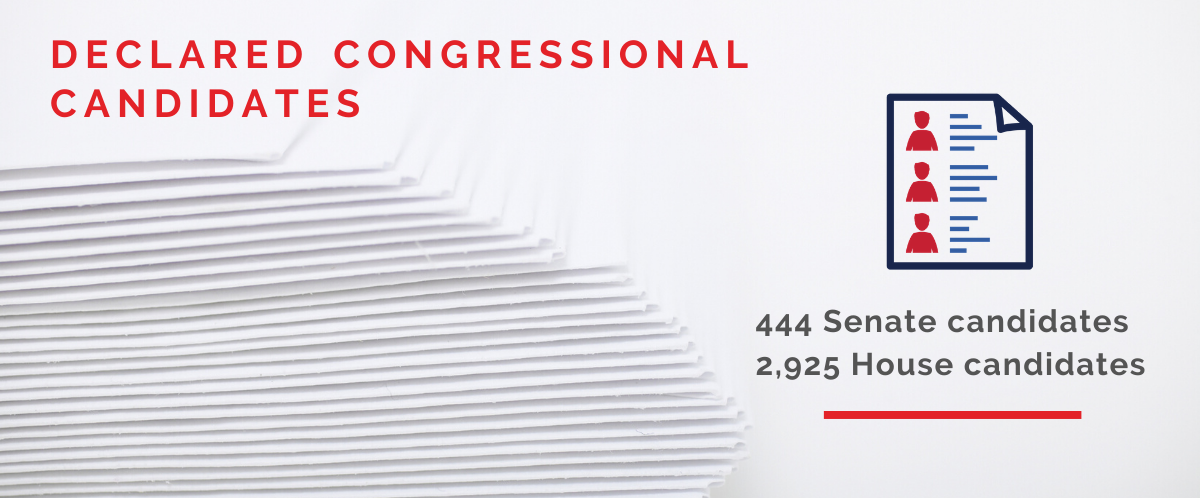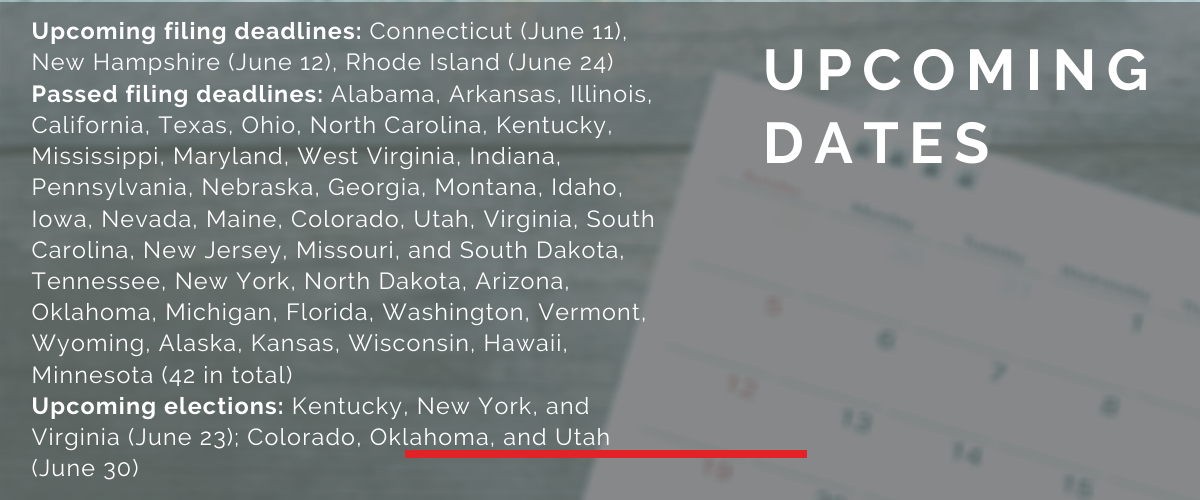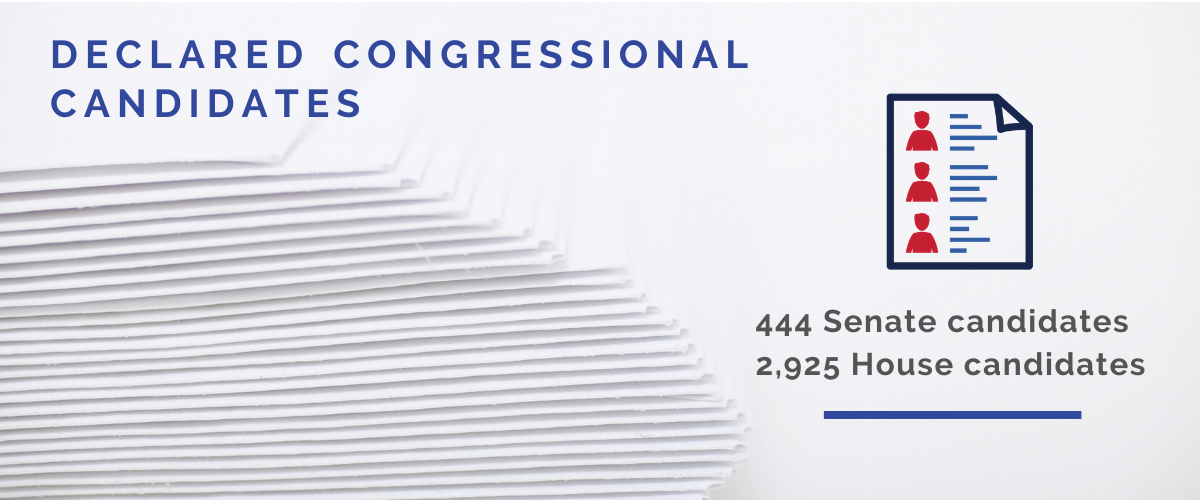 On the news
Where do Democratic and progressive pundits and commentators disagree? Each week, we bring you excerpts that highlight differing views.
On defunding the police
"Their argument, then, is not necessarily that we don't need police officers. It's, how we can best ensure that police officers are serving the communities they are tasked with policing?

"But that subtlety is lost in chants of 'Defund the Police.' And Trump, desperate for an issue to latch onto as he watches his poll numbers both nationally and in swing states tumble, will destroy any nuance in the conversation over police funding in order to paint Biden (and Democrats more broadly) as wanting to get rid of the police entirely. … 

"The political problem for Democrats is this: They are now being backed into a corner by activists who are demanding radical change. But it's not at all clear that a majority of the country supports a policy that would defund the police. Democratic leaders need to change the conversation to be about reforming police departments and re-allocating some resources for more community building and less militarization.

"If they can't, the call to 'Defund the Police' will continue to be music to Trump's ears."
Chris Cillizza, CNN, June 8, 2020
"The call to defund police is landing in a way it should have landed a long time ago. That's really encouraging. … 

"What's different now? From our point of view, for too many years, advocacy organizations were not run by people from the community. It allowed for people to make compromises in the halls of policy change that betrayed the most acute needs of the community in exchange for an expedited political victory that could then be fundraised off of. We cannot rely on Democratic Party consultants who are alienated from the community. Nothing we are demanding is impossible. We're demanding things that are completely sensible, completely feasible, often more economically feasible. They're just different from what some of these folks are used to.

"Too much is happening in plain sight now. It was really interesting in the last couple of days to watch mainstream news outlets covering the protests throughout the country. It seemed like they really wanted to provide a narrative that sided with the police. And the police made it impossible because over and over and over again, in city, after city, after city, the instigators and the aggressors were the police. That's nothing new. But the surfacing of a dialog that acknowledges that is new. If you work really hard to crack open opportunities to tell the truth, it eventually works. I think we're in a moment where that is starting to work."
Lex Steppling, quoted by Mother Jones, June 5, 2020 
June 9 elections review
U.S. Senate, Georgia:

As of 9:30 a.m. on June 10, this race was too close to call with 93% of precincts reporting. Jon Ossoff led the seven-candidate field with 48.6% of the vote, followed by Teresa Tomlinson with 14.8%, Sarah Riggs Amico with 13.2%, and Maya Smith with 10.3%. If Ossoff receives more than 50% of the vote, he will win the nomination outright. If not, he and the second-place finisher will advance to a runoff on August 11.

West Virginia gubernatorial:

Kanawha County Commissioner Ben Salango defeated Douglas Hughes, Jody Murphy, Stephen Smith, and state Sen. Ron Stollings to win the Democratic nomination for governor of West Virginia. As of 9:00 a.m. Eastern Time on June 10, Salango had received 39.0% of the vote followed by Smith and Stollings with 33.4% and 13.5%, respectively, with 98% of precincts reporting. No other candidate received more than 10% of the vote. Salango will face incumbent Gov. Jim Justice (R) in the general election. Justice was elected in 2016 as a Democrat before switching to the Republican Party in 2017. Democrats have won every gubernatorial election in West Virginia since 2000.
Georgia's 7th Congressional District:

Carolyn Bourdeaux and Brenda Lopez Romero advanced to an August 11 runoff election in the Democratic primary for Georgia's 7th Congressional District. With 97% of precincts reporting, Bourdeaux had received 46.0% of the vote to Romero's 14.5%. Incumbent Rob Woodall (R) did not seek re-election. In 2018, Woodall defeated Democratic nominee Bourdeaux by 433 votes — a margin of 0.15 percentage points — in the closest U.S. House race that year.
U.S. Congress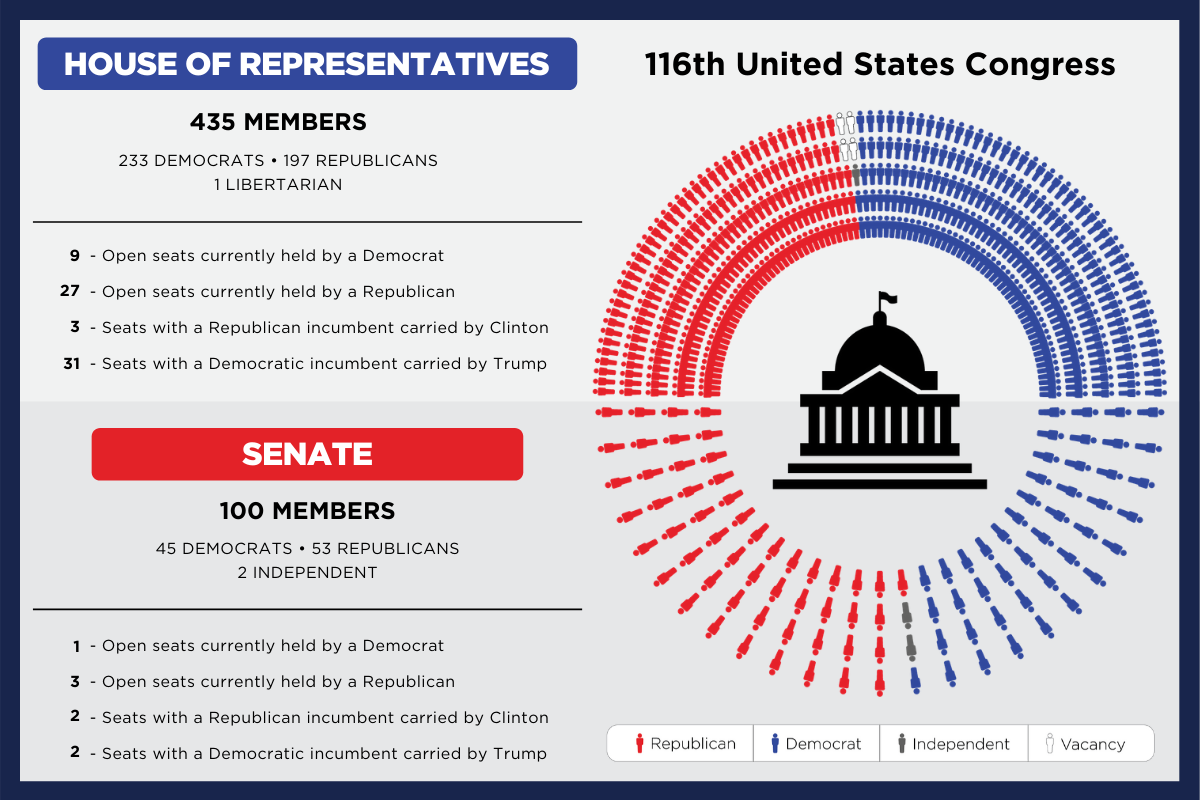 Sanders, Ocasio-Cortez endorse Bowman; Pelosi endorses Engel in NY-16
U.S. Sen. Bernie Sanders (I-Vt.) and Rep. Alexandria Ocasio-Cortez (D-N.Y.) endorsed Jamaal Bowman in New York's 16th Congressional District primary. House Speaker Nancy Pelosi (D) said she supports incumbent Elliot Engel, who was first elected in 1988. 
Sanders endorsed Bowman and five other Congressional candidates in a Medium post.
Along with her endorsement, Ocasio-Cortez tweeted: "This moment requires renewed and revitalized leadership across the country AND at the ballot box."
Engel said of Ocasio-Cortez's endorsement, "This is not a dictatorship. This is a democracy. We shouldn't have one person, from high, even though she's a colleague of mine, think that she can anoint whoever is elected to Congress."
The 16th District shares a boundary with the 14th District, where Ocasio-Cortez defeated incumbent Rep. Joseph Crowley in the 2018 Democratic primary. Crowley had been in office since 1999.
Pelosi said after Ocasio-Cortez's endorsement, "I firmly support Eliot Engel for Congress and I support Alexandria for Congress as well." Pelosi said Engel has privilege as a longtime House member, "which is unique and it wouldn't happen again. … [He is] not only the chairman of Foreign Affairs, he is a senior member of the Energy and Commerce Committee."
Pelosi said in September 2019 that she has a policy of endorsing Democratic incumbents.
Two other candidates are running in the primary. On June 1, Andom Ghebreghiorgis dropped out and endorsed Bowman.
Also last week, the Working Families Party and Justice Democrats announced they plan to spend $500,000 on ads and phone outreach supporting Bowman. As we reported earlier, the Working Families Party endorsed Engel in previous election cycles. 
On June 2, all 16th District primary candidates participated in an online debate. That day, a News 12 anchor tweeted a clip of Engel asking Bronx Borough President Ruben Diaz Jr. for speaking time at a press event about local vandalism. Engel said, "If I didn't have a primary, I wouldn't care."
Afterwards, Engel said, "In the context of running for reelection, I thought it was important for people to know where I stand, that's why I asked to speak. … I would not have tried to impose on the Borough President if I didn't think it was important."
Bowman said, "To say if I didn't have a primary I wouldn't care, it captures everything not just wrong with him but the political system."
The primary is June 23.
Hickenlooper, Romanoff release first TV ads in the Colorado Senate primary
John Hickenlooper and Andrew Romanoff released their first TV ads in the June 30 Senate primary in Colorado. 
In his ad, Hickenlooper says:
When I was sworn in as governor, Colorado ranked 40th in the country in job creation. But together we built the number one economy in America. We did it the Colorado way, from the bottom up, and that's what Washington needs now. Instead of handing out loans to big corporations, they should be helping small businesses stay in business.
In his ad, Romanoff says in his ad: 
It shouldn't take a crisis to teach us our healthcare system is broken. If you have enough money, you can buy the best care in the world. If you're an insurance company, you can even buy Congress. I'm Andrew Romanoff. I approve this message and I'm running for the Senate because when you're fighting for your life, you shouldn't have to worry about how to pay for it.
Hickenlooper was governor of Colorado from 2011 to 2019. He also sought the 2020 Democratic presidential nomination. Romanoff was a state representative from 2001 to 2009. He served two terms as speaker of the state House.
Also last week, the Colorado Independent Ethics Commission ruled that Hickenlooper violated a state gift ban law when he flew on a donor's jet and took a limousine ride at a conference. Former Republican state House Speaker Frank McNulty filed the complaint against Hickenlooper on behalf of his nonprofit, Public Trust Institute, in 2018.
Hickenlooper has said the complaint was politically motivated and denied that his travel arrangements violated state law. Hickenlooper sought to have the hearing postponed until August. The commission held him in contempt. It will reconvene on June 12 to determine whether Hickenlooper will be sanctioned for the violations and contempt finding.
Hickenlooper campaign representative Melissa Miller said, "We fully expect the special interests who've exploited this process to continue to mislead Coloradans with negative attacks because they know John Hickenlooper will be an independent voice in the U.S. Senate."
Romanoff said, "The commission's message is clear — and Coloradans agree: no one is above the law."
Incumbent Cory Gardner (R) is seeking re-election. He was first elected in 2014 after defeating incumbent Mark Udall (D), 48% to 46%. Gardner is one of two incumbent Republican senators running for re-election in a state Hillary Clinton (D) won in the 2016 presidential election. 
State executives

Indiana Attorney General candidates make final arguments ahead of convention
Both of the Democrats seeking the nomination for Indiana Attorney General made their case for the nomination in a televised convention preview on June 4. Democratic delegates will select either state Sen. Karen Tallian or former Evansville Mayor Jonathan Weinzapfel as their nominee in a virtual convention Saturday, June 13.
Tallian has represented District 4 in northwestern Indiana in the state Senate since 2004. She said her political experience gives her a better chance than Weinzapfel of winning the general election. 
Weinzapfel was Evansville's mayor from 2004 to 2011 and was a state legislator for four years. He said his mix of private and public sector experience gave him a different perspective from Tallian or any of the four candidates seeking the Republican nomination. 
Both Tallian and Weinzapfel have said their top priority would be ending Indiana's participation in a multistate lawsuit challenging the Affordable Care Act. 
In an interview with the Indianapolis Star, Tallian said her other priorities would be emphasizing anti-fraud efforts, expanding legal protections for workers and employers, and reducing Indiana's incarceration rate. 
Weinzapfel said he would focus on investigating charter schools' finances, managing the money the state could potentially receive from a lawsuit against opioid manufacturers, and investigating nursing home deaths during the coronavirus pandemic.
Major party candidates for Indiana Attorney General are nominated at a convention rather than in primaries. The winner of the Democratic nomination will be announced June 18.
People for the American Way endorses David Zuckerman for governor of Vermont
People for the American Way endorsed Lt. Gov. David Zuckerman for governor of Vermont Friday. The group says it supports what it describes as equality and civil rights.
Earlier in the week, Zuckerman, former state Secretary of Education Rebecca Holcombe, and attorney Patrick Winburn attended a virtual town hall hosted by Sunrise Middlebury. The three discussed the tone of politics, responses to the coronavirus pandemic, and protests following the death of George Floyd. A fourth candidate, Ralph Corbo, did not attend the event.
The Aug. 11 primary will be open to all registered voters. On the Republican side, five candidates are running, including incumbent Phil Scott (R). 
Legislatures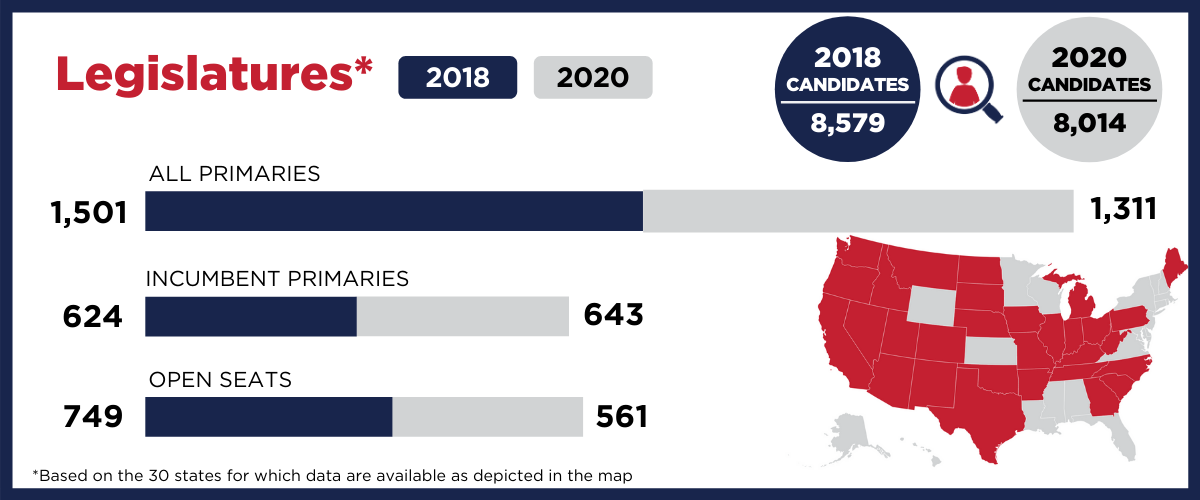 Ocasio-Cortez endorses Brisport in Brooklyn-area Senate primary
On June 9, U.S. Rep. Alexandria Ocasio-Cortez (D-N.Y.) endorsed Jabari Brisport (D) in the New York Senate District 25 Democratic primary. Brisport faces Jason Salmon (D) and Assemblywoman Tremaine Wright (D-56) in the June 23 primary. 
Brisport and Salmon initially filed to run against incumbent Sen. Velmanette Montgomery (D-25), who had served in the state Senate since 1985. In January, Montgomery announced she would not seek re-election and endorsed Assm. Wright, who then entered the race.
In addition to Ocasio-Cortez, Brisport, a public school teacher, has received endorsements from U.S. Sen. Bernie Sanders (I-Vt.), state Sen. Julia Salazer (D-18), the Democratic Socialists of America NYC, and the New York Working Families Party.
Salmon, a former legislative staffer for Montgomery, received endorsements from the Public Employees Federation and United Autoworkers alongside Equality New York and the Stonewall Democrats of NYC.
Wright has received more endorsements from elected officials than her two competitors. According to her website, eight Senators and eight Assembly members have endorsed her campaign as well as U.S. Reps. Hakeem Jeffries (D-N.Y.) and Yvette Clarke (D-N.Y.) and Brooklyn Borough President Eric Adams (D).
2018 gubernatorial candidate Cynthia Nixon endorses in N.Y. Assembly District 125 race
Actress and 2018 Democratic gubernatorial candidate Cynthia Nixon (D) endorsed Tompkins County legislator Anna Kelles (D) in the seven-way primary for Assembly District 125. 
Nixon said, "Anna Kelles has the courage and the experience to effect real change for the many, not just the few."
Earlier this year, incumbent Rep. Barbara Lifton (D) announced she would not be seeking re-election, leaving the Assembly District 125 seat open for the first time since 2002. Assm. Lifton won re-election eight times. Her most recent contested general election was in 2016 when she defeated Herbert Masser, Jr. (R) 70-30%.
We previously reported on this primary on April 22 following the International Brotherhood of Electrical Workers Local 241 endorsement of Ithaca city alderman Seph Murtagh. In addition to Kelles and Murtagh, two other town and county officials are seeking the Democratic nomination: Cortland County legislator Beau Harbin and Dryden Town Supervisor Jason Leifer. Rep. Lifton's legislative counsel, Jordan Lesser, is also seeking the nomination alongside community members Sujata Gibson and Lisa Hoeschele. 
There are no other candidates on the ballot, meaning the winner of the primary is likely to win the general election.
Power players
"The Progressive Promise is rooted in four core principles that embody national priorities and are consistent with the values, needs and aspirations of all the American people, not just the powerful and the privileged.  They reflect a fundamental belief in government of the people, by the people, and for the people." – Congressional Progressive Caucus website
The Congressional Progressive Caucus was founded in 1991 by six members of the U.S. House. Its current membership includes Sen. Bernie Sanders (I-Vt.) and 97 members of the U.S. House. The caucus lists the following four principles of its agenda, which it calls "The Progressive Promise–Fairness for All":
Fighting for economic justice and security for all;

Protecting and preserving our civil rights and civil liberties;

Promoting global peace and security; and

Advancing environmental protection and energy independence
The caucus' affiliated political action committee, the Congressional Progressive Caucus PAC (CPC PAC), says it "has a mission of electing strong, progressive leaders to Congress who share the Congressional Progressive Caucus PAC's vision for America's future." To view candidates endorsed by the PAC, click here.
According to Politico, CPC PAC recently made its first independent expenditure, spending in support of Mondaire Jones in New York's 17th Congressional District.