This week: Trump endorses Bennett in NC-11 runoff, McCarthy endorses Mowers in NH-01, and Utah Attorney General candidates participate in debate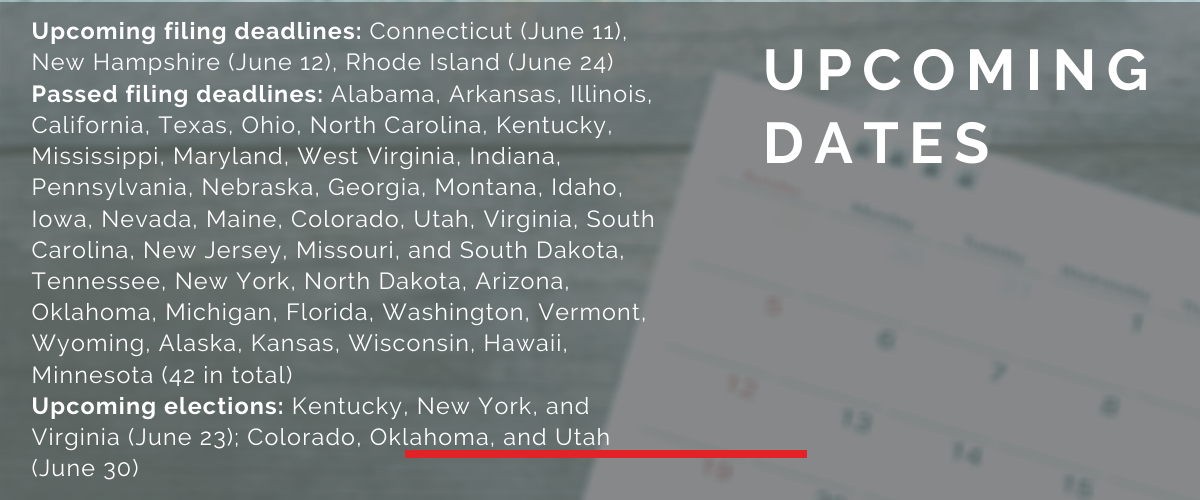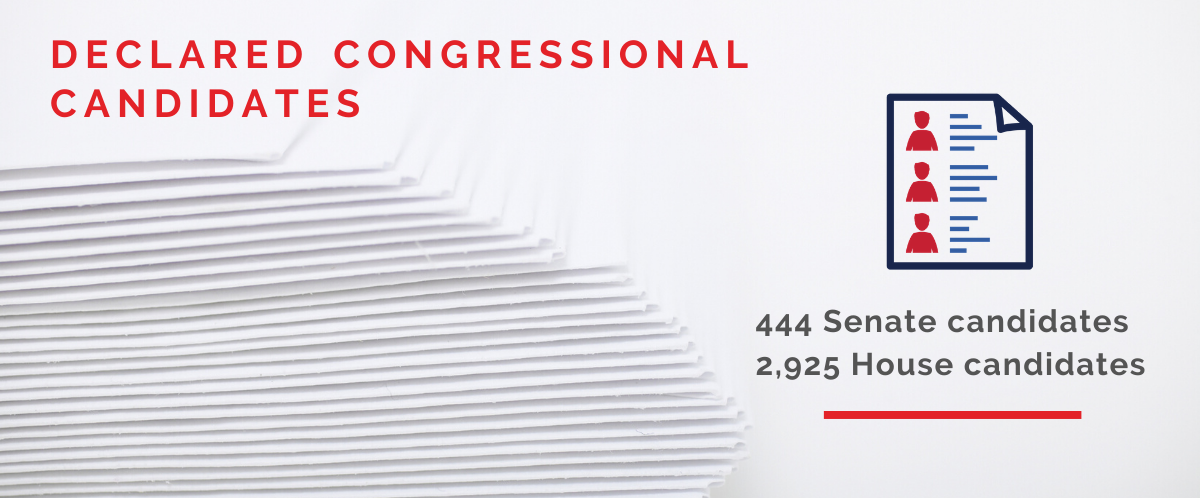 On the news
Where do Republican and conservative pundits and commentators disagree? Each week, we bring you excerpts that highlight differing views.
On qualified immunity 
"Cornell Law defines qualified immunity as 'a type of legal immunity… [that] protects a government official from lawsuits alleging that the official violated a plaintiff's rights, only allowing suits where officials violated a "clearly established" statutory or constitutional right.' In practice, this requirement for exact prior cases makes it impossible in most cases to sue a government official who violates your rights in civil court. … 

"It has resulted in too many such horror stories and unjust anecdotes to count. …

"It's, of course, true that no single reform can eliminate racism or repair the structural flaws in our justice system. But within the right-leaning criminal justice reform community, a consensus has formed that eliminating qualified immunity is a great place to start."
Brad Polumbo, The Dispatch, June 8, 2020
"[What qualified immunity is] going to cause is a flight away from serving in police duty, and what that means ultimately is … if this passes the way she described it may you're going to actually see increases in crime rates because police officers, nobody's going to want to be a police officer because you're going to have some immunity problems. Instead of the department taking the immunity, it will be the individual, and nobody is going to want to put their lives and their family in that kind of harm's away. And so that's going to be a real problem in the future. …

I'm not sure Congress is the best place to provide a unique situation with a one-size-fits-all solution."
U.S. Rep. Andy Biggs (R-Ariz.), quoted by Breitbart, June 8, 2020
June 9 elections review
West Virginia gubernatorial:

Gov. Jim Justice defeated former Secretary of Commerce Woody Thrasher, former state Del. Mike Folk, and four others to win the Republican nomination for governor in West Virginia. As of 9:30 a.m. on June 10, Justice had received 63.0% of the vote to 18.3% for H. Woody Thrasher and 12.3% for Michael Folk. No other candidate had received more than 10% of the vote. The race featured a high level of self-financing. According to campaign finance reports, Justice contributed $1.5 million to his own campaign. Thrasher and Folk contributed roughly $3.4 million and $261,000, respectively. Justice first won election to the governorship as a Democrat in 2016 with 49% of the vote to Republican Bill Cole's 42%. He will face Kanawha County Commissioner Ben Salango (D) in the general election.
Georgia's 7th Congressional District:

Rich McCormick defeated six other candidates in the Republican primary for Georgia's 7th Congressional District. With 97% of precincts reporting, McCormick had received 55.2% of the vote to Renee Unterman's 17.4%. No other candidate received more than 10% of the vote. Incumbent Rob Woodall (R) did not seek re-election. McCormick, who was endorsed by U.S. Sen. Ted Cruz (R-Texas), U.S. Rep. Jim Jordan (R-Ohio), and Club for Growth PAC, focused on his experiences as a military pilot and an emergency medicine physician, while Unterman highlighted her record in the Georgia State Senate and was endorsed by former Gov. Nathan Deal (R), Lt. Gov. Geoff Duncan (R), and the Susan B. Anthony List. Election forecasters rate the general election a toss-up.
Georgia's 9th Congressional District:

Matt Gurtler and Andrew Clyde were the top two finishers in the nine-candidate Republican primary for Georgia's 9th Congressional District and will advance to an August 11 runoff. As of 9:30 a.m. on June 10, Gurtler had received 22.4% of the vote to Clyde's 18.6% with 97% of precincts reporting. Three other candidates—Kevin Tanner, Paul Broun, and John Wilkinson—each received more than 10% of the vote. The seat had been left open following Rep. Doug Collins' (R) announcement that he would run for U.S. Senate rather than seek re-election. Election forecasters rate the district as solidly Republican, meaning the winner of the runoff is likely to win the general election.
Georgia's 14th Congressional District:

Marjorie Taylor Greene and John Cowan were the top two finishers in the Republican primary for Georgia's 14th Congressional District and will advance to a runoff on August 11. As of 9:45 a.m. Eastern Time on June 10, Greene had received 40.7% of the vote to Cowan's 19.8%. None of the seven other candidates had received more than 10% of the vote. Incumbent Tom Graves (R) is not seeking re-election, leaving the seat open. Election forecasters rate the district as solidly Republican, meaning the winner of the runoff is likely to win the general election.
Nevada's 3rd Congressional District:

As of 6:45 a.m. Pacific Time on June 10, the Republican primary in Nevada's 3rd Congressional District

remained too close to call. With 70% of precincts reporting, Dan Rodimer led with 43.5% of the vote followed by Dan Schwartz with 32.6% and Mindy Robinson with 13.4%. Rodimer, a former professional wrestler, had been endorsed by House Majority Leader Kevin McCarthy (R-Calif.) and the National Rifle Association. Schwartz, a former state treasurer, was endorsed by 2018 nominee Danny Tarkanian (R) and the Nevada Veterans Association. The winner will face incumbent Susie Lee (D). Two election forecasters rate the seat likely Democratic and a third says it leans towards Democrats.
South Carolina's 1st Congressional District:

State Rep. Nancy Mace defeated Kathy Landing, Chris Cox, and Brad Mole to win the Republican nomination in South Carolina's 1st Congressional District. Mace received 57.5 percent of the vote, above the 50% required to win without a runoff. Landing took second place with 25.9%. Mace will face incumbent Rep. Joe Cunningham (D), who is running for re-election. The 1st District is one of 30 House Districts represented by a Democrat in 2020 that voted for Donald Trump (R) in 2016. Election forecasters rate the general election a toss-up.
West Virginia State Senate:

Seven Republican members of the state Senate faced primary challengers. State Senate President Mitch Carmichael (R) and state Sen. Sue Cline (R) were defeated in their primaries. Carmichael received 34.9% of the vote to challenger Amy Nichole Grady's 39.1%, while Cline received 40.0% to 60.0% for challenger David Stover. 
U.S. Congress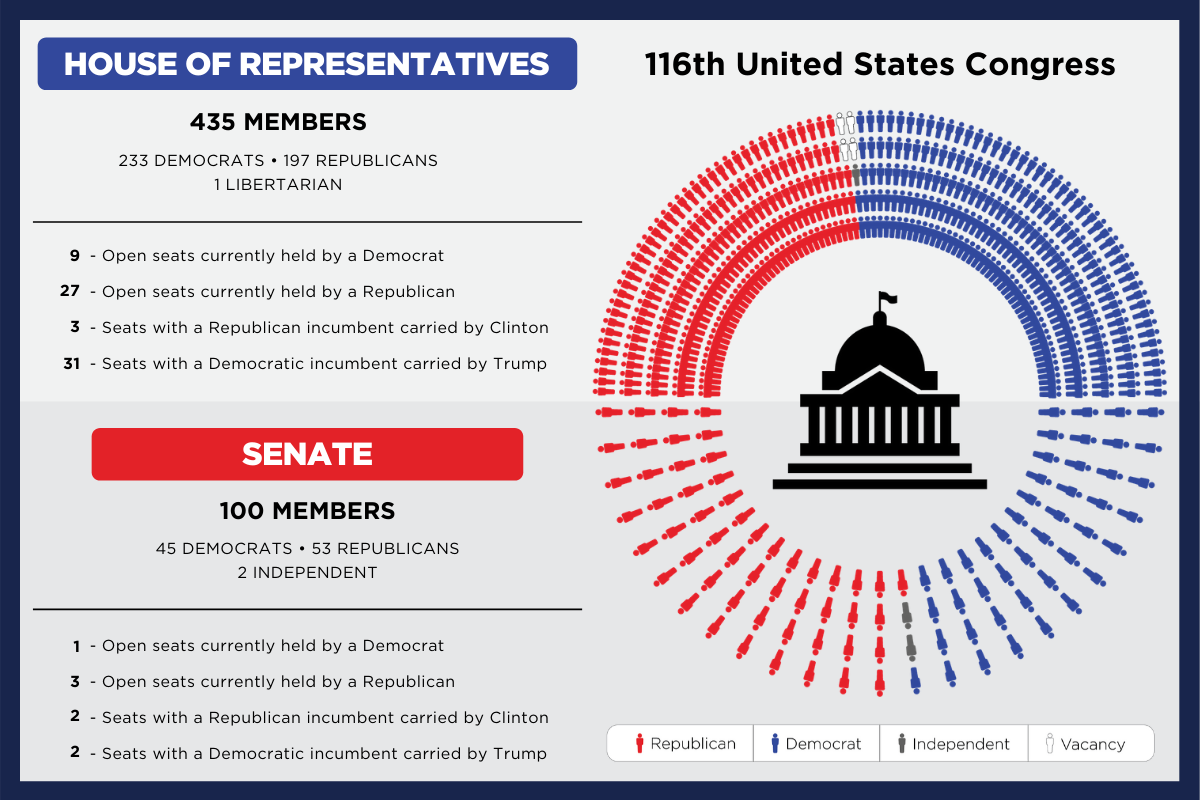 Trump endorses Bennett in NC-11 runoff 
President Donald Trump endorsed Lynda Bennett in North Carolina's 11th Congressional District primary runoff. 
Mark Meadows (R) represented the district before resigning to serve as White House chief of staff in March. He endorsed Bennett, as did the House Freedom Fund.
Bennett faces Madison Cawthorn in the June 23 runoff. 
Bennett has campaigned on her endorsements and experience. In a campaign ad, the narrator says, "Like President Trump, Lynda built a successful business, fought through tough economies, and won." She owns a real estate company and served as vice chairwoman of the Haywood County Republican Party. Bennett received activism training from the Heritage Foundation and other conservative groups.
Cawthorn has said Bennett was picked by "Washington, D.C. insiders and political bosses" to represent the district. He argues that his youth is an asset, saying in a recent video, "We as Republicans have a generational time bomb going off inside our party. Millennials are not registering Republican. … We conservatives have a great message, but we don't have enough messengers to reach my generation. As your congressman, I can do that." 
Cawthorn turns 25 years old in August. He owns a real estate investment company and is a motivational speaker. He was paralyzed in a car accident at age 19.
Bennett received 23% of the primary vote to Cawthorn's 20%. This is the first primary in the newly-drawn 11th district after North Carolina adopted a new Congressional district map in December 2019. The Mountaineer's Kyle Perotti reported that "much of the territory Cawthorn claimed was only brought into the district after a three-judge panel approved the new Congressional district in December of last year."
McCarthy endorses Mowers in NH-01
House Minority Leader Kevin McCarthy (R-Calif.) endorsed Matt Mowers in New Hampshire's 1st Congressional District primary.
McCarthy said, "We need to win competitive districts like New Hampshire's First Congressional District to win back the majority in November. That's possible when we nominate strong grassroots campaigners like Matt Mowers who will fight tirelessly for the people of New Hampshire and join me in supporting President Trump's agenda."  
Mowers was a senior advisor in the State Department during the Trump administration and was executive director of the New Hampshire Republican Party. Former Trump campaign senior advisor Corey Lewandowski also endorsed Mowers. 
Matt Mayberry is also running in the Sept. 8 primary. He served as vice chairman of the New Hampshire Republican Party and as a city councilor and school board member in Dover. Gov. Chris Sununu (R) appointed Mayberry chairman of the New Hampshire Commission on Human Rights in 2018. Former Arkansas Gov. Mike Huckabee (R) and U.S. Rep. Peter King (R-N.Y.) endorsed Mayberry.
Both Mayberry and Mowers have endorsements from state legislators. 
The 30-year-old Mowers says he is running "to usher in a new generation of innovative conservative leadership." 
Mayberry said of himself, "It's kind of funny. … The guy who's been involved in hundreds of New Hampshire campaigns is the outsider." He said the 1st District general election would be the first major election featuring two openly gay candidates if he won the primary and that he would be the first openly gay Republican elected to Congress if he won in November.
Incumbent Rep. Chris Pappas (D) won in 2018 with 54% of the vote to Eddie Edwards' (R) 45%. The 1st District changed party hands five times between 2006 and 2016, alternating between Democrat Carol Shea-Porter and Republican Frank Guinta.
Club for Growth spends $179,000 on pro-Jackson ad in TX-13
We recently reported that the Club for Growth endorsed Ronny Jackson in the primary runoff for Texas' 13th Congressional District. The group has spent $179,000 on an ad supporting Jackson, highlighting Trump's endorsement.
State executives

Utah Attorney General Sean Reyes and challenger David Leavitt debate in Salt Lake City
Utah Attorney General Sean Reyes and Utah County Attorney David Leavitt met for a debate in Salt Lake City on June 2, where they discussed their priorities for the office, campaign finance practices, and their views on ongoing protests and demonstrations following the death of George Floyd.
Leavitt said he would wind down the use of plea bargains in favor of jury trials for criminal cases in line with his practice as Utah County Attorney. He said jury trials were better than plea bargains because they required prosecutors to prove their case and would reduce the state's prison population. Reyes said there was not enough funding for the state to carry out a jury trial for each criminal case and that such a practice was not constitutionally required. 
Leavitt criticized Reyes for accepting campaign contributions from private businesses and the Republican Attorneys General Association, saying they threatened the integrity of the office. Reyes said his donors knew they would receive no special treatment and he had participated in a federal lawsuit against Google despite having received a contribution from the company.
The two differed in their views of the attorney general's role in responding to the ongoing demonstrations following the death of George Floyd. Leavitt said prosecutors were too reluctant to act as a check on police and that Reyes had not done enough to oversee county prosecutors. Reyes said Leavitt's criticism was uninformed and that he had filed multiple suits against law enforcement officers. He disagreed with Leavitt's call for more oversight over county prosecutors and said he had received more complaints about Leavitt than any other public official.
The June 30 primary will be open to registered Republicans only.
Candidates begin airing ads, announce endorsements in Indiana Attorney General race
Ahead of the June 20 virtual GOP convention, two of the candidates running for the Republican nomination for Indiana Attorney General unveiled endorsements from local leaders, while a third released a trio of ads.
Incumbent Curtis Hill, who was first elected in 2016, unveiled an endorsement from Elkhart City Clerk Deborah Barrett on June 3 and an endorsement from Sullivan County GOP Chairman Bill Springer on June 8. State Rep. Steve Bartels, who represents a district on the Kentucky border, endorsed Decatur County Prosecutor Nate Harter June 5.
Attorney John Westercamp released a series of ads outlining his priorities if elected. In a pair of 30-second spots released June 2 and 3, Westercamp said he would limit the scope of government and expand restrictions on abortion. A one-minute ad Westercamp began airing June 9 said his entrance into the race demonstrated leadership.
Harter, Westercamp, and former Rep. Todd Rokita are Hill's three challengers at this year's convention. All three say they are challenging Hill because four women accused him of sexual misconduct at a party in March 2018. Major party candidates for Indiana Attorney General are nominated at a convention rather than in primaries.
Legislatures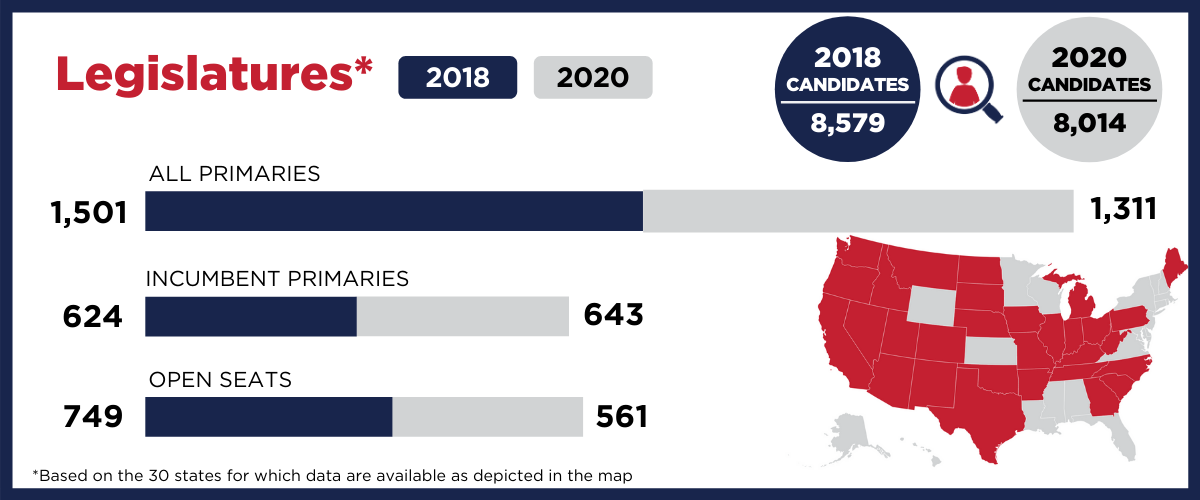 State Senator and conservative PAC endorse competing candidates in Kentucky House District 39
On June 5, state Sen. Tom Buford (R-22) and the Freedom's Heritage Forum issued competing endorsements in the Kentucky House District 39 primary. 
Railroad executive Jay Corman and Jessamine County GOP chairman Matt Locket are seeking the Republican nomination on June 23. The incumbent, Rep. Russ Meyer (D), is not seeking re-election, leaving the seat open.
Sen. Buford, whose Senate District 22 encompasses all of House District 39, endorsed Corman. Buford said, "Corman has contributed to the needs of Central Kentucky and employs over 1,600 individuals." The Kentucky Chamber of Commerce also endorsed Corman.
The Freedom's Heritage Forum endorsed Lockett. The group says it "strive[s] to promote liberty … while supporting life, the second amendment, and traditional marriage." Kentucky Right to Life also endorsed Lockett.
Rep. Meyer ran unopposed in 2018 but defeated Republican challengers in 2016 and 2014 with roughly 56 percent of the vote in each election. The winner of the primary will likely face Carolyn Dupont (D), the only Democrat filed to run.
U.S. Term Limits group publishes ads supporting and opposing candidates in open Kentucky House race
On June 1, U.S. Term Limits (USTL) began airing ads supporting two candidates and opposing two others in the June 23 primary for Kentucky House District 22. USTL describes itself as "the voice of the American citizen… [that] advocates for term limits at all levels of government." 
Four Republicans—Nathan Brace, Brian Gann, Shawn McPherson, and Tim Miller—are running in the primary. The incumbent Rep. Wilson Stone (D) is not seeking re-election. 
USTL contacts and encourages state legislative candidates to sign a pledge saying he or she "will cosponsor, vote for, and defend the resolution applying for an Article V convention for the sole purpose of enacting term limits on Congress." The group says it will promote all pledge signers through press releases, emails to supporters, and social media.
USTL launched social media ad campaigns supporting Gann and Miller, both of whom signed the pledge. At the same time, the group released ads opposing the remaining candidates, Brace and McPherson, who did not sign the pledge. Three of the four candidates commented on the pledge:
Gann:

"While I agree that experience matters, I do not agree with career politicians."

McPherson:

"If elected I will always take time to research the problem … I do not ever want to paint myself into a corner."

Miller:

"I say term limits is what we need to help our president drain the swamp."
The winner of the June 23 primary will likely face David Young (D), the only Democrat filed to run. In 2018, Rep. Stone won re-election with 53 percent of the vote after running unopposed in 2014 and 2012.
Power players
"Over the last 30 years, GOA has built a nationwide network of attorneys to help fight court battles in almost every state in the nation to protect gun owner rights. GOA staff and attorneys have also worked with members of Congress, state legislators and local citizens to protect gun ranges and local gun clubs from closure by overzealous government anti-gun bureaucrats." – Gun Owners of America website
Founded in 1976, Gun Owners of America describes its mission as follows: "To preserve, protect and defend the Second Amendment rights of gun owners, including promoting and developing a greater understanding and awareness regarding the importance and benefits of firearms ownership, and conducting education and policy related to such rights." The organization has a political action committee called Gun Owners of America, Inc. Political Victory Fund.
Gun Owners of America also has an affiliated research arm called the Gun Owners Foundation, a 501(c)(3) that says it "exists in order to educate the public about the importance of the Second Amendment and to provide legal, expert and support assistance for law-abiding individuals involved in firearms-related cases."
To view a report of what the organization considers its top 10 accomplishments in 2019, click here. To view the group's congressional ratings, click here.