This week: Sanders, Ocasio-Cortez, and KY's two largest newspapers endorse Booker for Senate, Congressional Progressive Caucus PAC makes first-ever expenditure, Steve Marchand not running for governor of New Hampshire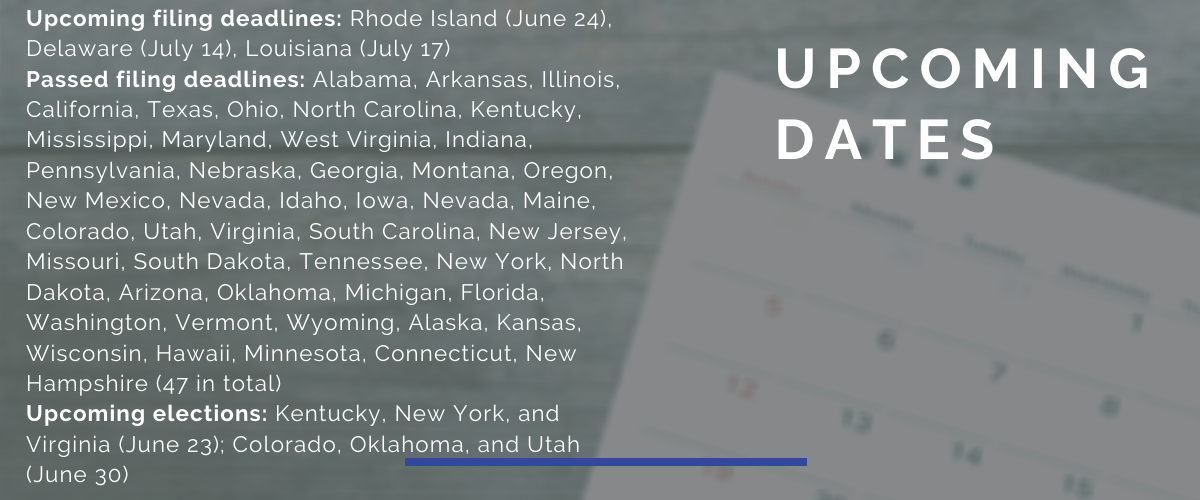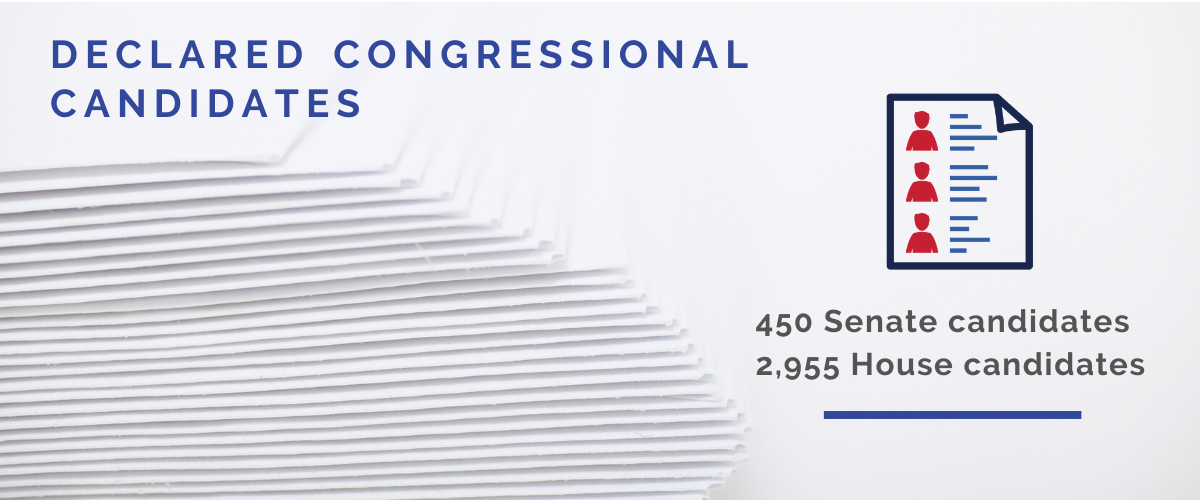 On the news
Where do Democratic and progressive pundits and commentators disagree? Each week, we bring you excerpts that highlight differing views.
On protests and coronavirus risk
I've been a vocal supporter of these protests from their start, including their occasional use of civil disobedience and targeted property damage. My views of the protests (as distinct from the some of the repressive debate-denying tactics that have sprouted up around them) have not changed; I remain an enthusiastic supporter on the ground that we simply cannot tolerate any longer an unaccountable, paramilitarized police force that kills with impunity, especially when aimed disproportionately at African Americans and Latinos.

But what we should not tolerate, and what the scientific community cannot permit if it is to retain its credibility, is the abuse and manipulation of health expertise for political ends. One of two things is true; either 1) these protests will lead to a significant spike in coronavirus infections and deaths, in which case public health experts should reconcile that outcome with how they could have encouraged and endorsed them; or 2) it will not lead to such a spike, in which case it will appear that the months of extreme, draconian lockdowns — which caused great suffering and deprivation around the world — were excessive, misguided and unwarranted.

At the very least, it is vital that we have the same health and legal standards apply to all citizens and all political ideologies when it comes to the right to leave one's home, protest or engage in other legal activities. And at least as importantly, we need to understand whether public health experts were too restrictive in their advocated measures at the start of the pandemic, are being too lax now, or somehow can reconcile the radical shift in their posture on scientific rather than political grounds.
Glenn Greenwald, The Intercept, June 11, 2020
As a black emergency medicine physician, concern about the spread of Covid-19 at protests in the wake of the murder of George Floyd is not top of my mind. And yet many continue to seize on this concern. The risk of spread of Covid-19 is clearly elevated at demonstrations: People are yelling, stirring up respiratory droplets and projecting them into the air; people are marching long distances, exerting themselves and taking gulps of air in the process; people are standing and kneeling much less than six feet from one another; and mask use is, over all, abundant but admittedly inconsistent.

And yet — the tension between Covid-19 and the protests did not even occur to me until a journalist asked. And why not? Because as a black physician, I understand that the protests are the necessary medicine for both ills. …

Of course I am concerned about the spread of Covid-19. Of course I do not condone a gathering for a concert or sports game or party, because these are unnecessary. They are not rooting out a core injustice baked into health care and law enforcement.

In contrast, these protests are essential to America. They are necessary for the recognition and eradication of injustice. These protests are the first dose of medicine needed to rid the system of metastatic racism.
Steven McDonald, The New York Times, June 14, 2020
U.S. Congress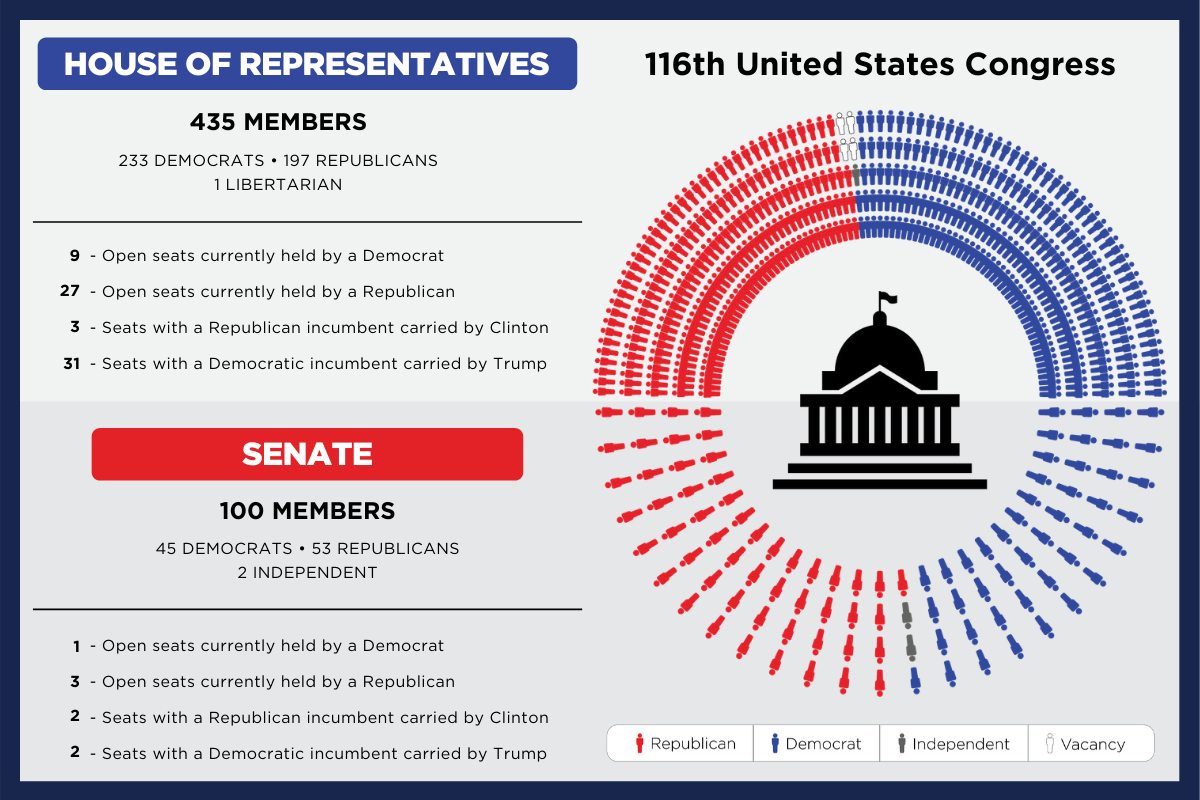 Sanders, Ocasio-Cortez, and KY's two largest newspapers endorse Booker for Senate
Sen. Bernie Sanders (I-Vt.), Rep. Alexandria Ocasio-Cortez (D-N.Y.), and Kentucky's two largest newspapers endorsed Charles Booker in the Democratic primary for Senate in Kentucky.
Nine other candidates are on the ballot, including Amy McGrath, the Democratic Senatorial Campaign Committee's (DSCC) endorsed candidate. She was the Democratic nominee in Kentucky's 6th Congressional District in 2018.
The Lexington Herald-Leader editorial board endorsement read, "McGrath earned our endorsement in 2018; she is the favorite of national political groups and remains a formidable and compelling candidate who will be a worthy foe for McConnell if recent polls prove accurate. But this moment in our fractious history seems to call beyond politics, and Charles Booker has risen to meet it in many different ways."
The editorial board praised Booker's support for Medicare for All, a Green New Deal, and a universal basic income. It said he did important work in the state House on charter schools, minimum wage, and gun policy. Booker was elected to the state House in 2018.
The Louisville Courier-Journal editorial board wrote, 'Frankly, it's time to shake up the establishment, and Booker, who declares he's 'running against the status quo,' is the right person for Democrats to consider."
In addition to DSCC, McGrath's endorsers include VoteVets and several unions. She raised $41 million as of June 3, leading Senate candidates nationally in fundraising. Four U.S. Senate candidates have raised more than $20 million. The incumbent, Mitch McConnell (R), raised the second-highest amount at $33 million.
On June 16, former Kentucky Secretary of State Alison Lundergan Grimes (D) endorsed Booker. She ran against McConnell in 2014, losing 41% to 56%.
Booker raised $793,000 through June 3.
Also last week, Booker released his first TV ad. He said, "Kentucky needs a real Democrat to take on Mitch McConnell, someone who will fight to guarantee healthcare and living wages for all, and not help Trump just get his way." It features footage of McGrath saying, "[T]he things that Kentuckians voted for Trump for are not being done." 
McGrath released an ad featuring footage of former Sen. John McCain (R-Ariz.) voting "no" on an Obamacare repeal bill. McGrath said, "Imagine trying to tackle a global pandemic with millions of Americans uninsured. … We can't let Mitch McConnell return to the Senate to try again."
The primary is June 23.
Congressional Progressive Caucus PAC makes first-ever expenditure, in support of Jones in NY-17
The Congressional Progressive Caucus (CPC) political action committee made its first-ever independent expenditure on digital ads and mailers supporting Mondaire Jones in New York's 17th Congressional District primary. The PAC spent $100,000.
The narrator of the PAC's ad says, "We don't see people like Mondaire Jones in office very often. A public school kid who went from food stamps and Section 8 housing to Harvard Law and President Obama's administration. … He'll fight for us, because he's one of us."
Jones was a fellow at the Department of Justice Office of Legal Policy from 2009 to 2010. He has since worked as a law clerk and attorney.
Incumbent Nita Lowey (D), who was first elected in 1988, isn't seeking re-election. 
Six candidates are running in the June 23 primary: Jones, state Assemblyman David Buchwald, state Sen. David Carlucci, college professor Asha Castleberry-Hernandez, former deputy assistant secretary of defense during the Obama administration Evelyn Farkas, former chairwoman of the national board of NARAL Pro-Choice America Foundation Allison Fine, and former assistant U.S. attorney Adam Schleifer.
CPC PAC has said it will spend $1 million on endorsed candidates this year. The PAC has endorsed 12 House candidates as of June 16.
AFT Massachusetts endorses Markey for Senate
The American Federation of Teachers (AFT) Massachusetts endorsed incumbent Ed Markey in the Senate primary in Massachusetts. AFT is the second-largest teacher's union in the U.S., behind the National Education Association. The Massachusetts affiliate represents 23,000 members.
AFT Massachusetts President Beth Kontos said, "Senator Ed Markey has been a supporter of public education for decades and has consistently fought for adequate funding — not because we asked him to, but because he knows that public education is the pathway to better communities. … He grew up in a household that valued education and the rights of workers. His record in support of labor and the rights of workers to organize is second to none."
Markey faces Joseph Kennedy III, who has been in the U.S. House since 2013. Markey has been in the Senate since 2013. He served in the U.S. House from 1976 to 2013.
Markey's other endorsers include Rep. Ocasio-Cortez and former Gov. Mike Dukakis. Reps. Jim Lewis and Marc Pocan, co-chair of the Congressional Progresssive Caucus, are among Kennedy's endorsers. 
The primary is Sept. 1.
Carolyn Bourdeaux wins GA-07 primary outright
The Associated Press called the Democratic primary in Georgia's 7th Congressional District for Carolyn Bourdeaux on June 16 after she surpassed the 50% vote threshold required to avoid a primary runoff. On June 10, the AP reported that Bourdeaux and second-place finisher Brenda Lopez Romero advanced to a runoff, but on June 13 said the race was too close to call as absentee ballots continued to be counted. 
As of June 17, Bourdeaux has received 52.8% of the vote to Romero's 12.4%. Nabilah Islam followed with 12.3%. In a statement, Romero said she would await certified election results but that it appeared no runoff would occur.
State executives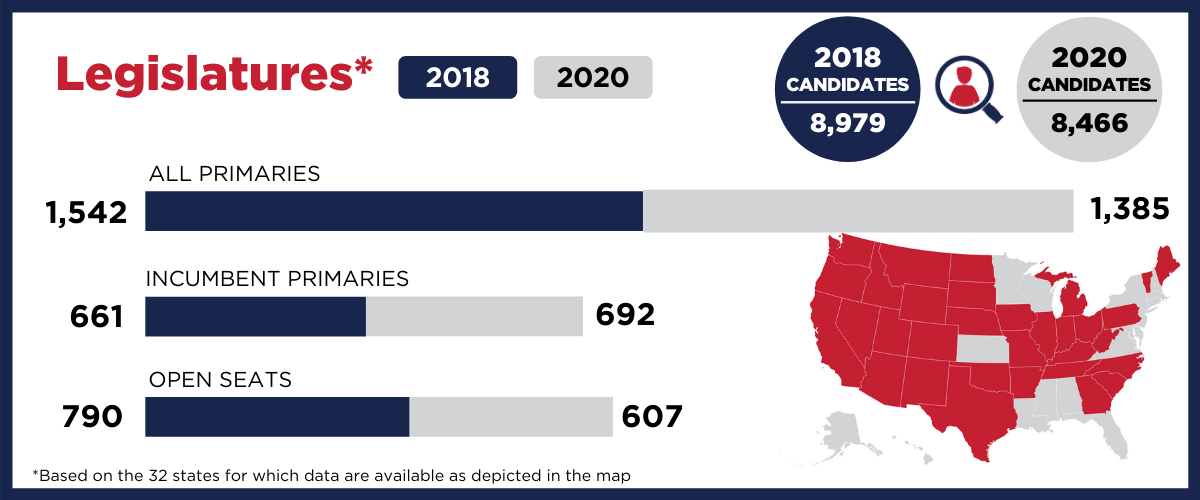 Steve Marchand not running for governor of New Hampshire, endorses Dan Feltes
Former Portsmouth Mayor Steve Marchand announced June 9 he would not run for governor of New Hampshire this year and endorsed state Senate Majority Leader Dan Feltes instead.
Marchand, who served as mayor from 2006 to 2008, ran for governor in both 2016 and 2018 but did not win the Democratic nomination in either year. Executive Councilor Colin Van Ostern defeated Marchand 52-25% in 2016, while former state Sen. Molly Kelly defeated him 66-34% in 2018. 
Feltes' other endorsers include state House Majority Leader Doug Ley (D), Deputy Speaker of the state House Karen Ebel (D), and state House Progressive Caucus Chairwoman Kristina Schultz (D). 
His only declared opponent for the nomination, Executive Council member Andru Volinsky (D), has endorsements from Sen. Bernie Sanders (I-Vt.), Blue America, and the New Hampshire Progressive Coalition.
The primary is scheduled for Sept. 8. On the Republican side, incumbent Chris Sununu (R), who was first elected in 2016, faces two opponents. Two election forecasters say Republicans are likely to win the general election and a third says it leans Republican.
Communications Workers of America Local 6300 endorses Elad Gross for Democratic nomination for Missouri Attorney General
The Communications Workers of America (CWA) Local 6300 endorsed former Assistant Attorney General of Missouri Elad Gross Monday. Gross faces Rich Finneran, a former assistant U.S. attorney, in the Democratic primary for state attorney general. 
CWA Local 6300 is one of 16 CWA affiliates statewide and represented 3,200 members as of 2015.
The winner of the Aug. 4 primary will run against incumbent Eric Schmitt (R) in the general election. Gov. Mike Parson (R) appointed Schmitt in November 2018 after Josh Hawley (R) won election to the U.S. Senate.
2020 battleground primary recap: Lieutenant Governor of North Carolina
In this series, we look back at recent state executive primaries to see what they can tell us about the November elections.
North Carolina's current lieutenant governor, Dan Forest (R), is running for governor rather than seeking re-election, leaving the office open. North Carolina is among 17 states where the governor and lieutenant governor are elected separately. The lieutenant governor is the only elected official with a role in both the executive and legislative branches of North Carolina's government.
State Rep. Yvonne Lewis Holley defeated five other candidates to win the Democratic nomination for lieutenant governor on March 3. Holley received 26.6% of the vote, followed by state Sen. Terry Van Duyn with 20.4%, Hoke County Commissioner Allen Thomas Jr. with 18.9%, and state Rep. Chaz Beasley with 18.9%. Because Holley received less than 30% of the vote, Van Duyn had the right to request a runoff under state law but did not do so.
Holley was first elected to the state House in 2012 after having worked for 25 years as a state government employee. She is the vice chairwoman of the House's Regulatory Reform Committee.
In an interview with the Charlotte Observer, Holley said her top policy priority would be reducing the cost of living. Van Duyn and Beasley said they would seek to increase education funding, while Thomas called for reducing the poverty rate.
Holley will face Mark Robinson (R) in the general election. Other statewide races on the ballot include the state's Class II Senate seat and the governorship. Election forecasters have not put out a projection for the lieutenant gubernatorial election, but say the Senate race is a toss-up. One forecaster says the gubernatorial race tilts towards Democrats, one says it leans towards Democrats, and a third says Democrats are likely to win.
Legislatures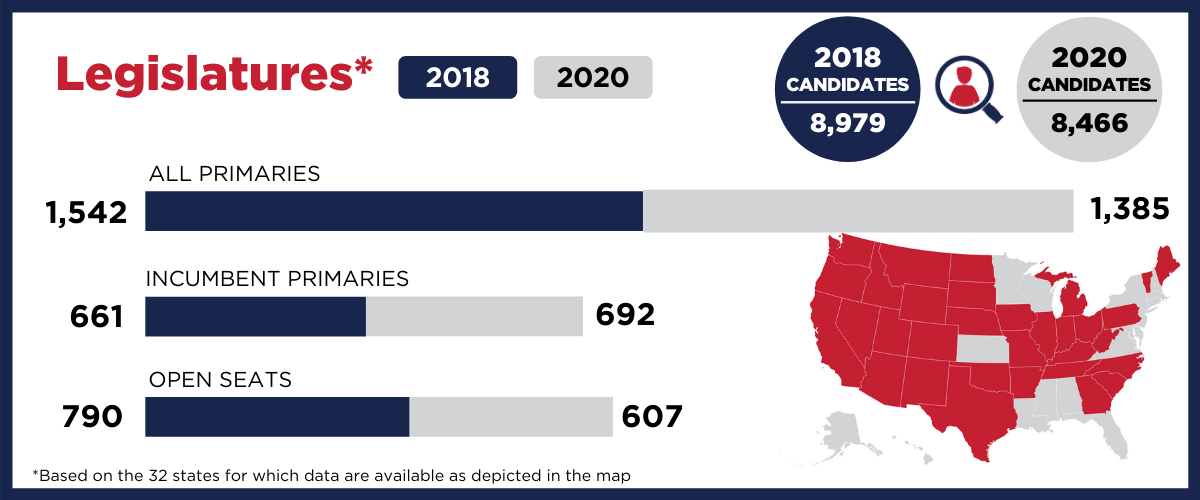 Retiring incumbent Rep. Lifton endorses Jordan Lesser in crowded N.Y. Assembly District 125 primary
On June 11, outgoing Assm. Barbara Lifton (D-125) endorsed Jordan Lesser (D), her legislative counsel, in the 125th Assembly District's seven-way Democratic primary. Lifton's retirement leaves the 125th District seat open for the first time since 2002. In Lifton's most recent contested general election in 2016, she defeated Herbert Masser, Jr. (R) 70-30%.
In her endorsement, Lifton says Lesser "is the most prepared and best qualified to continue this work," adding that he is "deeply committed to our progressive values—women's rights, civil rights, human rights."
Lifton's endorsement comes less than two weeks before the June 23 primary. On April 22, we reported on the International Brotherhood of Electrical Workers Local 241's endorsement of Ithaca city alderman Seph Murtagh (D). On June 10, we reported that 2018 gubernatorial candidate Cynthia Nixon (D) endorsed Tompkins County legislator Anna Kelles (D).
In addition to Lesser, Kelles, and Murtagh, two other town and county officials are seeking the Democratic nomination: Cortland County legislator Beau Harbin and Dryden Town Supervisor Jason Leifer. Community members Sujata Gibson and Lisa Hoeschele are also seeking the nomination.
There are no other candidates on the ballot, meaning the winner of the primary is likely to win the general election.
Rep. Brandon Woodard endorses Christina Haswood in Kansas House primary
On June 5, Rep. Brandon Woodard (D-30) endorsed Christina Haswood (D), one of three candidates in the Aug. 4 Democratic primary for Kansas' House District 10. Haswood previously received an endorsement from incumbent Rep. Eileen Horn (D-10), who is not seeking re-election this year, leaving the seat open.
Haswood, a research assistant with the National Council of Urban Indian Health, faces Brandon Holland and A.J. Stevens in the primary. 
Holland is a liquor store manager and the son of state Sen. Tom Holland (D-03). He challenged Horn for the appointment to District 10 in 2017 following the resignation of Rep. John Wilson (D). The 10th District's Democratic committee members voted 8-2 to appoint Horn to the seat.
Stevens, C.E.O. of the Baldwin City & Southern Railroad Company, was appointed to the Baldwin City Council in 2017 and served as its president until 2020. 
Haswood, Holland, and Stevens are the only candidates running for the House District 10 seat, meaning the winner of the Democratic primary will likely serve as the District's next representative.
League of Women Voters hosts debate in N.Y. Assembly District 121
On June 9, Dan Buttermann (D) and Corey Mosher (D) participated in a debate hosted by the Cooperstown and Oneonta Area League of Women Voters. The two candidates are running in the Assembly District 121 Democratic primary to decide who will face incumbent Assm. John Salka (R) and Libertarian Jacob Cornell in the general election. 
Salka was first elected in 2018 after defeating 14-term incumbent Rep. William Magee (D). Salka received 50.5 percent of the vote to Magee's 49.4 percent, a margin of 485 votes. There were no third-party candidates on the ballot in 2018.
Buttermann, a member of the Oneonta School Board, is an insurance claims specialist. During the debate, he listed addressing climate change, reforming education, and incentivizing job growth as top priorities. Buttermann challenged Magee in the 2018 Democratic primary, receiving 40 percent of the vote to Magee's 60 percent.
Mosher, a farmer, said his campaign platform has three points: addressing climate change, representing agriculture, and reinvesting in infrastructure. He mentioned the endorsements he received from Magee and state Sen. Rachel May (D-53). The Working Families Party also endorsed his candidacy.
Rather than discussing one another, both candidates criticized Salka's tenure as assemblyman. "The incumbent … has said in his own words, 'I do not expect to get significant legislation passed,'" Buttermann said, "We need a representative who is able to get our fair share." Mosher said, "Good leadership starts with building trust," adding, "that upstate-downstate divide that has been so fomented by John Salka has really inhibited … what we can do in this district." 
Power players
"The Communications Workers of America represents 700,000 workers in private and public sector employment. CWA members work in telecommunications and information technology, the airline industry, news media, broadcast and cable television, health care, public service and education, law enforcement, manufacturing and other fields." – Communications Workers of America website
Founded in 1938 as the National Federation of Telephone Workers, Communications Workers of America calls itself "America's largest communications and media union" and says it "has joined with faith groups, community organizations, civil rights groups, environmentalists, students and others to build a wide-ranging movement for economic justice and democracy." To view the organization's national issues, click here. CWA's legislative agenda can be found here. 
The CWA Political Action Fund says it is a "non-partisan political action committee that fights for workers' political power" and that "contributions to the fund go toward policies and candidates that defend workers' rights." CWA says that the fund "informs and mobilizes union families to encourage their participation in the political process."
This month, CWA endorsed Al Gross for U.S. Senate in Alaska and Steve Bullock for U.S. Senate in Montana.