This week: Riggleman is third incumbent to lose nominating contest in 2020, Trump endorses Messner in Senate primary in NH, Plurality of voters undecided on challenge to Utah Attorney General Sean Reyes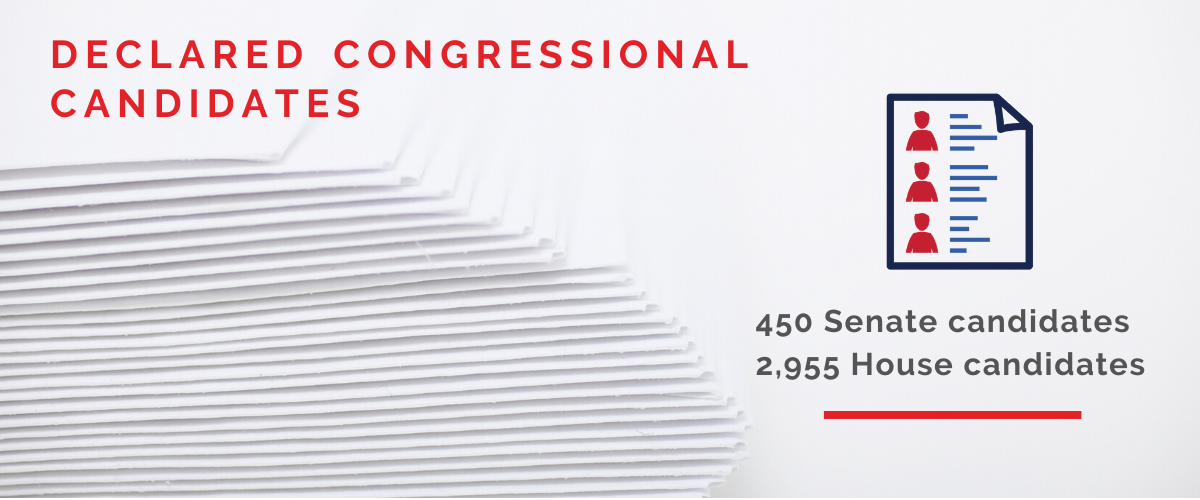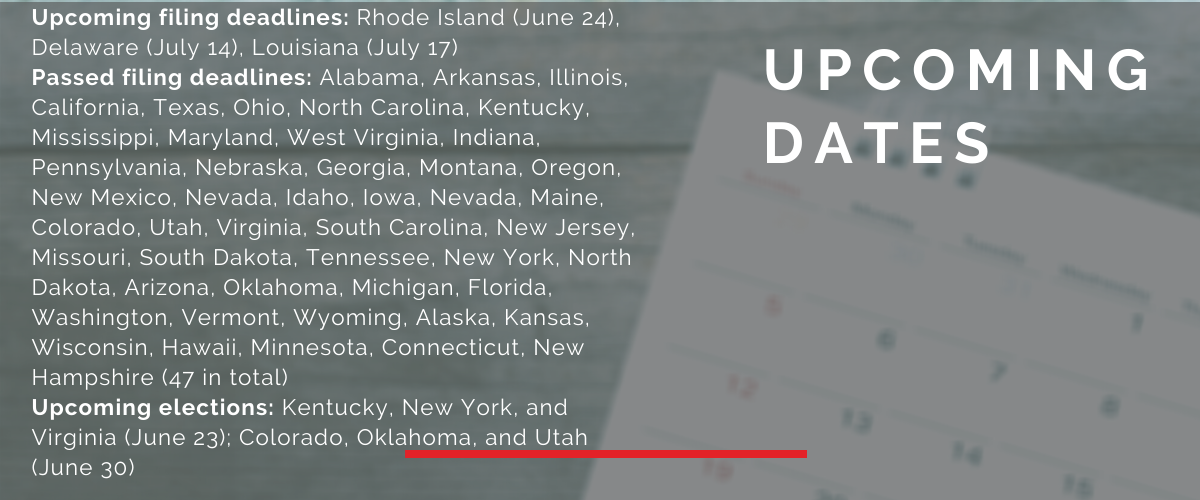 On the news
Where do Republican and conservative pundits and commentators disagree? Each week, we bring you excerpts that highlight differing views.
On Riggleman's defeat in VA-05
This bizarre primary defeat of an incumbent congressman is synecdoche for the Republican party in the age of Trump: a campaign motivated by cruelty; a doubling-down on the basest parts of the party base; plummeting party identification among college-educated voters and suburbanites; and a bit of voter suppression mixed with a touch of gerrymandering.

While all of those issues played a factor in his defeat, none would have been Riggleman's death knell had he not committed the original sin that opened the door to the primary: Officiating the same-sex wedding of Anthony 'Rek' LeCounte and Alex Pisciarino last July. … 

But Good's entire primary was even more debased than standard issue Trumpism. It was premised on one thing. Not a vote that Riggleman took. Not a comment that he made. It was premised entirely on this picture of Riggleman officiating LeCounte and Pisciarino's wedding … 

Riggleman was, by every possible measure, a Republican in good standing. He was endorsed by Donald Trump and Jerry Falwell Jr. He voted with Trump and the GOP leadership 95 percent of the time. And when gay issues came up for a vote, Riggleman sided with social conservatives. He voted against a resolution condemning Trump's ban on allowing transgender people to serve in the military and Democratic efforts to include sexual orientation and gender as protected classes in anti-discrimination law.

Yet none of that mattered, because of the wedding photo.
Tim Miller, The Bulwark, June 15, 2020
[Riggleman's] record in the House, specifically on immigration, gave Good a leg up in a state that has been dramatically transformed by mass legal immigration levels over the last four decades. 

After his win in 2018, Riggleman joined the House Freedom Caucus where most members have continued their 'illegal immigration is bad, legal immigration is good' mantra despite Republican voters' overwhelming support for reducing all immigration, including visa programs and total annual green card numbers. … 

The gap between GOP voters in the district and Riggleman's support for limitless legal immigration programs, as well as his support for military interventionism like when he sided with Democrats to condemn Trump's Syria troop withdrawal, opened a door for Good.

The establishment media have claimed Riggleman's defeat — where he lost with 42 percent to Good's 58 percent — centered around social conservatives' outrage over the Virginia congressman officiating a same-sex wedding last year. Republican Party insiders have said Riggleman's defeat is due to the party's convention nominating process. 

Followers of Good's campaign, though, say the media and party insiders are willfully ignoring the issue that started the outsider's run and helped him secure victory: Immigration. 

On the campaign trail, Good focused primarily on the need for less legal immigration — a break from many of the House Freedom Caucus members' libertarian/business-centric streak.
John Binder, Breitbart, June 14, 2020
U.S. Congress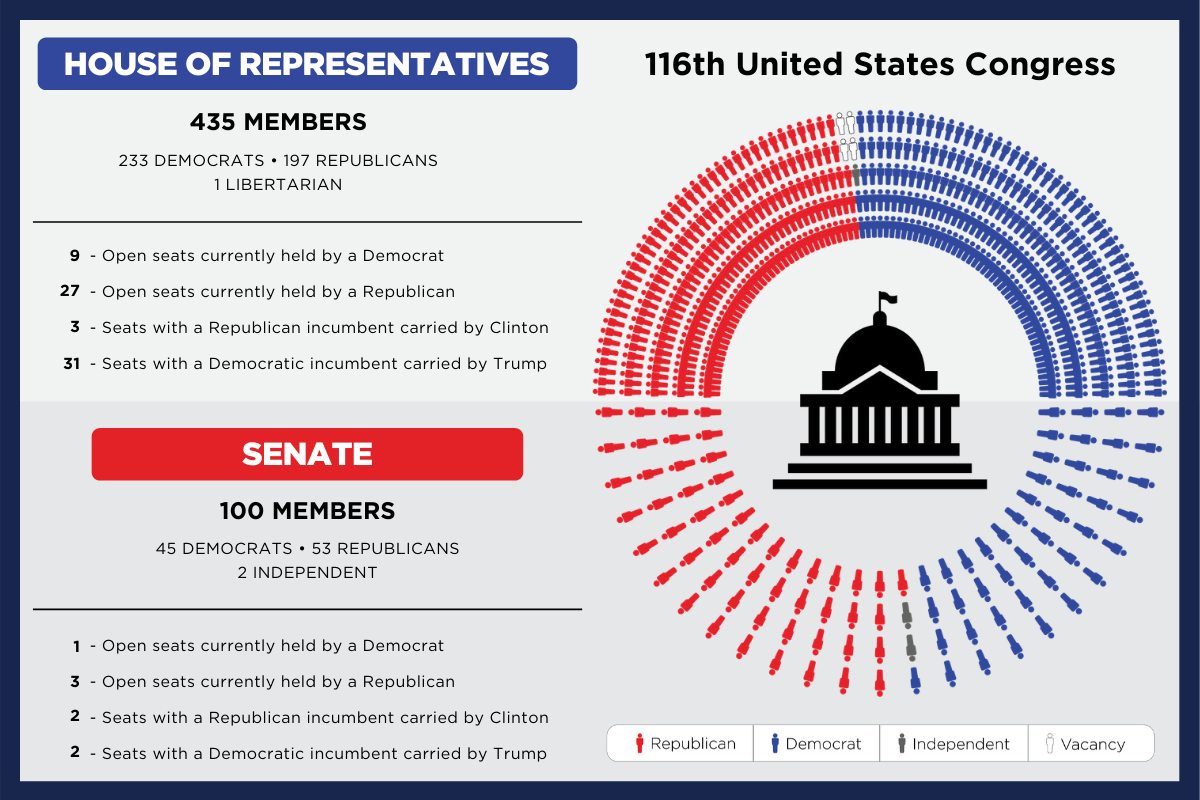 Riggleman is third incumbent to lose nominating contest in 2020
Virginia's 5th District Republican Committee reported that Bob Good received 58% of votes to Rep. Denver Riggleman's 42% at the June 13 Republican convention, which was held instead of a primary election. 
Riggleman has not conceded. He tweeted the night of June 13, "Voting irregularities and ballot stuffing has been reported in multiple counties in the #VA05. Voter fraud has been a hallmark of this nomination process and I will not stand for it. @VA_GOP needs to reevaluate their priorities. We are evaluating all our options at this time."
Due to the coronavirus pandemic, the convention was held in a church parking lot and elected delegates cast ballots from their cars. The 5th District Republican Committee reported 2,537 delegates participated.
Riggleman was first elected in 2018, defeating Democrat Leslie Cockburn 53%-47% in the general election after being selected as the nominee by the 5th District Committee.
President Donald Trump endorsed Riggleman. Riggleman said he had a record of supporting the president's agenda. He also said he had worked on local issues like expansion of broadband services and getting Virginia's industrial hemp crop added to federal crop insurance programs.
Good, a former member of the Campbell County Board of Supervisors and former associate athletics director at Liberty University, campaigned on repealing the Affordable Care Act, reducing the federal budget deficit, and reducing federal government involvement in education. Good said, "Republican voters within the 5th District want to choose a bright-red conservative over a purple, progressive Republican."
Roll Call's Stephanie Akin wrote in March, "Riggleman is a libertarian-leaning conservative whose laissez-faire attitude toward social issues such as gay marriage and marijuana legalization are often at odds with the religious fundamentalism popular among some of the district's Republican leaders, who have made no secret of their support for Good."
If the convention results hold, Riggleman will be the third incumbent House member to lose a nominating contest in 2020, along with Dan Lipinksi (D) in Illinois' 3rd District and Steve King (R) in Iowa's 4th. 
Trump endorses Messner in Senate primary in NH
The president endorsed Bryant "Corky" Messner in the Senate primary in New Hampshire.
Messner said, "I will provide Granite Staters with the conservative voice they need in the U.S. Senate. … Career politician Jeanne Shaheen has lost touch with the everyday concerns and values of New Hampshire residents, and they can trust me to provide the leadership they need to face the challenges ahead." 
Candidate Don Bolduc said, "This campaign is alive and well. … We respect the president and we look forward to working with him in the U.S. Senate so we may continue moving this country forward."
Of the four candidates in the race, Messner and Bolduc lead in endorsements. 
Both Messner and Bolduc are veterans. Messner was an Army Ranger and Bolduc, an Army brigadier general.
The primary is Sept. 8. Incumbent Sen. Jeanne Shaheen (D), first elected in 2008, is seeking re-election.  
Colyer, Kansas Farm Bureau endorse Mann in KS-01
Former Gov. Jeff Colyer (R) and the Kansas Farm Bureau endorsed former Lt. Gov. Tracey Mann in Kansas' 1st Congressional District primary.
Incumbent Roger Marshall (R) is running for Senate, leaving the seat open.
Colyer appointed Mann lieutenant governor in 2018. Colyer, a former lieutenant governor, became governor after Gov. Sam Brownback (R) was appointed to a post in the Trump administration. Colyer and Mann ran for election in 2018 on a joint ticket and lost in the Republican primary.
Rep. Don Bacon (R-Neb.) endorsed Bill Clifford in the 1st District primary. Bacon highlighted Clifford's background as a doctor and veteran.
Jerry Molstad and Michael Soetaert are also running in the Aug. 4  primary.
House Freedom Action airs ad in NC-11 runoff
Last week, we reported that the president endorsed Lynda Bennett in North Carolina's 11th Congressional District primary runoff. House Freedom Action has since launched an ad highlighting Trump's endorsement and saying Madison Cawthorn is a partier. 
Former incumbent Mark Meadows (R) served as chairman of the House Freedom Caucus. He resigned from the House in March to become White House chief of staff. Meadows endorsed Bennett in the primary.
The runoff is June 23.
State executives

Spencer Cox and Jon Huntsman about even in Utah gubernatorial primary, polling shows
With less than two weeks remaining before the Utah gubernatorial primary, Spencer Cox and Jon Huntsman, Jr., are about even, according to two recent polls.
A Suffolk University poll conducted June 4-7 on behalf of the Salt Lake Tribune found Cox with 32% support to 30% for Huntsman, within the poll's 4.4 percentage point margin of error.
The Salt Lake Chamber's Utah Outlook poll, conducted by Dan Jones & Associates between June 1-10, also found the two candidates about even. Huntsman had 35% support among registered Republicans to 33% for Cox with a margin of error of 4.2 percentage points.
Both polls found 17% of voters remain undecided.
Former Sen. Orrin Hatch (R), who represented Utah between 1977 and 2019, endorsed Huntsman on June 9. Hatch joins Sen. Mike Lee (R) and former Rep. Mia Love (R) in backing Huntsman. Gov. Gary Herbert (R) and former 2020 gubernatorial candidate Aimee Winder Newton (R) have endorsed Cox.
Cox and Huntsman joined Greg Hughes and Thomas Wright, the two other candidates seeking the nomination, for a debate on rural issues June 9. The four met for a two-hour televised debate June 16.
The June 30 primary is open to registered Republicans only. Incumbent Gary Herbert (R) is not seeking re-election, leaving the office open. Election forecasters say Republicans have a solid chance to win the general election.
Plurality of voters undecided on challenge to Utah Attorney General Sean Reyes
A plurality of likely Republican primary voters have yet to decide whether they will vote to nominate Utah Attorney General Sean Reyes for another term or back his challenger David Leavitt, according to a Suffolk University poll released Thursday.
The poll, which was conducted June 4-7, found Reyes apparently leading Leavitt 31-26, with 43% of voters undecided. Reyes' lead is just outside the poll's 4.4 percentage point margin of error.
Reyes campaign manager Alan Crooks said the poll was not credible since its survey included 73% registered Republicans and 27% other voters who planned to register as Republicans to participate in the primary. 
Leavitt said the poll matched his campaign's internal numbers and that the percentage of undecided voters was an encouraging sign for his challenge to Reyes.
The June 30 primary is open to registered Republicans only. 
2020 battleground primary recap: Lieutenant Governor of North Carolina
In this series, we look back at recent state executive primaries to see what they can tell us about the November elections.
North Carolina's current lieutenant governor, Dan Forest (R), is running for governor rather than seeking re-election, leaving the office open. North Carolina is among 17 states where the governor and lieutenant governor are elected separately. The lieutenant governor is the only elected official with a role in both the executive and legislative branches of North Carolina's government.
Mark Robinson defeated eight other candidates to win the Republican nomination for lieutenant governor on March 3. Robinson received 32.5% of the vote, more than the 30% needed to avoid a possible runoff. He was followed by state Sen. Andy Wells (14.6%), state Superintendent of Public Instruction Mark Johnson (12.1%), and attorney John Ritter (11.5%). No other candidate received more than 10% of the vote.
Robinson, a former Army reservist and small business owner, is making his first run for political office. He says he was inspired to run after an April 2018 speech he gave before the Greensboro City Council opposing firearms restrictions went viral. 
In an interview with the Charlotte Observer, Robinson said his top policy priority would be changing the culture of the state's public schools. Wells said his top concern was local sheriffs declining to enforce immigration law, while Johnson said he would combat the political establishment and Ritter said he supported efforts to expand vocational education.
Robinson will face state Rep. Yvonne Lewis Holley (D) in the general election. Other statewide races on the ballot include the state's Class II Senate seat and the governorship. Election forecasters have not put out a projection for the lieutenant gubernatorial election, but say the Senate race is a toss-up. One forecaster says the gubernatorial race tilts towards Democrats, one says it leans towards Democrats, and a third says Democrats are likely to win.
Legislatures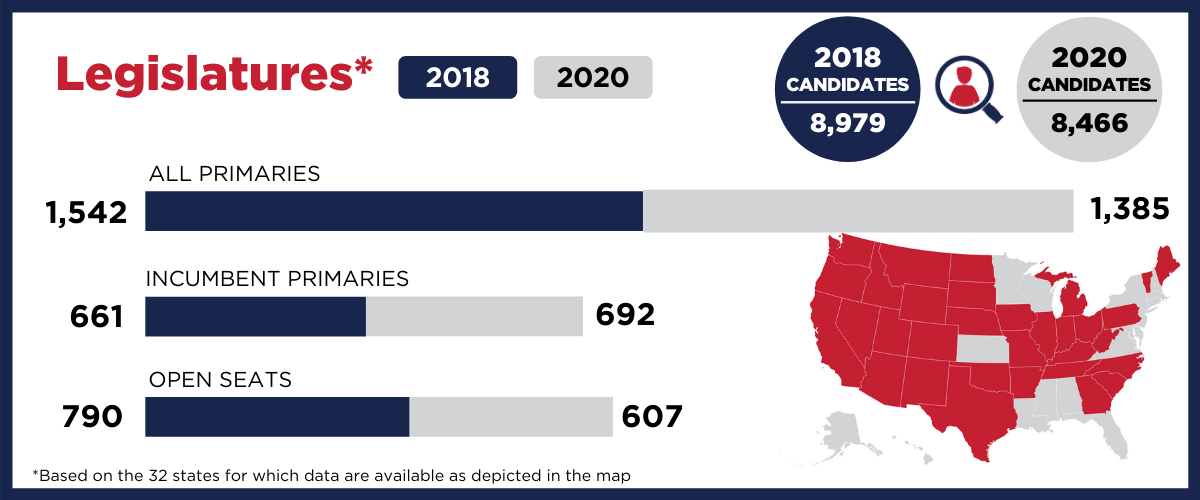 Candidates in five too-close-to-call S.D. Republican primaries request recounts
Following the June 2 primaries, five South Dakota Republican primaries featured contests where candidates were separated by less than one percentage point. In South Dakota, a state legislative candidate may request a recount if the margin of victory is less than 2 percentage points. By June 12, candidates in all five of those primaries made such requests.
There is one Senate recount in District 17 where the top vote-getter will advance to the general election. There are four recounts in House primaries where the top two vote-getters advance. 
In two of the races, the recounts will decide whether an incumbent is defeated, or advances to the general election:
Senate District 17: Term-limited Rep. Nancy Rasmussen (R-17) challenged three-term incumbent Sen. Art Rusch (R-17) in what was Rusch's first contested primary. Final results showed Rusch leading with 50.2 percent of the vote to Rasmussen's 49.8 percent, a margin of six votes.
House District 19: Both incumbent Reps. Kent Peterson (R-19) and Marty Overweg (R-19) filed for the primary along with challenger Jessica Bahmuller (R). Final results showed Peterson leading with 35.2 percent of the vote. The results had Overweg trailing Bahmuller by 0.4 percentage points, a 21 vote margin. This was Overweg's first election after Gov. Kristi Noem (R) appointed him to the seat in January 2020.
In the remaining three races, challengers are vying against one another for one of the two spots in House primaries.
House District 6: Sen. Ernie Otten (R-06) is attempting to switch chambers. He will proceed to the general election after receiving 37.8 percent of the primary vote. Aaron Aylward (R) and Nathan Block (R) are competing for the second spot. Aylward, who ran as a Libertarian for one of the District 6 House seats in 2018, led with 26.8 percent of the vote to Block's 26 percent, a 35 vote difference.
House District 9: Incumbent Rep. Rhonda Milstead (R-09) will advance with 49.3 percent of the vote. This was her first election after Gov. Noem appointed her to the seat in 2019 by Gov. Noem. Eight votes separate the remaining two candidates with Bethany Soye (R) leading former Rep. Michael Clark (R) 25.5 to 25.2 percent. Incumbent Michael Saba (D-09), who is running for another term, defeated Clark in the 2018 general election.
House District 30: Incumbent Rep. Tim Goodwin (R) received 45.5 percent of the vote and will advance to the general election. The remaining three candidates—Trish Ladner, Kwinn Neff, and Florence Thompson—are all within 80 votes of one another. Ladner leads with 18.8 percent followed by Thompson with 18 percent and Neff with 17.7 percent.
Satellite spending draws criticism in Colo. Senate District 8 primary
Since May 30, three groups have spent a total of $123,483 supporting incumbent Sen. Bob Rankin (R-08) in the Republican primary for Colorado's State Senate District 8. Expenditures from the group Coloradans For Constitutional Values in particular have elicited a response from his primary challenger, Debra Irvine (R).
Coloradans For Constitutional Values has spent $58,833 on internet advertisements and direct mail supporting Rankin. The group is primarily funded by the Denver-based political action committee, Unite America, which was founded in 2014 as The Centrist Project. Unite America describes itself as "a movement of Democrats, Republicans, and independents working to bridge the growing partisan divide and foster a more representative and functional government."
Irvine responded to the satellite spending in support of Rankin, saying Coloradans For Constitutional Values "want to keep true conservatives out of office," and that United America "is a 'socialist organization whose real mission is to change how elections are run in the United States.'"
We previously reported on this race on April 22 following the Senate District 8 virtual assembly where Irvine received 55 percent of the delegate vote to Rankin's 45 percent clinching Irvine the top spot on the June 30 primary ballot.
Rankin applied for and was appointed to the District 8 seat in 2019 filling a vacancy. At the time of his appointment, Rankin was in his third term representing House District 57. Irvine also applied for the District 8 seat. She did not make it to the final round of voting. Irvine announced her current candidacy for the District 8 seat in December 2018 before Rankin's appointment.
N.R.A., U.S. Senator endorse competing candidates in OK state Senate primary
Over the past week, the National Rifle Association (N.R.A.) and U.S. Sen. James Inhofe (R-Okla.) endorsed competing candidates in the Republican primary for Oklahoma state Senate District 3. On June 9, Blake "Cowboy" Stephens announced an endorsement from the N.R.A. The following day, Inhofe endorsed two-term incumbent state Sen. Wayne Shaw (R-03).
Stephens, a school counselor, describes himself as a political outsider, saying, "The system is broken and needs reconstructed from the ground up," adding that he "wants to be a voice of change for the regular, hard-working people of Oklahoma." In addition to the N.R.A., the Oklahoma Retired Educators Association and the Oklahoma 2nd Amendment Association have endorsed his campaign.
Shaw said, "His experience in representing District in the State Senate the past 8 years makes him a powerful voice for the people." He is a retired pastor who describes himself as "a staunch conservative … pro-business and pro-tourism." He was first elected to represent District 3 in 2012 and was re-elected in 2016. 
Power players
"For more than fifty years, ACU has served as an umbrella organization harnessing the collective strength of conservative organizations fighting for Americans who are concerned with liberty, personal responsibility, traditional values, and strong national defense. As one of America's premier conservative voices, ACU promotes a conservative vision on issues before Congress, the Executive Branch, State Legislatures, the media, political candidates, and the public." – American Conservative Union
Founded in 1964, the American Conservative Union (ACU) calls itself "the nation's oldest and largest grassroots conservative lobbying organization" and says its purpose is "to communicate and advance the goals and principles of conservatism through one multi-issue, umbrella organization." An outline of the organization's beliefs can be found here. 
ACU is affiliated with the ACU Foundation, which says its purpose is "to educate voters, office-holders and opinion leaders as to why conservative principles work better to solve problems, as well as to equip them to become better conservatives and effective problem-solvers." Click here to view a list of the Foundation's policy centers. 
ACU is responsible for the annual Conservative Political Action Conference (CPAC), which was first held in 1974 and calls itself "the largest and most influential gathering of conservatives in the world." 
To view a list of candidates endorsed by ACU, click here. This month, ACU endorsed Ronny Jackson in Texas' 13th Congressional District and Paul Junge in Michigan's 8th Congressional District.