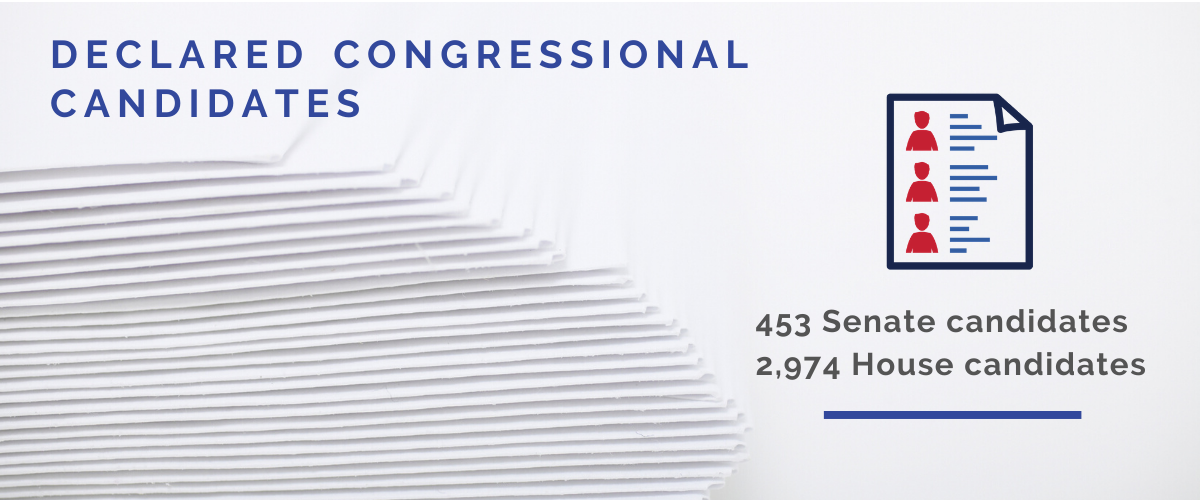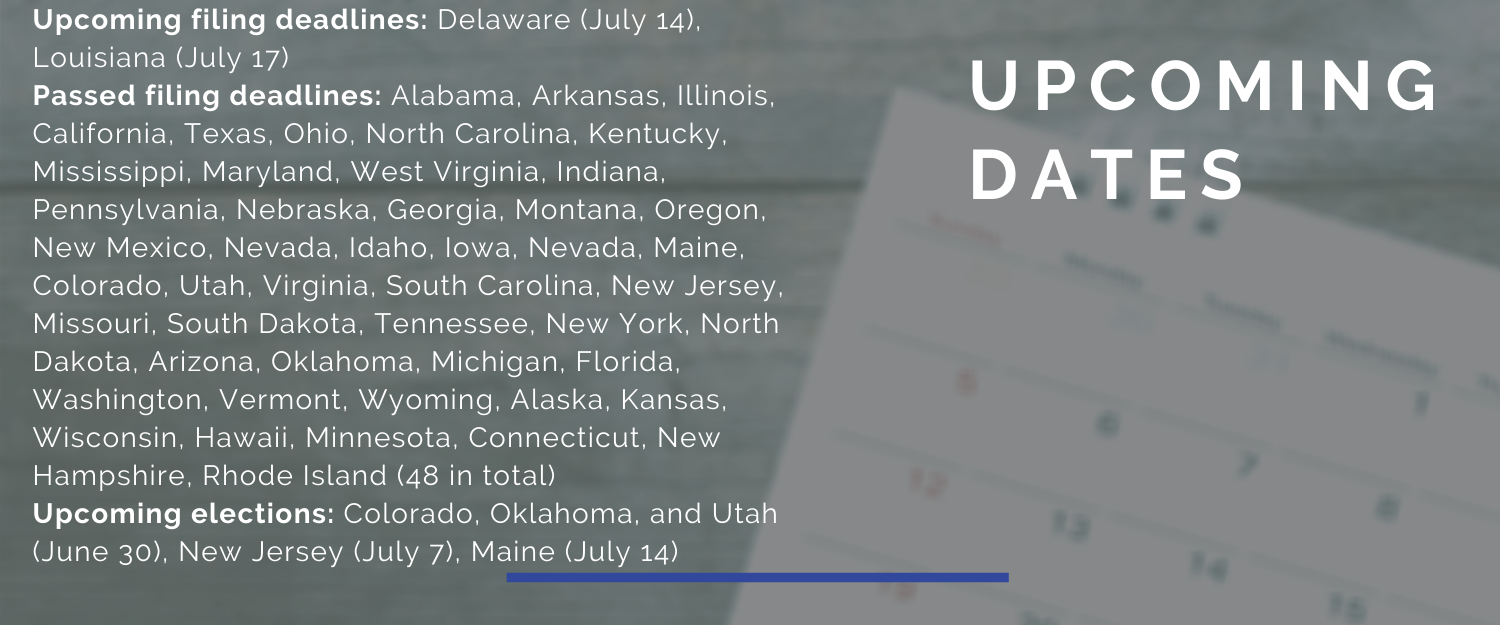 On the news
Where do Democratic and progressive pundits and commentators disagree? Each week, we bring you excerpts that highlight differing views.
On progressive and establishment candidates
"Schumer has long been more conciliatory toward the left wing of the party than other Democratic leaders. He backed now-Minnesota Attorney General Keith Ellison for Democratic National Committee chair in 2016, gave both Vermont Sen. Bernie Sanders and Massachusetts Sen. Elizabeth Warren roles in Senate leadership, and voted with Sanders and other progressive senators against a new trade deal with Mexico and Canada late last year. … 

"And Schumer's long-term political goal of reclaiming the Senate majority is now within his grasp. President Donald Trump's continued political decline has increased Democrats' chances of winning Senate seats even in red-tinted states like Georgia and Iowa, and Schumer's political operation has matched or outspent Senate Majority Leader Mitch McConnell's in most states. … 

"Even if Schumer's Senate picks survive, however, it's clear the left is growing more capable of causing headaches for the establishment." 
Kevin Robillard, HuffPost, June 23, 2020

"For years, Democratic party leaders have publicly insisted they follow a 'just win, baby' playbook that leads them to support any candidate — liberal or moderate — best positioned to win GOP seats. But activists have come to suspect that, in fact, party leaders are actually willing to prioritize crushing progressive candidates, even if that might risk losing general elections to Republicans. … 

"Why do Democratic leaders in Washington continue to intervene in local primaries and put their thumbs on the scales? … 

"The answer is obvious: it has nothing to do with a dispassionate analysis of general election viability and everything to do with money and ideology."
David Sirota, Jacobin, June 19, 2020
Election results
Given the larger number of absentee ballots cast in the June 23 primaries due to COVID-19, several races have not yet been called. 
In New York, absentee ballots for the primary needed to be postmarked by June 23 and must be received by June 30. In Kentucky, several counties, including the state's two largest counties—Jefferson and Fayette—are not releasing results until absentee ballots have been counted on June 30.  
New York's 1st Congressional District: As of 9:15 a.m. ET on June 24, Perry Gershon led with 36% of the vote. Nancy Goroff was second with 34%, followed by Bridget Fleming with 28%. Four candidates were on the primary ballot. The winner will challenge incumbent Lee Zeldin (R) in the November election.
New York's 9th Congressional District: As of 9 a.m. ET on June 24, incumbent Yvette Clark led with 62% of the vote. Adem Bunkedekko was second with 18%. Five candidates were on the primary ballot. Clark was first elected to the House in 2006. 
New York's 10th Congressional District: As of 9 a.m. ET on June 24, incumbent Jerry Nadler led with 62% of the vote. Lindsey Boylan had 26%, and Jonathan Herzog had 13%. Nadler was first elected in 1992.
New York's 14th Congressional District: Incumbent Alexandria Ocasio-Cortez defeated three challengers to win renomination. As of 9:15 a.m. ET on June 24, Ocasio-Cortez had 73% of the vote, followed by Michelle Caruso-Cabrera with 20%. Ocasio-Cortez was first elected to the House in 2018 after unseating incumbent Joseph Crowley in the Democratic primary. 
New York's 15th Congressional District: As of 9:15 a.m. ET on June 24, Ritchie Torres led with 30% of the vote. Michael Blake was second with 19%, followed by Ruben Diaz with 15%, Samelys Lopez with 13%, and Ydanis Rodriguez with 12%. Twelve candidates were on the primary ballot. Incumbent Jose Serrano (D) is not running for re-election this year.
New York's 16th Congressional District: As of 9 a.m. ET on June 24, Jamaal Bowman led with 61% of the vote. Incumbent Eliot Engel had 36%. Five candidates were on the primary ballot. Engel was first elected in 1988. 
New York's 17th Congressional District: As of 9:15 a.m. Eastern on June 24, Mondaire Jones led with 45% of the vote. Adam Schleifer had 21% and David Carlucci had 13%. Eight candidates were on the primary ballot. Incumbent Nita Lowey (D) is not running for re-election.
New York's 24th Congressional District: As of 9 a.m. ET on June 24, Dana Balter led with 65% of the vote. Francis Conole had 36%. The winner will face John Katko (R), first elected in 2014, in the general election. In 2018, Balter was the district's Democratic nominee and was defeated by Katko 53-47 in the general election. The 24th is one of three House districts that elected a Republican representative in 2018 after favoring Hillary Clinton (D) in the 2016 presidential election.
U.S. Senate in Kentucky: As of 9 a.m. ET on June 24, Amy McGrath led with 45% of the vote. Charles Booker was second with 37%. Ten candidates were on the primary ballot. The winner will face Senate Majority Leader Mitch McConnell (R), first elected to the Senate in 1984.
U.S. Congress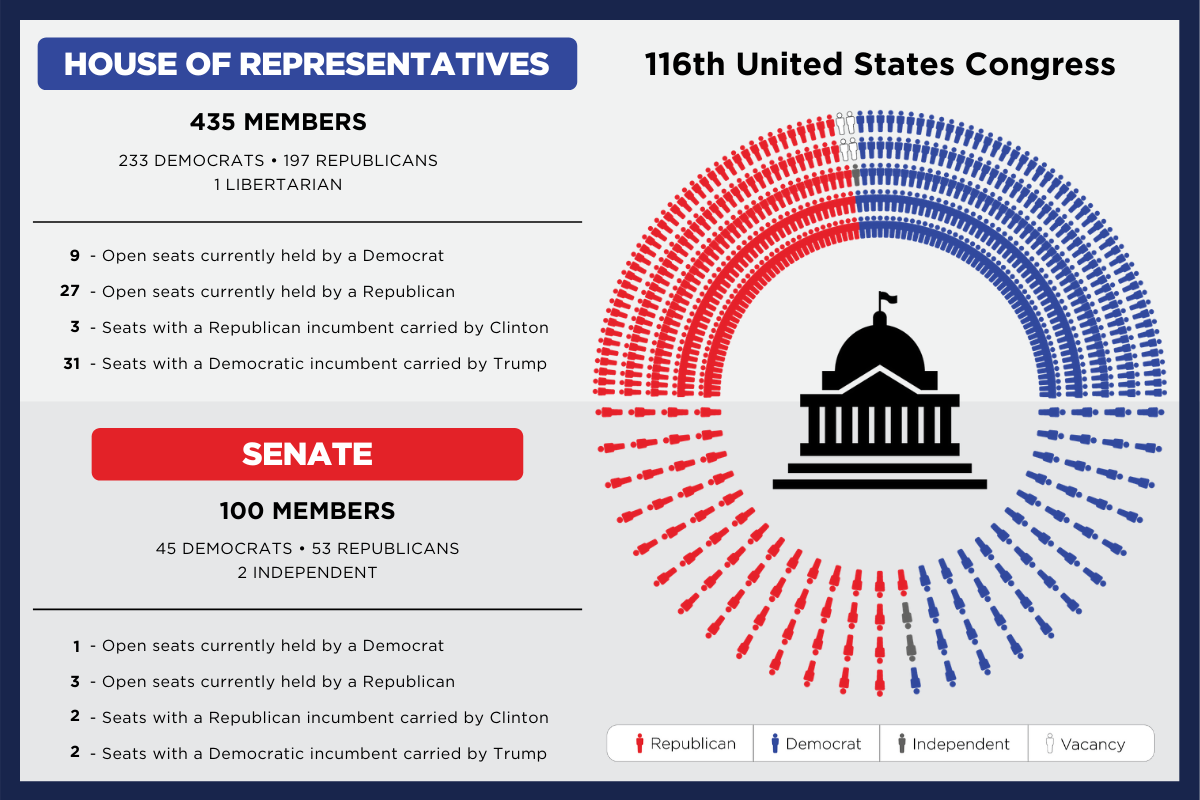 New satellite spending, ads in Senate primary in CO
Satellite groups recently spent $2.1 million on ads in the Democratic primary for Senate in Colorado.
The group Let's Turn Colorado Blue—formed June 16 according to a Federal Election Commission filing—spent $1.1 million on an ad criticizing Andrew Romanoff for a 2006 vote in the state House. The ad said Romanoff "stood with the Republican governor, passing the nation's harshest anti-immigrant laws." Romanoff apologized for the vote in a 2019 Medium post.
Senate Majority PAC spent $1 million on an ad defending John Hickenlooper from a recent ethics violation ruling. (See our recent issue for more details on the ruling.) The ad says the allegations were politically motivated and that "Republicans know John Hickenlooper's the one who will beat Cory Gardner." 
Romanoff released an ad containing footage from one of Hickenlooper's 2010 gubernatorial campaign ads, in which Hickenlooper showered with his clothes on and said he wouldn't run negative ads. The Romanoff ad's narrator says, "You gotta ask yourself: Why does John Hickenlooper take so many showers? I mean, he'll never wash out the stain of oil and gas money. Maybe it's the convictions for taking illegal gifts or being held in contempt. Scrub harder, Hick."
Gov. Jared Polis (D), state Attorney General Phil Weiser (D), and Sen. Michael Bennet (D) criticized the ad. Polis said, "I'm disappointed that Andrew Romanoff has chosen to throw mud and attack John Hickenlooper instead of focusing on his own vision and record."
At a June 16 debate, Romanoff questioned Hickenlooper's electability, referring to the recent ethics violation ruling. Hickenlooper questioned Romanoff's electability, saying he hadn't won an election in 14 years.
Also last week, former U.S. Rep. John Salazar (D) endorsed Hickenlooper. Salazar had endorsed Romanoff in 2019 before Hickenlooper entered the race. Salazar said, Hickenlooper
"knows how to bring people together to get things done on behalf of all Coloradans, and he's the right choice to defeat Senator Gardner and bring change to a broken Washington."
Gardner (R) was first elected in 2014 after defeating incumbent Mark Udall (D), 48% to 46%. Gardner is one of two incumbent Republican senators running for re-election in a state Hillary Clinton (D) won in the 2016 presidential election.
The primary is June 30.
Valenzuela releases opposition ad, Olson responds in TX-24 runoff
Candace Valenzuela released an ad criticizing Kim Olson in Texas' 24th Congressional District primary runoff. The ad features a retired teacher saying, "I remember when [Olson] fired hundreds of teachers after she mismanaged the budget." Valenzuela said, "My work on the school board lifted teachers up, with better pay and keeping schools safe from guns."
Valenzuela has served on the Carrollton-Farmers Branch Independent School District Board of Trustees since 2017. Olson was director of the Dallas Independent School District human resources department from 2007 to 2009. She also served on the Weatherford Independent School District Board of Trustees from 2007 to 2011.
The Olson campaign said that, as human resources director for the Dallas school district, "at no point did Olson have authority overspending or budget reconciliation. She simply managed the compensation budget approved by the Board." The Olson campaign said the budget was drafted before Olson worked for the school district.
Seven candidates ran in the March 3 primary in Texas' 24th. Olson received 41% of the vote to Valenzuela's 30%. The runoff is July 14.
Incumbent Kenny Marchant (R) is not seeking re-election. Three race forecasters rate the general election Toss-up or Tilt Republican.
State executives

Jennifer McClellan files for governor of Virginia
State Sen. Jennifer McClellan (D) declared her candidacy for governor of Virginia in 2021 Thursday, becoming the second candidate to officially declare for the Democratic nomination. McClellan was first elected to the state Senate from a Richmond-area district in 2017 after 12 years in the state House. 
In her announcement video, McClellan said she was running to "keep leading progress into our future….we have to decide what kind of Virginia we're going to be."
McClellan's only declared rival in the Democratic primary is state Del. Jennifer Carroll Foy, who was first elected to the General Assembly in 2017. Other Democrats who have said they would consider running are Lt. Gov. Justin Fairfax, state Attorney General Mark Herring, and former Gov. Terry McAuliffe.
Virginia is the only state to prohibit governors from serving consecutive terms, meaning incumbent Ralph Northam (D) is ineligible for re-election.
Virginia's gubernatorial election will take place on Nov. 2, 2021. Virginia is currently a Democratic trifecta, where a Democrat is governor and Democrats hold majorities in both chambers of the General Assembly. Except for the 2013 election, every Virginia gubernatorial race since 1973 has been won by the party that lost the previous year's presidential election.
Vermont gubernatorial candidates participate in forum on environment
Three of the four Democrats seeking their party's nomination for governor of Vermont participated in a forum hosted by Vermont Conservation Voters and 350Vermont on June 18. Rebecca Holcombe, Pat Winburn, and David Zuckerman each discussed their environmental policies. The fourth candidate, Ralph Corbo, did not attend.
Holcombe, a former state Secretary of Education, said she would work alongside entrepreneurs to lead a transition in Vermont's energy consumption patterns and called for the state's minimum wage to be raised.
Winburn, an attorney in private practice, described low-cost housing as a cornerstone of his platform and said he considered homelessness a policy priority. Winburn called on the state to adopt small-scale solar-powered housing units, saying they had been successfully used in Scandinavian countries.
Zuckerman, the state's current lieutenant governor, said he would partner with New Hampshire and Maine to implement a New England Green New Deal. He said the state should increase spending on education and economic development programs aimed at rural areas.
The Aug. 11 primary is open to all registered voters. Gov. Phil Scott (R), who was first elected in 2016, is on the ballot in the Republican primary with four declared challengers. Two election forecasters rate the general election as "Likely Republican" and a third rates it "Solid Republican".
Legislatures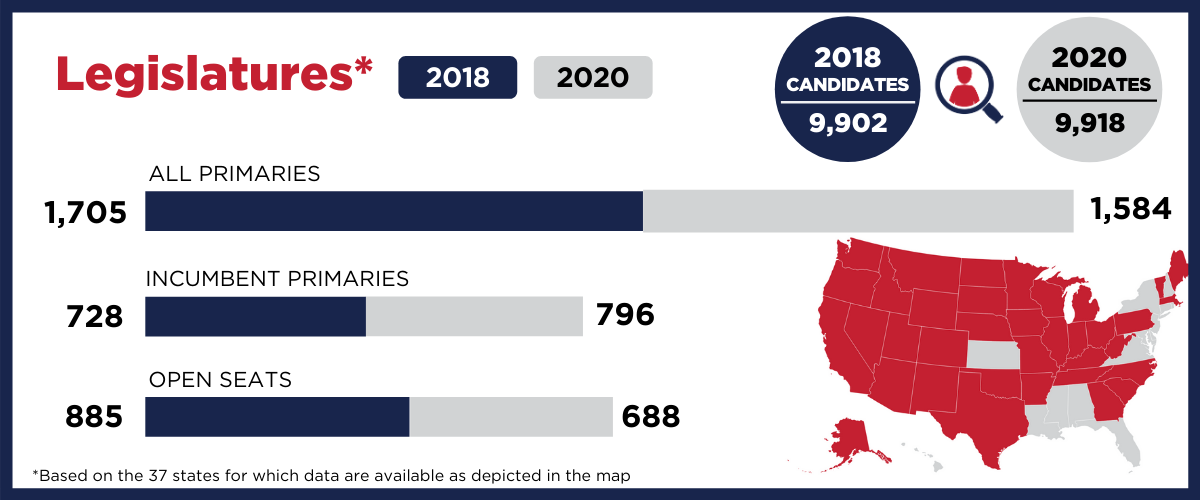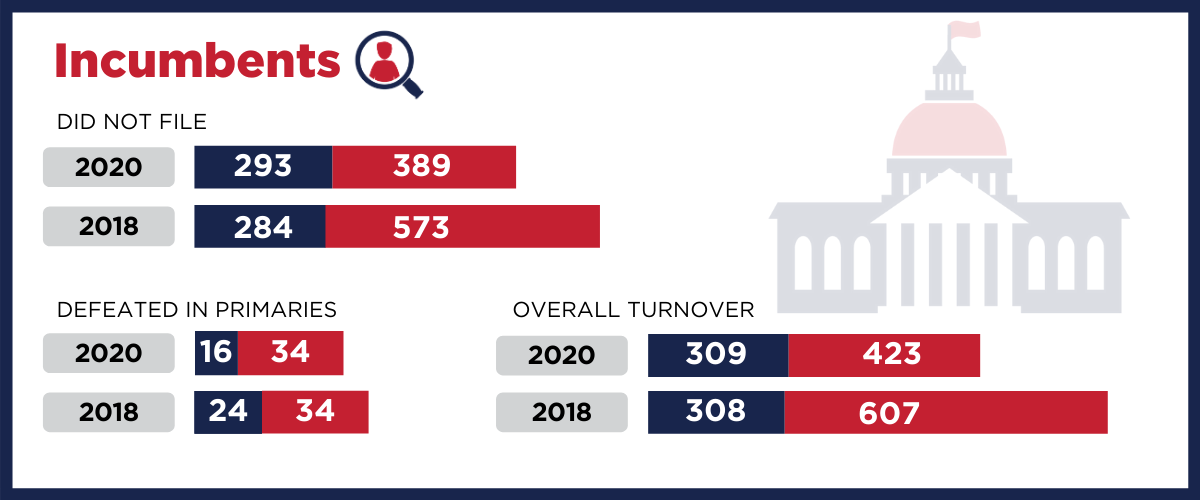 *The number of incumbents who did seek re-election is provided for the 37 states whose 2020 filing deadlines have already passed. The number of incumbents defeated in primaries is provided for the 19 states that have already held state legislative primaries in 2020.
Jacksonville Chamber of Commerce endorses challenger over incumbent in Florida House District 14 primary
On June 19, JAXBIZ, the Jacksonville Chamber of Commerce's political action arm, endorsed Angie Nixon (D) in the primary for Florida's House District 14. Nixon is challenging incumbent Rep. Kimberly Daniels (D-14), who Andrew Pantazi with the Florida Times-Union called "perhaps the most conservative Democrat in the Legislature." 
Daniels was first elected in 2016 and re-elected in 2018. She faced primaries in both races, winning 36 percent of the vote in a five-way primary in 2016 and defeating challenger Paula Wright (D) with 55 percent of the vote in 2018. In the current primary, Daniels has received campaign contributions from prominent Republican legislators like House Appropriations Chairman Travis Cummings (R-18) and Rep. Paul Renner (R-24), who is in line to become House Speaker in 2022 if Republicans maintain a majority.
In addition to the Jacksonville Chamber, Nixon received endorsements from Equality Florida, FL Planned Parenthood PAC, and the Democratic Environmental Caucus of FL. Between June 1 and 12, Nixon raised $26,146, passing Daniels in cash-on-hand for the first time in the primary. During that same period, Daniels raised no new funds. According to Florida Politics' A.G. Gancarski, "Nixon has just over $60,000 on hand. Daniels … has just under $50,000 to spend." 
District 14 has been reliably Democratic. Since 2012, there have been two contested general elections, with the Democratic candidate receiving over 65 percent of the vote in each. The winner of the Aug. 18 primary will face Nancy Lynn Kapetanovic (I), who is running as a write-in candidate.
Endorsements announced in final weeks of three-way primary for Colorado House District 6 seat
Within the past week, incumbent state Rep. Steven Woodrow (D-06) received endorsements from Rep. Yadira Caraveo (D-31) and Denver city councilman Chris Hinds (D) in the Democratic primary for the Denver-area House District 6. Woodrow faces a three-way primary against Dan Himelspach and Steven Paletz on June 30. Both challengers have received notable endorsements.
Woodrow, a consumer rights attorney, was appointed to the seat in Feb. 2020 to fill a vacancy left by state Rep. Chris Hansen (D). In addition to Caraveo and Hinds, U.S. Rep. Joe Neguse (D-Colo.), the Colorado Working Families Party, and 23 incumbent legislators have endorsed his candidacy.
Himelspach founded a dispute resolution firm where he conducts mediations and arbitrations. Denver city councilwoman Amanda Sawyer (D) and former Colorado state Senate president, Brandon Shaffer (D), endorsed his campaign.
Paletz is an associate attorney at Fairfield and Woods, P.C. He received endorsements from U.S. Sen. Cory Booker (D-N.J.), the Greater Metro Denver Ministerial Alliance, and Edward Barad, president of Hillel of Colorado.
The three candidates remain relatively close to one another in fundraising. As of June 15, reports showed Paletz raised $138,55, $80,000 of which was self-funded. Woodrow raised $95,172. Himelspach raised $55,625 and self-funded an additional $30,000 for a total of $85,625.
The winner of the primary will likely face William McAleb (R), who is running unopposed on the Republican side. This will be the first contested general election in District 6 since 2012 when former Rep. Lois Court (D) defeated Robert Hardaway (R), 67-30%.
Power players
"Over the past three years, Indivisible has gone from a spontaneous movement to a sophisticated network that combines national connectivity, partnerships, and support with local leadership and ownership." – Indivisible website
Indivisible comprises the Indivisible Project, a 501(c)(4) organization, Indivisible Action, a hybrid political action committee, and Indivisible Civics, a 501(c)(3) organization. Indivisible was started with the publication of the Indivisible Guide, which the group describes as a "practical guide for newly engaged civic activists to take action in defending their progressive values within their local communities." 
Indivisible Project says its mission is to "power and lift up a grassroots movement of local groups to realize bold progressive policies." The group says, "We achieve state and national legislative victories by empowering grassroots activists with strategic guidance, tools, coordinated calls to action, and support for grassroots and direct advocacy."
Indivisible Action says it "provides Indivisible groups access to voter contact software, along with a suite of canvassing, phonebanking, and texting tools in support of progressive candidates. Indivisible Action also makes endorsements of federal and gubernatorial candidates nominated by their local Indivisible groups, vetted by our political team, and voted on by our supporters in the states and districts the candidate wishes to represent."
Indivisible Civics says it was started to support local Indivisible groups and is "committed to providing civic education, policy resources, strategic guidance, and targeted trainings for groups across the country."   
To view Indivisible's 2019 annual report, click here. To view a list of candidates endorsed by Indivisible, click here.