This week: Gov. Murphy endorses Kennedy in NJ-02, Professional Fire Fighters of MA endorses Becky Grossman in MA-04, and King County Democrats endorse Denny Heck for lieutenant governor of Washington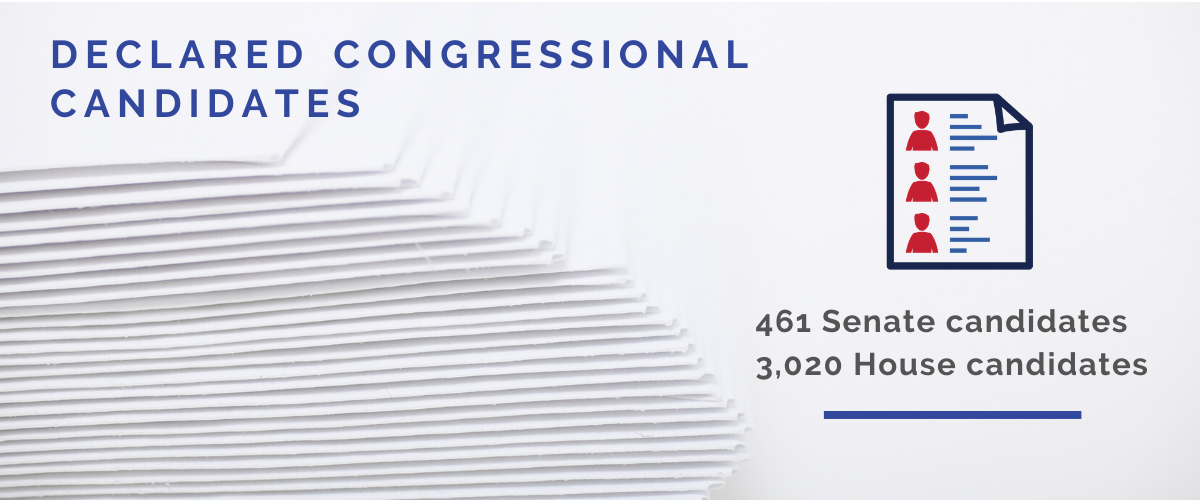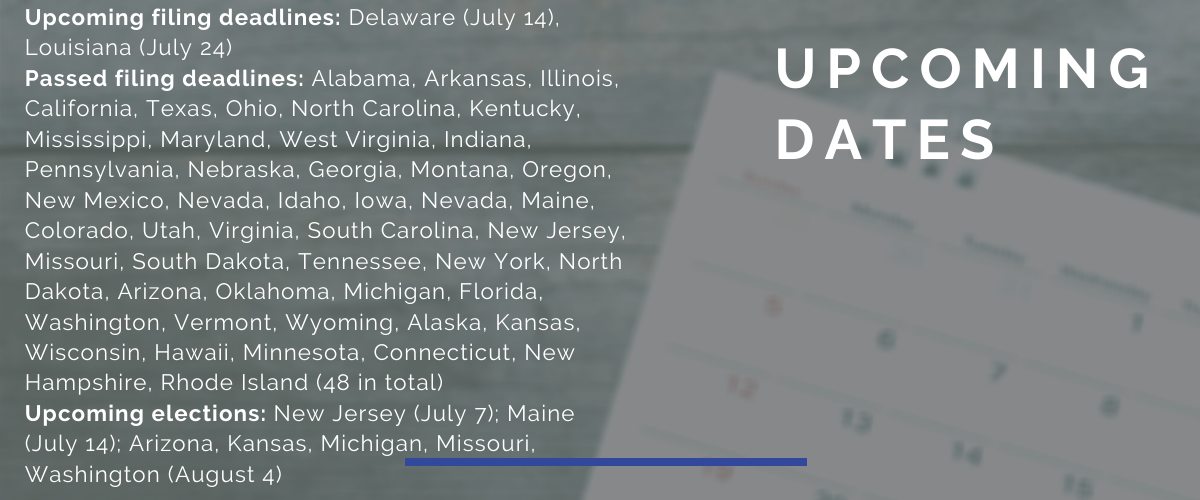 On the news
Where do Democratic and progressive pundits and commentators disagree? Each week, we bring you excerpts that highlight differing views.
On the Democratic vice presidential nominee
"Senator [Elizabeth] Warren has also proposed some of the most comprehensive policy plans to deal with the consequences of the coronavirus pandemic. She has the tenacity and expertise to help ordinary Americans steer through this crisis, and she'd be ready to govern on day one. For all of these reasons, we're asking you to choose her as your vice president. Biden-Warren would represent a unity ticket, one capable of generating enthusiasm from across the Democratic Party and beyond – and defeating Donald Trump in November."
– RootsAction and Progressive Democrats of America, in an open letter to Joe Biden, June 30, 2020
"I don't support an all-white ticket. That was a tremendous mistake in 2016. We have a party that's half people of color and a quarter Black. The ticket needs to reflect that."
– Aimee Allison, president of She the People, quoted by NBC News, June 27, 2020
Election results
This section includes election results for each June 30 battleground Democratic primary we followed, as well as the results from those June 23 battleground primaries in Kentucky and New York that were too close to call at the time we published last week's edition.
June 30
U.S. Senate in Colorado: Former Gov. John Hickenlooper defeated former state House Speaker Andrew Romanoff to win the Democratic nomination to challenge Sen. Cory Gardner (R-Colo.). As of 7:15 a.m. Mountain Time on July 1, Hickenlooper had received 60% of the vote to Romanoff's 40% with 83% of precincts reporting. The Colorado Sun described the race as reflecting a broader split within the national Democratic Party. Hickenlooper's endorsers included the Democratic Senatorial Campaign Committee while Romanoff's included the metro Denver branch of Our Revolution.
Colorado's 3rd Congressional District: Former state Rep. Diane Mitsch Bush defeated Seattle Fish Company executive chairman James Iacino to win the Democratic nomination in Colorado's 3rd Congressional District. As of 7:15 a.m. Mountain Time on July 1, Bush had received 61% of the vote to Iacino's 39% with 83% of precincts reporting. The two differed on healthcare, with Bush supporting a single-payer system and Iacino supporting an opt-in public insurance plan.
June 23
U.S. Senate in Kentucky: Amy McGrath won the June 23 Democratic primary for the U.S. Senate nomination in Kentucky. As of 5:00 p.m. Central Time on June 30, McGrath had received 45% of the vote, followed by Charles Booker with 43%. No other candidate had more than 10% of the vote. McGrath will face incumbent Mitch McConnell (R) in the November general election.
New York's 16th Congressional District: Jamaal Bowman defeated incumbent Eliot Engel and three other candidates to win the Democratic nomination in New York's 27th Congressional District. As of 6:00 p.m. Eastern Time on June 30, Bowman had 61% of the vote to Engel's 36%. Engel released a statement June 24 saying it would be too soon to call the election before absentee ballots had been tallied. 
New York's 24th Congressional District: Dana Balter defeated Francis Conole to win the Democratic nomination in New York's 24th Congressional District. As of 6:00 p.m. on June 30, Balter had received 64% of the vote to Conole's 35%. Balter will face incumbent John Katko (R). Two election forecasters say the race leans towards Katko and the third says he is likely to win.
U.S. Congress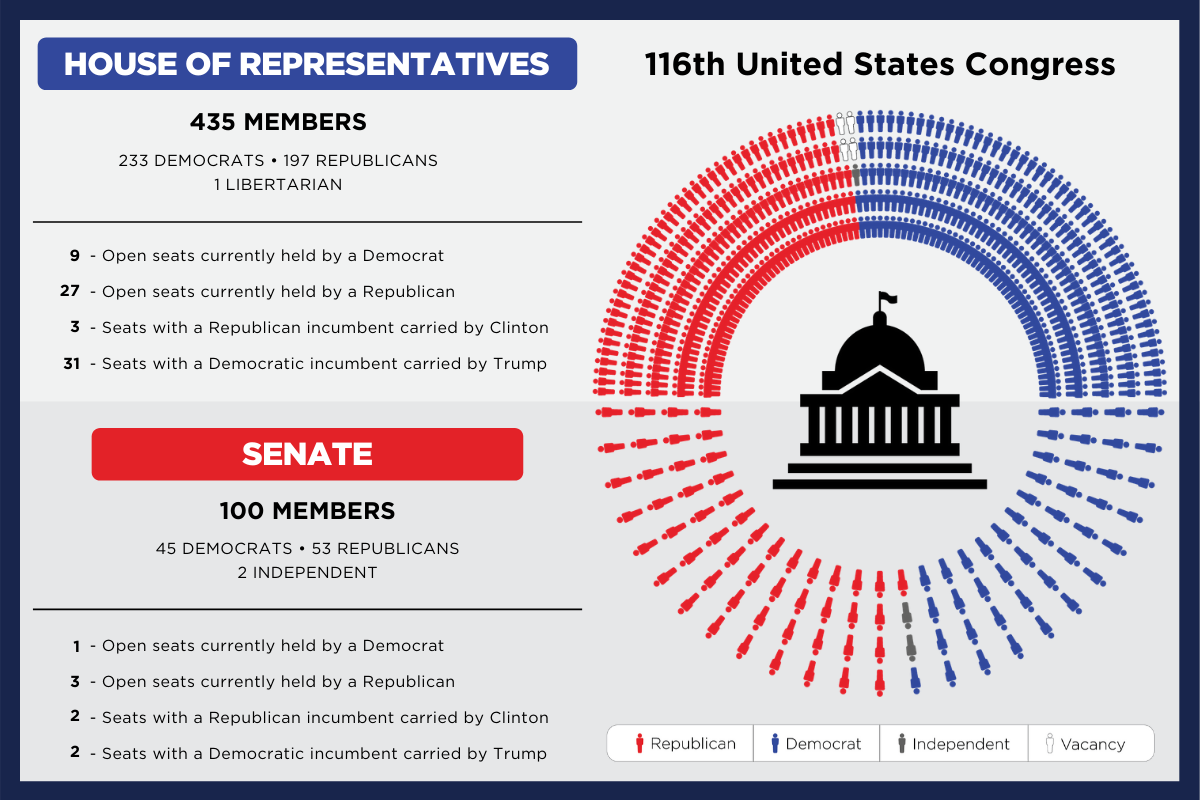 Gov. Murphy endorses Kennedy in NJ-02
New Jersey Gov. Phil Murphy (D) endorsed Amy Kennedy in the state's 2nd Congressional District Democratic primary.
Murphy said, "South Jersey needs strong and compassionate leaders with integrity and commitment to community. As a former public school teacher and mental health advocate, Amy Kennedy is just the type of leader who'll bring progressive change to South Jersey."
The Press of Atlantic City's Michelle Brunetti Post wrote that political science professor Brigid Callahan Harrison "is backed by State Senate President Stephen Sweeney, and Democratic powerbroker George Norcross of Camden, both of which have sparred with Murphy in the past." In 2019, Murphy clashed with Norcross and Sweeney on the Economic Development Authority's use of tax incentives.
As we reported earlier, six county Democratic parties endorsed Harrison, and one (Atlantic County, the largest county in the district) endorsed Kennedy.
Harrison, Kennedy, and Will Cunningham participated in a debate on June 25. Harrison and Kennedy agreed on several policy issues, including support for single-payer healthcare and increasing infrastructure spending. Harrison criticized Kennedy for receiving campaign contributions from executives of Wellpath, a private correctional healthcare services company. Kennedy criticized Harrison for not taking an End Citizens United pledge to refuse contributions from corporate PACs. End Citizens United endorsed Kennedy in the race.
The Democratic primary became an open race in December when incumbent Rep. Jeff Van Drew changed his affiliation from Democratic to Republican. Van Drew is running in the Republican primary.
The primaries are July 7. Five candidates are running in the Democratic primary, and Van Drew faces one challenger.
Professional Fire Fighters of MA endorses Becky Grossman in MA-04
The Professional Fire Fighters of Massachusetts endorsed Becky Grossman in Massachusetts' 4th Congressional District Democratic primary. She is one of 10 candidates running for a chance to succeed incumbent Joe Kennedy (D), who is running for U.S. Senate. This is a safe Democratic district. 
Union President Rich MacKinnon Jr. said Grossman "stands out in a crowded field of candidates for her unwavering and genuine support of firefighters and their families."
Recently, the Service Employees International Union (SEIU) Massachusetts State Council endorsed Jesse Mermell. The Ironworkers Local 7 union endorsed Jack Auchincloss. 
Auchincloss and Grossman are on the Newton City Council. Mermell is a former Brookline Select Board member.
Four candidates in the race raised more than $500,000 as of March 31. Auchincloss and Alan Khazei led with $1,096,000 and $1,074,000, respectively. Grossman had raised $638,000, and Mermell, $560,000. 
The primary is Sept. 1.
Nine of 10 candidates in this race have filled out Ballotpedia's Candidate Connection survey. Click candidates' names below to view their profile pages and survey responses.
State executives

Former Vermont Gov. Peter Shumlin endorses Molly Gray for lieutenant governor
Former Gov. Peter Shumlin (D) endorsed Assistant Attorney General Molly Gray's (D) run for lieutenant governor of Vermont on June 25.
Gray, state Sen. Timothy Ashe, state Sen. Debbie Ingram, and 2018 gubernatorial candidate Brenda Siegel are the four Democrats running in the Aug. 11 primary. 
Gray's other backers include former Gov. Madeleine Kunin (D) and former Lt. Gov. Doug Racine (D). 
Vermont is one of 17 states where the governor and lieutenant governor are elected separately. Vermont's lieutenant governor is first in line to succeed the governor and serves as president of the state Senate, where they may cast tie-breaking votes. 
Incumbent David Zuckerman (D) is running for governor against Gov. Phil Scott (R), leaving the office open. Vermont is one of three states where the governor and lieutenant governor are members of different parties. North Carolina and Louisiana both have a Democratic governor and a Republican lieutenant governor.
Vermont is one of 21 states where the governor is not permitted to delegate some of their responsibilities to the lieutenant governor.
The Aug. 11 Democratic primary is open to all registered voters. 
King County Democrats endorse Denny Heck for lieutenant governor of Washington
The King County Democratic Party's executive committee endorsed U.S. Rep. Denny Heck (D) for lieutenant governor of Washington June 25. King County, home to Seattle, is Washington's largest county and accounts for 30% of the state's overall population.
Washington is one of two states, along with California, to use a top-two primary system for state executive elections. Under this system, every candidate for a particular office appears on the same primary ballot and the top two finishers advance to the general election regardless of their partisan affiliation.
Heck is among 11 candidates, four of them Democrats, who will appear on the Aug. 4 top-two primary ballot. Incumbent Cyrus Habib (D), who is not running for re-election, endorsed state Sen. Marko Liias (D).
The King County Democrats also endorsed Gov. Jay Inslee, state Commissioner of Public Lands Hilary Franz, and state Auditor Pat McCarthy, each of whom faces Democratic primary challengers, for re-election. The group endorsed the Democratic candidate in four other state executive races where only one Democrat was on the ballot and backed incumbent Chris Reykdal in the nonpartisan race for Superintendent of Public Instruction.
Legislatures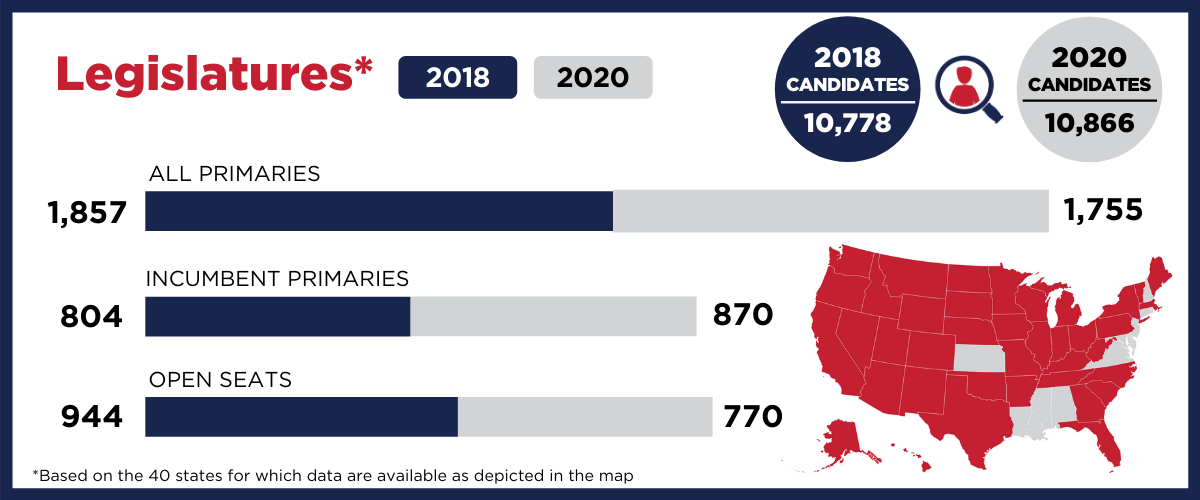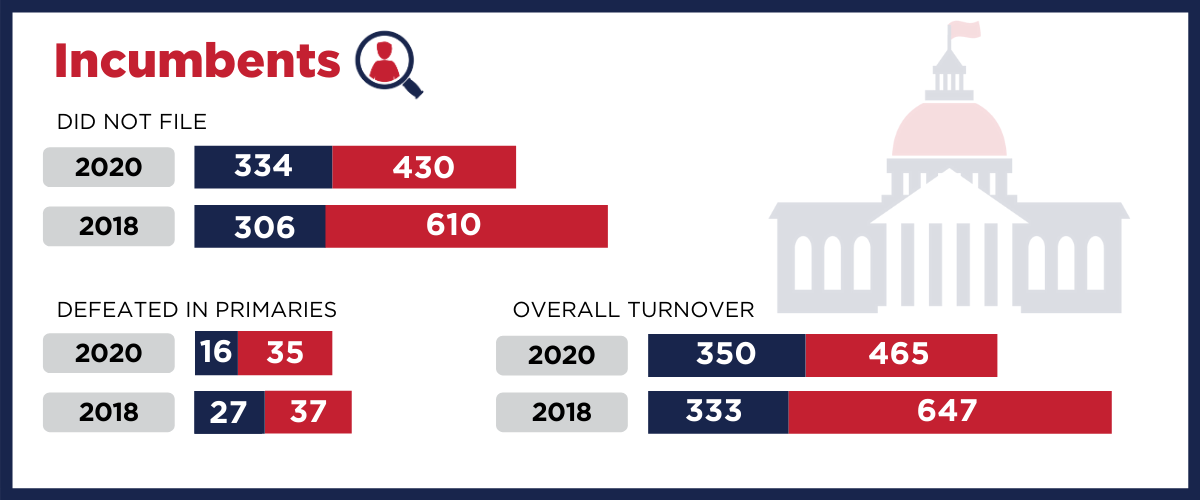 The number of incumbents who did seek re-election is provided for the 40 states whose 2020 filing deadlines have already passed. The number of incumbents defeated in primaries is provided for the 21 states that have already held state legislative primaries in 2020.
Newly-formed Rhode Island Political Cooperative announces 17 state legislative candidates
On June 25, the newly-formed Rhode Island Political Cooperative announced 17 Democratic candidates supporting its platform filed to run for General Assembly seats ahead of the July 10 deadline. Of those 17 candidates, 12 are challenging Democratic incumbents.
The organization says the candidates "are committed to a common platform of a Green New Deal, $15 minimum wage, single-payer healthcare, and racial and economic justice." 
The R.I. Political Cooperative, founded in 2019, describes itself as "a non-profit corporation that provides campaign services to progressive political candidates in Rhode Island." According to Uprise RI, the group "directly addresses the challenges candidates face when running against establishment politicians who are backed by corporate money." Jennifer Rourke, former state Senator Jeanine Calkin (D), and former Secretary of State Matt Brown (D) are its co-chairs.
As of July 1, the 12 candidates challenging Democratic incumbents include Lenny Cioe (D) who is facing Senate President Dominick Ruggerio (D-04) in the Senate District 4 primary. 
Of the five candidates not challenging Democratic incumbents, one—Rep. Moira Walsh (D-03)—is an incumbent facing a challenger. Two—Kendra Anderson (D) in Senate District 31 and Michelle McGaw (D) in House District 71—are running in primaries for open seats. In Senate District 34 and House District 39, Jennifer Douglas (D) and Megan Cotter (D) are challenging Republican incumbents.
Candidates debate in primary for open Wisconsin Senate District 16 seat
On June 25, Andrew McKinney and Melissa Sargent met in a debate in the Democratic primary for Wisconsin's open Senate District 16 seat. 
The debate was held over Zoom and moderated by The Capital Times' Briana Reilly. In a post-debate recap, the Times' Steven Elbow wrote, "Candidates for the District 16 state Senate seat were largely on the same page on major issues … [and] share similar priorities: health care, housing, education, and tackling racial disparities."
Sargent has represented District 48 in the Wisconsin State Assembly since 2013. She said, "I am proud to continue to be a champion of progressive policies," and, "my experience, compassion, and proven leadership will serve our community." 
McKinney is the Monona Grove School Board President. He said "I'm the new kid on the block in this, but I do have the experience of working with policies, working with our community," adding, "I can get all of these Republican and Democrats together to work on these issues so it can be a better tomorrow."
The winner of the primary will likely face Scott Barker (R), who is running unopposed on the Republican side. The retiring incumbent, Sen. Mark Miller (D-16), ran unopposed in the 2008, 2012, and 2016 primary and general elections.
Power players
"Our democracy is under attack. It's not just foreign interference in our elections: Politicians here in America are attacking our right to vote. Politicians are trying to pick their voters instead of voters picking their politicians. We can't let that happen." – Let America Vote website
Let America Vote is a 527 group founded in 2017 by former Missouri Secretary of State Jason Kander (D). The group describes its mission as: "When politicians make it hard to vote, we make it hard for them to get re-elected."
Let America Vote merged with End Citizens United, another voting policy group which has backed Democrats in recent elections, in January. Click here to read our profile of End Citizens United, first published in Issue 7 of the Heart of the Primaries.
As of June 2020, Let America Vote's website said it had endorsed over 110 successful candidates for elected office. Its endorsements in 2020 primaries included Dan Feltes (D) for governor of New Hampshire and U.S. Reps. Charlie Crist (D-Fla.), Sean Patrick Maloney (D-N.Y.), and Jennifer Wexton (D-Va.), who are each seeking re-election.
Click here for a full list of the group's 2020 endorsement announcements.