This week: Club for Growth Action suspends ads in Senate primary in KS, Right for Alabama PAC spends to counter Club for Growth spending in AL-01 runoff, and Missouri Right to Life PAC endorses state Senator in open Missouri House District 147 primary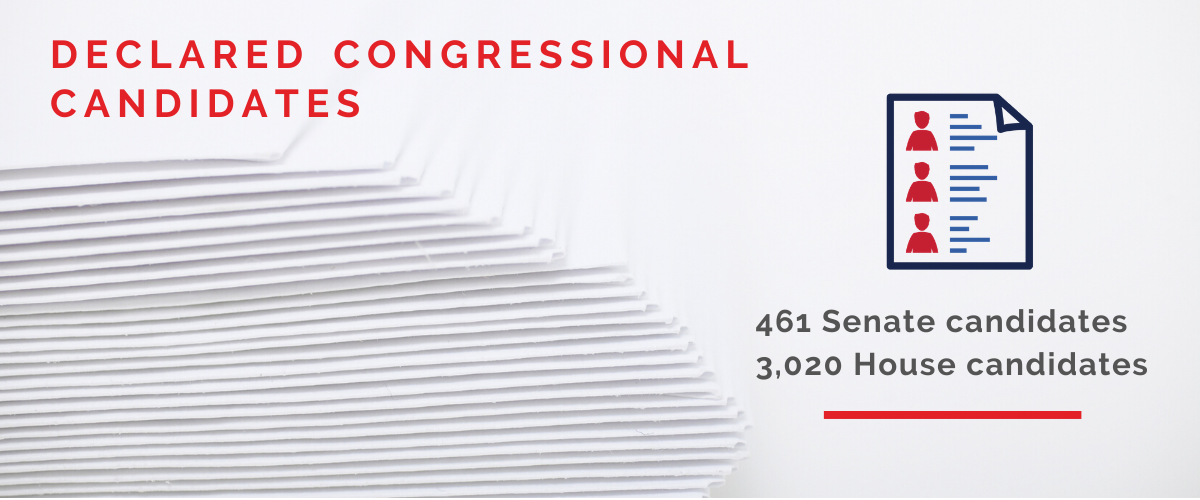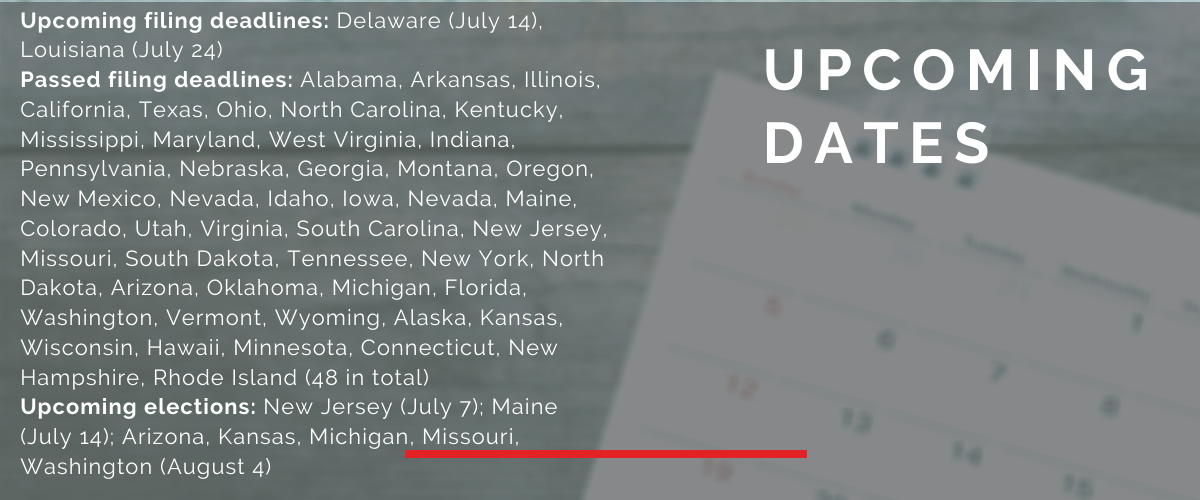 On the news
Where do Republican and conservative pundits and commentators disagree? Each week, we bring you excerpts that highlight differing views.
On the Supreme Court decision in June Medical Services v. Russo
"The process bothers me as much as the result. The chief justice today joined with the four liberals on the court to strike down the Louisiana statute. Four years ago, in a case out of Texas, same statute, same issue, the chief justice voted with the conservatives. Today, he voted with the liberals. He changed his vote. He flip-flopped. He flip-flopped like a banked catfish. And that's why I say the process worries me as much as the result. This is why so many people think the — that our federal courts, our federal judges have become nothing but politicians in robes. Now, the chief justice famously says all the time that he's just an umpire, all he does is call balls and strikes. Well, four years ago, he called a ball. Today, same pitch, he called a strike."
– Sen. John Kennedy (R-La.), quoted by Breitbart, June 29, 2020
"I agree with the Supreme Court's decision in June Medical, which recognizes the burden that the Louisiana statute could impose. Some have tried to suggest that this opinion is an indication of how certain justices would vote on the question of whether abortion will remain legal. That is reading too much into this specific decision. As Justice Gorsuch noted, 'In truth, Roe v. Wade is not even at issue here.'"
– Sen. Susan Collins (R-Maine), quoted by Maine Public Radio, June 29, 2020
Election results
Governor of Utah: As of 7:45 a.m. Mountain Time on July 1, the Republican primary for governor of Utah was too close to call. Lt. Gov. Spencer Cox led with 37.0% of the vote, followed by former Gov. Jon Huntsman with 34.3%. Former state House Speaker Greg Hughes had 20.7% of the vote and former state GOP Chairman Thomas Wright had 8.0%.
Colorado's 3rd Congressional District: Challenger Lauren Boebert defeated incumbent Rep. Scott Tipton in the Republican primary for Colorado's 3rd Congressional District. As of 7:30 a.m. Mountain Time on July 1, Boebert had received 55% of the vote to Tipton's 45% with 88% of precincts reporting. Tipton, who was first elected in 2010, is the fifth member of the U.S. House to lose renomination this year, joining Reps. Dan Lipinski (D-Ill.), Steve King (R-Iowa), Eliot Engel (D-N.Y.), and Denver Riggleman (R-Va.).
Oklahoma's 5th Congressional District: Terry Neese and Stephanie Bice were the top two finishers in the Republican primary for Oklahoma's 5th Congressional District, with 36.5% and 25.4% of the vote respectively. Since neither candidate won 50% of the vote, the two advanced to an Aug. 25 runoff. Nearly all of the satellite spending in the primary came from either Club for Growth Action, which opposed Bice, or American Jobs & Growth PAC, which supported her. 
Utah's 1st Congressional District: As of 7:45 a.m. Mountain Time on July 1, the Republican primary in Utah's 1st Congressional District remained too close to call. Blake Moore led with 30.2% of the vote, followed by Bob Stevenson with 29.6%. Incumbent Rob Bishop (R) ran for lieutenant governor rather than seeking re-election.
Utah's 4th Congressional District: Super Bowl XV Champion Burgess Owens won the Republican primary in Utah's 4th Congressional District. As of 7:45 a.m. Mountain Time on July 1, Owens had received 44% of the vote, followed by Kim Coleman with 24%. Owens will face incumbent Ben McAdams (D) in the November general election. Two election forecasters say the race leans towards McAdams and a third says it tilts towards him.
Utah Attorney General: As of 7:45 a.m. Mountain Time on July 1, the Republican primary for Attorney General of Utah remained too close to call. Incumbent Sean Reyes led with 54.4% of the vote, followed by Utah County Sheriff David Leavitt with 45.6%. Reyes, who has served as attorney general since 2013, says he is running to continue his record, while Leavitt says he is running to change Utah's approach to criminal justice.
U.S. Congress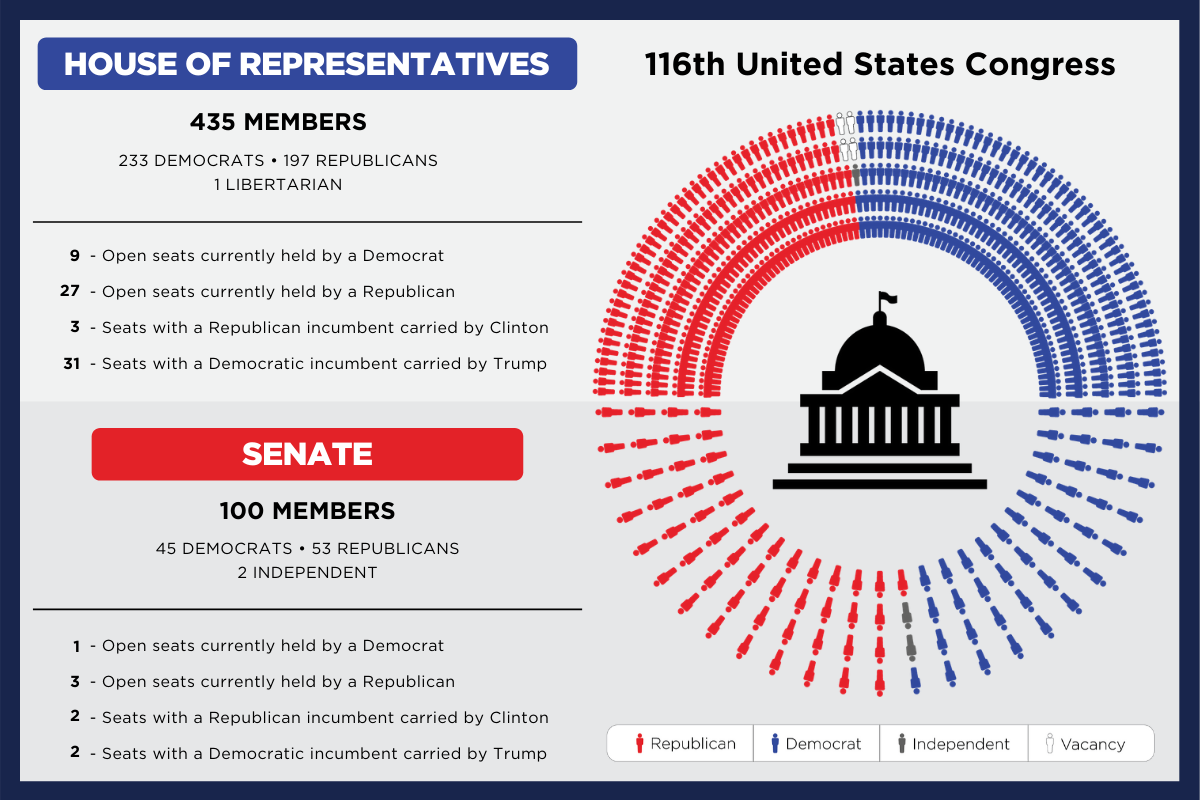 Club for Growth Action suspends ads in Senate primary in KS
Club for Growth Action announced it is suspending its TV advertising in the Republican primary for Senate in Kansas. The group has run ads opposing Roger Marshall.
Club for Growth President David McIntosh said, "We continue to believe Rep. Marshall is not a strong pro-growth candidate. … But the Club for Growth PAC is not endorsing in this race, and Club for Growth Action will be deploying resources in other critical House and Senate primaries."
Politico reported on March 31 that the PAC had booked $2.1 million for ads to run between June 9 and Aug. 4, the date of the primary.
Meanwhile, the U.S. Chamber of Commerce endorsed Marshall. Chamber CEO Thomas J. Donohue said, "As our country faces many challenges and is collectively working to not just reopen our economy, but return to growth and expanded opportunities for all Americans, we need leaders like Representative Roger Marshall. He has a proven track record of leading responsibly and standing up for good policies." 
Also last week, former Kansas Secretary of State Kris Kobach released his first broadcast TV ad. The ad criticizes Marshall for voting in favor of a 2018 immigration bill.  
Marshall and Kobach have led the 11-candidate primary field in noteworthy endorsements. Marshall's endorsers include former Gov. Jeff Colyer (R), the Kansas Farm Bureau, and National Right to Life. Kobach's endorsers include the National Border Patrol Council, the Kansas Coalition for Life, and the National Association for Gun Rights.
Right for Alabama PAC spends to counter Club for Growth spending in AL-01 runoff
Right for Alabama PAC spent $29,000 on ads supporting Jerry Carl in Alabama's 1st Congressional District Republican primary runoff. It's the first satellite spending in support of Carl. Club for Growth Action has spent $1.1 million opposing Carl and $217,000 supporting Bill Hightower.
Right for Alabama PAC said the following in a statement to Alabama Daily News:
For some time now, a D.C.-based special interest group has tried to buy this election and attack the good name and character of Jerry Carl. … We could not sit back and continue to watch this happen to an honorable man like Jerry Carl. This D.C.-based special interest group did not support Donald Trump in 2016 and it continually opposes the Farm Bill, the National Flood Insurance Program and other critical policies that help South Alabama.
Club for Growth Action has criticized Carl by saying he supported "handing out over $20 million of tax money to billion-dollar corporations."
Carl was elected to the Mobile County Commission in 2012 and said he is "a vocal fiscal hawk and advocate for pro-growth, job-creating policies." Carl says his experience running small businesses has made him a problem-solver. 
Hightower was a state senator from 2013 to 2018. He has emphasized bills he introduced or sponsored, including proposals to ban the sale of fetal body parts and to institute term limits for Alabama state legislators. 
Incumbent Rep. Bradley Byrne (R), first elected in 2013, ran in the U.S. Senate Republican primary rather than seeking re-election to the House. The runoff is July 14.
Update: Trump rally for Tuberville in Alabama reportedly canceled
Last week, we reported that the president planned to hold a rally in Alabama supporting Tommy Tuberville ahead of the July 14 Senate primary runoff. On June 30, CNN's Kaitlan Collins and Kevin Liptak wrote that "Trump's campaign has scrapped plans to hold a rally in Alabama next weekend amid concerns about coronavirus infections rising in the US."
State executives

Bill Carrico considering a run for governor of Virginia in 2021
Former state Sen. Bill Carrico (R-Va.) said he is considering running for governor next year and will announce his final decision this fall. 
Carrico, a former state trooper, was elected to the state House in 2001 and to the state Senate in 2011. He retired from the legislature in 2019. He said he was considering running for governor because of the ongoing debate over policing and race relations. 
Carrico made the announcement in an interview with former state Del. Chris Saxman June 25.
Carrico said he supported expanding training programs for police officers, creating a statewide list of officers who had been the subject of complaints, and mandating body camera usage. He said he was opposed to measures to reduce funding for police departments in favor of other social services because they would be costly and put first responders at risk.
State Sen. Amanda Chase (R) is the only Republican to have filed so far for 2021. Chase was first elected to the state Senate in 2015. She said she was inspired to run by Democratic proposals to tighten restrictions on firearms.
Virginia is the only state to prevent governors from running for consecutive terms, meaning the office is open in every election year. The gubernatorial election will take place on Nov. 2, 2021. 
Virginia is currently a Democratic trifecta, where a Democrat is governor and Democrats hold majorities in both chambers of the General Assembly. Except for the 2013 election, every Virginia gubernatorial race since 1973 has been won by the party that lost the previous year's presidential election.
2020 battleground primary recap: Governor of West Virginia
In this series, we look back at recent state executive primaries to see what they can tell us about the November elections.
West Virginia Gov. Jim Justice (R) is running for re-election this year. Although this is Justice's second gubernatorial run, it is his first campaign as a Republican. Justice was elected as a Democrat in 2016 before joining the GOP the following year.
Justice defeated six challengers to win the Republican nomination on June 9. Justice won 63% of the vote, followed by former state Secretary of Commerce H. Woody Thrasher with 18% and state Del. Michael Folk with 12%.
Justice emphasized his endorsements from West Virginians for Life, the National Rifle Association, and President Trump. He said he was running to build on policies from his first term, including increasing teacher pay and funding repairs to West Virginia's roads.
Thrasher, who served as Justice's Secretary of Commerce for the first two years of his term, said Justice was not treating the office of governor as a full-time position and criticized his leadership during his first term.
Folk said both Justice and Thrasher were former Democrats who had only recently joined the GOP. He said West Virginia needed to change its approach towards governance in order to reverse its downward trend in population.
Justice will face Kanawha County Commissioner Ben Salango (D) and any declared independent or third-party candidates in the November general election. Two election forecasters say Justice is a solid favorite to win re-election and one says he is likely to win.
Legislatures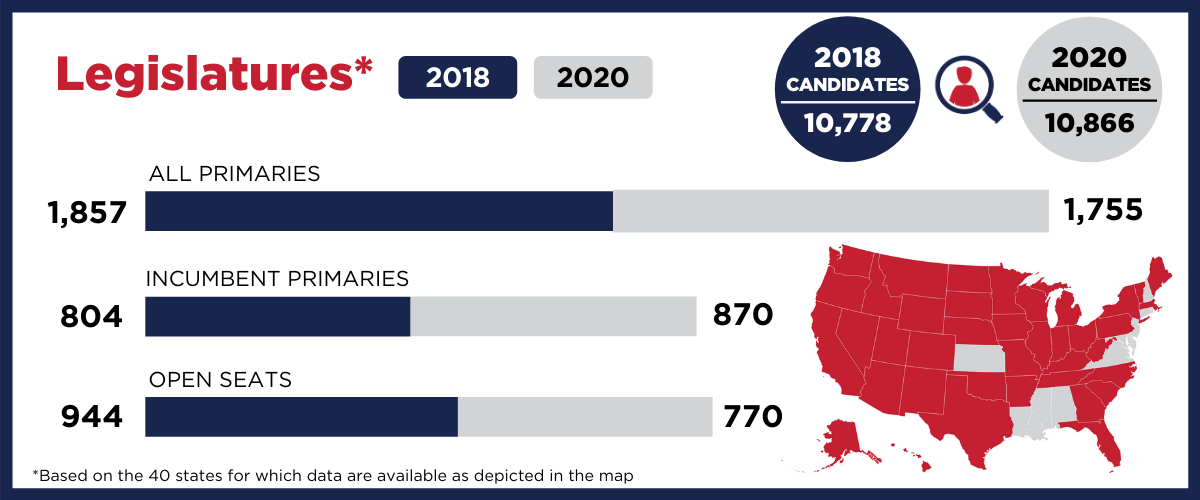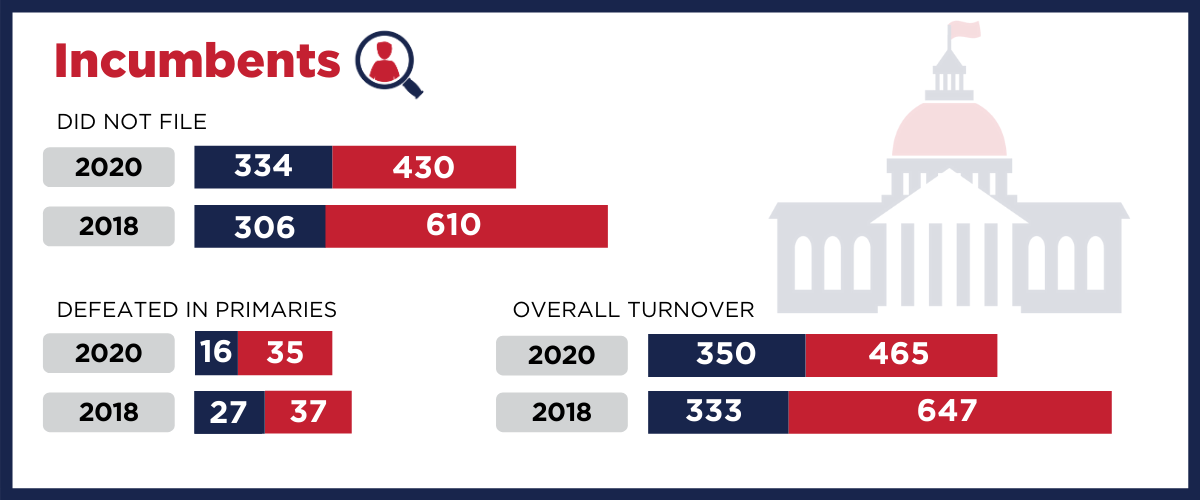 The number of incumbents who did seek re-election is provided for the 40 states whose 2020 filing deadlines have already passed. The number of incumbents defeated in primaries is provided for the 21 states that have already held state legislative primaries in 2020.
Arizona State Troopers Association endorses incumbent in Arizona Senate District 15 primary
On June 27, the Arizona State Troopers Association endorsed incumbent state Sen. Heather Carter in the Republican primary for Senate District 15. Carter faces state Rep. Nancy Barto in the primary. The Arizona Republic's Andrew Oxford wrote that Barto's challenge "pits a staunch conservative against one of the GOP's moderate state senators."
Carter and Barto were both elected to represent District 15 in 2010, Carter as a state Representative and Barto as state Senator. Both legislators were unable to run for re-election in 2018 due to term limits and chose to run for the opposite chamber. 
When announcing her candidacy for Senate in 2020, Barto said, "District 15 should … have a representative that challenges government overreach," adding, "Lately I've become deeply concerned to see our current senator is not representing our freedoms and values. It is vital that we bring back strong, conservative leadership."
Carter, responding to Barto's announcement, wrote, "Maybe she has unfinished business like protecting Big Tobacco … [or] promoting her dangerous anti-vaxer views," continuing, "I've spent my entire legislative career focused on economic growth and creating jobs."
No other candidates are running for the seat, meaning the winner of the August 4 primary likely will be the next Senator.
Missouri Right to Life PAC endorses state Senator in open Missouri House District 147 primary
On June 24, the Missouri Right to Life State PAC endorsed state Sen. Wayne Wallingford (R-27) in the primary for House District 147. Wallingford is facing former Cape Girardeau city councilman John Voss (R) in the primary. Incumbent Rep. Kathy Swan (R-147) is term-limited.
Wallingford represented House District 158 for one term from 2011 to 2013. He won election to two terms representing Senate District 27 in 2012 and 2016. Wallingford said, "[O]ur district needs a strong, proven, conservative fighting for us."
Voss served on the Cape Girardeau city council from 2006 to 2014, including two years as Mayor Pro Tempore in 2013 and 2014. He entered the race after Wallingford. Voss described himself as "a fresh set of eyes — a new conservative voice." 
The winner of the August 4 primary will likely face Andy Leighton (D), the only other candidate running for the seat. The Republican candidate has either run unopposed or received over 60 percent of the vote in each of the District's past four general elections.
Power players
A weekly feature on an influencer shaping the direction of the party.
"National Right to Life is the nation's largest pro-life organization, with 50 state affiliates and approximately 3,000 local affiliates nationwide. NRL works through legislation, education and political action to protect those threatened by abortion, infanticide, euthanasia, and assisted suicide." – NRLC PAC website
The National Right to Life PAC and National Right to Life Victory Fund are a political action committee (PAC) and super PAC that together constitute the political arm of National Right to Life.
Founded in 1968, National Right to Life describes its mission as "to protect and defend the most fundamental right of humankind, the right to life of every innocent human being from the beginning of life to natural death." 
The group's policy page lists "Abortion", "Federal Funding of Abortion", "Planned Parenthood", "Euthanasia/Assisting Suicide", "Heath Care Rationing", "Medicare", "Advance Care Planning", "Living Wills/Will to Live", "International Issues", "Free Speech", and "Campaigns & Elections" as issue areas.
To view candidates endorsed by the National Right to Life Political Victory Fund, click here.