This week: Kennedy wins NJ-2 primary, Texas Working Families Party endorses West in Senate runoff, and Tlaib and Jones completed Ballotpedia's candidate survey.
Click here to follow developments on the Republican side. Have a tip or see something we missed? Email us at geoff@ballotpedia.org. And please share this newsletter with your colleagues!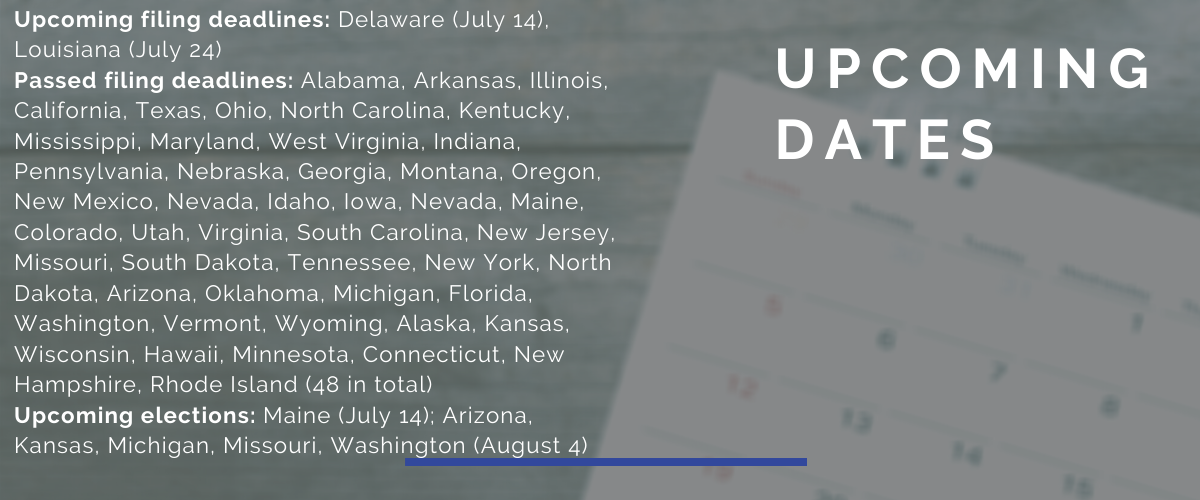 Election results
This section includes election results for each July 7 battleground Democratic primary we followed, as well as the results from those June 23 battleground primaries in New York that were too close to call at the time we published last week's edition.
July 7
New Jersey's 2nd Congressional District: Amy Kennedy defeated Brigid Callahan Harrison and three other candidates to win the Democratic nomination in New Jersey's 2nd Congressional District. As of 9:30 a.m. Eastern Time on July 8, Kennedy had received 59% of the vote to Harrison's 26%. Local political observers described the race as part of a larger battle among state Democrats. Harrison's supporters included Sens. Bob Menendez and Cory Booker, state Senate President Stephen Sweeney, and six of the district's eight county Democratic parties. Kennedy had support from Gov. Phil Murphy and the Atlantic County Democratic Party, which is the district's largest. Kennedy will face incumbent Jeff Van Drew (R), who was elected as a Democrat in 2018 and joined the GOP the following year.
June 23
New York's 9th Congressional District: Incumbent Yvette Clarke defeated Adem Bunkeddeko and three other challengers to win the Democratic nomination in New York's 9th Congressional District. The Associated Press called the race for Clarke on July 1 based on an analysis of absentee ballots that concluded there were not enough votes remaining for Bunkeddeko to win. At the time the race was called, Clarke led Bunkeddeko 62% to 18%. Election forecasters say Clarke, who was first elected in 2006, is a solid bet to win re-election.
New York's 10th Congressional District: Incumbent Jerry Nadler defeated Lindsey Boylan and Jonathan Herzog to win the Democratic nomination for New York's 10th Congressional District. The Associated Press called the race for Nadler on July 1 based on an analysis of absentee ballots that concluded there were not enough votes remaining for Boylan to win. At the time the race was called, Nadler led with 62% of the vote to Boylan's 25% and Herzog's 12%. Election forecasters call this a safe Democratic district.
On the news
Where do Democratic and progressive pundits and commentators disagree? Each week, we bring you excerpts that highlight differing views.
On Hamilton and Black Lives Matter
"One way we compliment art is by calling it either timely or timeless, praising it for capturing a moment in a way conventional political language can't, or for lifting us out of our surroundings entirely. But there is a third category: work that is timely over and over again without ever seeming generic or insubstantial.

"'Hamilton,' the musical biography of both Founding Father Alexander Hamilton and the country he helped invent, is such a work. And as Disney Plus starts streaming a filmed version of the 'Hamilton' stage show, the source of the work's power is clear. 'Hamilton' is a show for every moment because it's about the uneven progress of personal and social change. You can watch 'Hamilton' in exultation and in despair, or — now that a pandemic has put much of daily life on hold even as a movement against racism promises sweeping change — both. …

"… however urgent the demands of the Black Lives Matter protests sweeping the nation and the world, that vision won't be recognized overnight. Change is going to come. And 'Hamilton' will endure because it can teach us how to alternately seize the moment and savor it."
Alyssa Rosenberg, The Washington Post, July 3, 2020
"… to reassess 'Hamilton' now is to note a crucial incompatibility with our current moment: Its hero and its message are essentially ambivalent while today's politics around America's racial sins requires taking a strong stance. … 

"While the play 'Hamilton' has certainly acted as a positive vehicle for the exposure and success of people of color on Broadway, their subversive casting as white founders effectively erases the 14% of late 18th-century Black residents who were mostly enslaved in New York and for whom such vaunted positions were unimaginable.

"One could argue that 'Hamilton' does not seek to fundamentally alter society with its feel-good version of the Revolution, especially since the values and triumphs it celebrates are drawn entirely from founding fathers who mainly did not consider people of color to be human."
Ed Morales, CNN Opinion, July 7, 2020
U.S. Congress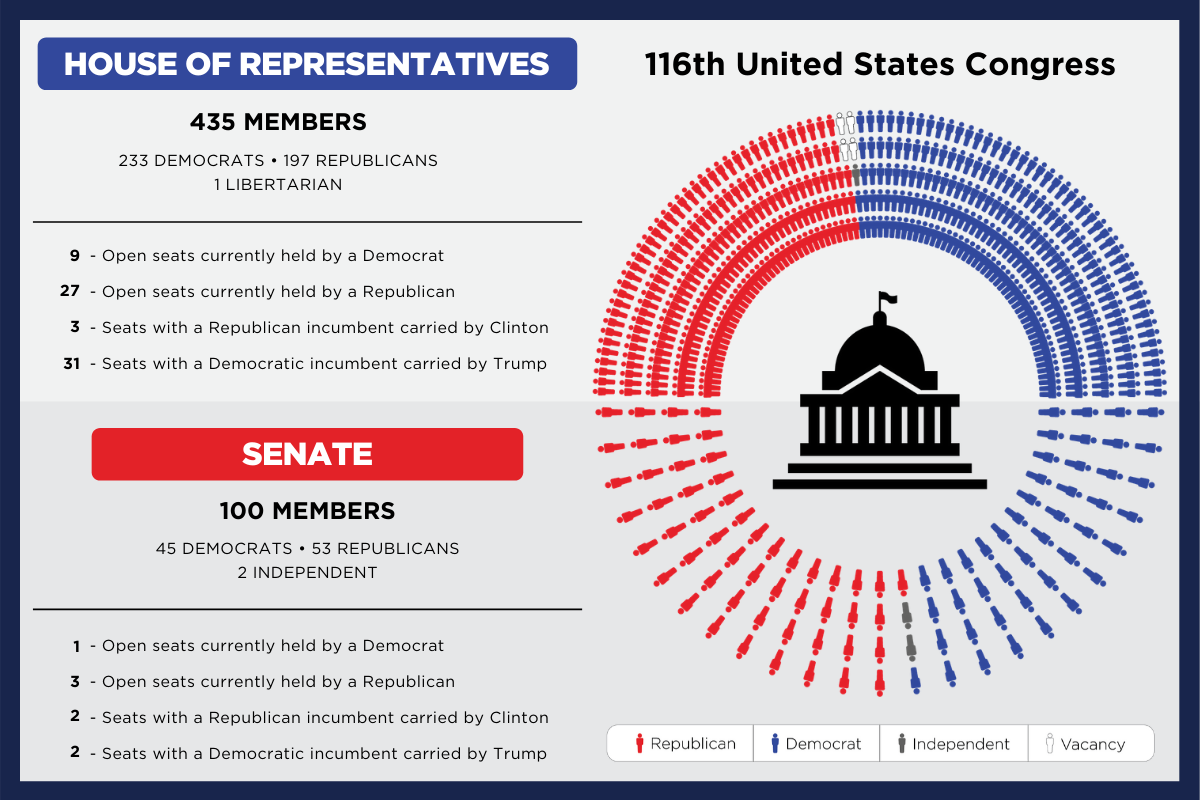 Texas Working Families Party endorses West in Senate runoff 
The Texas Working Families Party endorsed Royce West in the U.S. Senate primary runoff. West has served in the state Senate since 1992. Responding to the endorsement, West said, "Together, we can raise the minimum wage to $15/hr and enact more reforms to help working families." 
Rep. Joaquin Castro (D) also endorsed West last week. Both Castro and the Texas Working Families Party had endorsed Cristina Tzintzún Ramirez ahead of the primary. Ramirez finished third and endorsed West in the runoff.
The Democratic Senatorial Campaign Committee endorsed his opponent, MJ Hegar, ahead of the March 3 primary. She is a former U.S. Army search and rescue and medevac pilot. Hegar ran for Texas' 31st Congressional District in 2018, losing to incumbent Rep. John Carter (R) 51% to 48%. Hegar says she supports raising the minimum wage.
Meanwhile, incumbent Sen. John Cornyn (R) released a radio ad in which a narrator says, "Royce West is far too liberal for Texas, and no one has a clue what MJ Hegar even stands for. Nice choice."
The July 14 runoff winner will face Cornyn in November. Three election forecasters rate the general election Likely Republican.
Rashida Tlaib, Brenda Jones completed Ballotpedia's candidate survey
Rep. Rashida Tlaib and primary challenger Brenda Jones, president of the Detroit City Council, completed Ballotpedia's Candidate Connection survey. The survey questions are designed to elicit insightful and thoughtful responses from candidates on what they care about, what they stand for, and what they hope to achieve. 
Tlaib and Jones are running in Michigan's 13th Congressional District Democratic primary on Aug. 4. In August 2018, Tlaib defeated Jones in the regular primary election 31.2% to 30.2%, while Jones defeated Tlaib in a special primary the same day 37.7% to 35.9%. Jones completed the term to which John Conyers Jr. had been elected in 2016. Tlaib assumed office in January 2019.
Select survey responses are below, with questions in bold. 
What do you perceive to be the United States' greatest challenges as a nation over the next decade?
Tlaib:
The fact that we haven't truly addressed the economic inequity in our country. It has led to so many broken systems and injustices, many of which are rooted in structural racism. 

We must make the decision as a country that we will center the most vulnerable and marginalized. We continue to center wealthy individuals, corporations, and profit. We have so many crises happening across the country because of misplaced priorities.
Jones:
Post COVID-19, the greatest challenge for our nation will be the balance of equity, opportunity and resources for people of color and those from impoverished neighborhoods. The COVID-19 pandemic has revealed significant disparities in access to health care, funding for hospitals in minority and impoverished neighborhoods, small business resources, educational resources in minority and impoverished communities and fair employment policies for essential workers such as vacation, sick time and a high quality living wage. Elected officials must work collaboratively over the next decade to address disparities and inequality to ensure everyone across America has access to a quality standard of living.
Tlaib and Jones each also answered featured local questions from The Detroit News, including: How would you foster a more bipartisan, cooperative atmosphere in Congress?
Tlaib:
I would ask members to walk into a room, not as a Republican or Democrat, but as a son, mom, daughter or whatever family role they play. I would ask that they function from that place so that their decisions would remain focused on the people they love, and on real change for the better. The system now is so tainted with special interest groups and others who aren't thinking about our residents, but how they can make more money.
Jones:
My ability to work across the aisle to create coalitions, develop partnerships and work collaboratively to reach a common goal. I will remain professional, listen to the position of everyone and remain dedicated to developing policies, passing legislation and bringing resources to those in the 13th District, the State and the United States.
Read Tlaib's full responses here. Read Jones' full responses here.
To find out more about Ballotpedia's Candidate Connection survey, or if you are a candidate who would like to complete a survey, click here.
State executives

In Vermont gubernatorial race, Zuckerman leads in spring fundraising, Holcombe leads overall
Lt. Gov. David Zuckerman (D) was the top fundraiser in Vermont Democrats' gubernatorial primary this spring. But according to reports filed July 1 with the Vermont Secretary of State, Rebecca Holcombe (D) has raised the most money overall.
Zuckerman reported raising $130,000 since the March 15 campaign finance reports, bringing his overall fundraising to $290,000. He is in his second term as lieutenant governor after serving 20 years in the state legislature.
Holcombe reported raising $100,000 since March, bringing her cumulative total to $480,000. She served four years as Vermont's secretary of education.
Attorney Pat Winburn raised $88,000, bringing his cumulative total to $195,000.
A fourth candidate, Ralph Corbo, had not filed a July campaign finance report as of July 7.
The Aug. 11 primary is open to all registered voters. Since 2000, Republicans have won six Vermont gubernatorial elections to Democrats' four.
Terry McAuliffe raises $1.7 million, fueling speculation over potential 2021 gubernatorial run
Former Virginia Gov. Terry McAuliffe (D) reported raising $1.7 million for his leadership PAC for what local political observers suggest could be a run to return to the governor's mansion in 2021. McAuliffe, a former chairman of the Democratic National Committee, was elected governor in 2013.
Virginia is the only state where governors may not serve consecutive terms. Although former governors are eligible to seek re-election after a single term out of office, the only governor to do so successfully in the past century was Mills Godwin, who was elected in 1965 as a Democrat and in 1973 as a Republican.
Should he choose to run again, McAuliffe's $1.7 million would put him at the head of the Democratic field in fundraising. State Del. Jennifer Carroll Foy (D) has raised $780,000 to date, while state Sen. Jennifer McClellan (D) has raised $275,000.
Other potential Democratic candidates include Lt. Gov. Justin Fairfax and Attorney General Mark Herring.
Virginia is currently a Democratic trifecta, where a Democrat is governor and Democrats hold majorities in both chambers of the General Assembly. Except for the 2013 election, every Virginia gubernatorial race since 1973 has been won by the party that lost the previous year's presidential election.
Legislatures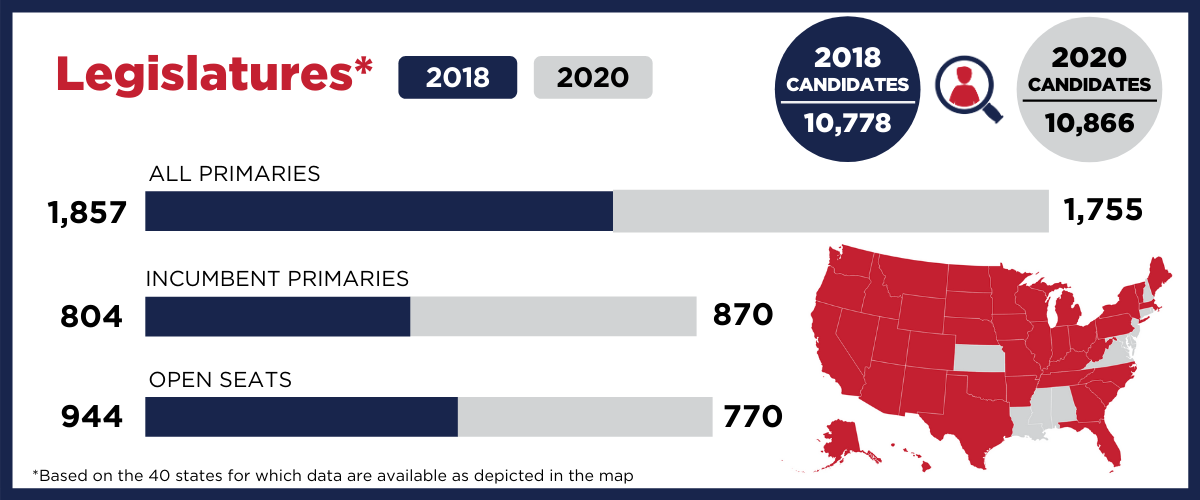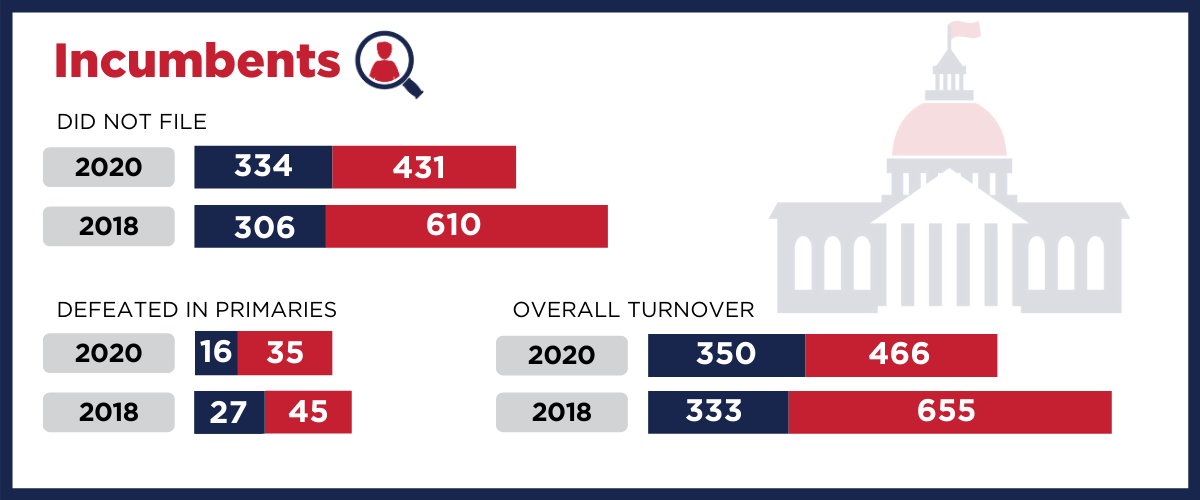 *The number of incumbents who did seek re-election is provided for the 40 states whose 2020 filing deadlines have already passed. The number of incumbents defeated in primaries is provided for the 24 states that have already held state legislative primaries in 2020.
Incumbent criticizes Planned Parenthood's use of Spanish word for
dirty
in oppositional materials in Texas' Senate District 27 runoff 
Planned Parenthood Texas has created a website and other materials opposing Sen. Eddie Lucio, Jr. (D-27) in the July 14 primary runoff. The group has used a Spanish word for dirty—sucio—to describe the senator. The group's PAC funds the website suciolucio.org. One ad said, "For 30 years, Senator Eddie Lucio, Jr. has done the dirty work of extremist politicians like Dan Patrick and Greg Abbott." The ad mentions Lucio's positions on a bathroom bill and on abortion. 
Lucio, who was first elected in 1990, is running against Sara Stapleton-Barrera (D).
On July 2, Lucio issued a press release criticizing Planned Parenthood Texas for using the term "Sucio Lucio" in direct mail the group sent opposing him. 
Lucio's son, Rep. Eddie Lucio III (D-38) said, "These big special-interests groups from outside our border community should comprehend the deeper connotations behind the word 'sucio' ('dirty Mexican') and the association with a person of Hispanic descent."
The Dallas Morning News' Allie Morris wrote, "A devout Catholic, [Sen. Lucio] is often the lone Democrat to side with ruling Republicans on contentious social issues, including abortion."
Lucio's challenger, constitutional lawyer Stapleton-Barrera, said she "has seen firsthand how the system is rigged against working families, women, immigrants, our LGBT community, and all other minorities," adding, "I'm running for office because I believe South Texas deserves a senator who truly represents our people."
During the March 3 primary, Lucio received 49.8% of the vote to Stapleton-Barrera's 35.6%. In Texas, a candidate must receive more than 50 percent of the vote in the primary to avoid a runoff.
South Florida Sun Sentinel
endorses former legislator in Florida's House District 81 
On July 2, the South Florida Sun Sentinel editorial board endorsed former legislator Kelly Skidmore (D) over first-time candidate and criminal defense attorney Michael Weinstein (D). 
The board wrote, "Democrats in Florida House District 81 are lucky. They get to choose between two very good candidates in the Aug. 18 primary." The board said Skidmore has "an admirable understanding of how politics works in Tallahassee." Skidmore previously represented House District 90 from 2006 to 2010. Before that, she was a legislative aid for Ron Klein, a former state senator and representative, from 1996 to 2005. 
Weinstein operates a private practice as a criminal defense attorney. He was the assistant state attorney in Broward County from 1998 to 2002. Weinstein says he is "a proven litigator and negotiator who will bring effective representation that works for our community."
Incumbent Rep. Tina Polsky (D-81) is not seeking re-election, leaving the seat open. The winner of the primary will face either Saulis Banionis (R) or Silmo Moura (R), the two candidates running for the Republican nomination. The last Republican to run for the 81st District was James Ryan O'Hara in 2012. Kevin Rader (D) defeated O'Hara 64-36%. 
Power players
"Everytown is a movement of Americans working together to end gun violence and build safer communities. Gun violence touches every town in America. For too long, change has been thwarted by the Washington gun lobby and by leaders who refuse to take common-sense steps that will save lives." – Everytown for Gun Safety website
Founded in 2012, Everytown for Gun Safety is a 501(c)(4) nonprofit organization that describes itself as "a movement of Americans working together to end gun violence and build safer communities."
The group's website lists the following issues:
BACKGROUND CHECKS: "We want to close the loopholes that allow criminals and other dangerous people to buy guns without background checks."

DOMESTIC VIOLENCE: "We support laws that save lives by keeping guns away from domestic abusers."

PREVENTABLE DEATHS: "We can save lives by educating parents about safe storage and responsible gun ownership."

GUN TRAFFICKING: "We need stronger trafficking laws to give law enforcement the tools they need to crack down on criminals."
To view a list of candidates the Everytown for Gun Safety Action Fund endorsed in June, click here.