This week: Van Drew wins Republican primary in NJ-2, Trump and Cruz back separate candidates in TX-23 runoff, and TN Gov. Lee endorses in a state Senate primary.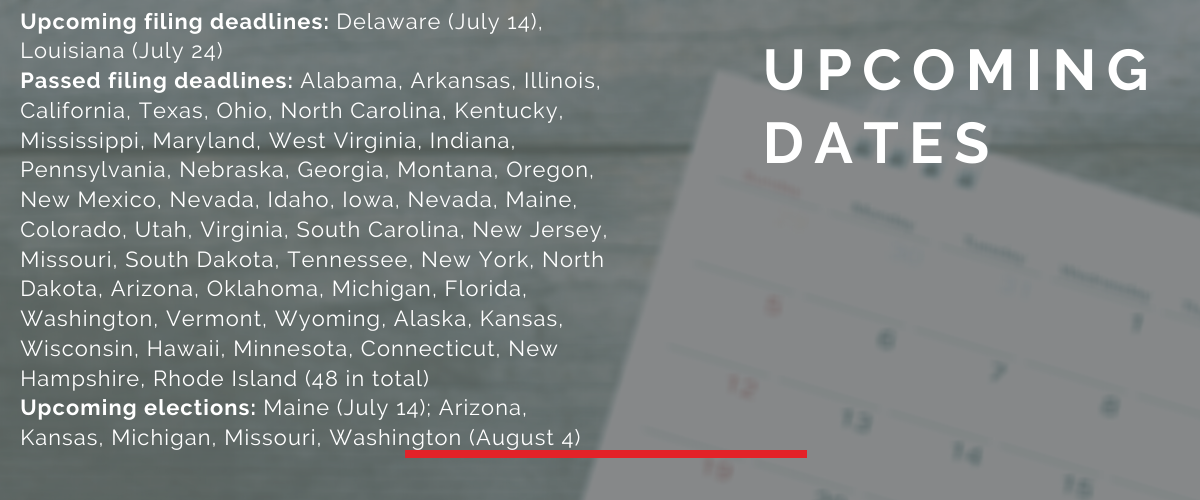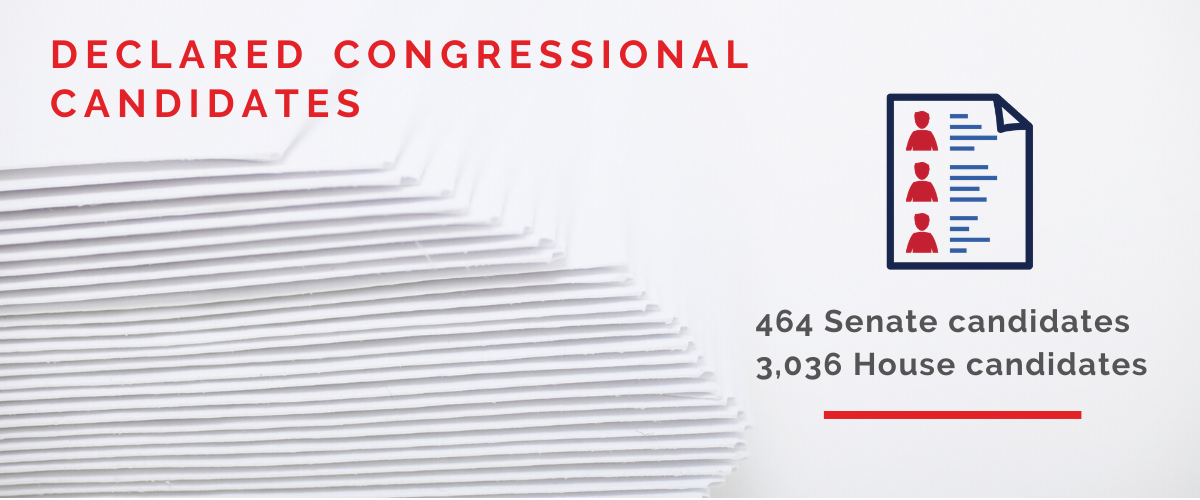 Election results
This section includes election results for each July 7 battleground Republican primary we followed, as well as the results from those June 23 battleground primaries in New York and June 30 battleground primaries in Utah that were too close to call at the time we published last week's edition.
July 7
New Jersey's 2nd Congressional District: Incumbent Jeff Van Drew defeated challenger Bob Patterson to win the Republican nomination in New Jersey's 2nd Congressional District. As of 9:15 a.m. Eastern Time on July 8, Van Drew had received 81% of the vote to Patterson's 18% with 54% of precincts reporting. Van Drew was first elected to the seat as a Democrat in 2018 and joined the Republican Party in December 2019. Van Drew will face Amy Kennedy, the winner of the Democratic primary, in the general election. Two forecasters say the race leans towards Van Drew and a third says it tilts towards him.
New Jersey's 3rd Congressional District: David Richter defeated Kate Gibbs to win the Republican nomination in New Jersey's 3rd Congressional District. As of 9:30 a.m. Eastern Time on July 8, Richter had received 67% of the vote to Gibbs' 33% with 53% of precincts reporting. Richter will face incumbent Andy Kim (D), who was first elected in 2018, in the general election. Two forecasters say the race leans towards Kim and a third says it is a toss-up.
June 30
Utah's 1st Congressional District: Blake Moore defeated Bob Stevenson, Kerry Gibson, and Katie Witt to win the Republican nomination to succeed Rob Bishop (R) in Utah's 1st Congressional District. Moore received 31% of the vote to Stevenson's 29%, Gibson's 24%, and Witt's 17%. Election forecasters say Moore is a solid favorite to win the general election.
Governor of Utah: Lt. Gov. Spencer Cox defeated former Gov. Jon Huntsman, former state House Speaker Greg Hughes, and former state GOP Chairman Thomas Wright to win the Republican nomination for governor of Utah. As of 7:45 a.m. Mountain Time on July 8, Cox had 36% of the vote to Huntsman's 35%, Hughes' 21%, and Wright's 8%. Cox and his running mate, state Sen. Deidre Henderson, will advance to the general election, where election forecasters say they have a solid chance to win.
Utah Attorney General: Incumbent Sean Reyes defeated Utah County Attorney David Leavitt to win the Republican nomination for a second full term as state attorney general. As of 7:45 a.m. Mountain Time on July 8, Reyes had received 54% of the vote to Leavitt's 46%. Reyes said he was running to continue his record of success since taking office in 2013, while Leavitt said he would change Utah's approach towards criminal justice. 
June 23
New York's 2nd Congressional District: Andrew Garbarino defeated Mike LiPetri to win the Republican nomination for a chance to succeed Peter King (R) in New York's 2nd Congressional District. The Associated Press called the race for Garbarino on July 3. At the time, Garbarino led LiPetri 61% to 38%. Garbarino will face Jackie Gordon (D) in the November general election. Election forecasters say the race leans towards Garbarino. 
On the news
Where do Republican and conservative pundits and commentators disagree? Each week, we bring you excerpts that highlight differing views.
On President Donald Trump's speech at Mount Rushmore
"President Donald Trump's speech at Mount Rushmore may be the most important and historic speech of his career. If he continues to echo and reinforce the message of this profound speech, he will become as essential to the preservation of freedom in America for the 21st century as President Abraham Lincoln was in the 19th century and President Ronald Reagan was in the 20th century.

"Not since Reagan has a president laid out the core values that make America free – and stood defiantly in defense of those values despite the ridicule and hostility of the elites, news media, academics and his political opponents. … 

"We are fortunate that President Trump has the courage to say and do what he believes without regard to his critics. It's exactly what American needs."
Newt Gingrich, Fox News, July 6, 2020
"Yes, Trump's Mount Rushmore speech lauded American greatness. For some, that immunizes it against criticism. But at a moment of heightened racial tensions, when millions of his fellow citizens feel embattled and betrayed, it's morally obtuse to fail to devote any words of comfort and inclusion toward them. It is not enough to name-check Louis Armstrong or Jesse Owens. A president should acknowledge that we have not yet lived up to the 'true meaning of [our] creed,' and vow to do better.  It is especially important to do so on the Fourth of July. …  

"Leadership of a large, diverse nation requires certain grace notes that every president in living memory has found it in his heart to pronounce on important occasions.

"This president has chosen, and continues to choose, division and vitriol."
Mona Charen, The Bulwark, July 6, 2020
U.S. Congress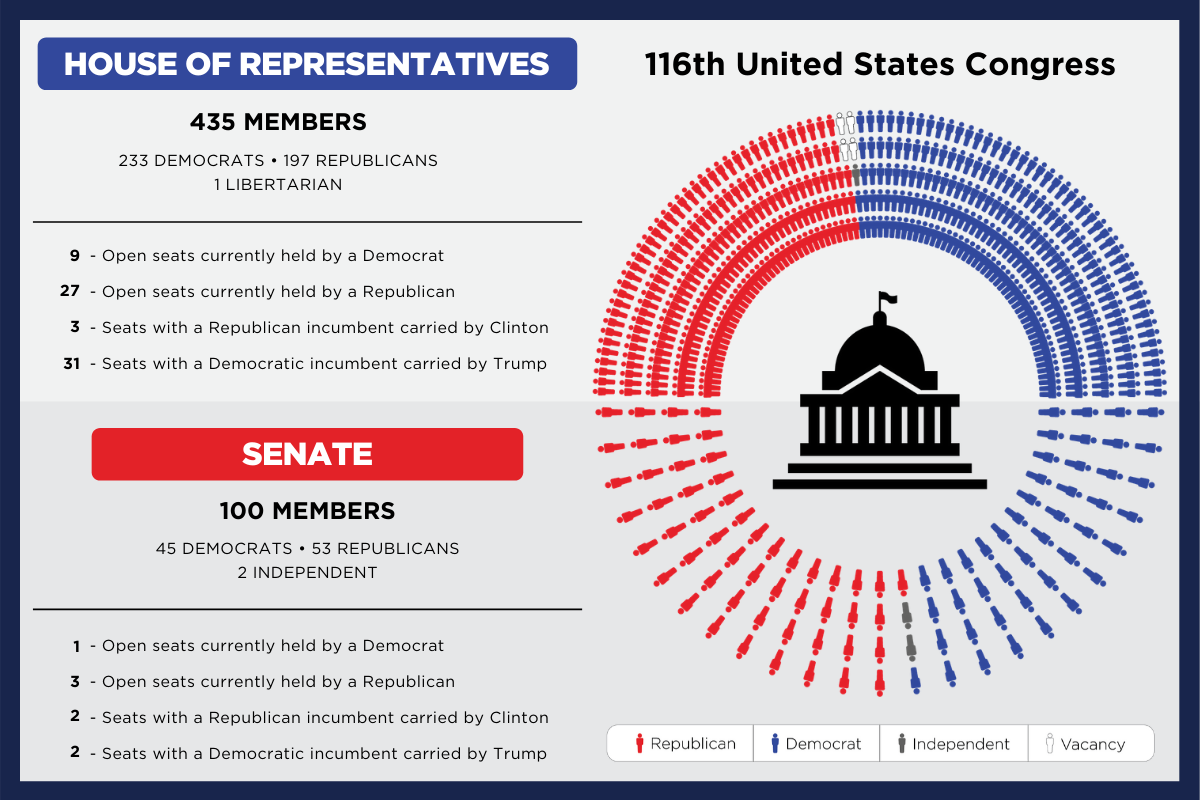 Trump endorses Gonzales, Cruz endorses Reyes in TX-23 runoff
Last week, President Donald Trump endorsed Tony Gonzales in Texas' 23rd Congressional District primary runoff, while Sen. Ted Cruz endorsed Raul Reyes Jr. 
Trump said of Gonzales, "A Navy veteran, he is Strong on the Economy, Life and the Second Amendment." Cruz's leadership PAC released an ad in which Cruz said, "We need to send conservative warriors to defeat Nancy Pelosi's agenda and show some of our Republicans what a backbone is."
Gonzales' other endorsers include Sen. Marco Rubio (R-Fla.), House Minority Leader Kevin McCarthy (R-Calif.), and House Minority Whip Steve Scalise (R-La.). William Hurd (R), the 23rd District's retiring incumbent, also endorsed Gonzales. Reyes' other endorsers include the Young Conservatives of Texas, Gun Owners of America, and Texas Right to Life.
Hurd won his last election in 2018 with 49.2% of the vote to Gina Ortiz Jones' (D) 48.7%. Three election forecasters rate the 2020 general election as Lean Democratic.
The primary runoff is July 14.
Rubio endorses Eagle in FL-19
Sen. Marco Rubio endorsed Dane Eagle in Florida's 19th Congressional District primary. Nine candidates are running for a chance to succeed retiring incumbent Francis Rooney (R) in this safe Republican district.
Rubio said, "As Republican Majority Leader of the Florida House of Representatives, Dane has proven time and time again his commitment to our conservative values, and his principles and track record of results make him the most qualified person in this race."
Other elected officials in the race are state Rep. Byron Donalds (whom the Club for Growth PAC endorsed) and Fort Myers Mayor Randy Henderson. Dan Severson served in the Minnesota House of Representatives.
The other five primary candidates submitted responses to Ballotpedia's Candidate Connection survey. To read their responses, click on candidates' names below. 
If you'd like to learn more about the survey, or if you are a candidate who would like to submit a survey, click here.
As of March 31, Askar led in fundraising with $3.5 million, including a $3 million personal loan to his campaign. Next was Figlesthaler with $1.3 million, including $1.1 million he loaned his campaign. Eagle raised $552,495 from contributions and was third in fundraising.
The primary is Aug. 18.
State executives

In Vermont lieutenant gubernatorial race, Milne leads in spring fundraising while Hansen retains overall advantage
Scott Milne was the top fundraiser in the five-candidate Republican field for lieutenant governor of Vermont this spring. But according to reports filed July 1 with the Vermont Secretary of State, Meg Hansen has raised the most money overall.
Milne reported raising $5,300 since launching his campaign May 28. He was the Republican nominee for U.S. Senate in 2016 and for governor in 2014.
Hansen reported raising $3,800 since the March 15 reporting cycle, bringing her overall fundraising to date to just under $26,000. She is an entrepreneur and health policy writer.
Dana Colson reported raising $1,300, bringing his overall fundraising to $1,500. He owns a welding supply business. 
Two other candidates did not file campaign finance reports.
Vermont is one of 17 states where the governor and lieutenant governor are elected separately and one of three where the offices are currently held by different parties. Incumbent David Zuckerman (D) is running to challenge Gov. Phil Scott (R) rather than seeking re-election as lieutenant governor, leaving the office open.
The Aug. 11 primary is open to all registered voters. Since 2000, Republicans have won seven lieutenant gubernatorial elections to Democrats' three.
Race recap: Montana Secretary of State
In this series, we look back at recent state executive primaries to see what they can tell us about the November elections.
Montana's current Secretary of State, Corey Stapleton (R), ran for U.S. House this year rather than seeking re-election, leaving the office open. The secretary of state is responsible for keeping Montana's state seal, serving as Montana's chief elections officer, and sitting on the Montana Board of Land Commissioners, which administers school trust funds.
Deputy Secretary of State Christi Jacobsen defeated five other candidates in the Republican primary on June 2 to win the nomination to succeed Stapleton. She received 29% of the vote, followed by Scott Sales with 25%, Brad Johnson with 23%, and Forrest Mandeville with 10%. Each of the candidates said they had the most experience with the job.
Jacobsen said she had the most firsthand experience with the secretary of state's responsibilities and that she had Stapleton's endorsement. 
Sales, the president of the Montana state Senate and a former state House speaker, said he had the most private sector and agricultural experience of any candidate. 
Johnson, a former Secretary of State who currently chairs the Montana Public Service Commission, said he was the candidate with the most experience in election security.
Mandeville, a member of the state House, said he would encourage natural resource development and bring a new generation of leadership to Montana.
Jacobsen will face state Sen. Bryce Bennett (D), who was unopposed in the Democratic primary, in the general election. Elections for Montana secretary of state tend to be competitive; Democrats and Republicans have each won five of the past 10 elections.
Election forecasters project that Montana's statewide races will be competitive this year. Two ratings agencies say the U.S. Senate race between incumbent Steve Daines (R) and Gov. Steve Bullock (D) leans towards Republicans, while a third calls it a toss-up. All three forecasters say the gubernatorial race is a toss-up.
As of the June campaign finance reports, Bennett had outraised Jacobsen, with $200,000 in overall fundraising and $140,000 in cash on hand to Jacobsen's $160,000 in fundraising and $20,000 cash on hand.
Legislatures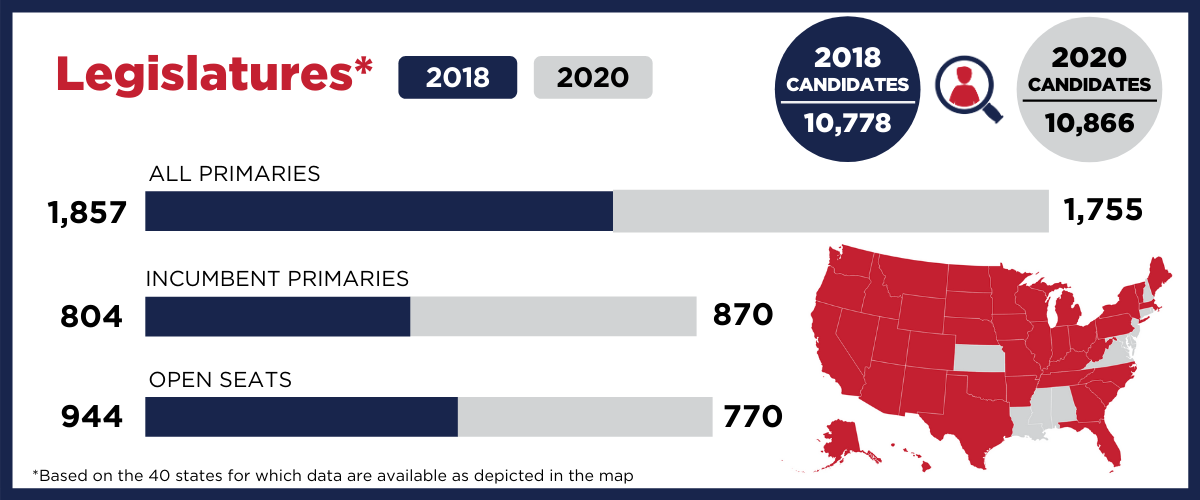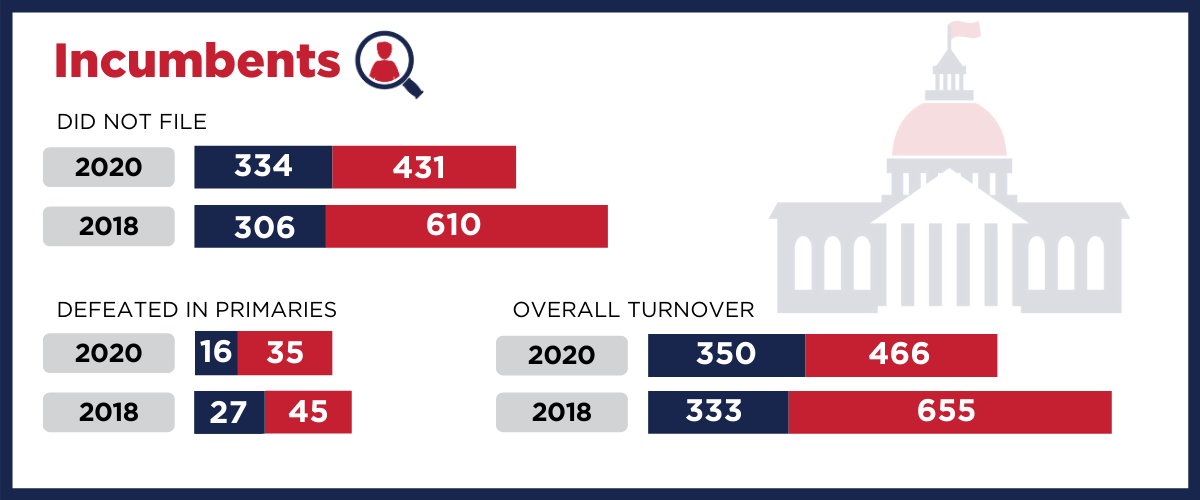 *The number of incumbents who did seek re-election is provided for the 40 states whose 2020 filing deadlines have already passed. The number of incumbents defeated in primaries is provided for the 24 states that have already held state legislative primaries in 2020.
TN Gov. Bill Lee endorses first-term incumbent facing primary challenge in Senate District 22
On July 2, state Sen. Bill Powers (R-22) announced an endorsement from Gov. Bill Lee (R-Tenn.) in the Senate District 22 primary. Powers, first elected in 2018, faces Doug Englen (R) in the primary.
Powers is a managing partner at Wyatt Johnson Automotive Group. He represented Ward 11 on the Clarksville City Council from 2015 to 2019. Gov. Lee recently appointed Powers to serve on the Tennessee Economic Recovery Group. On his campaign website, Powers lists job growth, career readiness, and veterans' issues as three priorities.
Englen is a retired senior warrant officer with the U.S. Army. Discussing his decision to challenge Powers, Englen said, "I need something to problem-solve. If there is a mission that doesn't have a clear objective then that is perfect." The Tennessee Star's Chris Butler wrote that Englen said he "would make Tennessee's gun laws more clear … [and also] protect the unborn and work hard on veterans' affairs."
The winner of the primary will face Ronnie Glynn (D). In 2018, Powers defeated Juanita Charles (D) in the general election, receiving 54 percent of the vote to Charles' 44 percent.
FL House Speaker accused of funding opposition ads against possible future speaker
Some Florida Republicans have accused state House Speaker Jose Oliva (R) of funding opposition ads against Rep. Daniel Perez (R). Perez represents Florida's 116th District and faces a primary challenge from Gabriel Garcia. 
Perez won a leadership race to become House Republican leader in 2024, meaning he is in line to be the future House speaker if Republicans hold a majority in the chamber that year. The Miami Herald's David Smiley and Bianca Padro Ocasio wrote, "The [primary] challenge is unusual: it's been eight years since a Republican in line to become Florida House speaker was forced to run a primary campaign."
Politico's Matt Dixon wrote: 
In the past week, Perez was hit with online and direct-mail ads from Citizens for Ethical & Effective Leadership, a committee chaired by Zavier Garcia. Garcia is a vice president for David R. Custin Associates, a firm run by David Custin, an Oliva adviser. …
The Citizens committee has received $400,000 over the past two months from Conservative Principles for Florida, which is run by Oliva. Expenditure reports show that some of that money was spent on the Miami-Dade mayor's race, but line items for other expenses are generic and don't identify a specific race. Custin's firm managed the spending.
Dixon further reported Oliva's statement about the $400,000:
Oliva did not address questions about whether he was trying to knock Perez out of the race. He said he sent the money to Custin's committee to oppose Alex Penelas, a Democratic candidate for Miami-Dade County mayor.
"If you follow the dollars, I put in to Custin's [political committee] you will see them deployed in an effort to educate the voters of Miami-Dade about Alex Penelas," Oliva said in a text message.
Citizens for Ethical & Effective Leadership sent out mailers and ran digital ads criticizing Perez. One mailer called him a "disgrace to Republicans and our exile community" for taking engagement photos in Cuba. Perez said he and his then-fiancee were in Cuba to visit her uncle and that he opposes the Cuban government. 
Perez was first elected to represent the 116th in a special election in 2017. He was re-elected in 2018. Garcia is a retired Army captain who opened a construction business. The primary is Aug. 18.
Power players
"With our rapidly expanding membership of 4.5 million grassroots activists, the National Association for Gun Rights has led the charge to halt the radical anti-gun agenda across the nation. Accepting NO COMPROMISE on the issue of gun control, NAGR works tirelessly to hold politicians accountable for their anti-gun views, and has made great strides in protecting and preserving the Second Amendment." – National Association for Gun Rights website
Founded in 2005, the National Association for Gun Rights (NAGR) is a 501(c)(4) organization that says its mission is "[e]mpowering Americans to stand for freedom and defend their inalienable right to keep and bear arms." NAGR describes itself as the "nation's largest no-compromise defenders of the Second Amendment" and says it "works to defeat the radical anti-gun agenda through grassroots activism."
NAGR lists its two key issues as opposing 'red flag' gun confiscation bills, which it describes as bills that "call for legally owned firearms to be forcibly confiscated from law-abiding Americans without due process, based on unsubstantiated accusations …" and supporting constitutional carry, which it defines as "the basic principle that if you are legally eligible to purchase a firearm, you should be able to carry that weapon, concealed, for self-defense without government 'permission.'"
NAGR is affiliated with the political action committee NAGR-PAC, which endorses candidates for political office and recently endorsed Tommy Tuberville in the Alabama Senate primary runoff, and the super PAC Gun Rights America, which aired its first ad in June attacking Todd McMurtry and supporting Thomas Massie in Kentucky's 4th Congressional District.