This week: M.J. Hegar wins Senate nomination in Texas, Super PAC spends $900,000 to support Ed Markey in Massachusetts, and Vermont gubernatorial candidates differ on ethics policy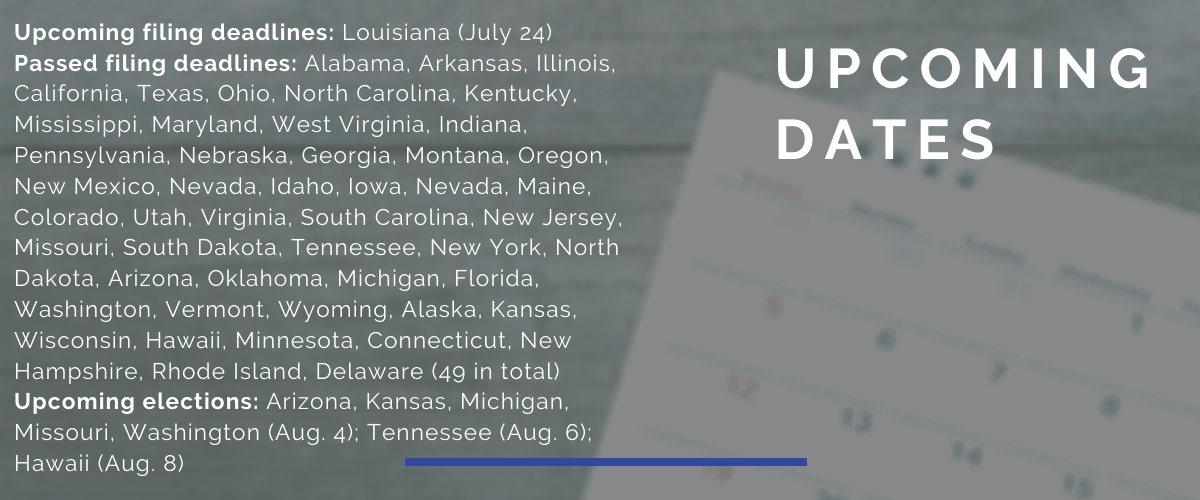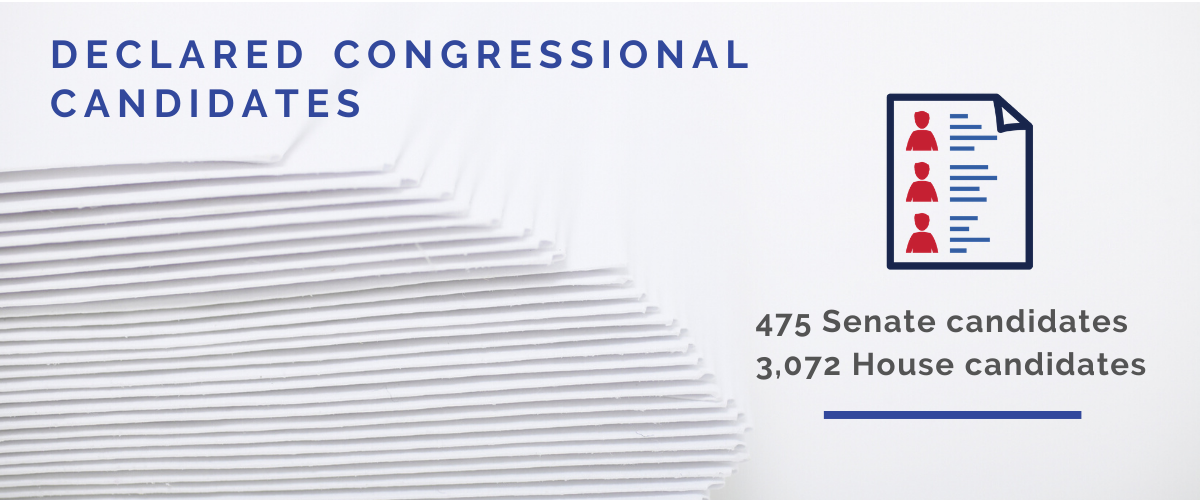 On the news
Where do Democratic and progressive pundits and commentators disagree? Each week, we bring you excerpts that highlight differing views.
On 'cancel culture'
"A specter is haunting Western democracies. No, it is not the surging pandemic, mass death or catastrophic unemployment. It is, if you believe Donald Trump and some of his critics, the end of free speech and the advent of 'cancel culture.' … 

"… free speech has never been more widely available than it is today. So much so that the cacophony of voices liberated by digital media too frequently drowns out well-informed and sensible opinion. Trump, who blurts out several hot takes every day, is himself an example of the verbal incontinence enabled by Twitter in recent years. … 

"… the picture that Trump and highly prominent writers draw of narrowed and darkened intellectual horizons seems wholly unrecognizable, even paranoid.

"Could it be that increasingly diverse voices and rich conversations are a threat to their free speech — more accurately, the prerogative of famous and powerful people to speak at length on all sorts of things without interruption or disagreement? … 

"No doubt this networked minority will continue to protect its privileges by invoking various dangers to free speech. But no one should mistake its fear of obsolescence and irrelevance for any kind of liberalism."
Pankaj Mishra, Bloomberg Opinion, July 14, 2020
"In recent years, there has been a marked and disquieting increase in the willingness of a raft of actors left, center, and right, both in government and in civil society, to engage in a practice and attitude of censorship and to abandon due process, presumption of innocence, and other core civil liberties.

"There have been some attempts from different quarters at a pushback against this, but the most recent such effort at a course correction is an open letter decrying the phenomenon appearing in Harper's magazine. …

"What is true is that to limit this discussion to the acts of the extremely online mob, to, say, British author Jon Ronson's concerns about Twitter public shaming, or to the ill-defined term 'cancel culture,'  entirely misses the far wider atmosphere of an aggressive and accelerating threat to civil liberties.

"It is understandable that a brief open letter would not offer a catalog of episodes, but this is nevertheless unfortunate, as it allows Robinson and others to maintain a 'nothing to see here, please move along' stance.

"When we do in fact consider such a catalog, we find that to deny that this is happening, or to diminish it as inconsequential is untenable. There are simply too many examples."
Leigh Phillips, Jacobin, July 12, 2020
Election results
U.S. Senate in Maine: Sara Gideon defeated Betsy Sweet and Bre Kidman in the Democratic primary for U.S. Senate in Maine. As of 11:00 p.m. Eastern Time on July 15, Gideon had received 70%of the vote followed by Sweet and Kidman with 23% and 7% of the vote, respectively, with 87% of precincts reporting. Gideon was endorsed by the Democratic Senatorial Campaign Committee, the official Senate campaign wing of the national Democratic Party. According to pre-primary campaign finance reports, she had raised $23,001,088, more than all but four other Senate candidates across the country so far in 2020. Gideon will face incumbent U.S. Sen. Susan Collins (R) in the general election. Collins is one of two incumbent Republican senators running for re-election in a state that Hillary Clinton (D) won during the 2016 presidential election. Clinton received 48% of the vote in Maine to Donald Trump's (R) 45%.
U.S. Senate in Texas:  M.J. Hegar defeated Royce West in the Democratic primary runoff for U.S. Senate in Texas. Hegar received 52% of the vote to West's 48%. Hegar's endorsers included the Democratic Senatorial Campaign Committee and End Citizens United. She is a former U.S. Army search and rescue and medevac pilot. Hegar ran for the U.S. House in Texas' 31st District in 2018, losing to incumbent John Carter (R) 51% to 48%. The Texas Working Families Party and several state House members endorsed West. West has served in the state House since 1992. Incumbent Sen. John Cornyn (R) is running for re-election. Democrats last won a statewide election in Texas in 1994. In the most recent U.S. Senate election, incumbent Ted Cruz (R) defeated then-Rep. Beto O'Rourke (D) 51% to 48%.
Texas' 10th Congressional District: Mike Siegel defeated Pritesh Gandhi in the Democratic primary runoff for Texas' 10th Congressional District. Siegel received 54% of the vote to Gandhi's 46%. The candidates split on healthcare and climate policy, with Siegel supporting a single-payer healthcare plan and the Green New Deal and Gandhi backing a plan he described as Medicare for All who want it and a carbon fee structure to reduce emissions. The Austin American-Statesman endorsed Gandhi, while the Austin Chronicle and Houston Chronicle endorsed Siegel.
Texas' 24th Congressional District: Candace Valenzuela defeated Kim Olson in the Democratic primary runoff for Texas' 24th Congressional District. Valenzuela received 60% of the vote to Olson's 40%. Former U.S. Secretary of Housing and Urban Development Julian Castro (D), U.S. Sens. Elizabeth Warren (D-Mass.) and Kamala Harris (D-Calif.), several members of the U.S. House, and multiple congressional caucus PACs endorsed Valenzuela, who served on the Carrollton-Farmers Branch school board. The Dallas Morning News, the Fort Worth Star-Telegram, and multiple organizations supporting military veterans in politics endorsed Olson, a retired Air Force colonel. In 2018, retiring incumbent Kenny Marchant (R) won re-election by three percentage points.
Texas' 31st Congressional District: Donna Imam defeated Christine Eady Mann in the Democratic primary runoff for Texas' 31st Congressional District. Imam received 57% of the vote to Eady Mann's 43%. Imam, a computer engineer, received an endorsement from former 2020 Democratic presidential candidate Andrew Yang (D), who said, "Imam is one of the most solutions-oriented candidates I've ever spoken to, which is no surprise as she's an engineer and entrepreneur." Imam will face incumbent Rep. John Carter (R) in the general election. Carter has represented the 31st District since its creation in 2003. He most recently won re-election in 2018 over M.J. Hegar (D), receiving 51 percent of the vote to Hegar's 48 percent, the first time a Democratic candidate had won over 40 percent of the vote in the district.
U.S. Congress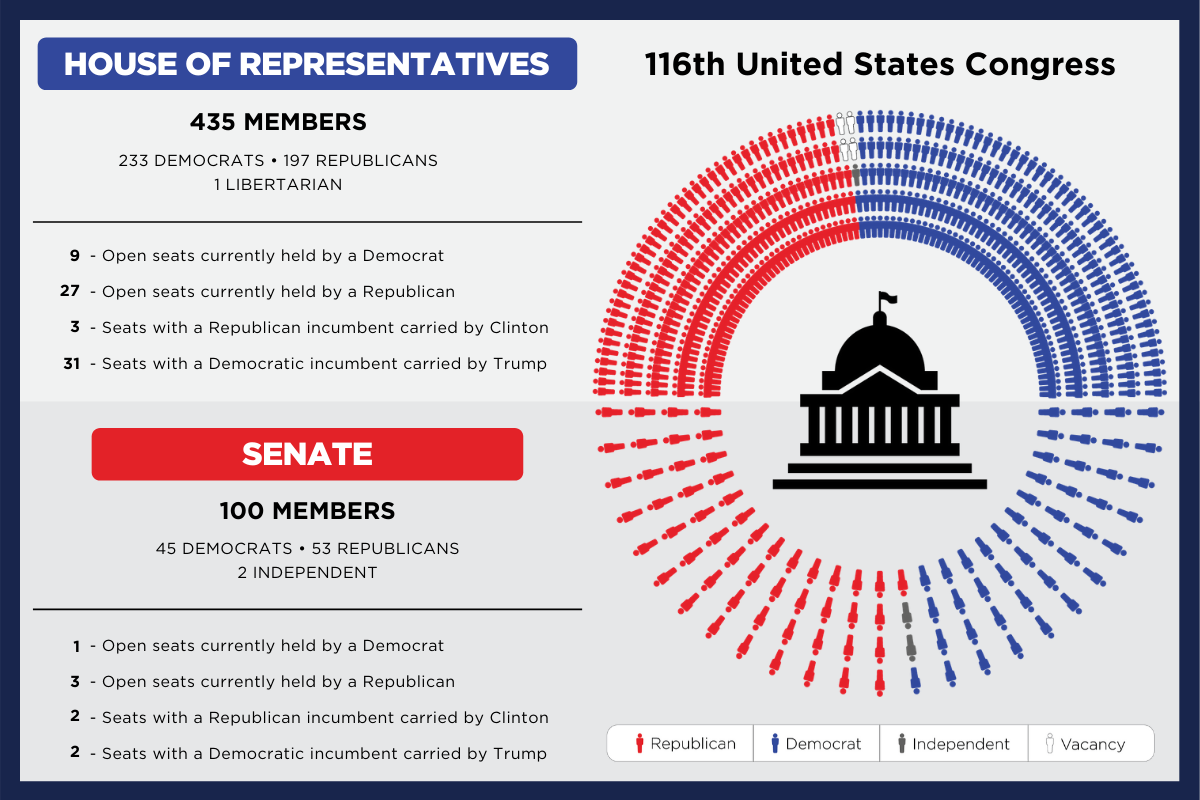 Super PAC spends $900,000 supporting Markey in Mass.
The super PAC United for Massachusetts spent $900,000 on TV and digital ads saying Sen. Ed Markey was progressive on healthcare and the environment before crises developed in these areas. The Sunrise Movement and Environment America Action Fund formed the PAC. 
Markey faces U.S. Rep. Joe Kennedy in the Sept. 1 primary. Kennedy has pledged to disavow satellite spending in the race and called on Markey to do the same. Markey says he wants to allow progressive voices to be heard.
Former 2020 Democratic presidential candidate Tom Steyer endorsed Markey on June 29, saying he's "been leading the fight in Congress to tackle our climate crisis."
Markey introduced a Green New Deal resolution into Congress with Rep. Alexandria Ocasio-Cortez (D-N.Y.) in 2019. Kennedy says he supports the Green New Deal and that Markey hasn't done enough to implement it.
Kennedy released an ad last week saying America has left people behind and, "If you think this is as good as we can possibly be, then great, vote for the status quo. But if you believe that we actually can do better, this has to be the moment where we finally reject the policies of the past and we build something better, something stronger for the future."
Markey has been in the Senate since 2013. He served in the U.S. House from 1976 to 2013. Kennedy has been in the U.S. House since 2013. 
Groups focused on Israel policy
fundraise for Omar challenger Melton-Meaux
Antone Melton-Meaux, who is challenging Rep. Ilhan Omar (D) in Minnesota's 5th Congressional District primary, raised $1.5 million in May. Some of his contributors cite policy differences between him and Omar on Israel as the reason for their support.
Melton-Meaux has received about $450,000 from Pro-Israel America and NORPAC. NORPAC says it supports candidates who "demonstrate a genuine commitment to the strength, security, and survival of Israel." Pro-Israel America collected about $300,000 in individual donations for Melton-Meaux, and NORPAC collected about $150,000.
Omar has supported the Boycott, Divestment, and Sanctions (BDS) movement's approach of using economic pressure in an effort to change Israel's policies regarding Palestine. Melton-Meaux opposes BDS. Both candidates say they support a two-state solution.
Omar has apologized for a 2012 tweet in which she said Israel "has hypnotized the world." In 2019, House Minority Leader Kevin McCarthy (R) said he would take action against Omar and Rep. Rashida Tlaib (D-Mich.) for their statements on Israel and BDS. Democratic and Republican members of Congress criticized Omar for responding that McCarthy's statement was "all about the Benjamins," saying she was playing on anti-Semitic tropes. Omar said she was referring to lobbying money from groups supporting Israel and apologized for her comment. 
Through March 31, Omar reported raising $3.4 million to Melton-Meaux's $484,000. John Mason had raised $108,000. Data was unavailable for the remaining two primary candidates.
Omar was first elected in 2018. She is part of a progressive group of representatives of color known as the Squad, including Tlaib, Alexandria Ocasio-Cortez (D-N.Y.), and Ayanna Pressley (D-Mass.).
The primary is Aug. 11.
State executives

Vermont gubernatorial candidates differ on ethics regulations
Former Vermont Secretary of Education Rebecca Holcombe's (D) proposed ethics rules have split two of her opponents in the Democratic gubernatorial primary.
Holcombe's proposal, released July 9, calls for expanding the Vermont Ethics Commission's powers as well as a five-year lobbying ban on former governors and administration officials and a two-year lobbying ban on former state legislators.
Attorney Pat Winburn said he backed Holcombe's proposal and that lobbyists should have less influence in state politics. Holcombe's other opponent, Lt. Gov. David Zuckerman, said her proposal went too far. 
Zuckerman said Vermont's two-year gubernatorial terms already put the state at a disadvantage when attempting to hire top administration officials from the private sector and that a five-year lobbying ban was a step in the wrong direction. 
The Aug. 11 primary is open to all registered voters. Incumbent Phil Scott (R), who was first elected in 2016, is running for a third term this year. Two election forecasters say Scott is likely to win and a third says he is a solid bet to win.
Vermont Auditor, challenger clash over state audit release
Vermont Auditor Doug Hoffer and primary challenger Linda Sullivan released dueling statements following Hoffer's release of an audit of Vermont's healthcare system. 
Sullivan, a member of the state House, criticized the timing of the report's release. Sullivan said the report had been deliberately timed to coincide with the start of early voting in the primary. She said Hoffer's campaign had sent a message to supporters touting the audit the same day it was published. 
Sullivan also criticized the substance of the audit, saying it did little beyond state known risk factors and describe existing problems without offering any suggestions for improvement. Sullivan campaign manager Jim Salsgiver said the report was evidence that Hoffer did not have the technical knowledge necessary to oversee an office of auditors since he was not a licensed accountant or auditor.
Hoffer, who was first elected in 2012, said Sullivan's criticisms were politically motivated and contained multiple factual errors. He said the report was intended to be a first step in a larger audit process and that it was appropriate for his campaign to promote it since it was directly related to the responsibilities of the office. He described Sullivan's criticism as an attempt to gain voters' attention ahead of the primary.
The Aug. 11 primary is open to all registered voters. The winner of the Democratic nomination will face Progressive nominee Cris Ericson in the general election. No Republican candidate filed for state auditor in Vermont this year.
Legislatures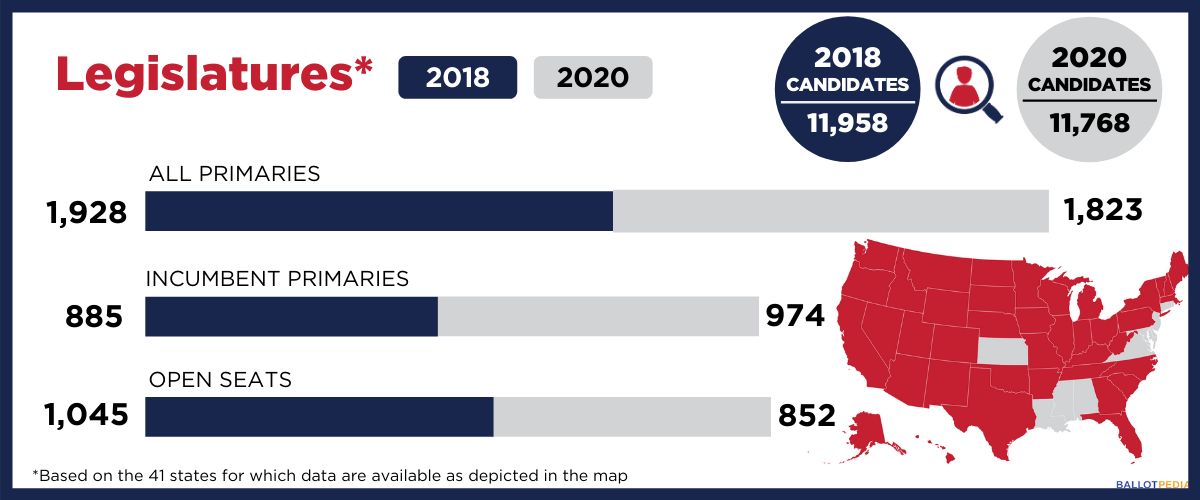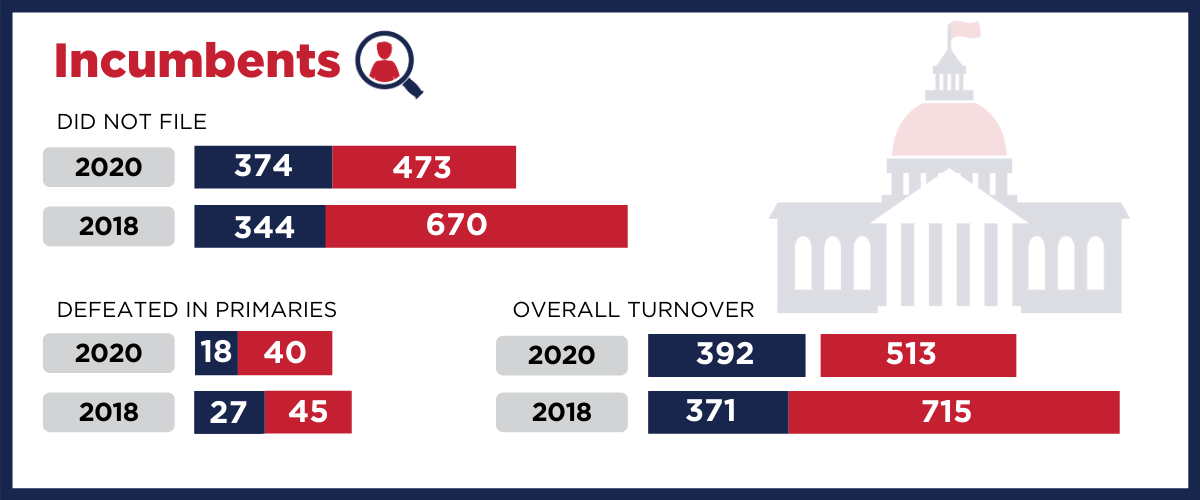 *The number of incumbents who did seek re-election is provided for the 41 states whose 2020 filing deadlines have already passed. The number of incumbents defeated in primaries is provided for the 24 states that have already held state legislative primaries in 2020.
Minn. state Democratic-Farmer-Labor Party warns incumbent to stop implying he received the party's endorsement
Minnesota Democratic-Famer-Labor Party (DFL) Chairman Ken Martin wrote a letter to state Sen. Erik Simonson (D-07) last week warning him over his campaign practices. The letter requested that Simonson stop implying the party has endorsed him in the Aug. 11 primary.
In a now-inactive Facebook ad, Simonson wrote, "As a Senate DFL assistant leader, public servant and fierce advocate of Duluth, it comes as no surprise that labor and local DFL organizations are standing by Senator Simonson."
In his letter to Simonson, Martin wrote, "I … request that you cease and desist the manner in which you reference your affiliation with the 'DFL.'" He added, "An unendorsed candidate like you wishing to identify himself as a member of the DFL Party must use words such as 'member of' or 'affiliated with' in conjunction with the party name." 
On May 13, we reported that challenger Jen McEwen (D) received the party's endorsement over Simonson at a virtual convention with 70 percent of the delegate vote to Simonson's 29 percent. McEwen's campaign manager, Bridget Holcomb, said, "While it must be difficult for Sen. Simonson to have lost the support of local Democrats, it's important that we all play by the rules."
Simonson said he addressed the issues on July 9: "I wasn't trying to be sneaky, I get it … I am an assistant minority leader of the DFL caucus in the state Senate."
Campaign finance reports show challenger outraising incumbent in Hawaii's House District 13
Campaign spending reports covering the period from January 1 to June 30 showed Walter Ritte (D) outraising incumbent Rep. Lynn DeCoite (D-13) in Hawaii's House District 13. 
According to The Maui News' Colleen Uechi, reports from across the state showed that "incumbent candidates unsurprisingly led the field in total campaign funds," but that "Ritte was one of the few challengers to stay financially competitive with his opponent." During the first half of the year, Ritte raised $39,076.83, giving him $23,127.60 cash on hand. DeCoite raised $16,050, bringing her cash total to $29,872.95.
Ritte is a Native Hawaiian activist who helped form Hui Alaloa, a group focused on water and land access rights, in the 1970s. Since then, he has been involved in a number of movements on the island of Molokai. He received endorsements from Our Revolution Hawaii, the Sierra Club, and the Hawaii State Teachers Association.
DeCoite owns and operates L&R Farms Enterprises on Molokai. She was appointed to District 13 in 2015 following the resignation of Rep. Mele Carroll (D). She won election to a full term in 2016 and was re-elected in 2018. DeCoite received contributions from the campaigns of state Sens. J. Kalani English (D-07), Michelle Kidani (D-18), Donna Kim (D-14), and Gil Keith-Agaran (D-05).
The winner of the Aug. 11 primary will face Republican Robin Vanderpool and Aloha Aina Party candidate Theresa Kapaku in the general election.
Power players
"BOLD PAC is the fastest growing Democratic Political Action Committee dedicated to increasing the diversity of our leadership in the House and Senate. It champions progressive Democrats fighting for change." – BOLD PAC website 
BOLD PAC was founded in 2001 as the fundraising arm of the Congressional Hispanic Caucus. The group says it supports "strong Hispanic candidates and candidates who embrace BOLD policies." As of May 2020, the group said it was spending $2.75 million on 2020 congressional primaries. 
BOLD PAC Chairman Tony Cárdenas said, "BOLD PAC is proud to support Latino candidates to help hold the Democratic House majority and expand the Hispanic Caucus. Democrats made historic gains in 2018 and secured the majority in the House with the most diverse Congress in our nation's history. With so much at stake, BOLD PAC is fully committed to building on the success of 2018 and helping elect a new wave of Latino leaders to Congress."
Click the following links to view the group's endorsed Hispanic candidates, endorsed candidates, and BOLD members.