This week: Ilhan Omar challenger raises $3.2 million in second quarter, Working Families Party spends in support of Rashida Tlaib, and Bernie Sanders endorses in Vermont gubernatorial primary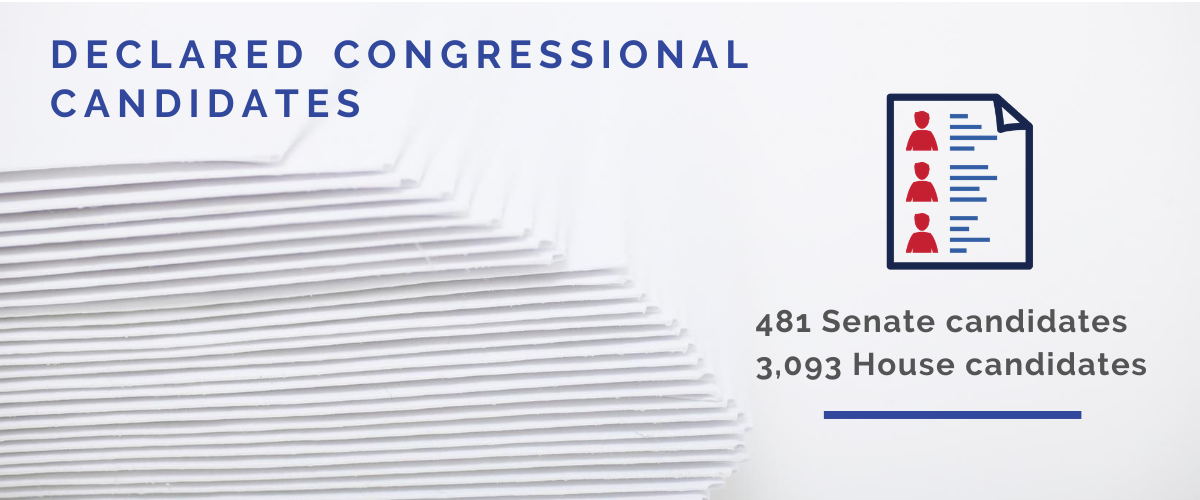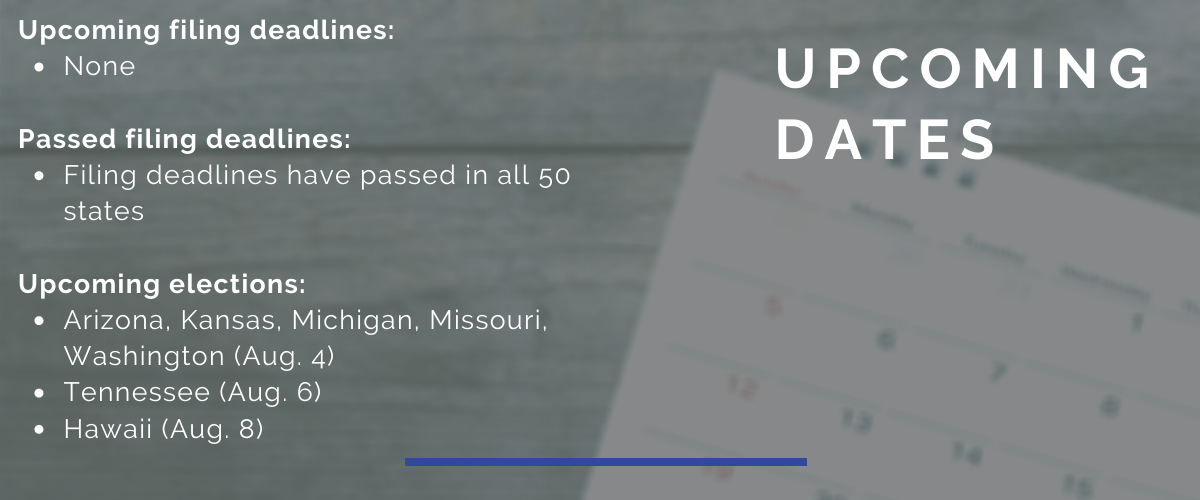 On the news
Where do Democratic and progressive pundits and commentators disagree? Each week, we bring you excerpts that highlight differing views.
On Medicare for All in the Democratic Party platform
"The platform does nod to 'Medicare for All,' the policy backed by Sanders, saying: 'We are proud our party welcomes advocates who want to build on and strengthen the Affordable Care Act and those who support a Medicare for All approach.'

"Platform committee co-chair Denis McDonough, who served as former President Barack Obama's chief of staff, called it the 'boldest Democratic platform in American history.'

"Still, anticipating virtual floor fights and frustration from progressive activists who want the party to set an even more aggressive policy course, Democratic National Committee Chair Tom Perez said at the top of the committee meeting that 'we should never confuse unity with unanimity, nor should we confuse debate with division.'"
Denis McDonough, Tom Perez, quoted by Scott Detrow, NPR, July 27, 2020
"History teaches a clear lesson: The fact that our nation is the only advanced industrial country without universal healthcare cannot be blamed on Republican obstruction alone. It was also caused by Democratic leaders who've spent decades catering to corporate interests (while collecting their campaign donations)—and refusing to fight for universal coverage. 

"This history of Democratic obstruction and vacillation is why hundreds of elected delegates to next month's Democratic convention have put their foot down. They've signed a petition pledging to vote down the party platform if it 'does not include a plank supporting universal, single-payer Medicare for All.' The petition's initiator is Judith Whitmer, chair of the convention's Nevada delegation. She told Politico: 'This pandemic has shown us that our private health insurance system does not work for the American people. Millions of people have lost their jobs and their healthcare at the same time.'

"By demanding of the party leadership what Harry Truman called for 72 years ago, Whitmer and other Democratic activists are indeed 'giving 'em hell.'" 
Jeff Cohen, Common Dreams, July 28, 2020
U.S. Congress

MN-05: Melton-Meaux raises $3.2 million in second quarter
Antone Melton-Meaux raised $3.2 million to Rep. Ilhan Omar's $480,000 in the second quarter of 2020. They and three others are running in Minnesota's 5th Congressional District primary on Aug. 11.
As of June 30, Omar raised $3.9 million to Melton-Meaux's $3.7 million. 
The Minneapolis Star Tribune's Torey Van Oot wrote, "Much of the money on both sides comes from out of the state, reflecting Omar's national profile as one of the first Muslim women in Congress and an outspoken critic of President Donald Trump."
Democratic-Farmer-Labor (DFL) Party Chairman Ken Martin and Minnesota Attorney General Keith Ellison—who previously represented the 5th District—held a press conference July 20 in which Martin said contributions to Melton-Meaux's campaign were efforts to "silence a progressive champion rooted in xenophobia." Martin said the average ActBlue contribution Melton-Meaux received in May was $650 compared to Omar's average of $18. Melton-Meaux said he received five times the amount of contributions Omar did from within the 5th District. Omar said her campaign received more individual contributions from within the state than Melton-Meaux's.
Omar is among four House members often referred to as the squad, along with Reps. Alexandria Ocasio-Cortez (D-N.Y.), Ayanna Pressley (D-Mass.), and Rashida Tlaib (D-Mich.).
House Speaker Nancy Pelosi (D) recently endorsed Omar. Pelosi said in September 2019 that she has a policy of only endorsing incumbents. 
Working Families Party spends in support of Tlaib in MI-13
The Working Families Party and Detroit Action are spending $100,000 in support of Rep. Rashida Tlaib in Michigan's 13th Congressional District primary. Tlaib faces Detroit City Council President Brenda Jones.
Politico's Holly Otterbein reported that the independent expenditure campaign "will be focused on young Black and Latino voters, and is expected to highlight [Tlaib's] record on racial justice, including her promotion of the BREATHE Act, which seeks to eliminate federal programs 'used to finance and expand' law enforcement."
The Detroit News' Melissa Nann Burke and Christine Ferretti wrote:
Tlaib, the daughter of Palestinian immigrants, made history as one of the two first Muslim women elected to Congress. But Jones' surrogates are pitching their candidate, who is African American, as a better choice to lead the majority-Black district amid a national movement for racial justice. Blacks comprise nearly 54% of the district's population, according to the U.S. Census Bureau.
The primary is a rematch. Tlaib and Jones ran against one another in both the regular and special election primaries in 2018. Jones defeated Tlaib in the special primary election 37.7% to 35.9%, while Tlaib defeated Jones in the regular primary 31.2% to 30.2%. Jones completed the term to which John Conyers Jr. had been elected in 2016. Tlaib assumed office in January 2019.
The Michigan AFL-CIO recently endorsed Tlaib. In 2018, the group endorsed Jones. Jones' 2020 endorsers include several local elected officials and Black pastors.
The primary is Aug. 4.
AG commissioner endorses Vazquez in FL-18
Nikki Fried, Florida's agriculture commissioner and the only Democrat to win statewide office in 2018, endorsed Oz Vazquez in Florida's 18th Congressional District primary.
Fried said in her endorsement, "Florida's 18th Congressional District deserves a Congressperson who will fight to protect Social Security and Medicare, will be a champion for clean water, and will work to get things done for the Treasure Coast and Palm Beaches."
Vasquez is a lawyer and former Americorps volunteer. He faces Pam Keith, a lawyer and Navy veteran.
The Florida AFL-CIO endorsed Vasquez in June. Sen. Elizabeth Warren (D-Mass.) endorsed Keith.
Both Keith and Vazquez completed Ballotpedia's Candidate Connection survey. The survey questions are designed to elicit insightful and thoughtful responses from candidates on what they care about, what they stand for, and what they hope to achieve. Read Keith's responses here and Vazquez's responses here.
Incumbent Rep. Brian Mast (R), first elected in 2016, is seeking re-election and faces a primary challenger. Three election forecasters rate the general election Safe or Solid Republican. The primary election is Aug. 18.
State executives

Candidates prepare runs for Virginia lieutenant governor, attorney general
Candidate fields have begun to emerge for two top-level executive offices in Virginia ahead of next year's primaries. This month, five Democrats, including three members of the legislative class of 2017, announced their intention to run for executive office.
Although there are no term limits on the offices of attorney general or lieutenant governor, Virginia is the only state where governors are prohibited from serving back-to-back terms. Both Lt. Gov. Justin Fairfax (D) and Attorney General Mark Herring (D) have suggested they will run to succeed Gov. Ralph Northam (D).
Delegate Jay Jones (D), who was elected to the Norfolk-area district his father represented during the 1990s, became the first member of either major party to declare his intention to run for state attorney general on July 13. Jones, who is Black, would be Virginia's first nonwhite attorney general. He said in his campaign kickoff video that challenging efforts to limit the Affordable Care Act would be among his priorities.
On July 14, Del. Hala Ayala (D), who defeated incumbent Rich Anderson (R) to win a district representing Prince William County, said she would run for lieutenant governor in 2021, becoming the first candidate to officially enter the race. She said she was running to ensure Virginia was better-prepared for future public health emergencies, including expanding Medicaid coverage.
State Del. Elizabeth Guzman (D), who defeated incumbent Scott Lingamfelter (R) in another Prince William County contest, said she was exploring a run for lieutenant governor. 
On July 22, Norfolk city Councillor Andria McClellan (D) announced she was also exploring a run for lieutenant governor. McClellan was first elected to the city council in 2016, defeating incumbent Barclay Winn. Ayala, Guzman, or McClellan would each be the first woman elected to the office.
Sean Perryman said on July 27 that he was exploring a run. Perryman, a former counsel to the House Oversight Committee under Rep. Elijah Cummings (D-Md.), is the president of the Fairfax branch of the NAACP, Virginia's largest.
Other Democrats who have indicated they are considering a run for lieutenant governor include former Virginia Democratic Party Chairman Paul Goldman and Mike Pudhorodsky.
Bernie Sanders endorses David Zuckerman for governor of Vermont
Sen. Bernie Sanders (I-Vt.) endorsed Vermont Lt. Gov. David Zuckerman's (D) run for governor Monday. The announcement came as Zuckerman and former state Secretary of Education Rebecca Holcombe (D) aired their first television ads ahead of the Aug. 11 primary.
Holcombe's ad, titled "Believe", first aired July 16. The ad introduces Holcombe as a former educator and says she believes Vermont can emerge from the coronavirus pandemic in a stronger position than when the pandemic started if it takes the opportunity to expand healthcare and education and attract high-paying jobs.
Zuckerman's ad, titled "Building our Future", displays clips of Zuckerman working on his farm. The ad says that while daily life has been disrupted by the pandemic, farm work needs to continue.
A third candidate, attorney Pat Winburn, began running television ads when he entered the race in March. Winburn, who has not previously held elected office, says he is running to bring a new perspective to state government.
Legislatures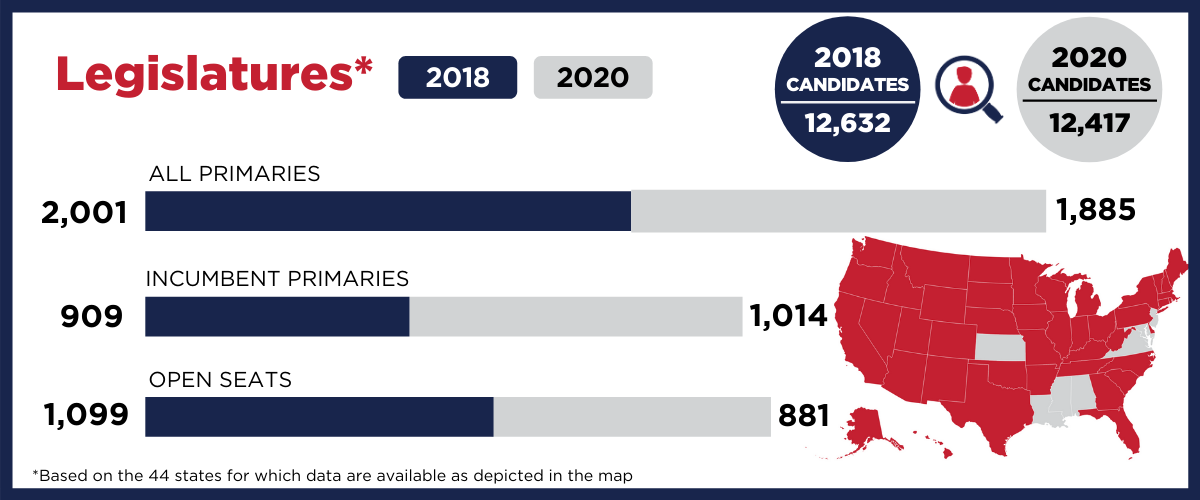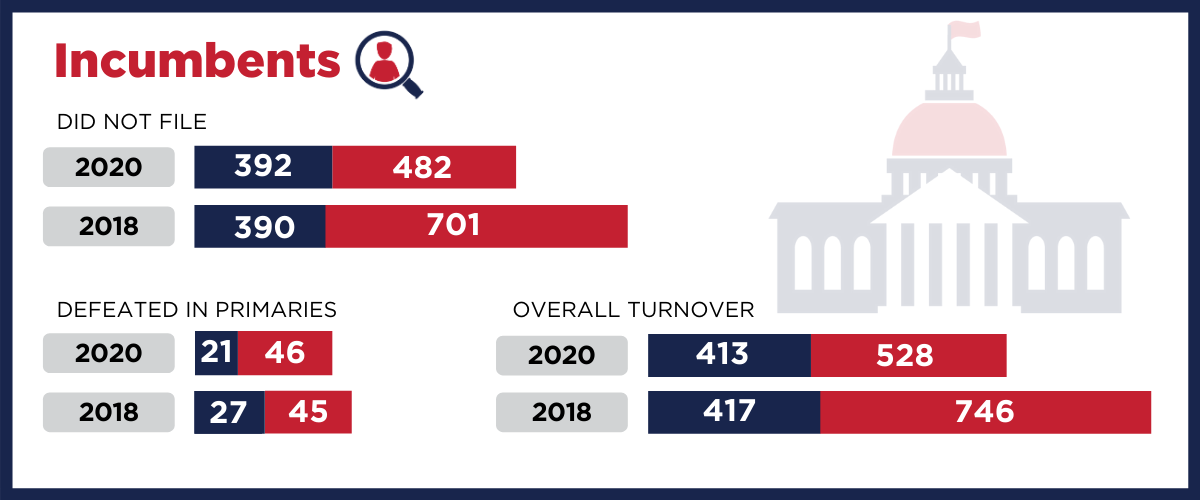 The number of incumbents who did seek re-election is provided for the 41 states whose 2020 filing deadlines have already passed. The number of incumbents defeated in primaries is provided for the 24 states that have already held state legislative primaries in 2020.
Preliminary New York legislative results show progressive challengers defeated five incumbents
New York's primaries occurred on June 23, but due to the coronavirus, results have been delayed as absentee ballots continue to be counted. Within the past week, additional votes counted show at least five progressive challengers defeating incumbent state Assembly members.
The New York Times' Jesse McKinley and Luis Ferre-Sadurni wrote, "A slew of progressive challengers upset entrenched incumbents in the New York Legislature … cementing their movement's influence in Albany and making it likely that the state government will become one of the most liberal in the nation."
The NYC Democratic Socialists of America, for example, endorsed one incumbent, Sen. Julia Salazar (D-18), and four others—Jabari Brisport (D), Phara Souffrant Forrest (D), Zohran Mamdani (D), and Marcela Mitaynes (D)—in the primaries. Of those five, Salazar, Forrest, Mamdani, and Mitaynes won their primaries. Brisport's primary for the open Senate District 25 seat remains uncalled, but he has claimed victory.
Below is a list of races where challengers defeated incumbents. Vote totals have not been finalized, but in each instance the incumbents have either conceded or the challenger's victory has been widely reported:
AD-34:

Jessica Gonzalez-Rojas

, an immigrant and healthcare activist, defeated Assm.

Michael DenDekker

, who first assumed office in 2009.

AD-36:

Mamdani

defeated Assm.

Aravella Simotas

. Simotas was first elected in 2010. She ran unopposed that year. Before Mamdani's 2020 primary challenge, her only other contested election, general or primary, happened in 2012.

AD-50:

Emily Gallagher

defeated Assm.

Joseph Lentol

. Lentol was first elected in 1972. The NYC DSA did not endorse Gallagher, but she says she is a democratic socialist.

AD-51:

Mitaynes

defeated Assm.

Felix Ortiz

. Ortiz was first elected in 1994 and served as Assistant Speaker of the Assembly.

AD-57:

Souffrant Forrest

defeated Assm.

Walter Mosley

, who was first elected in 2012. Mosley will appear on the general election ballot on the Working Families Party ticket.
12 primaries featuring Democratic incumbents in the state Assembly remain uncalled. In the Senate, one such race remains uncalled.
Candidates participate in primary forum for Hawaii's House District 20
On July 20, the four candidates running in the Democratic primary for Hawaii's House District 20 participated in a virtual forum hosted by the Oahu County Democratic Party. 
This is the first election since 1976 when Rep. Calvin Say (D-21) will not appear on the ballot. The longtime incumbent and former House Speaker announced in May he would run instead for Honolulu City Council in 2020.
House District 20 encompasses the Honolulu neighborhoods of St. Louis Heights, Palolo, Maunalani Heights, Wilhelmina Rise, and Kaimuki.
The candidates are Kaimuki Neighborhood Board member Becky Gardner (D), state Department of Labor program specialist Jay Ishibashi (D), St. Louis Heights Neighborhood Board member Jackson Sayama (D), and attorney Derek Turbin (D).
The candidates were asked to speak about the intersection of economic and public health amid the coronavirus outbreak. All four candidates said public health should be the top priority while acknowledging the influence tourism has on the local economy. Ishibashi and Turbin suggested Hawaii begin marketing to tourists in countries with less severe coronavirus outbreaks. 
Sayama, Turbin, and Gardner also said they would prioritize creating jobs in industries distinct from tourism. Sayama mentioned growing the state's renewable energy and cybersecurity sectors. Turbin said he would direct federal funds towards the local agriculture industry and develop a remote-worker economy. Gardner supported the Green New Deal as a means to recover from the economic downturn. 
The winner of the primary will face Julia Allen (R) in the general election.
St. Louis Post-Dispatch
endorses Sherod in six-way primary for Missouri's open Senate District 5 seat
On July 25, the St. Louis Post-Dispatch endorsed former deputy State Auditor Michelle Sherod (D) in the six-person Democratic primary for the open seat in Missouri's Senate District 5. The paper said: "Sherod, 58, has the maturity and broad-based experience to advance [an urban-centric] agenda without brow-beating or lecturing conservatives about causes and concerns they don't necessarily prioritize." 
The editorial board also mentioned state Rep. Steven Roberts (D-77), another candidate in the primary, saying, "it's important for voters to know that they have a strong alternative candidate in [Roberts], 32, … a former prosecutor," adding, "Although Roberts has more legislative experience, Sherod clearly has more life experience." Roberts was first elected to represent House District 77 in 2016.
Of the six candidates running, three have raised more than $10,000 according to pre-primary campaign finance reports. Sherod, Roberts, and St. Louis Alderwoman Megan Green (D) raised $138,000, $273,000, and $101,000, respectively. Each candidate reported at least $20,000 cash on hand. 
Incumbent Sen. Jamilah Nasheed (D) is not running for re-election. She was first elected to represent District 5 in 2012.
Former St. Louis Public Schools Board member Bill Haas (D), non-profit consultant McFarlane Duncan (D), and property manager Jeremiah Church (D) are also running in the primary. The winner of the Aug. 4 primary will face Michael J. Hebron Sr. (R).
Power players
"In 2019-2020, we will work to elect Democratic senators who are committed to an economy that provides opportunity and security for America's working families and who stand up to protect the rights of all Americans." – Senate Majority PAC website
Founded in 2010 by supporters of Senate Majority Leader Harry Reid (D-Nev.), the Senate Majority PAC is a super PAC with the goal of supporting Democratic candidates for the U.S. Senate. As of June 30, the PAC has raised $148 million this cycle compared to $125 million for the Democratic Senatorial Campaign Committee, Senate Democrats' official campaign PAC.
During the 2018 campaign cycle, the Senate Majority PAC reported more than $111.6 million in satellite spending, spending over $10 million each to oppose four Republican Senate candidates: Josh Hawley in Missouri ($18.0 million), Rick Scott in Florida ($15.8 million), Dean Heller in Nevada ($14.4 million), and Mike Braun in Indiana ($14.2 million). Other than Heller, each of the four won their races.
So far this cycle, the Senate Majority PAC has reported spending more than $1 million in three races, having already spent $5.2 million to oppose John James in Michigan, $3.6 million to oppose Susan Collins in Maine, and $1.9 million to oppose Steve Daines in Montana.