This week: Cori Bush defeats incumbent Rep. William Lacy Clay, Ilhan Omar releases first TV ad, and Ocasio-Cortez appears in an ad for Ed Markey.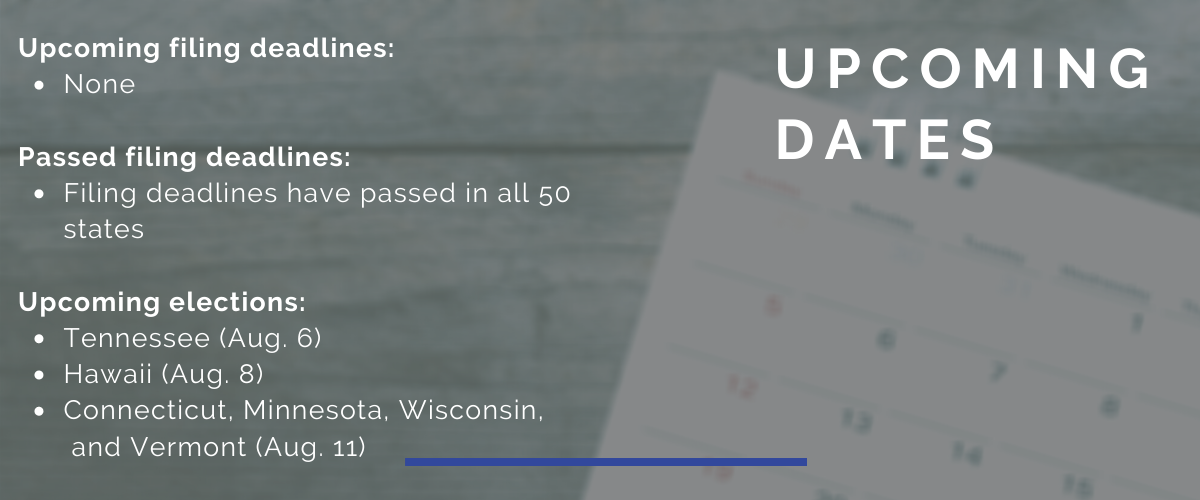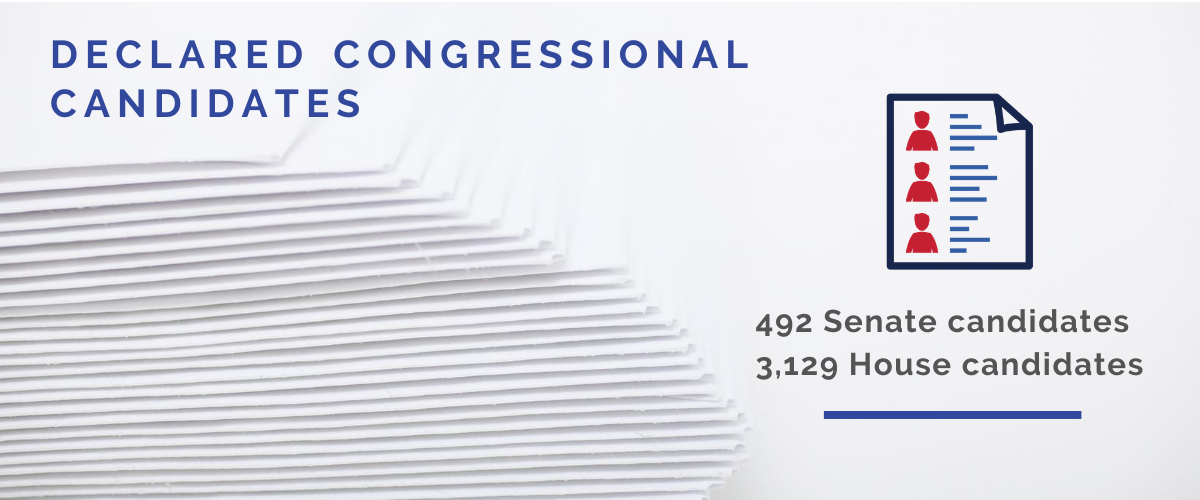 Election results
Here are some key primary results from Aug. 4.
Arizona's 1st Congressional District

: Incumbent Tom O'Halleran defeated Eva Putzova. O'Halleran received 59% to Putzova's 41% with 98% of precincts reporting. O'Halleran, a former Republican member of the state legislature, was first elected to the seat as a Democrat in 2016. He co-chairs the Blue Dog Coalition. Putzova is a former member of the Flagstaff City Council.

Arizona's 6th Congressional District

: Hiral Tipirneni won with 54% of the vote to Anita Malik's 36%, with 95% of precincts reporting. In the general election, Tipirneni will run against incumbent David Schweikert (R) in a district rated

lean Republican

.

Michigan's 13th Congressional District

: Incumbent Rashida Tlaib won with 66% of the vote to Brenda Jones' 34%, with 87% of precincts reporting. The race was a rematch. Tlaib and Jones ran against one another in both the district's regular and special election primaries in 2018. Jones defeated Tlaib in the special primary election. Tlaib defeated Jones in the regular primary.

Missouri's 1st Congressional District

: Cori Bush defeated incumbent William Lacy Clay and Katherine Bruckner. Bush received 49% of the vote to Clay's 46%. Clay is one of seven incumbent representatives who have lost in primaries in 2020, along with Steve Watkins who lost the Republican primary in Kansas' 2nd Congressional District on Aug. 4.

Bush challenged Clay in the district's 2018 primary, which Clay won with 57% of the vote to Bush's 37%. Clay was first elected in 2000. U.S. Sen. Kamala Harris (D-Calif.) and the St. Louis Post-Dispatch endorsed his re-election bid. Bush received endorsements from U.S. Sen. Bernie Sanders (I-Vt.) and Jamaal Bowman, a candidate for New York's 16th District who defeated 16-term incumbent Rep. Eliot Engel in the district's June 23 Democratic primary. 

Washington's 10th Congressional District, top-two

: As of 9:15 a.m. Eastern Time on Aug. 5, this race had not been called. Marilyn Strickland (D) led with 21.4% of the vote. Beth Doglio (D) had 14.4%, Kristine Reeves (D) had 13.2%, and Rian Ingrim (R) had 10.6%. Nineteen candidates—eight Democrats, eight Republicans, one independent, one Essential Workers Party candidate, and one Congress Sucks Party candidate—ran in the primary. Denny Heck (D), in office since 2013, sought election as lieutenant governor, leaving the seat open.

Washington governor, top-two primary

: Incumbent Jay Inslee (D) and Loren Culp (R) were the top two finishers among a field of 36 candidates and will compete in the general election. With half of precincts reporting, Inslee received 52% of the vote and Culp received 17%.

St. Louis Circuit Attorney

: Incumbent Kimberly Gardner won the Democratic primary for circuit attorney in St. Louis. She received 61% of the vote to Mary Pat Carl's 39%. The race was a rematch. Gardner and Carl ran in the four-candidate Democratic primary in 2016, where Gardner received 47% of the vote and Carl was second with 24%.
On the news
Where do Democratic and progressive pundits and commentators disagree? Each week, we bring you excerpts that highlight differing views.
On vice-presidential ambition
"Biden's biggest strength is that he has from the beginning of the primary contest polled best in head-to-head matchups against Trump. 'Electability' was always the number one issue for most Democratic primary voters desperate to put an end to Trump's reign … But that doesn't mean even older, more moderate Democratic voters want Biden determining the character of the party going forward–much less the younger … progressive wing winning an increasingly larger share of the party's internal battles. Biden is a calming caretaker for our democracy, not the face of the Democratic Party's future. His vice-presidential pick shouldn't be determining that, either.

"In short, an underrated characteristic of Biden's vice-presidential pick should be that she not necessarily want the job in four to eight years. Not as a knock against anyone he might choose, but because after the immediate danger of Trump is passed, Democratic voters should be at liberty to freely choose the direction of the party over the next decade without being locked into the defensive, electability-driven calculations of the Biden campaign in 2020."
David Atkins, Washington Monthly, Aug. 1, 2020
"Fourteen American vice presidents have gone to become president, including John Adams, Theodore Roosevelt, and George H.W. Bush. But even as Joe Biden vies to become the 15th, a warped, sexist narrative has emerged in recent days that his female running mate should not have presidential ambitions herself …

"Political ambition is tantamount to striving for power, and when it comes from women, it makes people deeply comfortable. American culture tends to like unassuming models and actresses who are discovered magically, serendipitously, plucked from obscurity, aw-shucks-ing their way up the ladder. To try is to offend the increasingly delicate status quo of white-male rule and the evident fragility of Biden's inner circle. The truth is: Every woman on their short list is powered by ambition. They could never have become senators and governors and congressional leaders without it—especially not in the male-dominated world of politics, with people like Biden's top donors working against them."
Michelle Ruiz, Vogue, Aug. 3, 2020
U.S. Congress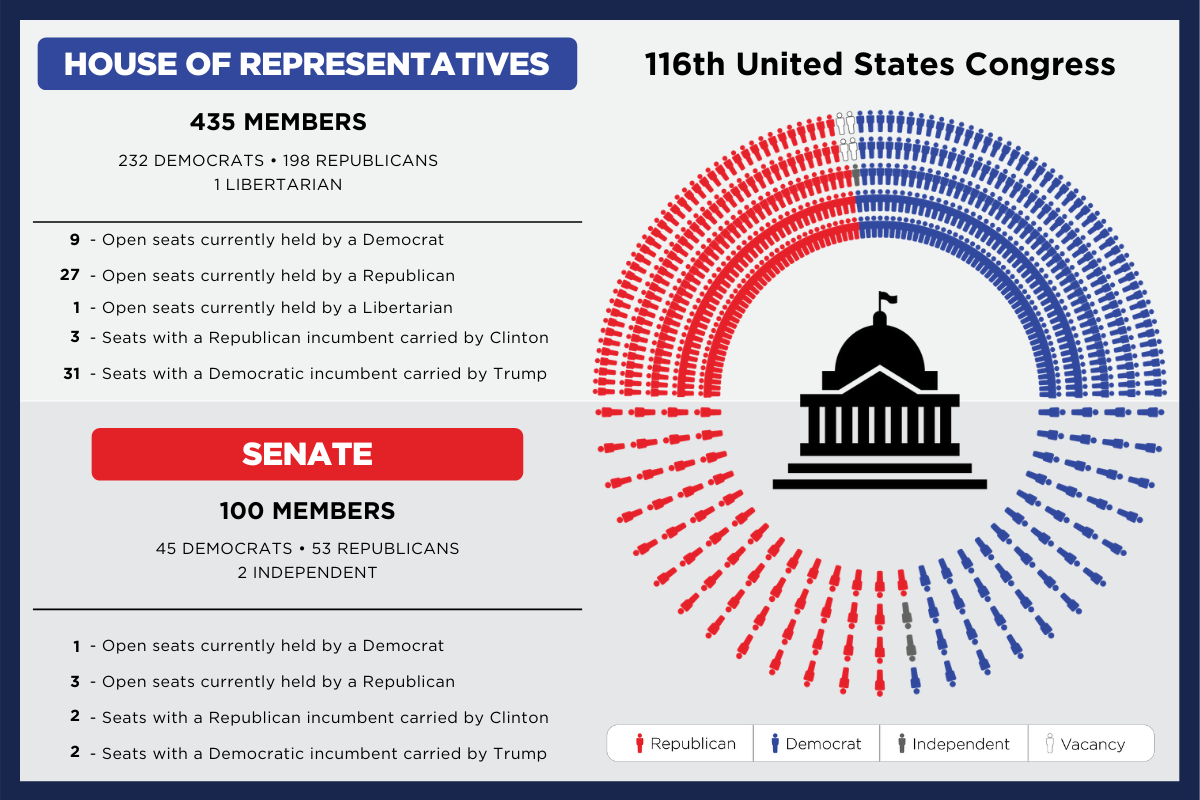 Ilhan Omar releases first TV ad in MN-05
Rep. Ilhan Omar released her first TV ad ahead of the Aug. 11 primary in Minnesota's 5th Congressional District. 
In the ad, Omar says, "We can translate our cries for justice into legislation, and that's the fight we have been leading in Congress." In a second ad, Omar said Antone Melton-Meaux, one of the five primary candidates, was a partner at "one of the worst union-busting law firms in the country" and that he used nondisclosure agreements to prevent women from talking about sexual harassment.   
Melton-Meaux says he would find common ground with others to reach progressive goals. In a recent ad, he said, "I won't be chasing cameras or selling books. I'll work for you." Melton-Meaux's campaign slogan is "Focused On the Fifth."
As we recently reported, Melton-Meaux raised $3.2 million to Rep. Ilhan Omar's $480,000 in the second quarter of 2020. As of July 22, Omar had raised a total of $4.3 million to Melton-Meaux's $4.2 million.
Two primary candidates have filled out Ballotpedia's Candidate Connection survey, designed to elicit insightful and thoughtful responses from candidates on what they care about, what they stand for, and what they hope to achieve. Click on candidates' names below to read their responses.
If you'd like to learn more about the survey, or if you are a candidate who would like to submit a survey, click here.
Ocasio-Cortez appears in Markey ad
Rep. Alexandria Ocasio-Cortez (D-N.Y.) appeared in an ad for Sen. Ed Markey, who faces Joe Kennedy III in Massachusetts' Senate primary. 
Ocasio-Cortez said Markey was an original cosponsor of Medicare for All legislation and that he co-authored the Green New Deal resolution with her in 2019. She said, "When it comes to progressive leadership, it's not your age that counts. It's the age of your ideas."  
Markey, 74, has been in the Senate since 2013. He served in the U.S. House from 1976 to 2013. Kennedy, 39, has been in the U.S. House since 2013. 
Kennedy says he supports Medicare for All and a Green New Deal. At a recent debate, he said Markey hadn't done enough to implement the Green New Deal. Kennedy has said the race is part of the "fight of my generation," but also said, "This isn't about age, and it isn't about seniority. … It's about meeting this moment and doing everything that you can possibly do to take it on."
Along with Ocasio-Cortez, Sen. Elizabeth Warren (D-Mass.) and the Democratic Senatorial Campaign Committee endorsed Markey. Recently, the Massachusetts Teachers Association backed him.
Kennedy's endorsers include Congressional Progressive Caucus Co-Chair Mark Pocan (D-Wisc.), Rep. Joaquin Castro (D-Texas), and former Rep. John Lewis (D-Ga.), who died last month. 
A recent JMC Analytics poll found Markey with 40% support, Kennedy with 36%, and 24% undecided. The poll's margin of error was +/- 4.4 percentage points.
The poll also asked if Markey's 44 years in Congress would make respondents more or less likely to vote for him—30% said less likely, 30% said more likely, and 40% said it made no difference. When asked about the effect of the Kennedy family name, 20% said they'd be more likely to vote for a candidate with it, 24% said less likely, and 57% said it made no difference. 
The primary is Sept. 1.
State executives
Feltes, Volinsky spar over unemployment benefits in New Hampshire gubernatorial debate
State Sen. Dan Feltes (D) and New Hampshire Executive Councilman Andru Volinsky (D) discussed the coronavirus pandemic and economic recovery plans in their first in-person gubernatorial debate on July 29.
Feltes criticized Volinsky's position on reevaluating enhanced unemployment insurance, saying, "This election is about who's [sic] side are you on – working people and working families. You got to be on their side full time, not part time."
Volinsky, who said the amount of the weekly $600 federal benefit should be reconsidered, defended his record as an attorney and public servant. "No one gets to claim that mantle in this race. We're both committed to working-class people," Volinsky said.
The primary is scheduled for Sept. 8. On the Republican side, incumbent Chris Sununu (R), who was first elected in 2016, faces two opponents. Two election forecasters say Republicans are likely to win the general election and a third says it leans Republican.
Legislatures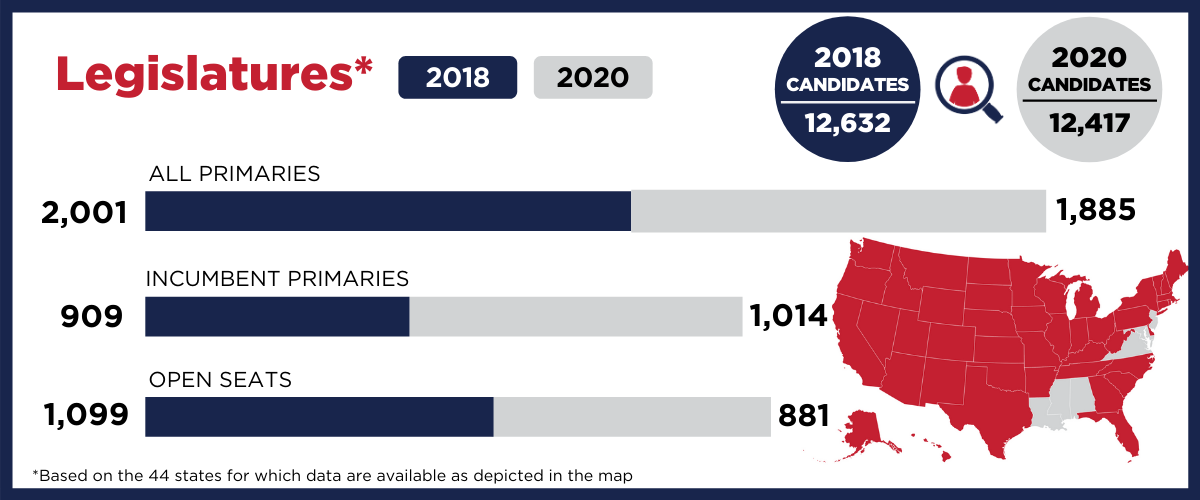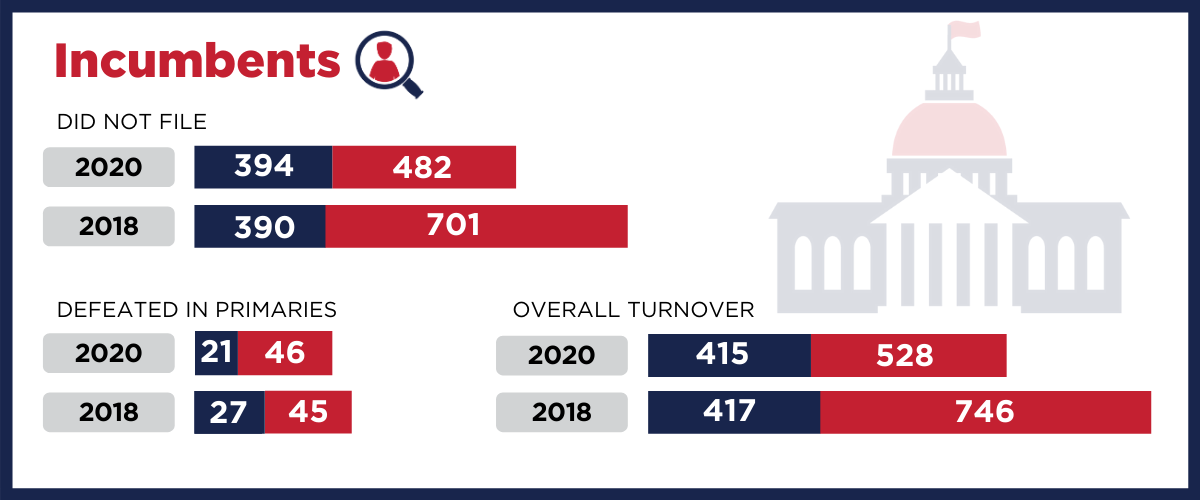 *The number of incumbents who did seek re-election is provided for the 44 states whose 2020 filing deadlines have already passed. The number of incumbents defeated in primaries is provided for the 24 states that have already held state legislative primaries in 2020.
Cabrera and Farmer participate in Connecticut Senate District 17 debate
On July 28, Jorge Cabrera and Justin Farmer participated in a virtual debate sponsored by The Valley Independent Sentinel, WNHH Radio, and The New Haven Independent. Cabrera and Farmer are vying for the Democratic nomination to face incumbent Sen. George Logan (R-17). 
Cabrera is an organizing director with the United Food and Commercial Workers Union Local 919. He received endorsements from the Connecticut branches of the AFL-CIO and Service Employees International Union as well as from the District 17 Democratic Party.
Farmer is a member of the Hamden Legislative Council. The Democratic Socialists of America, Planned Parenthood Votes! Connecticut, and the Connecticut Young Democrats endorsed his campaign.
On a question about healthcare, Cabrera discussed his support for a public option, saying, "I'm a big believer in high-quality, affordable healthcare for everyone." Farmer said, "I am a big proponent of Medicare for All," adding that "We can have a Connecticut option to allow our undocumented community members to be covered."
In Connecticut, candidates participate in conventions before proceeding to primaries. A candidate can win the nomination outright at a convention so long as no other candidates receive more than 15% of the delegate vote. On May 27, we covered the convention vote setting up the contest between Cabrera and Farmer. Delegates supported Cabrera over Farmer 39-10, enough votes to net Cabrera the party's endorsement, but not enough to win the nomination outright.
In 2018, Logan defeated Cabrera, that cycle's Democratic nominee, 50.1-49.9%, a margin of 85 votes. In 2016, District 17 supported Hillary Clinton (D) over Donald Trump (R), 53-44%.
Sunrise Rhode Island endorses challenger Potter in House District 16 primary against Rep. Millea
On July 29, Sunrise RI, the Rhode Island affiliate of the national Sunrise Movement, endorsed Brandon Potter (D) in the House District 16 primary, where he is challenging incumbent Rep. Christopher Millea (D-16). Sunrise Movement describes itself as "a movement to stop climate change and create millions of good jobs in the process."
Announcing the endorsement, Potter, a sales manager, said, "We not only have a moral obligation to protect our environment, we have a major economic opportunity to invest in renewable energy." In addition to Sunrise RI, he received endorsements from the Rhode Island affiliates of Planned Parenthood Votes! and Our Revolution.
Millea was first elected in 2018 after defeating incumbent Rep. Robert Lancia (R), 53-47% in the general election. In his campaign announcement, Millea said that he "has been a constant champion for education reform and governmental transparency." He added, "There is far more work to be done for the residents of District 16, but we have made tremendous progress."
The winner of the Sept. 8 primary will face Maryann Lancia (R), the wife of former Rep. Lancia, in the general election. 
Power players
"The National Democratic Redistricting Committee is the centralized hub for executing a comprehensive redistricting strategy that shifts the redistricting power, creating fair districts where Democrats can compete." – National Democratic Redistricting Committee website
Since 2017, the National Democratic Redistricting Committee says it has been working to position Democrats favorably for redistricting through litigation, legislation, and elections. Currently led by former Attorney General Eric Holder, it also counts President Barack Obama (D) among its notable supporters. 
As of June 30, its PAC has raised $3,899,804 and spent $2,397,598 this election cycle. Among its largest campaign contributions are $250,000 to Common Good Virginia, a committee supporting Virginia Governor Terry McAuliffe (D), $75,000 to the Texas House Democratic Campaign Committee, and $75,000 to the Virginia House Democratic Caucus.
Click the following links to view the organization's 2019-2020 electoral targets and endorsements.