This week: Pelosi endorses Kennedy against Markey, Reeves endorses Strickland over Doglio in WA-10, New Hampshire Youth Movement endorses challenger to 42-year incumbent in Rockingham's House District 25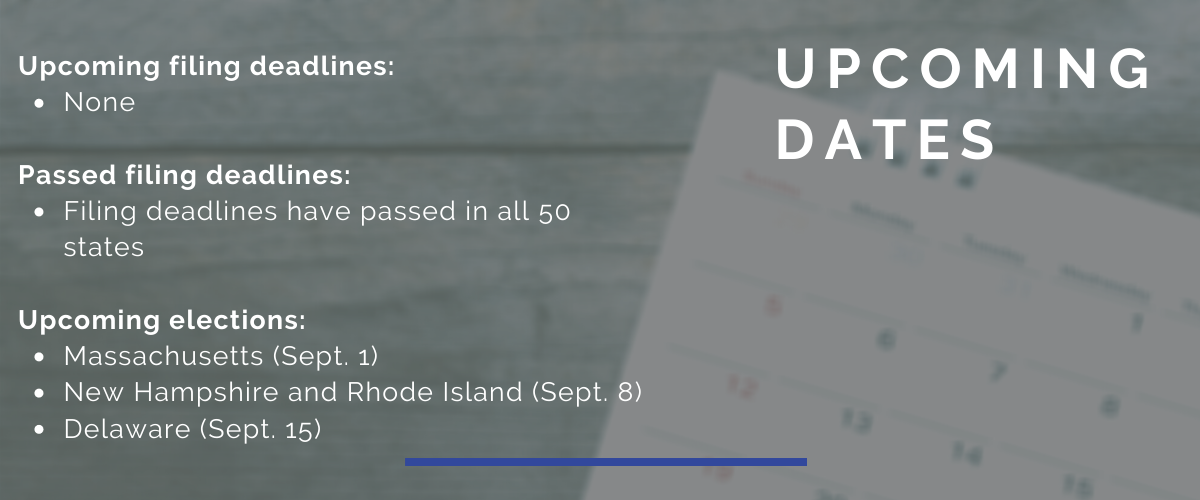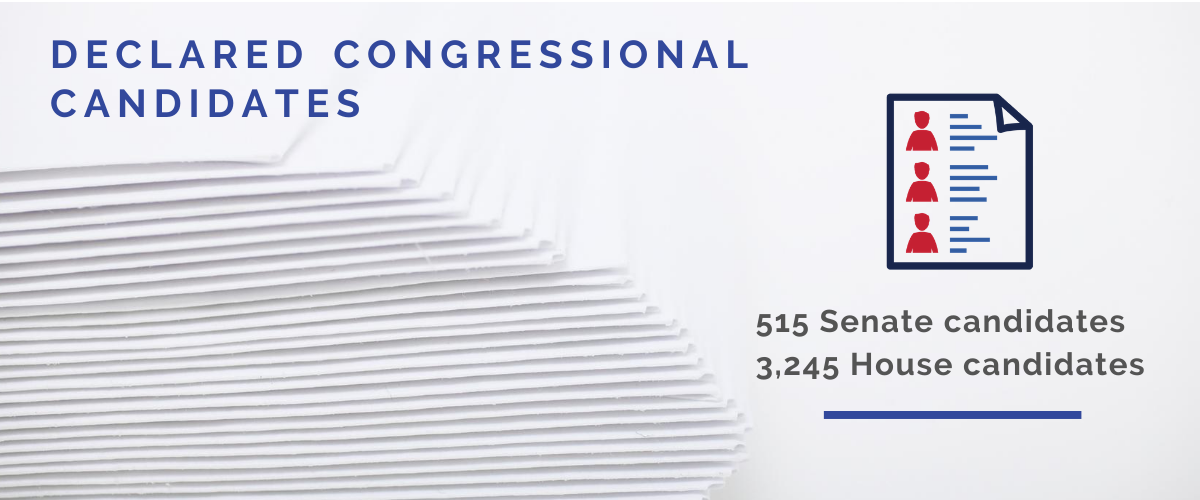 On the news
Where do Democratic and progressive pundits and commentators disagree? Each week, we bring you excerpts that highlight differing views.
On former Kansas House candidate, Aaron Coleman (D)
"The unexpected primary victory on Monday in Kansas by progressive Democratic challenger Aaron Coleman should have been a political fairy tale. Coleman is a first-time candidate at the age of 19, and was outspent by more than 10-1 by his entrenched, corporatist incumbent-opponent, seven-term state Rep. Stan Frownfelter. …

"But far from a fairy tale, a dark cloud has quickly descended over Coleman's improbable victory. The Kansas State Democratic Party has vowed to heavily finance an organized write-in campaign on behalf of Frownfelter. …

"Democratic leaders deny that their contempt for Coleman is due to his unseating of their longtime friend or his progressive agenda. Instead, they insist, they find him appalling because of serious misconduct in which he engaged when he was 12 and 13 years old as a middle school student. …

"That middle school behavior is horrific, and several of the the [sic] girls say, credibly, that they suffered greatly. During the campaign, Coleman, when confronted with the accusations, immediately acknowledged that they were true … and says that as an adult he has reformed and evolved past the pathologies he suffered …

"All of this raises profound and important questions about whether adults should be judged by the actions they undertook when they were a child, particularly when they have apologized and expressed remorse. It has long been a staple of liberal philosophy that humans can and should be rehabilitated …

"Just this week, the Democratic National Convention hosted as a speaker a convicted murderer named Donna Hylton, who committed one of the most gruesome crimes imaginable not as a junior high student but as an adult … She spent her prison time becoming a criminal justice advocate, and the DNC gave her a platform at their convention based on the belief that we should affirm the right of human beings to be rehabilitated …

"It is vital to have consistently applied principles to ensure that these serious issues are not exploited and weaponized for partisan gain or other petty forms of of [sic] self-interest. And it is very difficult to locate such principles in the reaction to Coleman's candidacy, to put it mildly."
Glenn Greenwald, The Intercept, Aug. 21, 2020
"On Sunday, Coleman announced that given the uproar … he would be ending his campaign. He blamed his departure on the 'progressive circular firing squad' that 'has done more to uphold the status quo than conservatives could have ever dreamed of.' He framed it, too, as a parable about the excesses of feminism. In truth, Aaron Coleman's short-lived campaign was a parable for the opposite. It was a testament to how readily, still, conversations about abuse will focus on what is owed to the abuser.

"For [The Intercept's Glenn] Greenwald, a crucial element of the story is the fact that Coleman was young—12 or 13 years old—when he did that damage. …

"The girls were very young too, though. They will be, in their own way, eternally condemned for the choices Coleman made on their behalf. In the interview with Greenwald, Coleman mentions one reason his victims have not responded to his attempts at contact: They have him blocked on Facebook. But can the apology Coleman has offered be considered a full atonement if it has not been accepted? Is remorse a matter of statements or of actions? …

"Coleman's bid for the state House struck the nerve that it did in part because, just as Greenwald and many others suggested, these are open questions. … Remorse, rehabilitation, restorative justice—they are matters of debate, and rightfully so. But if the discussions are to have any hope of realizing meaningful accountability, they must respect the needs—and the expressed desires—of not only the people who have done the damage, but the people who have borne the harm. …

"The women, in the statements they gave on the matter, were not talking about Coleman's right to employment or even to a generalized form of forgiveness. They were arguing merely that Coleman, a 19-year-old who committed his wrongs only six years ago, should not represent the people of Kansas in its state legislature. They were citing their abuse as their evidence. 'He's an awful person,' as one of them put it, 'and he should not be allowed to run for anything.'

"If you're talking about atonement, those public rejections of Coleman's apologies would seem to be crucial. But the women's comments have been notably absent from much of the weekend's discussions about what Aaron Coleman deserves."
Megan Garber, The Atlantic, Aug. 25, 2020
U.S. Congress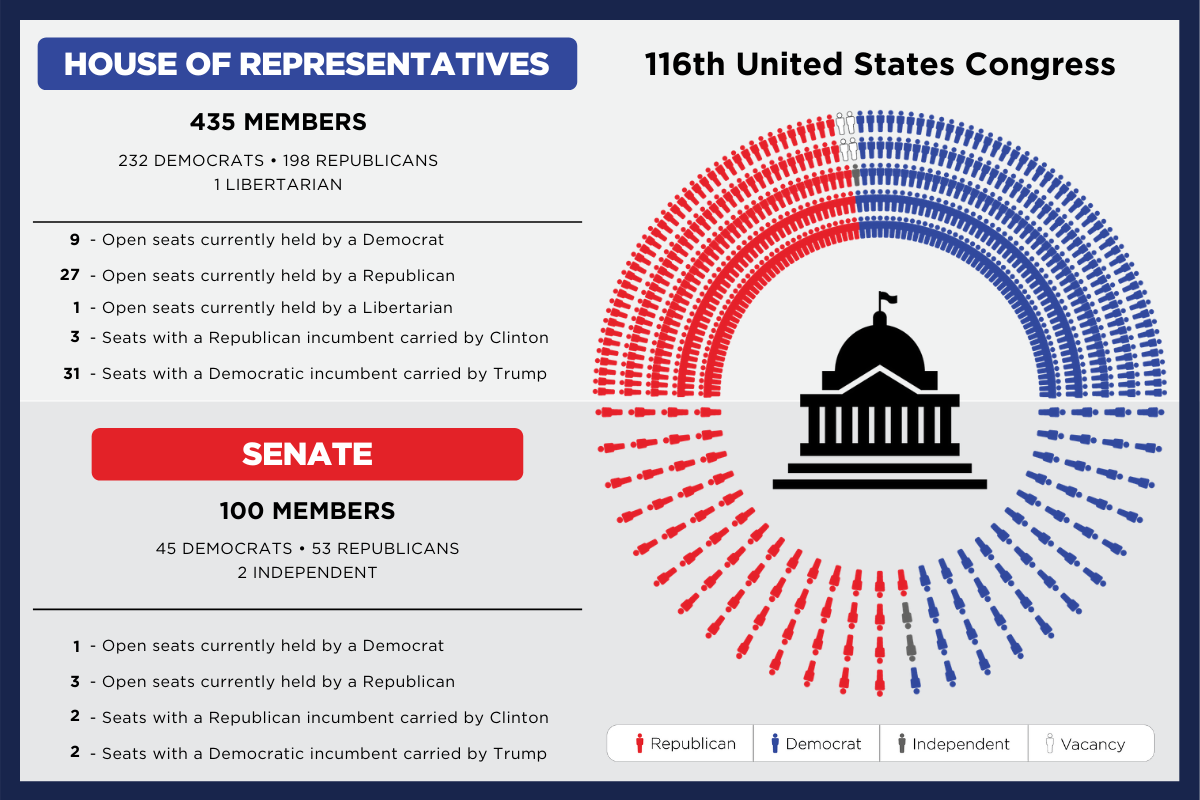 Pelosi endorses Kennedy against Markey
House Speaker Nancy Pelosi endorsed Rep. Joe Kennedy in his primary bid against Sen. Ed Markey in Massachusetts. Pelosi said Kennedy "knows that, to achieve progressive change, you must be on the front lines leading movements of people." 
Pelosi also said Kennedy helped Democrats win a majority in the House in 2018 and cited Markey's criticisms of the Kennedy family as reasons for her endorsement.
Kennedy has served in the House since 2013. Markey served in the House from 1976 until his election to the Senate in 2013.
Kennedy tweeted, "Nancy Pelosi is a force. No one has done more to take on Donald Trump and build our Party's future. Proud and humbled to have her with me in this fight."
Markey tweeted, "Speaker Pelosi is an effective leader who has shattered glass ceilings throughout her career. I had the privilege to work alongside Nancy in the House for decades and any candidate would be proud to have her endorsement. I congratulate Joe Kennedy on securing her support."
Pelosi has a policy of only endorsing incumbents in House races. She said of her Kennedy endorsement, "I support my members when they run for reelection and when they run for other office." She also said, "I would probably not be getting engaged in a primary in an election where it could impact whether a Democrat or a Republican could win. … But this will be a Democratic seat, and I feel at peace with the decision."
Rep. Alexandria Ocasio-Cortez (D-N.Y.), who endorsed Markey, said: "No one gets to complain about primary challenges again." Ocasio-Cortez has criticized the Democratic Congressional Campaign Committee's policy of not doing business with consultants who work with primary challengers to House incumbents. 
Justice Democrats said Pelosi's endorsement was hypocritical and the "party is setting one standard for progressives and one entirely different standard for the establishment."
Markey has called Kennedy a "progressive in name only," while Kennedy says the state and country need new leadership to achieve progressive change. Markey co-authored the Green New Deal resolution with Ocasio-Cortez and was an original co-sponsor of Sen. Bernie Sanders' (I-Vt.) Medicare for All bill. Kennedy was an original co-sponsor of the Green New Deal and supports Medicare for All. 
The primary is Sept. 1.
See the Power Players section below for a profile of Pelosi.
Reeves endorses Strickland over Doglio in WA-10
Third-place finisher Kristine Reeves endorsed Marilyn Strickland in Washington's 10th Congressional District general election on Nov. 3. Reeves said Strickland has "the right life experience and leadership skills to deliver real results for struggling families across this district." Strickland and Beth Doglio (D) advanced from the top-two primary on Aug. 4. 
Strickland received 20% of the primary vote to Doglio's 15%. Reeves received 13%. 
Strickland is CEO of the Seattle Metro Chamber of Commerce and was mayor of Tacoma from 2010 to 2017. Doglio has served in the state House since 2017.
Former Democratic presidential candidate Andrew Yang and former Washington Govs. Gary Locke (D) and Christine Gregoire (D) endorsed Strickland in the primary. Doglio had support from Sen. Bernie Sanders and Congressional Progressive Caucus Co-Chair Pramila Jayapal (D-Wash.). Reeves' backers included the Washington Education Association and the Laborers International Union of North America.
Nineteen candidates ran in the top-two primary: eight Democrats, eight Republicans, one independent, one Essential Workers Party candidate, and one Congress Sucks Party candidate. Denny Heck (D), in office since 2013, sought election as lieutenant governor, creating an open seat race in the 10th.
Of 10 House races taking place in Washington in November, the 10th District race is the only one with two candidates from the same party. Between 2014 and 2018, there were three U.S. House general elections in Washington with candidates from the same party. In both 2014 and 2016, Republicans Dan Newhouse and Clint Didier advanced from Washington's 4th Congressional District primaries. In 2018, D. Adam Smith (D) and Sarah Smith (D) advanced from Washington's 9th District primary. 
State executives

New Hampshire campaign finance reports show Volinsky ahead in summer fundraising while Feltes retains overall lead
Andru Volinsky was the top fundraiser among New Hampshire's Democratic gubernatorial candidate. His opponent, Dan Feltes, remains the overall fundraising leader, according to reports filed with the New Hampshire Secretary of State Aug. 19.
Volinsky, a member of the New Hampshire Executive Council, raised $119,000 since June to Feltes' $117,000. Since the beginning of the campaign, Feltes has raised $1.0 million to Volinsky's $590,000. With less than three weeks remaining before the primary, Feltes reported $330,000 cash on hand to Volinsky's $86,000.
A St. Anselm College poll released Aug. 21 found Feltes and Volinsky about even among likely Democratic primary voters, with 22% saying they would support Feltes, 19% saying they would support Volinsky, and 46% undecided. The poll reported a margin of error of 4.4 percentage points.
The winner of the Sept. 8 primary will advance to the general election, which two election forecasters say Republicans are likely to win. A third forecaster says the race leans towards Republicans.
Race recap: Governor of Vermont
In this series, we look back at recent state executive primaries and ahead to the general election.
Vermont Democrats are seeking to win back the state's governorship from Republican Phil Scott (R), who is running for a third two-year term this year. 
David Zuckerman defeated Rebecca Holcombe, Pat Winburn, and Ralph Corbo to win the Democratic gubernatorial nomination in the Aug. 11 primary. Zuckerman received 48% of the vote to Holcombe's 37%. Winburn followed with 8% and Corbo received 1%.
Zuckerman, Vermont's current lieutenant governor, had endorsements from Sen. Bernie Sanders (I) and People for the American Way. Holcombe, a former state secretary of education, had endorsements from former Gov. Madeleine Kunin (D) and EMILY's List. 
Zuckerman and Holcombe clashed over Zuckerman's previous opposition to vaccine mandates. Zuckerman said he was a supporter of vaccines and would follow the recommendation of health professionals when determining whether to make a coronavirus vaccine mandatory. Holcombe said Zuckerman's past skepticism towards vaccines made him a poor leader on public health.
Zuckerman will face incumbent Phil Scott (R) in the November general election. Two election forecasters say Scott is likely to win and one says he is a solid bet to win.
Vermont is one of 17 states where the governor and lieutenant governor are elected separately and one of three states—alongside Louisiana and North Carolina—where the two offices are currently held by members of different parties. This year's gubernatorial election in North Carolina also features a lieutenant governor challenging the incumbent, as Gov. Roy Cooper (D) faces Lt. Gov. Dan Forest (R).
Legislatures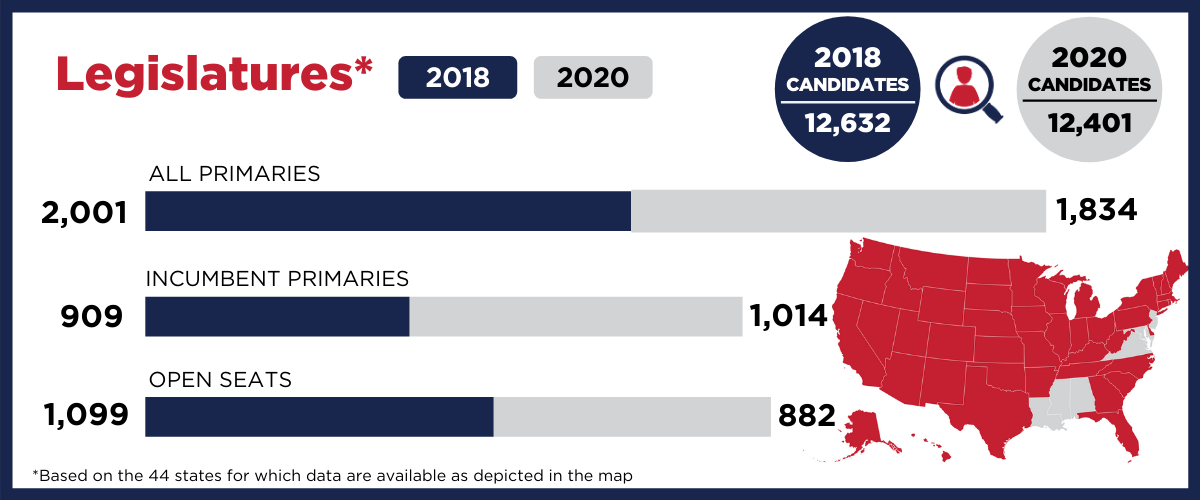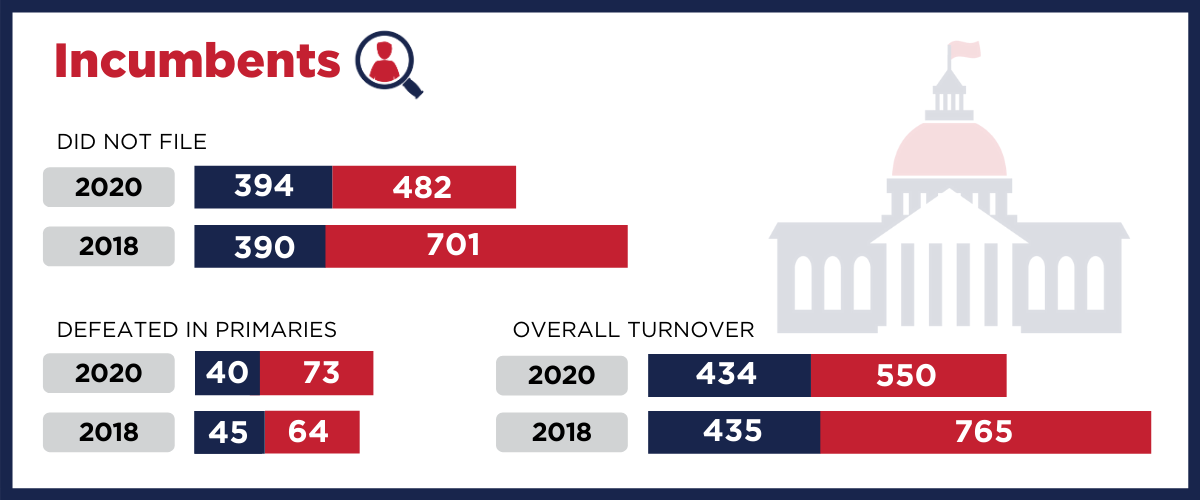 The number of incumbents who did not seek re-election is provided for the 44 states whose 2020 filing deadlines have already passed. The number of incumbents defeated in primaries is provided for the 39 states that had held state legislative primaries as of Aug. 25, 2020.
New Hampshire Youth Movement endorses challenger to 42-year incumbent in Rockingham's House District 25
On Aug. 17, the New Hampshire Youth Movement endorsed Robin Vogt over 42-year incumbent Rep. Laura Pantelakos in the Rockingham House District 25 Democratic primary. The group said Vogt and other endorsees "have all committed to fighting with us on climate, healthcare, student debt, and racial justice, all of which are top priorities for young people."
Vogt, a special education paraprofessional, submitted a Candidate Connection survey to Ballotpedia. In it, he said: "New Hampshire has young families who are looking for the next generation of legislators to step up. We must prompt young policies, and make wholesale changes to the status-quo practices that have made no differences to life [sic] here in the state."
Pantelakos was first elected to the House in 1978. Before that, Pantelakos served on the Portsmouth City Council for 16 years. As the longest-serving member in the chamber, she serves as the House Dean. In a Patch questionnaire, Pantelakos said, "I have been a Rep. for a long time and have learned how the legislature works. You have to learn to work with people that thinks different [sic] than you do."
There are no other candidates filed to run in the district, meaning the winner of the Sept. 8 primary will likely win the seat.
Retiring incumbent Sen. Fuller Clark endorses Kwoka in New Hampshire's Senate District 21 primary
On Aug. 22, Rebecca Perkins Kwoka, a candidate for New Hampshire's Senate District 21, received an endorsement from the district's retiring incumbent Sen. Martha Fuller Clark (D). Perkins Kwoka faces Deaglan McEachern in the District's Sept. 8 Democratic primary. McEachern currently serves on the Portsmouth City Council. Perkins Kwoka served in the body from 2016 to 2019.
In addition to Fuller Clark, Perkins Kwoka, an attorney, received endorsements from Emily's List, LPAC, and three incumbent Democratic representatives. In a Candidate Connection survey submitted to Ballotpedia, Perkins Kwoka listed affordable housing, climate change, and an equitable economy as three of her campaign's key messages.
McEachern, a software executive, received endorsements from the National Education Association-N.H., the local branch of the Service Employees International Union, and former District 21 Sens. Katie Wheeler (D) and Amanda Merrill (D). On his campaign website, McEachern lists education, the N.H. economy, and healthcare as three of his priorities.
The winner of the primary will face Sue Polidura (R) in the general election. 
Power players
"My responsibility is to protect the incumbents, protect the majority that we have. They have been courageous, they've taken votes they have to answer for in places where it may not be as obvious as to why, and my goal is to protect them. We will have a Democratic majority." – Nancy Pelosi on The Axe Files
House Majority Leader Rep. Nancy Pelosi (D-Calif.) assumed office in 1987 and has led Democrats in the House since 2002. According to Open Secrets, she is the fourth-highest fundraiser in Congress and first among congressional Democrats for the 2020 election cycle at $14,231,299. Pelosi also ranks fourth in Congress and second among congressional Democrats in candidate-to-candidate giving from both her leadership PAC, PAC to the Future, and her campaign committee at $940,000.
Among the top disbursements reported to the Federal Election Commission from Pelosi's campaign committee, Nancy Pelosi for Congress, are: $1,195,000 to the Democratic Congressional Campaign Committee, $100,000 to Hold the House Victory Fund, and $35,500 to the San Francisco Democratic County Central Committee, along with 11 $5,000 donations to individual Democratic congressional campaigns. PAC to the Future's top congressional campaign contributions include $20,000 to Rep. Gil Cisneros (D-Calif.) and $20,000 to Rep. Christy Smith (D-Calif.).