This week: Endorsements for Mayberry, Mowers in NH-01, Gonzales wins TX-23 primary runoff following recount, Mass. GOP runs Facebook ad supporting incumbent Rep. Boldyga in 3rd Hampden House District primary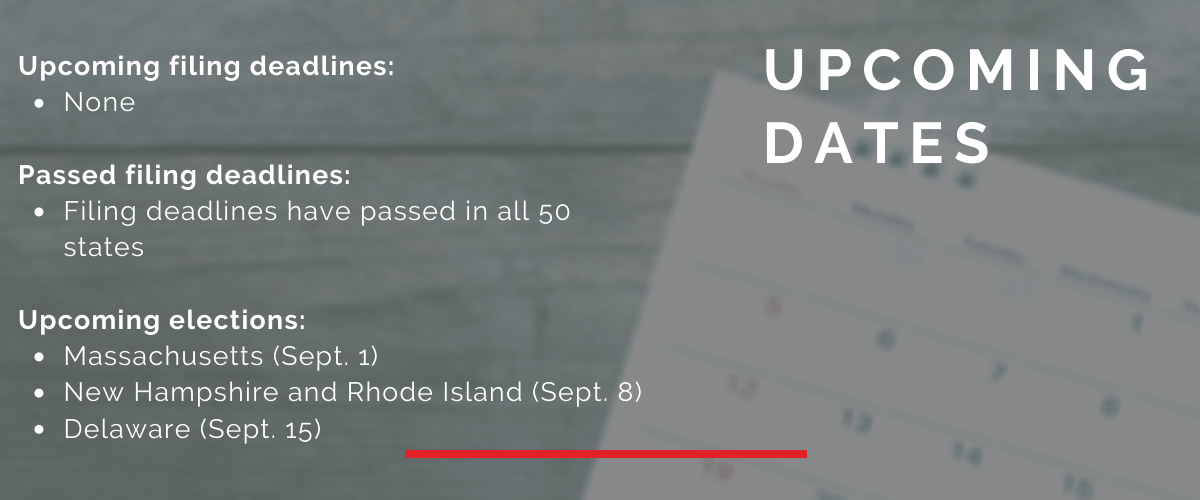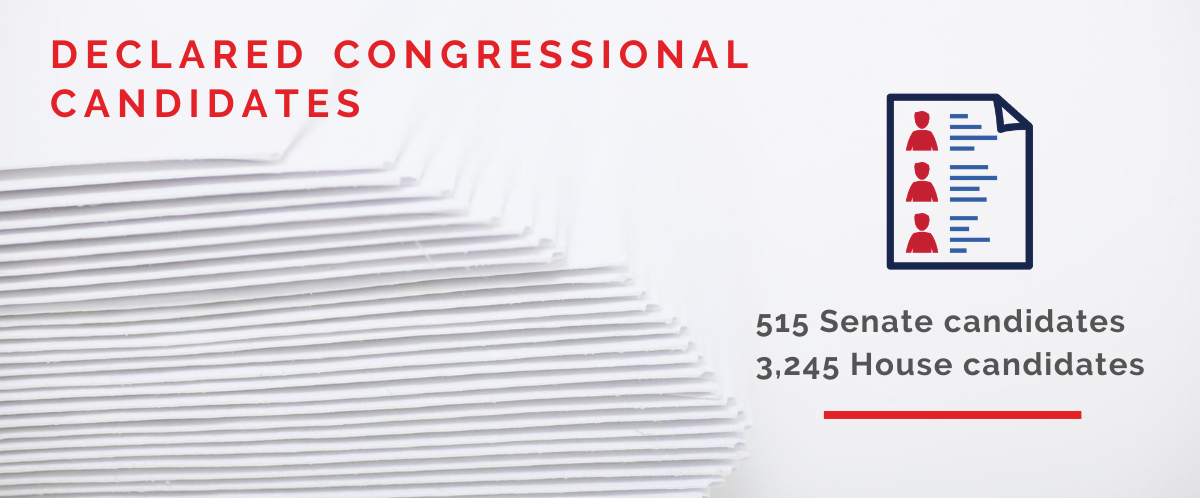 On the news
Where do Republican and conservative pundits and commentators disagree? Each week, we bring you excerpts that highlight differing views.
On President Trump's second-term agenda
"A couple of weeks ago, I asked of the Trump campaign, 'Where's the energy? Where are the ideas for the future?' Well, with [the president's second-term agenda], they've answered those questions and then some. … It seems to me that the president and his team are bursting with ideas to move the country forward, concrete plans, not the vague platitudes we heard last week, which themselves were completely overshadowed by the nonstop negativity of the Democrats' doom and gloom convention. …

"People want to know what you're going to do for them, specific, practical things, not just esoteric academic concepts. And here's what the Trump campaign is promising to do for you and this country in a second term:

"The plan is called 'Fighting for You! The Best is Yet to Come.' There are fifty commitments in ten categories including jobs, ending our reliance on China, drain the swamp, defend our police, end illegal immigration and protect our workers, and innovate for the future. … Here are a few specific highlights: tax credits for companies that bring manufacturing jobs back from China with a target of a million jobs returning, providing school choice to every child in America …

"There is so much more. Exactly what we wanted to see."
Steve Hilton, Fox News, Aug. 24, 2020
"If Democratic presidential nominee Joe Biden's acceptance speech was full of gauzy platitudes with few real policy specifics, President Trump's 49-point second-term 'agenda' is even more of an insult to voters' intelligence. …

"The first seven agenda items come under the rubric of 'jobs.' The first is typical: 'Create 10 million new jobs in 10 months.'

"Yes, that's it. There is nothing about how he would 'create' such jobs. Trump promises the moon and the stars without even identifying the type of jet fuel, much less designing the rocket. …

"On and on goes this tommyrot, until finally concluding with two great policies related to national security. First, 'wipe out global terrorists who threaten to harm Americans,' and then 'build a great cybersecurity defense system and missile defense system.'

"Gee, why didn't Biden think of those things? Biden must really be a dolt. Only by reelecting Trump will we be awarded the executive order that wipes out global terrorists. After all, everybody knows that 'eradicate terrorists' executive orders are unconstitutional in a president's first term but not in the second. Otherwise, Trump would have done it already. Still, we can trust him to do it in 2021, because it says so in his agenda."
Quin Hillyer, The Washington Examiner, Aug. 24, 2020
Election results
Oklahoma's 5th Congressional District runoff: Stephanie Bice defeated Terry Neese to win the Republican nomination to challenge Rep. Kendra Horn (D). The two advanced to a runoff after no candidate won a majority in the June 30 primary. In the primary, Neese placed first with 37% of the vote, while Bice followed with 25%. Bice, a state senator whose endorsers included former Sen. Rick Santorum (R-Pa.), said she would be the more effective legislator. Neese, a business owner and the national co-chairwoman of President Trump's small business advisory council, said she would be the stronger ally to the president.
U.S. Congress

Endorsements for Mayberry, Mowers in NH-01
In the past month, prominent endorsers have weighed in on New Hampshire's 1st Congressional District Republican primary. Of the five candidates, Matt Mayberry and Matt Mowers lead in endorsements.
Former Wisconsin Gov. Scott Walker (R) and the American Conservative Union—which hosts the annual Conservative Political Action Conference (CPAC)—endorsed Mowers. Former U.S. Sen. John Sununu endorsed Mayberry. Before serving in the Senate, Sununu represented the 1st District in the House. He is Gov. Chris Sununu's brother.
WMUR's John DiStaso wrote, "Sununu during the 2016 campaign for the Republican presidential nomination was a national co-chair for former Ohio Gov. John Kasich's campaign. Mowers headed the campaign of former New Jersey Gov. Chris Christie in the Granite State but later worked in the Donald Trump campaign and was appointed to the State Department post by the Trump administration." 
Mowers was a senior White House advisor and chief of staff and chief policy officer at the State Department. Mayberry is a former member of the Dover School Board and Dover City Council.  
The primary winner will face incumbent Chris Pappas (D) in November. This is one of 30 congressional districts with a Democratic incumbent that Donald Trump won in the 2016 presidential election.
Both Mayberry and Mowers completed Ballotpedia's Candidate Connection survey.
Here is each candidate's response to: "Please list below 3 key messages of your campaign. What are the main points you want voters to remember about your goals for your time in office?" Click their names to read full survey responses.
"Matt Mayberry is a true New Hampshire Conservative. He believes in smaller government, lower taxes and more personal freedom.

"We need a true conservative, common sense, New Hampshire voice down in Washington and Matt Mayberry is the person for the job.

"Matt Mayberry was a 2016 & 2020 Trump Delegate to the RNC Convention."
"It's time for a new generation of conservative leadership that will stand up for New Hampshire

"In Congress, Matt will ignore the partisan battles and work with the President to deliver real results

"Matt has seen first hand the damage that implementing socialist policies can do to a country. We don't need someone who campaigns like JFK but votes like AOC. We deserve better, someone who will put New Hampshire first."
Gonzales wins TX-23 primary runoff following recount
Tony Gonzales defeated Raul Reyes Jr. by a margin of 39 votes in the Republican primary runoff for Texas' 23rd Congressional District. 
The runoff was held on July 14. On July 31, the Republican Party of Texas certified Gonzales as the winner of the primary, with unofficial vote totals showing him ahead by 45 votes. Reyes filed a request for a recount on Aug. 3. On Aug. 21, Reyes said, "Without a sizable shift in the vote margin after a recount in the most populous parts of the district I have decided to end the recount."
President Donald Trump and incumbent William Hurd (R) had endorsed Gonzales. Sen. Ted Cruz (R-Texas) had endorsed Reyes.
Gonzales will face Gina Ortiz Jones (D) and two others in the Nov. 3 general election. Three election forecasters rate the general election Lean Democratic.
State executives

New Hampshire Gov. Chris Sununu leads primary challenger in fundraising
New Hampshire Gov. Chris Sununu leads primary challenger Karen Testerman in fundraising, according to campaign finance reports filed with the New Hampshire Secretary of State on Aug. 19.
Sununu, who is running for a third two-year term, raised $150,000 since June from 577 separate contributors and spent $100,000 during the same period. Overall, Sununu has raised $1.1 million and spent $560,000. 
Testerman, a Franklin city councilor who says Sununu's response to the coronavirus pandemic crippled New Hampshire's economy, raised $15,000 from 94 separate donors since launching her campaign in June. She spent $6,900 during that period.
A third candidate, whose name is Nobody, filed a statement indicating he had no campaign activity to report.
The winner of the Sept. 8 primary will advance to the general election, which two election forecasters say Republicans are likely to win. A third forecaster says the race leans towards Republicans.
Race recap: Governor of Missouri
In this series, we look back at recent state executive primaries and ahead to the general election.
Missouri Gov. Mike Parson defeated three challengers to win the Republican nomination for his first full term in an Aug. 4 primary. Parson became governor in June 2018 following the resignation of Eric Greitens (R) amid investigations into allegations of sexual misconduct and misuse of voter information.
Parson received 75% of the primary vote, followed by Saundra McDowell with 12%, Jim Neely with 9%, and Raleigh Ritter with 4%. 
McDowell, the Republican nominee for state auditor in 2018, said she was running to bring transparency to state government. Neely, a state representative, said he would oppose shutdowns and mask mandates in response to the coronavirus pandemic. Ritter, a rancher and small business owner, said he had the most business experience.
Parson will face Nicole Galloway (D), Jerome Bauer (G), and Rik Combs (L) in the November general election. Two election forecasters say Parson is likely to win and one says the race leans towards Parson.
Legislatures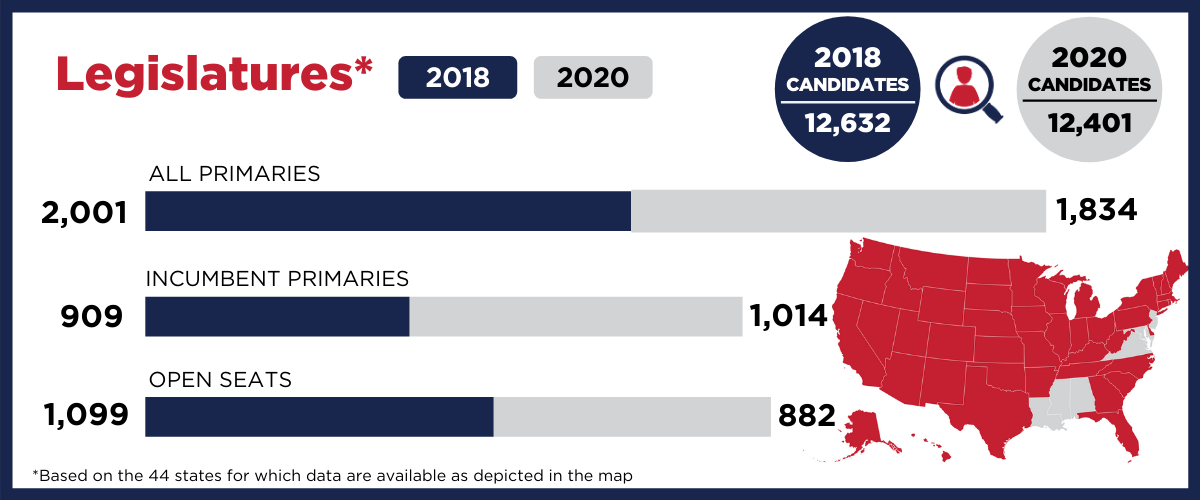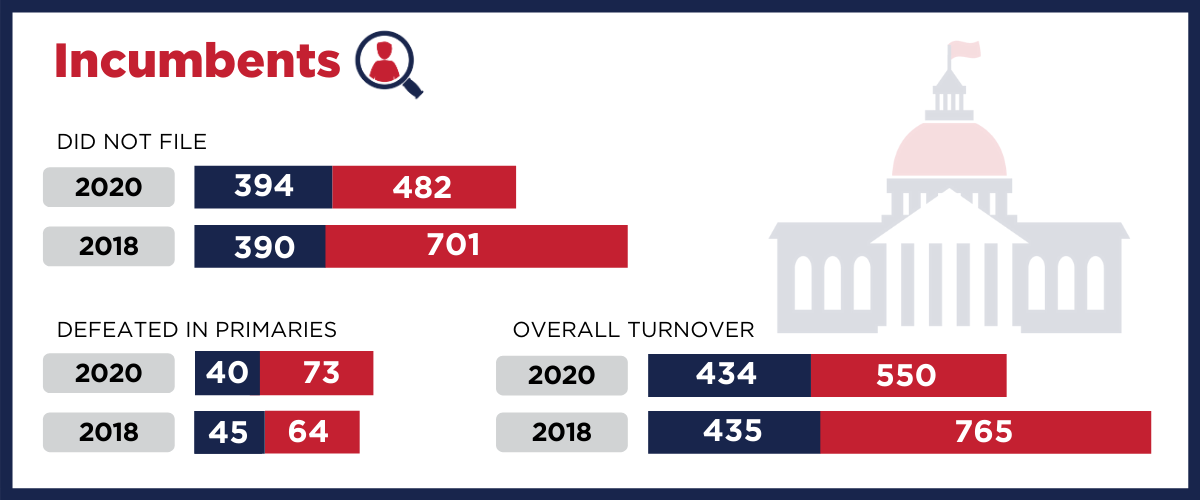 The number of incumbents who did not seek re-election is provided for the 44 states whose 2020 filing deadlines have already passed. The number of incumbents defeated in primaries is provided for the 39 states that had held state legislative primaries as of Aug. 25, 2020.
Mass. GOP runs Facebook ad supporting incumbent Rep. Boldyga in 3rd Hampden House District primary
On Aug. 19, the Massachusetts Republican Party ran a Facebook ad encouraging voters in the 3rd Hampden House District to support incumbent Rep. Nick Boldyga (R) in the Sept. 1 primary. Boldyga, first elected in 2010, is facing his first primary challenge from Agawam City Councilor Dino Mercadante (R).
Both candidates completed questionnaires for MassLive on Aug. 15, which asked the candidates: "What is the most important issue facing the district, and how would you address it?"
Boldyga, a former police officer and auditor, said he would "ensure that our communities remain affordable and the best towns to live, work, and raise a family," adding, "I have a proven track record of voting to lower taxes, create jobs, and cut wasteful spending to achieve those goals."
Mercadante, a restaurant owner, said, "Our district lacks proactive and aggressive representation. Our communities receive funding based on predetermined formulas that the state utilizes," adding, "It is critical that this district elect someone who WILL advocate, who WILL go above and beyond for our schools, our infrastructure projects."
The winner of the primary will face Agawam School Committee member Kerri O'Connor in the general election. In 2018, Boldyga defeated Forrest Bradford (D) 66% to 34%.
Xiarhos releases tax returns in Mass.' 5th Barnstable House District primary
On Aug. 17, the Cape Cod Times' Geoff Spillane reported that Steve Xiarhos released his income tax returns from 2017, 2018, and 2019 and called on his primary opponent, Tom Keyes, to do the same. Xiarhos and Keyes are running in the Republican primary for the 5th Barnstable House District. The current incumbent, Rep. Randy Hunt (R) is retiring. Hunt has endorsed Xiarhos. 
Xiarhos reported an income of $142,506 in 2019.
Xiarhos campaign chairman David Sampson said, "We are dedicated to being aboveboard and transparent … There is no question that our opponent in the primary has not validated who he is, relative to claims to business experience."
Keyes' campaign strategist Holly Robichaud said, "It sounds like a very desperate campaign taking advice from Hillary Clinton," adding, "We strongly believe that the people of [the district] are concerned about who can best revive the economy."
Xiarhos is a former deputy chief of police with the Yarmouth Police Department. He has not held elected office. In addition to Hunt, Xiarhos has received endorsements from the Fraternal Order of Police and the Professional Fire Fighters of Massachusetts, among others.
Keyes is the president of Keyes Quality Systems, a business coaching and consulting firm. He served on the Sandwich Board of Selectmen from 2002 to 2008 and on the Barnstable County Assembly of Delegates from 2008 to 2011. Sandwich Mayor Shaunna O'Connell and the Gun Owners' Action League are among his endorsers.
The winner of the Sept. 1 primary will face James Dever (D) in the general election.
Power players
"The American Dream is back — bigger, better, and stronger than ever before! With your help, we will defeat the do-nothing Democrats, replace them with pro-Trump conservatives, and remove Nancy Pelosi as Speaker of the House!" – Majority Committee PAC website
House Minority Leader Rep. Kevin McCarthy (R-Calif.) assumed office in 2007 and has led Republicans in the House since 2014. According to Open Secrets, he is the second-highest fundraiser in Congress for the 2020 election cycle at $16,638,004, behind House Minority Whip Steve Scalise (R-La.). McCarthy ranks highest in Congress for candidate-to-candidate giving from both his leadership PAC, Majority Committee PAC, and his campaign committee at $2,038,520.
Among the top disbursements reported to the Federal Election Commission from McCarthy's campaign committee, Kevin McCarthy for Congress, are: $541,388 to the National Republican Congressional Committee, $100,000 to the California Republican Party Federal Acct., and $20,000 to the Kern County Republican Central Committee (FED), along with 14 $4,000 contributions to individual Republican congressional campaigns. Majority Committee PAC's top Congressional campaign contributions include $20,000 to Rep. Greg Murphy (R-N.C.) and Rep. Mike Garcia (R-Calif.), and $15,000 to Rep. Fred Keller (R-Pa.) and Tony Gonzales (R), who is running in Texas' 23rd Congressional District.