This week: Results from last night's primaries in Massachusetts and a preview of the top primaries in New Hampshire
With Labor Day just around the corner and general election season in full swing, this will be the last regular edition of 2020's Heart of the Primaries. Notable election results from the primaries in New Hampshire, Rhode Island, and Delaware will be featured in Ballotpedia's Daily Brew. We hope you have enjoyed our reporting on 2020's primaries as much as we have enjoyed bringing you this newsletter. Heart of the Primaries will return ahead of the 2022 midterms.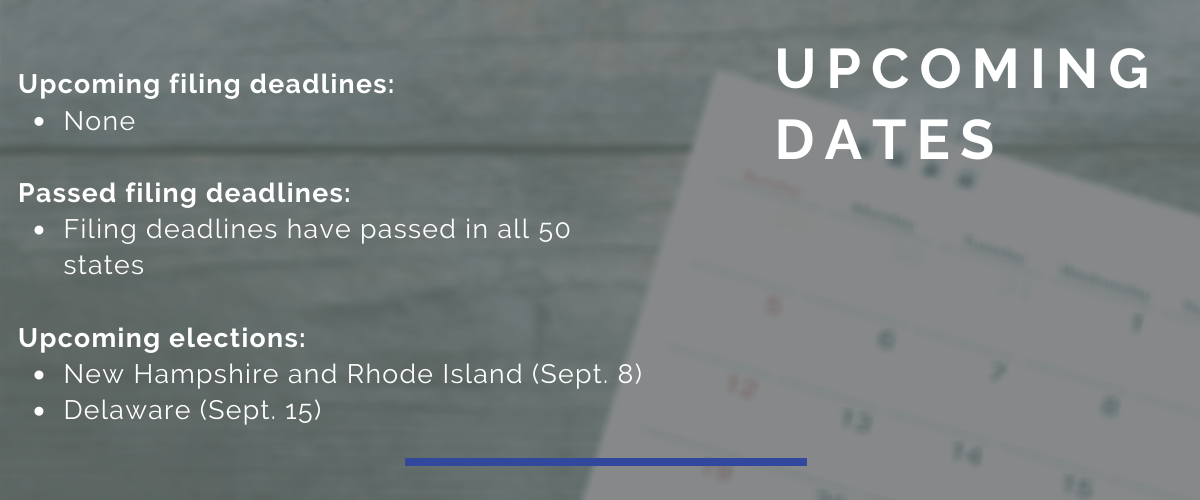 On the news
Where do Democratic and progressive pundits and commentators disagree? Each week, we bring you excerpts that highlight differing views.
On whether the presidential race is tightening:
"In a powerful speech in Pittsburgh on Monday, Joe Biden nestled into his comfort zone. The Democratic presidential nominee is never more clear, direct or impassioned than when the disaster that is President Trump and the moral authority of the office are the focus of his attention. What's stunning is that the president happily feeds Biden's fire. …

"…I believe Biden has an upper hand against Trump. Forget about the president's lame attempts to question Biden's mental acuity or his ability to do the job. Those are projections meant to distract and to stoke fear among easily panicked Democrats. No, pay attention to what Biden has done. He's laid a trap that everyone can see and Trump fails to avoid. Every time he opens his mouth, Trump forays into racism and white grievance that give Biden another chance to stand in stark contrast to him. Another chance to show humanity and leadership to a nation in desperate need of it.

"But I am also mindful of this: A cornered animal will fight its way out of it. And Trump is using fear to fight his way out, even if it means exacerbating racial tensions. That's why he went to Kenosha to visit law enforcement. That's why he can't see fit to denounce right-wing militias who support him. That's why he absolutely must be defeated in November."
Jonathan Capehart, The Washington Post, Sept. 1, 2020
"In mid-August, a Pew Research Center poll found that the issue of violent crime ranks fifth in importance to registered voters—behind the economy, health care, the Supreme Court, and the pandemic, but ahead of foreign policy, guns, race, immigration, and climate change. The poll found a large partisan gap on the issue: three-quarters of Trump voters rated violent crime "very important," second behind only the economy. Nonetheless, nearly half of Biden voters also rated it "very important." Other polls show that, over the summer, Biden has lost some of the support he gained among older white Americans in the first months of the coronavirus pandemic. …

"On Tuesday night, the CNN host Don Lemon warned his colleague Chris Cuomo that riots were hurting Biden and the Democrats: 'Chris, as you know and I know, it's showing up in the polls, it's showing up in focus groups. It's the only thing right now that's sticking.' Lemon urged Biden to speak out about both police reform and violence. With Kenosha and the political conventions, the coverage seems to be changing. On Thursday, the Times ran a piece headlined 'How Chaos in Kenosha Is Already Swaying Some Voters in Wisconsin.' … 

"Nothing will harm a campaign like the wishful thinking, fearful hesitation, or sheer complacency that fails to address what voters can plainly see. Kenosha gives Biden a chance to help himself and the country. Ordinarily it's the incumbent president's job to show up at the scene of a national tragedy and give a unifying speech. But Trump is temperamentally incapable of doing so and, in fact, has a political interest in America's open wounds and burning cities.
George Packer, The Atlantic, Aug. 28, 2020
Election results
Massachusetts U.S. Senate primary

: Incumbent Ed Markey defeated Joe Kennedy III. As of 9:30 a.m. Eastern Time on September 2, Markey had 55% of the vote to Kennedy's 45%. Markey, who was first elected in 2013, had endorsements from Sen. Elizabeth Warren (D-Mass.) and Rep. Alexandria Ocasio-Cortez (D-N.Y.). Kennedy, who has served in the U.S. House since 2013, had endorsements from House Speaker Nancy Pelosi (D-Calif.) and Rep. John Lewis (D-Ga.). Election forecasters say Markey is a solid bet to win re-election in November.

Massachusetts' 1st Congressional District primary

: Incumbent Richard Neal defeated Alex Morse. As of 9:30 a.m. Eastern Time on September 2, Neal had 59% of the vote to Morse's 41%. Neal, who was first elected in 1988, is the chairman of the House Ways and Means Committee. 

Massachusetts' 4th Congressional District primary

: As of 9:30 a.m. Eastern Time on September 2, this primary was too close to call. Nine Democrats were on the ballot for the seat currently held by Joe Kennedy III. Jake Auchincloss led with 23% of the vote, followed by Jesse Mermell with 22% and Becky Grossman with 18%.
State executives
Previewing New Hampshire's gubernatorial primary
Two of New Hampshire's top elected Democrats are seeking the party's nomination to challenge Gov. Chris Sununu (R), who was first elected in 2016. State Senate Majority Leader Dan Feltes will face Executive Councilor Andru Volinsky in the Sept. 8 primary.
According to WMUR's John DiStaso, "While Volinsky is viewed as a bit further to the left philosophically than Feltes, in fact the two are similar on many other issues and point to their experiences representing for middle- and low-income people among their chief qualifications to go up against the popular Republican incumbent."
Feltes and Volinsky differ on a broad-based tax. Since 2002, every New Hampshire Democratic gubernatorial nominee has pledged to veto any broad-based tax increase. Feltes has made a similar pledge, while Volinsky says such a promise is outdated, instead committing to reducing local property taxes for the majority of citizens.
Feltes, who has served in the state senate since 2015, has endorsements from End Citizens United, Let America Vote, and the Voter Protection Project. Volinsky, who has been a member of the Executive Council since 2016, is backed by Sen. Bernie Sanders (I-Vt.), the Sierra Club, and Blue America.
As of the August campaign finance reports, Feltes led in fundraising with $1.0 million to Volinsky's $590,000.
The winner will face the Republican nominee and Libertarian Darryl Perry in the November general election. Incumbent Chris Sununu (R) was first elected 49% to 47% in 2016 and was re-elected 53% to 46% in 2018. Two election forecasters say Republicans are likely to win the November election and one says it leans towards Republicans.
Previewing New Hampshire's Executive Council District 2 primary
Six Democrats are seeking the nomination for one of five seats on the New Hampshire Executive Council. The five-member executive board is responsible for approving state expenditures, overseeing spending, and approving gubernatorial appointments. Incumbent Andru Volinsky (D), who has held the District 2 seat since the 2016 election, is running for governor.
Four candidates—Leah Plunkett, Emmett Soldati, Craig Thompson, and Cinde Warmington—completed Ballotpedia's Candidate Connection survey. One of the questions on the survey asked candidates what areas of public policy they are personally passionate about. An abridged version of each candidate's response follows.
Plunkett said: "Leah has demonstrated proven progressive courage through her board service on Planned Parenthood of Northern New England, Planned Parenthood Action Fund, and the ACLU. She has stood up and spoke out to make real, proven change even when it was unpopular. With Leah, it's an important combination: a proven skill set, plus the perspective of a young working mom of two."
Soldati said: "The Executive Council represents a larger opportunity to expand access to others who have been left out of the conversation – to appoint leaders to agencies and commissions with diverse perspectives on what life is like for Granite Staters, with lived experience that relates to the complex issues we are working to solve, to ensure that the businesses we engage with have strong anti-discrimination policies and pay fair wages, and to safeguard our courts against corporate, partisan, and conservative interests."
Thompson said: "People of every age, gender, race, national origin, faith background, marital status and family structure, sexual orientation, gender identity and expression, mental and physical ability, economic and social status, and educational background should feel welcome to make New Hampshire their home…We place the highest value on public service of all kinds, civilian and military, and encourage all to engage and serve their communities."
Warmington said: "We're facing the most dire public health crisis of our lifetime. Yet, no one on our Executive Council has a health care background. Having an Executive Councilor who understands both the complexities of the health care system and how those are presented in state contracts will be of great benefit. I know what's in our state contracts. I know what to ask. I know where we can hold state contractors accountable to lower costs and expand access."
Also on the ballot are John Shea and Jay Surdukowski. Two Republicans are also in the running: Jim Beard and Stewart Levenson. New Hampshire's Executive Council District 2 is located in the southern part of the state and has elected a Democrat in every election since the last round of redistricting took place following the 2010 census.
Power players
"Officially affiliated with Alexandria Ocasio-Cortez, Courage to Change seeks to reward challengers and incumbents who display political courage — people who refuse to bow to establishment pressure, who advocate ferociously for working-class families, and who have lived the same struggles as the people they seek to represent." – Courage to Change PAC website
Courage to Change PAC is a political action committee affiliated with Rep. Alexandria Ocasio-Cortez (D-N.Y.). The PAC was established in 2019, the same year Ocasio-Cortez assumed office. In addition to financial support, it also endorses candidates, with its most recent endorsement being Alex Morse (D) in the Massachusetts 1st Congressional District primary.
During the 2020 election cycle, Courage to Change PAC has spent a total of $217,386. Its top contributions include $10,000 to the campaign of Samelys López who ran in the Democratic primary in New York's 15th Congressional District and nine $7,500 contributions to Democratic primary campaigns in New York.
Click the following link to see Courage to Change PAC's 2020 endorsements.