This week: Recapping Kansas' state legislative primaries and looking ahead to New Hampshire
With Labor Day just around the corner and general election season in full swing, this will be the last regular edition of 2020's Heart of the Primaries. Notable election results from the primaries in New Hampshire, Rhode Island, and Delaware will be featured in Ballotpedia's Daily Brew. We hope you have enjoyed our reporting on 2020's primaries as much as we have enjoyed bringing you this newsletter. Heart of the Primaries will return ahead of the 2022 midterms.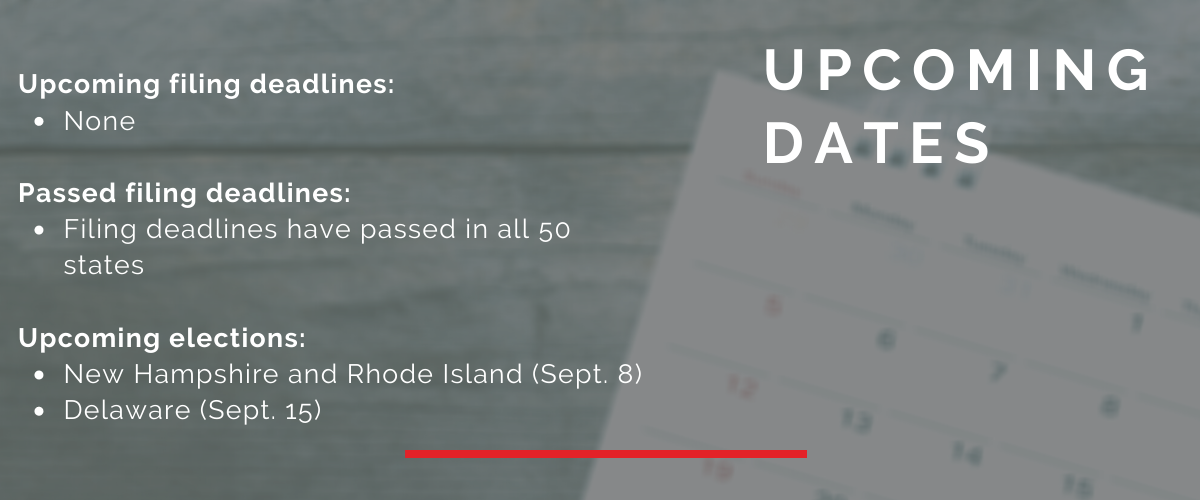 On the news
Where do Republican and conservative pundits and commentators disagree? Each week, we bring you excerpts that highlight differing views.
On 2024:
"I don't believe that a candidate who runs for the nomination, let's say in 2024, is going to be able to go back to free trade, globalism, or interventionism … because …  the Republican Party has been changed and reoriented to a great degree by Donald Trump.

"So I think that's what controls it. … [T]he Republicans today, many of them are … basically establishment Republicans, Conservative Inc., and all the rest of it and they may not believe what they are mouthing, but the fact that they are required to speak in a certain way and address these issues indicates a realization on their part that, intellectually, they have lost the battle for the party's issues and the party's identity. And frankly if someone came in and attempted to impose free trade and open borders on the Republican Party, he would not be nominated by the GOP."
Pat Buchanan, Newsmax TV, Aug. 29, 2020
"Donald Trump took over the Republican Party, but it's still discernibly the Republican Party. …

"There … are notable differences of substance. Trump's party has reversed itself on trade and jettisoned concern over deficit spending. The party is much less hawkish than George W. Bush's GOP and much more skeptical of immigration than Ronald Reagan's. It doesn't have the focus of the 2004 Republican convention on terrorism or the 2012 Republican convention on out-of-control entitlement spending.

"And yet there is a clear throughline between today's Republican Party and the GOP of the past several decades. …

"Take Don Trump Jr.'s forceful speech, which by lineage and inclination should be most representative of the Trump GOP. …

"Trump Jr. argued that "Biden's radical left-wing policies would stop our economic recovery cold," in part by raising taxes.

"This contrast with Democrats is a GOP commonplace. …

"Trump Jr. underlined the importance of safety and security and hailed the police as American heroes.

"Again, back in 1984, Vice President Bush said, 'President Reagan and I think it's time that we worried less about the criminals and more about the victims of crime.' …

"This perspective sheds some light on the future of a post-Trump GOP. In the main, it's not likely to be radically different from the current Trump GOP. …

"If this week's convention has again demonstrated Trump's personal grip on the party, it also showed that the Republican Party as it has existed for decades isn't going away."
Rich Lowry, The National Review, Aug. 28, 2020
U.S. Congress
Previewing the U.S. Senate Republican primary in New Hampshire
Four candidates are running in the Republican primary for U.S. Senate in New Hampshire on Sept. 8. Don Bolduc and Bryant "Corky" Messner have led in media attention, endorsements, and campaign finance. 
The Concord Monitor's Ethan DeWitt wrote:
"In Bolduc, voters can choose a career military servant, a brigadier general who rose through the ranks under a long line of presidents and now seeks change from the outside. In Messner they can pick an avowed capitalist, a Trump-endorsed corporate lawyer who built a Denver-based law firm and is running to stand up for small businesses."
Bolduc received endorsements from the Senate Conservatives Fund, New Hampshire's former U.S. Sen. Bob Smith (R), and U.S. Sen. Tom Cotton (R-Ark.), who said Bolduc "has the integrity, courage, and conviction to lead a positive strategy, and keep America safe." Messner received endorsements from U.S. President Donald Trump (R), who said Messner was "Strong on jobs, crime, veterans, and the Second Amendment", and the National Association for Gun Rights.
According to pre-primary campaign finance reports, Messner has raised more than $4.4 million, including $3.9 million he loaned to his campaign. Bolduc had raised $889,000. The candidates have $2.5 million and $178,000 cash on hand, respectively.
Gerard Beloin and Andy Martin are also running in the primary.
Incumbent Sen. Jeanne Shaheen (D), first elected in 2008, is seeking re-election. In 2014, Shaheen defeated Scott Brown (R), 51.5-48.2%. New Hampshire most recently held a U.S. Senate election in 2016, when Maggie Hassan (D) defeated incumbent Sen. Kelly Ayotte (R), 48-47.9%.
Previewing New Hampshire's 1st Congressional District Republican primary
Five candidates are running in New Hampshire's 1st Congressional District Republican primary on Sept. 8. Matt Mayberry and Matt Mowers lead the field in noteworthy endorsements and fundraising.
Mayberry, a former Dover City Councilor and chairman of the N.H. Commission on Human Rights, received endorsements from U.S. Rep. Pete King (R-N.Y.) and Arkansas Gov. Mike Huckabee (R). Mowers worked as the executive director of the N.H. Republican State Committee and a senior White House advisor in the U.S. State Department. He received endorsements from U.S. President Donald Trump (R) and House Minority Leader Rep. Kevin McCarthy (R-Calif.).
According to pre-primary campaign finance reports, Mowers has raised $693,000 and has $373,000 cash on hand. Mayberry has raised $173,000 and has $22,000 cash on hand.
Michael Callis, Jeff Denaro, and Kevin Rondeau are also running in the primary.
Denaro, Mayberry, and Mowers completed Ballotpedia's Candidate Connection survey. Read their full responses here. Each candidate is asked to provide three key messages, excerpts of which include:
Denaro: "Our National Debt at this time is 26.6 Trillion. I want to propose bills to lower our debt."

Mayberry: "Matt Mayberry is a true New Hampshire Conservative. He believes in smaller government, lower taxes and more personal freedom."

Mowers: "It's time for a new generation of conservative leadership that will stand up for New Hampshire."
The winner of the primary will face incumbent Rep. Chris Pappas (D), first elected in 2018 after defeating Eddie Edwards (R), 54-45%. Pappas' victory made the 1st District one of 30 House Districts represented by a Democrat in 2020 that voted for Trump in 2016. During the presidential election, Trump received 48% of the vote to Hillary Clinton's (D) 47% in the 1st District.
State legislatures
Race recap: Kansas' state legislative elections
Kansas' state legislative primaries took place on Aug. 4. Over one-quarter of the Republican incumbents seeking re-election faced primary challenges this year, and roughly 40 percent of them lost to their challengers.
The Wichita Eagle's Jonathan Shorman said these primary challenges illustrated a longstanding, intra-party ideological divide in the state's legislature: "The influence of Kansas Republican moderates has waxed and waned. Gov. Sam Brownback [(R)] helped oust them in 2012. Voters then swept them back into office in 2016 to end his signature income tax cuts and stabilize the budget." Shorman continued, "But with last week's primary losses, their ranks have been depleted to levels not seen for years."
Below are the results of Republican primaries that featured this ideological divide, according to local media sources like The Wichita Eagle, Shawnee Mission Post, and The Kansas City Star.
In the state Senate races listed below, all of the incumbents who lost primaries this year were first elected in 2016, the last time state Senate elections took place. Four of the 2020 incumbents—Skubal, Givens, Hardy, and Berger—all defeated Republican incumbents themselves in 2016.
The House last held elections in 2018. Of the four incumbents defeated below, Dirks was first elected in 2012 and Moore in 2018. Kessinger and Karleskint were both elected in 2016 after defeating Republican incumbents in their respective primaries.
Power players
"Making the change one outsider at a time." – Conservative Outsider PAC website
Conservative Outsider PAC (COPAC) is a political action committee founded in 2020. Its current treasurer is Kate Teasdale, who works as a Republican political consultant. Notable contributions to COPAC during the 2020 election cycle include $315,000 from Club for Growth and $750,000 from Protect Freedom PAC.
COPAC has not made any direct campaign contributions during the current election cycle, but it has made independent expenditures in Republican primaries totaling $1,376,922. Most recently, it spent $385,000 on television ads opposing Bill Hagerty's (R) bid for the U.S. Senate in Tennessee, bringing its total spending in opposition to Hagerty to $968,000. COPAC also spent $250,835 and $102,468 to oppose Dane Eagle's (R) campaign in Florida's 19th Congressional District and Tracey Mann's campaign in Kansas' 1st Congressional District. Both Hagerty and Mann won their primary elections, while Eagle lost his by a margin of .7 percentage points.