Third Circuit: Penn. public-sector worker not entitled to refund for previously paid dues 
On Oct. 7, a three-judge panel of the U.S. Court of Appeals for the Third Circuit ruled that a former public-sector union member in Pennsylvania is not entitled to a refund for dues she paid before withdrawing from the union.
Who are the parties to the suit?  
The plaintiff is Shalea Oliver, a Pennsylvania state employee. Attorneys from the Liberty Justice Center are representing her. The Liberty Justice Center describes itself as a nonprofit that "fights for the constitutional rights of American families, workers, advocates, and entrepreneurs."  
The defendants are the Service Employees International Union (SEIU) Local 668 and the following individuals in their official capacities: 
Teresa Miller (Secretary of the Pennsylvania Department of Human Services)

Michael Newsom (Secretary of the Pennsylvania Office of Administration)

Josh Shapiro (Attorney General)

James M. Darby, Albert Mezzaroba, and Robert H. Shoop, Jr. (members of the Pennsylvania Labor Relations Board)
What is at issue?
Oliver, who was hired in 2014, voluntarily joined SEIU Local 668, the exclusive bargaining representative of her employment unit, as a dues-paying member. On June 27, 2018, the U.S. Supreme Court issued its ruling in Janus v. AFSCME, finding that public-sector unions cannot compel the  non-member employees they represent to pay fees to cover the costs of non-political union activities. Doing so, the court determined, violates employees' First Amendment rights. 
On Aug. 10, 2018, Oliver resigned from SEIU Local 668 and rescinded her authorization for having union dues deducted from her paychecks. SEIU Local 668 accepted Oliver's resignation and refunded the dues withheld from her paychecks after Aug. 10, 2018. 
On Feb. 28, 2019, Oliver sued the union and state officials in the U.S. District Court for the Eastern District of Pennsylvania, seeking restitution for all dues paid to the union since she first joined in 2014. Oliver argued "she was forced into an unconstitutional choice between paying Local 668 as a member or paying it as a non-member." Oliver also alleged that state officials had violated her free-speech and associational rights when they recognized SEIU Local 668 as the exclusive representative for her bargaining unit.  
On Nov. 12, 2019, Judge Gerald Austin McHugh, Jr., ruled in favor of the defendants, dismissing Oliver's claim. McHugh was appointed to the bench by President Barack Obama (D). Oliver appealed the decision to the Third Circuit. 
How did the court rule?
The three-judge panel – Judges Brooks Smith, Theodore McKee, and Kent Jordan – unanimously affirmed the district court's decision. Writing for the court, Smith said: 
Shalea Oliver had the choice either to become a member of the Service Employees International Union Local 668 ("the Union")—the exclusive collective bargaining representative for her unit—by paying monthly union dues or to decline membership yet pay "fair-share" or "agency" fees. Oliver chose to become a union member.Because Oliver chose to join the Union when she was not compelled to do so, her membership was voluntary; thus, she is not entitled to a refund of membership dues. Because a   state is permitted by statute and case law to grant a labor union exclusive representation rights, and Oliver need not associate with that union, we conclude that Oliver's free speech and free association rights were not violated. Since the District Court came to these same conclusions in granting summary judgment to the defendants, we will affirm.
Smith and Jordan are George W. Bush (R) appointees. McKeey is a Bill Clinton (D) appointee. 
About the Third Circuit
The U.S. Court of Appeals for the Third Circuit is a federal court that hears appeals from the district courts in Delaware, New Jersey, and Pennsylvania. The court has 14 authorized judicial posts and no current vacancies. The chief judge is Brooks Smith, a George W. Bush appointee. Of the court's 14 active judges, Republicans appointed eight and Democrats appointed six. Appeals are heard in the James A. Byrne Federal Courthouse in Philadelphia.
What comes next?
Oliver's attorneys have not said publicly whether they intended to appeal the decision. The case name and number are Oliver v. Service Employees International Union Local 668 (19-3876).
What we're reading
The big picture
Number of relevant bills by state
We are currently tracking 102 pieces of legislation dealing with public-sector employee union policy. On the map below, a darker shade of green indicates a greater number of relevant bills. Click here for a complete list of all the bills we're tracking.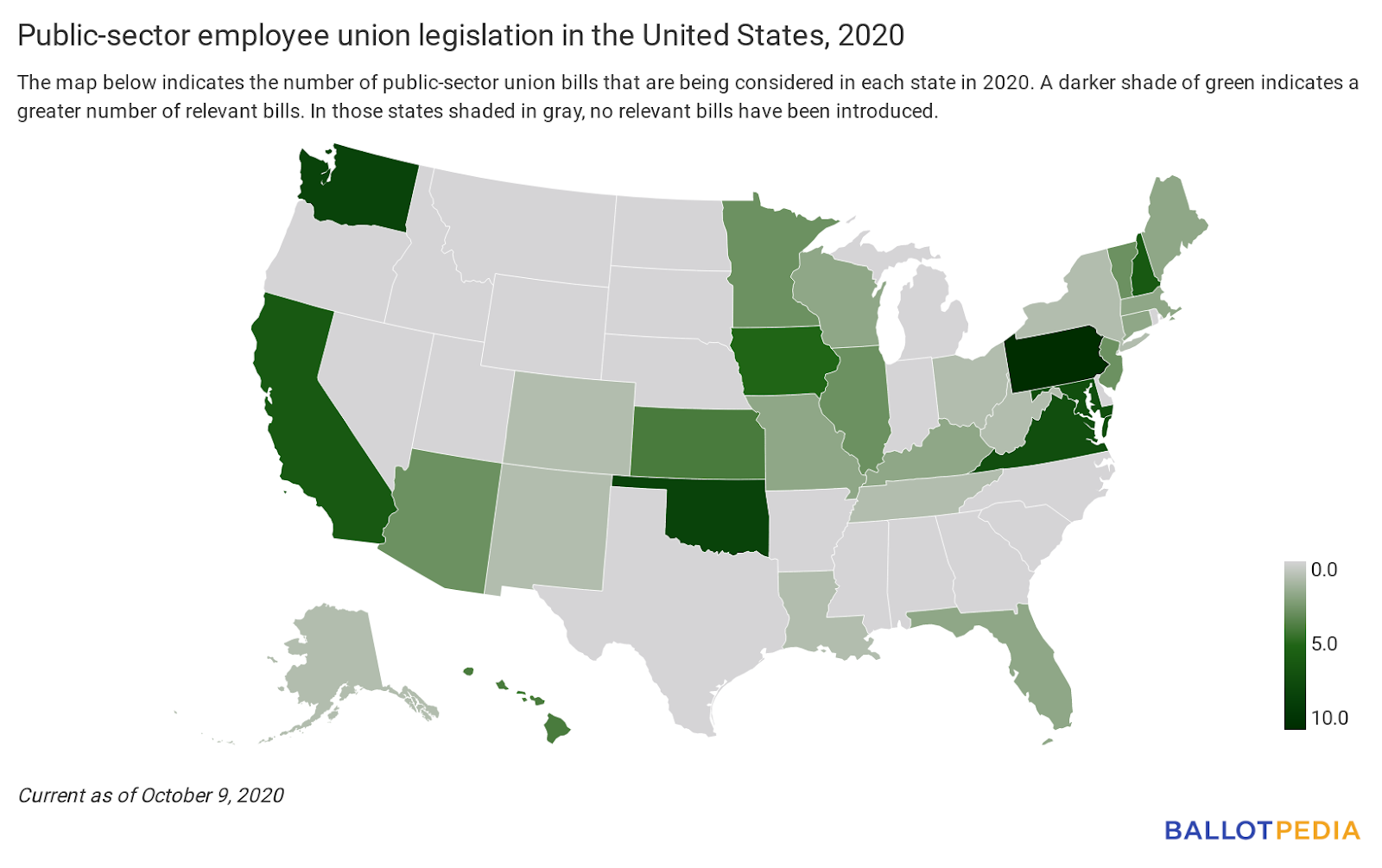 Number of relevant bills by current legislative status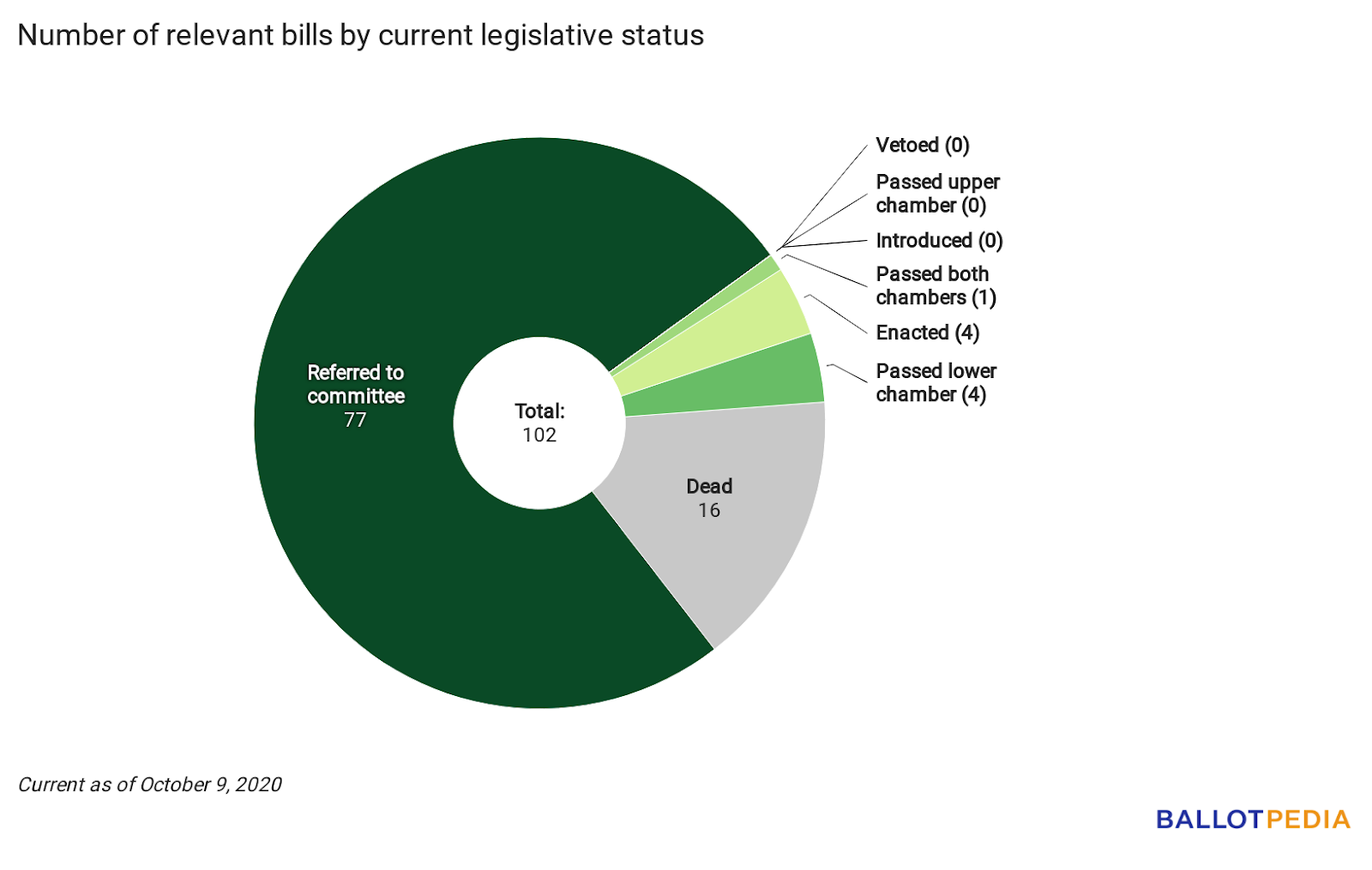 Number of relevant bills by partisan status of sponsor(s)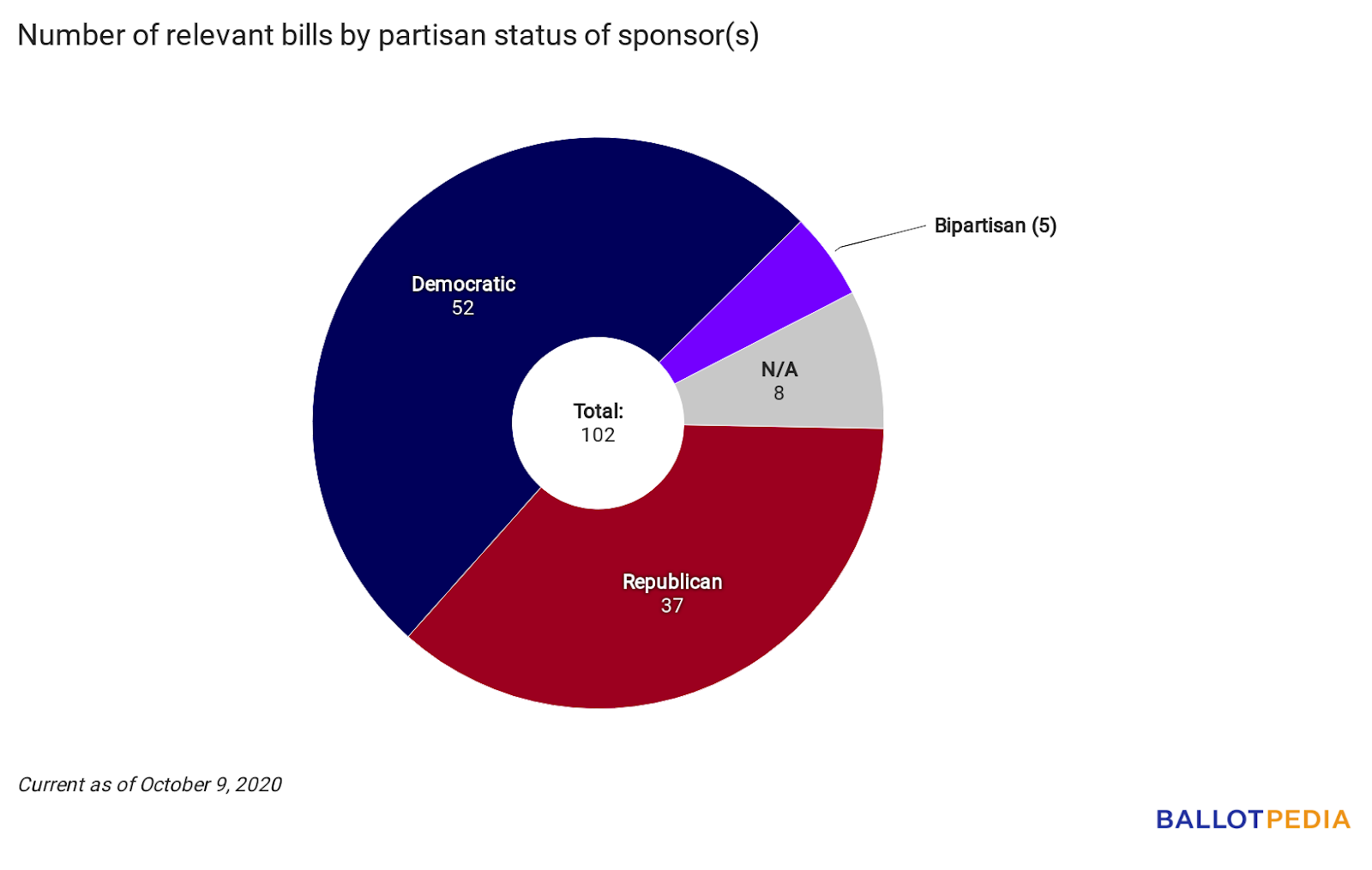 Recent legislative actions

Vermont S0254

: This bill would require public employers to provide unions with employee contact information. It would provide for the automatic deduction of union dues from members' paychecks, and it would permit unions to meet with new employees to provide them with information regarding union membership.

Democratic sponsorship.

Sent to governor Oct. 6.