Ohio state government employee asks SCOTUS to consider class-action lawsuit over refunds for previously paid union fees 
On Oct. 8, attorneys for an Ohio state employee petitioned the U.S. Supreme Court to take up his class-action lawsuit, in which he is seeking refunds for the dues he and other non-member employees were required to pay to the union representing their workplace.
Who are the parties to the suit?  
The plaintiff is Nathaniel Ogle, an employee of the Ohio Department of Taxation. Attorneys from the National Right to Work Legal Defense Foundation (NRTWLDF) are representing Ogle. NRTWLDF describes itself as a nonprofit whose "mission is to eliminate coercive union power and compulsory unionism abuses through strategic litigation, public information, and education programs." 
The defendant is the Ohio Civil Service Employee Association (OCSEA), the exclusive bargaining representative for Ohio state employees. OCSEA is an affiliate of the American Federation of State, County, and Municipal Employees. According to its website, OCSEA represents roughly 30,000 state and local government employees.  
What is at issue?
Ogle, who began working for the state in 2011 and was never a dues-paying member of OCSEA, was required to pay fees to support non-political union activities, including collective bargaining, contract administration, and grievance arbitration. This was in keeping with the U.S. Supreme Court's 1977 ruling in Abood v. Detroit Education Association, in which the court upheld the constitutionality of these fees, which are commonly referred to as either agency or fair-share fees.  
However, on June 27, 2018, the Supreme Court issued its decision in Janus v. AFSCME, overturning the Abood precedent. The court ruled that public-sector unions cannot compel non-member employees to pay agency fees.  
On Oct. 15, 2018, Ogle filed a class-action lawsuit against OCSEA in the U.S. District Court for the Southern District of Ohio. Citing Janus, Ogle's attorneys argued that "OCSEA's seizure of fair-share fees from Ogle, and from other employees who did not affirmatively consent to paying such fees prior to their exaction, violated their First Amendment rights." His attorneys said that, in light of Supreme Court decisions preceding Janus, "OCSEA should have known that its seizure of fair-share fees from unconsenting employees violated their First Amendment rights." They asked that the court "refund with interest all fair-share fees that were unconstitutionally extracted from Ogle and his fellow class members." 
How have the lower courts ruled?
On July 17, 2019, Judge George Smith granted the defendants' motion to dismiss the lawsuit, finding that the union had acted in good faith according to the Abood precedent and was not liable to refund agency fees paid before Janus. Smith is a Ronald Reagan (R) appointee. 
Ogle appealed Smith's ruling to the U.S. Court of Appeals for the Sixth Circuit. A three-judge panel unanimously affirmed Smith's decision. The panel included Judges Jeffrey Sutton, John K. Bush, and Chad Readler. Sutton is a George W. Bush (R) appointee, and Bush and Readler are Donald Trump (R) appointees. 
What comes next?
On Oct. 14, the Supreme Court added Ogle v. Ohio Civil Service Employees Association to its schedule for consideration. A response from the defendants is due Nov. 13. 
Ogle is the fifth suit of its kind pending before the high court. The other four include Casanova v. International Association of Machinists, Janus v. AFSCME (not to be confused with the 2018 Janus decision), Danielson v. Inslee, and Mooney v. Illinois Education Association. 
What we're reading
The big picture
Number of relevant bills by state
We are currently tracking 102 pieces of legislation dealing with public-sector employee union policy. On the map below, a darker shade of green indicates a greater number of relevant bills. Click here for a complete list of all the bills we're tracking.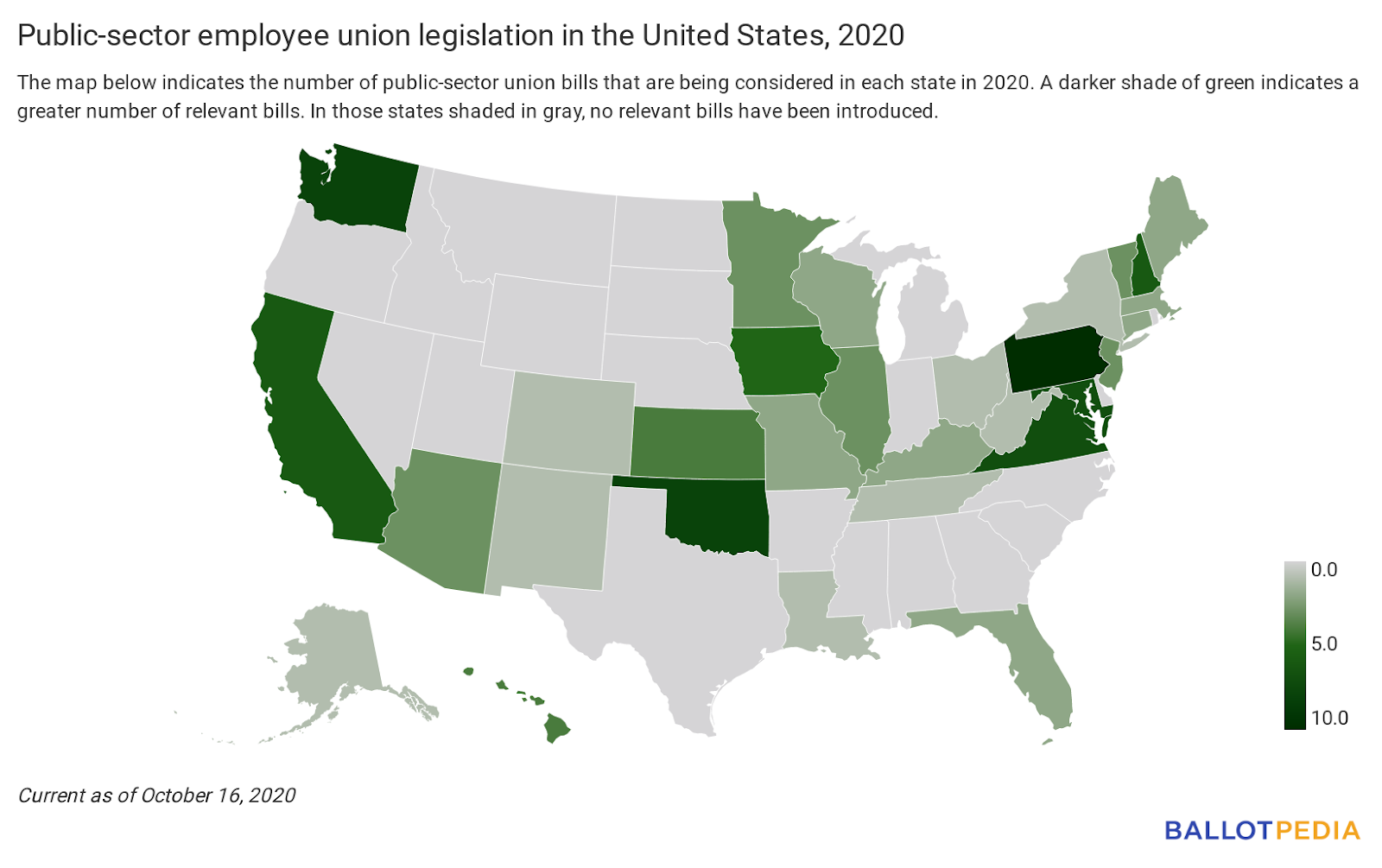 Number of relevant bills by current legislative status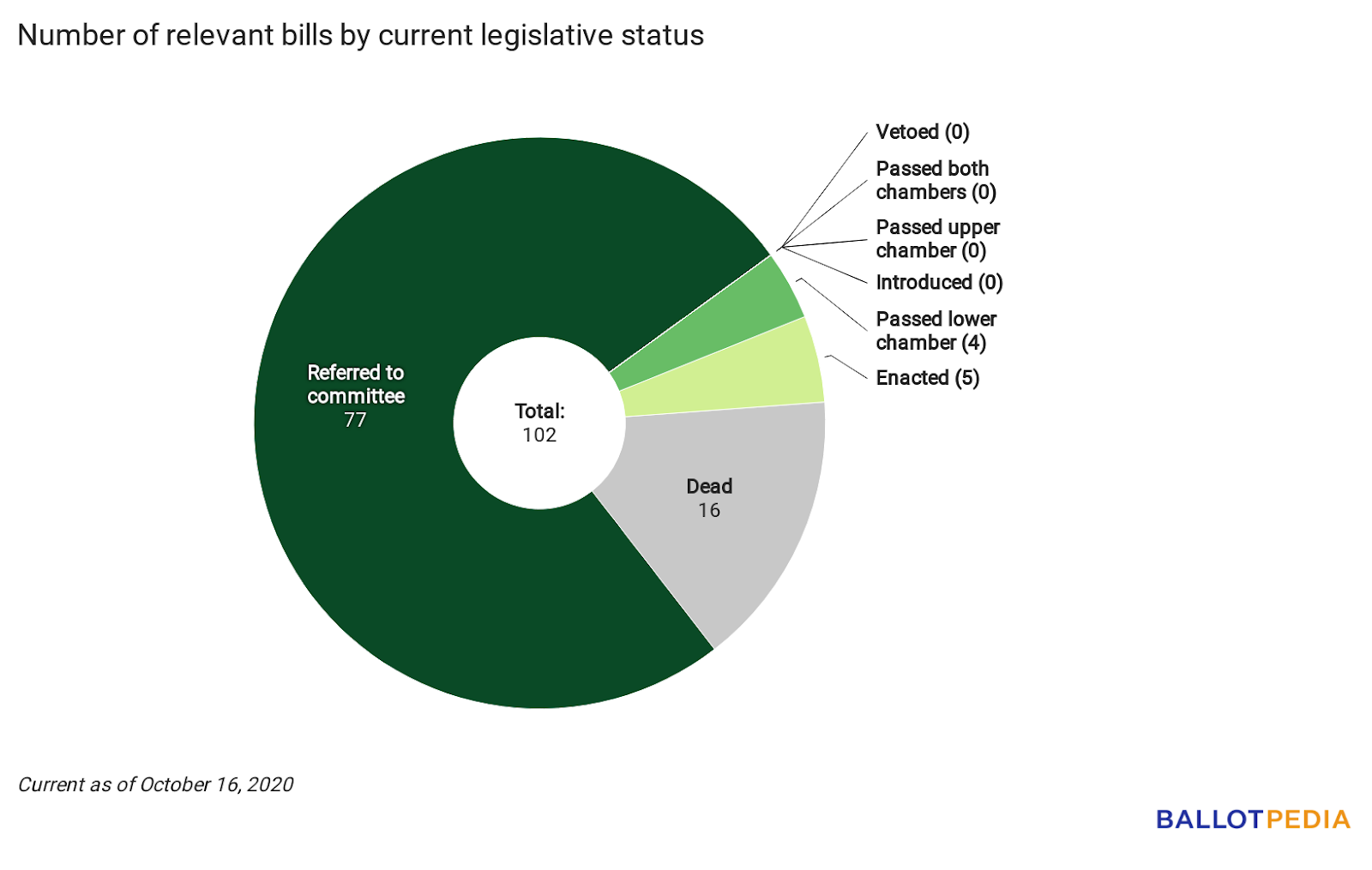 Number of relevant bills by partisan status of sponsor(s)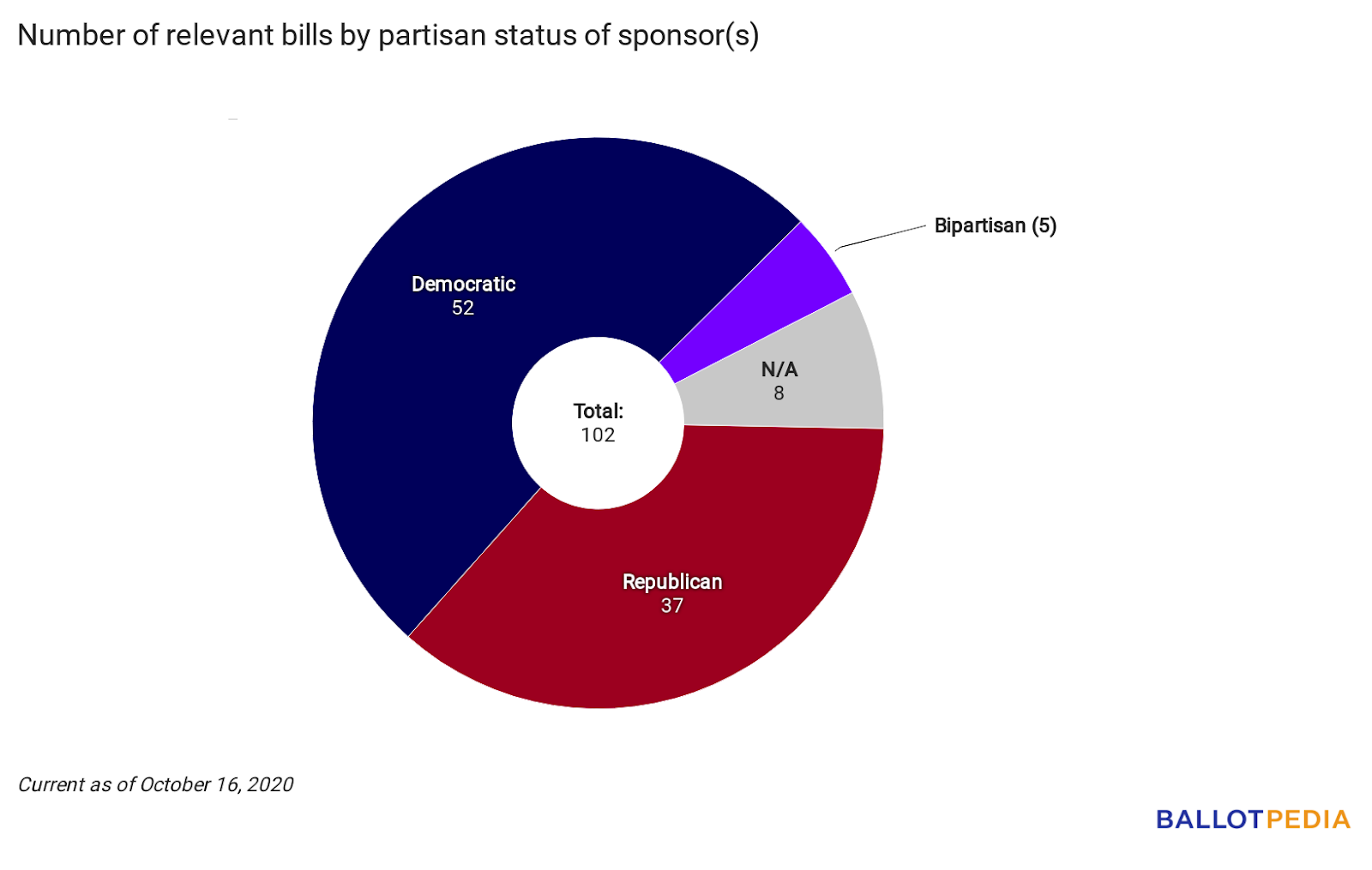 Recent legislative actions

Vermont S0254

: This bill would require public employers to provide unions with employee contact information. It would provide for the automatic deduction of union dues from members' paychecks, and it would permit unions to meet with new employees to provide them with information regarding union membership.

Democratic sponsorship.

Governor signed into law Oct. 12.