U.S. Senate split evenly for fourth time in history
After Vice President Kamala Harris took the oath of office on Jan. 20, she presided over the swearing in of three new Democratic Senators: Alex Padilla (Calif.), Jon Ossoff (Ga.), and Raphael Warnock (Ga.). The U.S. Senate now has 50 Republicans, 48 Democrats, and two independent Senators who caucus with the Democrats. As vice president, Harris casts votes in case of a tie.
Democrats will control committee leadership. The last time the Senate was split evenly in 2001 (when Republicans held the tie-breaking vote), Senate Majority Leader Tom Daschle (D-S.D.) reached a power-sharing agreement with Senate Minority Leader Trent Lott (R-Miss.). The agreement included equal representation and division of staff on all Senate committees, and party leaders agreed to certain restrictions on cloture motions and floor amendments.
Here are the other three times when the Senate was evenly split:
2001—The Senate was split 50-50 as a result of the 2000 elections, and this continued for a five-month period from January to June. During the final days of Bill Clinton's (D) second term, Al Gore (D) held the tie-breaking vote. After George W. Bush (R) was inaugurated on Jan. 20, Vice President Dick Cheney (R) cast tie-breaking votes. Sen. Jim Jeffords (Vt.) changed his party affiliation from Republican to Independent and began caucusing with Democrats on June 6, 2001, giving Democrats the majority, 51-49.
1953-1954—The Senate was evenly split during five separate periods in the 83rd Congress. In January 1953, Republicans held 48 seats to Democrats' 47. Sen. Wayne Morse (I-Ore.) left the Republican Party following Dwight Eisenhower's (R) election as president but caucused with Republicans throughout this period. Control of the U.S. Senate changed nine times from 1953 to 1955 as nine senators died and one resigned. Vice President Richard Nixon (R) cast tie-breaking votes during this period.
1881—Democrats and Republicans each had 37 seats, in addition to one independent who caucused with Democrats and one who caucused with Republicans. Vice President Chester Arthur (R) had the tie-breaking vote until he succeeded to the presidency following James Garfield's (R) assassination. Before the 25th Amendment was ratified in 1967, there was no procedure for filling a vacancy in the vice president's office. With no vice president, there was no one to cast tie-breaking votes, meaning that measures with tied votes did not pass.
The graph below shows the partisan composition of the Senate since 2000:
Texas voters to decide state legislative special election Saturday
The nation's fourth state legislative special election happens in a state House district in northern Texas tomorrow—Jan. 23.
The former incumbent, Drew Springer (R), was re-elected to the 68th District on Nov. 3, defeating Patsy Ledbetter (D), 85%-15%. Springer then ran in and won a special election on Dec. 19 for the 30th District in the Texas Senate. That seat came open when incumbent Pat Fallon (R) won the 4th Congressional District race on Nov. 3.
Four Republicans and one Democrat are running. In Texas state legislative special elections, all candidates appear on the same ballot with their party affiliations designations. If no candidate receives more than 50% of the vote, a runoff election is held between the top two candidates. Republicans currently have an 82-67 majority in the Texas House.
So far, 23 state legislative special elections in 16 states have been scheduled this year. There was an average of 75 state legislative special elections each year from 2011 to 2020.
Friday trivia: How has the average age of members of Congress changed over time?
For this week's Friday trivia, I want to introduce you to a new feature—trend quizzes. The one I want to highlight today enables you to guess How the age of members of Congress has changed over time.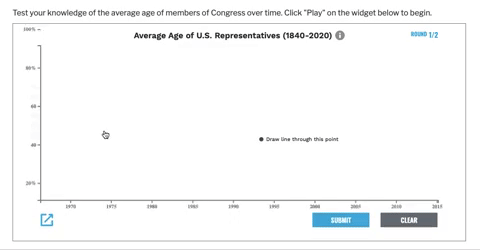 Here's how it works.
Today's quiz has two parts. First, graph the average age of U.S. House members from 1840 to 2020. You're provided with one data point—the average age of a U.S. House member in 1940 was 52 years old. Then, do the same for U.S. Senators.

Once the game loads, instructions will appear to show you how to draw the line on the graph.

The best part of the quiz is when you see how close your guess is to the correct answer. I took the quiz yesterday and scored above an 80 on both the House and Senate portions, so I was pretty excited about that! Can you beat my score? Click the link below to get started, and let me know how you do!