On Dec. 17, Ballotpedia published its year-end analysis of the 39 statewide ballot measures voters decided in 2021. Voters in nine states approved 26 measures and defeated 13 on four different election dates. The year-end analysis drills down into the types and origins of the measures, the outcomes, campaign finance and signature-gathering costs, and ballot language readability. It also provides historical context on all of these details.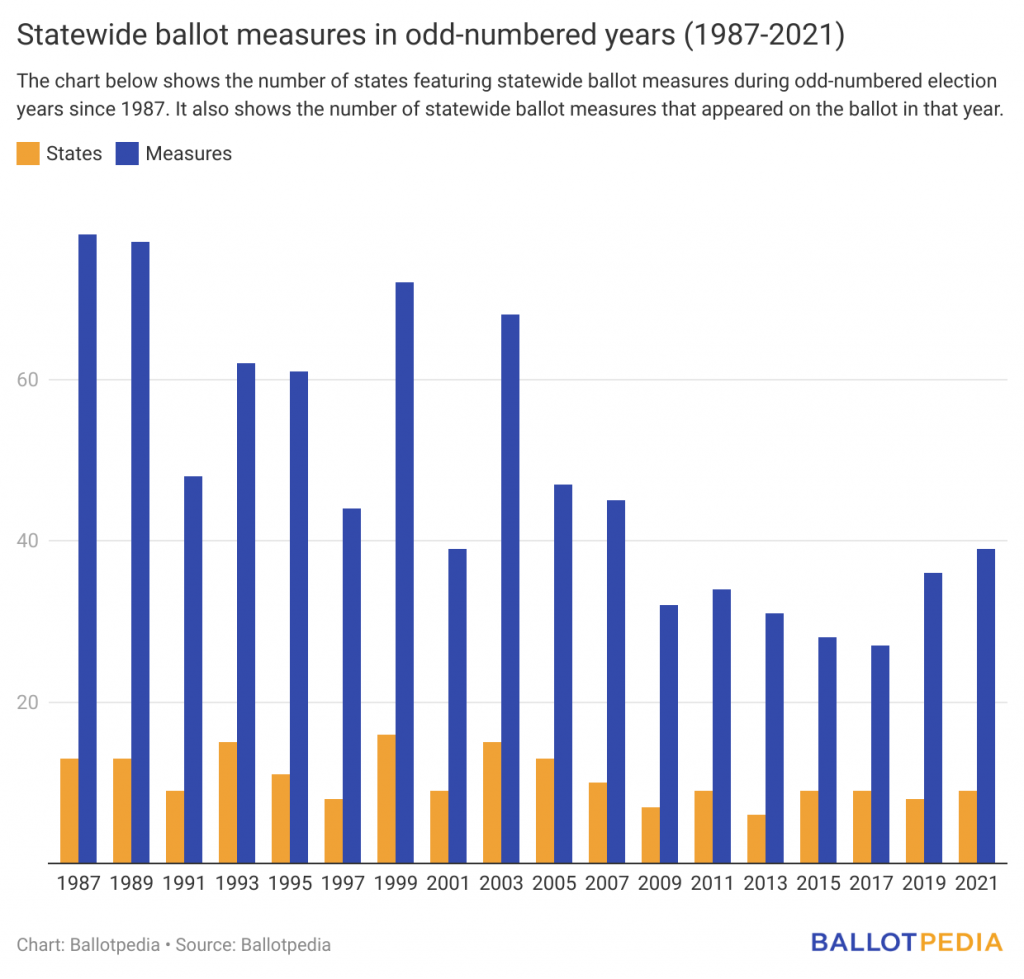 Here are some highlights from the analysis:
There were more statewide measures in 2021 than in any odd-numbered year since 2007. On average, there have been 33 in eight states during odd-numbered years since 2011.
State legislatures referred 32 questions to the ballot, of which, voters approved 25 and rejected seven.
Four citizen initiatives were on the ballot in 2021. Three were in Colorado and were all defeated. One was in Maine and was approved.
In 2021, statewide ballot measure campaigns raised $107 million. Support and opposition campaigns for Maine Question 1 raised $99.62 million, which was 93% of the total contributions across statewide measures.
The campaign opposing Maine Question 1 spent $448.61 for every vote against the measure, which is the highest cost per vote (CPV) of any statewide ballot measure campaign since at least 2016.
In total, the campaigns behind the three initiatives in Colorado spent $3.33 million on signature gathering, amounting to an average cost per required signature of $8.42.
The average Flesch-Kincaid Grade Level readability score for the ballot titles of all 39 statewide ballot measures was 18 (second-year graduate school reading level).
Additional reading: