On Dec. 20, Ballotpedia published its year-end analysis of the 202 local ballot measures across 27 states in the 100 largest U.S. cities and state capitals. Ballotpedia's year-end report breaks down the measures by type, by state, by topic, by outcome, and by election date. Here are some highlights from the report:
There were 202 local measures on the ballot for voters in the top 100 largest cities and state capitals in the U.S. in 2021.
141 (69.8%) were approved, and 61 (30.2%) were defeated.
Ballotpedia covered local ballot measures in 27 states in 2021. Texas (44 measures – 21.7%), Colorado (21 measures – 10.4%), and New Mexico (16 measures – 7.9%) were the three states with the most local measures covered.
Local measures were on the ballot in the top 100 cities and state capitals on 13 different election dates in 2021. Nov. 2 had the largest number of local measures with 137 (67.8%).
Ballotpedia covered 12 notable police-related local ballot measures in 2021. Seven measures were approved, and five were defeated.
69 of the local measures were bond issues, and 55 were tax measures.
13 measures were related to elections, campaigns, and voting policy.
31 (15.4%) of the measures were citizen-initiated measures placed on the ballot through signature drives. The remaining 171 (84.7%) were referred to the ballot by local legislative bodies, such as county boards, city councils, school boards, special district boards, and charter revision commissions.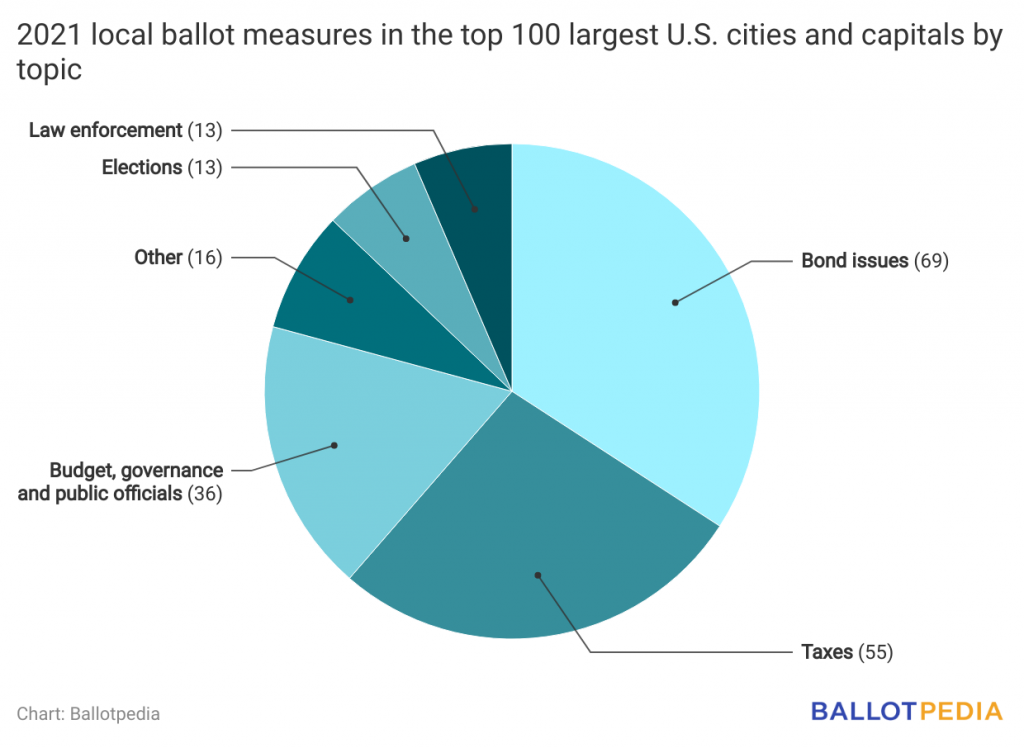 Additional reading: