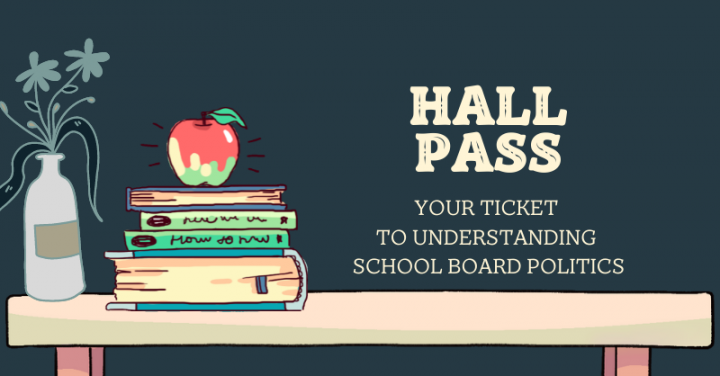 On the issues
In this section, we curate reporting, analysis, and commentary on the issues school board members deliberate when they set out to offer the best education possible in their district.
The debate over masking in classrooms
CNN opinion columnist Jill Filipovic writes that the CDC needs to stop promoting the generalized recommendation for continued mask-wearing in schools. Instead, the CDC should offer a clear formula based on case, hospitalization, and vaccination rates for when school mask mandates should be lifted or reinstated.
Kylee Zempel, an editor at The Federalist, says that scientific data on the effectiveness of masks in schools has not changed in recent months. She says leaders ignored the data and silenced conservative views. Zempel says recent changes to school mask policies have been politically, not scientifically, motivated.
In some blue states, masks are coming off — but not everyone is ready | Jill Filipovic, CNN
"What we need is not just clear guidance for the here and now, but a clear formula for when mask mandates should lift, where they should lift, and when they may need to be reinstated. Covid-19 is not a static disease, and public health guidance should evolve as the disease does…
But when case rates are significantly down, hospitals aren't overwhelmed and community vaccination rates are high, it's time for a reprieve. Students and staff should be able to unmask in these conditions.
Whether that moment is now is above my pay grade. It shouldn't be on lay people, from CNN columnists to state governors to Twitter warriors, to be making these imperfect calculations. We need the CDC to step up and offer a clear and sensible formula instead of generalized guidance. And we need to start thinking about Covid-19 the way we do about other threats to our lives and health: focus on risk-reduction measures that are specific and targeted, and aimed at allowing us to live our lives balancing, as best we can, public health, pleasure and freedom."
Science On Covid And Kids Hasn't Changed, Only The Politics Has | Kylee Zempel, The Federalist
"None of the recent goalpost-shifting has been the result of some huge scientific breakthrough.
You also knew based on elementary-level reasoning that if a certain mask affords any protection from an airborne virus, it must logically protect the wearer, not merely the bystanders. Not to mention, you did your homework and knew those flimsy cloth masks required by petty government and school diktats were not stopping the spread. Both opinions were scoffed out of polite society but are now acknowledged as true because circumstances, they are a-changin'."
School board update: filing deadlines, election results, and recall certifications
Ballotpedia has historically covered school board elections in about 500 of the country's largest districts. We're gradually expanding the number we cover with our eye on all of the roughly 14,000 districts with elected school boards.
Election results from the past week
On Feb. 15, we covered four school board recall elections in California and Nebraska and a primary election for four at-large seats on the Beloit School District school board in Wisconsin.
San Francisco Unified School District recall
Voters recalled three members of the San Francisco Unified School District. Click here to read more about the recall's background.

Gabriela López: Voters approved the recall election against Lopez 75% to 25%.
Alison Collins: Voters approved the recall election against Collins 78.6% to 21.4%.
Faauuga Moliga: Voters approved the recall election against Moliga 72.1% to 27.9%.
López, Collins, and Moliga will not be removed from office until the county certifies the election results. Results are expected to be certified March 1.
Giltner Public Schools, Nebraska, recall
Voters approved the recall election against Chris Waddle 62.1% to 37.9%. Waddle is the president of the Giltner Public Schools Board of Education. Click here to read more about this recall's background.
Beloit School District, Wisconsin
Eleven candidates ran in the primary for four at-large seats. The top eight vote-getters advanced to the general election. Three incumbents ran for re-election—Megan Miller, Gregg Schneider, and Allison Semrau.
One incumbent—Semrau—lost in the primary. The following candidates will appear on the general election ballot:
Megan Miller (12.7%)
Ryan McKillips (11.9%)
Brian Anderson (11.4%)
J'Juan Winfield (11.2%)
Torie Champeny (10.6%)
Christine Raleigh (9.9%)
Katherine Larson (8.6%)
In the general election, the three candidates with the most votes will serve full three-year terms, and the candidate with the fourth-most votes will serve a one-year term.
States with school board filing deadlines in the next 30 days
Texas: The filing deadline for one seat on the Fort Worth Independent School District school board is March 7. The election for a three-year unexpired term takes place on May 7. A runoff, if necessary, is scheduled for June 18.
Upcoming school board elections
Schools in the following states will hold general school board elections on April 5:
Arkansas
Oklahoma
Missouri
Wisconsin
We'll bring you more on those elections in future editions.
School board candidates per seat up for election
An average of 2.77 candidates are running for each school board seat within our current coverage scope whose filing deadline has passed, up from 2.62 candidates per seat on Feb. 9. This is the most candidates per school board seat since at least 2018.
School mask requirements
Since the start of the COVID-19 pandemic, we've tracked how states have responded to the virus' effect on public education. Today, we're taking a look at the status of school mask requirements as of Feb. 15.
Thirteen states and Washington D.C. require masks in at least some schools. Of those 13 states, 11 have Democratic governors (Washington D.C. has a Democratic mayor) and two have Republican governors.

California
Connecticut
Delaware
Hawaii
Louisiana (required for some schools)
Maryland (required for some schools)
Massachusetts (required for some schools)
New Jersey
New Mexico (required for some schools)
New York
Oregon
Rhode Island
Washington
Washington D.C.

Seven states have banned school mask requirements. All seven states have Republican governors.

Florida
Iowa
Oklahoma
Tennessee
Texas
Utah
Virginia

The remaining 30 states leave mask mandates in schools up to local authorities. Of those 30 states, 26 have Republican governors and four have Democratic governors.
How have those numbers changed since the beginning of the 2021-2022 school year? On Aug. 5, 2021, 10 states required masks in schools, eight states banned school mask requirements, and 33 states left mask requirements in schools up to local authorities.
Over the last several weeks, several governors and state agencies announced changes to mask requirements in K-12 public schools. Here's a roundup of the latest news:
February 10
Nevada Gov. Steve Sisolak (D)lifted the statewide school mask requirement, transferring authority for mask decisions to local jurisdictions.
February 9
Massachusetts Department of Elementary and Secondary Education Commissioner Jeffrey C. Riley announced the state would end its school mask requirement on Feb. 28.
Rhode Island Gov. Dan McKee (D) announced that, if the legislature votes to extend his emergency powers, he would end the school mask requirement on March 4.
February 7
Take our Candidate Connection survey to reach voters in your district
Everyone deserves to know their candidates. However, we know it can be hard for voters to find information about their candidates, especially for local offices such as school boards. That's why we created Candidate Connection—a survey designed to help candidates tell voters about their campaigns, their issues, and so much more.
In the 2020 election cycle, 4,745 candidates completed the survey.
If you're a school board candidate or incumbent, click here to take the survey.
The survey contains over 30 questions, and you can choose the ones you feel will best represent your views to voters. If you complete the survey, a box with your answers will display on your Ballotpedia profile. Your responses will also populate the information that appears in our mobile app, My Vote Ballotpedia.
And if you're not running for school board, but there is an election in your community this year, share the link with the candidates and urge them to take the survey!