The filing deadline for candidates running for the U.S. House of Representatives in Ohio was March 4, 2022. This year, 70 candidates filed to run in Ohio's 15 U.S. House districts, including 39 Republicans, 29 Democrats, and two independents. That's 4.7 candidates per district, more than the 4.4 candidates per district in 2020 and fewer than the 5.5 in 2018.
The Ohio Redistricting Commission approved a redrawn congressional map on March 2 in a 5-2 vote along party lines, meaning the map will last for four years. On March 18, the Ohio Supreme Court ruled that it did not have jurisdiction to overturn the map as part of the legal challenge that overturned the initial congressional map. The revised map will be in effect for Ohio's 2022 congressional elections unless a court rules otherwise in response to a legal challenge.
Here are some other highlights from this year's filings:
This is the first election to take place under new district lines following the 2020 census. Ohio was apportioned 15 seats in the House of Representatives, one less than it received after the 2010 census.
Although Rep. Bob Gibbs (R) originally filed for re-election, he announced on April 6 that he was retiring. Early voting has already begun, and his name will still appear on the ballot.
Ohio's 13th Congressional District is also an open-seat race. Rep. Tim Ryan (D) is running for election to the U.S. Senate. Seven candidates are running for the Republican nomination to face state Rep. and former House minority leader Emilia Sykes (D), who is unopposed for her party's nomination.
There are 19 contested U.S. House primaries —10 Republican and nine Democratic —this year in Ohio.
The two open U.S. House seats this year is the same number as in 2018. All U.S. House incumbents in Ohio ran for re-election in 2020.
Six incumbents do not face primary challengers.
All 15 U.S. House districts will be contested in the general election, as every district has both Democratic and Republican candidates.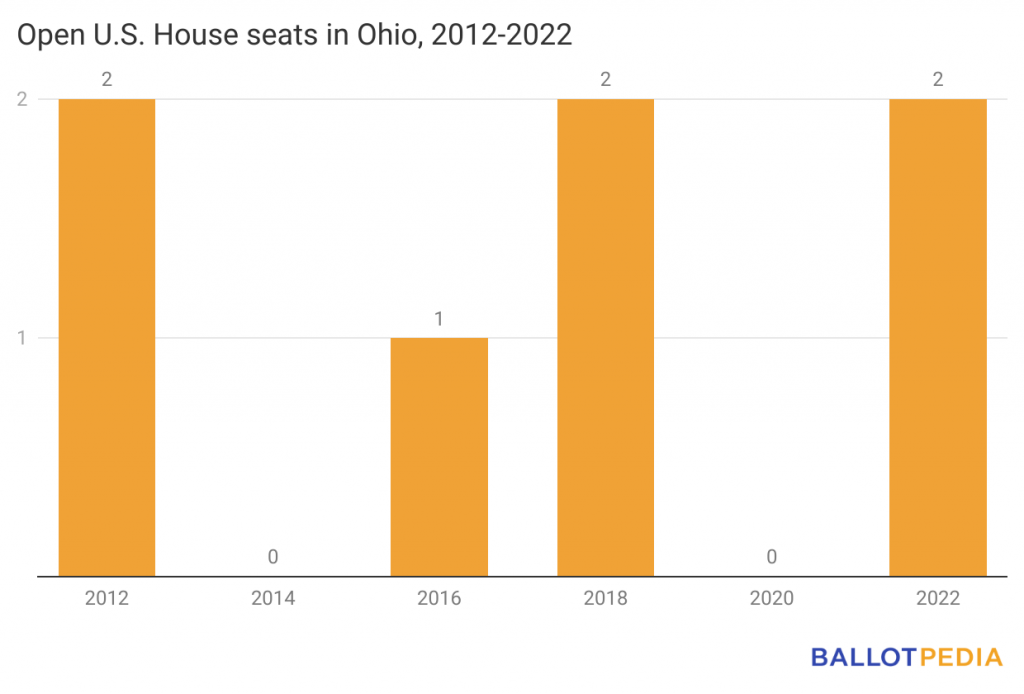 Ohio's primary for U.S. House districts is scheduled for May 3, 2022. The Ohio Supreme Court announced on March 29 that it will not decide challenges to the state's congressional map until after that date.
Additional reading: